How to Get The Best Wedding Video Ever
Wedding videography packages range from $1,000 to more than $15,000, and the styles are just as varied. Use these tips to help you find the perfect pro to get a video that's so good you'll watch it on repeat well past your first anniversary.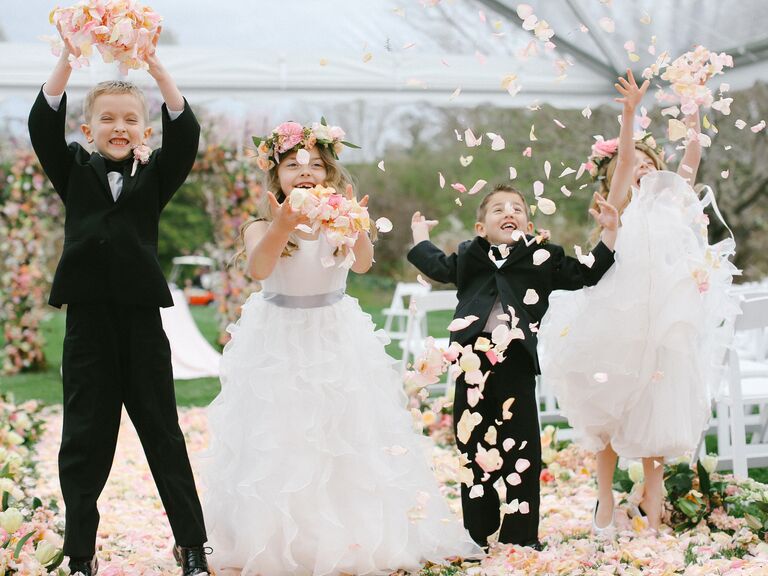 Allan Zepeda
1. Hire the Person Whose Style Most Closely Matches Yours
Just like photographers, videographers take different approaches to their craft. Documentary-style videos present the events chronologically, without many special effects, while a cinematic film is generally more dramatic, using interesting angles for a Hollywood-movie feel (these are just two options of many). "You don't want to select a cinematographer with one style and send them clips from another videographer with a totally different style. Just hire the one you like!" says Taryn Pollock, owner of Serendipity Cinematography based in Arizona and California.
The Knot Tip: You can find thousands of amazing wedding pros on TheKnot.com, complete with customer reviews.
2. Take Finding a Videographer As Seriously As You Do Your Photographer
Unfortunately, hiring a videographer seems to get pushed back somewhere between welcome bags and favors—and it's just too important for that C-list slot on your long list of to dos. "By that time, there will only be a handful of studios left to choose from, and most likely, you won't be able to hire your first choice," says Julie Hill, owner and creative director at Elysium Productions, an international videography firm.
The Knot Tip: Planning ahead always pays off, so flag money in your budget for your videographer from the beginning. If you make videography a priority, you'll see it in the end result—a film of your wedding day that comes out exactly as you imagined it would.
3. Subscribe to Video Websites
There are plenty of places to find wedding videographers, but Vimeo and Love Stories TV are the preferred spot for most A-list picks to post their recent work. Aside from the big videography communities, you can easily search by location and even wedding venue to find clips from your reception venue and get ideas.
The Knot Tip: All wedding videos are not created equal. When you're watching sample videos, there are a few things to keep top of mind. A good film will be well lit, have easy-to-understand audio and appropriate music, and be edited so that transitions are smooth and special effects complement the story.
4. Embrace the Professional Referral Factor
People like your photographer and wedding planner have worked with videographers in the past and will be able to suggest filmmakers they've liked or that they've heard good things about through previous clients.
The Knot Tip: Many photography studios also offer videography, and it usually makes sense to book a package for both. A pair of pros from the same company will have an easy working rapport and use that to get you great shots.
5. Seek Out Reviews
Even if you feel like you've found the perfect fit after leaving the studio, you should still do your due diligence and call references (as well as reading opinions online). Ask questions like: Did he capture the most important parts of your wedding? Was he a positive presence throughout the day? Overall, were you happy with the final film?
The Knot Tip: Keep in mind that if the reference was married a year or more ago, things that seemed like a big deal then could matter less now. It's a red flag if the bride starts out with a sentence like, "The video came out great, but…" The bride may not care now that the videographer showed up late, but you should be wary.
6. Meet Them in Person Before You Decide
You need to feel at ease with your videographer. (They'll be following you around on your wedding day, after all!) It's best to meet them in person, but Facetime or Skype also works well in a pinch. Once you've met with one or two potential pros, ask to see a full video or two (clips only tell part of the story and you want to know what your entire film might look like).
The Knot Tip: Finding the right person also means asking the right questions. Start with our list of must-ask questions to potential videographers right here.
7. Get the Most Out of Your Contract
Your contract should include the coverage time (as in, how long your videographer will be at your venue), how many shooters you'll have, an itemized list of the finished product (highlight reels, trailers, digital media files), nitty-gritty logistical details (time and location), cancellation policies and, of course, the fee. If it's not outlined in the contract, don't assume you're going to get it. Any extras, like an engagement video session or a same-day edit, need to be in there. If they're not and you want them, ask about it.
The Knot Tip: Double-check that your package includes the important things: a second shooter (so your video can be edited to include at least two perspectives, like your walk down the aisle and your fiancé's face), an edited video between 5 and 25 minutes and coverage of both the ceremony and reception.
8. Don't Micromanage
You're hiring someone for their experience and talent (not just their equipment). Trust your decision. On the day of, you shouldn't feel like you need to direct them or keep your eye on them. If you've truly done your research and fully vetted your videographer, you should have complete confidence in them.
The Knot Tip: If you love your video, share your experience with other couples by posting a review and offering to sign on as a reference.