50 Unique Wedding Ideas Your Guests Haven't Seen Before
Wow guests with these totally epic ideas.
Everyone wants their wedding day to be one-of-a-kind, but coming up with truly unique wedding ideas that impress attendees can be a daunting wedding planning task. From forward-thinking fashion moments to wedding decor that takes everyone's breath away, incorporating unique wedding ideas into your big day is a surefire way to ensure your attendees never forget the fun they had at your wedding.
In This Story:
Top Tips for Planning Unique Ideas You'll Love
Let Your Shared Hobbies Inspire You
If you're grasping at straws and simply can't come up with a totally original idea for your special day, look no further than the activities that bring you and your partner joy. "Think about what you both love and if there are experiences you have had together that you would want to relive or incorporate," suggests Diana Lin of Cóllectives by Diana. "I take inspiration from my travels, from art and fashion. It's always a great starting point as it can help guide you the rest of the way. Don't think about what's normal or traditional but think about what makes your day uniquely yours." Virginia Frischkorn, wedding planner and owner of Bluebird Productions and Bluebird in a Box concurs. "Think of activities you've done as a couple that have brought you the most joy. Recreate that for your guests so they can have a peek into what makes you happiest. Genuine moments/experiences are what create the strongest bonds."
Keep Practicality in Mind
While the sky is truly the limit with unique wedding ideas, do keep in mind that ideas need to be feasible for you and your wedding planner. While some ideas may look cool, it can be hard to pull them off on a large scale during a wedding day. Ashley Mason of Saunter Weddings notes that taper candles are one such idea that looks great, but isn't the most practical for a large wedding reception. "Ever since the boom of Pinterest, photos of mass taper candles have been in inspiration folders across the board. As beautiful as they always are, many indoor venues don't allow open flames and require candles to be enclosed for safety. It is always a good idea to check with the venue's decor policy before booking! Make sure your heart-set ideas can be made possible there before signing the contract."
Unique Ideas for Wedding Day Fashion
Gone are the days where a white wedding dress or simple black tux are a must. Let your personality shine through the wedding attire you chose. For even more ideas, take a peek at these statement-making wedding dresses.
1. Couple Wearing Dramatic Capes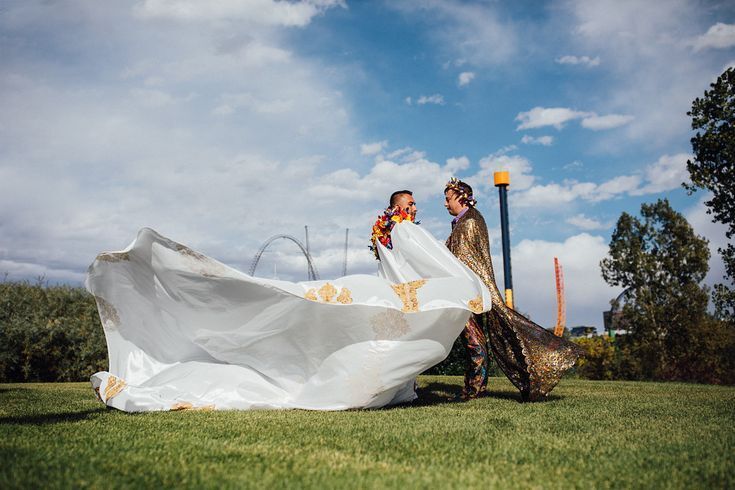 If a veil isn't quite your speed, consider dramatic capes, like this Denver, Colorado, couple did.
2. Fringe Jacket With DIY Bedazzled Collar
A great way to ensure no one else has ever seen your wedding look is to customize it yourself. This to-be-wed went to town bedazzling the collar of his fringe jacket and the result was jaw-dropping.
3. Beaded Barefoot Wedding Sandals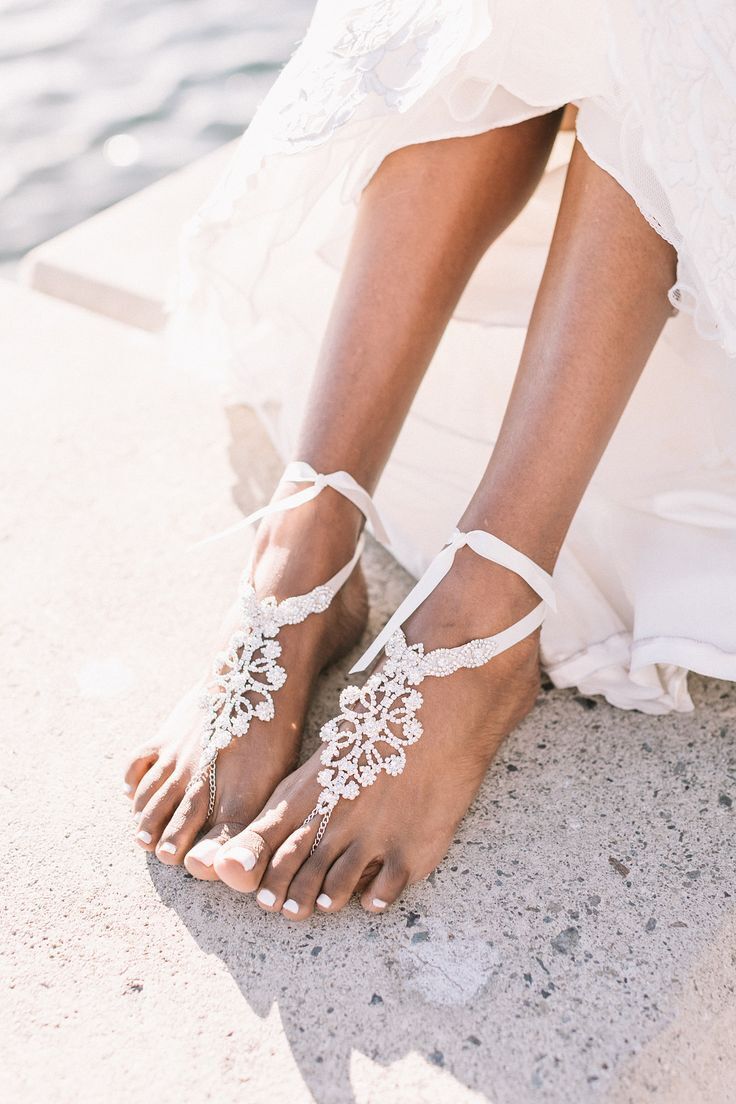 For her outdoor wedding by the beach in southern California, this bride skipped shoes and opted instead for delicate barefoot sandals.
4. Custom Suit Liner With Personal Photographs
This to-be-wed kept pictures from his relationship close to his heart on the big day, thanks to a custom liner that featured a collage of personal snaps.
Creative Guest Book Ideas
The concept of a guest book is a fairly standard addition to any wedding, but that doesn't mean the guest book you choose needs to feel pedestrian. Skip the book and ask guests to leave a note or their signature on an item you can later turn into home decor or a meaningful keepsake. Get even more alternative guest book ideas here.
5. Baseball Guest Book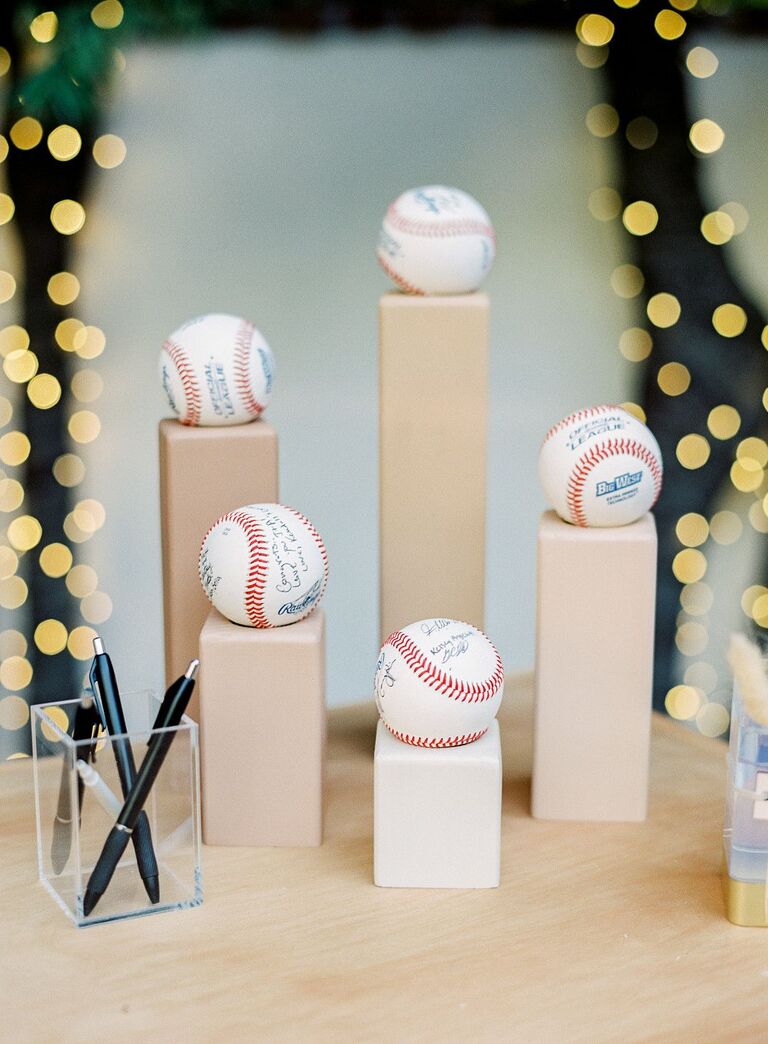 In honor of the groom's profession as a baseball player, this couple set out baseballs for guests to sign before the end of the night.
6. Quilt Square Guest Book
This couple asked guests to decorate quilt squares that were later sewn together into a keepsake wedding quilt as a fun way to commemorate the day.
7. Telephone Guest Book
A guest book doesn't have to involve writing. At this summer wedding reception, the couple opted for an audio guest book that created a playlist of well wishes that could be listened to for years to come. They set out a pink phone on which attendees were able to record messages of love for the happy couple.
8. Typewriter Guest Book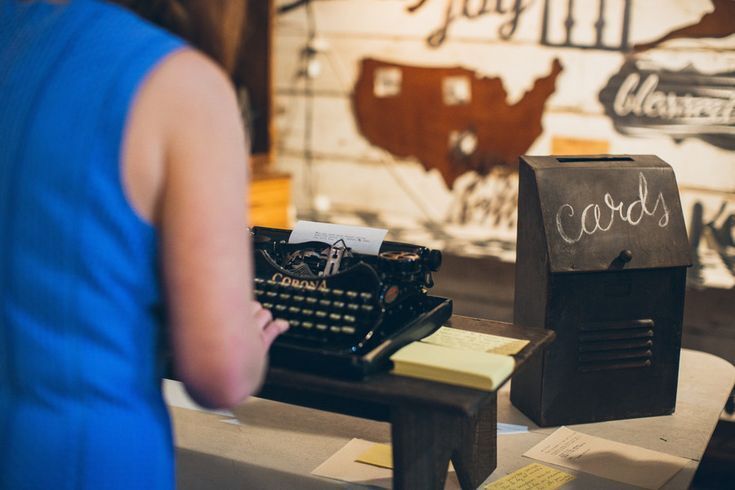 Wedding guests were encouraged to type out a note on a typewriter at this fun wedding.
Out-of-the-Box Wedding Ceremony Ideas
Kick off the wedding day with a ceremony that is completely personalized and reflects you and your partner's love story in a creative way. Let these additional unique ceremony ideas inspire you.
9. Couple Performs Aerialist Number During Ceremony
While some couples may opt to hire gymnasts or aerialists for their wedding, this couple took part in an aerialist stunt during their own wedding ceremony.
10. Tequila Shot Unity Ceremony
As a nod to the Mexican locale of their destination wedding, this couple took shots of tequila during their outdoor ceremony.
11. Outdoor Ceremony at Yosemite National Park
Feel free to get creative with your wedding venue selection. This couple celebrated their love story with a vow exchange at the base of Half Dome in California's Yosemite National Park.
12. On-Site Tattoos at Wedding Ceremony
A first dance doesn't have to be the first activity you partake in as newlyweds. Right after exchanging vows during their small wedding ceremony, this couple got tattoos as a permanent way of honoring their love story.
13. Officiant Dressed as Joey from Friends
While you dreaming up unique wedding ideas, consider how you can include your officiant, bridesmaids or wedding party in the action. This couple's special day was inspired by their favorite television shows and their officiant presided over the nuptials while dressed in an outfit that resembled how Joey from Friends looked during Monica and Chandler's wedding. For couples who love Friends, let these Friends-inspired wedding shower ideas inspire you.
14. Officiant Dressed as Obi-Wan Kenobi from Star Wars
If you've decided on a unique wedding theme, like Star Wars, for your special day, make sure to thread the theme into all parts of your wedding; from wedding favors and table numbers that reference your inspiration to attire for the wedding party, groomsmen and officiant that's on-theme. Get inspired by even more Star Wars wedding ideas here.
15. Ceremony With Funky Neon Light Installation
For their neon-themed wedding, this couple filled the wedding venue with a collection of neon lights in their wedding colors.
Unique Floral Wedding Ideas
When it comes to floral design, think beyond standard bouquets and centerpieces. Ask your florist to think outside the box and use flowers and greenery in creative, versatile ways on your big day.
16. Floral Installation Covering Front Door for At-Home Minimony
When it came time for this couple to celebrate their love story with an at-home minimony, they commissioned an over-the-top installation from their florist to jazz up their stairs and front door.
17. Flower-Clad Brass Knuckles
Instead of bouquets for the bridesmaids, the florist for this Denver, Colorado, wedding decked out brass knuckles with flowers.
18. Floral Tuxedo Collar
Instead of wearing a boutonniere, this groom had the shawl collar of his tuxedo outfit with flowers and greenery.
19. Floral Pocket Square
Often a pocket square is chosen in a fabric that matches the wedding colors, however, this groom took things one step further and chose a floral pocket square that coordinated with the rest of the day's floral design.
Unique Guest Experience Ideas
As you're in the middle of wedding planning, think through how your wedding guests will experience the day and come up with creative ways to make their experience even more memorable. Rachael Ellen of Rachael Ellen Events encourages couples to "think about how they want the wedding to feel rather than just look. This helps me narrow in on specific design directives to help them achieve not only something inspiring but a feeling that is important to them and central to their celebration."
20. Phone Check Station Inspired by Hotel Front Desk
To ensure guests were able to totally disconnect and be present during the wedding, this couple set up a phone check station, much like a coat check station.
21. Pre-Wedding Toast
This bride chose not to have bridesmaids or a wedding party. Instead, she invited her nearest and dearest over for a champagne toast on the morning of the wedding as a fun way to start the day.
22. Acrylic Sign for Phone Charging Station
Few things are worse than realizing you only have 10% battery life remaining during cocktail hour, but you want to be able to snap fun pictures while you break it down on the dance floor at your bestie's wedding. This couple combat that issue by creating a charging station for electronics at their wedding.
Creative Ideas for Seating Assignments
Directions for guests on the wedding day, from seating assignments to other signage, need to be practical, but they don't need to be boring. Think outside the box when it comes to seating charts, escort card displays and place cards.
23. Custom Bottle of Wine
Wedding guests received bottles of wine at this wedding which doubled as both wedding favors and escort cards.
24. Antique Bells With Calligraphy
Bells calligraphed with guests' names served as both escort cards and wedding favors at this outdoor wedding in California.
25. Spice Canister Place Cards
At this wedding, calligraphed canisters of fragrant spices were put at each place setting to let guests know which seat was theirs.
Wedding Food and Drink Ideas You'll Love
When it comes to dreaming up your wedding menu with your caterer, take a moment to think about the foods you like to eat. There's no rule saying that you have to serve a simple chicken entree at the reception. Consider a hip food truck or even a mobile bar to wow wedding guests.
26. Hoop Skirt With Champagne Flutes
Instead of having serving roam cocktail hour with a tray of champagne flutes, the waiters at this event wore flutes of bubbly.
27. Cotton Candy Station
Food stations are a fun activity for guests. At this festival-inspired celebration, freshly spun cotton candy was on offer.
28. Pit Stop for Soft Serve
During their pre-wedding portraits, this couple made a pit stop for ice cream. It's your day, by all means, do (and eat!) what you want.
29. Monogrammed Ice Cubes
Up-level your signature cocktails with personalized ice cubes that showcase your monogram.
30. Trip for Fast Food
During their wedding portrait session, this couple stopped for a quick bite at In 'n' Out burger.
31. Drink Pouches at Summer Wedding
If your wedding date is during the hotter months of the year, think about fun ways to keep guests cool and refreshed. This couple served rosé in drink pouches at their backyard wedding.
32. State-Shaped Ice Cream Bars
In honor of their Michigan wedding locale, this couple included Michigan-shaped chocolate-covered ice cream bars on their catering menu.
33. Signature Cocktails With Tamarind Straws
Paper straws are the eco swap most often used in place of plastic straws. However, they can sometimes become soggy and unusable. This couple combatted that problem by serving edible straws made of tamarind in their signature cocktails.
34. Pink Popsicle Display
Keep guests cool with refreshing frozen popsicles.
35. Over-the-Top Coffee Station
Coffee lovers, consider adding a fun coffee station to cocktail hour for wedding guests to enjoy.
36. Tea Display
If tea is more your speed, take a note from this couple's display of freshly-brewed tea.
Wow-Worthy Reception Entertainment and Activities
Live bands and photo booths aren't the only forms of entertainment you can include in your wedding. Melissa Williams of B. Astonished Events recently planned a wedding where a dance troupe performed. "As guests entered the ceremony, they were greeted by ballet dancers at the entrance of the ceremony. There were ten flower girls who danced down the aisle for the ceremony and they opened up the performances during the reception with a dance routine before the bride and groom."
37. Acrobat Performer on Metal Wheel
An acrobat wowed guests by performing on a metal hoop on the dance floor at this reception.
38. Stationary Acrobat Performance
Instead of rolling about the dance floor, this acrobat stayed put and impressed with stationary stunts.
39. Ferris Wheel at Wedding Reception
If you grew up loving the county fair, consider renting a Ferris wheel for your wedding as an homage to the magic of festivals and fairs.
40. Mermaid Performers Aboard Reception Cruise
Guests at this nautical wedding were treated to entertainment from performers dressed as mermaids.
41. Archery During Outdoor Wedding
These newlyweds hosted a camp-themed wedding complete with an archery station.
42. Fire Eating Performance
Things got heated at this reception, thanks to daring fire eaters.
43. Ballet Performance
For ballet fans, consider hiring ballerinas to dance at your event. At this ceremony, ballerinas wowed in swan-inspired outfits.
44. Dance Troupe at Wedding Reception
Get the party started by hiring a dance troupe to kick things off at the wedding reception.
45. Basketball During Wedding Reception
To celebrate the groom's profession as a basketball player, this couple had arcade-style basketball hoops set up at the reception.
Creative Ideas for Wedding Reception Decor
The sky is the limit with reception decor. Don't limit yourself to standard centerpieces and run-of-the-mill draping. Connect with your event designer to dream up something truly magical.
46. Fragrant Candle for Scentscaping
Pillar and votive candles will help visually set the scene at the reception but think about scentscaping your event by sprinkling candles in your favorite scent throughout the day. Scent is closely tied to memory so anytime your smell your chosen scent in the future, memories of the big day will come flooding back.
47. Custom Chalk Art Mural
For their Lion King-inspired wedding, this couple commissioned a chalk artist to create a mural with lions.
48. Hanging Lounge Chairs
Sofas are commonly seen at weddings as part of lounge groupings but feel free to get creative with your furniture. This couple suspended circular seats for guests to lounge in.
49. Model Horse Table Number
Even the table numbers were rustic at this country wedding. Calligraphed horses told guests which table was theirs.
50. Custom Papel Picado-Inspired Chandelier
Inspired by cut-paper Papel Picado banners, this couple commissioned an artist to create a dramatic paper chandelier and matching table runners for their tented outdoor wedding reception.