95 Unique Wedding Reception Ideas Your Guests Haven't Seen Before
Fresh and epic ideas that hit different.
I know what you're thinking: "Are there any truly unique wedding reception ideas out there?" The type that have really never been seen before and are the definition of cutting edge. Have no fear—we've got 95 totally fresh ideas that are absolute fire.
Everyone wants their wedding day to be one-of-a-kind, but coming up with truly unique wedding reception ideas that impress attendees can be a daunting wedding planning task. From forward-thinking fashion moments to wedding decor and even creative ceremony ideas that take everyone's breath away—incorporating unique wedding ideas to personalize your wedding day is a surefire way to ensure your attendees never forget the fun they had at your wedding.
To inspire your wedding reception, we've rounded up 95 unique wedding reception ideas that are sure to set your big day apart and impress everyone, no matter your wedding style. From unique wedding venue ideas ranging from decor to entertainment plus food, bar and cake inspo, consider this your one-stop-shop for epic wedding reception ideas.
In this story:
Tips for Planning a Unique Wedding
After perusing the epic, untraditional wedding ideas below, you're sure to start wondering how you can come up with your own unique and fun wedding ideas. We tapped some of our favorite knowledgeable wedding pros to get the inside scoop on how to make your wedding unique and unforgettable. Keep these must-know tips in mind as you start planning your own unique wedding details.
Let Your Shared Hobbies Inspire You
If you're grasping at straws and simply can't come up with totally original and cute wedding ideas for your special day, look no further than the activities that bring you and your partner joy. "Think about what you both love and if there are experiences you have had together that you would want to relive or incorporate," suggests New York-based wedding planning expert Diana Lin, owner of Cóllectives by Diana. "I take inspiration from my travels, from art and fashion. It's always a great starting point as it can help guide you the rest of the way. Don't think about what's normal or traditional but think about what makes your day uniquely yours." Virginia Frischkorn, Colorado-based wedding planner and owner of Bluebird Productions and Bluebird in a Box concurs. "Think of activities you've done as a couple that have brought you the most joy. Recreate that for your guests so they can have a peek into what makes you happiest. Genuine moments/experiences are what create the strongest bonds."
Keep Practicality in Mind
While the sky is truly the limit with unique wedding ideas, do keep in mind that ideas need to be feasible for you and your wedding planner. While some ideas may look cool, it can be hard to pull them off on a large scale during a wedding day. Texas-based expert wedding planner Ashley Mason of Saunter Weddings, founded in 2014, notes that taper candles are one such idea that looks great, but isn't the most practical for a large wedding reception. "Ever since the boom of Pinterest, photos of mass taper candles have been in inspiration folders across the board. As beautiful as they always are, many indoor venues don't allow open flames and require candles to be enclosed for safety. It is always a good idea to check the venue's decor policy before booking. Make sure your heart-set ideas can be made possible there before signing the contract."
Nontraditional Wedding Guest Book Ideas
The concept of a guest book is a fairly standard addition to any wedding, but that doesn't mean the guest book you choose needs to feel pedestrian. Skip the book and go with a cool wedding idea—ask guests to leave a note or their signature on an item you can later turn into home decor or a meaningful keepsake. Here are some of our favorite unique wedding guest book ideas that we're sure will spark your own creativity.
1. Sporty Baseball Guest Book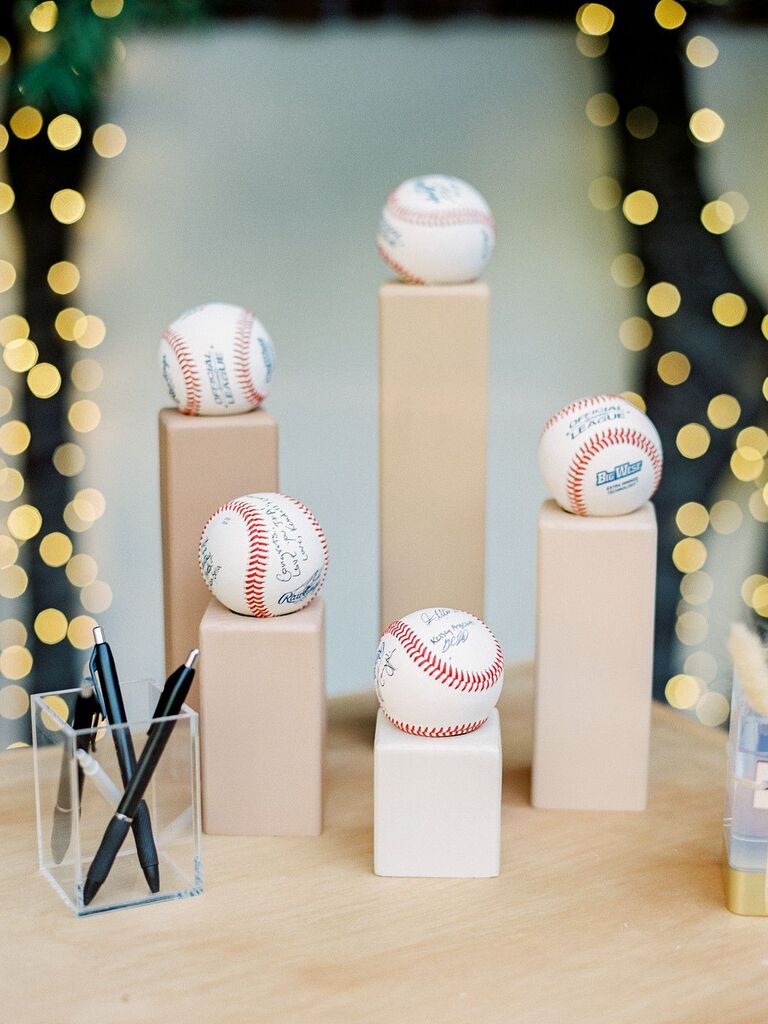 Here's a must-see wedding reception idea for baseball lovers. In honor of the groom's profession as a baseball player, this couple set out baseballs for guests to sign before the end of the night. This guest book idea will turn into a fun keepsake you can display in your newlywed home, alongside other sports paraphernalia.
2. Quilt Square Guest Book Inspiration
Have a snack for sewing? This couple asked guests to decorate quilt squares that were later sewn together into a keepsake wedding quilt as a fun way to commemorate the day. With a quilt guest book you'll be able to wrap yourself up in well-wishes from loved ones for years to come.
3. Telephone Guest Book
New number, who dis? A guest book doesn't have to involve writing. At this summer wedding reception, the couple opted for an audio guest book that created a playlist of well-wishes that could be listened to for years to come. They set out a pink phone on which attendees were able to record messages of love for the happy couple.
4. Vintage Typewriter Guest Book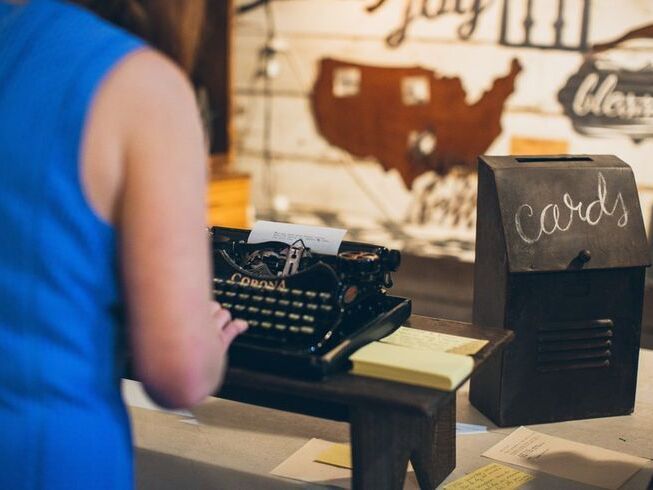 What's old is new again. If you wanna be really revolutionary, think of a totally new use for a retro item. We're here for the retro vibes of this typewriter. Wedding guests were encouraged to type out a note on a typewriter at this fun wedding.
5. Artsy Sketching Guest Book
We're here for this artsy moment. Encourage guests to bring out their inner Picasso with a sketchbook station in lieu of a traditional guest book. You could even turn select pieces into artwork for your newlywed home.
6. Gardening-Inspired Terracotta Planter Guest Book
Fam, got a green thumb? Purchase a terracotta planter and for guests to autograph during the wedding reception. This is a fun way to make your at-home garden into a team affair so you'll think of your wedding each time you look at your plants.
7. Interactive Tree of Wishes Guest Book Activity
This interactive wish tree is fun for multiple reasons. Not only does it beckon guests more readily than a traditional book might, but it also encourages other guests to mix and mingle while they peruse the notes written by other party-goers.
Fun Wedding Bouquet Ideas
There are nearly endless ways to add unique wedding touches to your nuptials, but we're especially partial to incorporating fun wedding bouquets into the mix. Before diving into the epic ideas below, take a peek at The Knot Marketplace to find your dream wedding florist. Once you've hired a florist (and discussed your wedding flower budget), share your favorite unique wedding flower ideas from below with your hired pro. We've gathered phenomenal ideas that range from unique, small wedding bouquets to wedding bouquet alternatives and everything in between.
8. Phenomenal Neon Bouquet With Dyed Flowers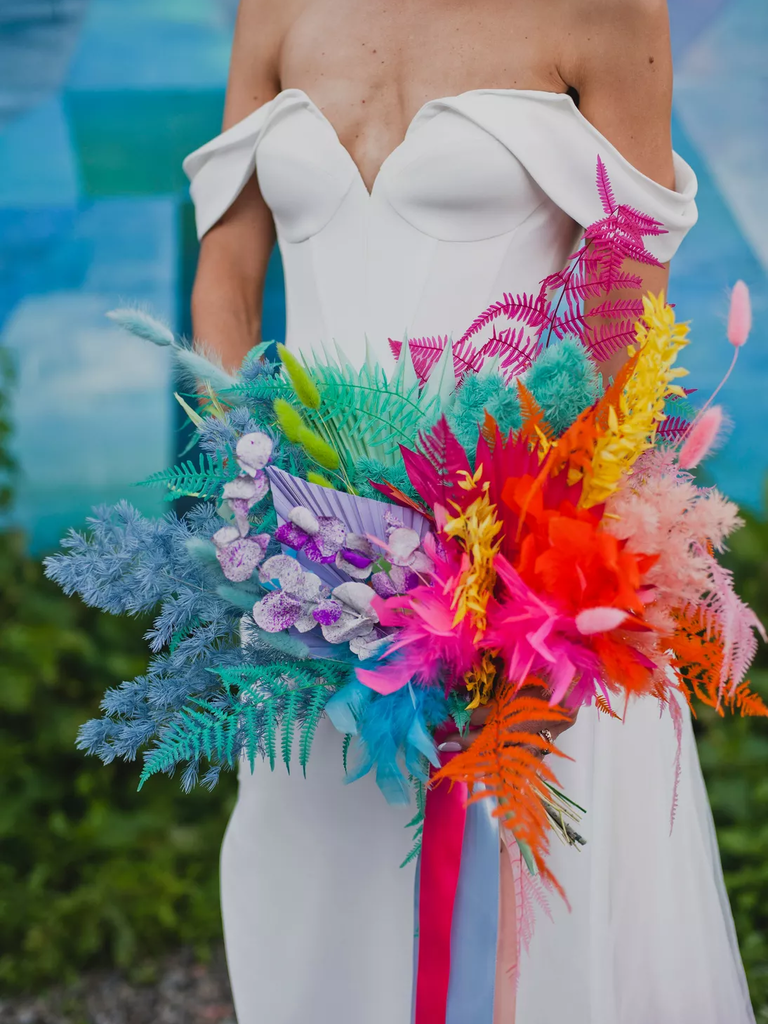 Is this colorful bouquet amazing or is it amazing? If you're a fan of the bold and the beautiful, get wedding flower tips from your florist as they'll have the best advice on which types of blooms (or in this case ferns) work well for dyeing.
9. Creative DIY Bouquet With Wood Flowers
This bouquet took things one step further and instead of using dried flowers, it was comprised of wood flowers. What's more, the bride DIYed the entire arrangement herself. "DIYing the floral designs was probably the most daunting DIY task since it was a medium I had the least amount of previous experience with," says the bride from this New York wedding. "We are both sentimental collectors, so we decided early on we wanted to create florals that would last well past the wedding. I used a combination of hand-painted Sola (wood) flowers and artificial flowers and greenery for both my bouquet, my husband's boutonniere, and the reception centerpieces."
10. Colorful Wristlet Bridesmaid Bouquet Alternative
Skip traditional bouquets for your besties and give them corsage-inspired wristlet bouquets instead. As a bonus, the wedding party doesn't have to bother with holding onto their bouquets all evening because they'll be wearing them.
11. Outstanding Yellow Craspedia Wedding Bouquets
I never cease to be amazed by the unique wedding bouquet ideas couples and vendors dream up. These funky yellow bouquets hit different. Craspedia, also known as billy ball, is a fun spherical flower that's great if you're looking for retro vibes.
12. Exceptional Protea Wedding Bouquet With Embroidered Ribbon
I'm weak—this bouquet is truly so fresh and stunning. A dramatic collection of king protea blooms were tied together with an embroidered black-and-white ribbon. As a sentimental touch, the words embroidered on the ribbon were taken from notes from the bride's grandmothers. "My bouquet was bound by black and white grosgrain ribbon featuring embroidered messages from my grandmothers, in their cursive writing," says the bride.
13. Unique Crepe Paper Peony Wedding Bouquet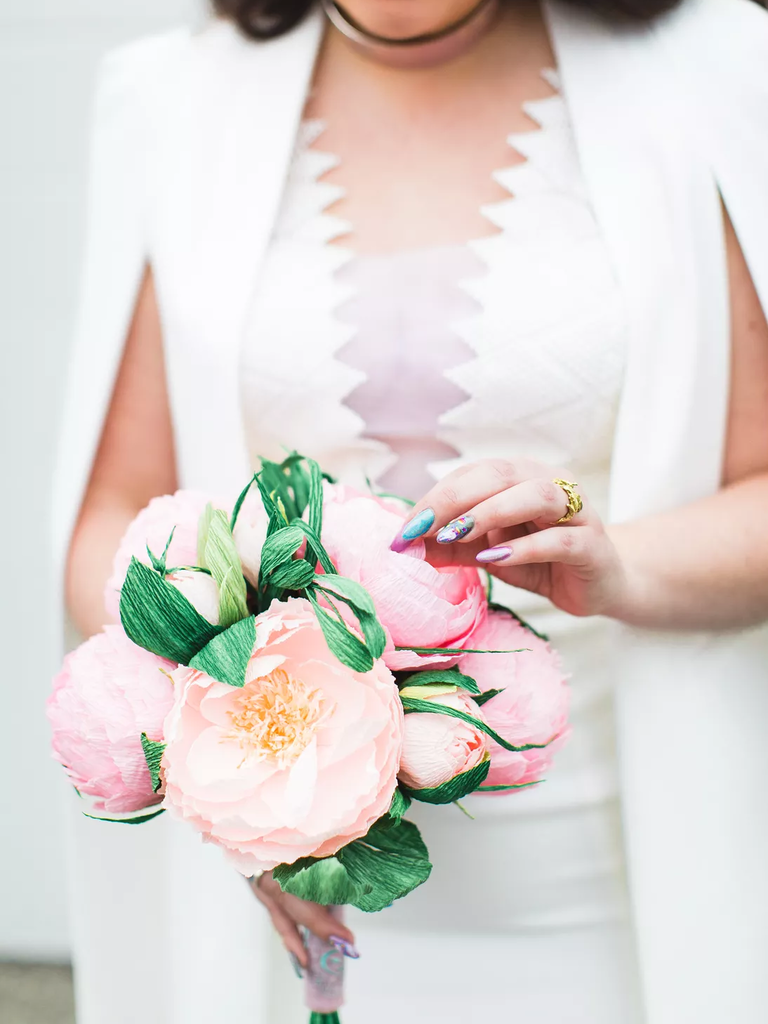 We've seen dried wedding bouquets and wood wedding bouquets, now it's time to show off another alternative wedding bouquet—this one is made of crepe paper. Peonies have a notoriously short growing season. If you can't find fresh ones for your wedding day, take a page from this bride's playbook and go with crepe paper peonies instead.
14. Eclectic Flower-Clad Brass Knuckles
This creative bouquet alternative is living in our minds rent-free. Instead of bouquets for the bridesmaids, the florist for this Denver, Colorado, wedding decked out brass knuckles with flowers.
Find your kind of venue
From barns to ballrooms, discover reception venues that feel like you.
Creative Seating Chart Ideas
Directions for guests on the wedding day, from seating assignments to other wedding signage, need to be practical, but they don't need to be boring. Seating charts, escort card displays and place cards are a great spot to think outside the box when it comes to unique wedding decorations.
15. Antique Bell Seating Assignments With Calligraphy
This couple took a page out of Ernest Hemingway's book and had bells toll to guide guests to their seats. Bells calligraphed with guests' names served as both escort cards and wedding favors at this outdoor wedding in California.
16. Striking Spice Canister Place Cards
Sugar and spice and everything nice was the name of the game with these place cards. At this wedding, calligraphed canisters of fragrant spices were put at each place setting to let guests know which seat was theirs.
17. Creative Custom Bottle of Wine
Oenophiles, we've got a great wedding reception idea for you. Wedding guests received bottles of wine at this wedding which doubled as both wedding favors and escort cards.
18. Exceptional Flower Vase Escort Card Wall
A garden wedding deserves a blooming seating chart. In addition to serving as directions to their wedding reception seats, these petite flower vases also acted as wedding favors for party-goers.
19. Sweet Kicks Escort Card and Favor Wall
Calling all sneakerheads—this escort-card-meets-wedding-favor idea is fire. Plus, it's a surefire way to guarantee your loved ones break it down on the dance floor while the DJ spins sick beats.
20. Greek-Inspired Escort Card Wall Installation
If you love Greece but can't swing a destination wedding, bring the Aegean Sea's charm stateside. This couple's escort cards took the form of little tags adhered to mini bottles of olive oil and were displayed in nooks in a Santorini-worth white wall.
21. Sporty Soccer Ball Escort Card Wall
Who's ready to bend it like Beckham? To celebrate their shared love of soccer, the couple at this wedding tastefully wove soccer-inspired details throughout the wedding reception decorations.
22. Lucky Fortune Cookie Seating Chart Display
If you're looking to make your wedding day a little luckier, take a cue from this fortune cookie moment. After finding their table number via the two signs that flanked the cookies, wedding guests got to snack on their fortune cookies as they made their way to their respective reception tables.
23. The Grateful Dead-Inspired Musical Escort Card Display
This is the best wedding reception idea for Deadheads. As a reference to the iconic rock band, the display bore the words "Get on the Bus."
24. Funky Mod Escort Card Activation With Mood Rings
How ya feeling? I, for one, am obsessed with this mood ring installation. A wall reading "In the Mood" greeted guests as they arrived to the wedding reception. The gloved hands of entertainers emerged through holes in the wall and dispensed mood rings. Attendees sat at tables that matched the color or "mood" of the ring they received.
25. Tasty Pickle Escort Card Wall at Country Wedding
This escort card wall was finger-lickin' good. The couple made jars upon jars of DIY pickles to use as wedding favors and attached escort card tags to them before creating this display wall. Appropriately, the wall said "Pickled You're Here."
26. Retro Colorful Escort Card Display With Balloons
Music inspired this rad wedding so it was only natural that the escort cards would take the form of concert tickets. A balloon-filled display, complete with a vintage VW bug, housed all the tickets.
Cool Wedding Cake Ideas
There's nothing sweeter than unique wedding cake ideas (pun intended!). Once you've found a talented wedding baker on The Knot Marketplace who's in the know on all the latest wedding cake trends and wedding cake costs, level up your wedding dessert with a cutting-edge design that totally slays. Enjoy poring over some of our fave cool wedding cake ideas. There's no doubt these unique wedding cake ideas will pique your interest and help you brainstorm your sweet treat.
27. Vintage-Inspired Pink and Teal Lambeth Cake
What's not to love about this colorful wedding cake? This maximalist Lambeth cake trend (where the cake is "over-piped") is having a moment and I, for one, hope it doesn't end anytime soon.
28. Floating Illusion Green and Gold Wedding Cake
The top half of this gilded cake is deceiving in the very best way possible. An acrylic support, hidden behind gold leaves, gives the appearance that the top tiers are hovering above the rest of the dark green wedding cake.
29. Exceptional Art Deco Wedding Cake on Swing
While the last cake we saw had a floating tier, this entire bake is suspended in the air thanks to a cool black wedding cake swing. The white and silver cake looks straight out of Great Gatsby and we're not mad about it.
30. Wedding Cake on Striking Ice Sculpture
Ice, ice baby—this is one cool wedding cake. This entire icy look, with roses embedded in the frozen sculpture, is absolutely fire (though it's a good thing there was no actual fire near this dessert table).
31. Colorful Retro Wedding Cake With Taper Candles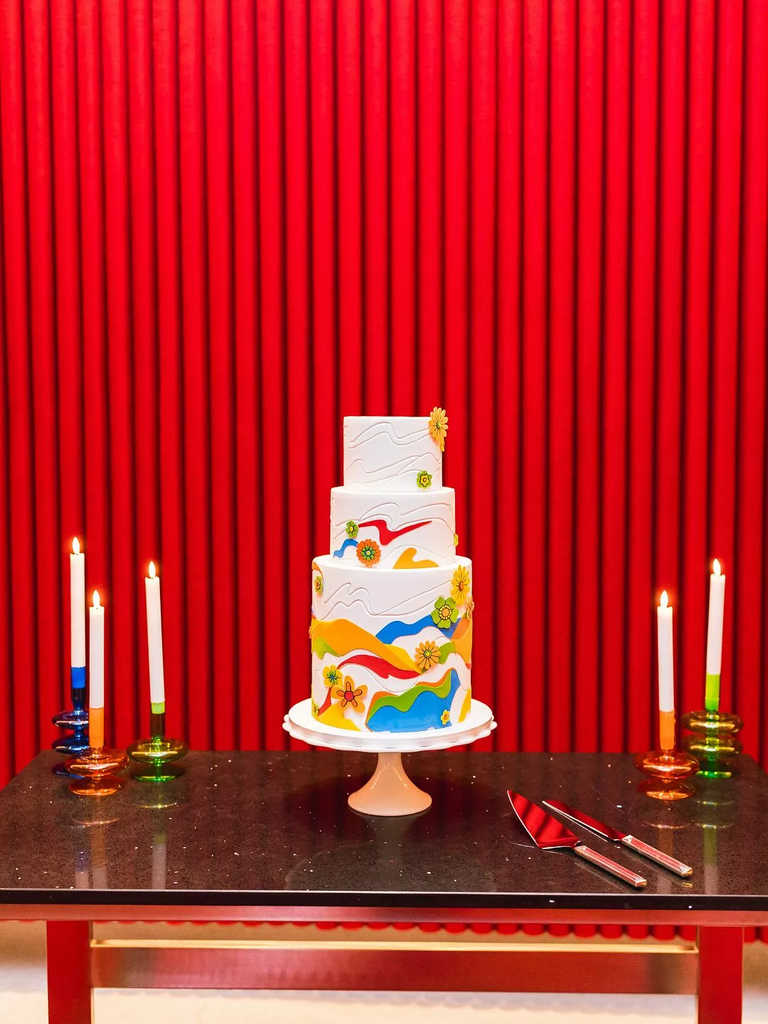 Can we talk about how groovy both this wedding cake and the candlesticks surrounding it are? The entire retro look was remarkable and proof that old ideas and themes can be reinvented in fresh and unique ways.
32. Wedding Cake With Cold Sparklers
Sparklers inside? Don't worry, cold sparklers are, as the name suggests, a cool product that is safe indoors. Many couples choose to place cold sparklers near the dance floor for their first dance, but this couple upped the ante and stuck the pyrotechnics in their wedding cake.
33. Creative Colorful Wedding Cake Display
Instead of just one wedding cake, this couple chose a collection of multiple single-tier cakes. The entire array was displayed in front of a fun polka dot backdrop to beckon guests over to the sweets table.
34. Edgy All-White Wedding Cake
This wedding cake is edgy in the truest sense. Modern spiky accents descended the side of this two-tier all-white wedding.
35. Personalized Sports- and Pet-Themed Wedding Cake
Many couples look to sports for wedding inspiration. Others look to their pets for wedding reception ideas. But what do you do if you absolutely love both? This couple honored their love of the Green Bay Packers and dogs with two fun wedding cakes.
Out-of-the-Box Wedding Catering Ideas
When it comes to dreaming up your wedding menu with your expert caterer (Pro Tip: you can find great catering pros on The Knot Marketplace), take a moment to think about the foods you like to eat. There's no rule saying that you have to serve a simple chicken entrée at the reception. Consider something trendy like a hip food truck or even a taco bar to wow wedding guests. Once you've settled on a catering budget with your hired pro, take a peek at our favorite unique wedding food ideas to get inspiration for your own big day.
36. Delicious Cotton Candy Station
Food stations are a fun activity for guests. At this festival-inspired celebration, freshly spun cotton candy was on offer.
37. Fun Pit Stop for Soft Serve
During their prewedding portraits, this couple made a pit stop for ice cream. It's your day, by all means, do (and eat!) what you want.
38. Memorable Trip for Fast Food
During their wedding portrait session, this couple stopped for a quick bite at In-N-Out Burger. No matter where you stand on the Shake Shack vs. In-N-Out debate, a pitstop for tasty burgers is never a bad idea.
39. Personalized State-Shaped Ice Cream Bars
Mitten-state couples, here's a fun ice cream idea for you. In honor of their Michigan wedding locale, this couple included Michigan-shaped chocolate-covered ice cream bars on their catering menu.
40. Summer Pink Popsicle Display
Keep guests cool with refreshing frozen popsicles. Especially if you're hosting a beach wedding reception where guests will spend a lot of time under the sun, this is a solid option that's as practical as it is tasty.
41. Wedding Reception Gelato Cart
Even if you aren't getting married in Italy, gelato is an incredible idea for a unique wedding reception dessert. Bonus points if the gelato is served from a super-cute little cart like this one.
42. Individual Charcuterie Cones at Wedding Reception
I'm in if there's charcuterie that I don't have to share. At this wedding reception, guests noshed on assorted meats and cheeses served in fun cones that enabled them to walk, talk and eat at the same time.
43. Creative Farm-to-Table Open Air Cooking
This is a fun idea if you're interested in creating an immersive dining experience for your guests. The caterers prepared the wedding reception dinner in an open-air kitchen where guests could observe the happenings while mingling during cocktail hour.
Unique Bar Service Ideas
A roundup of unique and cool wedding ideas would not be complete without some fresh bar service and mixology inspiration. (Psst: You can find great wedding bartenders on The Knot Marketplace!) If you want to know what's hip and happening in the world of wedding drinks and cocktails, then you're gonna enjoy these unique wedding bar ideas.
44. Drink Pouches at Casual Summer Wedding
If your wedding date is during the hotter months of the year, think about fun ways to keep guests cool and refreshed. This couple served rosé in drink pouches at their backyard wedding.
45. Mouthwatering Signature Cocktails With Tamarind Straws
Paper straws are the eco swap most often used in place of plastic straws. However, they can sometimes become soggy and unusable. This couple combatted that problem by serving edible straws made of tamarind in their signature cocktails.
46. Over-the-Top Coffee Station
Coffee lovers, consider adding a fun coffee station to cocktail hour for wedding guests to enjoy. The caffeine boost will keep attendees dancing till the wee hours of the night.
47. Exquisite Tea Display
If tea is more your speed, take a note from this couple's display of freshly-brewed tea. Invest your wedding drink budget in offering guests a curated selection of top-notch tea.
48. Fun Mobile Bar Cart
When mobile wedding bars first came on the scene a few years ago there were only basic offerings. But the drink trend has exploded and now there's every option under the moon. At this wedding, guests chose from one of three taps and even got to select fun garnishes to add to their sips.
49. Fresh Flower Drink Garnish
As they say, we eat (and drink) with our eyes first. This couple took that to heart for their pink Sazerac signature cocktails—they garnished the drinks with fresh edible flowers.
50. Bespoke Monogrammed Ice Cubes
Ice is another way to garnish your signature cocktails at the wedding reception. Up-level your drinks with personalized ice cubes that showcase your monogram.
51. Creative Fish Tank Custom Wedding Reception Bar
Don't worry, no fish were harmed in the making of this far-out wedding bar. The couple commissioned a fish tank as their wedding bar and, at the end of the night, guests and wedding vendors departed with the goldfish as pets.
52. Bride Tribe Shotski
A little party never killed nobody! During the wedding reception, this bride and her besties joined in for a fun shotski to really get the party going.
53. Hoop Skirt With Champagne Flutes
Talk about dressing to impress. Instead of having servers roam cocktail hour with a tray of champagne flutes, the waiters at this event wore flutes of bubbly.
Remarkable Guest Experience Ideas (Entertainment & Activities)
According to internal research from The Knot, 74% percent of couples shared that creating a memorable experience for guests was a top wedding priority. Additionally, 63% percent of guests said they were motivated to make their wedding feel authentic to their personality. But how can you actually accomplish that? Well, with help from these awe-inspiring ideas that incorporate unique wedding vendors and unique wedding activities.
Live bands and photo booths aren't the only forms of entertainment you can include in your wedding. Washington, DC-based expert wedding planner Melissa Williams, owner of B. Astonished Events since 2014, recently planned a wedding where a dance troupe performed. "As guests entered, they were greeted by ballet dancers. There were ten flower girls who danced and they opened up the performances during the reception with a dance routine before the bride and groom."
As you're in the middle of wedding planning, think through how your wedding guests will experience the day and come up with creative ways to make their experience even more memorable, incorporating everything from printable wedding games to creative reception entrances. New York-based wedding planning expert Rachael Ellen, who owns her eponymous company Rachael Ellen Events which opened in 2015, encourages couples to "think about how they want the wedding to feel rather than just look. This helps me narrow in on specific design directives to help them achieve not only something inspiring but a feeling that is important to them and central to their celebration." Take a peek at the unique wedding reception ideas below as you consider how to make the guest experience on your wedding day next level.
54. Festive Ferris Wheel at Wedding Reception
If you grew up loving the county fair, consider renting a Ferris wheel for your wedding as an homage to the magic of festivals and fairs. Just pass the funnel cake and I'll be all set.
55. Mermaid Performers Aboard Reception Cruise
A cruise ship is definitely a unique wedding venue. Guests at this nautical wedding were treated to entertainment by performers dressed as mermaids.
56. Archery During Outdoor Wedding
Feeling woodsy? These newlyweds hosted a camp-themed wedding complete with an archery station.
57. Dramatic Fire Eating Performance
Things got heated at this reception, thanks to daring fire eaters. If you and your partner are on the daring side of things, invite fire-eating performers for a truly lit reception.
58. Elegant Ballet Performance
Plié, chassé, jeté, repeat. For ballet fans, consider hiring ballerinas to dance at your event. At this wedding, ballerinas wowed in swan-inspired outfits.
59. Cool Dance Troupe at Wedding Reception
It's time to boogie. Get the party started by hiring a dance troupe to kick things off at the wedding reception.
60. Basketball During Sporty Wedding Reception
Who wants to shoot some hoops? To celebrate the groom's profession as a basketball player, this couple had arcade-style basketball hoops set up at the reception.
61. Futuristic LED Robot at Modern Wedding Reception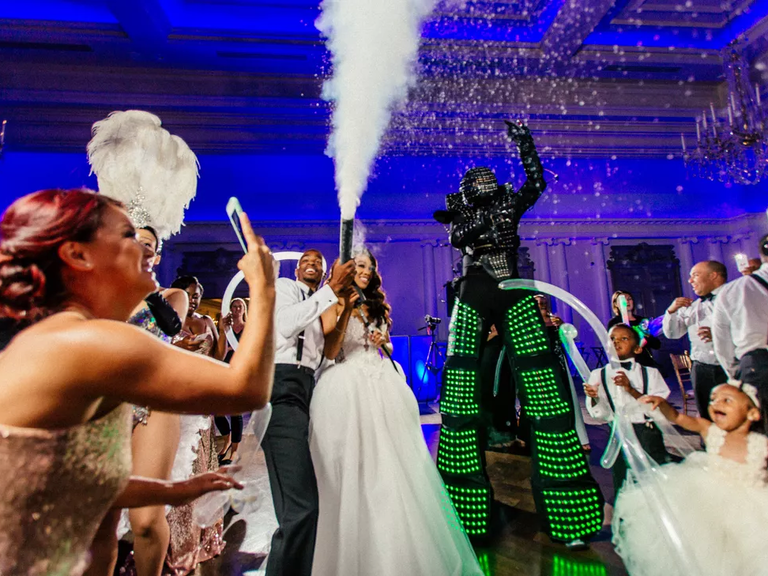 At weddings of the future, human guests will be joined by their robot counterparts. But wait, the future is here, thanks to this revolutionary reception entertainment.
62. Auspicious Tarot Card Reader
Give you, your partner, and all your loved ones a peek at what the future holds with a tarot card reader at the wedding reception. It's these kinds of unique wedding touches that guests will remember for years to come.
63. Exceptional Drag Queen Performers
What's better than one drag queen performing at the wedding reception? A whole crew of queens ready to get the party started.
64. Phone Check Station Inspired by Hotel Front Desk
It's not hard to understand why couples love the idea of unplugged weddings. To ensure guests were able to totally disconnect and be present during the wedding, this couple set up a phone check station, much like a coat check station.
65. Inventive Pre-Wedding Toast
This bride chose not to have bridesmaids or a wedding party. Instead, she invited her nearest and dearest over for a champagne toast on the morning of the wedding as a fun way to start the day.
66. Acrylic Sign for Phone Charging Station
Few things are worse than realizing you only have 10% battery life remaining during cocktail hour, but you want to be able to snap fun pictures while you break it down on the dance floor at your bestie's wedding. This couple dealt with that issue by creating a charging station for electronics at their wedding.
67. Extraordinary Hot Air Balloon Wedding Reception Entrance
Take flight as you make your way to the wedding reception. This couple's epic wedding reception entrance involved a hot air balloon.
68. Colorful Smoke Bomb Baby Reveal
There was more than one reason to celebrate this couple's special day. Not only was the couple celebrating their marriage at this wedding, but they also used it as an opportunity to reveal their baby's sex.
69. Cute Coloring Pages for Kids
If you're having children at the wedding then you need some cool wedding ideas to keep them entertained throughout the night. Youngsters at this wedding were greeted by fun wedding-themed activity pages at their reception seats.
70. Larger-Than-Life Checkers Wedding Game
The happy couple at this wedding took the concept of wedding games to a whole new level (and scale!) with giant checkers at the reception. The interactive activity was more than a game, it was a full-body experience.
71. Dramatic Aerial Silk Performance
Here's your sign that you need to host an outdoor wedding with access to a giant tree. An aerial silk performer brought this wedding reception's entertainment to new heights with an act that took place while she was suspended from a tree.
72. Acrobat Performer on Metal Wheel
Instead of taking to the sky, this performer hopped on a wheel and rolled around. The exceptional acrobat wowed guests by performing on a metal hoop on the dance floor at this reception.
73. Amazing Sea Lion Performance at Zoo Wedding
Central Park Zoo acted as the backdrop for this couple's animal-friendly wedding so it's no surprise that they included a sea lion performance as part of the reception schedule. "All of our guests were anticipating it—the sea lions and trainers were incredibly talented, and this entertainment started the party off on a really high note." recalls the bride
74. Marvelous Elton John Impersonator Performance
Make way for the Sir Elton John. If, like me, you can't afford to have the real Elton John perform at your wedding (I'm still jealous that Meghan Markle and Prince Harry snagged him for their nuptials!), then an impersonator is the second-best way to get an exceptional performance of "Tiny Dancer."
75. Fun Wig Reception Photo Booth
Gone are the days of a simple, plain wedding photo booth. This couple upped the ante with a wig wall guests could peruse before they snapped pics in the photo booth.
Exceptional Wedding Decor Ideas
The sky's the limit with unique wedding reception decor. Don't limit yourself to standard centerpieces and run-of-the-mill draping. Connect with your event designer to dream up something truly magical. To get your creative juice flowing, take a gander at the very best wedding decoration ideas. Spoiler Alert: You're going to love them all.
76. Model Horse Table Number
Giddy up! Even the table numbers were rustic at this country wedding. Calligraphed horses told guests which table was theirs.
77. Custom Papel Picado-Inspired Chandelier
I tip my hat to the genius pros who brought together this wedding. Inspired by cut-paper Papel Picado banners, a traditional Mexican wedding decoration, this couple commissioned an artist to create a dramatic paper chandelier and matching table runners for their tented outdoor wedding reception.
78. Sporty Soccer Table Number Idea
When it comes to unique wedding table number ideas, it's hard to top this.
79. Unique Wedding Sign at Wes Anderson-Inspired Reception
This couple drew wedding decor inspiration from the iconic American filmmaker known for his quirky and unique style. Guests were greeted by an itinerary sign that boldly proclaimed there was no wedding schedule.
80. Dramatic Streamer Tunnel Wedding Reception Entrance
Is this not the most amazing unique wedding decor idea ever? Leonard Knight's Salvation Mountain art installation inspired the epic tunnel guests walked through at these colorful whimsical-yet-eclectic nuptials.
81. Colorful Wedding Card Sign
Your search for unique wedding card table ideas is officially over. This colorful sign is the G.O.A.T., truly. Whether you choose to just have a sign or you opt for a full wedding card box, don't forget to have a bit of fun with funky colors and designs.
82. Custom Bride and Groom Piñatas
For their colorful wedding in Fresno, California, this couple had larger-than-life piñatas made in their likeness. "We even commissioned piñatas to look like us and our dog," adds the bride.
83. Festive Ring Pop Wedding Piñata
When coming up with unique wedding decoration ideas, this couple took a stroll down memory lane. This piñata is an homage to the candy Ring Pop that the groom proposed with.
84. Dope Nightclub-Inspired Reception Decor
This wedding reception was a vibe. Club-like LED lighting and disco balls set the scene for guests to party the night away.
85. Retro 70s-Inspired Orange Backdrop
Who else agrees that this scene belongs in Taylor Swift's "Anti-Hero" music video? Not only is this look amazing, but the bride DIYed the banners making the entire lounge area even more remarkable.
86. Customized Mid-Century Modern Shell Chairs
There's no rule stating that place cards have to, in fact, be cards. Instead, this couple had everyone's name laser cut in vinyl and attached to the back of their respective chairs.
87. Incredible Pet-Themed Ice Sculpture
This couple's pets couldn't attend the wedding so instead they were present in cryogenic form. A dramatic ice sculpture bore the likeness of the couple's furry friends in addition to the love birds' monogram.
88. Extravagant Orange Balloon Installation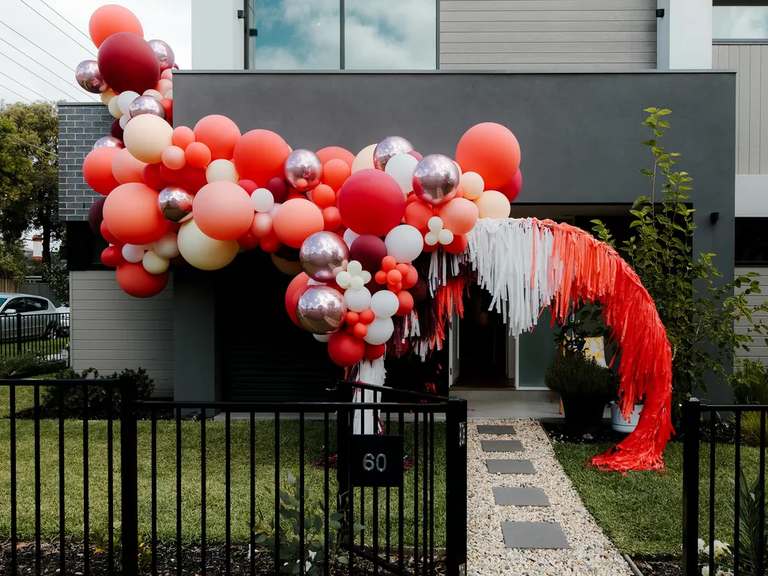 I love it when couples lean into unique wedding ideas from the very onset. This couple decorated the outside of their wedding reception venue with a balloon installation to give guests a peek at what's in store for them.
89. Enchanted Tree Garden Tented Wedding Reception
A garden wedding inside of a tent? Yep, here's proof that's not only possible, but also incredible.
90. Rustic Aspen Tree Canopy Centerpiece
When getting married in the Rockies, nods to Aspen trees are a must. This tree moment took unique wedding centerpiece ideas to new heights, quite literally.
91. Edgy Modern Reception With Neon Lights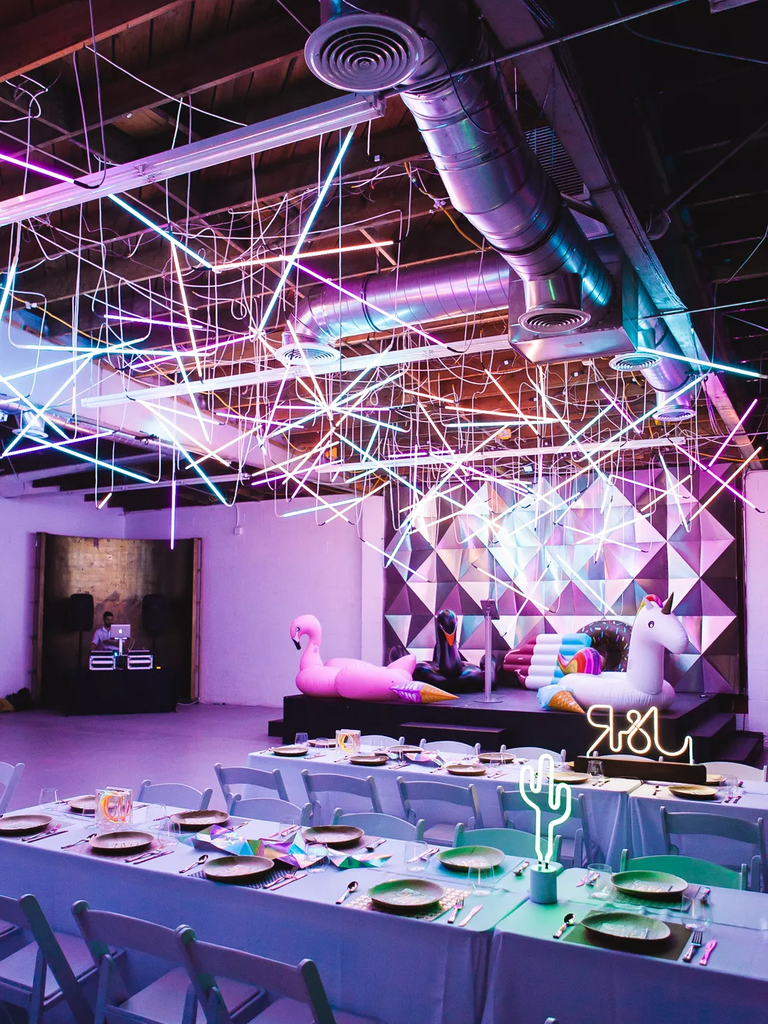 Neon lights gave this industrial space a sweet glow up. What's more, the decor even included a fun pool float. Is that not the coolest thing ever?
92. Inventive Floral Tuxedo Collar
Gone are the days of boring boutonnieres. Instead of wearing a boutonniere, this groom had the shawl collar of his tuxedo outfit with flowers and greenery.
93. Incredible Floral Pocket Square
Often a pocket square is chosen in a fabric that matches the wedding colors. However, this groom took things one step further and chose a floral pocket square that coordinated with the rest of the day's floral design.
94. Fragrant Candle for Scentscaping
Pillar and votive candles will help visually set the scene at the reception but think about scentscaping your event by sprinkling candles in your favorite scent throughout the day. Scent is closely tied to memory so anytime you smell your chosen scent in the future, memories of the big day will come flooding back.
94. Custom Chalk Art Mural
Draping isn't your only option for covering large expanses of open wall space at your wedding venue. For their Lion King-inspired wedding, this couple commissioned a chalk artist to create a mural with lions.
95. Whimsical Hanging Lounge Chairs
Can you believe we found 95 different and unique wedding reception ideas? Well, believe it. We did and were sure one of the previous 94 ideas piques your interest. But just in case they didn't, let's wrap things in a high note with this epic searing moment. Sofas are commonly seen at weddings as part of lounge groupings but feel free to get creative with your furniture. This couple suspended circular seats for guests to lounge in.