Everything You Need to Know About Planning Your Wedding Ceremony
We know you're busy planning the party, but don't forget about the most important part of the day. Here's everything you need to know.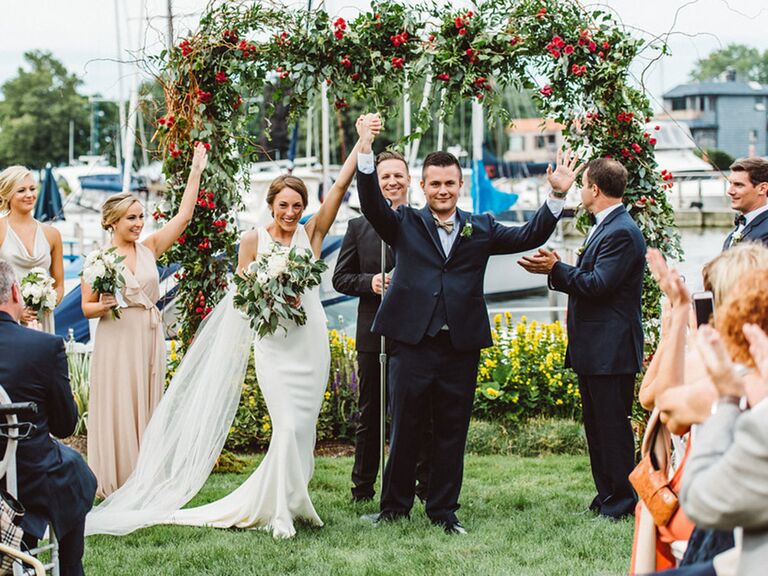 Aster & Olive Photography
Your ceremony is the whole reason you're planning this big, elaborate bash, right? So don't wait until the last minute to start thinking about it—there's much more to this event than simply saying "I do."
Civil or Religious?
Your answer to this question affects every other aspect of the ceremony. You may already know which way you'll go—if not, read on:
Religious
If you follow a particular faith and your partner is of the same faith (or open to yours), a religious ceremony may be a given for you. If you have two different faiths and plan to keep them separate, you can create an interfaith ceremony as the first of a lifetime of blending rituals. Pairs who believe in God or some other spiritual force but not in organized religion might have a nondenominational ceremony (with a Unitarian minister, for example).
Civil
Prefer to keep religion out of it? A civil ceremony may be more your speed. Civil means it's in accordance with state laws, but the exact requirements vary from state to state (and even county to county). Visit the web page of the marriage license bureau in your wedding location for details on the civil process there. Other reasons to stay civil: if this is a second wedding for one or both of you; if your ideal ceremony is too creative for your clergy; if your dream wedding is no wedding (that is, you plan to elope); if you're having a destination wedding.
Where to Wed
A religious service can be held in a number of places, like a church, temple, mosque or meeting room. Some clergy will also officiate at nonreligious sites. For civil ceremonies, it's pretty much up to you where you host your vows (provided your officiant agrees to come). While outdoor sites offer scenic backdrops, if you're saying "I do" at a public park or beach, be prepared for strangers to walk by. If you're not into that, opt for a private estate, golf course or another secure venue. Also, decide whether you want to have your ceremony and reception at the same or different locations. Using the same venue for both events means you won't have to worry about shuttling guests between two spots, but going with separate sites lets you create two different moods.
Master of Ceremonies
Your choice of officiant is crucial. Look for someone whose beliefs coincide with yours, who is as modern or as traditional as you're looking for, and who understands you, your relationship and your ceremony priorities.
Religious Officiant
If you don't have someone in mind already, start with your (or your parents') current house of worship, or a childhood temple or college chapel, and see if anyone is available for your wedding date. Another option: Call that beautiful church or temple you love to drive by and ask to make an appointment with a clergy member. (Note: Some churches may require you to join before hosting your wedding there; others will marry nonmembers.) Some religious leaders will tailor a service to include the beliefs of both partners or will officiate alongside a religious leader of another faith, while others may refuse. So if you plan to create an interfaith ceremony, you may need to look outside your houses of worship for an officiant who is open to performing a blended ceremony.
Civil Officiant
Depending on the state or county's specific requirements, a judge, magistrate, justice of the peace, county or court clerk, mayor or notary public (not, despite what you may have heard, a ship's captain—unless he also holds one of the above civil titles) can officiate. Call city hall to find a civil officiant in your area. You can also ask a friend or family member to officiate if they get properly ordained.
Ceremony Content
Most ceremonies have a similar structure, but the vows, readings, music and other rituals you incorporate can fill your service with meaning and personality.
Vows That Wow
This is the most important promise you'll ever make, so it should reflect your feelings and beliefs. You may decide to stick with the traditional vows—repeating words that have been uttered for centuries gives some couples a sense of permanence, a bigger-than-the-both-of-us feeling. Or you may prefer to write your own. If you take the DIY approach, run your plan by your officiant first and make sure they're okay with it. Even if you stick with the standard vows, many religious officiants are open to working with you on the wording of the ceremony to be more reflective of your beliefs (just ask).
Readings to Remember
Many couples choose to incorporate meaningful readings into their ceremony, asking a special family member or friend to do the honors, or reading themselves, alternating verses or paragraphs. A reading can be religious, humorous or serious—anything that elaborates on your ideas of marriage and your relationship. You can find readings in the same types of places as those that inspired your vows—just make sure you clear the material with your officiant first (some churches and temples may have restrictions). Regardless of what you select, stick to two or three short passages and consider interspersing them throughout the ceremony to break things up.
Unity Symbols
Unity rituals are visual representations of two people becoming one while retaining their own separate identities. You can include your families in the ritual to symbolize a broader blending of two clans. One of the most popular options is the lighting of a unity candle, during which you each hold a candle and then use them to light a third one together. You can blow out the individual flames or leave all three candles lit for the rest of the ceremony. Another common tradition involves a unity cup: Each family fills a cup with wine. Then you each pour half of your "family" cup into one shared unity cup and take a sip.
Ceremony Music
Music can be used throughout the ceremony to set the mood. You might prefer to stick with the traditional wedding tunes (think: walking down the aisle to Wagner's "Bridal Chorus") played by the church or temple's organist, or you could hire live musicians (a string quartet, for example) or a gospel choir to perform more contemporary songs that are meaningful to you. Just check with your venue first. Many churches and temples regulate the type of music and musicians allowed (for example, secular songs or electric music may be banned). If you're tying the knot in a public place, like a city building or county beach, there may be time-of-day restrictions on playing music or limitations on noise levels. Keep the size of your ceremony site in mind too. The sound of a harp will get lost in a large cathedral, and choirs of bagpipes will be deafening in a friend's living room.
Find the top ceremony dos and don'ts right here.
Searching for the perfect ceremony spot? Look out for all these details here.