This Couple Wed in the Coolest Whiskey-Pouring Ceremony
The New York–based pair ditched a traditional candle and flame for good, old-fashioned whiskey.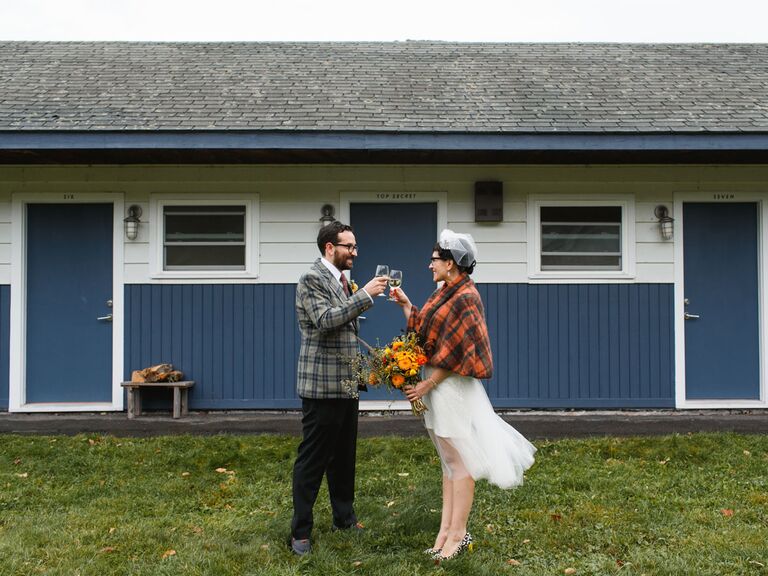 Love Me Do Photography
The best kind of ceremonies are uniquely your own, which is why we're suckers for anything out of the box and entirely unexpected (including the occasional beer-pouring ceremony). Enter Katie and Jeff: The Brooklyn, New York–based newlyweds who bucked tradition by saying "I do" with a whiskey-pouring unity ritual during their October nuptials in upstate New York.
"We love the fall and wanted our wedding to feel like a weekend escape," Katie says of retreating north for their autumn affair at Spruceton Inn in West Kill, New York. "We poured unaged corn whiskeys from upstate New York and Brooklyn into a two-liter barrel. When we finished, we high-fived and exchanged our vows."
Aside from their decision to seal the deal with a strong drink, we're especially obsessed with how Jeff prepared for the day's unseasonably cold temperatures:
"When I got up to the altar, I took Jeff's hands and noticed he was carrying a hand warmer," Katie says. "We held hands the whole time just to keep warm."
We don't know about you, but a well-prepared fiancé and an ultra-personalized ceremony sound like the makings of a solid marriage.