Home

For Goodness Cakes
About this Vendor
Incredible edible art you won't forget!
We create your wedding cake to look and taste incredible and specialize in custom designs to fit your style and theme. You'll receive individual attention because you meet with the cake artist/owner personally. We treasure being a part of your most memorable day!
Details
Contact Info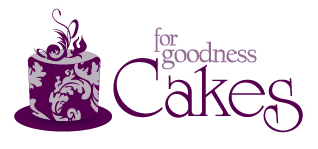 By Appointment Only, Norcross, GA
Amazing custom cake!!
3/29/2013
Jennifer D
For Goodness Cakes made a custom Chuck Taylor grooms cake for our wedding. The cake absolutely exceeded our expectations and was even more delicious than the samples we tested. The cake was a huge hit at the wedding and we took one of the shoes home to share with our family the next day to make sure they got a piece. They loved the details and how tasty it was as well. We could not believe how much the cake looked exactly like Chuck Taylor shoes. The quality of the artwork was like something you would see on TV and totally worth every dollar we spent! I would highly recommend For Goodness Cakes and will absolutely go to them again for any custom or big event cake I need in the future.
---
Beautiful and Delicious!
9/21/2013
Apryl W
We purchased our Groom's Cake and Wedding Cake from For Goodness Cakes. They were both unique and delicious and exactly what we had planned. Our guests are still commenting on how great the cake was! They were so easy to work with and very quick to respond to questions. I recommend them to anyone looking for a beautiful, unique and delicious cake and I can't wait to use them again for future events!
---
Delicious & Beautiful!
9/29/2013
Amanda B
Our cake was absolutely perfect!! It was beautifully decorated and was delicious! We had three flavors of cake and I received complements on all of them. Would definitely use again!
---
Best Wedding Cake Ever!
8/16/2014
Elena G
We hired For Goodness Cakes for a few reasons. They were more affordable than the other option we considered and they were very professional during our consultation. We met with Megan for the consultation and she constructed a wedding cake of foam tiers so we could get a visual of what the cake would look like. She was very helpful in answering my questions and was flexible when we wanted to make changes to ensure that our cake was exactly what we wanted. The cake samples that she had for us to taste were all delicious! We chose the champagne cake with a raspberry filling and a strawberry cake with strawberry cream cheese filling. Our cake turned out beautifully and our guests all loved the flavors we chose. We hope it tastes just as good on our one year anniversary!
---
Beautifully delicious!!!
10/25/2014
Kat J
My family has been buying their cakes since Melonie started the business. Melonie and her fellow cake decorators are really artists at heart. They are so creative and talented. They did a Steampunk cake for our wedding, and it was perfect! She even included an intricate lace on the layers which was so beautiful. She made a lifesize copy of my husband's favorite guitar for the groom's cake. They taste even better than they look. The orange velvet disappeared almost immediately. I'm glad I asked the caterer to go ahead and set a slice aside for us.
---
Amazing Cakes
10/25/2014
Melonee and her staff are great to work with! The cakes look amazing but better yet they taste amazing. We had a 4 tier steampunk cake with gears, hand done lace and a corset at the top of the cake. The groom's cake was a replica of a custom made guitar. All of the details were perfect even down to the type of screws on the guitar. We had vanilla with raspberry filling and champagne icing, creamsicle cake, pumpkin cake, and chocolate on chocolate for the groom cake. Something for everybody. The cake was fresh and beautiful. If you want precision, beauty and great taste this is the place to go.
---
Eat More Cake!!
7/24/2014
Darlene B
For Goodness Cakes was an awesome vendor to work with! They met and exceeded all my expectations! The whole staff, including the owner, worked closely with me to ensure I had my dream cake. The cake was not only beautiful, but was moist and delicious too. I would highly recommend For Goodness Cakes again to anyone!!
---
Delicious
8/23/2014
Rori S
For Goodness cakes did an amazing job on our wedding cake. Megan was very helpful and stayed within my budget and still was able to give me my dream cake. The best part is the cake is absolutely delicious!!
---
Wedding cake that was gorgeous AND delicious!
8/24/2014
Laura H
We loved working with For Goodness Cakes, especially seeing as we didn't really know what to get for our wedding cake - they definitely provided us with lots of amazing solutions and the cake itself was absolutely amazing. My husband and I are both music lovers and our very simple cake was piped with music notes on every tier. We finally decided on 4 tiers with 2 tiers being orange flavored cake with white chocolate cream cheese filling and 2 tiers being champagne flavored cake (absolutely amazing!) with a raspberry filling. Our guest absolutely loved it and even though our bridal party sat on the top tier in the limo, Megan offered to make us a new tier for our one year anniversary! Best wedding cake vendor we could have asked for!!!
---
Simply Sweet!
7/13/2014
Aishah J
I enjoyed working with For Goodness Cakes to design my cake. Their prices are reasonable, and they worked really hard to give me exactly what I wanted for the price I wanted to pay.
---
Our guests couldn't stop talking about them!
4/26/2014
Jenna M
FGC was recommended to us by our caterer. They were easy to communicate with, warm, and welcoming. My husband and I did a tasting and couldn't have loved it more. We asked for a simple design because we wanted our florist to decorate it with fresh flowers. They did a wispy finish with buttercream icing and it was the perfect compliment to the beautiful flowers and to our comfortable, elegant, southern wedding. We chose classic vanilla for three of our layers and lemon for one of the larger layers. I only wish that we'd done more of it in lemon. Both were amazingly delicious, but the lemon was gone in a flash. People couldn't stop talking about both of our cakes. My husband wanted a University of Tennessee themed groom's cake and they did it well! We had orange and white checkerboard, and orange "power T", and some lyrics from "Rocky Top". They even got that obnoxious shade of orange just right ;) High praise coming from his Alabama fan bride!
---
Gorgeous & Delicious!
5/24/2014
Bre H
I am so happy with our wedding cake! We chose the butter pecan which is to die for, champagne with raspberry filling, and strawberries and cream for our top tier to save. The decoration was exactly what I wanted. It was perfect; guests couldn't believe it was real. For Goodness Cakes is professional, accommodating, and the cakes taste amazing! Thank you!
---
Melt in your mouth cake!
4/26/2014
Emmy S
I have been known to be a bit of a cake snob and this cake stole my heart at our tasting! Not only was each flavor amazing but they also made a beautiful cake exactly how I envisioned. Many of our guests told us it was one of the best cakes they have ever tasted.
---
Absolutely Amazing!
4/28/2013
Melinda P
The search for my cake vendor was quite the process. For Goodness Cakes was the 5th and final tasting. I love to bake and I'm pretty picky about what I consider good. My cake was absolutely incredible. Several guests commented on how yummy it was. The design was exactly what I created during our consult. I ended up paying more than the other bakeries quoted, but you get what you pay for! The cake was delivered on time. They were very responsive to emails and phone calls. Would definitely use them again when I don't feel like baking my own cake. :)
---
Delicious!!
3/23/2013
Cassandra R
Melonie Stanger was a joy to work with in helping my wedding planner and I with selecting our wedding cake. I loved that at our cake tasting Melonie took her time to explain to us the different options that we had and we were able to sample them all were delicious! After brainstorming for a little while we decided on a cake! The wedding cake was based off of another cake my wedding planner/designer and my cake artist created for a magazine photo shoot honoring Audrey Hepburn's classic black and white hat. I loved it so much I wanted to have a version of it for my day and they came up with the most amazing cake and it tasted amazing too! The flavor was vanilla with a champagne filling. When we arrived at our wedding reception the cake was the focal point in the room. It looked amazing and all of our guest agreed that it tasted great! We will definitely recommend Melonie and her team at For Goodness Cakes to everyone and will use them in the future.
---
Goodness - This Cake wad GOOD!
7/06/2013
Jacquel E
It was wonderful working with Meghan. It took only about 15 mins to design my cake and I loved that I was able to do 2 different flavors of cake. AND the cake was so moist and delicious. My guests are still talking about it! They also showed up at Ashton Gardens on time & had everything setup and ready to go.
---
Excellence in Professionalism and Baking!
6/09/2013
Jessie P
I found out about For Goodness Cakes bakery on The Knot.com. I was so impressed by their website – it was the best bakery website I had seen because they had all of their information about flavors and fillings right there. Plus I had been looking everywhere for someone who would do a chocolate ganache filling. Not only was the huge photo gallery of cakes impressive and beautiful, but it also really helped me decide on the details of my cake! From the first time I contacted For Goodness Cakes, I received excellent customer service. Everyone I spoke to was friendly and helpful. Since I was planning an out of town wedding, they worked with me to schedule a tasting consultation during a visit. Melonie went above and beyond to deliver an exceptional customer experience – and my wedding cake truly was the best tasting cake of my life! I chose the vanilla bean yellow cake with milk chocolate ganache filling and buttercream icing in a simple and elegant design. They got every detail perfect! I whole-heartedly recommend For Goodness Cakes to everyone for wedding cakes or any special event cake. The cake was delicious, the details were beautiful, and the customer service was incredible.
---
Amazing
4/27/2013
Kelly D
We couldn't have chosen a better place to get our wedding cake from. The taste and design was amazing and they were so great to work with. I can't wait until our 1 year anniversary so we can dig into our cake topper! So delicious!
---
March Wedding
3/23/2013
Elizabeth P
She was wonderful. The cake tasted amazing and looked beautiful. She was great to work with.
---
Wedding Cake
12/01/2012
Amanda S
We used For Goodness Cakes for the wedding & grooms cake. They were both delicious and we heard nothing but great things about them! We have been recommending them to everyone we know! Definitely worth the price
---
cake
9/28/2012
Lorri Y
The cake was very good and our guest all talked about how good just didn't have as many flavors as other vendors.
---
Melonie and her team were Awesome!!
8/03/2012
Leauna M
Melonie and her team were awesome on my wedding day!! They fufilled my vision of how I wanted both my cakes without breaking the bank. The cakes looked like they were out of a magazine, and delicious!! My guest are still raving about my wedding cake.
---
Beautiful cake
5/05/2012
Holly R
Our wedding cake was beautiful. Melanie was very nice, but very hard to get ahold of. I had a hard time getting in contact with her when I had questions, but everything turned out great!
---
Great cake!!
4/28/2012
Kandice S
During the reception, one of my aunts asked me where my wedding cake was. When I told her it was on the table in the back of the room, she couldn't believe the cake was real. That's how awesome my wedding cake looked and trust me my aunt knows cakes. Not only did the cake look great, everybody enjoyed it and has been telling me how great it tasted. I'm so happy with my choice.
---
What a Cake!
10/01/2011
Shelley R
Melanie and her staff at For Goodness Cakes are master artists! I couldn't have asked for a better more beautiful cake. Melanie created a 3 tier cake with blue waves on it and these amazing bubbles and the grooms cake was a replica of our speed boat. Everyone loved the cakes and said they were Delicious. We had no left overs of her cakes! Melanie is a true professional and worth every dime. She was so kind, and helpful through the whole process for us. I will forever order my cakes for all occasions from Melanie. She is the Best in the South.
---
Send Email