Home

Janis Nowlan Band "Party With The Best!"
About this Vendor
Award Winning Best Dance Party Band PA NJ MD DE NY
Live Showcase Wednesday July 15. Rock Your Wedding Reception With The Janis Nowlan Band. Amazing Singers, Powerhouse Horns! 5 Star Best Of Weddings Hall Of Fame High Energy Non-Stop Dance Party Band Chosen NBC America's 15 Best Wedding Bands! Pennsylvania Delaware Maryland New Jersey NY Connecticut
Details
Cello, Flute, Guitar, Harp, Keyboard, Organ, Percussion, Piano, Saxophone, Trumpet, Vocals
Classical, Country, Dance, Disco, Folk, Hip-Hop, Jazz, Pop, R&B, Rock, Klezmer, Latin, World Music
After Party, Rehearsals + Parties, Ceremony, Reception, Wedding
Live Music, MC Services, Music
Contact Info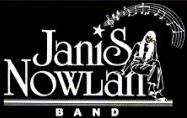 Reviewed on

6/25/2015
Lindsey F
Thanks to the Janis Nowlan Band the dance floor was hot at our wedding reception on June 13, 2015. We had such an amazing time dancing the night away and we did not want it to ever end. The band put on a wonderful performance that our guests are still raving about. I appreciate how Janis personalized the evening for us from discussing song selections to making sure she had all the details just right. My husband and I will always remember our family and friends who were smiling, singing and dancing along with us all night long. The energy and love was electric on that dance floor and we owe it to this phenomenal band. The Janis Nowlan Band did an excellent job and we highly recommend them for your wedding entertainment! Lindsey & Matt
---
Reviewed on

6/27/2015
Caitlin S
I can not say enough good things about Janis Nowlan Band. Janis' attention to detail is unmatched, which helped our day go off without a hitch. The band learned our first dance song, as well as my sorority song and they were perfect. The jazz trio performed at the cocktail hour and set the perfect ambiance. After speeches, they got the party started immediately. They had people up who NEVER dance, myself included, up and dancing the whole night. My dad even got down and did the curly shuffle. Their energy is incredible and they love to include guests in the singing. I received so many compliments on this band and still have people asking me other places they can go see them. At the end of the night, we chanted for one more song and the band complied. It was perfect and I can not thank them enough for making our day exactly how we wanted it...a big party with non-stop dancing. If you want to have a fabulous time, Janis Nowlan Band is without a doubt your choice!
---
Amazing band that treats you like family!
Reviewed on

10/31/2014
Tee B
My husband and I saw the Janis Nowlan Band play at a friends wedding a few weeks after we got engaged. We hadn't started planning yet, but he said, "I don't care what else you plan, but we have to have this band!" We very soon after hired the band to play at our reception and a jazz trio to play at cocktail hour. Throughout the entire year of planning, Janis was so easy to work with. She responded to my many emails about how things worked, offered advice, and went above and beyond with accommodating us to make our day perfect. Janis learned three new songs for us to make our day absolutely perfect! She even calmed my fears about doing a choreographed dance with a live band having never heard the song performed by them. Everything went perfectly and our guests (many of them musicians themselves) all were raving about the band! The dance floor never cleared or thinned out. People were dancing all night long! Janis even allowed us to have a special guest performer use her keyboard, which was amazingly generous! We can't say enough great things about this group. If you want a full dance floor all night, this is the band to pick!!!!
---
Best Band!!
Reviewed on

1/14/2015
Brittany R
The best band! Our wedding was dancing the entire night!
---
Classy Fun!
Reviewed on

12/04/2014
Michelle K
Janis Nowlan Band is a band that goes the extra mile. As the bride, I never once hesitated that the band would be a problem. Janis is so personal and remembers every detail! Hands down I would recommend this band to anyone who is looking for great music, dancing, and an enjoyable time!
---
"It sounded so real, I thought it a live recording"
Reviewed on

10/31/2014
Kate H
I live in Seattle and hadn't heard or met Janis until our wedding, but she was perfect! My parents INSISTED on having a band (they are old school) and I didn't really care either way, but I'm glad we did it! We had so fun and people I thought wouldn't be dancing were! She honored every special request we had, including "Luckiest" for our wedding song, playing the Monday Night Football theme song for all of our intros (best idea EVER, thanks hubby), and allowed us to bring in a CD for our first dance per our request. I'll leave the rest of my review to the compliments I recieved after the wedding: 1. "It sounded so real, I thought it a live recording" 2. "Every time I looked up, I was thinking 'this is too good, it can't be the band'. I was shocked everytime that it was them singing!" 3. One husband about his wife, "Oh my god, my wife is dancing like a 20 year old. I don't even know who she is anymore! This is great!" In general, we recieved the most compliments about the food (important to me) and the band. I was on the dance floor the entire night! I barely had a voice for my honeymoon!
---
Amazing Band
Reviewed on

10/30/2014
Joanna M
Everyone still talks about my wedding and highlights the amazing Janis Nowlan Band. They play fun music, have a way of engaging everyone, and got everyone up to dance. Janis was very easy to work with. She spent hours with me on several phone conversations to plan and make sure everything would go perfectly. On my wedding day, I had no anxiety and knew everything would go smoothly. You must have this band!!!!
---
Your guests will rave about this band!
Reviewed on

10/30/2014
There are some reviews that give 5 stars to bands for showing up on time and playing recognizable music. This review is not one of those. Janis Nowlan and her band are simply superb. She had the entire party dancing from start to finish with a great mix of old and new songs. With barely any recommendations, Janis ran the whole night by herself and even adjusted to the songs that got most people dancing. She is a wonderful person to work with and even worked with the best men to sing an introduction to the first dance - and idea that was created less than a week before the wedding. If you hire Janis, you don't just get a great band, you get the assurance that your friends and family will remark on how great your band was for years to come. P.S. We hire Janis for three Bar Mitzvahs 10 years ago and hired her again because she was so fantastic.
---
BEST WEDDING BAND EVER!
Reviewed on

10/30/2014
Leyla M
Have you ever been to a wedding where, at the end of the night, when the lights are turned up, the guests scream the band into an encore??? This is that band, and it happened at our wedding. They are worth every penny, and we consider ourselves SO lucky that we were able to book them. Janis and band, thank you so very much for everything. You were amazing.
---
AMAZING Band!
Reviewed on

10/30/2014
Amy D
I've been a guest at two weddings with Janis and her band and they are AMAZING! Tons of variety, really well performed, great dancing, interacts well with the crowd while ensuring the bride and groom are the star of the show. The music and singing are top quality and fun, fun, fun. You will not regret signing this band for your event. :)
---
Incredible Band!
Reviewed on

10/30/2014
Lisa Y
The Janis Nowlan band played at my wedding in October 2014. This party band is unbelievable. They had a great mix of newer and classic songs that set the tone for the entire wedding. They had everyone - young and old - on the dance floor the entire night. The compliments were overwhelming from our guests – everyone couldn't rave enough about their energy and incredible sound. Aside from talent, the bandleader, Janis is amazing. She is helpful, patient and goes above and beyond in terms of servicing her clients. She answered all of my (many!) questions and had really great recommendations to make our wedding special and memorable. Her and the band are true professionals – highly, highly recommend!
---
Great Band!
Reviewed on

10/30/2014
Elizabeth S
Janis did a wonderful job, our guests didn't want to stop dancing!! She was so helpful, from crafting an entrance song for us, to learning the song we wanted to end the night with - she was fabulous!
---
We will never have another wedding without Janis Nowlan Band!
Reviewed on

10/29/2014
Janis Nowland Band is the best wedding band ever! You couldnt ask for a more professional group of people....and so nice! The band rocked our party from beginning to end and to be honest....made the wedding of our daughter and her groom - the happiest day of our lives. They are worth every penny you have to borrow for this wonderful band! You will not regret hiring the Janis Nowlan Band!!
---
The greatest band EVER!
Reviewed on

10/29/2014
Carina P
When The Janis Nowlan Band played at my cousin's wedding in the spring of 2012, I knew that they were eventually going to play at my own wedding (although I wasn't even engaged at the time). The whole process leading up to my wedding was seamless and Janis really took the time (you have her direct cell phone number and always speak with her directly) to go over every single wish and detail of the day. She sent me suggestions for some music selections and even learned a new song for my ceremony processional. ("Where Are You Going" by Dave Matthews Band...and it was incredible...just blew my mind!) Janis played the keyboard for the ceremony and then the cocktail hour (fabulous jazz music) and the whole band joined her for the reception. They played beautiful classics, like Frank Sinatra, during dinner and then completely exploded into a 5 star party band for dancing. They have an awesome mix of classic and new hits and really know how to get a party started (and keep it going and going). They don't cop-out and let a DJ play the newer songs (like most other bands do) and most of the time, they actually sound BETTER than the originals! I can't say enough of The Janis Nowlan Band! From beginning to end, they were a dream! Our guests STILL talk about how fantastic the band was and how amazed they were at their pure talent. If you, or someone you know is planning a wedding, you HAVE to call The Janis Nowlan Band!!
---
The BEST band ever!!!
Reviewed on

10/29/2014
Michele M
I have been to so many weddings recently and Janis and her band were by far the best of them all! Janis was so easy to work with and was able to accommodate all our song requests! The dance floor was so crowded people were dancing on the grass of our outdoor tent wedding! The variety of songs her band can play is remarkable and it was a great mix for both the younger and older crowd. I would recommend Janis and her band to anyone!
---
Janis Nowlan Band is the Best!
Reviewed on

10/21/2014
Allison P
The Janis Nowlan Band was amazing! They were so professional and accommodating. It 's been over a month since my daughter and her husband were married. Guests are still raving about how fantastic the band performed. They really rocked the house. I had the time of my life. The band really helped make the wedding reception one of the best ever. It was a party the bride and groom, friends and family will never forget. The band deserves every award that can be given to a band. They can do it all!
---
Fabulous!
Reviewed on

10/20/2014
The Janis Nowlan Orchestra has been our band of choice for 8 years! Three weddings, special birthday celebrations, and an office party have all been made more memorable because of the wonderful music offered by these great musicians. Our son was married on 10/10 and the music was fabulous! We danced all night to many music genres. Janis is the absolute best! This is the band for you!!
---
If you want to party ALL NIGHT LONNNNG...
Reviewed on

10/20/2014
Shannon Q
Janis Nowlan Band was AMAZING!!! I know I'm biased... but my wedding seriously was the BEST and it was mostly due to the band. The energy was high all night and they seriously played non stop dance music. They even included my two new favorite songs... "Shake it off" and "All about that Bass" :) I feel like most bands couldn't pull them off but they sure did!! All of the songs I asked to be included that night were and then they just added their own wonderful suggestions to the mix. I could not be happier about my experience with them. DEFINITELY a MUST for your big day!!
---
Best wedding band!
Reviewed on

10/19/2014
Alissa p
The best decision we made was choosing the janis nowlan band! My wife and I could not have made a better decision! We had the time of our lives dancing! Thank you for everything! Our guest keep telling us that they had an amazing time and loved the music! We can't thank you enough! If your looking for a band- this is your band!!!
---
The band brings the party to life!
Reviewed on

10/18/2014
Kerry V
From start to finish, we had a wonderful experience with the Janis Nowlan Band. Janis did our ceremony music and the entire band performed at our reception. Janis was a complete delight to plan with throughout the entire process - she is very detail-oriented, which made me know that everything would run smoothly on the day of. Our guests came ready to dance and the band really got everyone moving! We are so happy that Janis Nowlan Band was our wedding band and cannot thank Janis and the band enough for helping to make our wedding the best night of our lives!
---
Phenomenal Wedding Band!
Reviewed on

10/17/2014
Alissa P
Janis, I don't know where to start, the band was beyond amazing! Hands down the best decision we made was choosing the Janis Nowland Band to perform at our reception. Janis was so easy to work with and had great communication with us throughout the planning process. Janis and her team are incredibly talented musicians, entertainers, and also extremely professional.They did a phenomenal job keeping the dance floor (in this case sand) packed! Thank you for creating so many great memories for Joey and I and all of our guests! All of our guests said that we had one of the best weddings they had ever been to and a big part of that is because of the fantastic music! The band never stops to take a break and can play any request. I will never forget jumping on stage with my husband to dance to Pharrell's song "Happy"! I even crowd surfed in my wedding dress! Janis and her band kept the party going! Hands down best decision was choosing the Janis Nowlan Band! If I could give more than 5 stars I would! Thank you for everything- Alissa!
---
The Best Wedding Band By Far!
Reviewed on

10/16/2014
Caroline M
The Janis Nolan Band knows how to start a party and keep it going all night long. They are worth every penny and then some!
---
Janis is the best- without question
Reviewed on

10/15/2014
jeremy s
Janis and her band were absolutely fantastic. My wife and I booked Janis the day after we got engaged. The band performed at both of our sisters' weddings and she was the first phone call we made. Janis was extremely responsive and had wonderful suggestions for the event. She was willing to spend any amount of time necessary talking to us to make sure she knew what we wanted. If you get married in the area you must use the Janis Nowlan Band.
---
Amazing!!!
Reviewed on

10/14/2014
Stacey F
Janis performed at my sisters wedding in 2007 and it was amazing and so much fun. The day after I got engaged I contacted Janis to be sure that whatever date we picked would work for her and her band because she makes sure it is perfect and that everyone has a blast. I will forever be grateful for Janis and her band for giving us the best day ever!
---
Best Wedding Band!!!
Reviewed on

9/11/2014
Amy K
In order to have a party that no one will forget, you need an AMAZING band. This is why we hired Janis Nowlan Band!! Janis Nowlan Band made our wedding one that people will be talking about for years to come! The band's sound and energy is off the charts. We had everyone on the dance floor the WHOLE night! I could not believe that in every photo the photographer took of the dance floor, it was completely filled and you could tell by everyone's faces that they were having an amazing time. Janis, who is the leader of the band, was a pleasure to work with. She is such a nice person, is super experienced, and is intuitive about the direction you want your party to take. If you are looking for an energy-filled party with great music and great singers, don't look anywhere else! My husband and I are so grateful that we chose Janis Nowlan Band for our unforgettable wedding!!!
---
Send Message