Home

JVL Jewelry
Details
Rings, Wedding Jewelry, Engagement Rings, Engraving, Ring Insurance, Wedding Rings



Contact Info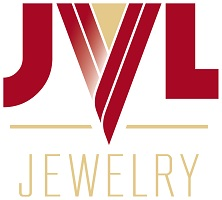 Reviewed on

11/14/2017
Tori R
I will say that when you order, it says that if a ring is back ordered there is a clause that you basically won't know until it ships. This scared me a little, but I ordered my husbands wedding band and it was shipped extremely fast. We waited (maybe) a week and a half from when... Read More we ordered to when we got it. The tungsten is a bit heavier than I thought it would be but you can tell it's so durable.
---
Reviewed on

11/13/2017
Samantha B
Received a gift card from a wedding show I attended. Found the perfect ring for my husband and it fit perfect! Had I not had the gift card, I still would have purchased from JVL Jewelry.
---
Reviewed on

11/13/2017
Danielle W
My husband and I both got our wedding bands from JVL. We absolutely love them. We got matching bands. They look exactly like their pictures online and the quality is amazing.
---
Reviewed on

11/13/2017
B L
Amazing detail just like the picture. My husband and myself love them! So perfect!
---
Reviewed on

11/13/2017
Alison P
Wedding band was so much better in person than picture on website! Love it!
---
Reviewed on

11/13/2017
Maritza S
When we were looking for wedding bands, my husband wanted an 8mm Tungsten ring and we found one on JVL. I ordered it for him and surprised him with it, he absolutely loved it. I got it engraved, and it is easy to read and he loves to show it off to everyone. After our... Read More wedding, we decided to pick matching wedding bands for when traveling or doing work where diamonds would be a bad idea, and we absolutely love both of those rings from JVL. We are both so happy to found JVL and to be able to show off our rings! I already recommended JVL to multiple people and will continue doing so!
---
Reviewed on

10/11/2017
Amanda F
I found this amazing company and ordered my husband's wedding band. He had his heart set on a tungsten ring and their quality and price cannot be surpassed. He loved his ring and gets compliments all the time on its timeless look. It is simple but has held its shine and shape... Read More for a year now. Resizing is super simple and how can you beat lifetime warranty. I saw how much he loved his- I bought myself a tungsten ring for work. We are happy costumers and definitely make referrals for them.
---
Reviewed on

8/29/2017
Elisabeth T
I got my husband's wedding band from JVL Jewelry using a coupon I received from The Knot. He absolutely loves the ring.
---
Reviewed on

8/23/2017
H Y
Selection is small but quality. I like the simple beauty of the design we selected. It's also pretty durable, so I don't have to worry that I'm going to damage it like with softer metals.
---
Reviewed on

8/22/2017
Wesley N
Selection was ok, customer service was absolutely awful. We ordered our rings on July 29th, as of today (August 22), we cancelled our order with JVL. This company did not send an email or give us a phone call. Our order was confirmed and we paid our money, but then we never... Read More heard from the company again. So after extensive phone calls, we finally are told that one of the rings was back ordered (after we had to reach out to the company to find out why we didn't have our rings. We paid $50 for shipping and processing and we couldn't even get an email telling us that our rings wouldn't be here by our wedding. I would barely pay $50 for overnight shipping, much less 5 week shipping. After talking with customer service, myself and my fiancé were treated poorly, and they even threatened to cancel our order without our permission, (even though we were paying customers and Unsatisfied with the horrible customer service.) Not to mention that the rings were seemingly cheaply made (but we wouldn't know-we never got them. Avoid this company at all costs.
---
Reviewed on

8/18/2017
Stephanie D
Amazing!!!!!!!! I was worried initially to get a ring through the internet but I am so glad I did! It was easy, quick, and affordable. The ring my now husband chose looks better in person and feels and looks expensive. I was worried that I would get conned but I am so glad I... Read More tried it! I would definitely recommend to other couples out there who are looking for wedding rings :)
---
Reviewed on

8/08/2017
TL B
We've enjoyed our rings for 2 years. They look good as new. I read a couple complaints about the $25 shipping fee per ring. No, I didn't want to pay it either but regardless of the value of our bands we love them! Several compliments and I don't know of any jewelry store that I... Read More could have walked in and paid $25 for my beautiful band. Weddings are expensive, save money where you can. JVL is a business, of course they make a profit from the shipping cost but they saved my family hundreds of dollars during a very expensive time in our lives. Thank you JVL!
---
Reviewed on

7/29/2017
Amy B
Received a gift card from a friend who ordered from them, only paid shipping ($50 for both rings), and received a gift card from them directly to give to a friend. We are very pleased with the order! They fit great and are exactly what we asked for. They also came in a little... Read More earlier than expected. WE HIGHLY RECOMMEND THIS COMPANY !!!!!
---
Reviewed on

7/21/2017
Colleen C
Got a redemption code for a free ring just pay shipping, which I ordered for myself to wear for situations which I didn't want to risk damaging my diamond. Arrived quickly, and a month in the times I have worn it it holds up well. Different designs but fairly simple. I am... Read More happy with my purchase.
---
Reviewed on

7/20/2017
G T
We got my husbands ring from JVL and it is very nice. Seems to be holding up well so far, but he's only been wearing it a month so far ;)
---
Reviewed on

7/19/2017
Evelyn R
The wedding bands exceeded my expectations! It was shipped rapidly in arrived in a pretty little box. I would recommend this website to anyone in need of a wedding band(s).
---
Reviewed on

7/18/2017
Francine B
The rings were free as a bridal show gift, just the $25 per ring for shipping. We actually really enjoy them. I got mine (bride) as a simple band for when I am working out, doing housework and such and my groom got his for his actual wedding band and he is very happy (it was... Read More actually the same style we were going to buy at Jared's for $350). We had an issue because he order his to big, but JVL was actually very helpful and returned it and got us a new one with no issue! (Huge plus in my book!!)
---
Reviewed on

7/17/2017
Cyndal A
Love our rings. they are a great fit and look beautiful
---
Reviewed on

7/17/2017
Sam T
Received a gift card for free rings, just pay shipping costs. Rings arrived within a couple weeks and are great quality. Very happy to recommend JVL to anyone looking for tungsten or titanium bands.
---
Reviewed on

7/16/2017
Jamille R
Excellent selection, quality, and price! Rings arrived quickly just to our expectations.
---
Reviewed on

7/16/2017
Matt F
We recived a gift card from a Wedding Expo and I have to say it was one of the best experiences I've had with JVL jewelry. I thought the Rings would be shoddy they are great. Way better than I expected. Quick to send out the Rings. And I still have mine today quality of work is... Read More excellent. And great bang for your buck. I recommend them to anyone getting married.
---
Reviewed on

7/16/2017
Carissa H
We had received the gift card voucher for two free bands. I am a bargain shopper, and thought if I can get a engraved ring, with warranty, for $45... I'm going to at least try. The do have the JVL engraved a ring as well- but no one sees it so no big deal. My husband loves it... Read More and it's just want he needs and wanted.
---
Reviewed on

7/15/2017
Noel W
The best rings ever.. my wife and I married after 32 years
---
Reviewed on

7/15/2017
Hannah W
I received a coupon for a set of free rings from a bridal show and was amazed at their quality. Our ring arrived quickly and are absolutely gorgeous. I can't wait till May to wear mine!
---
Reviewed on

7/15/2017
Tanisha G
My husband and I have been married for almost a year and his tungsten ring still looks awesome. I was skeptical at first because it was free valued at $300 odd dollars but once we got it in the mail it was beautiful and he loved it.
---