Acapulco Honeymoon: Weather and Travel Guide
by the knot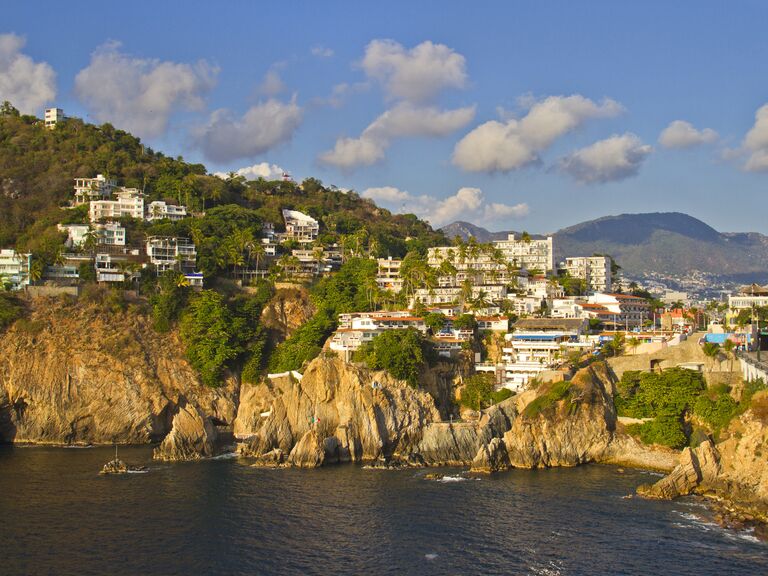 Blessed with a beautiful bay and honeymoon history -- John and Jackie retreated here, as did Bill and Hillary -- this port city on Mexico's southwest coast attracts sun and fun seekers of every stripe.
Before You Go: Need-to-know info
Entry requirements: Passport that's valid for at least six months from the date of entry and a tourist card (usually included in the price of your flight)
Language: Spanish
Currency: The Mexican Peso is the official currency, though US dollars are accepted at some places.
Flight time: 7 hours from New York City; 6 hours from LA; 6 hours from Chicago; 5 hours from Dallas
Getting around: Taxi, car and bus

When to Go: Acapulco at its best
Best weather: April, May, October and November. Rainy season (and hurricane season) is from June through October.
Best prices: April to December (exact dates vary by hotel)
Festival highlights: Navy Day is celebrated in seaports across the country on June 1, and Acapulco has one of Mexico's most colorful versions.

What to Do
Cliff dives: High above downtown Acapulco stands the Mirador Acapulco Hotel and La Quebrada, 136-foot cliffs from which professional divers take the plunge for your viewing pleasure.
People watching: Take a break at a cafe near the zocalo, a shady plaza that is the heart of downtown Old Acapulco. Stroll around on Sunday evening to hear live music from the bandstand.
Parasailing: Strap on a harness and fly up, up and away for a bird's-eye view of the bay.
Shopping: Visit the sprawling, intense Mercado Municipal market for serapes, pinatas, leather goods, baskets, hammocks, velvet paintings, charms, amulets and talismans to help you keep your spouse, increase fertility or ward off the evil eye.