Set Sail on a Honeymoon Cruise
Can't settle on just one destination? Set sail for a different honeymoon hot spot each day aboard one of these couple-friendly ships.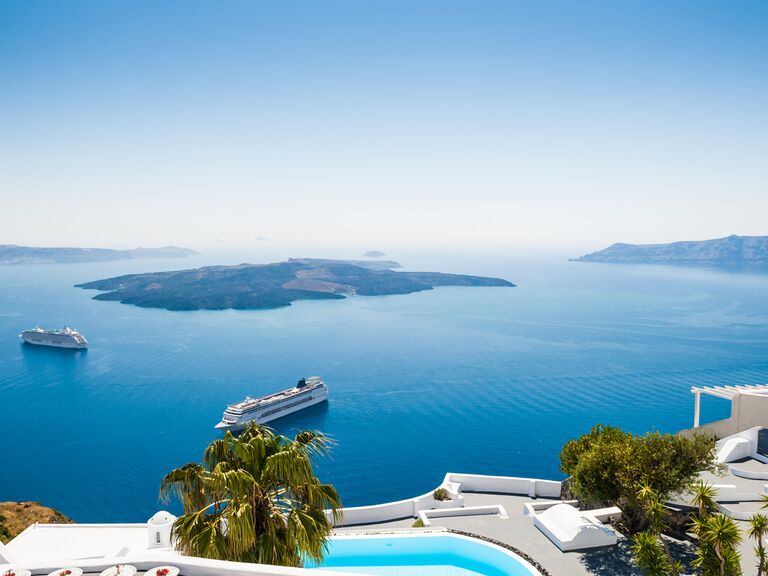 Shutterstock

Whether you can't agree on just one destination, you each have a different idea of what the perfect honeymoon entails, or you want to take advantage of far-flung places you may never travel to again, cruises are the easiest and most stress-free way to honeymoon-hop. The good news is, no matter where you're headed, there's a cruise to float both your honeymoon boats.
Hawaiian-Island-Hop Aboard...
Norwegian Cruise Line's Pride of America

For utter relaxation, nothing beats Hawaii's golden beaches, lush landscapes and tropical fare. But with each of the Hawaiian islands offering its own unique draw, picking just one to spend your honeymoon on isn't easy. That's why most newlyweds who choose a Hawaiian honeymoon visit at least two of the islands during their trip. Not only does Norwegian Cruise Line's
Pride of America

offer you the chance to see all four islands -- Oahu, Maui, Kauai and Hawaii Island (or Big Island) -- you won't have to worry about booking four different hotels or packing (and unpacking) multiple times. The best part? You can leave your passport at home for this seven-night escape (from $1,099 per person).
On land: Enjoy the sunset from the top of the world's largest dormant volcano, Haleakala (aka 'House of the Sun") in Maui. At its summit, more than 10,000 feet above sea level, lies a crater roughly the size of Manhattan with a lunar-like landscape of ancient lava formations. On clear days, you'll spot the peaks of Mauna Loa and Mauna Kea in the distance. Adrenaline junkies can go face-to-fin with sharks three miles off Oahu's Haleiwa Harbor with North Shore Shark Adventures. Descend into the sea in a barred cage for a closer look at Galapagos, sandbar, gray reef, hammerhead and tiger sharks ranging in size from 5 to 15 feet. (The faint of heart can observe from the safety of the boat.)
At sea: Book a Deluxe Honeymoon Package and you'll be greeted with champagne and strawberries in your stateroom upon boarding the patriotic-themed ship. Plus, you'll be treated to breakfast in bed, canapés delivered to your room one evening, a romantic dinner for two at the ship's Jefferson's Bistro and a 25-minute couples massage. At night, continue the VIP treatment at Pink's Champagne & Cigar Bar for post-dinner bubbly, hand-rolled stogies and cognacs. To work off all those amazing onboard feasts, sweat like a celeb at a TRX Suspension Training class.
Cruise the Caribbean Aboard...
Disney Cruise Line's Disney Fantasy

Dreaming of a beach honeymoon filled with underwater adventure, but can't settle on a stretch of sand to park your towels on? Don't settle. For fun in the sun and at sea, hop aboard Disney Cruise Line's newest ship, the
disney fantasy

, for a seven-night tour of the best beach destinations in the Western Caribbean (that's Mexico's Yucatán Peninsula and the Cayman Islands). Departing from Port Canaveral, Florida, you'll visit Grand Cayman for water adventures and encounters with prime marine life; then it's on to Costa Maya and Cozumel in Mexico, aka P-A-R-A-D-I-S-E for scuba divers and snorkelers. You'll get time for sunbathing and on-land adventures too -- the trip ends with a day at Disney's private 1,000-acre island in the Bahamas, Castaway Cay, for snorkeling, parasailing, biking or just...nothing at all (from $959 per person).
On land: In Grand Cayman, visit the Stingray City sandbar, where you'll swim along with, pet and even feed these surprisingly gentle sea creatures (seriously). Or go to Hell – literally -- on an island tour of unique black rock formations known as "Hell." Another must-see: restored national landmark Pedro Castle. In Cozumel, splash in sparkling blue lagoons; then explore one of Costa Maya's most famous sites, the ruins at Chacchoben, which were constructed by the Maya in the 4th century and only recently opened to the public.
At sea: The disney fantasy is about 40 percent larger than the other two Disney ships that sail the Caribbean, so there's plenty on board to keep you busy. Opt for an adults-only gourmet meal at Remy, the ship's finest French restaurant, helmed by two award-winning chefs. Indulge in a romantic retreat for two with a couples massage in a private treatment suite connected to an outdoor veranda with a private hot tub and open-air shower. Dance the night away at The Tube, an adults-only British-inspired nightclub with an illuminated Union Jack dance floor, mod furniture and four English phone booths.
Tour Tahiti Aboard...
Paul Gauguin Cruises' m/s Paul Gauguin

When it comes to far-flung, culture-filled beach honeymoons, French Polynesia is it. But if you're going to travel halfway around the world, don't you want to check out more than just a small sliver of Tahitian paradise? Experience all these charming islands have to offer in only seven days aboard the m/s
Paul Gauguin

on Paul Gauguin Cruises, which sails from Papeete and stops in Raiatea, Motu Mahana, Bora Bora and Moorea. The luxe yet casual ship is built specifically for the shallow waters of French Polynesia, so you'll experience many of the smaller ports larger ships can't reach -- and without having to lift a finger to get there (they'll even handle your flights and arrange any pre- or post-cruise accommodations). If you don't want to explore every island with a crowd of other honeymooners in tow, select private excursions are also available (from $3,995 per person, including airfare from Los Angeles).
On land: Snorkel, scuba dive or book an underwater safari in Bora Bora's famed crystal-clear lagoon, where you can see exotic coral formations and feed iridescent tropical fish. Join marine biologist Michael Poole, PhD, a French Polynesian dolphin specialist, for an eco tour and research expedition focusing on wild, free-ranging dolphins. Or thrill seekers can scuba dive with sharks on Moorea. For the ultimate romantic excursion, you'll have exclusive access to Motu Mahana, an isolated islet with white-sand beaches where they'll also set up a barbecue lunch with strolling musicians and singers to serenade you.
At sea: The ship underwent a $7 million face-lift in early 2012, so you'll relax and wine and dine in style. You can also learn more about the islands you'll explore: The nature-lover's ship offers lectures on wildlife, island formation and archaeology. Or get hands-on with Polynesian activities like shell bracelet workshops, Tahitian dance and language classes, and pareo tying.
Sail the Mediterranean in Style Aboard...
Windstar Cruises' Wind Spirit

Always dreamed of sailing the Mediterranean on a luxe sailboat or yacht? Well, there's no better excuse than your honeymoon. For an intimate way to cruise the sea without the effort of manning your own sailboat or the expense of chartering a private yacht, set sail on Windstar Cruises' Wind Spirit, a sleek, four-masted sailing yacht that accommodates 148 guests. Aboard this private yacht, you'll explore some of the most romantic coastal cities in Europe as you experience cultural wonders, renowned cuisine and little-known ports in Italy and Greece. In addition to stops in Rome, Athens and ritzy Capri, you'll spend a week traveling to islands your just-wed friends didn't visit on their honeymoons, some of which can be reached only by boat, like stunning Lipari, the largest of the Aeolian Islands (from $1,799 per person).
On land: There are ancient ruins, castles and archaeological wonders at nearly every port you'll visit during your seven-day sail, from the must-see sites of Athens and Rome to the lesser-known ruins of Lipari, Mystras and Sparta. You'll also have a chance to take a wine-tasting tour outside the ancient Italian city of Giardini Naxos and to hike Mount Etna. Other can't-miss excursions include a boat tour to Positano and a chance to check out the ruins of Pompeii. In the quiet seaside town of Lipari, break off on your own and go for a beach stroll while scoping out the line of yachts parked off its volcanic shores.
At sea: The great thing about this trip is that you won't spend more than one full day at sea. The vibe of the ship is relaxed luxury, so get pampered at the spa, or feast on gourmet cuisine in one of the luxe dining rooms or from the comfort of your bed. Or hole up in your cabin together with a movie or a book from the ship's library.
Search top honeymoon destinations at TheKnot.com/honeymoon