13 Unique Honeymoon Cruises for Newlyweds Who Want to See the World
Explore multiple countries without switching hotel rooms.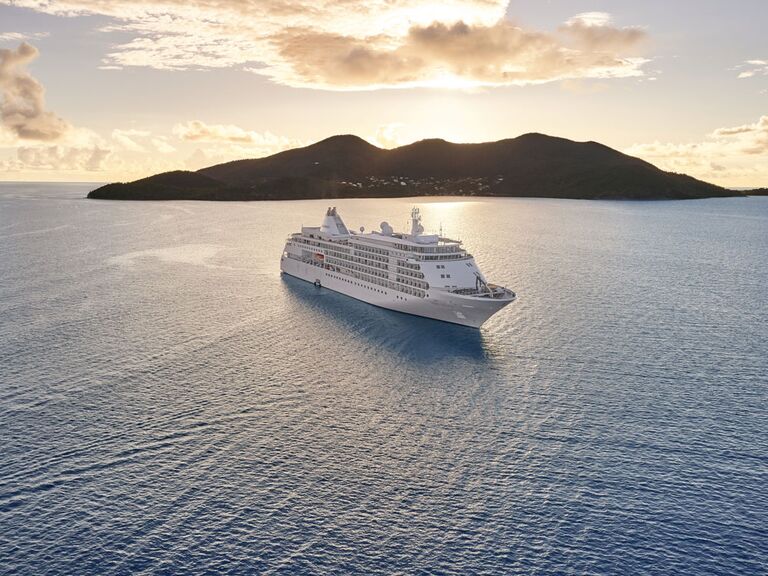 Silversea Cruises
We have included third party products to help you navigate and enjoy life's biggest moments. Purchases made through links on this page may earn us a commission.
Whether you're in the early stages of wedding planning or you're about to walk down the aisle, you've undoubtedly already figured out that wedding planning should be followed by an incredibly relaxing and pre-planned honeymoon. Standard options include beach getaways or all-inclusive resorts, but the adventurous couples may grow tired of staying at one location. That's perhaps, why, honeymoon cruises have grown in popularity in the last decade. Some sights are nearly impossible to reach without a boat, so the convenience of being at sea already is a perk. Plus, couples only unpack once without having to swap rooms, yet they still get to experience multiple destinations.
Whether you cruise to the Caribbean or Antarctica, you'll get to take in some of the world's loveliest locations and all you have to do is book a room. Here's a peek at the world's best honeymoon cruises, covering Greece all the way to the Antarctic.
French Polynesia: Aranui 5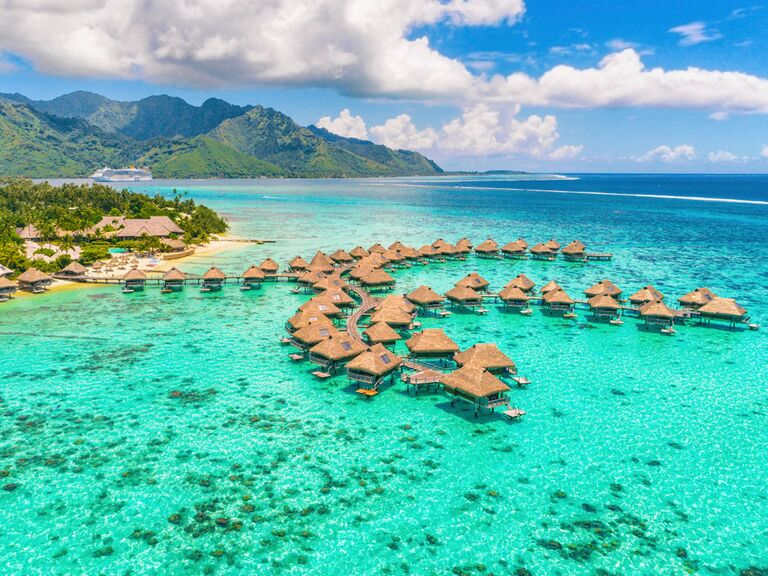 French Polynesia has five major island groups encompassing well-known honeymoon destinations like Bora Bora and Tahiti. The furthest of those groups is the Marquesas Islands, which are sparsely populated and also the least developed. That makes it a great honeymoon destination for adventurous couples who want to go off-the-beaten-path. Aranui 5 is half cargo ship and half cruise ship. Setting sail from Tahiti on 13-day cruises, guests will take island tours, hikes, and dine at local restaurants in the Marquesas while the ship unloads cargo, all of which is included in the price.
The Aranui 5 is perfect for honeymooners who love culture, as most of the ship's staff are Tahitian and hang out with guests every night, singing, dancing, or playing the ukulele as the sun sets on the South Pacific. You could also consider the Paul Gaugin, which sails to Bora Bora, if you're looking for something a little less adventurous.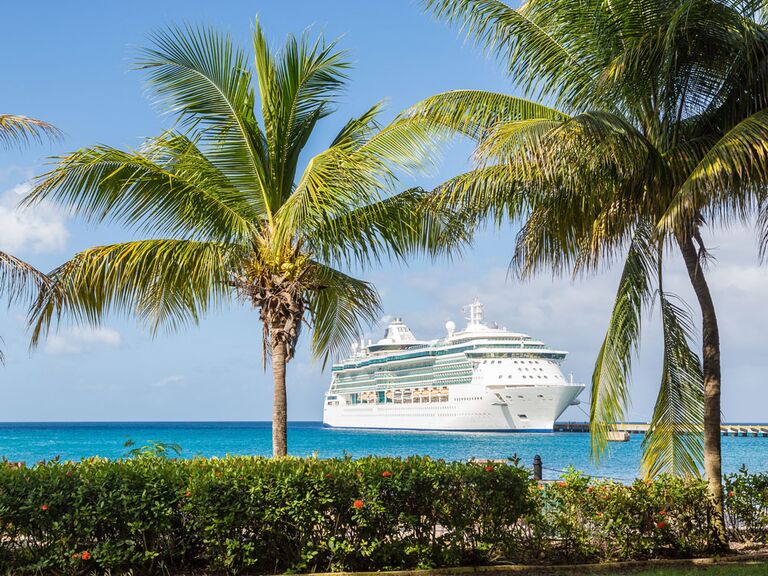 If you're keen to visit the Caribbean on a honeymoon but don't want to hit all the usual sites visited by big cruises, set sail instead with SeaDream. Because the ships are small, they visit locations other ships can't reach, like Jost Van Dyke (in the British Virgin Islands), where you'll be greeted with caviar and bottomless champagne. SeaDream Yachts are decidedly luxury cruises; newlyweds can sleep under the stars on a top-deck outdoor bed, arrange open-air massages, or relax with room service on their private balconies. Gratuities, on-shore activities, meals, and an open bar are included in all sailings, and every room has an ocean view. Consider Puerto Rico to St. Thomas if you only have a week to spare.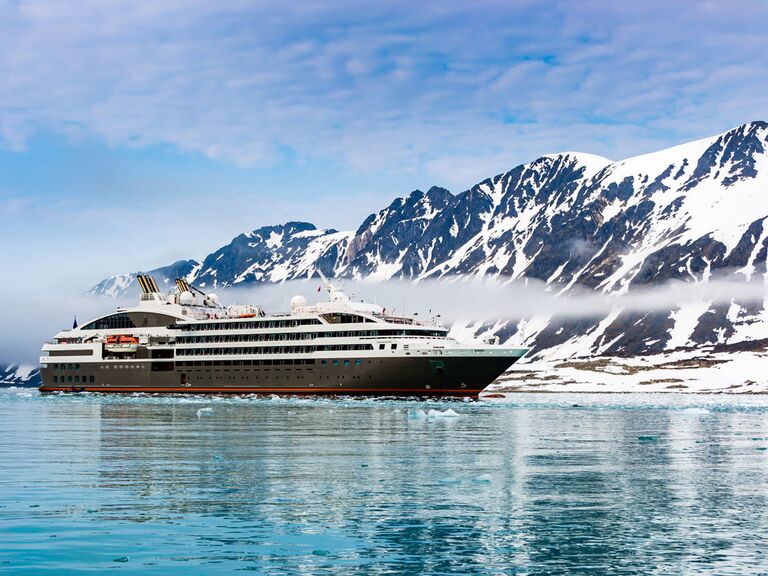 Couples who love being active together will appreciate the amazing shore excursions available on a Hurtigruten cruise to Svalbard, also known as the polar bear capital of the world. If you and your new spouse love wildlife, you'll definitely want to consider the "Circumnavigating Spitsbergen – In the Realm of the Polar Bear" cruise, which circumnavigates the island, making stops to see polar bears, walruses, whales and massive icebergs. While you're not paddling or trekking your way across the polar landscape, you'll be aboard the luxury ship, taking advantage of on-site couples massages. The concierge team also provides access to knowledgeable biologists and will reserve romantic dinners and time in the hot tub.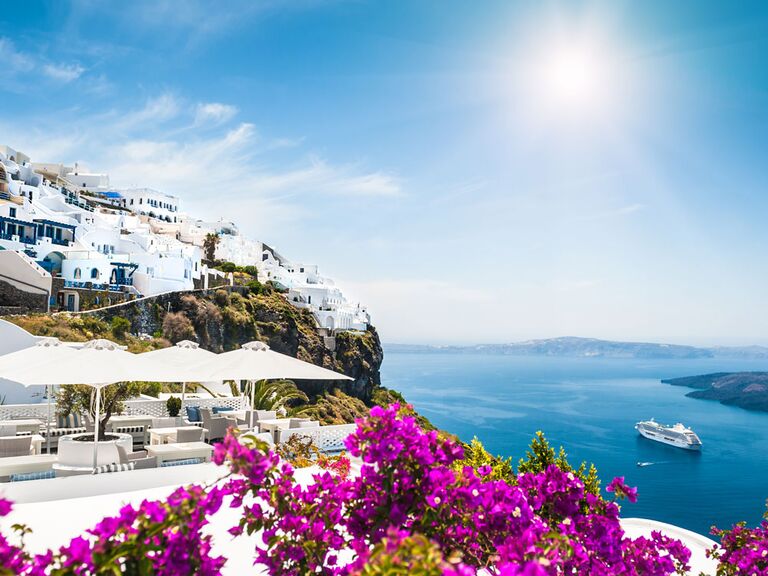 A luxury honeymoon cruise doesn't need to break the bank, especially if you pick an affordable destination, and Greece is a good spot to start. Azamara Cruises offers cruises to Greece ranging from seven-night cruises to trips spanning several weeks. Their 12-night "Greece Intensive Voyage" will take honeymooners to Volos (the "City of the Argonauts"), romantic Santorini and the temples and historical sites of Athens. Couples can enjoy dinner a la carte, while the spa and pampering treatments will occupy evenings while sailing from port to port.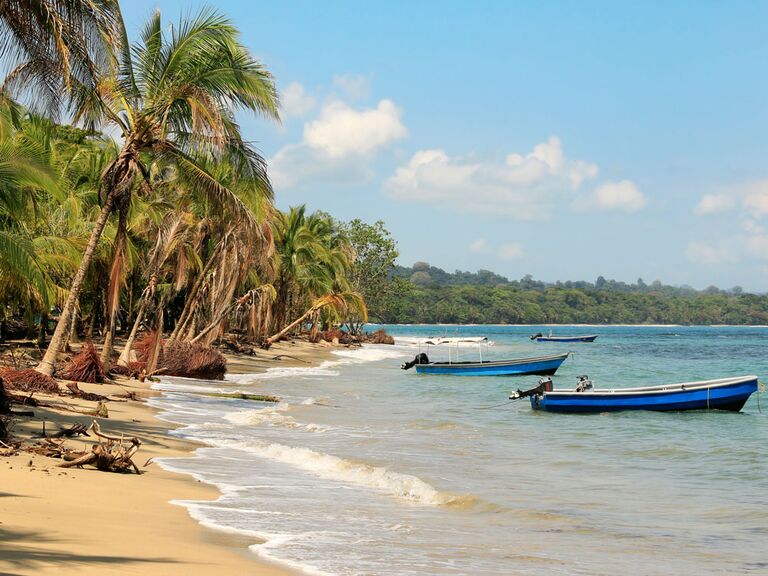 Couples desiring a warm-weather cruise without sitting on the beach every day should consider the small-ship Costa Rica cruise from Windstar. With a maximum capacity of just over 300 guests, guests will enjoy plenty of quiet, secluded moments during sunset on the deck. Each cruise includes water sports and activities for couples, like paddling and snorkeling; plus, land excursions through rainforests and cloud forests with the cruise's resident naturalist. At well under $2,000 per person, it's an excellent honeymoon choice for couples who love tropical exploration, but don't want to spend the equivalent of a home down payment on their honeymoon.
New Zealand to Australia: SilverSea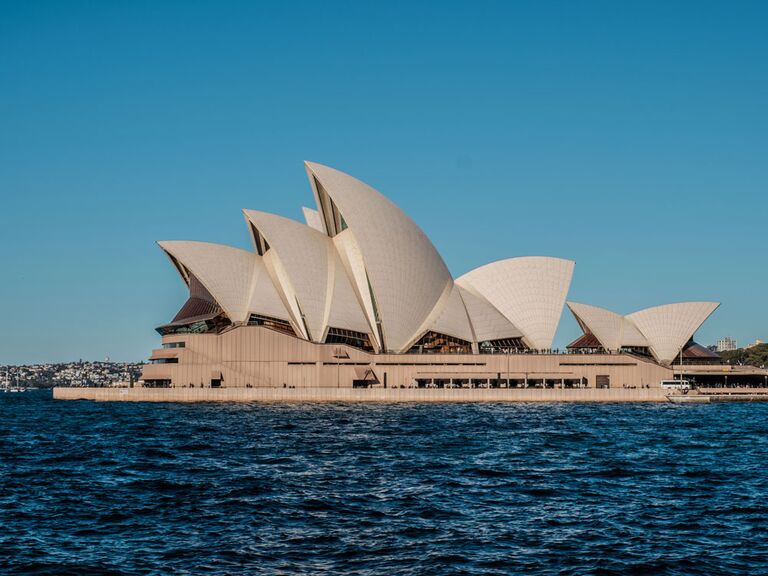 The best cruise lines aren't always the biggest, and nothing proves that more than Silversea – many of their expedition cruises are limited to around 140 guests. Couples who have time for an extended honeymoon should book a suite on the company's New Zealand to Australia cruise. If you've had a stressful wedding planning experience, the 13-day-long cruise should be just the thing to help you relax with your new spouse–especially since there's an on-site spa, free Wi-Fi for sharing photos with friends back home, and even private butler service in all the suites. Activities on land include local wildlife tours and cable car rides, all included in the total cost.
Who says cruises have to be on the ocean? Viking Cruises is famed for its luxurious river cruises, sailing down some of the most beautiful waterways in the world. You'll have no shortage of options, but one of their most romantic honeymoon cruises is the 8-day sail between Lyon and Provence, in France. Honeymooners can take a painting class in Arles, find a new shared favorite dish on a gastronomic tour of Lyon, or sip sparkling wine from local wineries. Viking's river cruises are designed for experienced travelers interested in culture and history, making this one a particularly great honeymoon option for newlyweds in their fifties and beyond.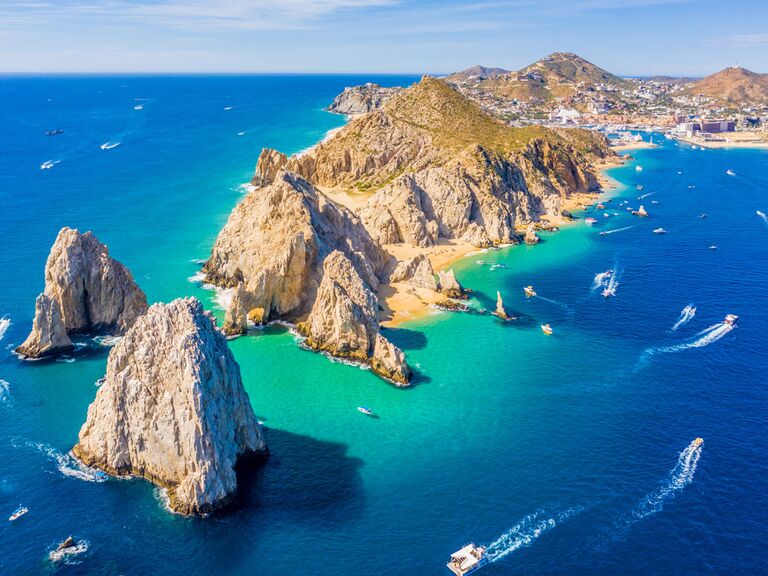 For decades, National Geographic Expeditions have taken travelers into remote corners of the world, guided by professionals esteemed in their fields. Couples particularly keen on photography and marine life should book the Nat Geo/Lindblad Expeditions "Baja California and the Sea of Cortez" cruise. Your ship carries a maximum of 100 guests, with whom you'll socialize freely during your sail through western Mexico. Excursions like zodiac whale-watching tours and snorkeling with sea lions are included in the price. Back on the ship, take advantage of the resident photographer, who will provide assistance and suggestions on how to take the best honeymoon photos possible.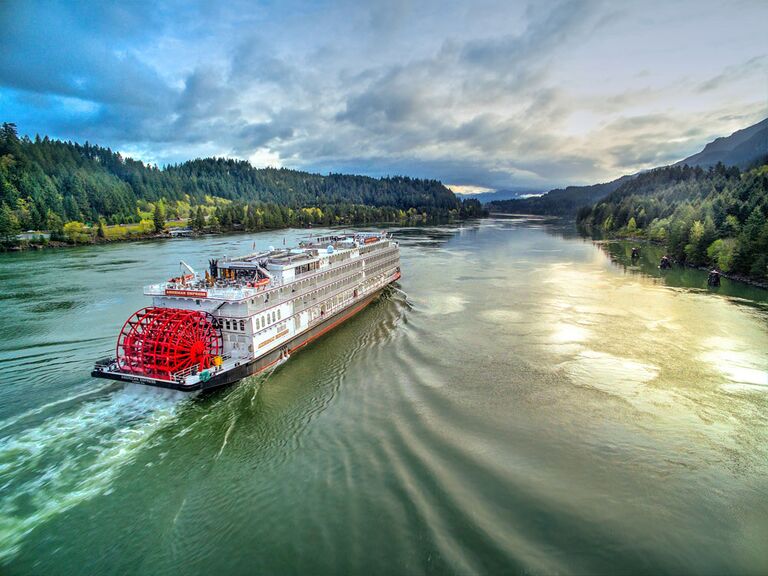 There's no need to leave the country for a fantastic honeymoon cruise. If you can't swing a Mediterranean wine country cruise but still want to expand your collective palate, book the romantic Washington Wine Country cruise from the American Queen Steamboat Company – and yes, you'll be cruising along rivers on an actual steamboat. Along the way, you'll taste and learn about wine as you visit wineries and vineyards. You'll also get to explore charming Pacific Northwest towns like Stevenson (famous for hot springs) and enjoy chef- and sommelier-created wine pairings at dinner.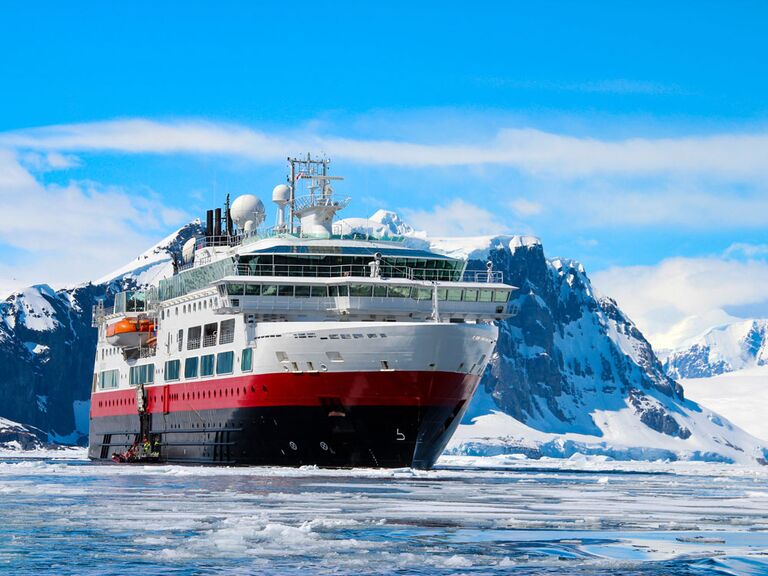 Newlyweds can cozy up under the Antarctic sky on the newest luxury ship from Aurora Expeditions: the Sylvia Earle, named for a groundbreaking marine biologist. During the ship's 12-day Spirit of Antarctica Voyage, couples can sleep on the ice with no tents to block their view of the stars. Since there are no predators (or other people), all lovebirds will need is their luxury bedding rolls and warm sleeping bags, all of which are provided when booking this unique experience. It's one of many high-end experiences available to guests on the cruise, along with glacier-skiing, whale-watching, and arctic-kayaking. While you won't have to worry about your fellow campers waking you up in the morning, you may find a few curious penguins staring at your cozy camp if you sleep in too late.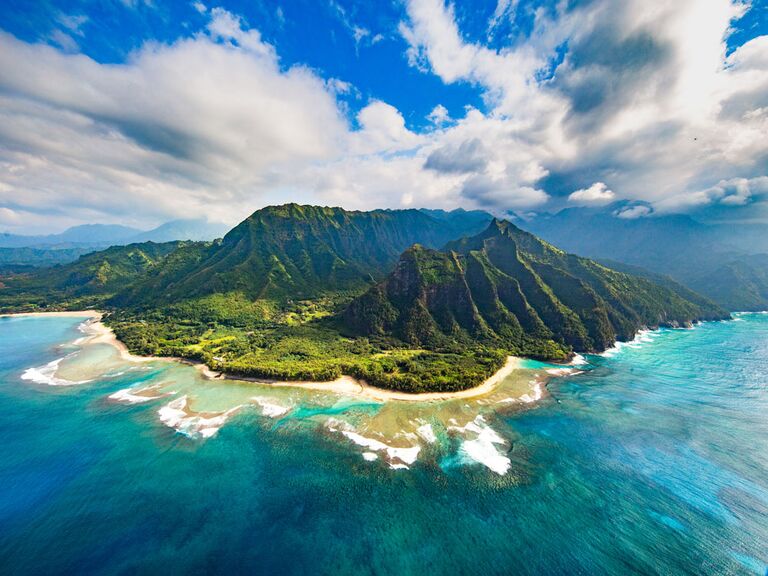 Lovebirds can see the highlights of the Hawaiian Islands on the 16-day "Hawaiian Islands Shores" cruise from Los Angeles with the all-inclusive Crystal Cruises. Crystal has an established reputation for providing luxurious, romantic cruises. Its fares include everything from five-star service to pre-paid gratuities and 24-hour butler service. Guests will visit elegant Hawaiian islands like Oahu, Kauai, Maui, and Kona, making a stop in the laid-back beach town of Ensenada before returning to L.A. You can spend every day relaxing in a lounger on a golden sand beach or lace up your hiking shoes and head inland to a tropical waterfall. During your days at sea, plan to lounge by the large pool or make appointments at the highly-reviewed Crystal Life Spa.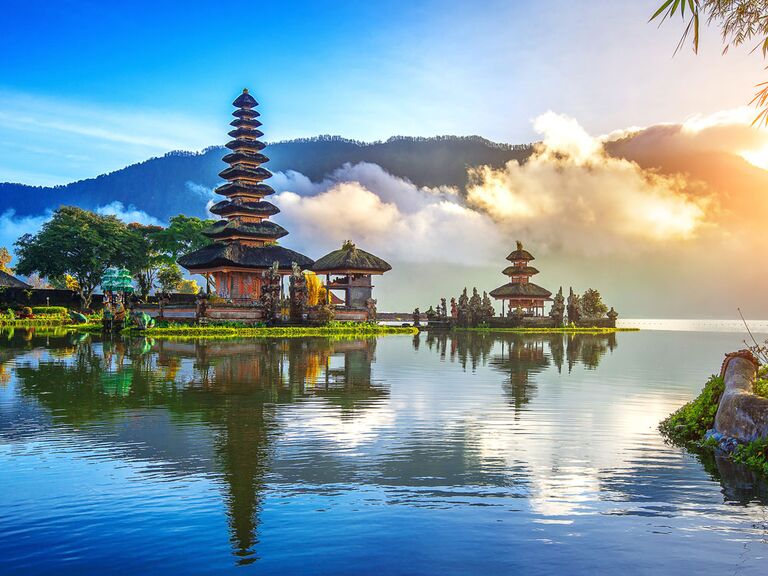 The Bali to Komodo cruise from Aqua Expeditions is perfect for couples that want a cruise to be part, but not all, of the honeymoon. This exotic adventure will bring you to one of the most unique islands on earth: Komodo. If the name sounds familiar, it's because it's the only place on earth where you'll find the rare komodo dragon. When you're not on a photo tour looking for these amazing creatures, you'll be hiking in tropical rainforests, snorkeling on colorful coral reefs, or having sunset cocktails on a pink-sand beach. Once you return to Bali, you can add extra days on at a luxury beach resort or book a jungle retreat in Ubud before heading home.
The Dominican Republic & A Private Island: Norwegian Cruise Line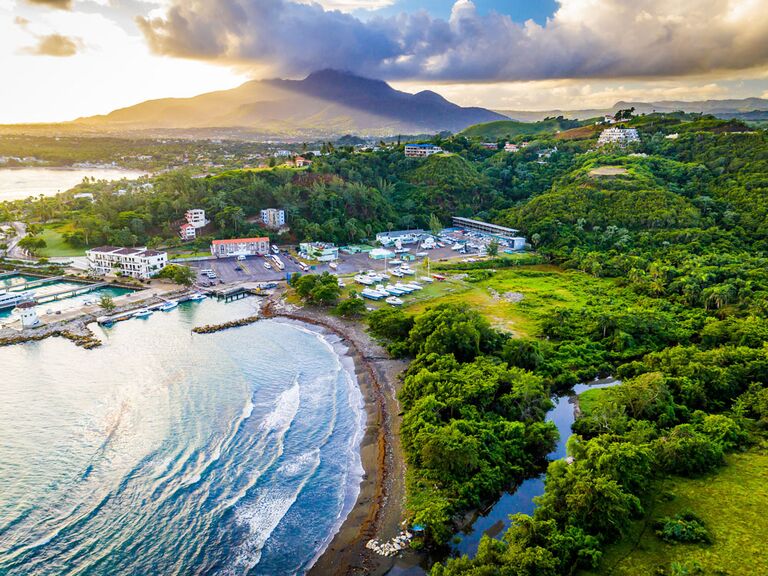 Go all-in on romance with a Norwegian Cruise Line cruise to the Virgin Islands and beyond. Its seven-night Stirrup Cay and Dominican Republic cruise stops and ends in Miami, Florida, making it a great choice for honeymooners who only have a week to spare. And at a starting rate of less than $1,000 per person, you'll have extra funds to add romantic upgrades like a honeymoon package (including sparkling wine and strawberries, massages, and professional photos) or a luxurious ocean view villa on the ship's private island.