Aruba Honeymoon: Weather and Travel Guide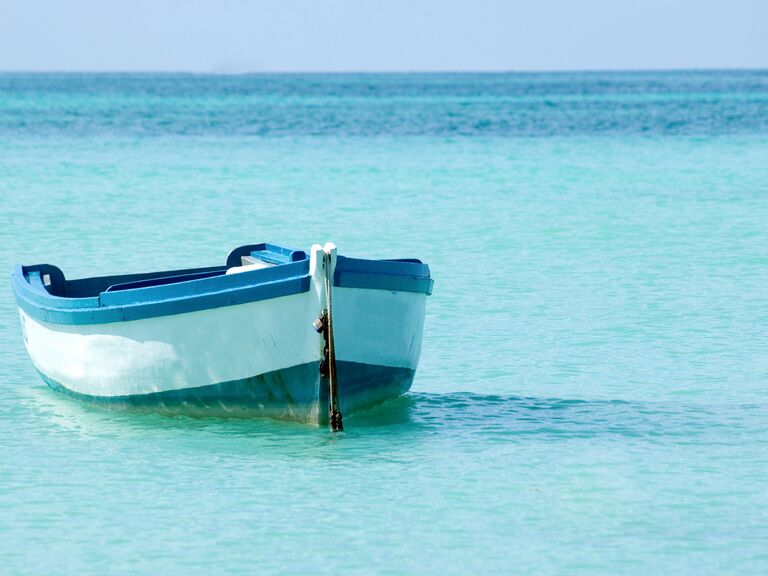 Shutterstock
Flat, arid and outside the hurricane belt, this Dutch island off the coast of Venezuela is the "A" island of the so-called ABC Islands (Bonaire and Curacao complete the trio). A true paradise, Aruba enjoys low humidity and breezy blue vistas year-round. The island's not much for tropical foliage -- instead, you'll find rocky deserts, silky sand and the trademark divi-divi tree (bent at a 45-degree angle by strong trade winds). It's tough to miss the "ka-ching" of casinos, and you'll be rocking to the infectious steel-band beat of beach barbecues and fish fries. This is, as car license-plates proclaim, "one happy island."

Before You Go: Need-to-Know Info
Language: Dutch, Papiamento and Spanish are all used, but most Arubans speak English too.
Flight time: 4.5 hours from New York City; 11 hours from LA; 9 hours from Chicago; 8 hours from Dallas
Getting around: Taxi, bus and rental car (follow the southwestern-pointing divi-divi trees if you get lost)
Entry requirements: Passport and return ticket
Currency: Aruban florin (AFl), but you can also pay with US dollars everywhere.

When to Go: Aruba at its best
Best weather: Aruba enjoys a mean temperature of 82 degrees Fahrenheit, a fairly constant 10 mph to 20 mph breeze, and blissfully low humidity year-round. July and August are less windy, and short showers occur more often from mid-October through December.
Best prices: April to August; exact dates vary by hotel
Festivals: Colorful Carnival events whirl through the streets each winter (during the two months preceding Ash Wednesday)

What to Do
Underwater sightseeing: Sunken ships include the eye-popping, bombed-in-half German freighter Antilla -- its shallow wreckage is easily and eerily visible in the clear ocean waters -- and the Jane Sea, a freighter lying in an almost vertical position. Baby Beach is best for shore diving, while Mangel Halto Reef offers fascinating night dives.
Hit the jackpot: Feeling lucky? Aruba has the games for you: blackjack, poker, craps, roulette, baccarat, slot machines and an island original, Caribbean Stud Poker, invented in 1988. This high-stakes game is like blackjack, but tempts players with a progressive jackpot that can skyrocket!
Eat and explore: From fine dining under the stars to sightseeing in colorful downtown Oranjestad, there's plenty more to see and do on this sun-soaked island. Visit Aruba.com for more ideas, including tours, nightlife and outdoor recreation.