Considering a Belize Honeymoon? Here's Everything You Need to Know
Our itinerary includes the country's top thrills.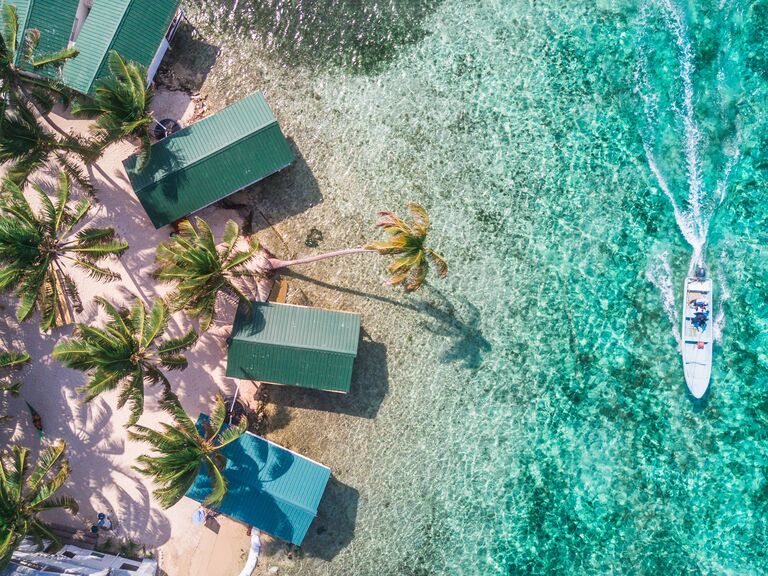 Duarte Dellarole / Shutterstock
We have included third party products to help you navigate and enjoy life's biggest moments. Purchases made through links on this page may earn us a commission.
Local laws may restrict service availability to all. See the Equality Index for more information.
Belize isn't the top island on couples' radars for a Caribbean getaway or honeymoon in Central America, but it should be. While Costa Rica is a smoldering alternative for ecotourism and adventure, you can find your own slice of paradise by sticking a little further north, where you'll find much of the same natural beauty and comparable beaches, all in a remote world of your own.
The small country of Belize packs a ton of culture and itinerary items, considering its tiny size. The Caribbean destination offers travelers a mix of lush rainforests, gorgeous beaches, superb snorkeling, plus scuba diving, adventure activities and luxury. For couples planning a honeymoon for the near future, entering Belize is also easy, as the country was one of the first to allow travelers with proof of COVID-19 immunization to freely enter its borders with no need for a quarantine period. Additionally, Belize City, where most international flights arrive, is easy enough to reach from the US West Coast (a flight from Los Angeles to Belize City is only about a five-hour trip)—though do note you'll need to fly out of a major air hub for a direct flight.
Is Belize Good for a Honeymoon?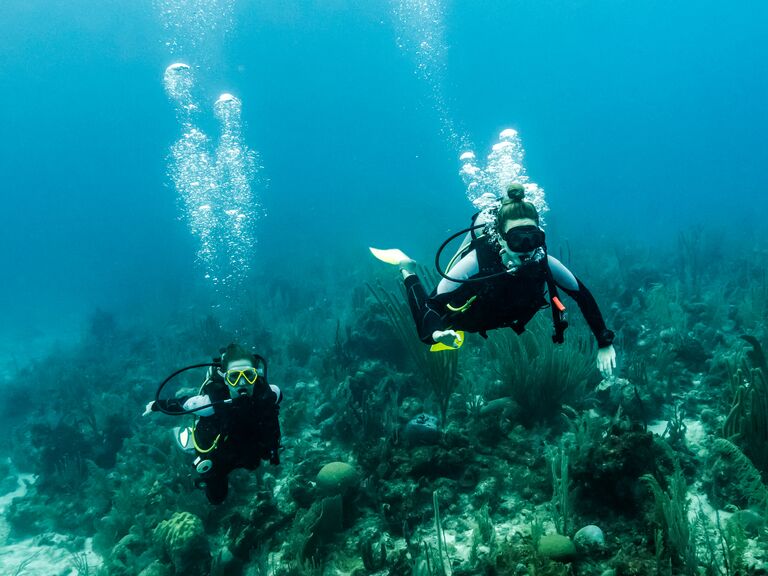 Pros of a Belize Honeymoon
A Belizean honeymoon is for couples who want a mix of adventure activities and beach lounging. Wherever you stay in Belize, it's all within reach, whether you imagine zip-lining through tropical rainforests or swimming along colorful fish. When you're finished with your adrenaline-pumping outings, you can return back to your luxurious resort or beachside cabana for a tropical cocktail or maybe a couple's massage.
Cons of a Belize Honeymoon
Because Belize isn't as popular of a honeymoon destination as, say, Cancun, Mexico, you might not be able to find the same traveler-centric amenities you might in a more established tourist hub. You might find yourself staying in a locally-owned hotel versus a big box brand resort. Rather than taking a direct flight from the States to Belize's coastal towns, you may have to fly into Belize City and transfer via a small plane (we're talking very small) to get to your destination. For some, this is all part of the thrill. However, the lack of typical amenities may detract from the experience if you're the type of couple who wants to relax at a megaresort.
The Best Times of Year to Go on a Belize Honeymoon for Good Weather
Belize is consistently around 80 degrees Fahrenheit, making for a warm, but not unbearable, environment all year round. Belize experiences two seasons. The dry season lasts December to May, while the rainy season lasts June to November. Visit Belize in the springtime for the best weather with little rain.
Places to Visit in Belize for a Honeymoon
Belize is small but mighty. Honeymooners will find a weeklong getaway to be action-packed.
Ambergris Caye is a popular honeymooner destination situated off the coast of Belize in the Caribbean Sea, and it's only accessible via boat or sea plane. As one of the favorite tourist destinations in the country, you'll have no problem finding lodging, dining, shopping and activities in this area.
Belize City is the country's capital and the largest city in Belize. Even with the urban setting, you'll find plenty of opportunities to escape the hustle and bustle, as the rainforest, all-inclusive resorts and white sand beaches are never far away.
Placencia is a good pick for your honeymoon getaway if you consider yourself more of a beach bum than a rainforest explorer. Placencia is home to some of Belize's best beachfront and, as such, scuba diving and snorkeling opportunities are plentiful.
Things to Do During a Belize Honeymoon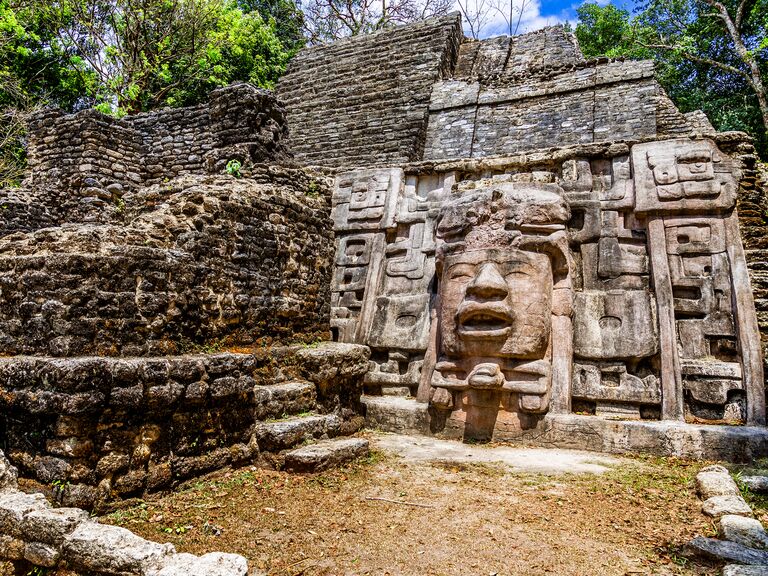 Explore Caves and Mayan Ruins in the Cayo District
Belize's Cayo District will delight both thrill-seekers and history buffs with its Mayan ruins and caves. For the adventurous couple, the district's caves offer numerous ways to explore caverns and water features below the earth's surface (including cave tubing). Xunantunich, meanwhile, is the most popular Maya ruin site to visit in the district, with its ancient Mayan architecture.
Seek More of Belize's Archaeological Sites
Beyond the Cayo District, there are plenty of archaeological sites to visit around the country. Altun Ha is a famous ruin you can quickly reach from Belize City, and it contains more than a dozen temples. Lamanai Archaeological Reserve is also popular, situated in northern Belize (just note getting to the reserve is no easy feat; you'll have to take a boat ride through the jungle). Caracol is the largest ruin site in Belize, and is located near the Cayo District, making it an easy extra archaeological site to tack onto your itinerary.
Dive Along the Belize Barrier Reef
The Belize Barrier Reef is the largest barrier coral reef in the Western Hemisphere. Avid snorkelers and scuba divers will tell you Belize is home to a few of the top snorkel sites in the world. If swimming alongside schools of fish isn't enough to thrill you, though, you can always head to the famous dive site known as the Great Blue Hole, which is equal parts breathtaking and, with its seemingly endless depth, terrifying.
Marvel at Wildlife
Nature-centric newlyweds will want to make tracks for Basin Wildlife Sanctuary & Jaguar Preserve, a wildlife sanctuary and jaguar preserve. Beyond seeing its resident jaguars, honeymooners can hike and spot ocelots, monkeys, tapirs, toucans, macaws and more. Pick a hike that stops by some of the sanctuary's waterfalls and swimming holes for a quick dip.
Best Hotels and Resorts in Belize for a Honeymoon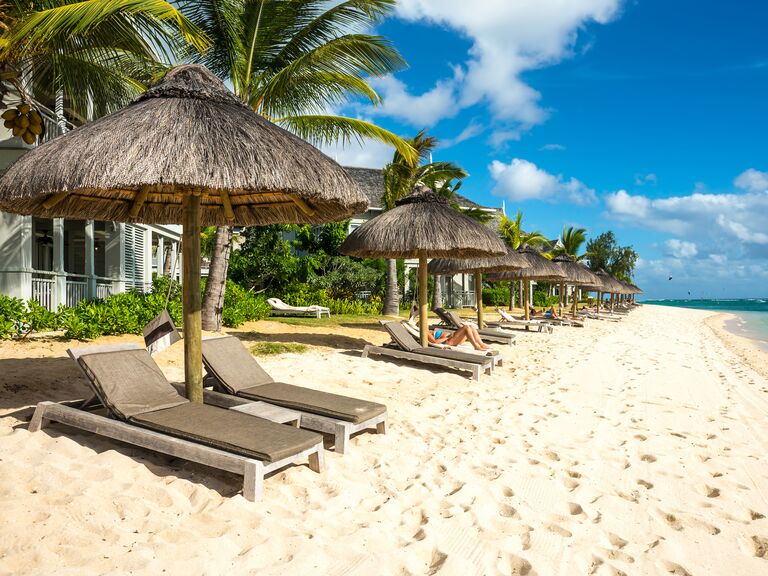 Rated one of the top properties in the world, this luxury boutique resort is nestled along a remote beach right alongside the barrier reef. With sustainability in mind, the hotel has an open-air layout, while villas are rooms are secluded. Activities include sailing, snorkeling with sharks, cave tubing and more.
For a private honeymoon resort option, escape to this rainforest retreat that offers fewer than 20 guestrooms. The lodge is situated within the Mountain Pine Ridge Forest Reserve, putting you directly in communion with nature. Wildlife sightings aren't uncommon, especially when you take to your private deck or hot tub overlooking the rushing river.
A full-service rainforest lodge located in the thick of wilderness in the Mayan heartland, the Sleeping Giant Resort falls under The Belize Collection (a luxury hotel group that features stays in nature reserves). Honeymooners will love their plush and serene accommodations, including private plunge pools and open-air layouts, as they fall asleep to the melodious sounds of the rainforest. The property is also a base camp for National Geographic in Belize and home to one of the top-rated restaurants on the island.
For a more traditional resort experience, stay on Ambergris Caye at this island resort and beach club on 60 acres. The resort offers more than 200 villas and cottages, a handful of onsite restaurants and a huge pool.
For a similar resort experience with plenty of luxury, try Itz'ana, in Placencia. The beach resort right on the water offers extravagant accommodations options such as cottages positioned literally atop the waves. Fine dining and a stellar, Instagram-worthy pool with an ocean view are also on tap.
If you can't wait to explore the Cayo District, why not stay there for the duration of your trip? The Lodge at Chaa Creek is a high-end, eco-friendly resort that's a hit with honeymooners. Each cottage feels a world away from, well, the world, as you take in the rainforest from your jacuzzi.
This oceanfront resort right on the beach delights with modern finishes and furnishings, poolside cabanas, private plunge pools and stellar suites. The onsite dining options and multiple pools help make this Ambergris Caye property one of the most convenient and comfortable.
What to Pack for a Belize Honeymoon
Pack plenty of bug spray for your Belize honeymoon. You'll also want sunscreen and protective gear for any honeymooning outings you've planned. Trips to the rainforest or to ruin sites will require hiking boots and hike-appropriate clothing, while you may want to pack water shoes or rash guards for snorkeling excursions. For more tips on what to pack for your honeymoon, check out our comprehensive checklist.