50 Best Places to Honeymoon
From far-flung exotic locales to beautiful beaches and budget-friendly options—we have suggestions for any and every type of honeymoon.
by Maridel Reyes
Best Destination Honeymoon Weather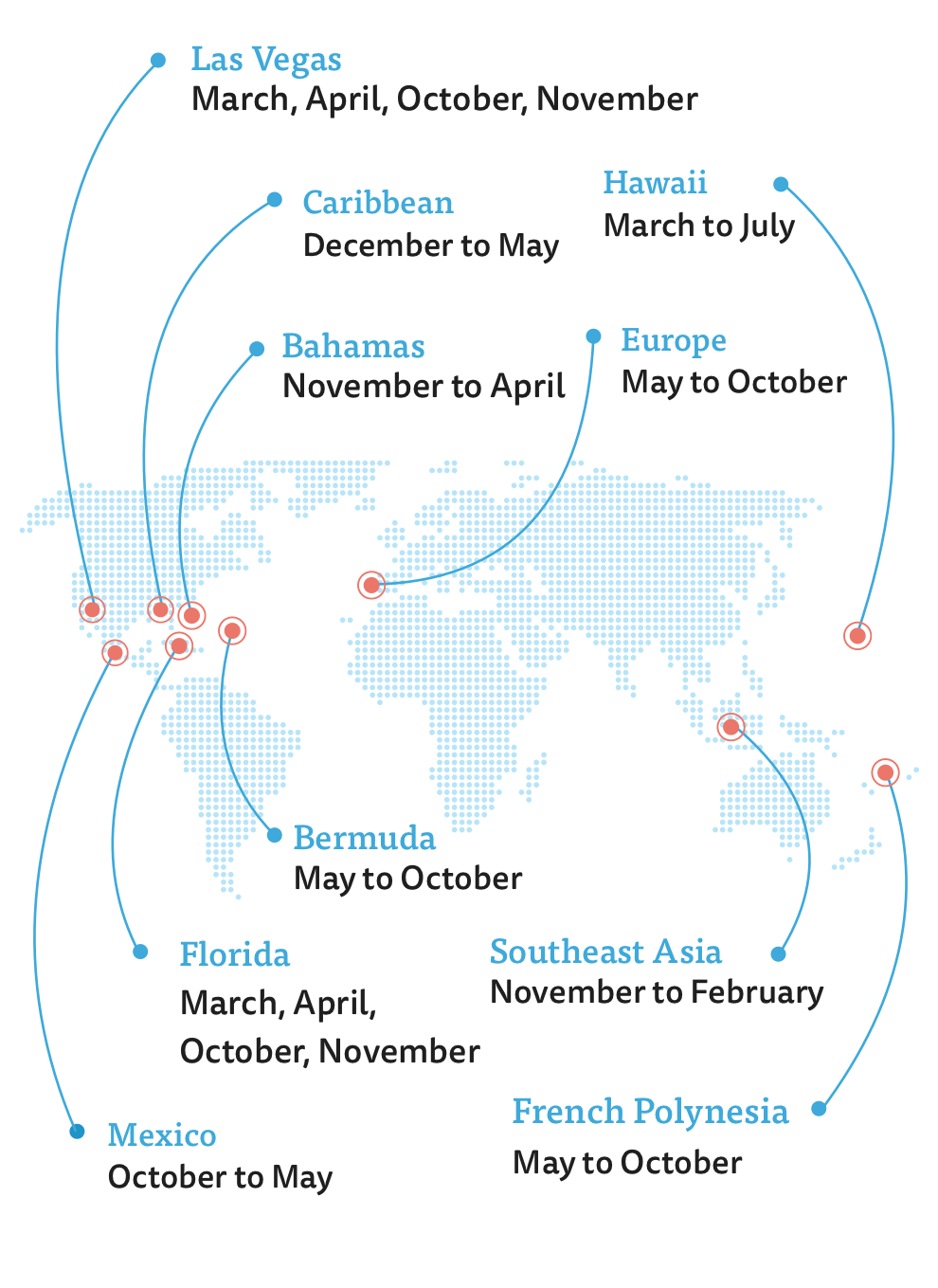 screenshot this
Trying to figure out where to go on your much-deserved postwedding getaway? Whether you're looking for some R & R with your new spouse or an adventure in an exciting locale, we've got you covered in our list of the top 50 places to honeymoon.
Search hot honeymoon spots by style:
10 Most Adventurous Honeymoons
10 Most Romantic Beach Honeymoons
Most Romantic: Bora Bora, French Polynesia

Most Romantic: Bali, Indonesia

Most Romantic: Sonoma, California

Most Romantic: Paris, France

Most Romantic: Orkney, Scotland

Most Romantic: Venice, Italy

Most Romantic: Harbour Island, Bahamas

Most Romantic: Cape Town, South Africa

Most Romantic: Savannah, Georgia

Most Romantic: Santorini, Greece

Best Beaches: Koh Tao, Thailand

Best Beaches: Miami, Florida

Best Beaches: Florida Keys, Florida

Best Beaches: Little Cayman, Cayman Islands

Best Beaches: Maui, Hawaii

Best Beaches: Ibiza, Spain

Best Beaches: Punta del Este, Uruguay

Most Exotic: Panama City, Panama

Most Exotic: Marrakesh, Morocco

Most Exotic: Dubai, United Arab Emirates

Most Exotic: Cappadocia, Turkey

Most Exotic: Udaipur, India

Most Exotic: Kyoto, Japan

Most Exotic: Machu Picchu Pueblo, Peru

Most Adventurous: Galapagos Islands, Ecuador

Most Adventurous: Greenough, Montana

Most Adventurous: St. Lucia

Most Adventurous: Hayman Island, Australia

Most Adventurous: Iceland

Most Adventurous: Namibia

Most Adventurous: Vancouver Island, Canada

Most Adventurous: Papagayo Peninsula, Costa Rica

Most Adventurous: Dominica

Most Adventurous: Sedona, Arizona

Best Budget: Palm Springs, California

Best Budget: Whitehouse, Jamaica

Best Budget: Québec City, Canada

Best Budget: Buenos Aires, Argentina

Best Budget: Tulum, Mexico

Best Budget: Nantucket, Massachusetts

Best Budget: Palawan, Philippines

Best Budget: Vieques, Puerto Rico

Best Budget: Rovinj, Croatia

Best Budget: Asheville, North Carolina