70 Instagram-Worthy Honeymoon Spots
Here are the best honeymoon places, both near and far.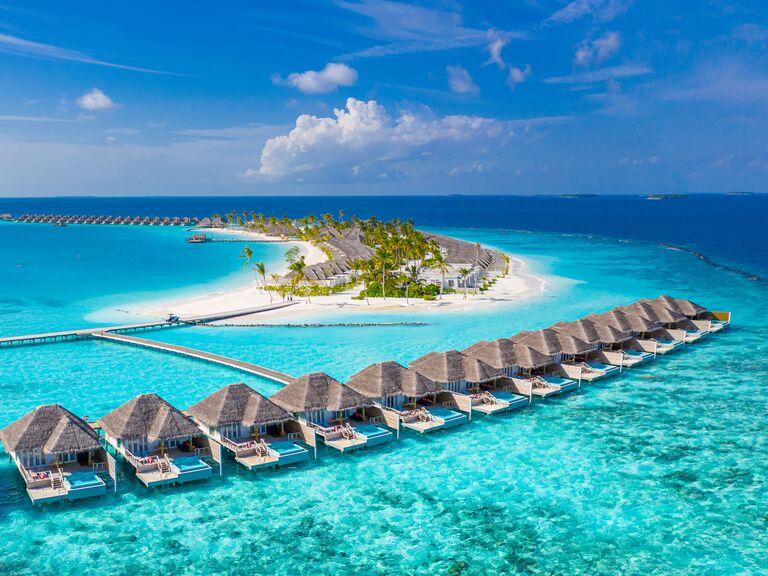 icemanphotos / Shutterstock
We have included third party products to help you navigate and enjoy life's biggest moments. Purchases made through links on this page may earn us a commission.
Your honeymoon is the trip of a lifetime—how often do you get to celebrate your newly minted relationship status with the love of your life? But trying to figure out where to go for your much-deserved postwedding getaway can be a head-scratcher. To point you in the right direction, we've come up with a list of the 70 best honeymoon destinations for every couple (including the best honeymoon resorts to book for your trip). Whether you want a good dose of rest and relaxation or prefer an action-packed vacation, we're sharing all of our favorite places to go for your honeymoon.
In this article:
How to Choose Your Honeymoon Destination
When it comes to scouting your honeymoon location, consider the type of honeymoon you want. If you can't think of anything better than heading off to a tropical destination and spending your days swimming, reading by the beach and melting into that postwedding glow, you might want to consider a beach or island location like the Maldives, Mexico or the South Pacific. For those who prefer an action- and nature-filled vacation, let your adventurous flag fly in a honeymoon country like New Zealand, Sri Lanka, Bhutan or Botswana.
The other thing to consider is the cost. While your honeymoon can be a once-in-a-lifetime trip, you also want to be practical about it. To save on airfare and other travel expenses, consider looking for luxury a little closer to home—the best honeymoon locations can often be the most straightforward! Whether you're searching for the right stateside trip or an all-inclusive getaway in the Caribbean, we've included honeymoon ideas to suit all budgets.
Top Romantic Honeymoon Destinations
Wondering where to go for your honeymoon? If there's one non-negotiable when planning your trip, it's romance. You and your new spouse will want it in abundance, which could mean anything from a stay under the stars in Colombia to a stroll through the City of Love. Here are some of the best romantic honeymoon ideas.
Amalfi Coast, Italy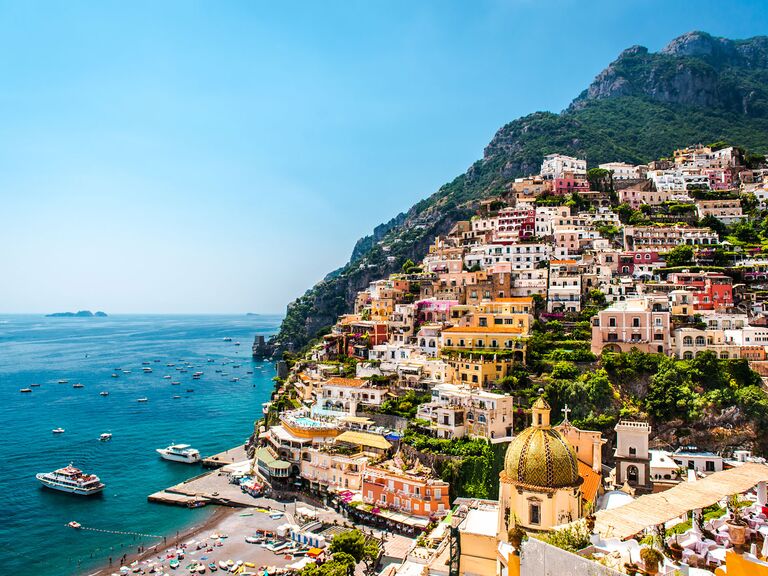 The Amalfi Coast is one of those places everyone should visit at least once—and what better time to do so than your honeymoon? Newlyweds will revel in sun bed-dotted beaches and cliff-clinging eateries, but be warned: Make room in your honeymoon luggage as you'll want to take home a bottle of limoncello for all your friends and family.
Where to stay: The grand dame of the Amalfi Coast, most of the rooms at Le Sirenuse have a balcony to take in that Instagram-famous view of Positano. Honeymooners will love the free boat trips offered by the hotel, whether they want a morning dip in the crystal-clear waters or a romantic sunset jaunt—just be sure to book your spot in advance.
Antioquia, Colombia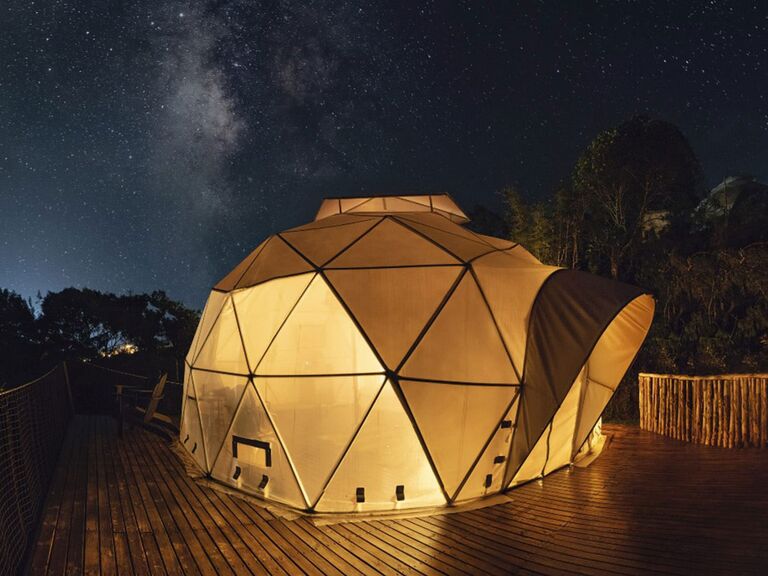 While it might not be the first place you'd think of when planning a romantic honeymoon, Colombia offers private honeymoon getaways for newlyweds—something you'll surely be craving after the wedding buzz. We suggest heading to Colombia's Antioquia region for a laid-back break. After visiting the department's capital, Medellín, make your way to the colorful town of Guatapé to truly immerse yourself in Colombian culture.
Where to stay: Just outside of Guatapé lies Bosko, a collection of clear-sided domes that take in the lush greenery and large lake below. There are no street lights here, so come nightfall, it'll be just the two of you and the stars.
Bali, Indonesia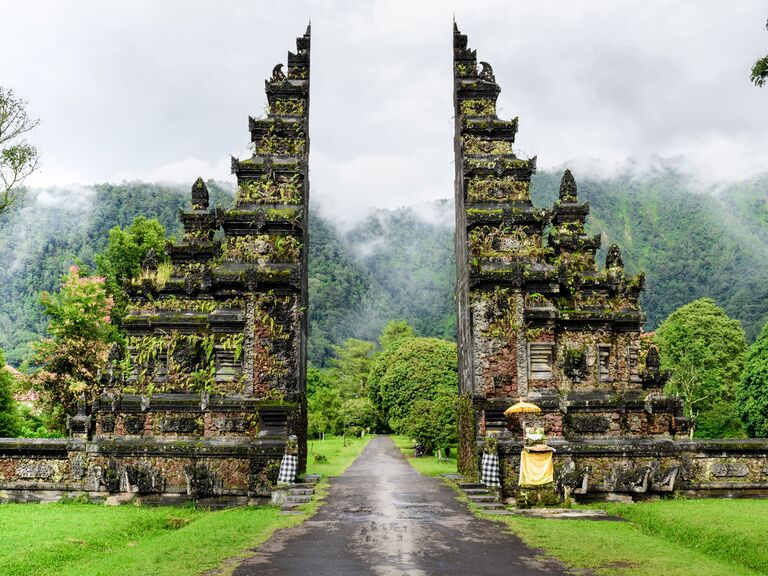 Searching for beautiful places to honeymoon? Look no further than Bali. The island has long been a magnet for romance-seekers and honeymooners for its mist-shrouded temples, beautiful mountain vistas and vivid arts scene. While there, be sure to arrange a trip to Pura Luhur Uluwatu temple—it offers history and some unforgettable sunset views.
Where to stay: If it's good enough for The Bachelor, it's good enough for your honeymoon! The Mulia Villas—featured in season 19 of the hit reality series—front Nusa Dua coastline, which is famous for white-sand beaches and calm blue waters.
Bora Bora, French Polynesia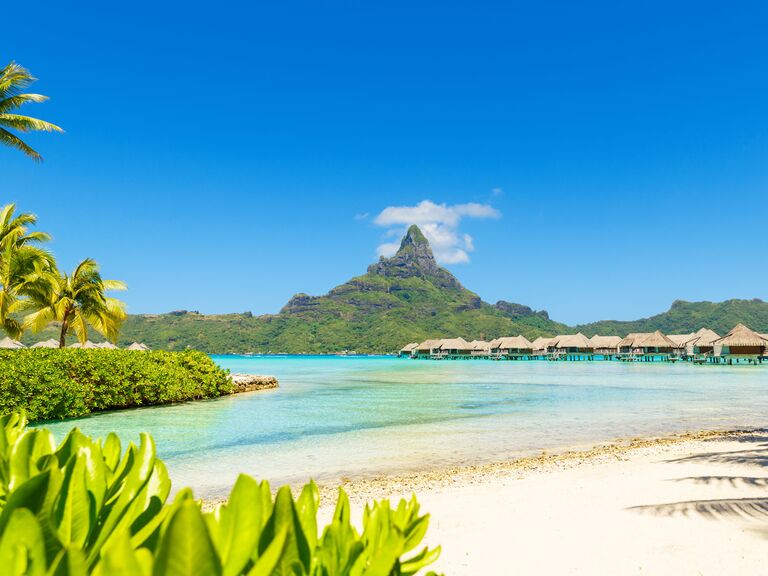 When you picture the most romantic honeymoon destinations, Bora Bora probably comes to mind. Think: crystal-clear waters, picturesque mountains and a coral reef swirling with colorful fish. To make the most of the views, why not charter a helicopter to take you around towering Mount Otemanu, then touch down on a neighboring island for a tour of a black pearl or vanilla bean farm? It's memories like these that'll last a lifetime.
Where to stay: The Four Seasons Resort Bora Bora is located on a coral reef that encloses a turquoise lagoon. Swoon!
Cappadocia, Turkey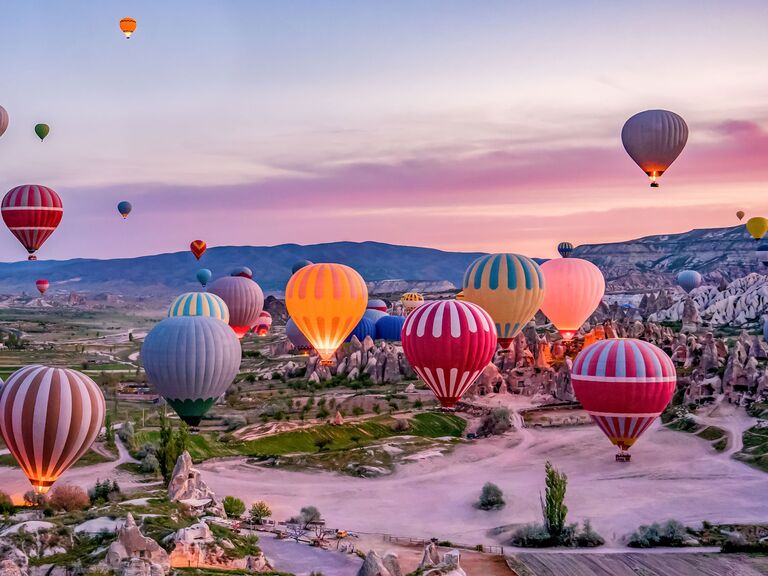 Romantic honeymoon places don't come much better than Cappadocia. Located less than four hours from Turkey's capital city, the wind-carved landscapes of Cappadocia are otherworldly. Whether it's high up in a hot air balloon or on foot or horseback, there are a ton of ways to explore Cappadocia's magical valleys full of caves and rock formations, or "fairy chimneys."
Where to stay: Argos in Cappadocia is on the site of an ancient monastery with rooms that have been restored from the remains of underground tunnels and caves.
Harbour Island, Bahamas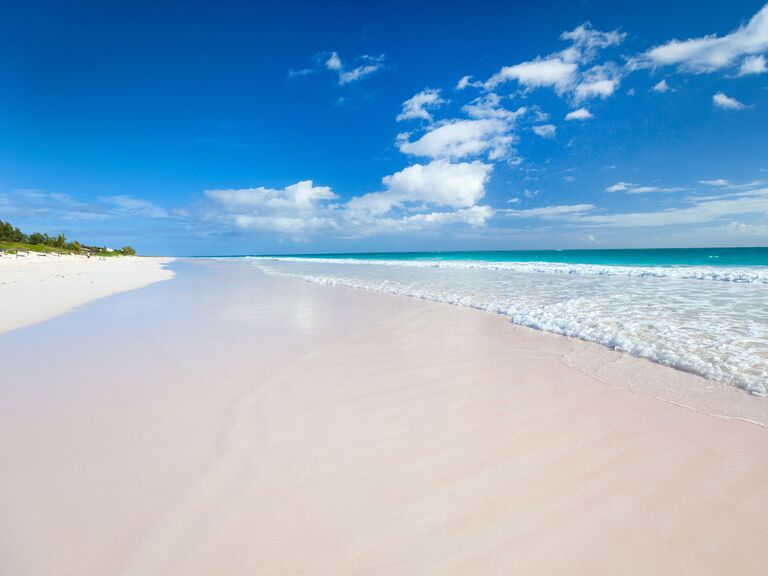 Chances are, you've never seen anything like Harbor Island's Pink Sands Beach. On your way to the pink-sand paradise, pick up a breakfast croissant from Arthur's Bakery, which will set you up nicely for a day of sand and sea. With a laid-back vibe, it's no wonder so many people make the Bahamas their honeymoon spot.
Where to stay: Tingum Village Hotel has just 19 airy suites and is steps from Pink Sands Beach.
Kyoto, Japan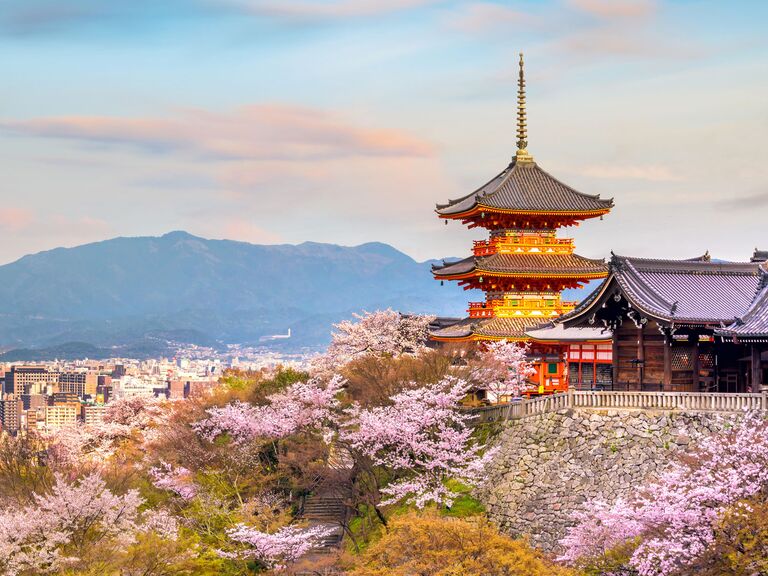 Compared with the frenetic energy of Japan's capital city Tokyo, Kyoto moves at a much slower pace. Relax and reflect at hundreds of shrines and temples or stroll through peaceful traditional gardens. While the cherry blossoms only bloom in the spring, you can visit Kyoto's cool cultural sites—like Arashiyama Bamboo Grove and the orange gates of Fushimi Inari Taisha—all year round.
Where to stay: Take a private boat ride to the picture-perfect HOSHINOYA Kyoto that's perched on the calm Ōi River.
Marrakesh, Morocco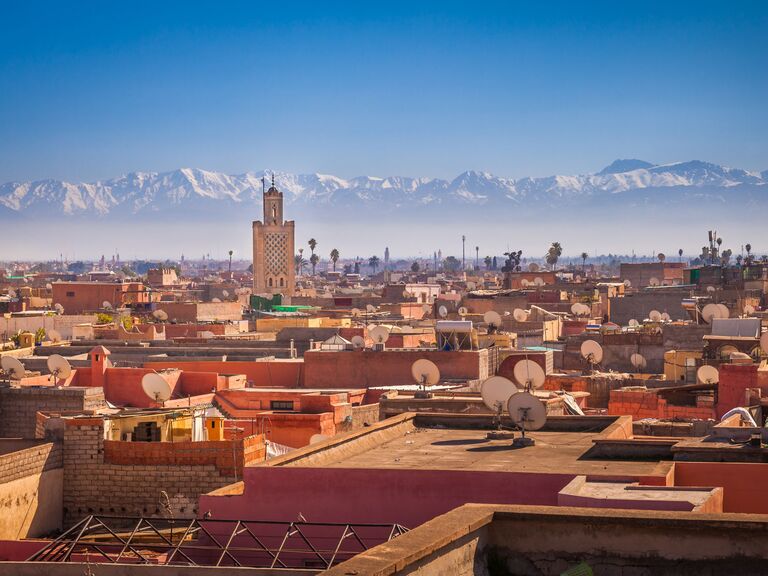 Rock stars and fashion designers have been going to this North African city for decades to find inspiration. You'll feel like you wandered onto a movie set when you enter its souks, complete with hidden alleys, endless spices and a maze of markets. It's worth extending your stay so you can add on a trip to the Sahara Desert, traveling over the Atlas Mountains and staying in a luxury tented camp.
Where to stay: Less than 10 minutes from the airport and the ancient Medina, the sultry and sumptuously appointed Selman Marrakech offers a view of the Atlas Mountains.
Orkney, Scotland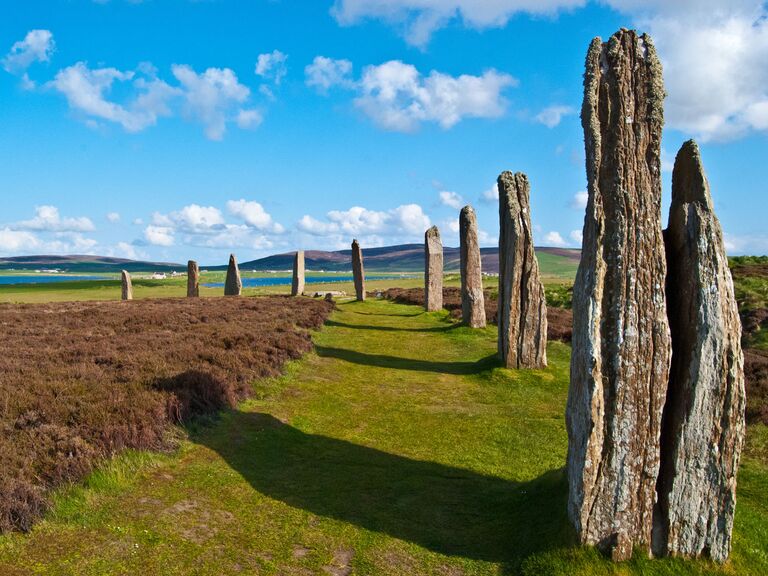 Indulge in all of your Outlander daydreams on this northern archipelago off the coast of Scotland. With green-topped islands and sandstone cliffs, it's one of the best honeymoon destinations in Europe. Top tip: Take a day trip and stand in awe of the Neolithic Ring of Brodgar, an ancient ring of standing stones. It's not known how the stones got there or what they mean, but they're an incredible sight.
Where to stay: The family-run Kirkwall Hotel is located in a storybook-perfect Victorian building that overlooks Kirkwall's historic harbor and is steps from the main street.
Paris, France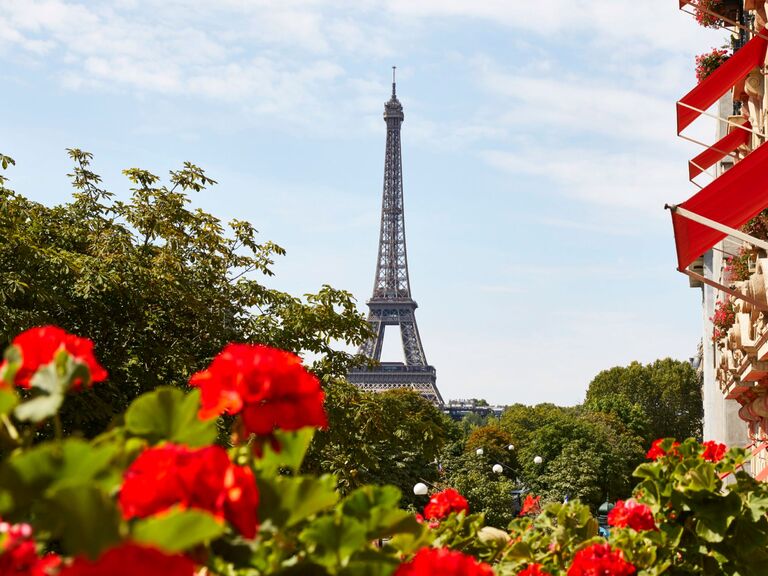 Paris is synonymous with romance. It's a combination of the architecture, the food (oh, the food!) and the art that makes this city so special and one of the best honeymoon destinations in the world. After a wander through the Louvre, pick up a selection of meats and cheeses and picnic in front of the Eiffel Tower.
Where to stay: When you stay at the elegant Hôtel Plaza Athénée, splurge on the Romantic Offer package for a bottle of champagne and chocolates on arrival. If the hotel looks familiar, it's because it was the backdrop for Carrie and Big's reunion in the last season of Sex and the City.
Santorini, Greece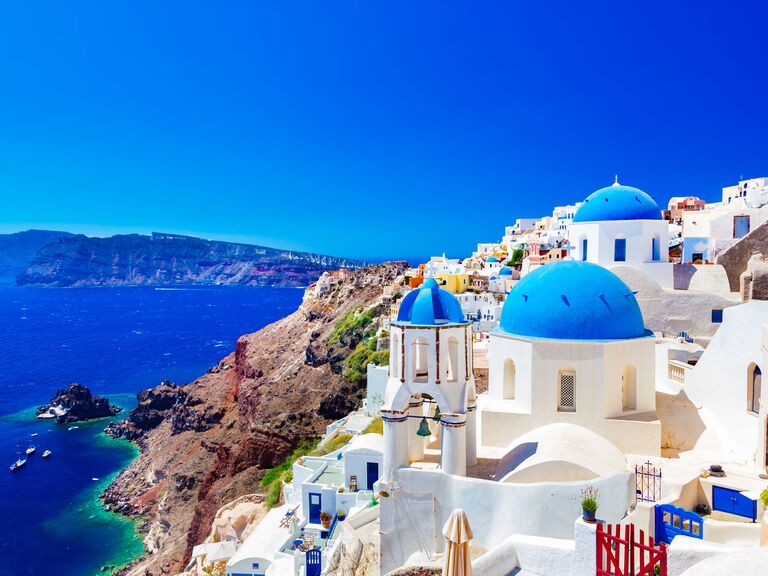 This small volcanic island is known for its seriously gorgeous sunsets and pristine whitewashed villas, but there's so much more to explore. Take a scooter to the red- and black-sand beaches, check out ancient sites (like the Bronze Age settlement of Akrotíri, oftentimes called "Minoan Pompeii"), visit wineries, go hiking and stop in the many boutiques. Unsurprisingly, Greece has ranked among the best honeymoon destinations for decades.
Where to stay: Reserve a room at Carpe Diem. Located in Pyrgos, the island's highest settlement, you get uninterrupted views of the Santorini sunset right from your private plunge pool.
Savannah, Georgia
Get lost in the city's slow-paced serenity—it's the perfect place to chill out postwedding. Cozy inns and local restaurants flourish around the tree-shaded historic district. Better yet, you can take a charming horse-drawn carriage tour around the squares. It's difficult to find a honeymoon idea more lovely than Savannah.
Where to stay: The Mansion on Forsyth Park offers a top-notch art collection, cooking school, spa, outdoor relaxation pool and popular restaurant on-site. You'll be forgiven if you have honeymoon withdrawal when you leave.
Sonoma, California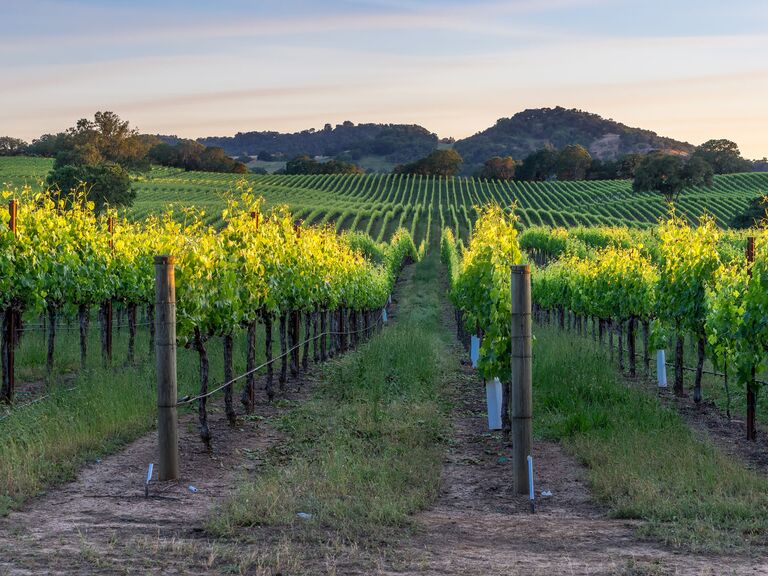 World-class wine, delicious food and unsurpassed scenery—what's not to love about this dream honeymoon destination? You'll want to indulge in the local fare—these California chefs were doing farm-to-table long before it was a trend.
Where to stay: Forestville's Farmhouse Inn has cozy-chic barn rooms with thoughtful, luxurious touches. Plus, guests have exclusive access to wineries not normally open to the public.
Top Beach Honeymoon Destinations
A beautiful beach is always going to be one of those dream honeymoon places—any vacation where you can swim, eat, sleep, repeat is a winner in our books. With this in mind, here are the best beach honeymoon destinations, both near and (very) far.
Andaman Islands, India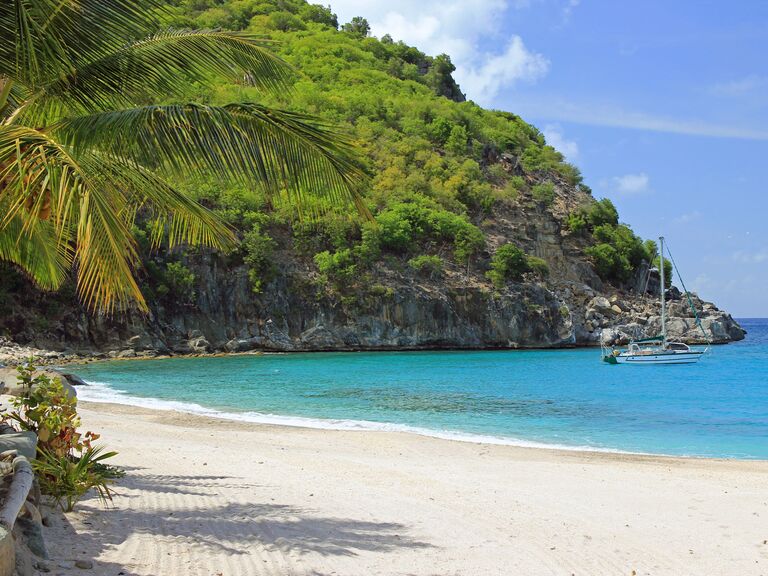 The Andaman Islands lie some 850 miles east of the Indian mainland—in fact, they're closer to Thailand! Only a fraction of the hundreds of islands are inhabited, which makes it an excellent under-the-radar choice for your honeymoon. Havelock is one of the most popular, and it's where you'll see some of the world's most beautiful beaches and bright coral reefs.
Where to stay: Jalakara may be a 15-minute drive from Radhanagar Beach, but its rainforest surroundings feel miles away. For an unforgettable stay, honeymooners can opt to take part in a jungle walk, snorkeling trips and nighttime kayaking through mangroves.
Aruba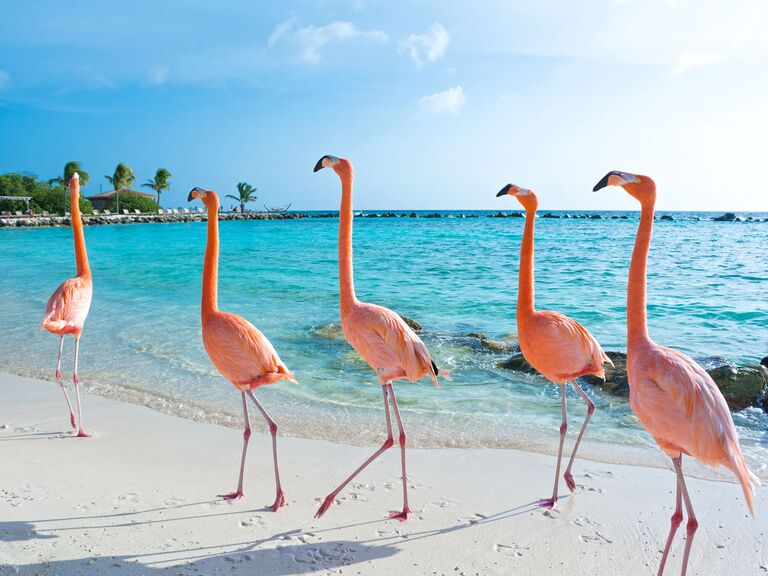 Nicknamed "One Happy Island" for its prime location outside the hurricane belt and warm weather year-round, Aruba clocks the most sunny days in all of the Caribbean, making it one of the best honeymoon places for any time of the year.
Where to stay: The Ritz-Carlton Aruba is located on Palm Beach—one of Aruba's most famous. Book one of the suites overlooking the Caribbean Sea for truly beautiful vistas.
Fiji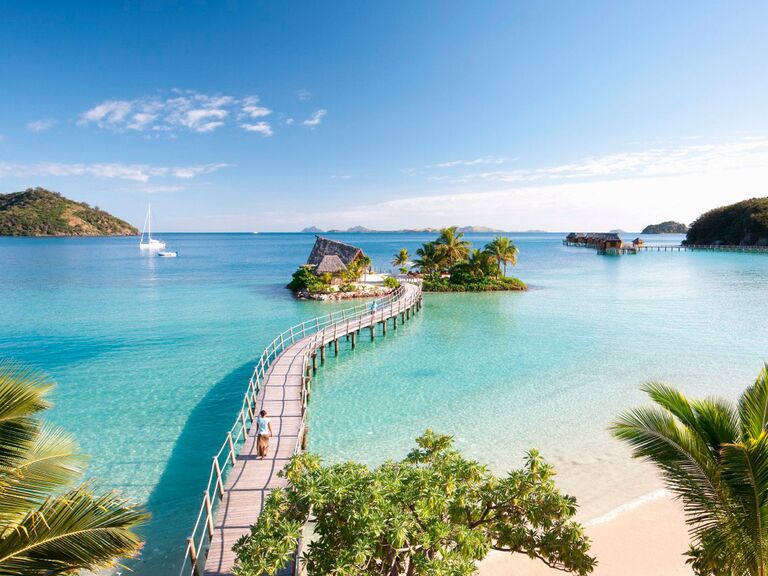 The islands that make up Fiji are surrounded by coral reefs, resulting in warm lagoons and beautiful coral beaches. It's one of the very best honeymoon destinations in the South Pacific. Here, honeymooners can spend their days lazing on the white-sand beaches, snorkeling the reefs and sipping on kava—Fiji's national (non-alcoholic) drink—while watching the sun set.
Where to stay: The adults-only Likuliku Lagoon Resort Fiji on Malolo Island is the only resort in Fiji with overwater thatched-roof bungalows (known in Fiji as bures).
Ibiza, Spain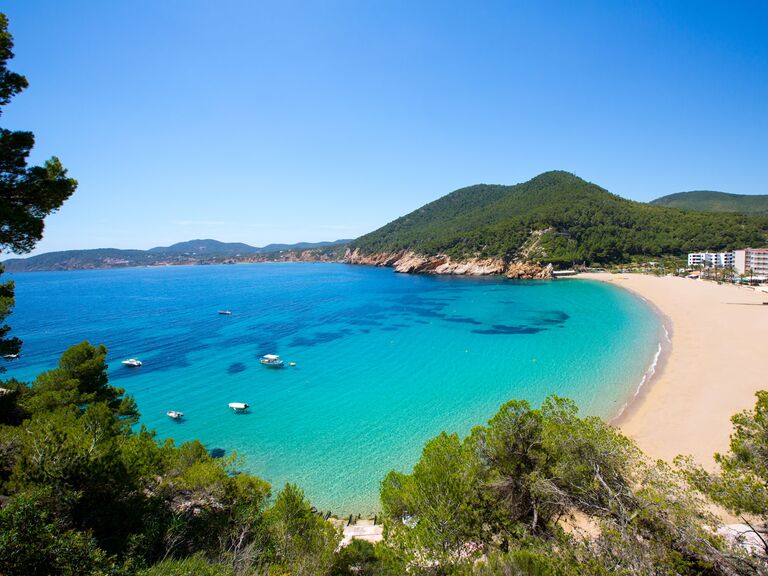 There's more to Ibiza than the infamously wild, up-all-night parties. Just a few miles from the throbbing city center, you'll find sleepy hill villages, lush forests, rolling orchards and hippie-chic farmhouses, perfect for couples looking for a little R&R. If serenity is what you're after, take the half-hour boat ride to neighboring Formentera for untouched beaches and hidden coves.
Where to stay: Hard Rock Hotel Ibiza boasts the longest stretch of palm-fringed beach on the island, plus a spa and a restaurant—SUBLIMOTION—from a Michelin-starred chef.
Koh Samui, Thailand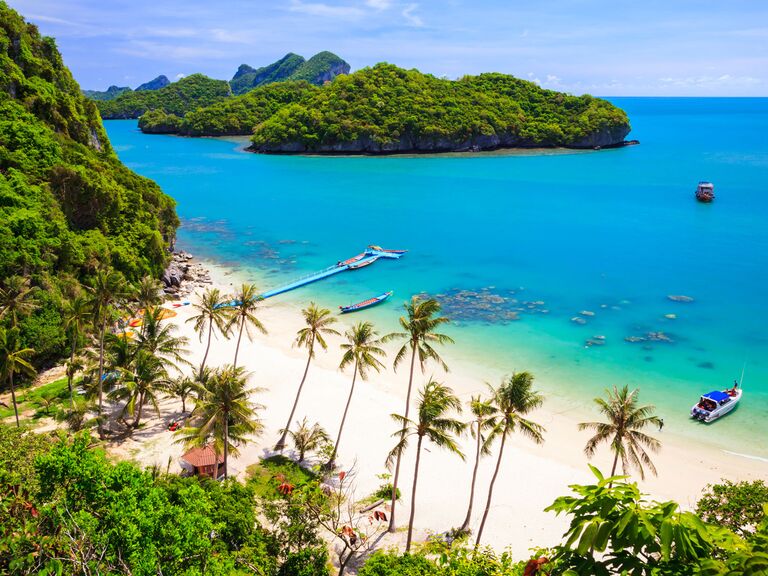 A honeymoon in Thailand means you'll be spoiled for choice when it comes to lush strips of sand, but for the best beaches for your honeymoon, look no further than Koh Samui. The island is a popular tourist spot with around 40 beaches to choose from, so you're bound to find a patch of sand to call your own.
Where to stay: Lap up the five-star luxury at Anantara Lawana Koh Samui Resort. The beachfront location is perfect for dips in the sea—or simply opt for one of the hotel's pool villas to cool off in private.
Little Cayman, Cayman Islands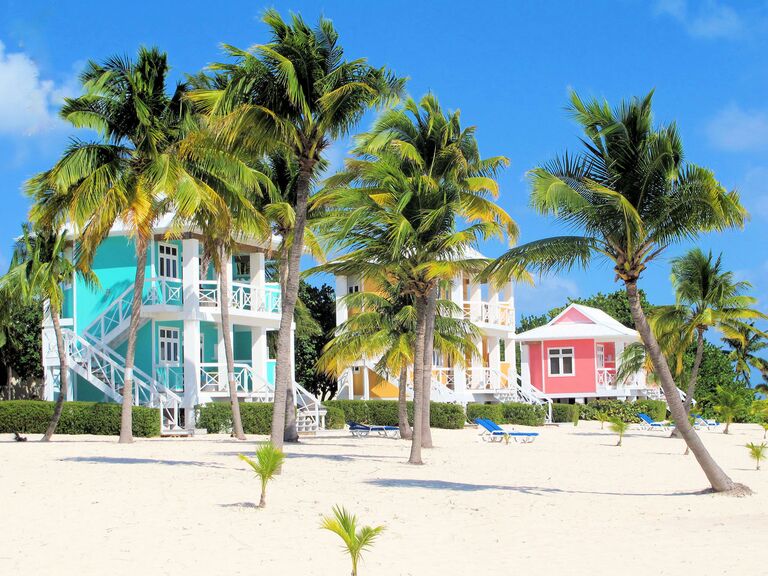 Cocooned between Cuba, Jamaica and Central America, the Cayman Islands are all crystalline waters, white-sand beaches and incredible wildlife. Of the three Caymans, Little Cayman is the least populated (there are more iguanas than humans), meaning you'll be able to spend plenty of private time together basking in that newlywed feeling. For keen divers, there are several different dive sites to explore around the island, including Bloody Bay Wall and Jackson's Bight, both offering vast underwater worlds to discover.
Where to stay: Snag a one-bedroom villa with its own ocean panorama at The Club at Little Cayman. Lounge on the property's secluded beach or cuddle up on a beachfront hammock.
Miami, Florida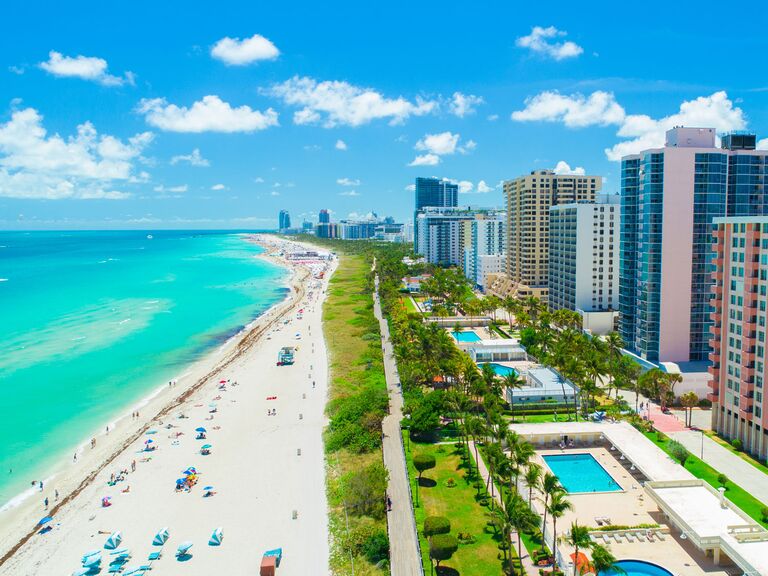 You'll feel the excitement and glamour in the air when you step out onto Florida's ultra-famous beaches—made even more gorgeous with palm trees and sunshine for days. Miami, in particular, is ideal for honeymooners who can't decide between a city, beach and adventure-style break. Here, you can start your day in a high-rise hotel and end it by scuba diving in Biscayne National Park.
Where to stay: The majestic and iconic Eden Roc Miami Beach is the go-to hotel for luxurious and memorable honeymoon stays. The Esencia Wellness spa and glam poolside cabanas will leave you feeling refreshed.
Praia do Camilo, Portugal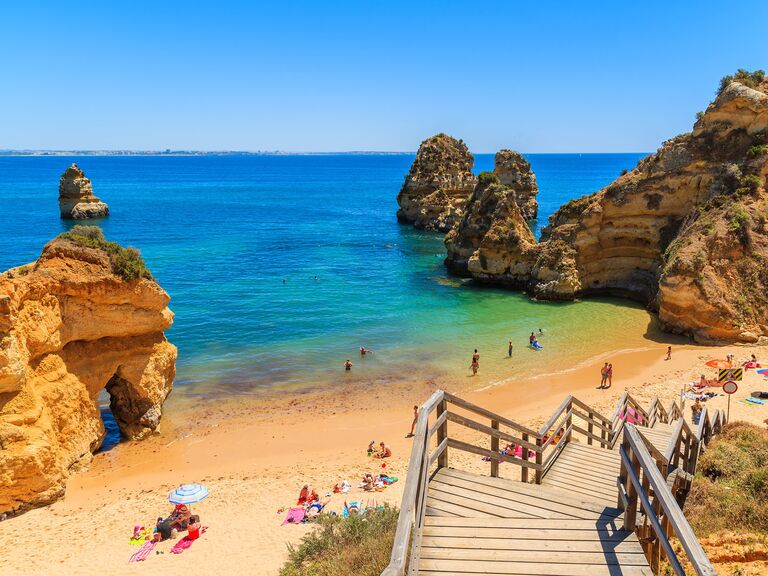 Stuck for European honeymoon destination ideas? Look no further. Praia do Camilo is just one of many golden-sand beaches peppered along Portugal's Algarve coast. Its prime position close to bustling Lagos (a half-hour walk away) means you'll be in for a beach-meets-culture honeymoon.
Where to stay: The adults-only Palmares Beach House Hotel is a short drive from Praia do Camilo, but it's only steps from the longer Meia Praia beach. The 20 rooms (including two suites) are decorated in calming neutral hues, while golf enthusiasts will delight in the three nine-hole linked golf courses.
Punta del Este, Uruguay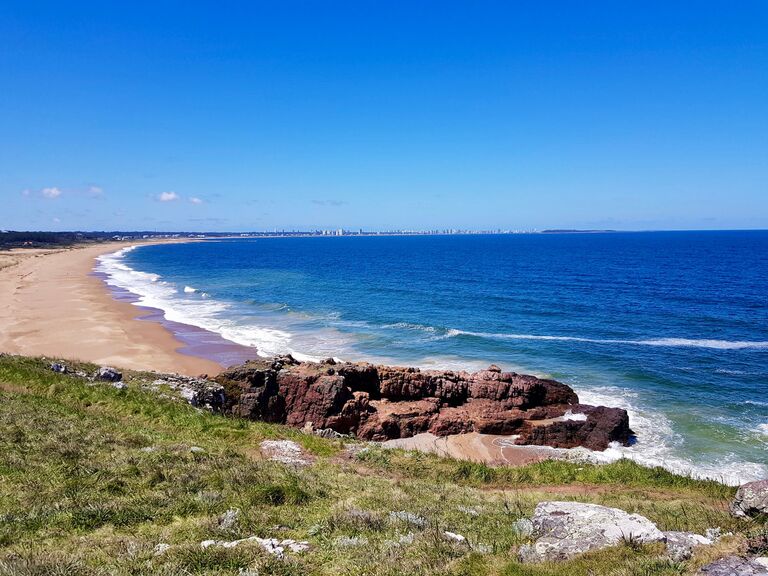 The once-sleepy fishing village of Punta del Este is now the St. Tropez of South America, attracting international socialites, millionaires and celebrities. Latin pop star Shakira, Argentine polo champion Nacho Figueras and British novelist Martin Amis have all been spotted vacationing here.
Where to stay: Nautical leaning, The Grand Hotel sits on Brava Beach—one of Punta del Este's most beautiful beaches—and is close to the shopping areas.
St. Barts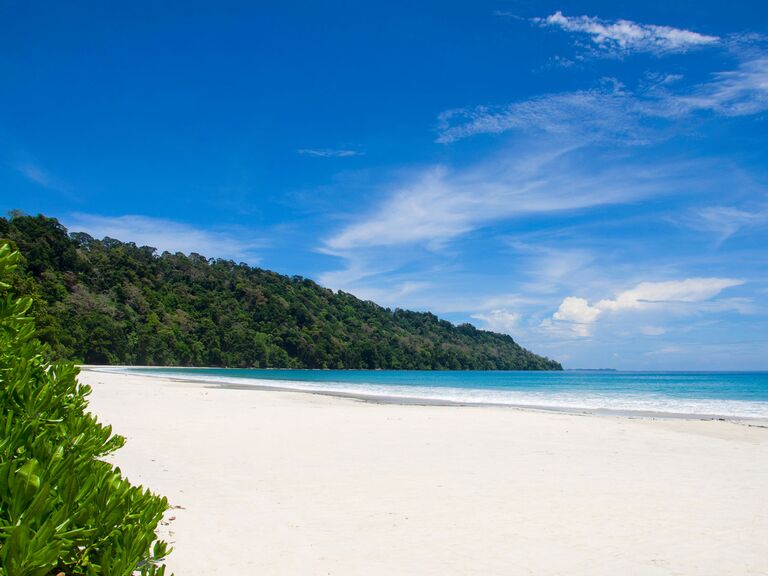 This island is one of the most upscale destinations in the Caribbean and its French background provides an appeal similar to the French Riviera. International influence helps cement St. Barts as one of the most popular honeymoon destinations year after year. Head to the insanely beautiful Colombier beach for breathtaking scenery—it's only accessible by foot or boat so it's bound to be quiet.
Where to stay: All the suites and villas at the intimate Le Sereno have private terraces and gardens—and many have an ocean view.
Turquoise Bay, Australia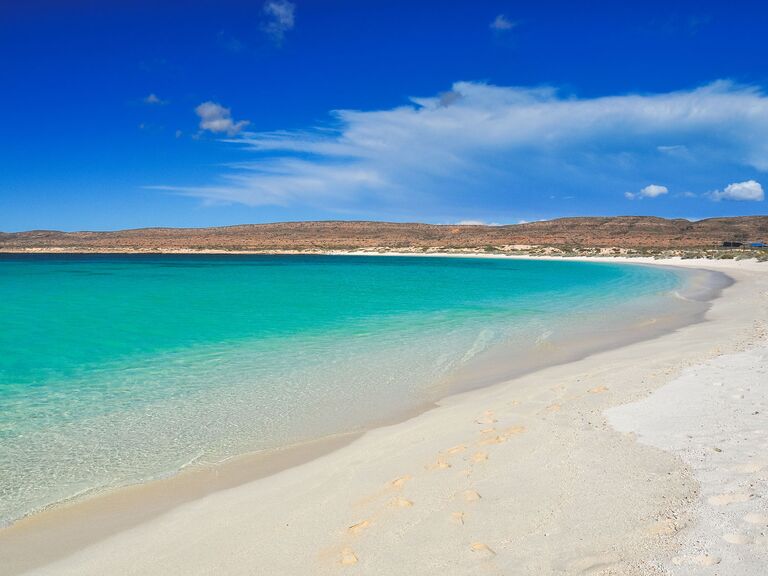 There's no doubt about it: Australia is home to some of the world's best beaches (Bondi and Byron Bay, to name a couple). But those in the know head to the lesser-explored Cape Range National Park in the country's northwest for deserted white-sand beaches and unbelievably blue waters. The aptly named Turquoise Bay is the best of the bunch—honeymooners should visit here after a day exploring the nearby canyons and limestone ranges.
Where to stay: Mantarays Ningaloo Beach Resort sits in Exmouth, the gateway to the National Park and the world heritage-listed Ningaloo Reef. Opt for the ocean view one-bedroom bungalow for a spa bath and uninterrupted views of Sunrise Beach.
Top Island Honeymoon Destinations
Heading to an island in a tropical location is a no-brainer for your honeymoon. As well as providing access to a bevy of beautiful beaches, islands generally offer a laid-back lifestyle meaning you can switch to island time and truly relax during your romantic break. These are the best islands for your honeymoon.
Hamilton Island, Australia
As one of the 74 Whitsunday Islands, which lie between Australia's mainland and the Great Barrier Reef, Hamilton Island is the largest populated island of the lot. The island is car-free (read: tranquil) and has a smattering of luxury resorts and a wildlife park where guests can get up close with kangaroos, koalas and even crocodiles.
Where to stay: qualia, one of Australia's most luxurious resorts, sits on the northernmost part of Hamilton Island and offers sprawling sea views from most of its suites. Those looking for a honeymoon package should choose their Heart Island Adventure offer—where you'll be whisked off in a helicopter over the Great Barrier Reef, landing next to Heart Island (pictured) for a picnic and a snorkel.
Holbox, Mexico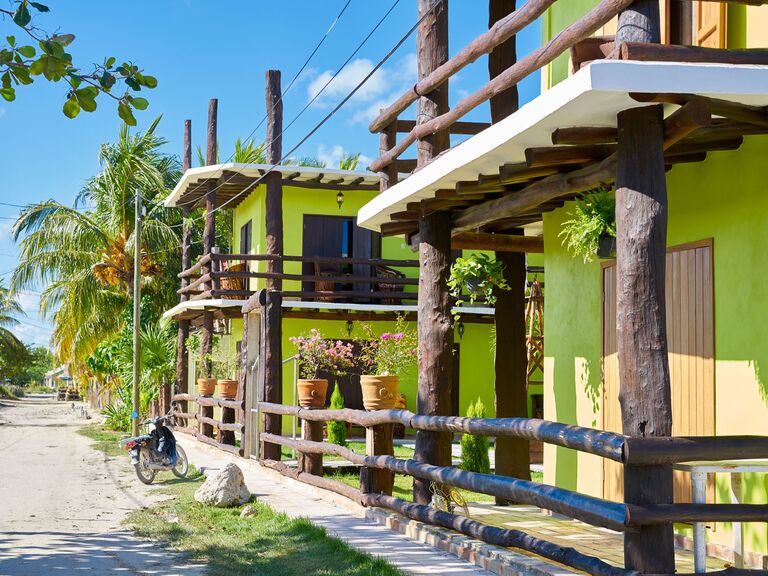 For a unique Mexico honeymoon destination, may we suggest Holbox? Just 20 minutes off the coast of the country's Yucatán Peninsula, visitors will be transfixed by its wildlife (flamingos wade in the lagoons and you can snorkel with whale sharks each summer). The island's vicinity to Cancún and Tulum means it can easily be added on to any honeymoon trip.
Where to stay: With the sea (quite literally) on its doorstep, you can fall asleep to the sound of lapping waves at Las Nubes de Holbox. Whether you're lazing on a cabana at the beach club, indulging in a couples ceremony at the spa, or dining on freshly caught seafood under the moonlight, there's a lot for honeymooners to love.
Maldives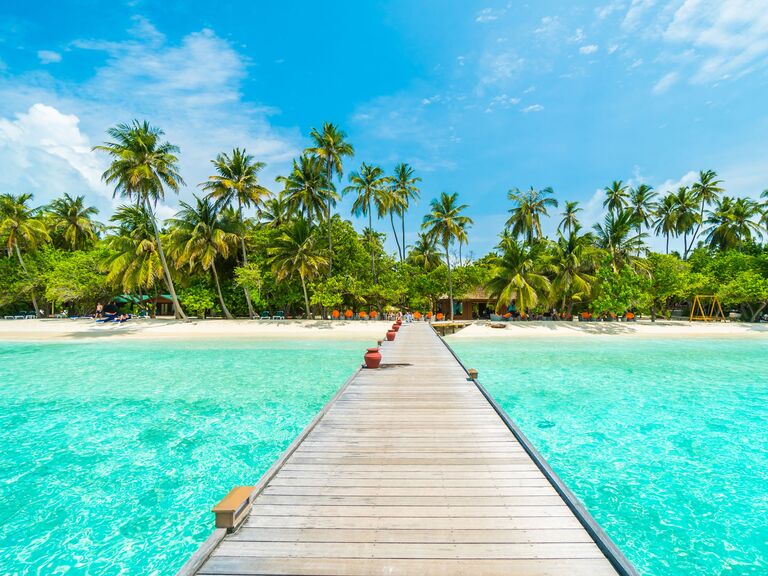 This remote Indian Ocean archipelago is one of the best places to go for your honeymoon, with white-sand beaches, crystal-clear waters, atolls and secluded resorts. Famed for its ultra-private, extra-luxurious overwater villas, the Maldives is the perfect location for a romantic honeymoon getaway.
Where to stay: Niyama Maldives has it all—no, really. Just a few of the highlights include a coral nursery, an underwater nightclub, a restaurant reachable only by boat and a spa where you can book a couples massage.
Maui, Hawaii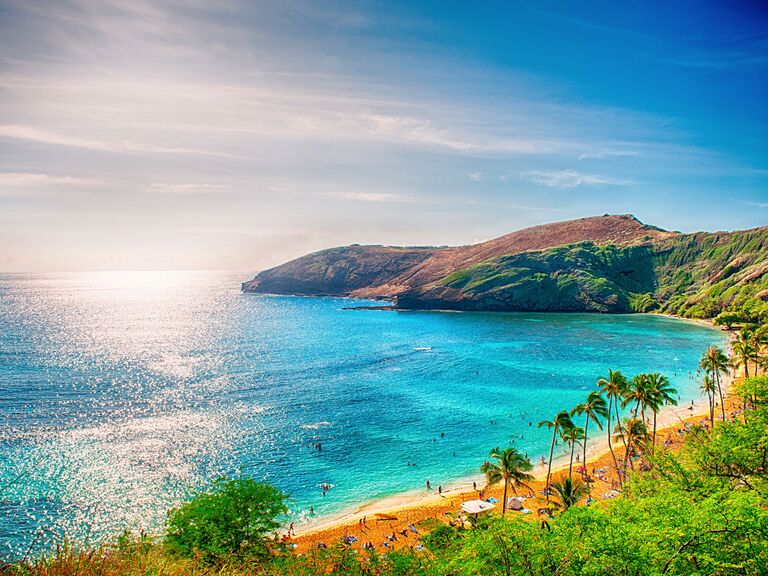 The island's clear waters, tropical sunsets and lush greenery make Hawaii one of the best places to honeymoon in the US. Watch the sunrise while wrapped in a blanket at the top of Haleakala Crater, or gaze at the sunset as you cruise along the Kihei coastline. What more could you want from your honeymoon?
Where to stay: Staff at the all-suite Montage Kapalua Bay can arrange snorkeling trips and dreamy horseback rides along the beach.
Mauritius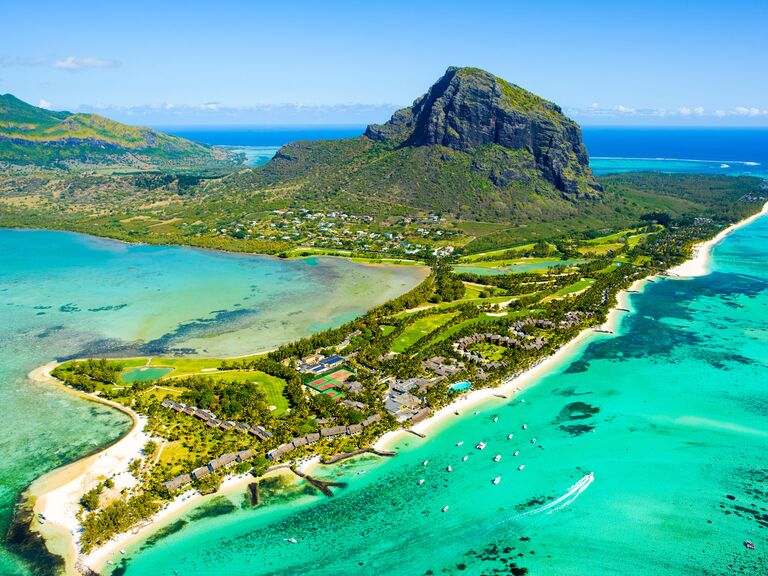 Lying off the coast of Madagascar, landing in Mauritius will feel like you've reached the end of the earth. It has everything you could want from an island honeymoon destination: white-sand beaches, lagoons, diverse marine life and rainforests with waterfalls and endless hiking trails.
Where to stay: There's no better time to lap up some luxury than on your honeymoon, and a stay at Shangri-La Le Touessrok, Mauritius will let you do just that. Set in the quieter Trou d'Eau Douce, opt for one of the rooms with direct beach access so you can take a morning dip in the ocean as soon as you wake up.
Palawan, Philippines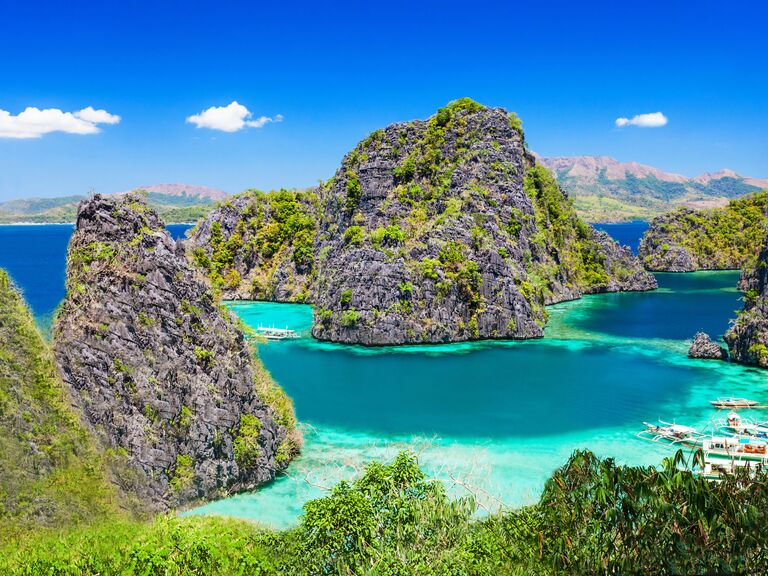 Palawan is the final frontier of the Philippines—an unspoiled province of jaw-dropping waterscape scenery makes it one of the best tropical honeymoon destinations. Kayak the Puerto Princesa Underground River, a navigable subterranean river, for an unforgettable experience.
Where to stay: Save green and be green at Sheridan Beach Resort and Spa, an eco-resort nestled between mountain ranges and the West Philippines Sea.
Saint Lucia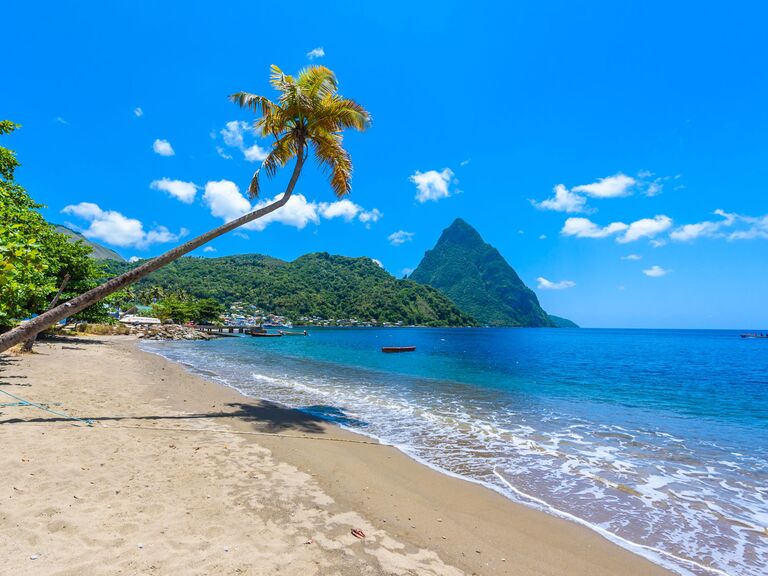 From black-sand beaches to the wooded peaks of the Pitons, this Caribbean gem isn't short on breathtaking landscapes, which is why it's one of the best island honeymoon destinations in the world. The charming Creole villages here are not to be missed.
Where to stay: Each of Ladera Resort's suites has only three walls. The open fourth wall faces a spectacular, Instagram-worthy view of the Pitons and the sea, connecting you with nature but still allowing complete privacy for you and your new spouse.
Seychelles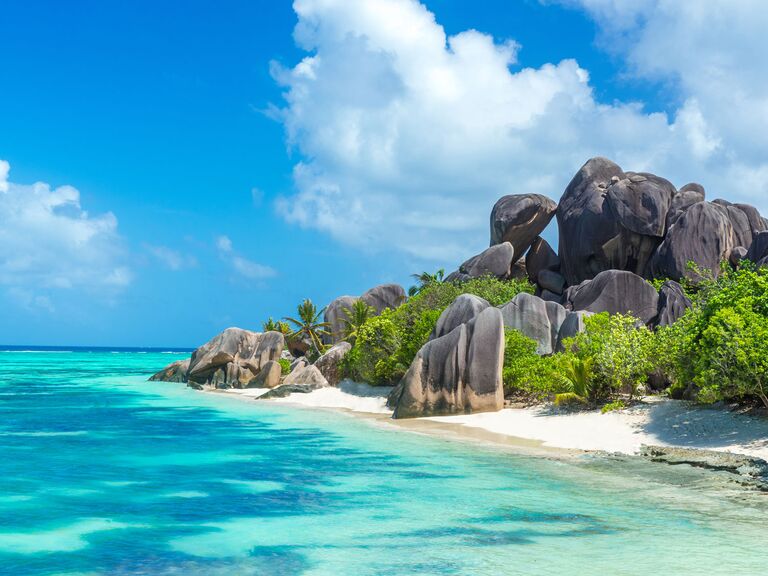 Just one look at its untouched beaches and lush rainforests and it's easy to see why the Seychelles is one of the world's top honeymoon destinations. When you're not finding a stretch of sand to call your own or island hopping across the archipelago, spend some time discovering the diverse wildlife, including the rare Aldabra giant tortoise.
Where to stay: Set on one of the Seychelle's sleepier islands, Le Domaine de l'Orangeraie is an intimate getaway primed for honeymooners. The resort is just steps from the stunning Anse Severe beach, but opt for one of the jungle-immersed "Villas de Charme" rooms for a deeply romantic outdoor tub covered with a thatched roof.
Sicily, Italy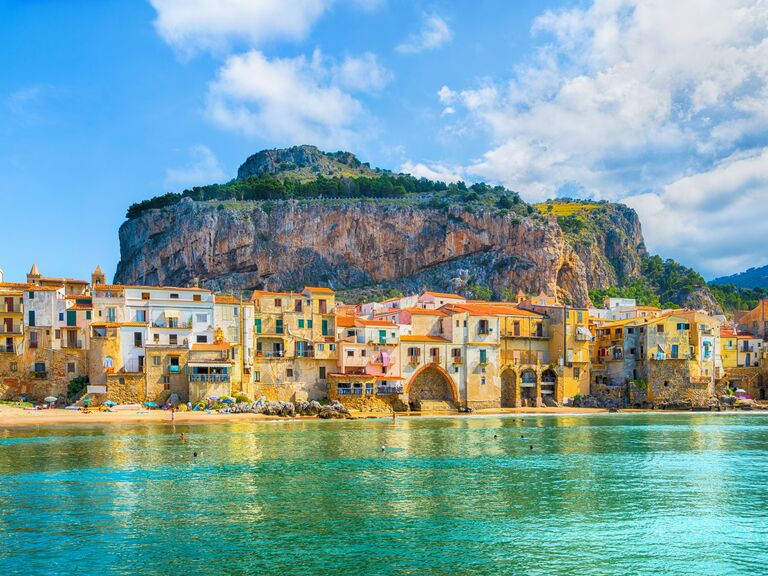 Affectionately known as the toe of Italy's boot, Sicily is a large island plonked just off the southern coast of the country and is the largest island in the Mediterranean. Visitors here can expect everything they love about Italy (culture, food, glorious landscapes) all wrapped up in a neat bundle and with the addition of some of the world's best beaches.
Where to stay: Locanda Don Serafino sits among baroque buildings on the hilltop city of Ragusa. While the hotel offers modern rooms, newlyweds should consider one of its cave suites for a unique experience. The hotel is also home to one of the best restaurants on the island, where a Michelin-starred chef, Vincenzo Candiano, uses only local ingredients for a Mediterranean-inspired menu.
Sifnos, Greece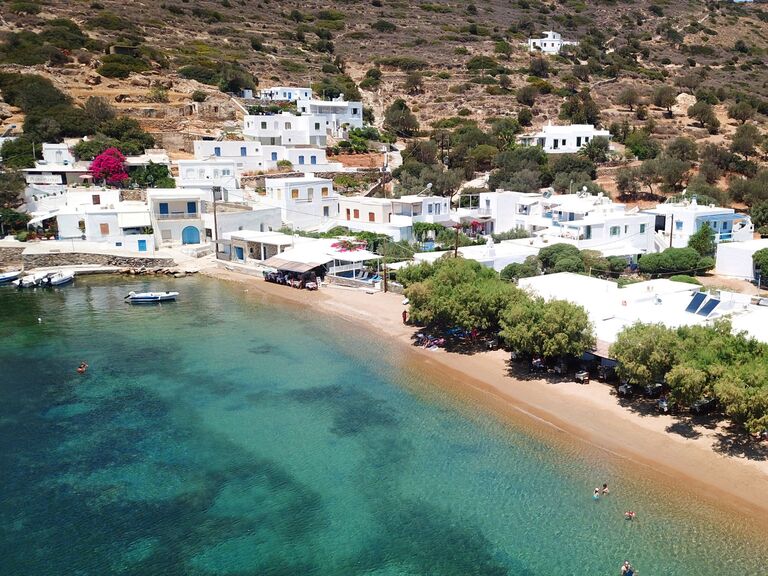 A quieter member of the Cyclades (which also counts Santorini and Mykonos among its members), Sifnos is one of the best honeymoon spots in the Greek Islands. With postcard-perfect beaches—take a book to Faros, on the southern end of the island, and spend the whole day swimming and lazing under its trees—along with blue-domed churches, fishing villages, hiking trails and tasty tavernas, once you land on the island you won't want to leave. Top tip: Leave enough room in your luggage to fit the ceramics you'll buy during your stay.
Where to stay: With a hilltop position primed for watching the sunrise, Verina Astra is a smart choice for your honeymoon. By day, laze by the infinity pool and meander down the hill to the small, rocky beaches below. By night, stargaze to your heart's content.
Turks and Caicos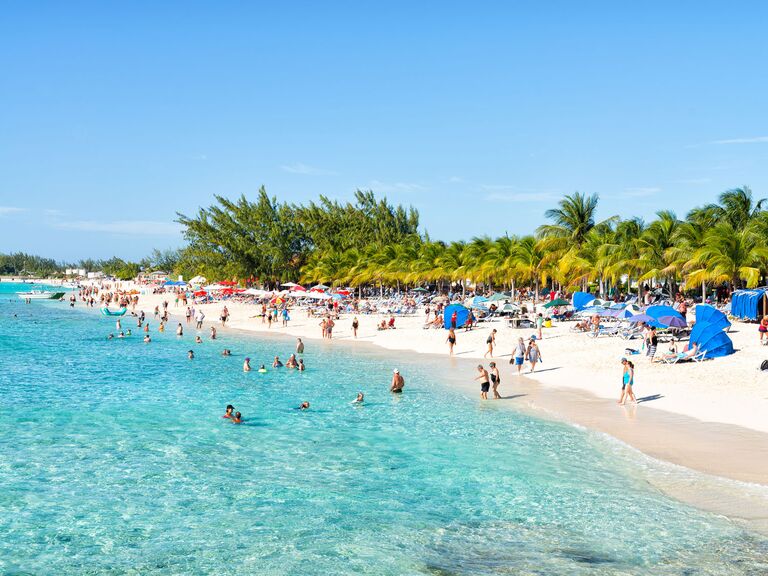 Turks and Caicos has everything you could want from a Caribbean honeymoon destination: boutique resorts, foodie-approved restaurants and one of the world's best beaches (hi, Grace Bay). Visit between January and April for the best weather and to witness the annual humpback whale migration.
Where to stay: What could be more intimate than staying at a resort set on its own private island? This is what honeymooners will find when visiting COMO Parrot Cay, where there over 1,000 acres of island and four miles of beach for you to explore. For a memorable experience, get the team here to set up a private picnic or candlelit dinner.
Vanuatu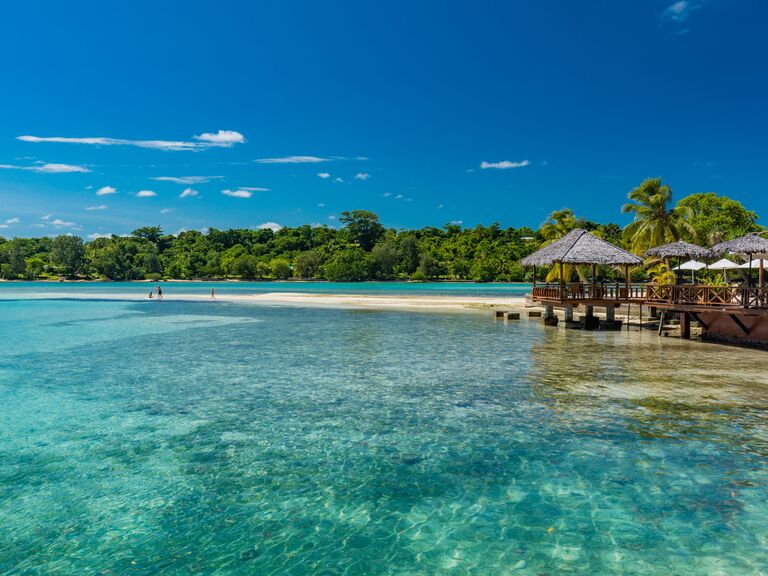 Wedged between Fiji and New Caledonia, Vanuatu is one of the best honeymoon destinations in the South Pacific. Its 80 or so islands are primed for both sun-seekers and adventure lovers, with volcanic craters to explore, an ancient culture to immerse yourselves in and luminous blue holes (bright sapphire lagoons) to dive into.
Where to stay: Just north of Vanuatu's capital Port Vila, The Havannah is a honeymooners' haven. Here, newlyweds can indulge in couples massages, private-island picnics and an ocean-front villa with its own private beach to really turn up the honeymoon romance.
Top Nature Honeymoon Destinations
The best thing about your honeymoon is that it can be whatever you want it to be! While for some, that may be a fly-and-flop trip to the nearest tropical paradise, for others, it's all about immersing themselves in a different sort of nature. If you fall into the latter category, here are some great honeymoon spots to choose from.
Alaska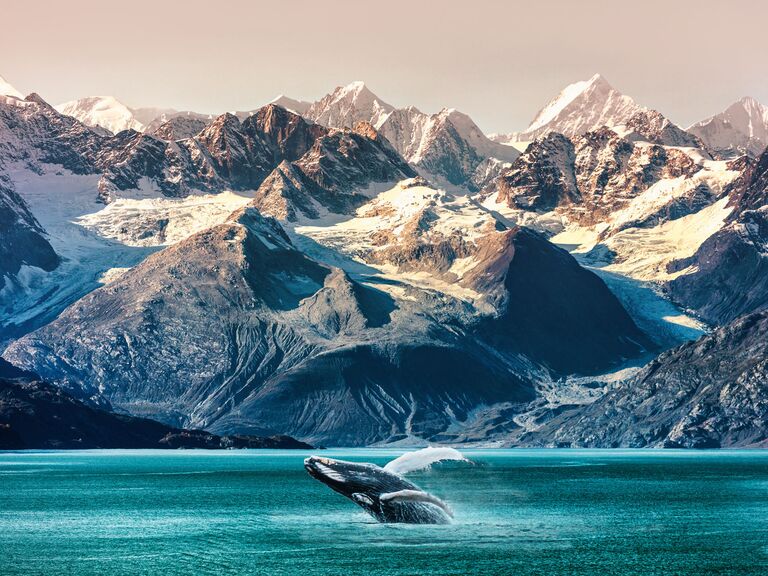 With the lowest population density in the US, a honeymoon in Alaska will feel as if you've got oodles of room to explore, just the two of you. Nature here is wild and diverse, from gargantuan glaciers and lush national parks to brown bears, roaming moose and playful humpback whales.
Where to stay: A honeymoon is all about those once-in-a-lifetime experiences—something that comes in abundance with a stay at Borealis Basecamp. Set on 100 acres of Alaskan wilderness (and just 25 miles from Fairbanks), guests here can stay in clear-topped domes and watch the northern lights dance above them as they cozy up in bed.
Banff National Park, Canada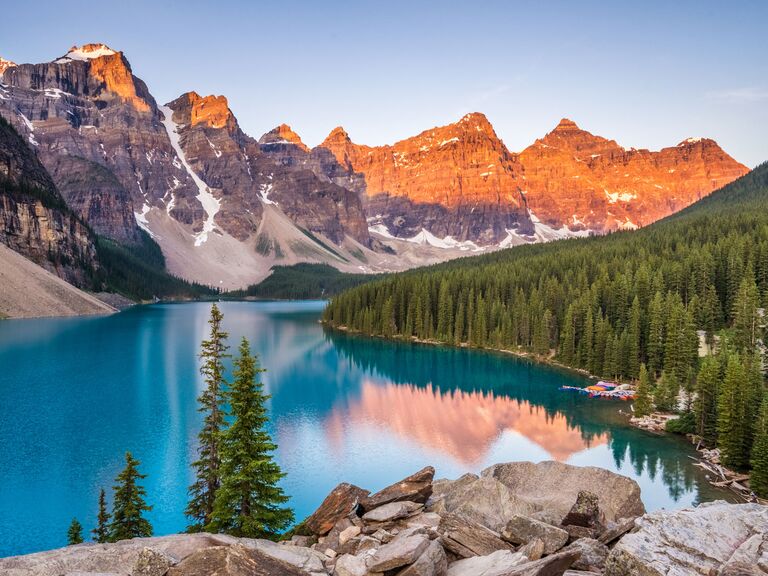 You don't have to travel far for grand landscapes—just across the border to Canada's oldest national park, Banff. Here, mountains tower above striking glacial lakes and its backcountry trails are home to grizzly bears, mountain goats, elk and wolves, to name a few.
Where to stay: The Fairmont Chateau Lake Louise makes for an imposing site on the banks of the aforementioned teal-hued lake, but it's the height that gives it unparalleled views of the lake and the surrounding Canadian Rocky Mountains. The spa here is the perfect place to unwind after a day exploring Banff.
Botswana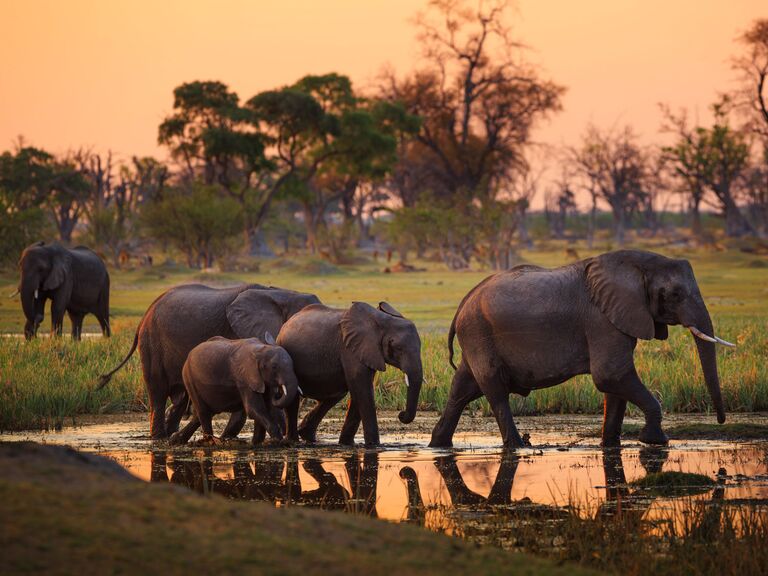 Prince Harry and Meghan Markle are known fans of Botswana (they went on a safari trip there when they started dating), and it's easy to see why. Botswana is the pinnacle of safari destinations: You'll see elephants roaming free on the Okavango Delta, big cats finding their meals in Chobe National Park and hippos peering above river surfaces.
Where to stay: Sanctuary Chobe Chilwero is the kind of place that makes life-lasting memories. It neighbors Chobe National Park and is perched above Chobe River (where you can watch elephants play in the water while you eat lunch). The all-inclusive resort has a luxe spa, delicious food, sprawling suites and wildlife—like warthogs and monkeys—that often makes appearances on the grounds.
Cape Town, South Africa
Can't decide on what kind of honeymoon to take? Cape Town has you covered with glamorous beaches, big-city buzz, wild landscapes (including the penguin-colonized Boulders Beach), easy access to wine country and some of the world's best safaris.
Where to stay: The über-stylish and secluded Atlantic House is set in trendy Camps Bay and has only six en-suite rooms for the ultimate privacy and romance. Throw open the doors to your elevated wood deck for an "Is this real life?" view.
Colorado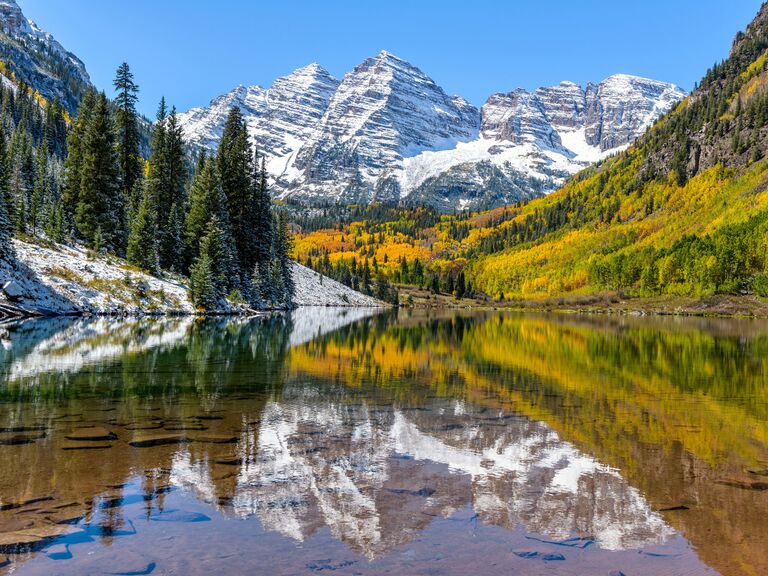 For an epic honeymoon destination that doesn't involve leaving the continental United States, consider a vacation in Colorado. From the mountains of Aspen to the Cliff Palace of Mesa Verde National Park and countless biking and hiking trails in between, there's beauty around every corner.
Where to stay: Explore the canyons of the west with Gateway Canyons Colorado. The resort offers wine country tours, off-roading through the backcountry and the option to explore both Colorado and Utah's National Parks.
Galápagos Islands, Ecuador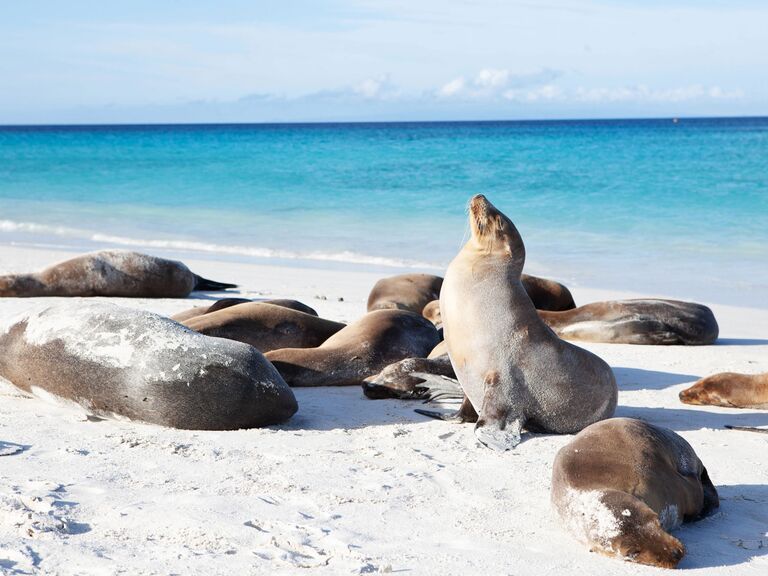 The bucolic Galápagos Islands provide an unparalleled wildlife experience and are home to animals and plants found nowhere else on Earth. Island hopping is the best way to experience the Galápagos, or book a scuba diving trip for a nature honeymoon experience like no other.
Where to stay: The 14-room Pikaia Lodge is located on a giant tortoise reserve on Santa Cruz Island. A leisurely walk around the grounds will bring you face to face with a wild giant tortoise.
Myanmar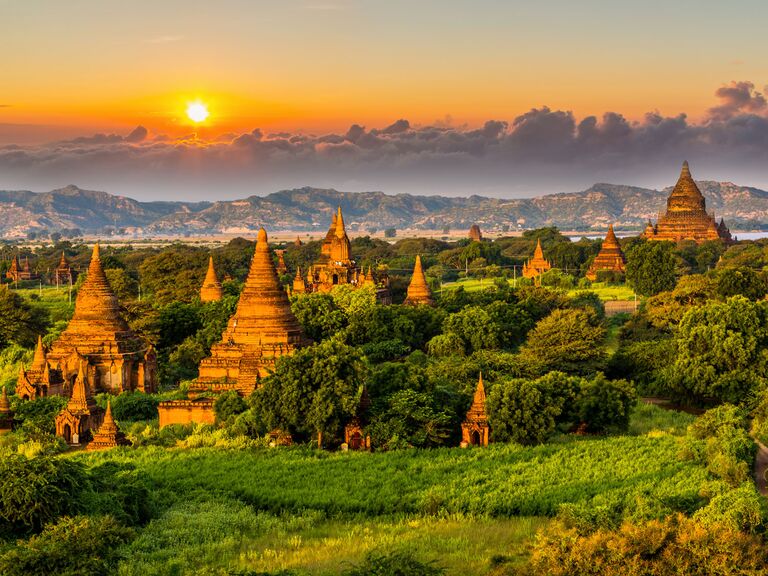 Where does the couple who has been everywhere go for their honeymoon? Myanmar. While it might not be the first spot that springs to mind when thinking of places to go on your honeymoon, it should be. Here, you can visit ancient temples and marvel at places untouched by globalization. For wow-worthy selfies, take a hot air balloon ride over the plains around Bagan.
Where to stay: The Road to Mandalay Belmond river cruiser is the best way to experience Ayeyarwady, Myanmar's most fabled river.
New Zealand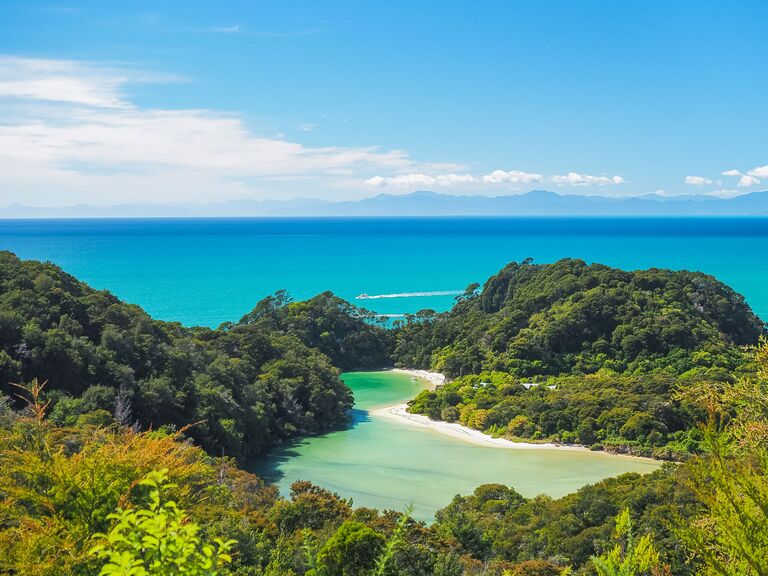 New Zealand is spoiled for choice when it comes to scenic vistas, but those in the know head to the South Island to experience the most majestic scenery. A road trip of the South Island will take you past the glaciers of the west coast, the towering peaks of Milford Sounds, the shimmering lakes and mountains of Queenstown and the lupins of Lake Tekapo. But head to the top of the south, to the Abel Tasman National Park, for New Zealand's best beaches and lush walking trails.
Where to stay: Split Apple Retreat sits on the doorstep of Abel Tasman National Park, and honeymooners can dine on nutritious cuisine, book luxurious spa treatments and spend their days boating to deserted beaches and swimming in crystalline waters.
Sri Lanka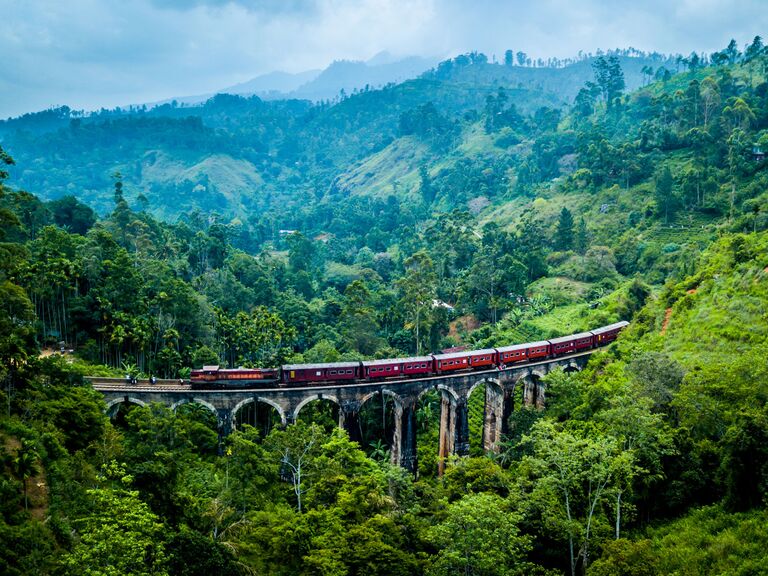 Marco Polo described Sri Lanka as one of the finest islands of its size in the world. Located just south of India, this trendy honeymoon destination has it all: lush rainforests, beautiful beaches and diverse wildlife.
Where to stay: The River House in Sri Lanka's southern province is a river-crossed, jungle-strewn, ocean-side escape. Book the spectacular Menik Suite with its plunge pool for two—seriously sexy.
Wild Atlantic Way, Ireland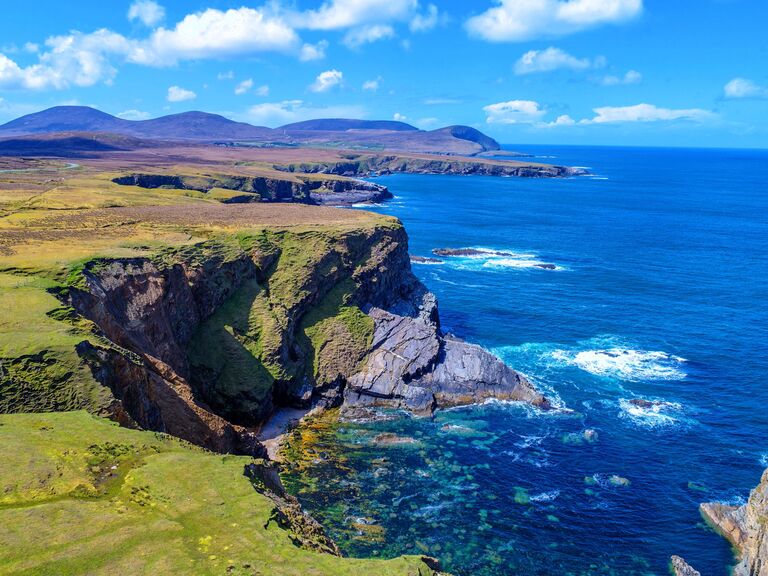 While Ireland is known for its good craic and lively pub scene, it's also home to one of the world's best road trips: the Wild Atlantic Way. Stretching from Donegal in the north to the colorful fishing village of Kinsale in the south, the route will take you past castle ruins, charming cities like Galway and the mystical Cliffs of Moher.
Where to stay: No trip to Ireland is complete without a stay in one of its many castles—and Ashford Castle may just be the most romantic of the lot. Sitting on the edge of a lake (or, as the Irish say, lough), the castle boasts sumptuous rooms, expansive grounds and even an on-site falconry school where you can take part in one of its "Hawk Walks."
Top Adventurous Honeymoon Destinations
If you're a venturesome pair in need of some honeymoon inspiration, you've come to the right place. From trekking to the monasteries of Bhutan to exploring Tanzania's Zanzibar archipelago, here are our favorite adventurous honeymoon destinations.
Azores, Portugal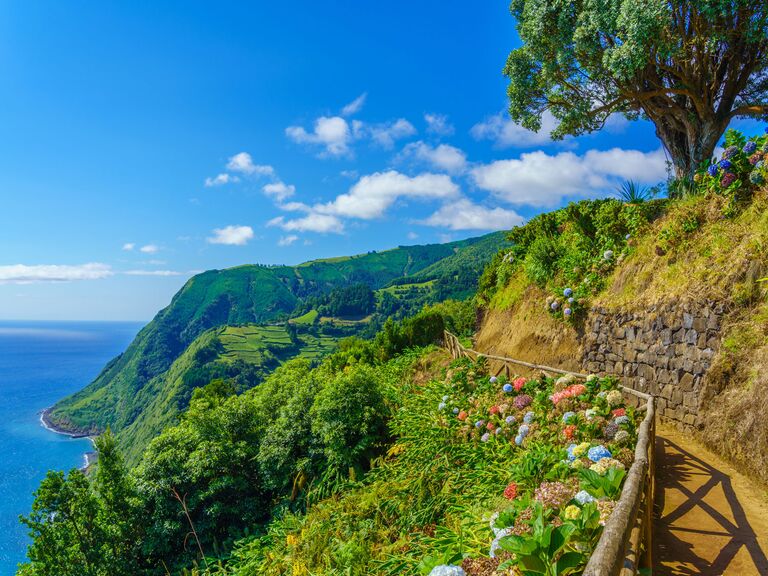 Lying roughly 1,000 miles off the coast of Portugal, the Azores is an archipelago filled with adrenaline-pumping activities. Whether you want to go whale watching, scuba diving to see manta rays and whale sharks or even paragliding, there are endless adventures to be had here.
Where to stay: After spending the day getting your heart rate up, you'll want to retreat somewhere peaceful come nightfall. Which is why we suggest a stay at WHITE Exclusive Suites & Villas, where most of the suites and villas offer sea views.
Bhutan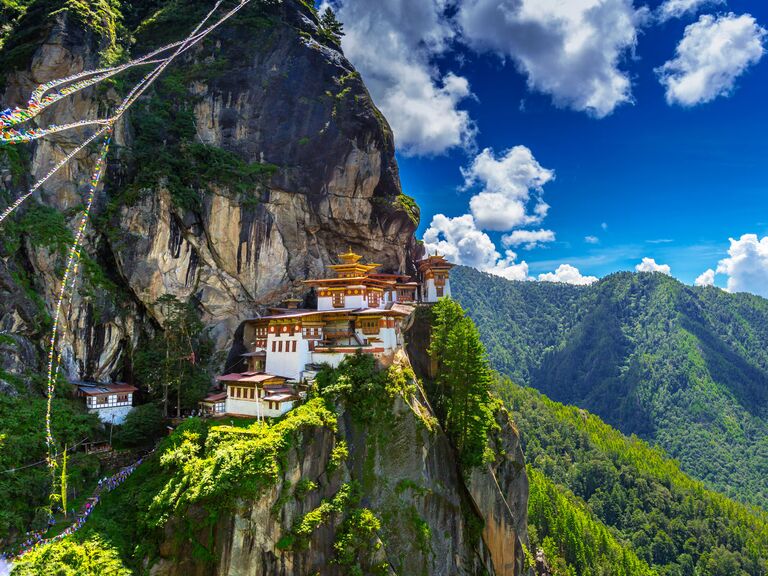 Sitting on the eastern edge of the Himalayas, Bhutan is a unique honeymoon destination. Its eco-credentials are high: It's the world's only carbon negative country and laws there state that 60% of its land must be protected as forests, so there's always a new pocket to explore. Besides lush landscapes, there are cliff-clinging monasteries to see and wildlife that includes snow leopards and tigers.
Where to stay: Six Senses opened its Bhutan outposts in 2019, and it's been a magnet for adventurous honeymooners ever since. There are five different lodges to choose from (each the epitome of luxury), spread across Bhutan's western and central valleys. For an extra-special stay and to discover more of the country, why not visit all of them while you're there? Paro lodge is a must—honeymooners can partake in a private butter lamp ceremony (which promises a blessed life together) at a 16th-century monastery.
Dominica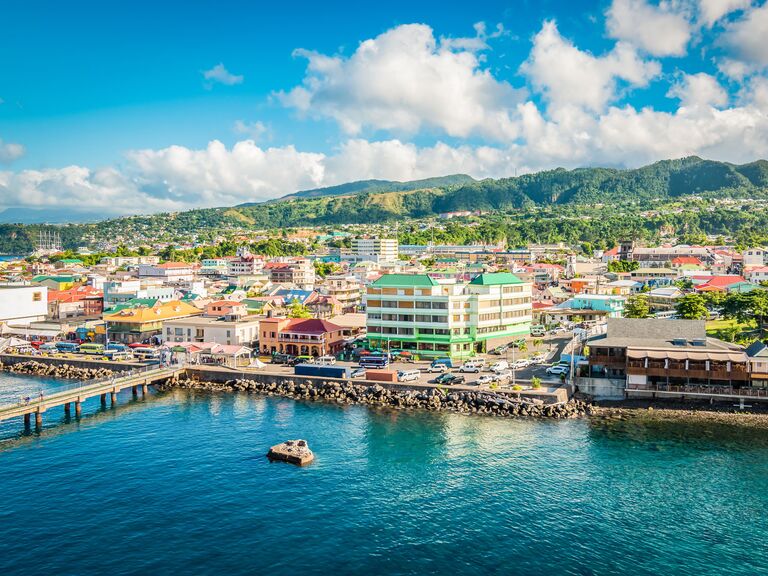 Dubbed "nature island" because of its vast rainforests, which occupy more than half of this Caribbean locale, Dominica also boasts Morne Trois Pitons National Park and the world's second-largest hot lake of its kind, Boiling Lake. A visit to the Waitukubuli National Trail is a must for 14 different paths stretching 115 miles.
Where to stay: Book one of the private villas and bungalows at eco-luxury boutique resort Secret Bay, which is nestled into a cliff overlooking the Caribbean Sea. (Yes, it's as dreamy as it sounds.)
Dubai, United Arab Emirates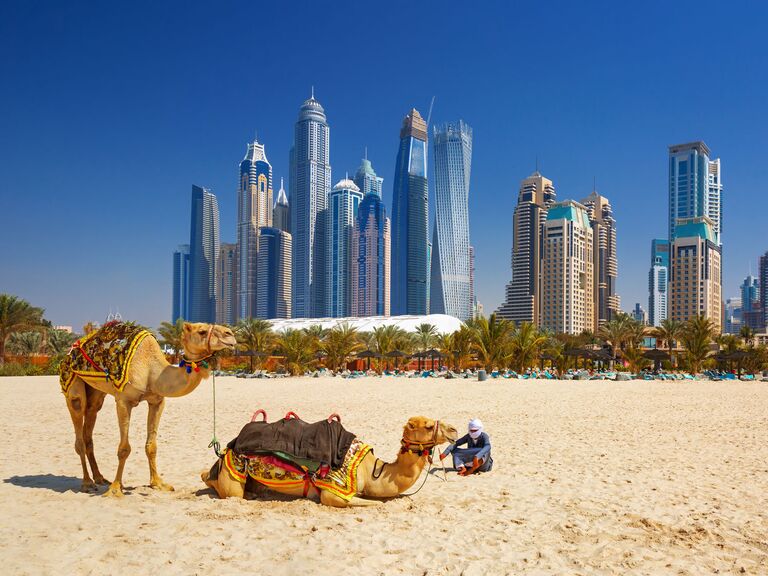 Get the best of both worlds: Enjoy a taste of the glamorous city life for a few days and then head out to the desert for tranquility and romance. Indulge in a sunset camel ride that takes you to the crest of a dune, where you'll pause for champagne, snacks and fruit as the light changes. Could there be a more exciting honeymoon destination? We think not.
Where to stay: You'll feel like royalty at Al Maha, a Luxury Collection Desert Resort and Spa. Settle into your ultra-luxurious tent accommodations, equipped with a private pool and wood deck.
Iceland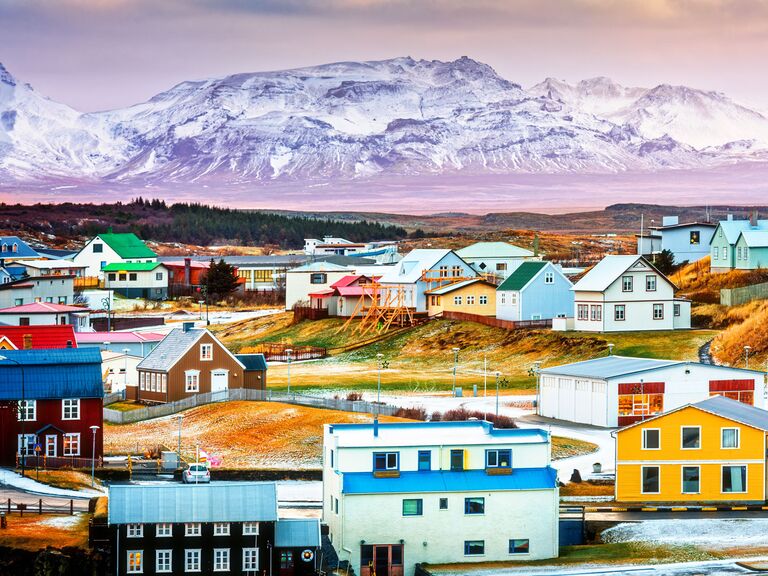 Largely uninhabited, Iceland changes scenery every few minutes. You can go from volcanic, lunar-looking landscapes to shattering waterfalls and soaring geysers or massive Blue Lagoon hot springs. Head over to the picturesque Snaefellsjökull National Park to see some of nature's most beautiful creations.
Where to stay: Chase the Northern Lights at the sophisticated and remote-feeling Hótel Búðir. It's only a few hours' drive from the capital city of Reykjavik and is set at the edge of the Snaefellsjökull National Park.
Machu Picchu, Peru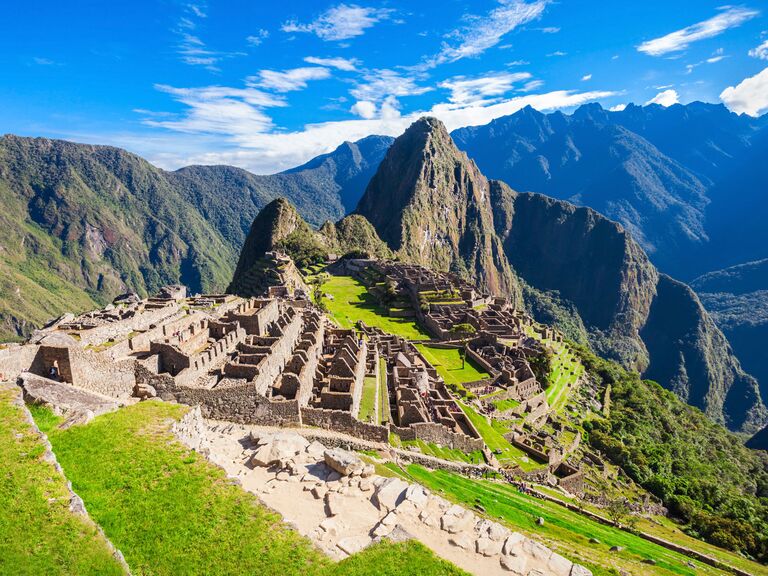 If you want adventure, look no further. Peru is home to some of the world's greatest sites (the Andes, cloud forests and Machu Picchu Citadel), making it truly the trip of a lifetime. A sunrise trek up Machu Picchu is worth the morning wake-up call. Get there early enough (or get the train there) and you'll have the mist-covered ancient city mostly to yourself.
Where to stay: Inkaterra Machu Picchu Pueblo Hotel is set on 12 secluded acres at the base of Machu Picchu and offers all the luxury amenities.
Montana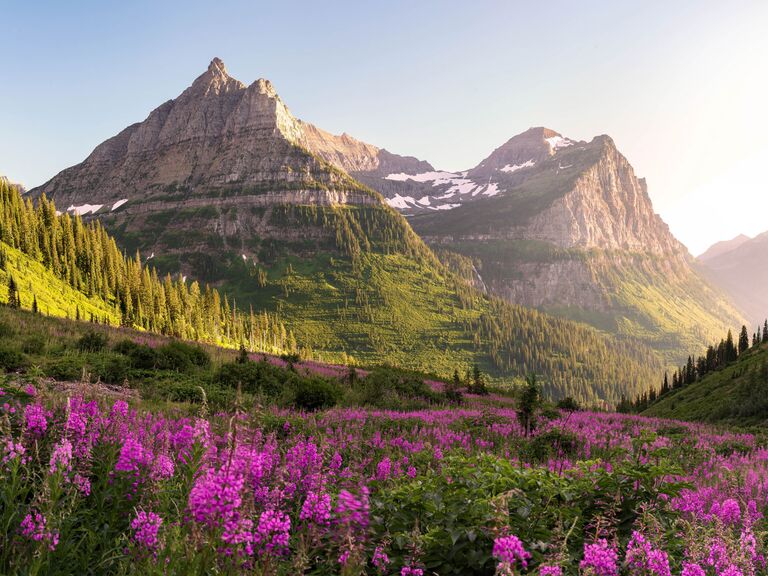 Outdoorsy couples will swoon over the pristine Montana wilderness and all it has to offer—from horseback riding to river adventures and fly-fishing.
Where to stay: The Resort at Paws Up was a pioneer of the "glamping" concept, so book a honeymoon tent (yes, a tent) with a gorgeous copper tub set in the middle—perfect for an indulgent soak after a day of exploring.
Namibia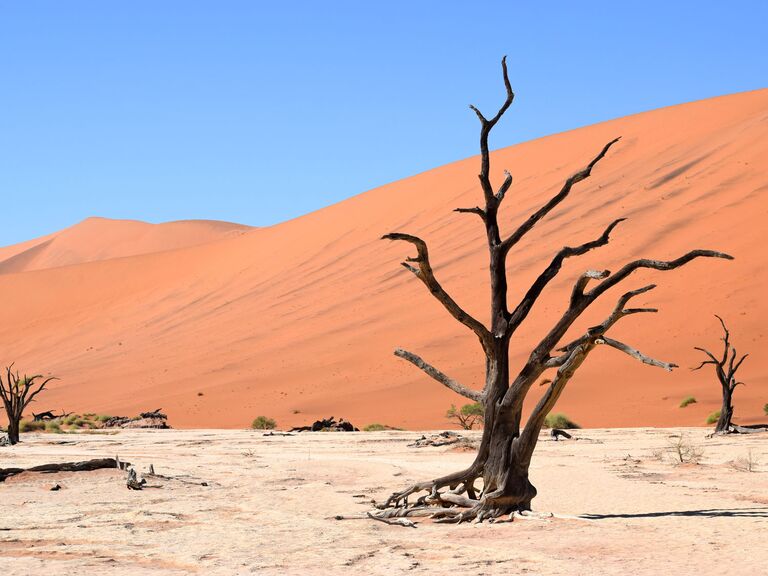 Namibia is home to varied landscapes and wildlife—black rhinos, elephants and cheetahs roam here—but it's an oft-forgotten destination which makes it primed for an off-grid honeymoon.
Where to stay: Reconnect at the tranquil Sossusvlei Desert Lodge, located within the NamibRand Nature Reserve. Each room at the lodge comes with a skylight above the bed, so you can stargaze while you relax.
Panama City, Panama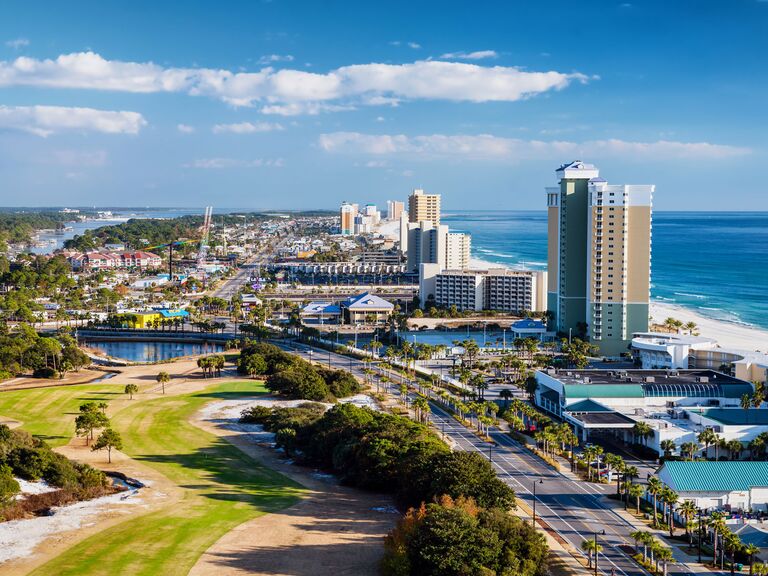 This Central American nation has the best of everything: tropical rainforests, beautiful mountain vistas, two coasts for Caribbean- and Pacific-style beaches, more than 1,000 islands, a sophisticated capital city, a vibrant nightlife, full-service resorts, exotic off-the-beaten-path getaways and historic sites. Seriously, what more could you possibly ask for? Few honeymoon destinations are as diverse as Panama City.
Where to stay: The American Trade Hotel occupies a beautifully restored landmark building, providing the perfect mix of local culture and modern luxury. Book one of the top floor "Panorama" rooms for floor-to-ceiling windows that offer 180-degree views of Casco Viejo, Panama City and Panama Bay.
Papagayo Peninsula, Costa Rica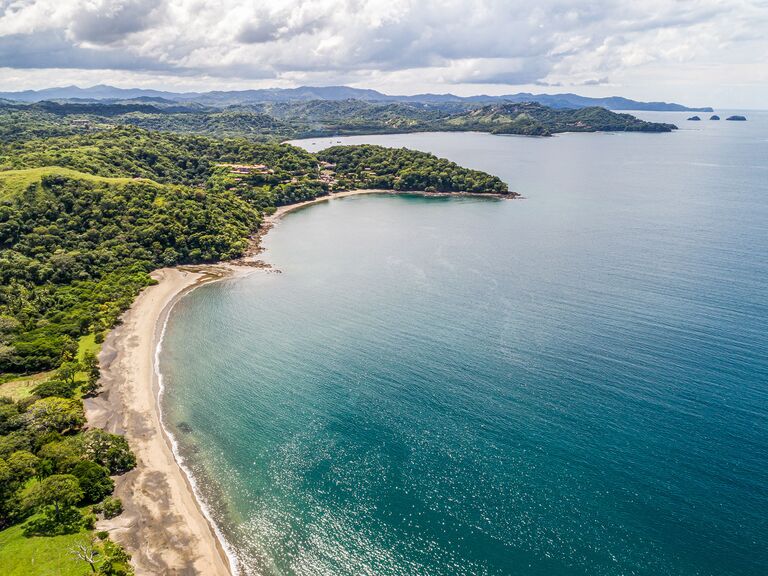 With the expansion of the Liberia airport, access to this part of Costa Rica has become much easier. Here, couples have their pick of luxe, modern lodgings and can spend their days visiting sloth sanctuaries, whizzing through a volcano on a zipline or braving a whitewater rafting trip.
Where to stay: The Andaz Peninsula Papagayo Resort combines modern and precolonial design and offers both mountain and ocean vistas.
Sedona, Arizona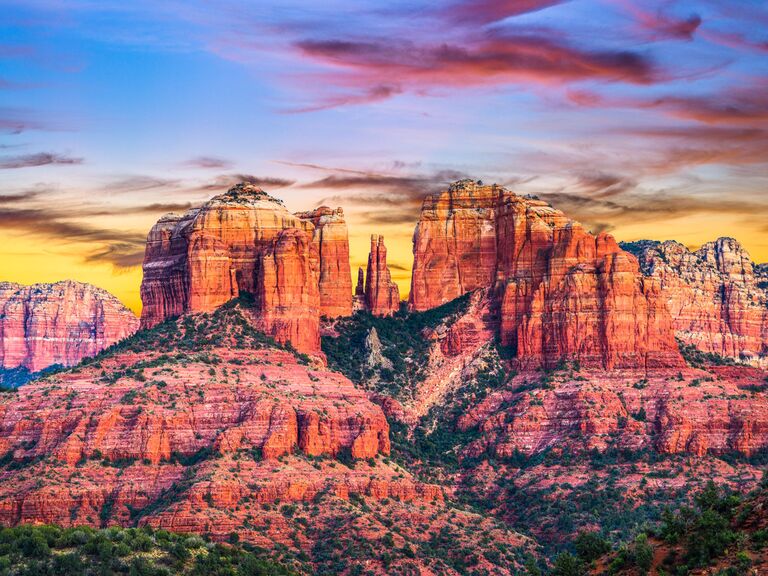 Romance seekers have flocked to Sedona's alluring red rocks for years for the ultimate spa, wellness and outdoor adventure.
Where to stay: Nestled on the banks of Oak Creek Canyon, Amara Resort and Spa may be just two blocks from uptown Sedona, but its tranquil location makes it feel miles away. With the dramatic red rocks as its backdrop, most of your time here will be wandering the beautiful Sedona trails, before retreating to the resort for a well-earned couples massage.
Tanzania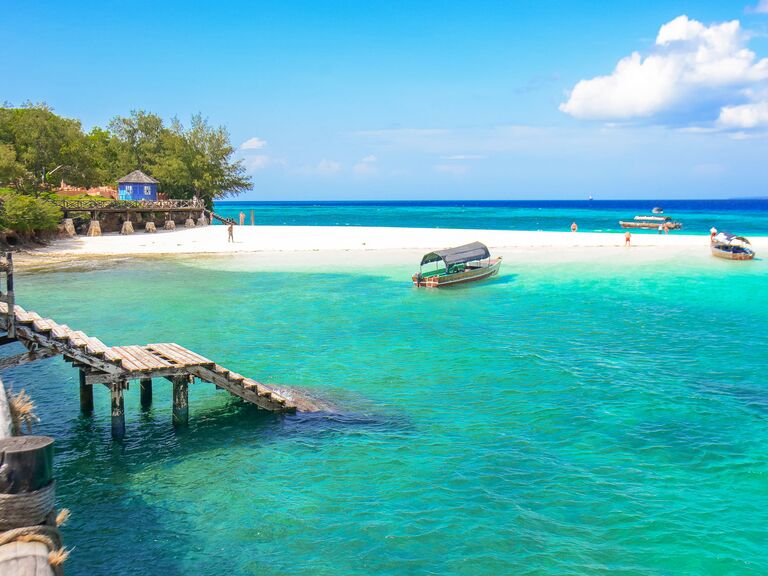 Tanzania is the ultimate adventurous honeymoon destination. Here, you can spend half your honeymoon watching the wildebeest migration in the Serengeti or climbing Mount Kilimanjaro and the other half in Zanzibar, an archipelago of Tanzania's coast, swimming with whale sharks and trekking through Jozani Chwaka Bay National Park to sight the rare red colobus monkey.
Where to stay: The Residence in Zanzibar is flanked by a mile-long white-sand beach and brilliant azure waters. But what honeymooners will love most is the experiences it offers, including ocean safaris, jungle hiking and visiting local spice markets.
Tibet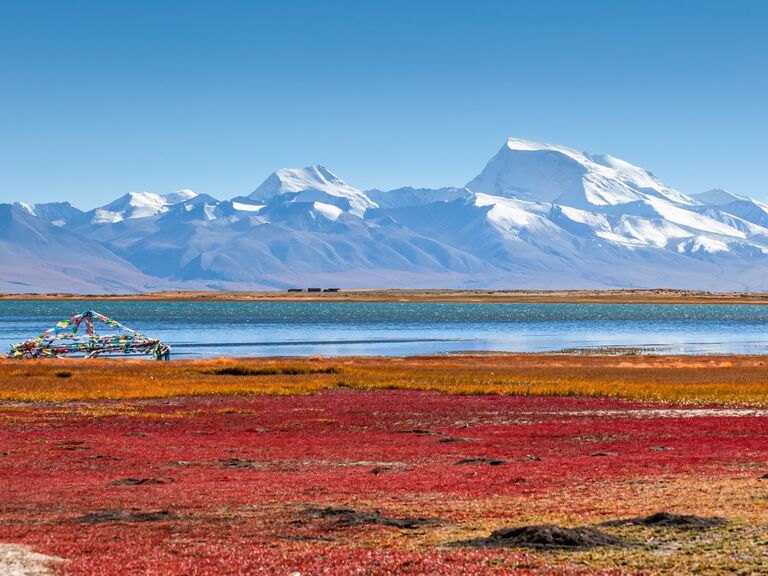 Nicknamed the "Roof of the World," the Tibetan Plateau stands three miles above sea level and the mountain range that flanks it contains the world's highest peaks: Mount Everest and K2. Adventurers will love discovering its hilltop monasteries, high-altitude walks and the world's highest railway.
Where to stay: The St. Regis Lhasa Resort can be found in the Tibetan capital of Lhasa. It has everything you could want from a luxury hotel (modern rooms, delicious dining and a sumptuous spa), and it serves as the ideal base to explore nearby Jokhang Temple, Barkhor Street and the famed Potala Palace—which was once the winter home of the Dalai Lama.
Vancouver Island, Canada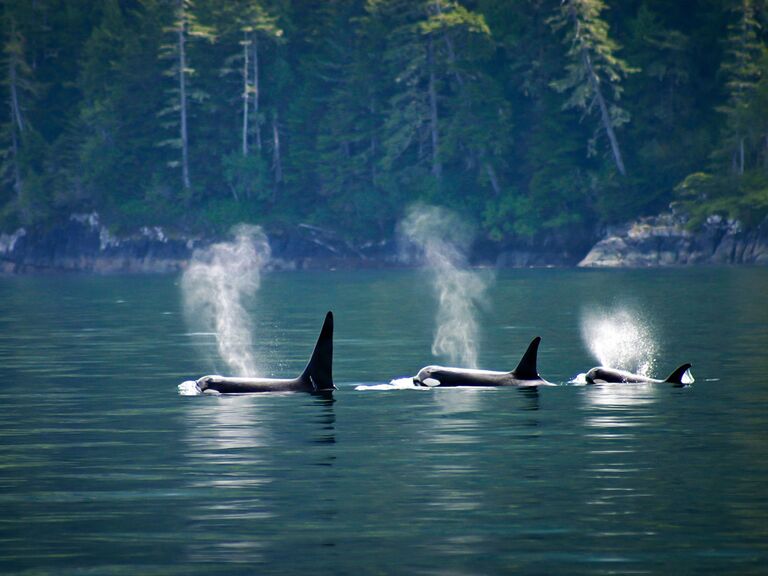 Love sea sports? Landlubbers? Either way, this hot spot has something for you. Surrounded by mountains on the Pacific Ocean, this city offers tons of adventure. Stay active during the day by hiking, biking or sailing, then head to the heart of the city at night for a cosmopolitan scene. And don't miss an opportunity to heat things up in the hot springs in nearby Maquinna Marine Provincial Park, which is only reachable by boat.
Where to stay: At The Wickaninnish Inn, cuddle up to the sounds of powerful roaring waves from the comfort of your room. Each guest room features a fireplace, private balcony and view of the ocean or beach. The sounds of the wind and waves can be hypnotizing, creating a magical mood.
Top Budget Honeymoon Destinations
Your honeymoon doesn't have to cost the earth—it's all about traveling smarter. Whether you opt for a pricier stateside destination to avoid international airfares or book an all-inclusive in the Caribbean, here's where to honeymoon on a budget.
Asheville, North Carolina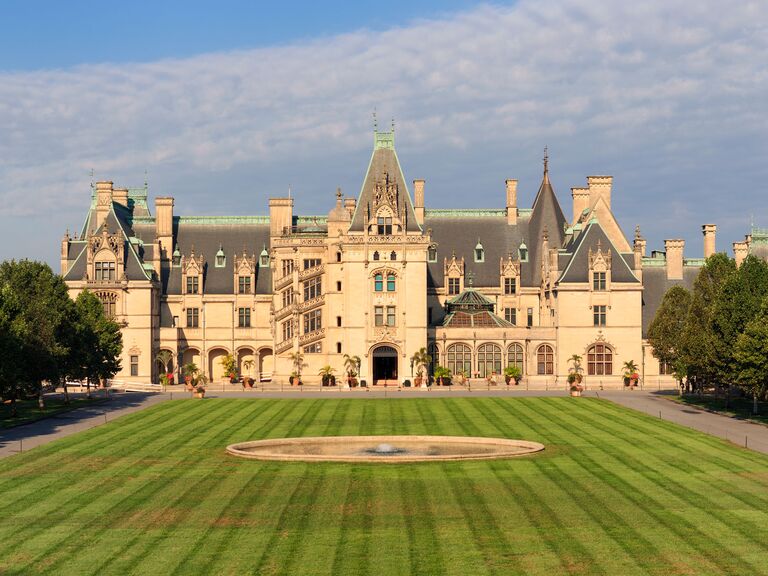 The Biltmore Estate is one of the most amazing castles in America with gorgeous lush grounds that seem to go on forever. Arrange for a horse-drawn carriage ride or head to downtown Asheville, where you can pop into galleries, antique shops, quirky boutiques or one of its famed breweries.
Where to stay: George Vanderbilt built the aforementioned iconic and ultra-romantic estate. Whether you book a room in the inn, complete with a relaxing spa, or stay in the cottage on the grounds, both promise a charming stay.
Buenos Aires, Argentina
Combining good food, a diverse cultural scene and a vibrant nightlife, Buenos Aires is one of the best honeymoon destinations in South America. It's the home of the tango, so why not take a dance class (or three) while you're there?
Where to stay: Set in trendy Recoleta, Hotel Pulitzer Buenos Aires may feel expensive (especially with its four-poster beds, plush sofas and light-filled rooms), but a stay here comes in at under $100 per night.
Florida Keys, Florida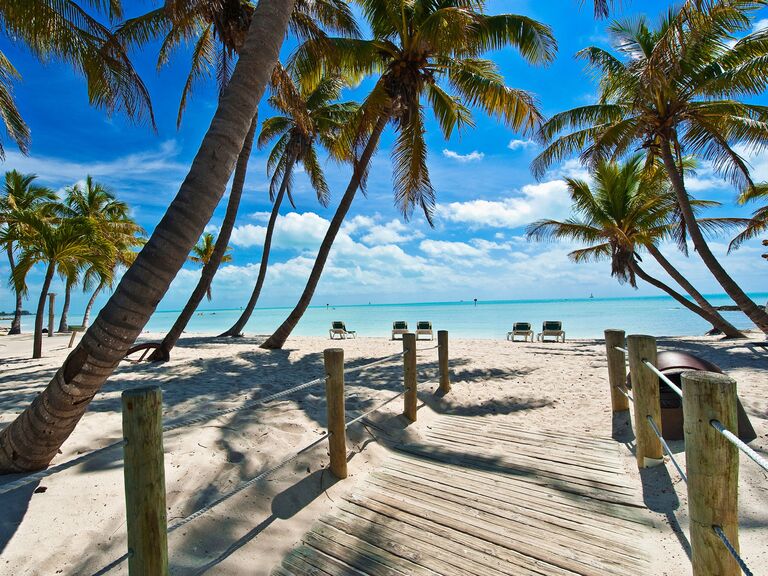 The Florida Keys contain more than 1,000 islands stretched over 100 miles— the most famous is Key West. Newlyweds have been coming to the Keys for their honeymoon for decades, and with the feel of the South Pacific but without the air mileage, it's not hard to see why.
Where to stay: Kimpton Winslow's Bungalows is a design-led gem in the heart of Old Town, with light-filled rooms, three private pools and free use of the hotel's custom-designed loaner bikes.
Jamaica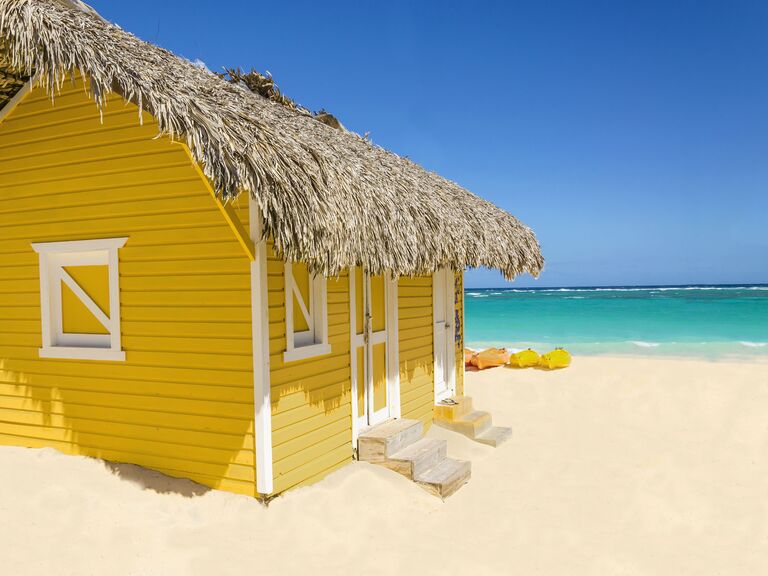 Jamaica is known for being home to a slew of super-luxurious all-inclusives, which means you get a five-star honeymoon experience without breaking the bank.
Where to stay: Sitting in a 500-acre nature preserve, why not spend your honeymoon at Sandals South Coast learning how to scuba dive (for free)? Sandals stays include certification, gear rental and diving in the resort fee.
Nantucket, Massachusetts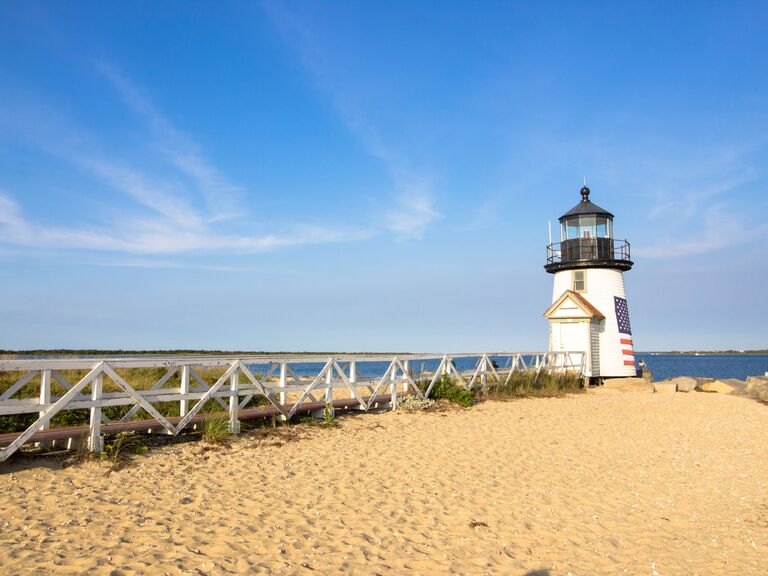 Couples on a budget can enjoy the beachside ambience of Nantucket. Book a seal cruise or a whale-watching excursion for some on-the-water fun. Then get away to Great Point for a secluded picnic for two on the beach.
Where to stay: The eight-room Sherburne Inn bed-and-breakfast is hidden away on a quiet one-way street in Nantucket's historic district and has been charming visitors for more than a century.
Palm Springs, California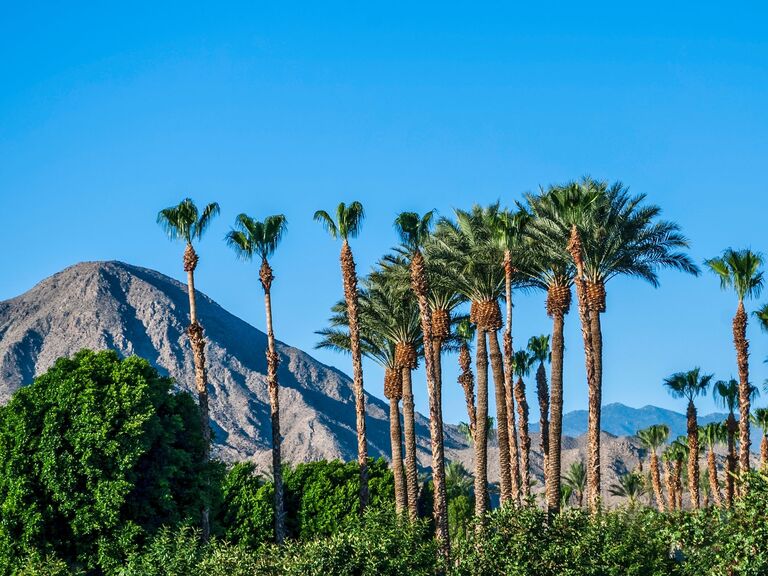 This West Coast destination has always been hip, hosting Marilyn Monroe, Frank Sinatra and notable architects. Today, those architects' mid-century modern masterpieces are the hallmark of this retro-fun city. While the city itself can be pricey, the fact that you don't have to pay for international airfare means you can enjoy a little luxury a bit closer to home.
Where to stay: Sparrows Lodge is a boutique hotel that has barn-style rooms with redwood walls, pebbled floors, butterfly chairs and even horse troughs as bathtubs. Most garden rooms have private terraces, or you can mingle with other guests by the lively pool or outdoor fire pit.
Québec City, Canada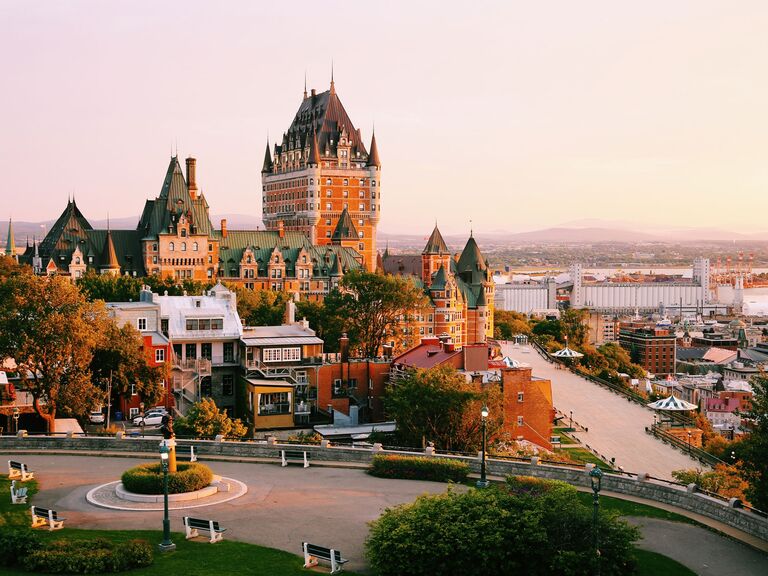 From romantic cafés to the charming cobblestone streets and fashionable boutiques, there are plenty of European influences in Québec City—just without the trans-Atlantic flight fare.
Where to stay: Saving money on flights means you can spend a bit more on hotels. Enter: Auberge Saint-Antoine. Ideally situated at the heart of Québec City's Old Port and across from the St. Lawrence River, it's also a few steps from the fortifications, museums and bustling streets of the historic Quartier Petit Champlain.
Rovinj, Croatia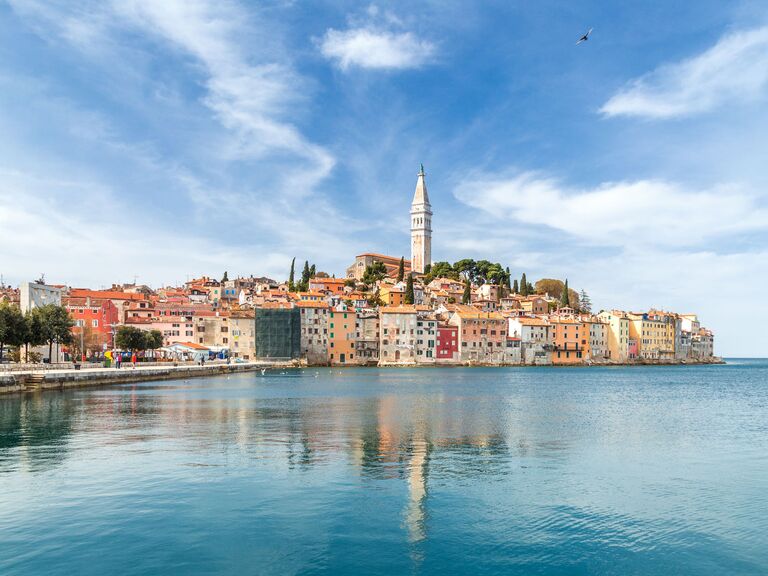 Croatia is often overlooked for neighboring big-hitters like Greece and Italy, but it harbors some of Europe's best beaches (and it's more wallet-friendly too). Specifically, Rovinj, where pastel homes line narrow winding streets and an active fishing port provides great people watching.
Where to stay: The sleek Hotel Lone is a chic seaside property overlooking Zlatni Forest Park. Rooms are modern, with black-and-white decor, glass walls and stone details.
Tulum, Mexico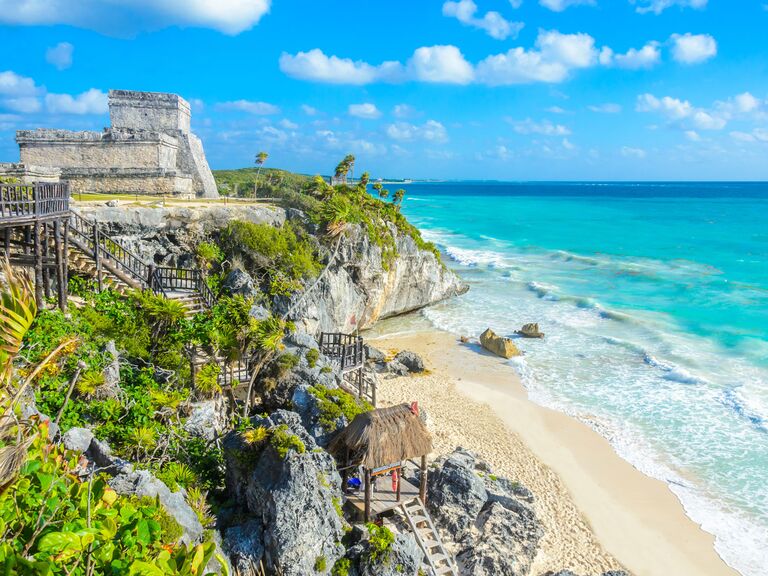 The city of Tulum has a lot going for it: It's an hour and a half from the airport in Cancún, it's home to an ancient Mayan village and it won't make too much of a dent in your postwedding budget. Oh, and did we mention the amazing beaches?
Where to stay: Book a Seafront or Jungle View room with an outdoor jet tub at the adults-only Mi Amor hotel. The modern, luxury resort also features a 24-hour concierge to organize your stay and a poolside restaurant.
Vieques, Puerto Rico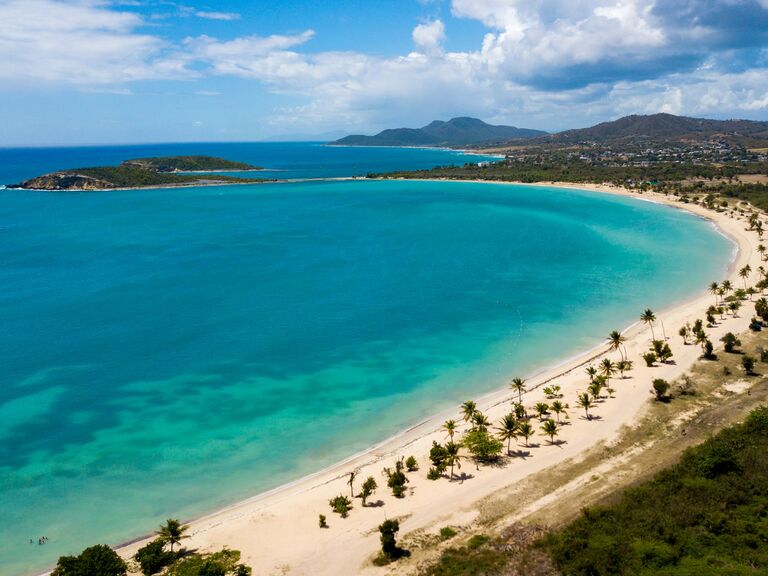 Vieques, the island just off Puerto Rico's eastern coast, has a charmingly laid-back atmosphere that's hard to find elsewhere. Case in point: There are no traffic lights, and its beaches are quiet and unspoiled by high-rise buildings. Although the island is about 21 miles long, there's no shortage of beaches. The idyllic paradise boasts around 40!
Where to stay: El Blok is a design hotel that offers luxury on a budget. It'll make you do a double-take with its playful and oh-so-modern aesthetic.
Maridel Reyes contributed to the reporting of this article.