The Italy Honeymoon Guide for the Best Things to Do and Places to Visit
A travel writer details how to savor "la dolce vita" with your lover.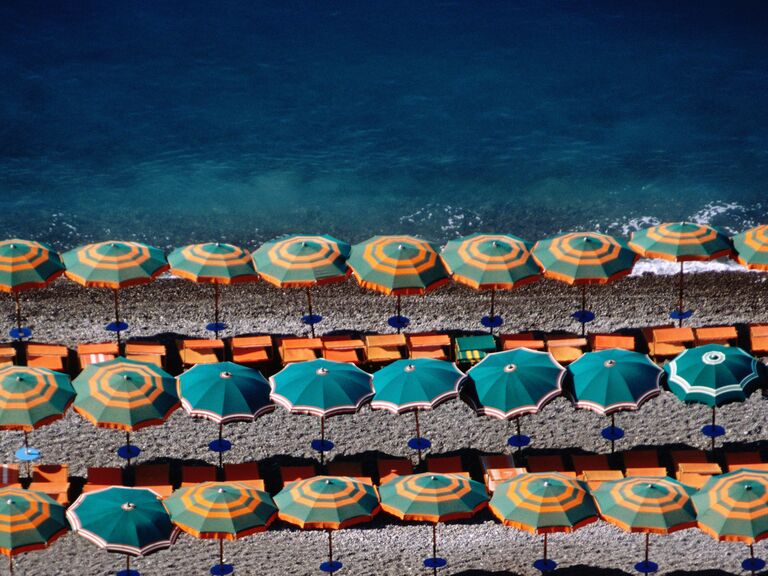 Dallas Stribley / Getty Images
We have included third party products to help you navigate and enjoy life's biggest moments. Purchases made through links on this page may earn us a commission.
Between pasta and pizza, architecture and art and the splendid landscape, an Italy honeymoon was made for amore. The boot-shaped country in Western Europe captivates with its culture, scenery and romance. Whether couples spend time boating and swimming on the coast, visiting wineries in agricultural regions, or riding a gondola in Venice, they'll be seduced by Italy's natural and manmade charms.
Largely accessible from the East Coast, Italy is easy to reach from the US. Couples can even fly direct to Rome, Milan and Naples, in addition to other cities across the country. The only downside is honeymooners may encounter high prices and crowds in the summer. (Once there, they may also never want to fly home.) Read on for the lowdown on planning your ultimate Italy honeymoon, from the best places and times to visit to the most helpful tips for navigating the country.
Italy Travel Tips in this Article:
Is Italy Good for a Honeymoon?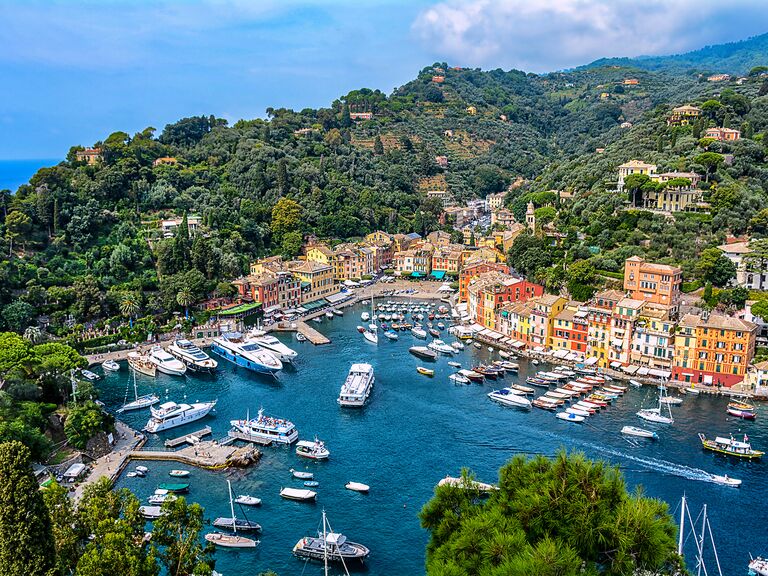 A resounding yes, say Sridevi Chandra, travel advisor of Storybook Getaways and Gary Portuesi, managing director of Authentic Italy. "Romance is abundant throughout the country," says Portuesi. "In the north, you have Lake Como (where Jennifer Lopez and Ben Affleck honeymooned), plus Portofino and Venice," he explains. In the South, you can visit the iconic and scenic Amalfi Coast and the island of Capri, he adds.
For a fairy-tale destination, turn to Rome. "Its romantic streets and piazzas, historic sites and incredible food scene [make it perfect for couples]," Chandra notes. Otherwise, Puglia is another top-rated option. "[The destination is known for] its charming seaside setting away from the crowds," adds the travel advisor.
The Pros of a Honeymoon in Italy
Italy exudes romance. Couples will head to this popular destination for a multitude of reasons beyond pasta, mozzarella and nutella. The country's rich culture, beautiful architecture, picturesque coastal towns, delicious food and Tuscan wine region are all reasons enough to explore for days on end.
The Cons of a Honeymoon in Italy
There are no cons except that Italy has become very expensive in recent years, says Portuesi. In addition, Italy is a top global destination, making overcrowding a real issue for tourists and locals alike. To save money, avoid traveling during peak season, advises Chandra. Another plus: if you come in the spring, fall or winter, you'll experience fewer crowds and shorter wait times.
The Best Times to Visit Italy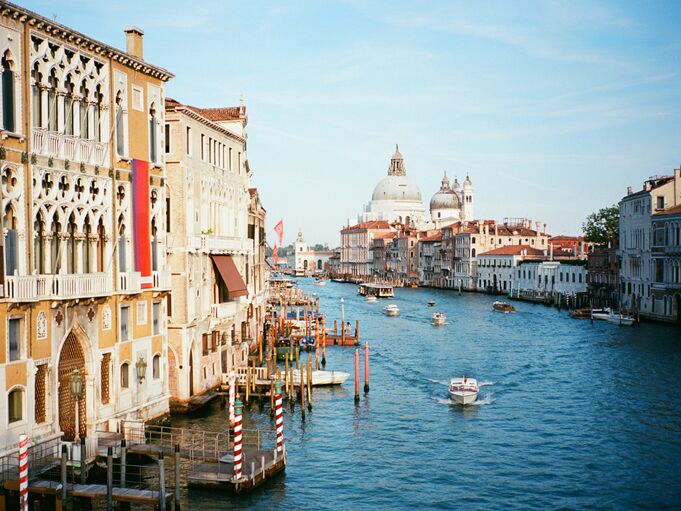 Visit during the spring and fall, for the most ideal weather and least crowds, suggests Chandra. Portuesi agrees, recommending skipping July and August, when it's hot and crowded. If you'd like to time your honeymoon around a festival or event, Chandra recommends the following:
February and March in Venice: The Carnival of Venice features street performances, concerts and boat parades.

Easter Week throughout the country: The Pope holds a special mass in St Peter's Square in Vatican City, in Rome. "The Good Friday processions are quite dramatic," says Portuesi.

April in Verona: Vinitaly wine festival is an annual international wine competition and exposition, notes Chandra.
Italy Tourism Tips for Couples
Keep these general tips in mind for the most successful, stress-free getaway:
Accessibility: You can fly direct into Rome, Milan, Venice and Naples from key gateway cities in the US (and not only in the Northeast), says Portuesi.
Language: While Italian is the official language, English is spoken widely, says Chandra. That said, if you venture into smaller towns and more remote areas, finding English speakers will be more challenging, adds Portuesi.
Currency: The currency in Italy is the euro. Credit cards are widely accepted, with Visa and Mastercard being the most popular providers. The best way to get local currency is via ATMs (called bancomats), says Chandra. Note that most have a daily limit of €250, she says.

Time Zone: Italy observes Central European Time (CET) and switches to Central European Summer Time (CEST) when Daylight Saving Time takes effect. The time is five or six hours ahead of New York, depending on the time of year.
Holiday Closures: Monday is the traditional day of closures for museums and heritage sites, says Chandra.
Reservations: "Italy is on fire this year (and probably will be for the next few years), so planning well in advance will ensure that you get the best guides, drivers and hotel rooms," says Portuesi. Opt for skip-the-line tickets for attractions, recommends Chandra.
Crime: Watch out for pickpockets, especially in crowded areas and on trains, says Chandra. Like every major city and travel generally, stay alert and prioritize your safety.
Train and Bus Travel: Check if you need to validate your train or bus ticket, suggests Chandra. "For regional and regional high-speed trains, you need to validate your ticket if you bought it at an automatic ticket machine or a ticket office. Plus, tickets with the phrase "da convalidare" or "convalida" must be validated, she adds.
Bathrooms: Use the bathroom before leaving a restaurant, museum, or other attraction, recommends Chandra. Otherwise, make sure you have coins for the public facilities.
The Best Places to Visit in Italy
For the ultimate Italy honeymoon itinerary, consider these top destinations across the country. Here's why each city or region is a standout choice for romance.
Amalfi Coast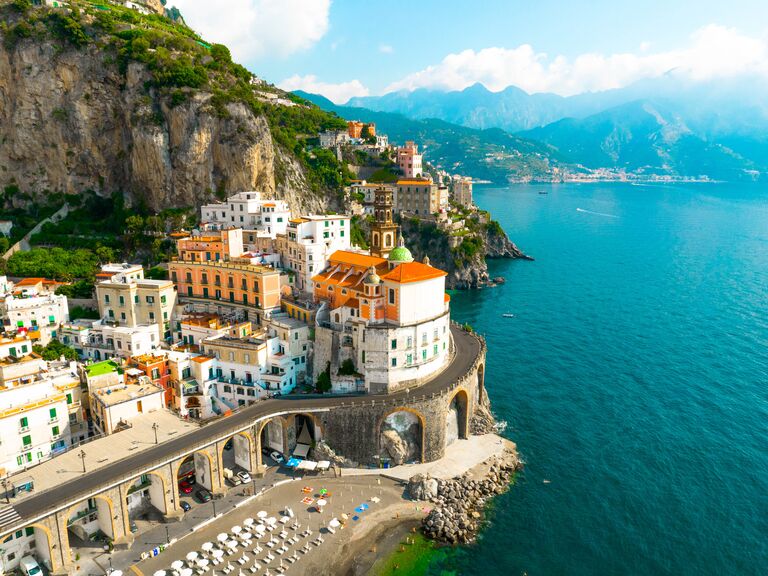 With a dramatic coastline, the Amalfi Coast epitomizes romance. Also one of our top editors' picks for the best honeymoon destinations of 2023 to 2024, there's a reason why honeymooners and couples flock to the region: the scenery is incredible, the food options and shopping are unparalleled and there's something in the air that is mesmerizing. In southern Italy between the Gulf of Naples and the Gulf of Salerno, the towns of Positano and Amalfi tend to be very popular, says Portuesi. Instead, he suggests spending more time in Sorrento, a gateway to Naples, Capri and Pompei; plus full of top-notch hotels and restaurants.
Tuscany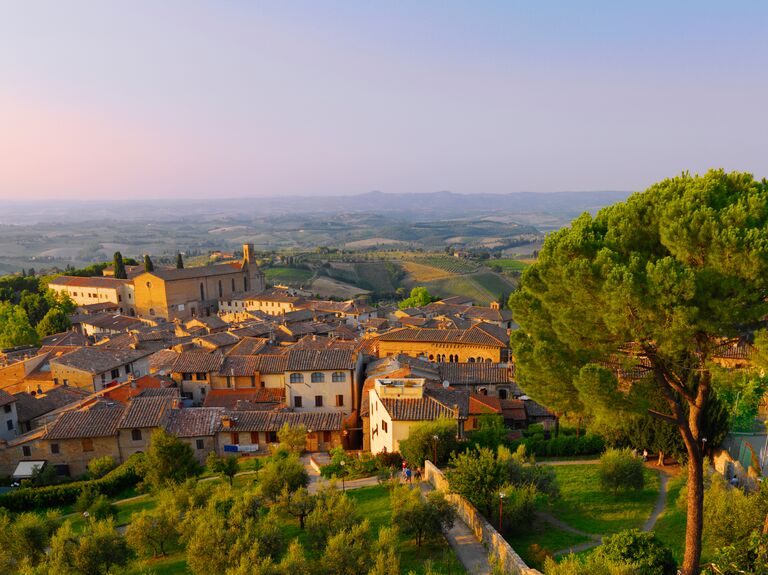 With rolling countryside, castles, olive groves and wineries, this agricultural region couldn't be more bucolic. Florence, its capital city, is beguiling enough for an entire honeymoon. Or explore the whole area, including Maremma, a less well-known area on the coast, recommends Portuesi. Along with being an ideal launching pad to visit the Bolgheri wine region (where Super Tuscans are made), this area is home to "extraordinary hotels," like Hotel Il Pellicano and L'Andana Resort, he says.
Sicily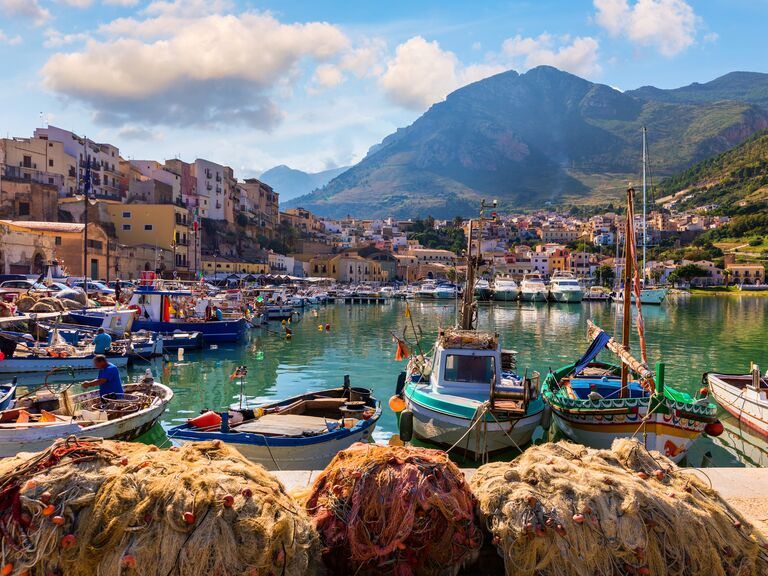 Further popularized by the second season of HBO's The White Lotus, "Sicily is charisma and magic," raves Portuesi. "The dramatic coastline and its volcanoes are a big hit for romance-seekers, as are the new luxury hotels," he says. Consider escaping to Therasia Resort & Spa Vulcano on the remote island of Vulcano, one of the seven Aeolian Islands, he recommends.
Rome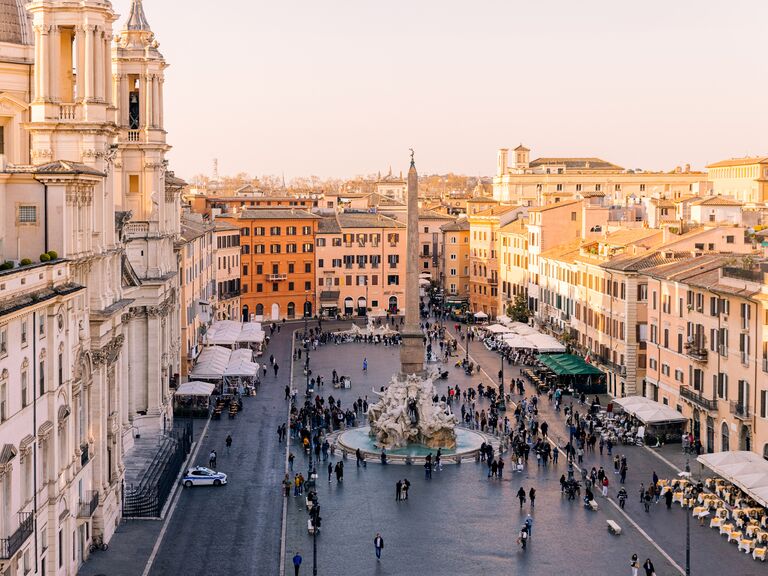 "Rome is always a must, no matter how many times you've been," says Portuesi. For a romantic evening, he suggests hiring a private driver to take you on a sunset tour of the Seven Hills of Rome. That way, couples can experience panoramic views from different vantage points (such as The Garden of Oranges). Then, dine at Aroma Restaurant, at the top of Palazzo Manfredi, across from the Colosseum.
Venice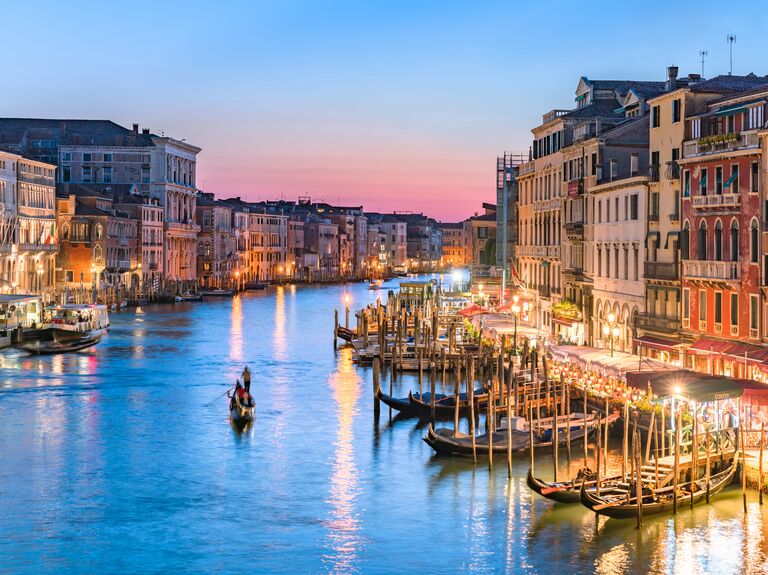 Famed for its winding canals, beautiful architecture and romantic gondola rides, this "floating city" is a Chandra favorite. Be sure to try the cicchetti (tapas-like finger food) and explore the outer islands, like Lido and Sant'Erasmo.
Sardinia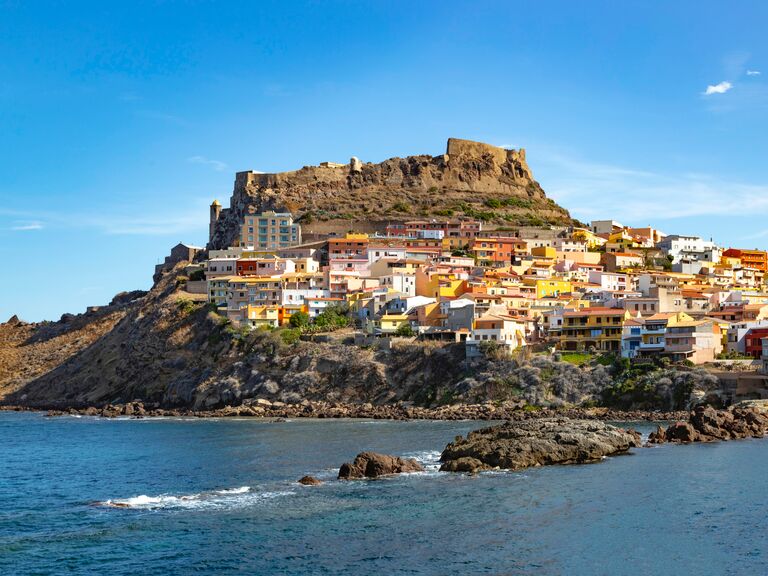 For couples attracted to more off-the-beaten-path destinations, visit this large island west of mainland Italy. Savor the picture-perfect beaches, rich history and crave-worthy wine and food (like Pecorino cheese, stuffed pasta and roast pig).
Fun Things to Do in Italy for Couples
Italy is the type of country that requires repeat visits to fully understand its various regions. Here are just a few of the countless activities to experience across the destination.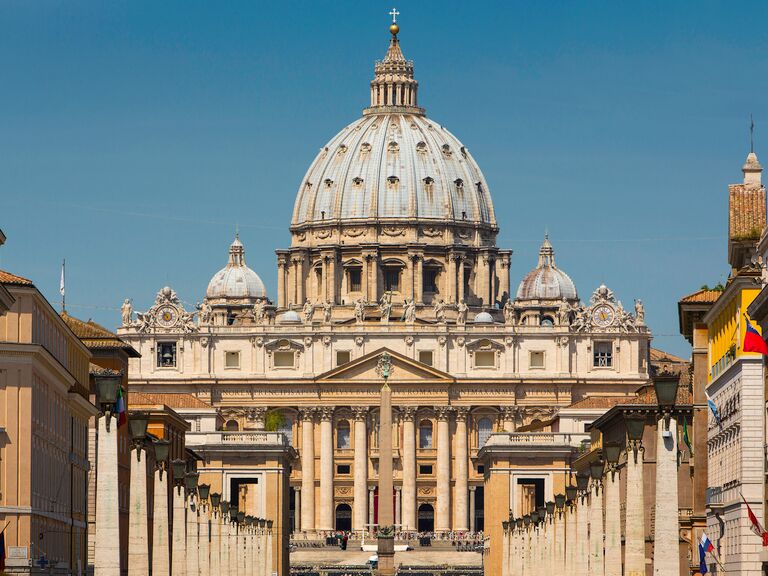 Take a half-day tour of the famed Chianti wine region, including guided visits to two wineries. Taste six wines, olive oil, cheese, cured meats and bruschetta on this program rated an average of five stars by more than 1,000 Tripadvisor reviewers.
Take a ride on a gozzo (a type of boat used in the area since ancient times) to Positano and back. With local captains at the helm, you'll snack on fresh fruit and sip refreshments (like prosecco and limoncello) while stopping by beaches and passing rock arches and sea caves. Then, snorkel and swim, exploring grottos and soaking up the crystal-clear waters.
On this three-hour tour, skip the line to visit the Vatican, Sistine Chapel and St. Peter's Basilica. Led by a local guide, you'll see St. Peter's Square (where the Pope addresses crowds Wednesday and Sunday mornings) and countless famed works of art (like Michelangelo's "Creation of Adam" and the "Last Judgment" at the Sistine Chapel).
During this course, you'll learn how to prepare a traditional four-course meal (starring seafood), then sit down to enjoy it with wine, coffee and limoncello. Thanks to the small-group format, you'll get some personalized attention.
The Best All-Inclusive Resorts in Italy
To truly relax—with no worries about money—book a stay at one of these all-inclusive spots. For a balanced honeymoon, consider heading to another area of the country (like Tuscany or Venice) beforehand or afterwards.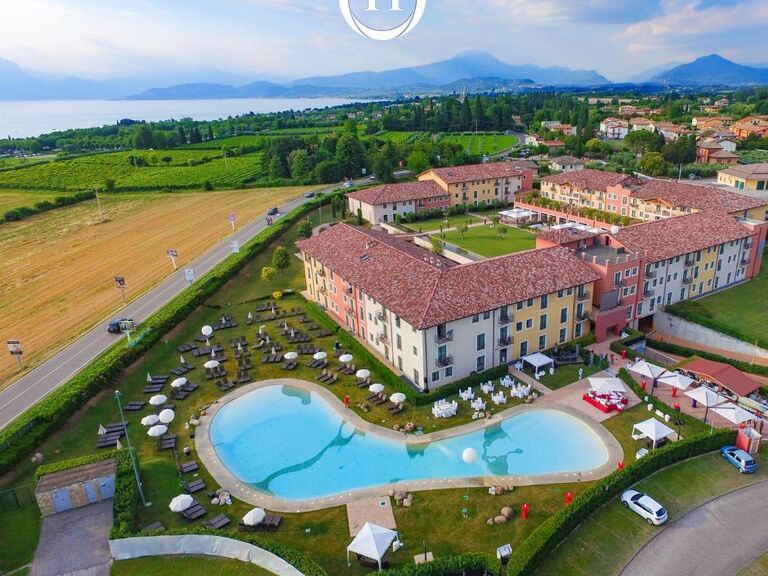 Color Green Village Cesenatico
The top-ranked all-inclusive resort in Italy by Tripadvisor, this new green spot in the north is surrounded by parkland. It features a swimming pool, private beach, water park and multiple restaurants.
Orchidea Blu Hotel
Rated one of the most romantic all-inclusive resorts in Italy according to Tripadvisor reviewers, this seaside resort in the southeast features a rooftop terrace and pool. For the most scenic getaway, book a room with an ocean view.
TH Marina Di Sibari Baia Degli Achei
Located in Calabria in Southern Italy, this resort offers a beach, pool, fitness classes and canoeing. With a large pine forest and lake, the setting is tranquil and romantic.
Hotel La Bussola
Tripadvisor reviewers praise this Calabrian property for its romance, private balconies and views. Couples can spend days at the beach, sunbathing, swimming, or snorkeling. The restaurant at this three star "superior" spot prepares fresh regional specialties.
What to Pack for Italy
One of the fashion capitals of the world, Italy is known for smart casual attire, says Portuesi. To fit in, consider avoiding sweatpants, shorts and flip flops. Because clothing in Italy is beautiful and well-priced, he suggests packing lightly, shopping while there and wearing what you buy. "[Italian clothes and shoes] will make for great souvenirs upon your return and your friends and family will know you've been to the bel paese (beautiful country), as Italy is known," he says. For everything else, we outline the basics in our packing list.