This Is The Average Cost of a Honeymoon Today
Take notes, because you deserve a bit of postwedding R&R.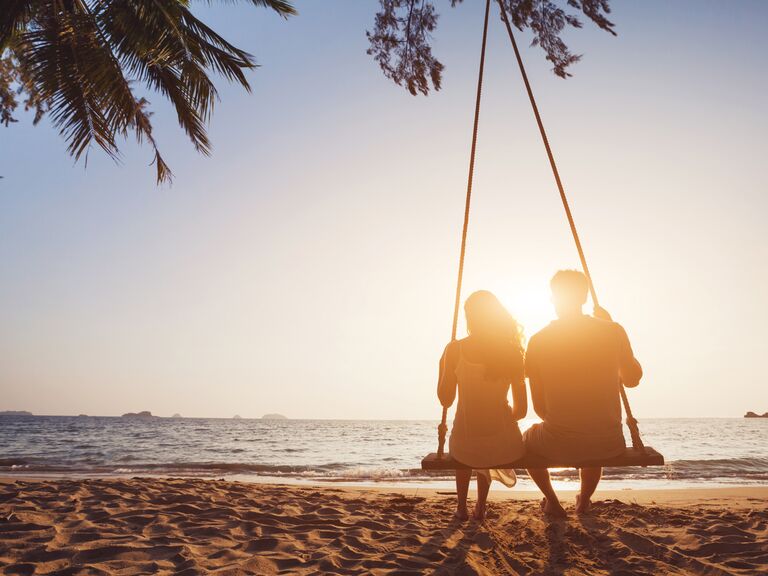 Song_About_Summer/Shutterstock.com
The party doesn't have to stop once your wedding is over. Plenty of couples head to a honeymoon to celebrate their marriage—and though it's an added expense, it's certainly deserved after planning a wedding. If you're curious to know the average honeymoon cost, we have the answer. Read on to see how much couples spend on their honeymoon, as well as the most popular destinations to kick off married life. 
What Does the Average Honeymoon Cost?
Based on an internal study of over 27,000 couples who got married in 2019, the average honeymoon cost is $5,000. This is in addition to the average cost of a wedding, which is $33,900. Honeymoons remain one of the most popular wedding-related events, with 71 percent of couples planning one in 2019. Sixty-two percent left for their trip within two days of the reception, and 42 percent of all honeymoons lasted more than a week. However, mini-moons continue to be a popular vacation alternative. Last year, just under 30 percent of couples planned a shortened trip either in lieu of or prior to a traditional honeymoon. 
The average price of a honeymoon has been steadily increasing since 2017. In three years, the average cost has risen from $4,000 to $4,500 and now $5,000. This increase in cost reflects couples' desires to go on an experiential trip. Now more than ever, newlyweds look to plan honeymoons in unique locations that offer unconventional activities. Over 60 percent of U.S.-based couples traveled outside the continental U.S. for their honeymoon. Beach honeymoons still remain the most popular option, though, with 52 percent of couples planning a tropical getaway. 
How Do Couples Pay For Their Honeymoons?
Now that you know the national average cost, you're probably wondering how much you should spend on your honeymoon (and how you're going to pay for it). Honeymoon registry funds continue to rise in popularity, especially for couples who prefer experiences over things. Setting up a cash fund registry is a great way to make sure you actually enjoy the gifts your loved ones purchase. Last year, 83 percent of couples set up at least one wedding registry—of those, 27 percent made a honeymoon fund to help support their trip. However, the majority of couples (60 percent, to be exact) pulled from their own savings to pay for it. 
It's important to keep in mind that these numbers are a reflection of the national average. The cost of a honeymoon will fluctuate based on where you go, the time of year you travel, duration and any upgrades you make for your trip. While the national average cost of a honeymoon is $5,000, our data finds that one in ten couples will spend over $10,000 on their trip. Conversely, couples can spend significantly less by taking a stay-cation in their hometown. Since a honeymoon is an additional cost to your wedding, it's important to set a budget that's realistic with what you can spend after planning your nuptials. After all, it's not about taking a fancy trip for great pictures to post on Instagram—what matters most is spending quality time with your S.O. to ring in married life together.