30 Bachelor Party Games That'll Keep The Vibes High
Your buds will love them, and so will you.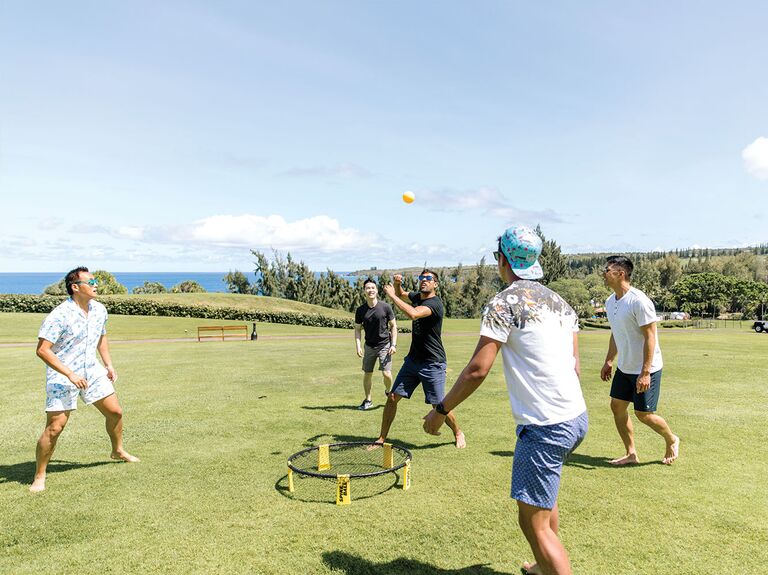 Photo: Christina McNeill Photography
We have included third party products to help you navigate and enjoy life's biggest moments. Purchases made through links on this page may earn us a commission.
Whether you're planning a bachelor party that's out of town for a destination celebration or are keeping things casual at home, bachelor party games are a must-have to keep your guests socializing and entertained. Yes, selecting the bachelor party songs to add to the playlist or give to your DJ is important in addition to looking for the most fitting bachelor party favors, but the bachelor party games are really what your guests will remember. From those that can be instantly downloaded and printed at home to those you can be shipped, continue reading for 30 of our favorite bachelor party games.
In this story:
Bachelor Party Drinking Games
Whether you're a wine lover or a fan of beer, these drinking games will have your bachelor party buzzing, literally.
1. "These Cards Will Get You Drunk" Bachelor Party Drinking Game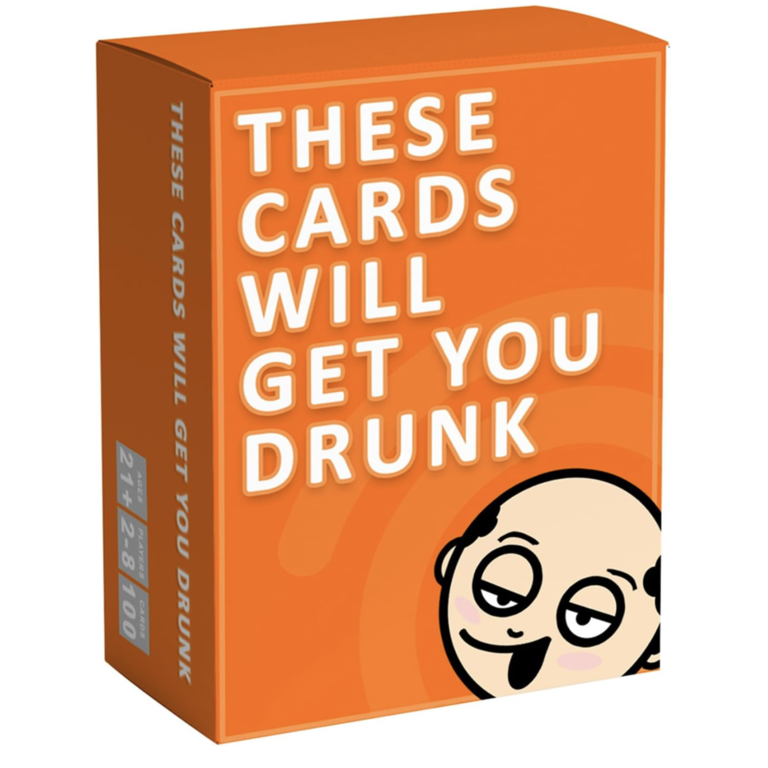 If you're looking to get drunk with your best friends at your bachelor party, this card game can help. All you have to do is read aloud and follow each card's instructions to determine who has to drink. With more than 100 cards, this game will keep you and your guests buzzed for hours.
2. College-Inspired "Buzzed Flip Cup Frenzy" Bachelor Party Drinking Game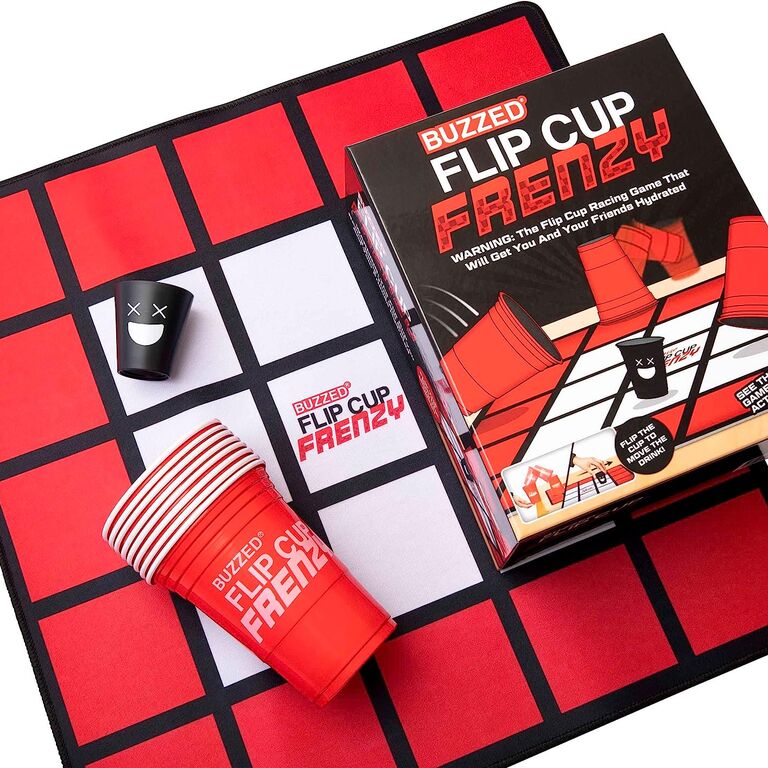 For a spin on a classic game of flip-cup, add "Buzzed Flip Cup Frenzy" to your bachelor party game lineup. If your cup lands when you flip it, you have to move your shot glass one space. Take a shot when the shot glass makes its way over to your side of the game board–you will definitely feel buzzed after a couple of rounds of this game.
3. Hilarious "First & Last" Bachelor Party Drinking Game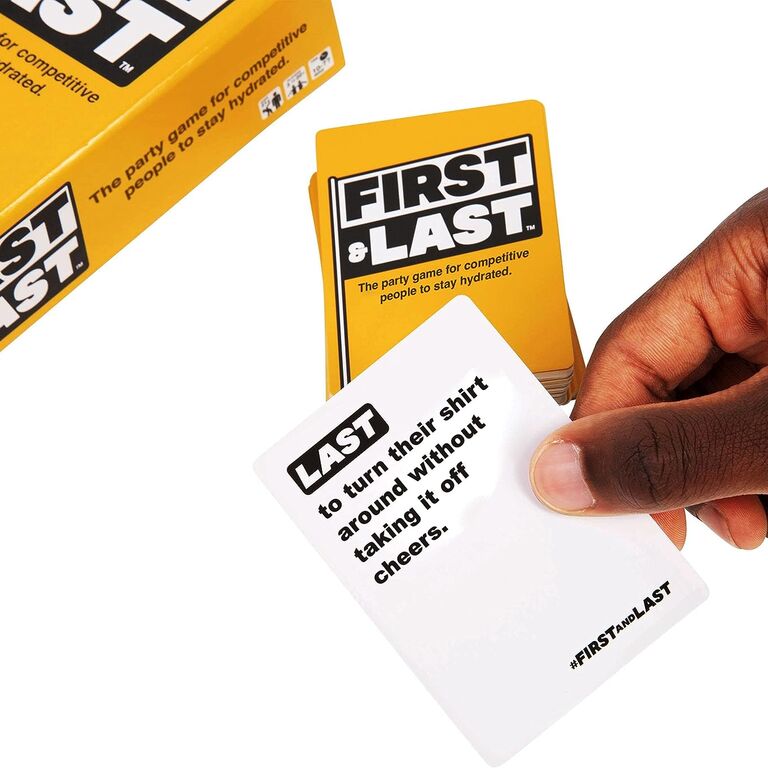 For an easy drinking game that won't require too much thinking, "First & Last" is a solid option. To play the game, simply select a judge who will read each card with an action prompt to the rest of the players. Whoever is the first and last to complete the tasks (as determined by the judge) has to take a drink.
4. Interactive "Drunken Tower" Bachelor Party Drinking Game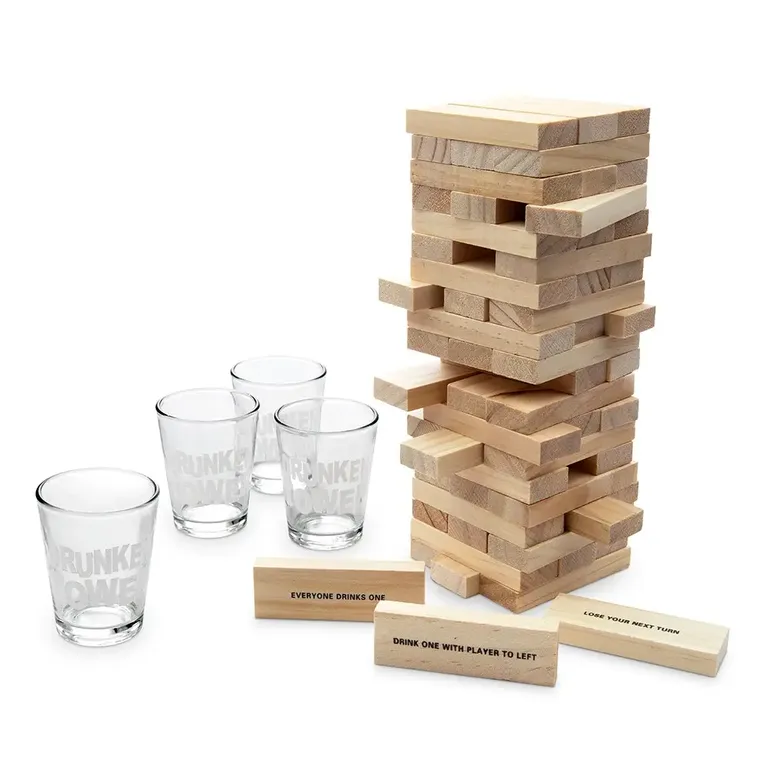 For a fun twist on a traditional game of Jenga, add "Drunken Tower" to your bachelor party game checklist. In addition to pulling out a piece, players have to drink according to what is written on each block–"drink one with player to the left" and "everyone drinks one" are some of the many prompts engraved on the blocks.
5. Sporty Golf Course Bachelor Party Drinking Card Game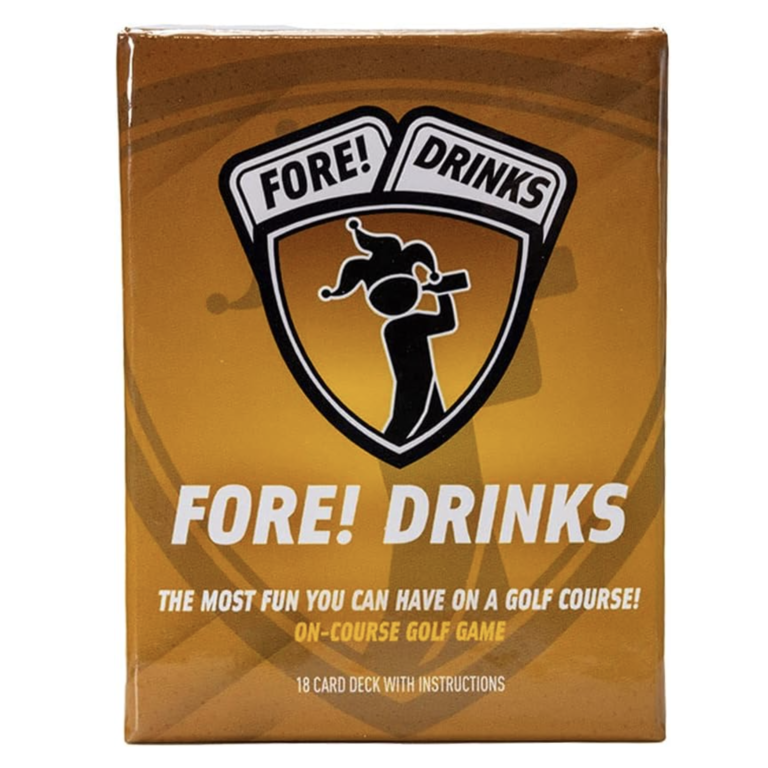 What's better than golfing at a bachelor party? Drinking while playing golf at a bachelor party. And, this game will help you and your guests do just that as the cards determine how much you have to drink at each hole.
6. Magic Party Ball Bachelor Party Drinking Game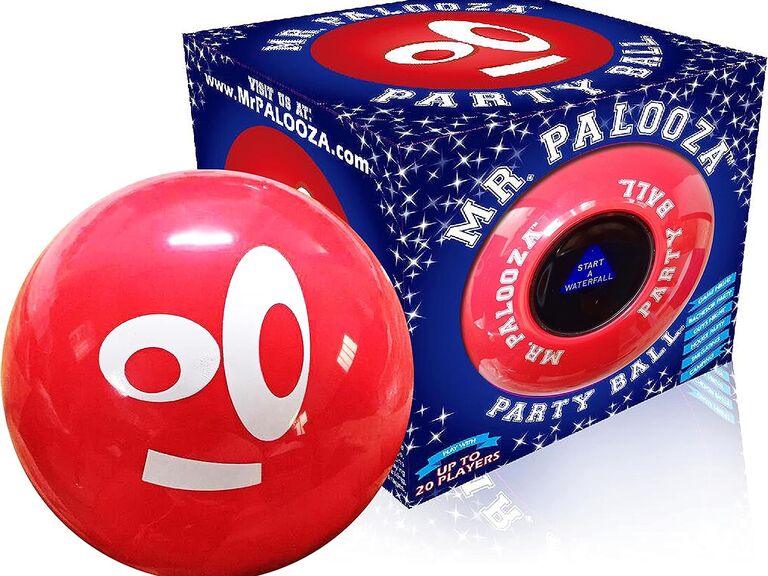 If you're looking for a drinking game for a larger bachelor party, this one is great as it can be played by up to 20 players. The game is straightforward: Each guest takes turns shaking the ball. Then, they have to read the dice out loud and everyone has to play that game. Whichever players make a mistake when playing have to drink. Since there's no definitive winner, you can keep a tally of who makes the most mistakes if you want to claim one at the end.
7. Enthralling "Drinko" Bachelor Party Drinking Board Game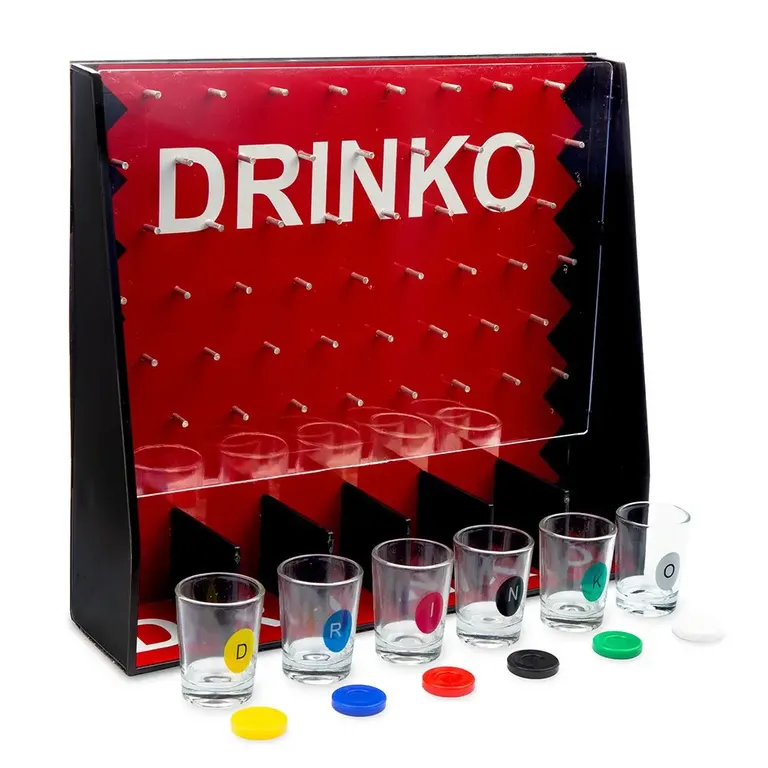 Surprise your guests with an enthralling drinking game. "Drinko" is not your average drinking game–it's better. All you have to do is fill up the provided shot glasses with your favorite alcohol and then drop the colored chips from the top of the board to find out which shot is yours.
Fun Bachelor Party Games
Whether you're looking for a golf game or one that is printable and can be played indoors, each guest will have a great time playing these games while celebrating with the bachelor.
8. "PutterBall Golf Pong" Golf Game for Bachelor Party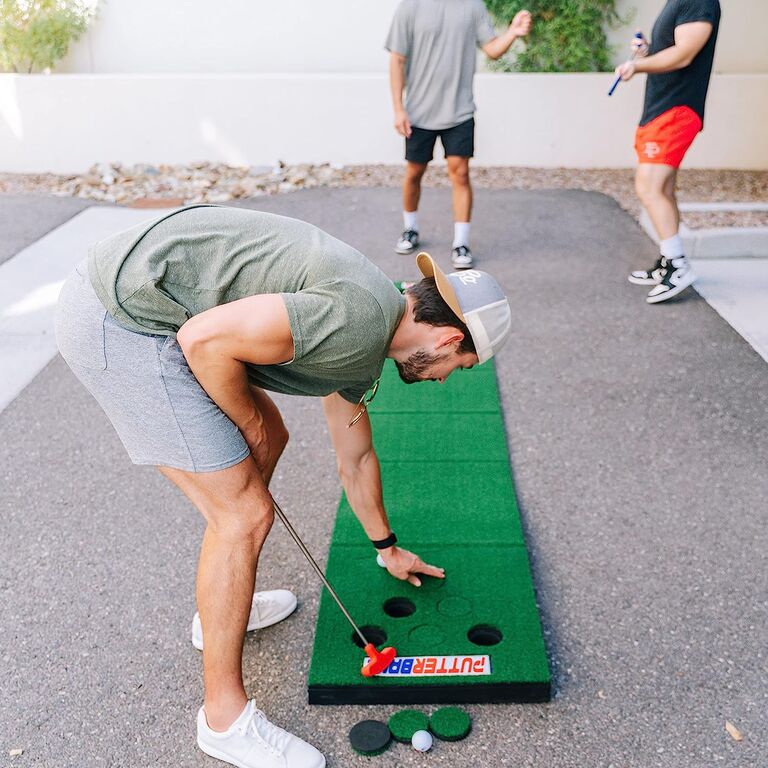 Whether or not your bachelor party is filled with pro golfers, "PutterBall Golf Pong" is a game that guests of all ages can understand and play. We like how easy it is to fold up making it a solid option for destination bachelor parties–the game even comes with a carrying case.
9. "Bachelor BINGO" Bachelor Party Game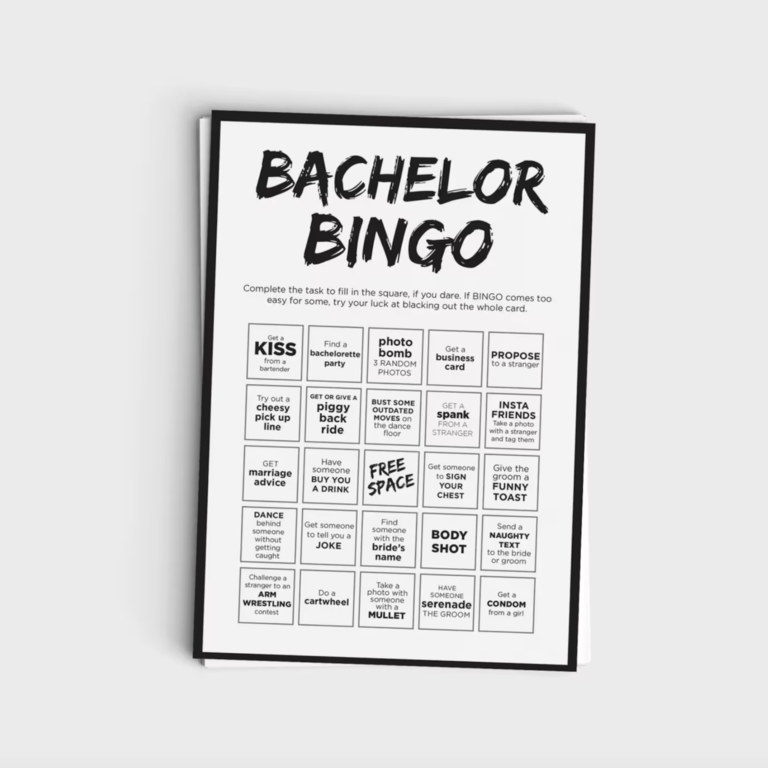 It's difficult to go wrong with a game of Bingo and this one will keep your guests up and active during your bachelor party as the game requires players to complete each activity to fill in a square. When the squares contain prompts including "have someone buy you a drink" and "propose to a stranger," you can count on things getting interesting while playing. The best part about this game is that it can be instantly downloaded and printed once purchased so you can get right to playing.
10. Enjoyable Bean Bag Toss Cornhole Bachelor Party Game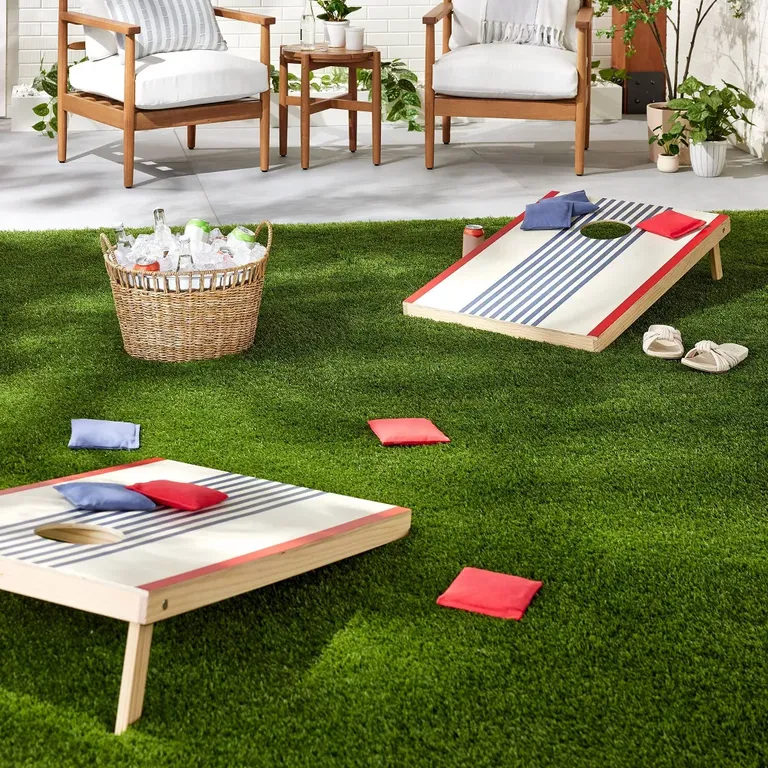 If you're in the mood for some cornhole, this game from Target is the way to go. This cornhole game comes with 10 bean bags and easily attachable and portable boards making it a great game for those bachelor party camping trips and other outdoor celebrations.
11. Amusing "Bachelor Night Scavenger Hunt" Printable Bachelor Party Game
Are you wanting to have your best mates participate in a friendly challenge? If so, "Bachelor Night Scavenger Hunt" should be added to your cart. With fun tasks including "arm wrestle a stranger" and "get a condom from a stranger," this game will ensure your players a wild time.
12. Competitive "Who Knows The Groom" Printable Bachelor Party Game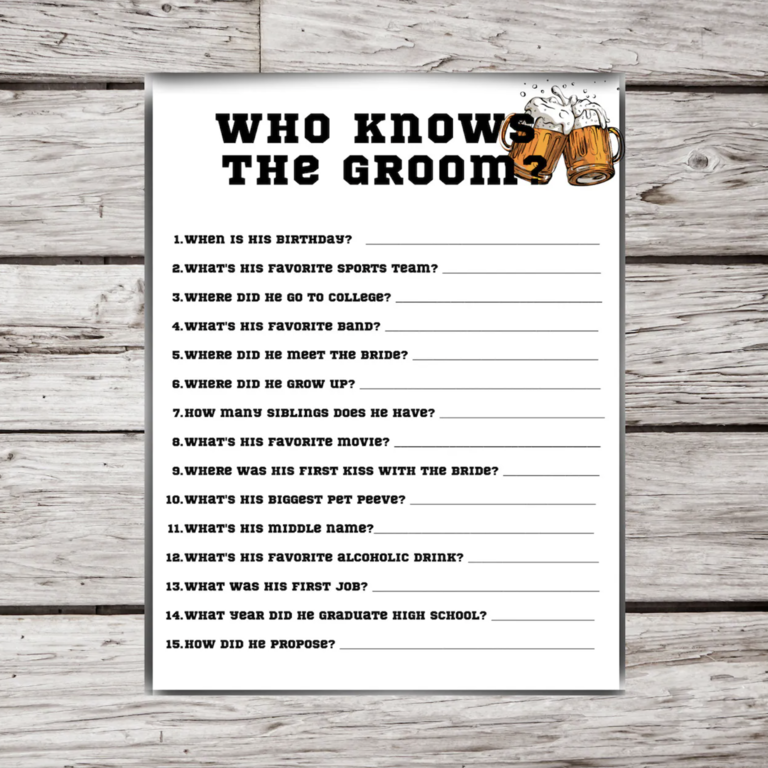 Stir up some friendly competition amongst your closest friends and family members by playing "Who Knows The Groom." After answering a series of questions including "what is his biggest pet peeve" and "what was his first job," you'll see who really knows the bachelor the best.
13. Thought-Provoking "Would He Rather" Bachelor Party Game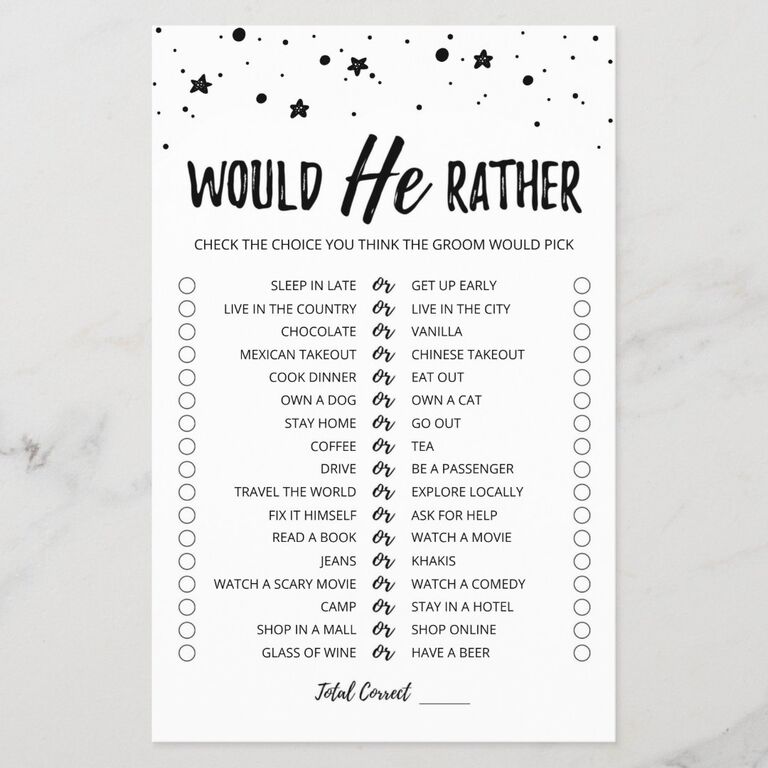 This simple "Would He Rather" game includes 17 questions that will have everyone's brain firing. If you want to personalize or change any of the questions before purchasing, you can easily do that by updating the template.
14. Customized "Bachelor Party Regulation Dart Board" Bachelor Party Game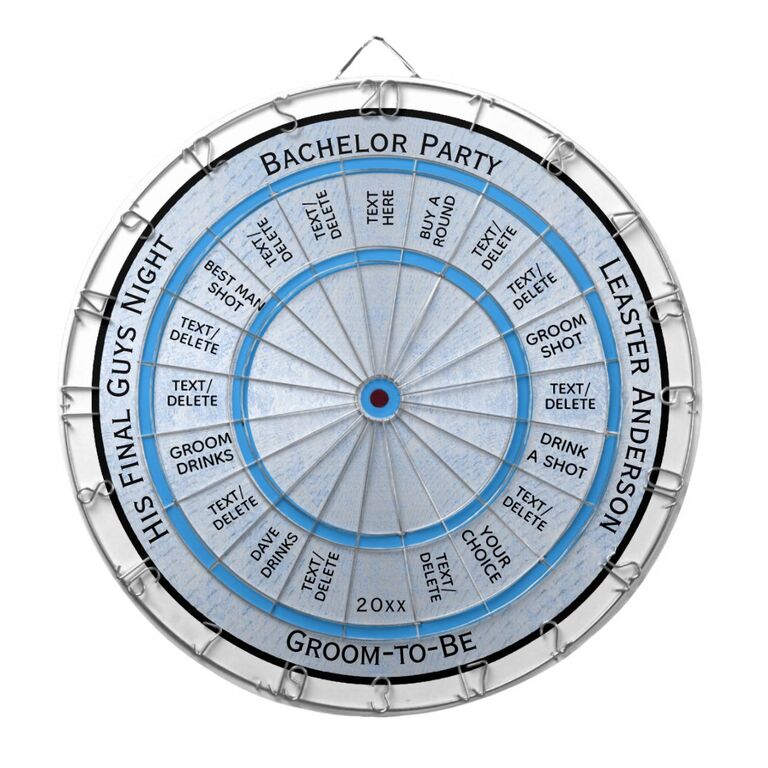 Although darts is seemingly simple, it takes lots of skill to have great aim. We like that this board can be personalized to include the bachelor's name as well as any tasks that you may want your guests to complete if their dart lands on a specific portion of the board–just make sure to stand back at a safe distance so there are no accidents while trying to hit the bullseye.
15. Active "Ladder Toss" Bachelor Party Camping Game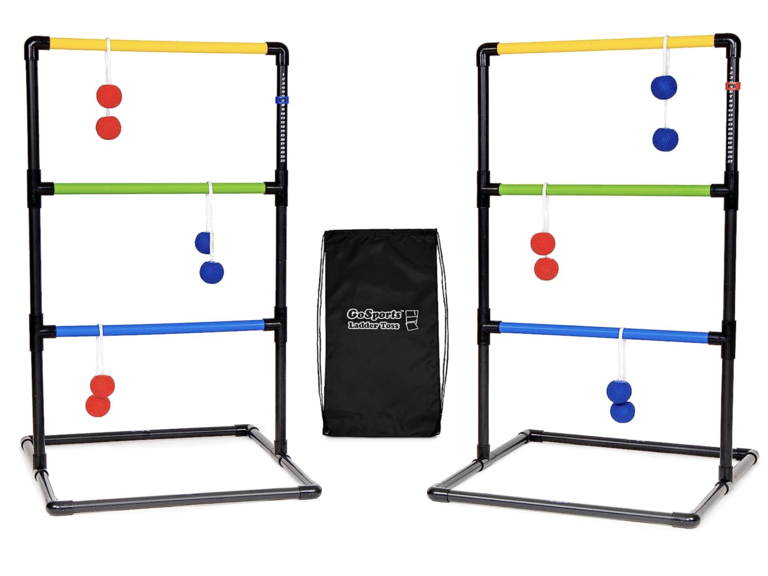 If you're headed on a camping trip for your bachelor party, make sure to bring this game with you. Since the game includes a carrying case and takes less than two minutes to assemble, it will be easy to take out whenever you want to play.
16. Practice Your Aim With This "Kan Jam" Bachelor Party Camping Game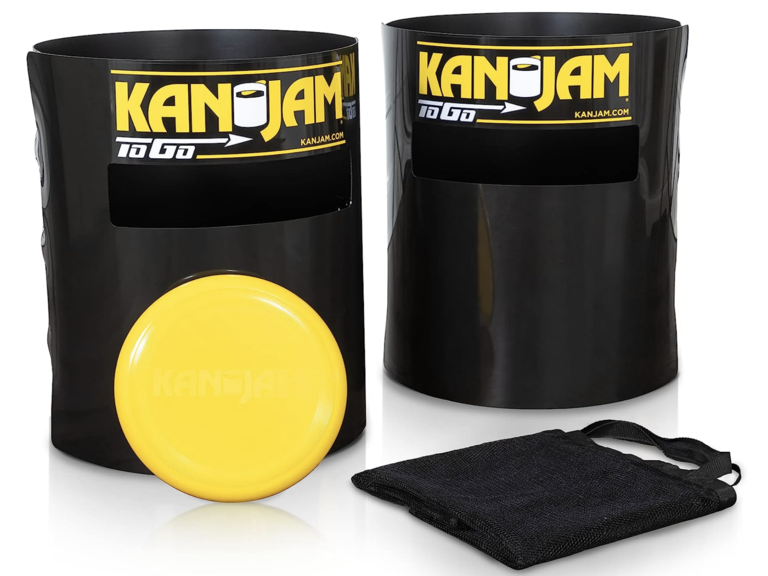 For a more adventurous bachelor party, "Kan Jam" is a must-have. This to-go travel version is beneficial since it stores flat and can be conveniently placed in small places. You and your buds will have a great time throwing the flying discs while trying to score 21 points.
17. Franklin Sports X-40 Jet Aluminum Paddle Set Pickleball Bachelor Party Game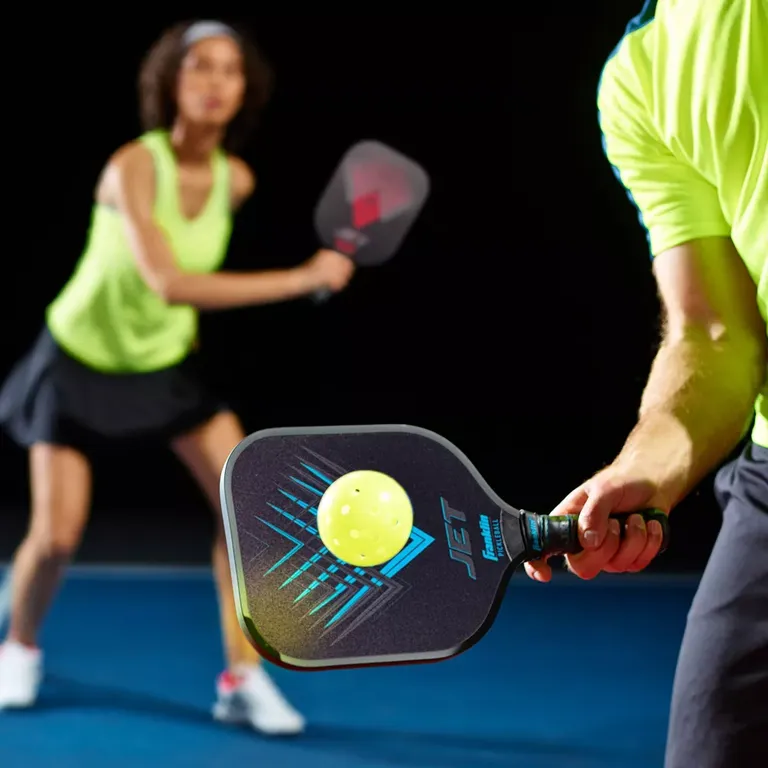 Pickleball is a great bachelor party game that can be played during both indoor (if space and safety allows) and outdoor celebrations. This game will certainly get players up and active and help them to expend their energy before a night out or bedtime.
18. Classic "Who's Most Likely To" Bachelor Party Game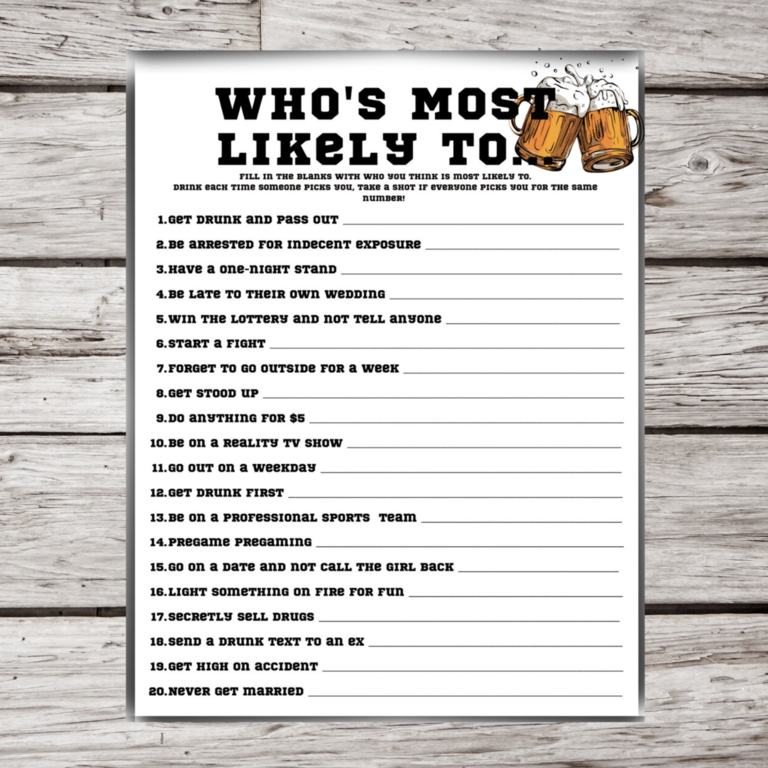 A bachelor party is a wonderful opportunity for your friends and family to mix and mingle with each other before the big day. This game will help everyone get to know each other better with prompts including "Do anything for $5" and "Forget to go outside for a week."
19. Hilarious "Tell Me Without Telling Me" Bachelor Party Game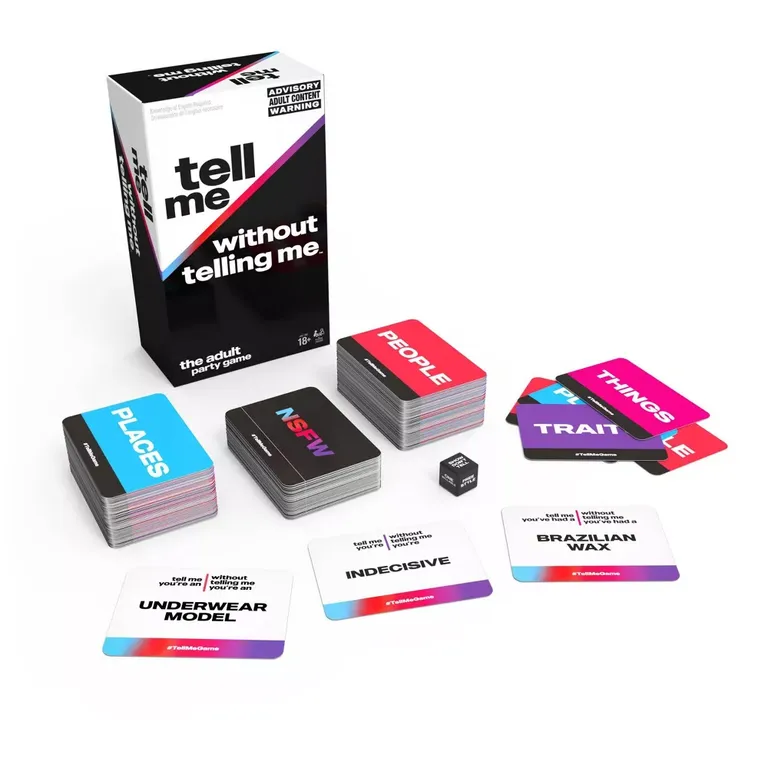 You better be ready for some laughs after you pick up this card game. Just make sure all of your players are at least 18 years old as some of the cards can be pretty risqué.
20. Floating Water Polo Bachelor Party Game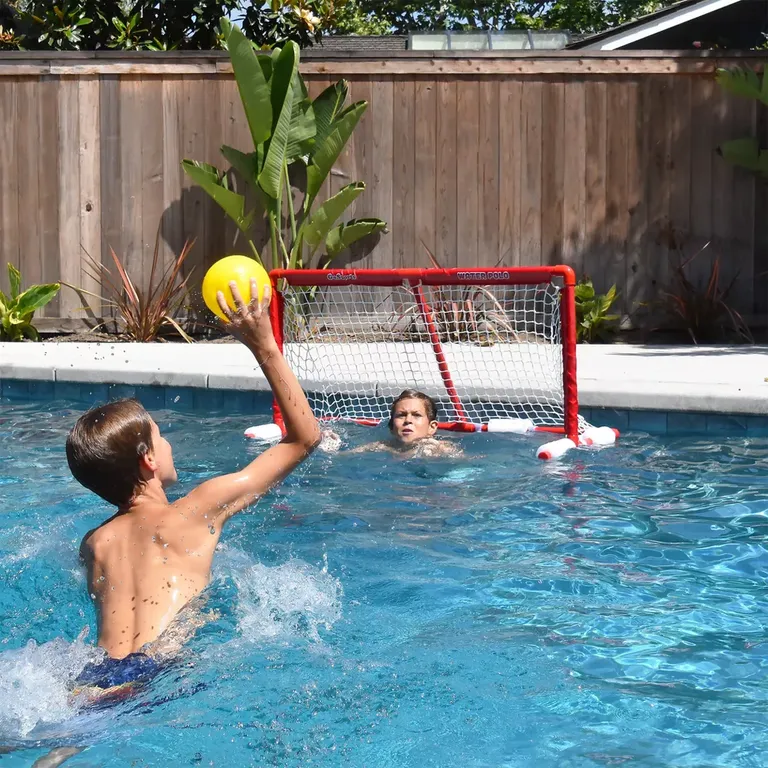 For an outdoorsy bunch, this floating water polo game will spruce up any water session. Whether at a lake or a pool, this inflatable set can easily be assembled for some water-time fun.
21. Virtual Trivia Bachelor Party Bar Game
Everyone loves a good game of trivia, especially when it's at a bar. Spend some time challenging your buds with some geography, sports, music, movies and history questions–you'll discover who really knows their stuff.
Bachelor Party Board Games
Board games are far from boring and will make a great addition to any bachelor party. From drinking board games to those with a fish theme, read on for some of our favorites.
22. Competitive "Settlers of Catan" Board Game for Relaxed Bachelor Party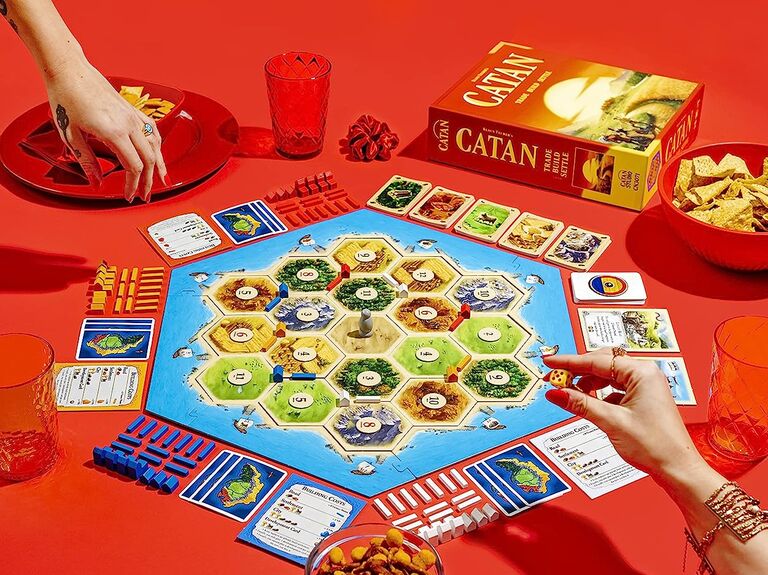 For board-game lovers, nothing is more classic than Catan. If you and your friends are already big fans of game nights, feel free to pull out standby favorites for the bachelor party.
23. Energizing "Fishin'-Opoly" Bachelor Party Board Game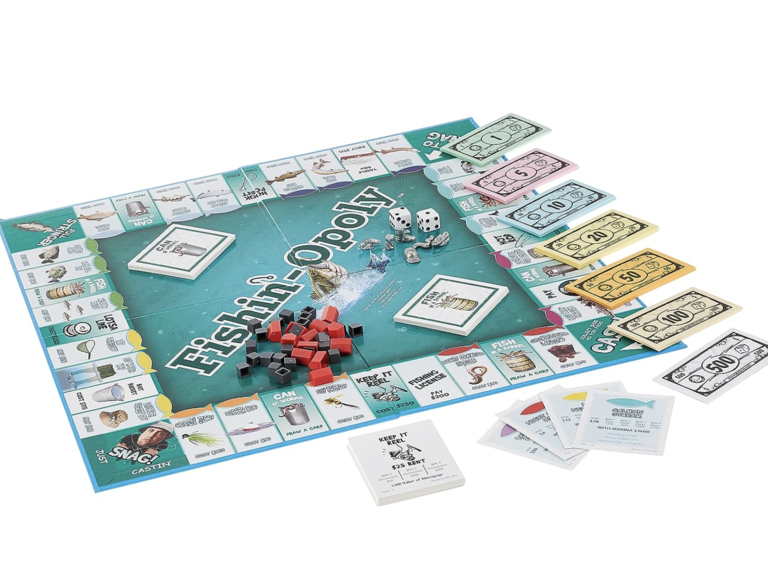 For a bachelor party filled with fishers, reel in those memories with a game of "Fishin'-Opoly." The game is similar to the classic game of Monopoly but contains aquatic attributes. If your bachelor party is on the smaller side, this game is an even better choice as it's best played with two to six players.
24. Captivating "5 Second Rule Uncensored" Bachelor Party Board Game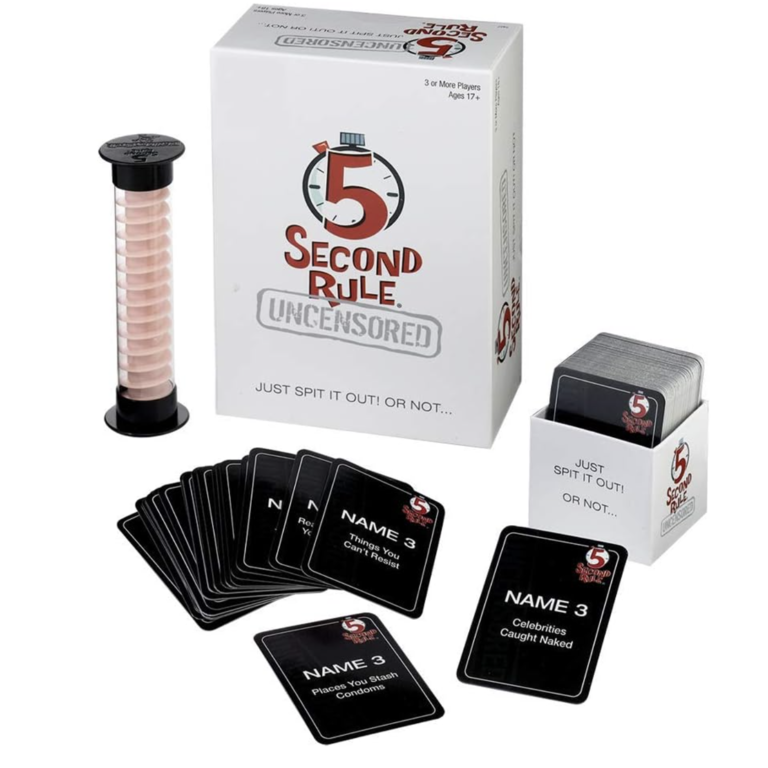 Although five seconds doesn't sound like a lot of time, this game is a lot of fun. It comes with a timer so you can keep track of the time. If you want to elevate the gaming experience, you can add a drinking part where players have to take a drink if they're not able to answer the question within five seconds–whichever way you play, it'll still be a good time.
Bachelor Party Card Games
Card games are simple as all you have to do is open the box and read the directions before playing–say "goodbye" to assembly when you buy these bachelor party card games
25. Wild "Unruly Choices" Bachelor Party Card Game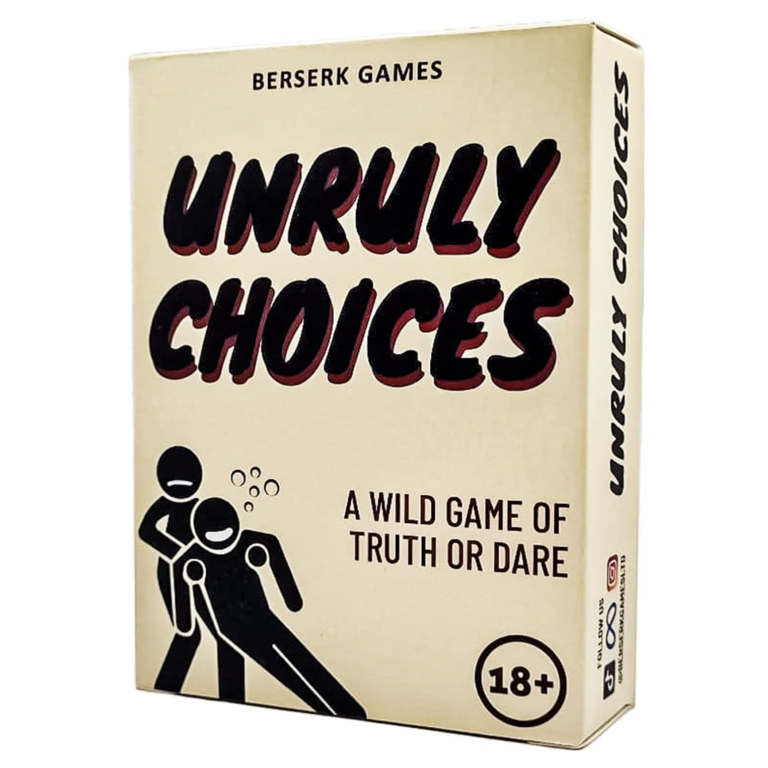 Make sure your players are bold enough to play this bachelor party card game as it requires players to participate in some unruly dares or spill some deep truths. Elevate your gaming experience with a drink or two–the game is called "Unruly Choices" after all.
26. Funny "Have Your Ever?" Bachelor Party Card Game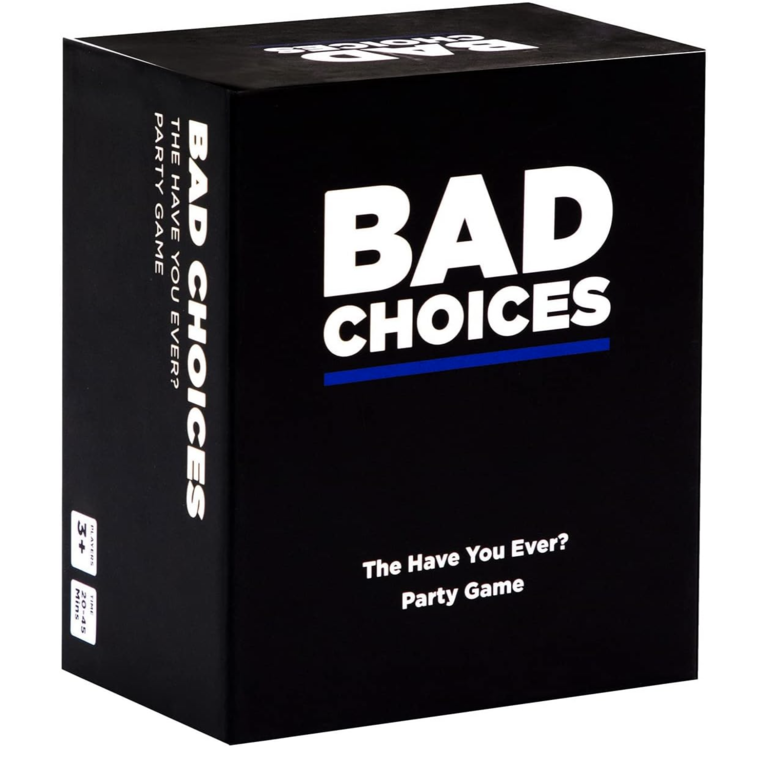 If you're looking to stir up some laughs at your bachelor party, buying "Bad Choices - The Have Your Ever" is far from a bad choice. Since the odds that you and your guests have played "UNO" and "Never Have I Ever" are high, this game should be easy for most to understand as it combines the attributes of the two. With cards including "Have you ever tried to hack into someone's social media account?", you'll get to know your best friends even better than you did before and laugh more together than you ever did before.
27. "Cads About Matrimony" Bachelor Party Card Game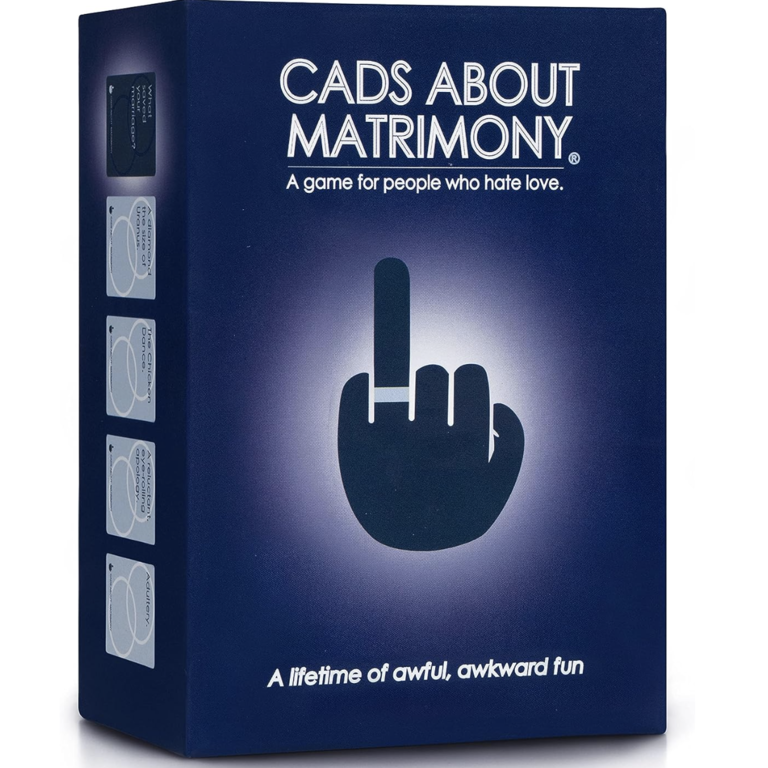 For a Cards Against Humanity-inspired game with a matrimonial spin, consider "Cads About Matrimony." As long as your bachelor party has four or more guests, you're all set to start playing this game featuring 420 cards filled with hilarious phrases.
28. Bold "Smash or Pass" Bachelor Party Card Game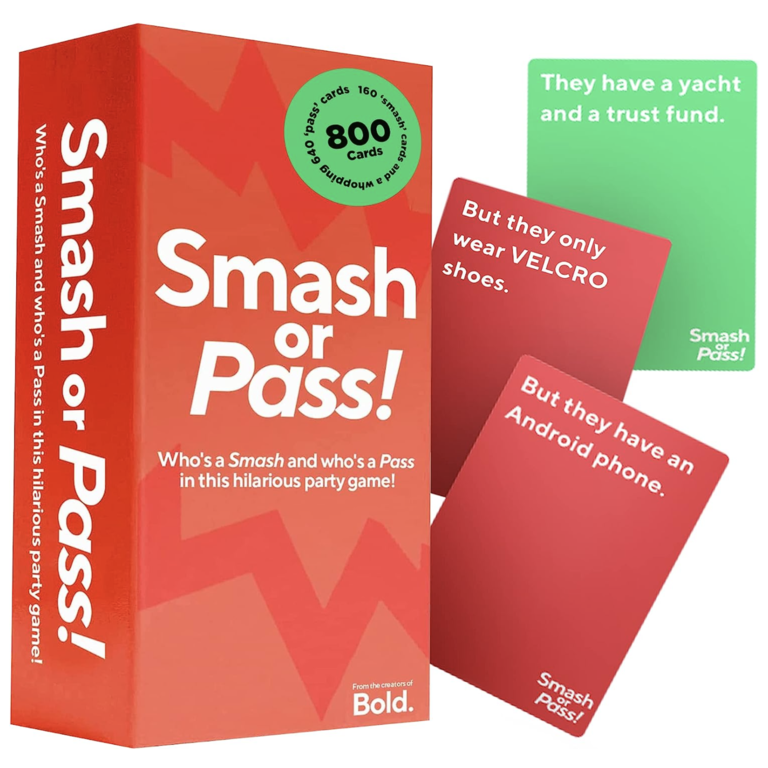 You need this cheeky version of "Smash or Pass'' for a couple of hours of non-stop laughter. The goal of the game is to compile the most "smash'' cards amongst a game that has significantly more "pass cards." While on your quest to collect the most "smash'' cards, you'll learn about your friends' haves and have-nots when it comes to relationships.
29. Comical "Anonymous Addicts" Bachelor Party Drinking Card Game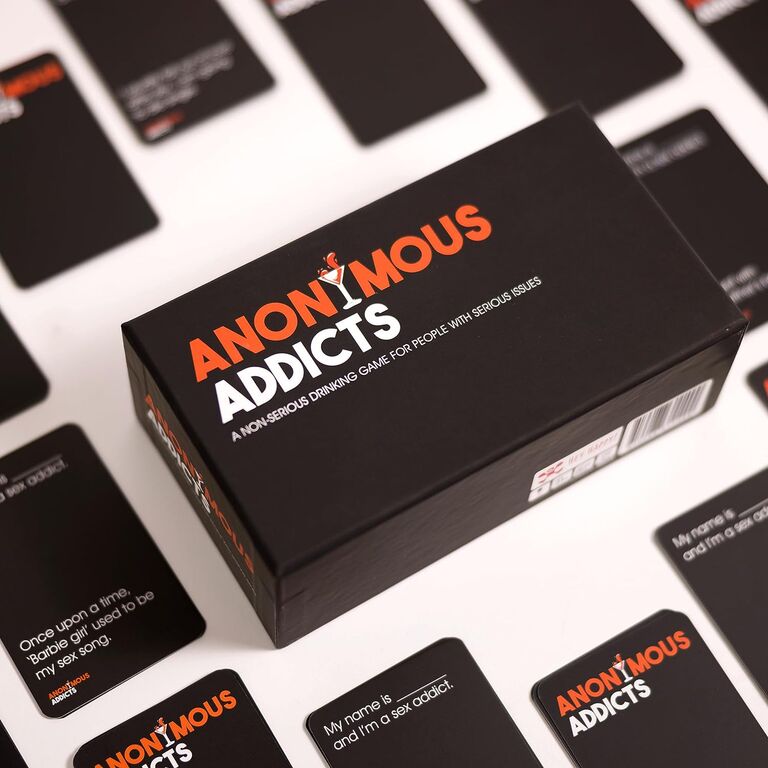 This funny bachelor party game will leave you feeling closer to your friends as the goal is to correctly guess what each player is addicted to according to what they read on the cards. If you answer incorrectly, you have to take a drink so make sure to really think about your answer first.
30. Waterproof "Loaded Kings" Bachelor Party Drinking Card Game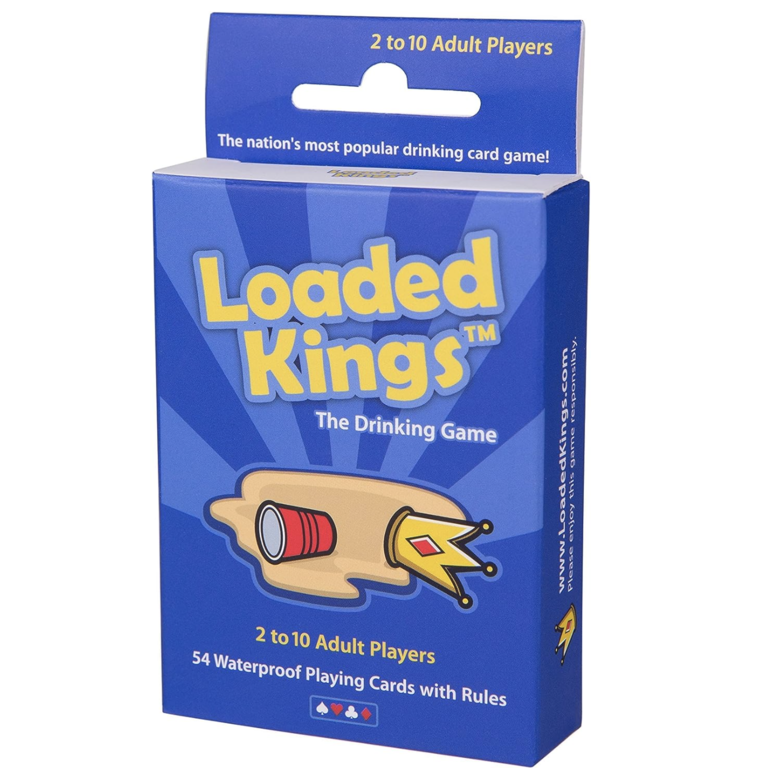 When it comes to bachelor party drinking card games, "Loaded Kings" is one of the most popular. The game cards are easy to read, so you can spend less time reading instructions and more time playing. And, the cards are waterproof, so you don't have to worry about accidentally spilling water on them or dropping them into a pool if playing outside.
Where to Buy Bachelor Party Games
Although there are many places where you can buy the best bachelor party games, here are some of our favorite retailers. Many of these retailers make it easy to customize your game and shipping preferences.