Dreaming Up Adventurous Bachelor Party Ideas? Here Are Our Favorites
Prepare for an adrenaline rush from these extreme bachelor party ideas.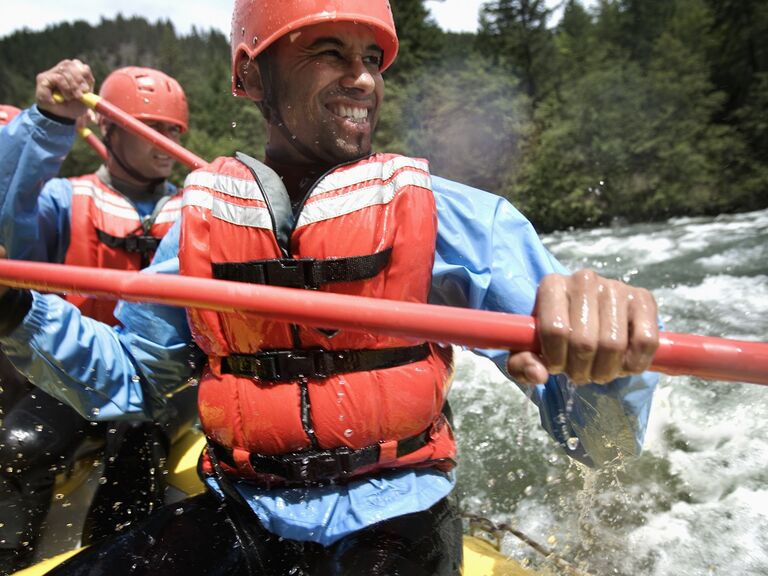 Photo: David Madison / Getty Images
Choosing the right excursion from a list of adventurous bachelor party ideas can be tricky, as you want to balance the fun factor with the group's fitness level and time off. On top of that, planning the bachelor party involves finding accommodations, good food and likely stocking up on drinks while making sure everyone has a good time. To help make this process easier, we made a step-by-step guide on planning a bachelor party and rounded up some extreme and outdoorsy ideas for your prewedding throwdown to make sure there is something for every adrenaline junkie.
Let the adventure begin:
Where to Have an Adventurous Bachelor Party
There are numerous spots in the US to make your best bachelor party outdoor ideas come to life. Out West, national parks like Yosemite in northern California and the Grand Canyon in Arizona are just asking for adventurers to come and play. In the central US, there are snowy places like the Rocky Mountains in Colorado to ski and snowboard and vast plains in Texas to ride horses and hunt. Spots like these, where businesses and the natural landscape are set up for excursions, make it easy to have an adventurous bachelor party.
However, you don't necessarily have to go to a distant place or even be outside to find a thrill. Hopefully, one of our high-adventure bachelor party ideas will be just what you're hoping for.
Adventurous Bachelor Party Ideas
The best adventurous bachelor parties mix something out of the ordinary with a little bit of adrenaline for a thrilling and unique excursion. These prewedding events are the perfect time to get out of your comfort zone before the big day. Not to worry, though, all of these extreme bachelor party ideas should bring the groom home back in one piece.
1. Shred the Slopes in Jackson Hole, Wyoming
While many great ski destinations are known solely for their impressive mountains, Jackson Hole, Wyoming is all that and more. With three award-winning ski resorts as well as a hip town brimming with nightlife and incredible restaurants, Jackson Hole is easily one of the best destinations for a getaway. For tried-and-true skiers and snowboarders, there are also expansive backcountry and cross-country ski trails.
If you're leaning towards getting away to Jackson Hole, plan ahead of time as rooms and lift tickets at the resorts fill up fast. In addition, everyone attending the bachelor party needs to be outfitted with solid ski or snowboard gear or have the budget to rent it.
2. Glow-in-the-Dark Paintball
While many people have enjoyed a great game of paintball outside, a bachelor party is a perfect time to upgrade to a pitch-black glow-in-the-dark paintball match. These arenas can be found all around the US, making this a solid one-day bachelor party idea. Not only will working together to take down the other team build camaraderie among the groomsmen, but this is a big adrenaline rush before the big day. This option is also a good choice for bridal parties with mixed abilities, as paintball can be tweaked to meet the needs of the group.
3. Camp and Climb in the Adirondacks of New York
The Adirondack Park is made up of over 9,000 square miles of land, full of lakes, mountains, rivers and forests. There are endless outdoor bachelor party ideas here, from hiking one of the park's 46 high peaks or mountain biking the well-groomed trails. However, a one-of-a-kind way to see everything the Adirondacks has to offer is to camp and then take a guided rock climbing tour.
Find your kind of venue
From barns to ballrooms, discover reception venues that feel like you.
For this extreme getaway, bachelor party attendees should be relatively in-shape for a day of climbing and willing to spend plenty of time outdoors. Book your campsite early and make sure to schedule a guided rock climbing tour ahead of time to ensure your guide can find a good rock slab.
4. Visit the Motorcycle Hall of Fame in Pickerington, Ohio
Whether the groom likes watching motocross or taking a long cruise on a Harley, the American Motorcycle Hall of Fame in Pickerington, Ohio is sure to please. The two-story museum showcases bikes from various decades while highlighting pros in the industry. There are often events taking place, like the AMA Hall of Fame Induction Ceremony or days dedicated to vintage motorcycles, so with a bit of planning, this can be an incredible bachelor party destination. Tack on a brewery tour or a Nascar race and you're all set.
5. White Water Raft in Ohiopyle, Pennsylvania
If you're looking for outdoorsy bachelor party ideas during the summer, check out the outdoor recreation mecca of Ohiopyle, Pennsylvania. While you can find nearly any activity here, the town's Youghiogheny River is an incredible ride for those willing to don lifejackets, helmets and a paddle and hop in an inflatable raft. With three levels of intensity to choose from on various parts of the river, adventurers of any level can enjoy a ride on the river with expert guides.
This destination is about an hour away from Pittsburgh and three hours from Washington, DC, making travel to it a little trickier than some spots. For those willing to make it work, a weekend of water, warmth and sun awaits.
6. Learn to Drive Cattle in Montana
For a group hoping to dream up the best bachelor party ideas for outdoorsmen, consider taking a few days to experience the wild, wild west. In Montana, there are ranches, such as TX Ranch, that will bring you along on a cattle drive. Provided with your own quarter horse and home-cooked meals for the week, this unforgettable experience is not for the faint of heart. For this excursion, guests will need plenty of warm clothes that can get dirty and an assortment of camping gear.
7. Charter a Boat in Southern California
If you're hoping for a high-adventure bachelor party but want to stay away from the dirt, consider renting a boat or yacht in California. A captain will take you for an ocean cruise, and depending on what amenities you would like, you can have dinner, drinks or go tubing, jet skiing or water skiing. The latter will obviously give a bit of adrenaline rushing through your veins.
Anyone attending a water-based bachelor party should be a strong swimmer and ready for long days in the sun. With a large number of boats available for rent in southern California, a bachelor party here can be pulled off last minute if necessary, although planning ahead is always preferred.
8. Experience Zero-Gravity in Florida
With the large but incredible responsibility of marriage on the horizon, experiencing the weightlessness that comes with zero gravity is one of the best extreme bachelor party ideas. In Exploration Park, Florida, the company Zero-G, founded by a NASA engineer and a former astronaut, can fly your party into the sky in a modified Boeing 727-200 where you will feel what it is like to live in a world without gravity. This experience costs quite a bit but promises to be an unforgettable experience.
9. Take a Jeep Off-Roading in Moab, Utah
For anyone obsessed with 4x4 cars or seeing the path less traveled, renting a Jeep or other off roading vehicle made to conquer dirt and rocks is the experience of a lifetime. In Moab, Utah, the bachelor party group can explore canyons, rivers, deserts and more all from the comfort of a well-equipped car or truck with companies like Canyonlands Jeep Adventures. This is one of our favorite adventurous bachelor party ideas as it mixes the outdoors and cars with modern comforts.
10. Tour a Glacier by Helicopter in Alaska
There are few ways for the everyday person to explore the vast wilderness of Alaska, but for those willing to make the trek, it offers unbeatable views and experiences. Many companies now provide helicopter tours of the state's beautiful glaciers, with some offering add-on dog sled rides. With opportunities to see incredible Alaskan wildlife while being in a warm bed every night at a hotel or resort, this is one of the most unique outdoor bachelor party ideas around.
11. Axe Throwing at a Brewery
In recent years, axe and hatchet-throwing venues have popped up all around the nation, making this bachelor party option easily accessible for almost everyone. For a truly great experience, find a brewery or distillery that has a throwing range inside so that you can enjoy brews while throwing sharp objects at walls. If you're hoping for a bit more fun, many places allow you to customize the targets ahead of time to go with your party theme.
12. Monster Truck Jam at a Stadium Near You
Monster Jams take place all across the United States, giving Americans a chance to see some of the country's largest vehicles that have tires taller than you. From San Diego to Austin, and Jacksonville to Allentown, most bachelor party hosts will be able to find an event near them. Pair this excursion up one of Monster Jam's installments at a Cedar Fair amusement park and you have all the makings of an unforgettable bachelor party weekend.