Liven Up Your Celebration With Bachelorette Jenga
You and your bachelorette besties will topple with laughter.
Photos: Bachette
We have included third party products to help you navigate and enjoy life's biggest moments. Purchases made through links on this page may earn us a commission.
Bachelorette Jenga is a fun and hilarious way to bond with your best friends. Pull tiles from a tower and restack them until the structure falls, while following prompts written on each piece. This bachelorette party game can include drinking challenges, or simply provide a unique way for your group to get to know each other better. Purchase a set online or create your own for a creative bachelorette party craft. Whichever you choose, check out these bachelorette Jenga ideas for your next celebration.
In this story:
Premade Bachelorette Jenga
Retailers including Etsy, Amazon and Walmart are great places to find Jenga sets for your bachelorette night. Here are just a few of our favorites that will liven up your party.
Creative Phrases Bachelorette Jenga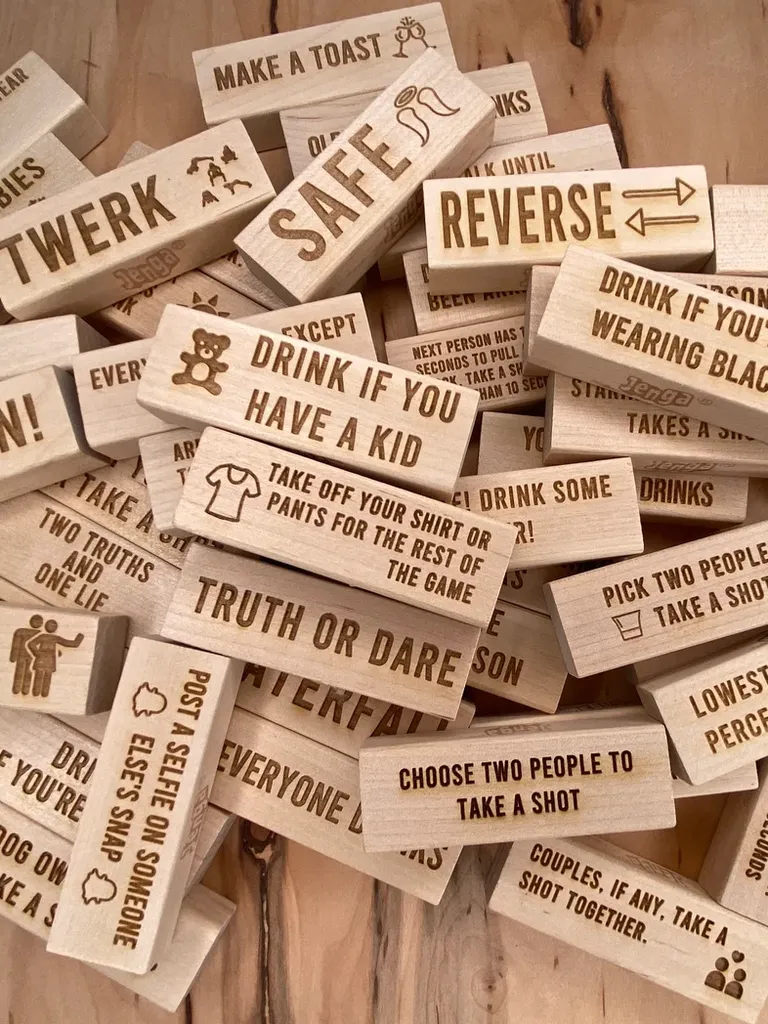 Play this Jenga bachelorette game with creative commands, including "drink if you have a kid" and "lowest battery percentage drinks." Guests will cross their fingers for the tiles that mark them safe for one round, or make someone else in the group take a drink.
Tipsy Tower Bachelorette Drinking Jenga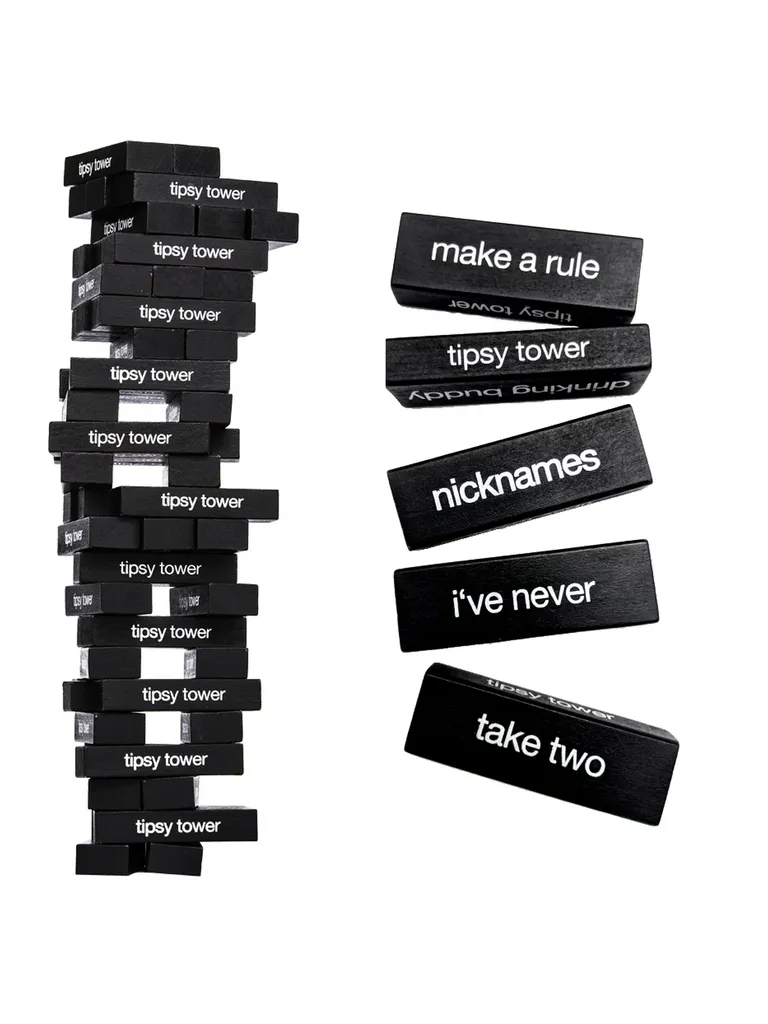 These sleek black blocks include different prompts that are sure to get your group a little tipsy. The set includes a plastic sleeve that makes setup quick and easy.
Bachelorette Party Tower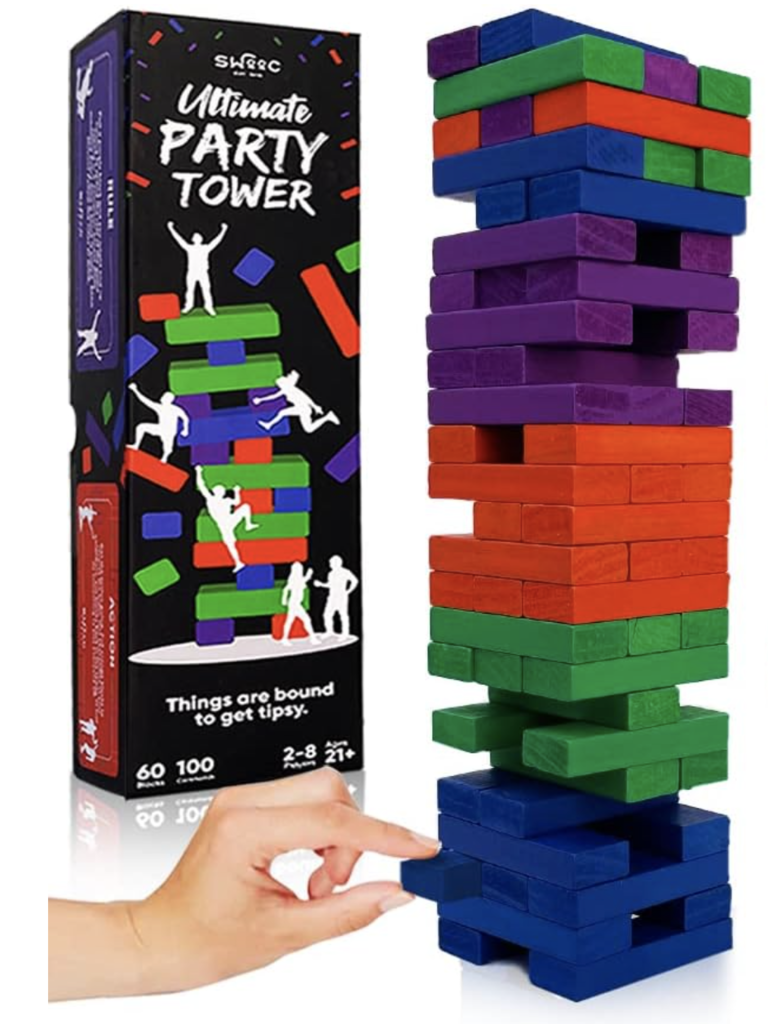 This fun twist on Jenga includes different colored blocks in orange, purple and blue. Each color corresponds to a different stack of cards that prompt players to follow a rule, complete a challenge or perform an action.
Hot Pink Girls Night Jenga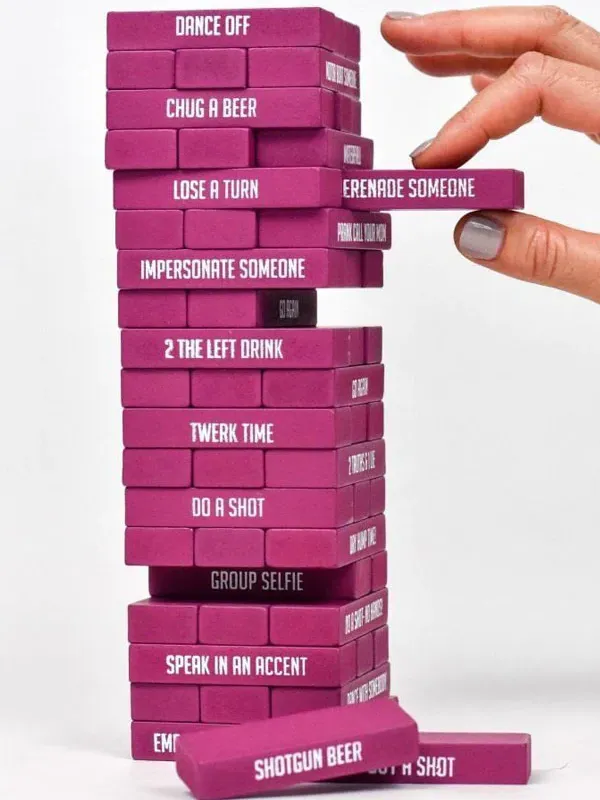 Challenge your bachelorette guests to a round of Jenga with these cute hot pink tiles. Each tile includes a challenge that will have your guests dancing on the table, showing off a secret talent or speaking in an accent.
Glow-in-the-Dark Bachelorette Jenga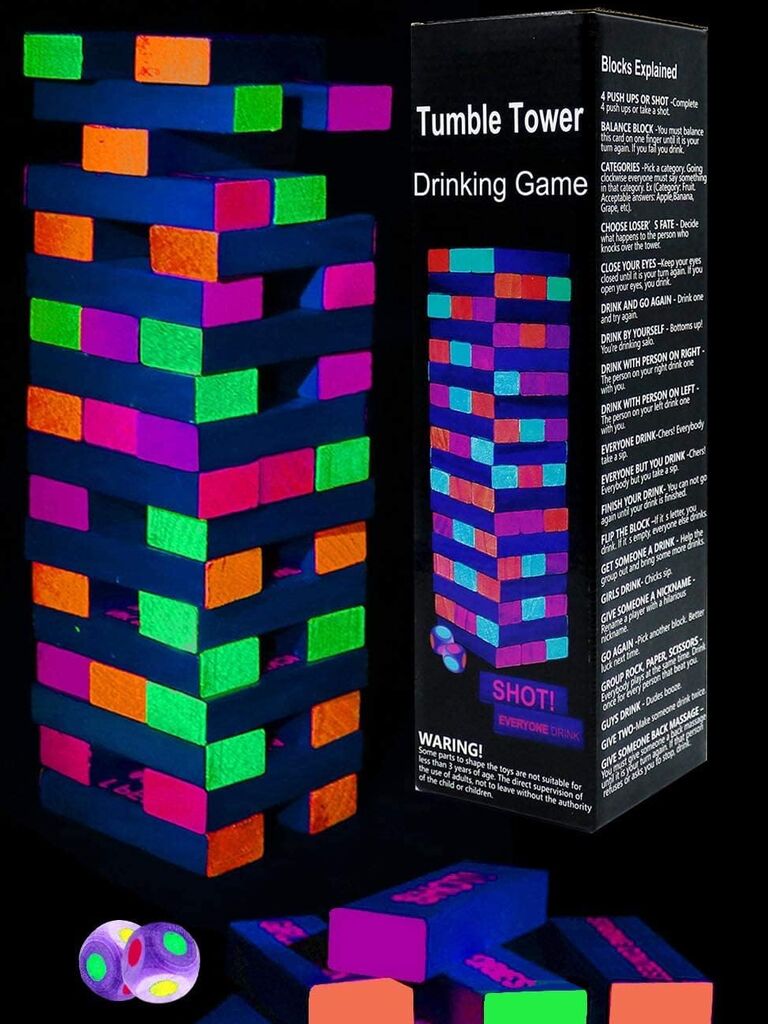 This fun Jenga set glows in the dark. Play at dusk, in the evening or in a room with a black light to get the full effect of this bachelorette Jenga drinking game.
Giant Bachelorette Jenga Set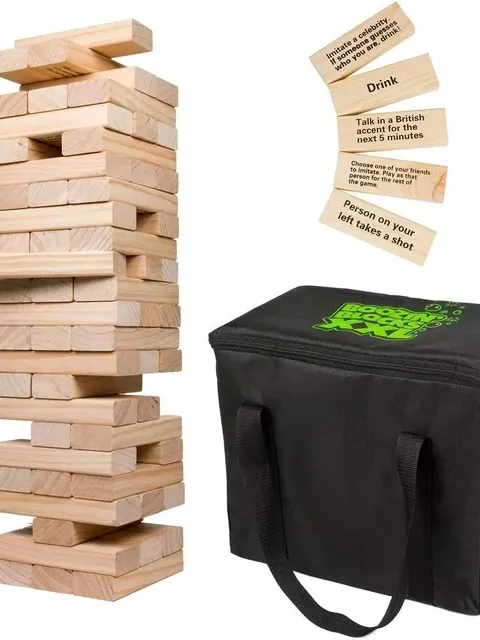 Set up a giant Jenga set during your bachelorette party. This is a great option for an outdoor party with lots of room. The set also includes a carrying case to keep all the pieces together when you're not playing.
Jenga Game With Customizable Blocks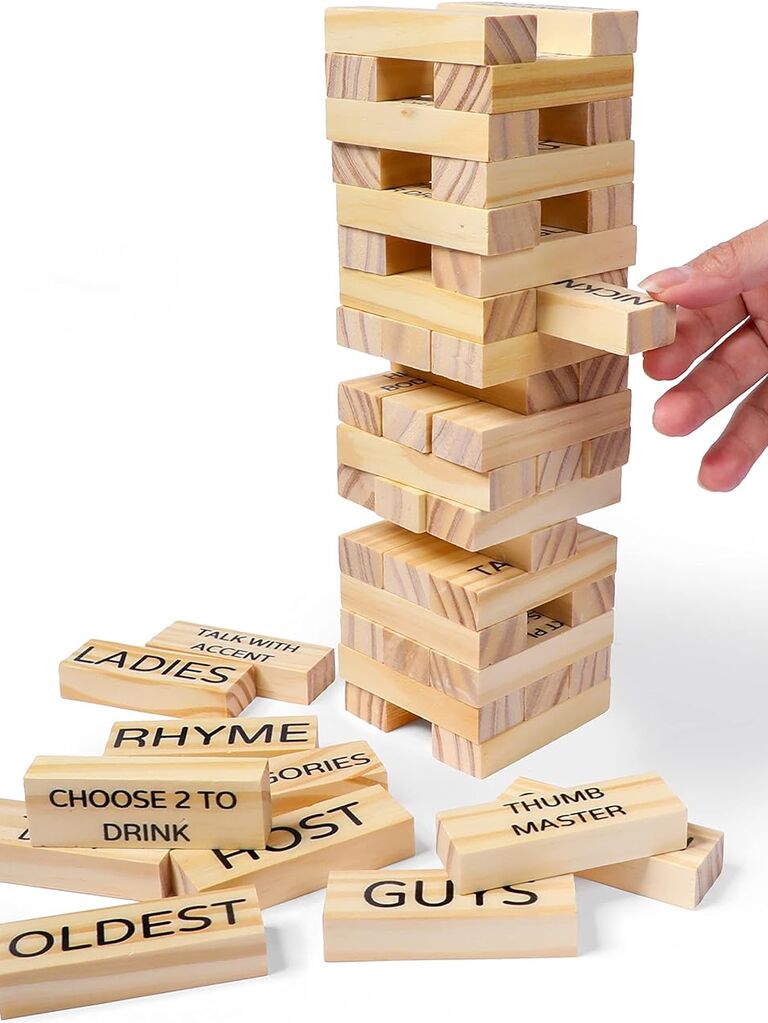 This fun drinking game includes wood pine blocks with different prompts to follow as you play. The set includes six customizable blank blocks so you can add your own challenges.
Family Friendly Bachelorette Jenga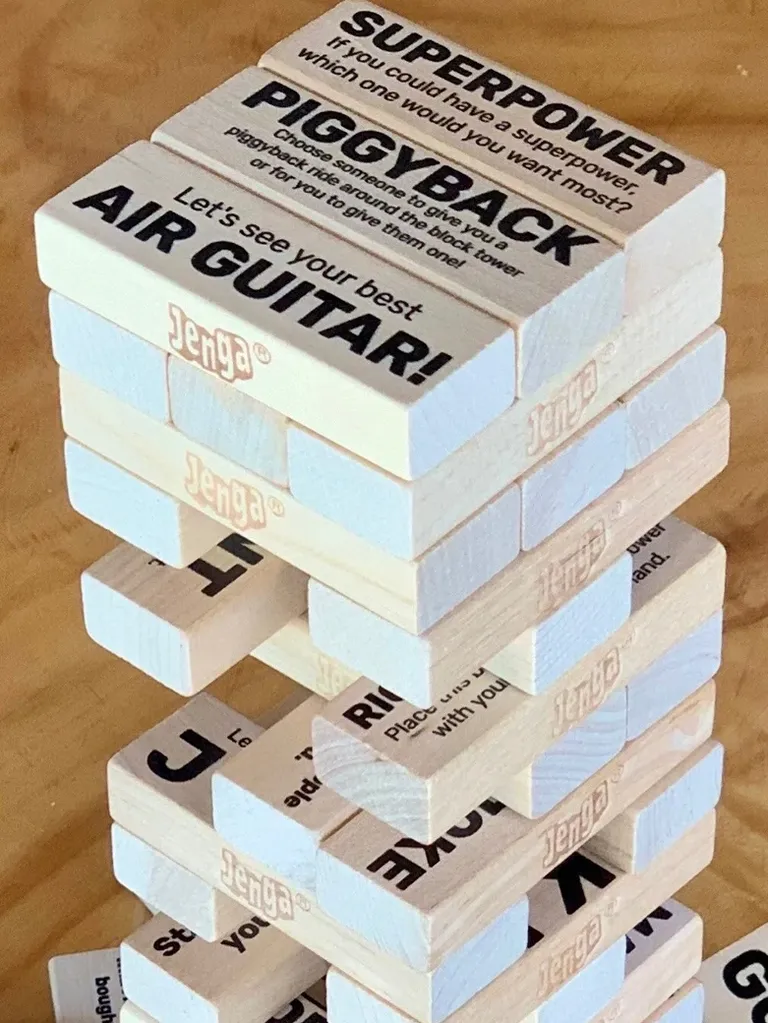 For the crowd that doesn't want a drinking game, but still wants to share a good laugh, check out this family-friendly Jenga game. Prompts include showing off your best air guitar and giving someone in the group a compliment.
Jenga Drinking Game With Shot Glasses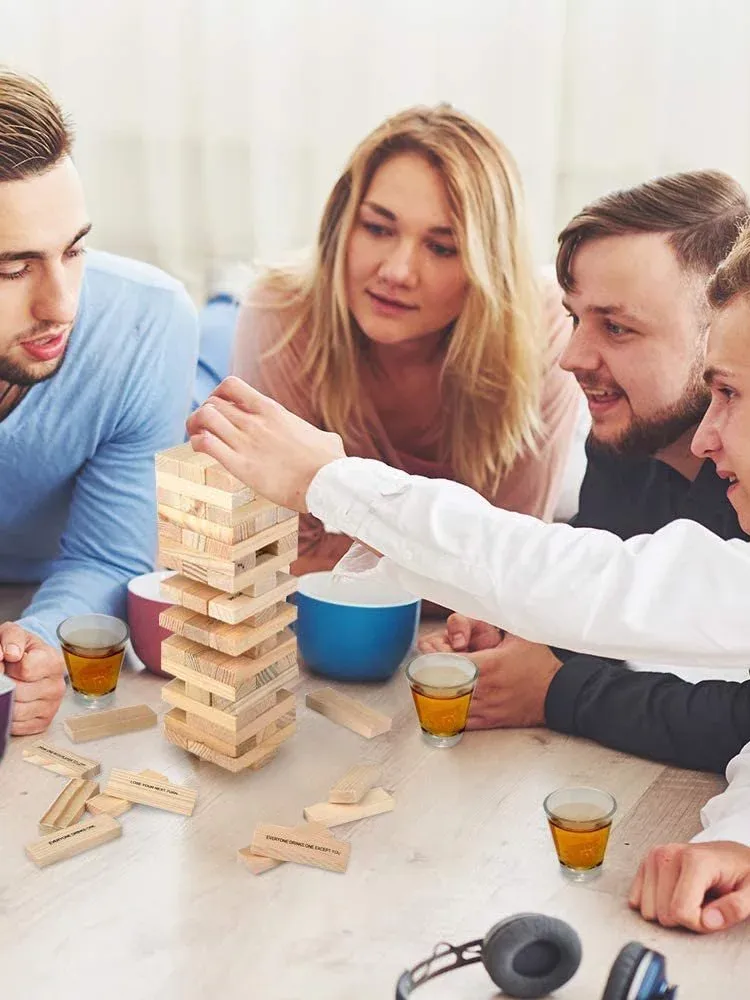 Bring the game and the shot glasses too. This set includes a complete Jenga set with challenges and four shot glasses ready for your favorite spirits.
Do-or-Drink Jenga Tower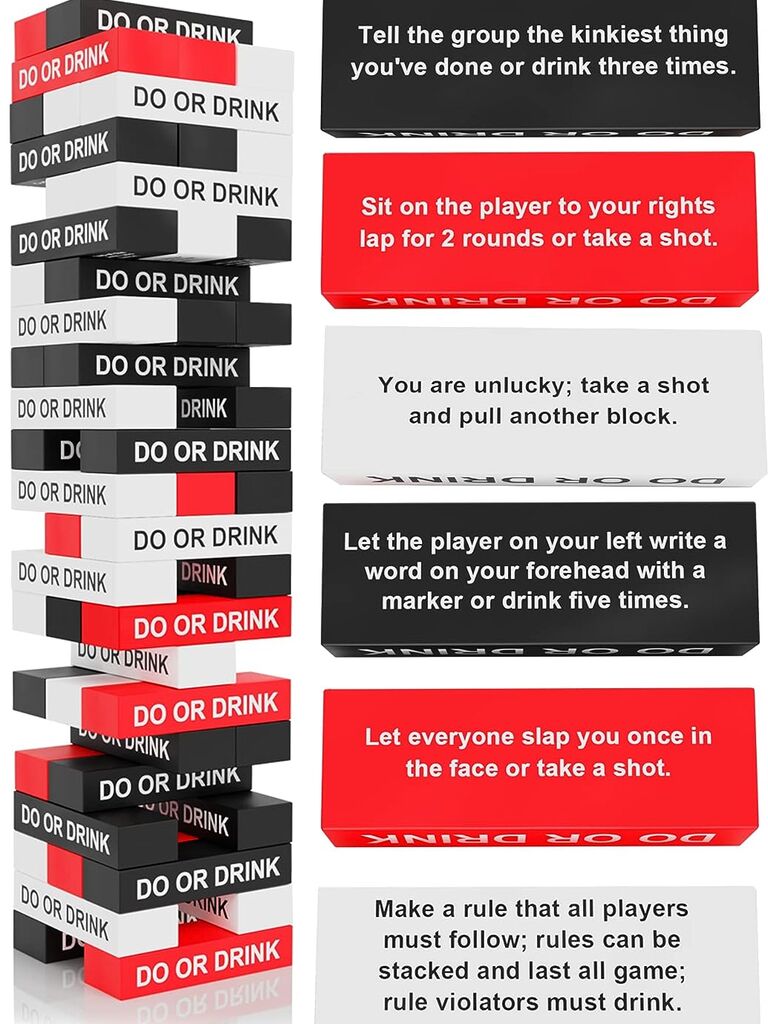 Will you accept the challenge or take a drink? This Jenga bachelorette game asks players to do things like play the next round with only their pinky finger and let another player give them a unibrow. Or choose to take a drink instead.
Ice Breaker Jenga Game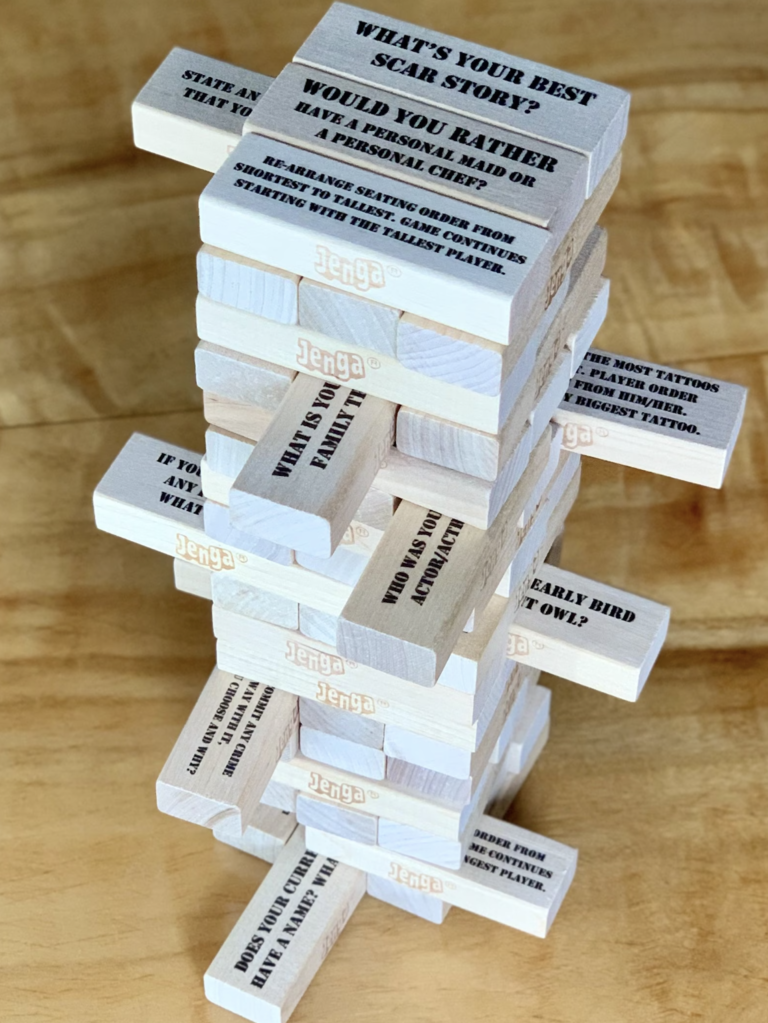 Give guests a chance to get to know each other with an ice-breaker bachelorette Jenga game. Questions include, "what is your pet peeve," and "are you an early bird or a night owl?"
Mint Green Jenga Bachelorette Game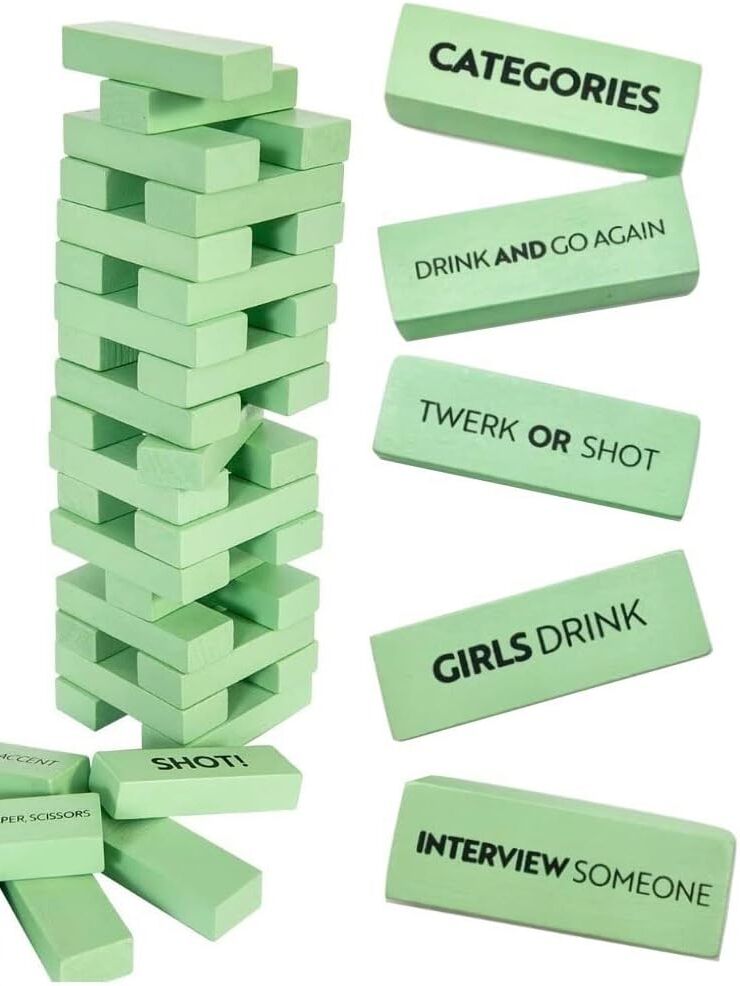 Get ready to drink with this buzzed blocks game. Challenges include twerking or taking a shot, and staying quiet until your drink is finished. We also love the mint green blocks that would match a mermaid or beach bachelorette theme.
Power Hour Bachelorette Jenga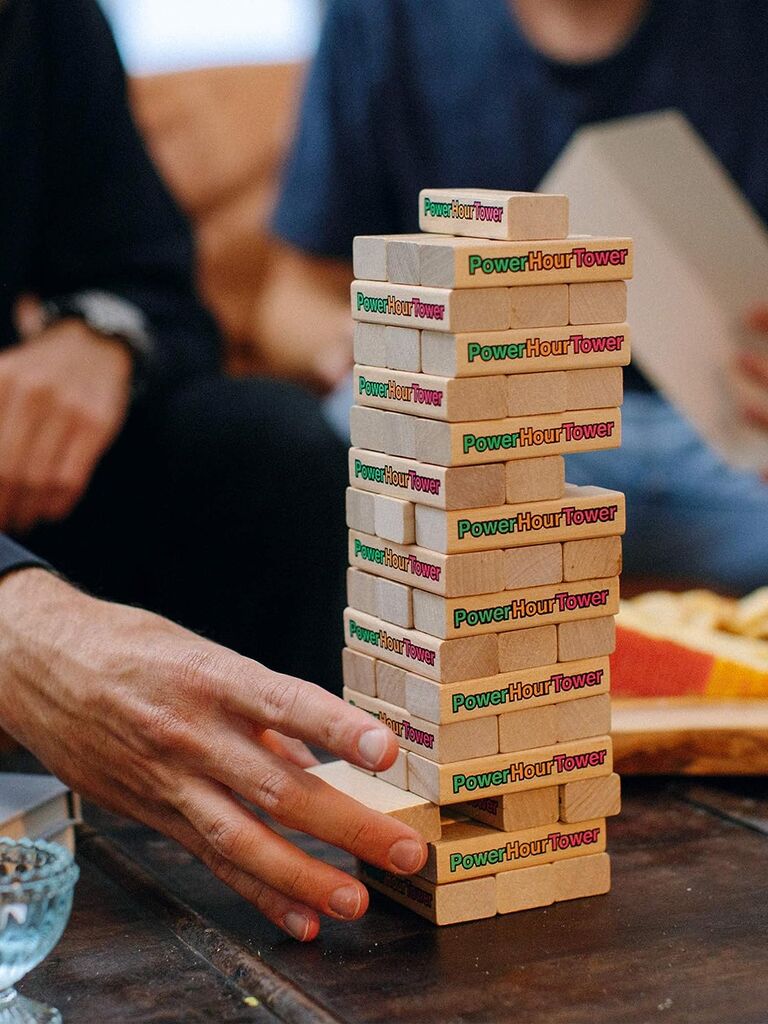 Impersonate someone, act like a T-Rex and show off your dance skills with this tower party game. Play this game with or without a drink in hand.
Fun Party Drinking Jenga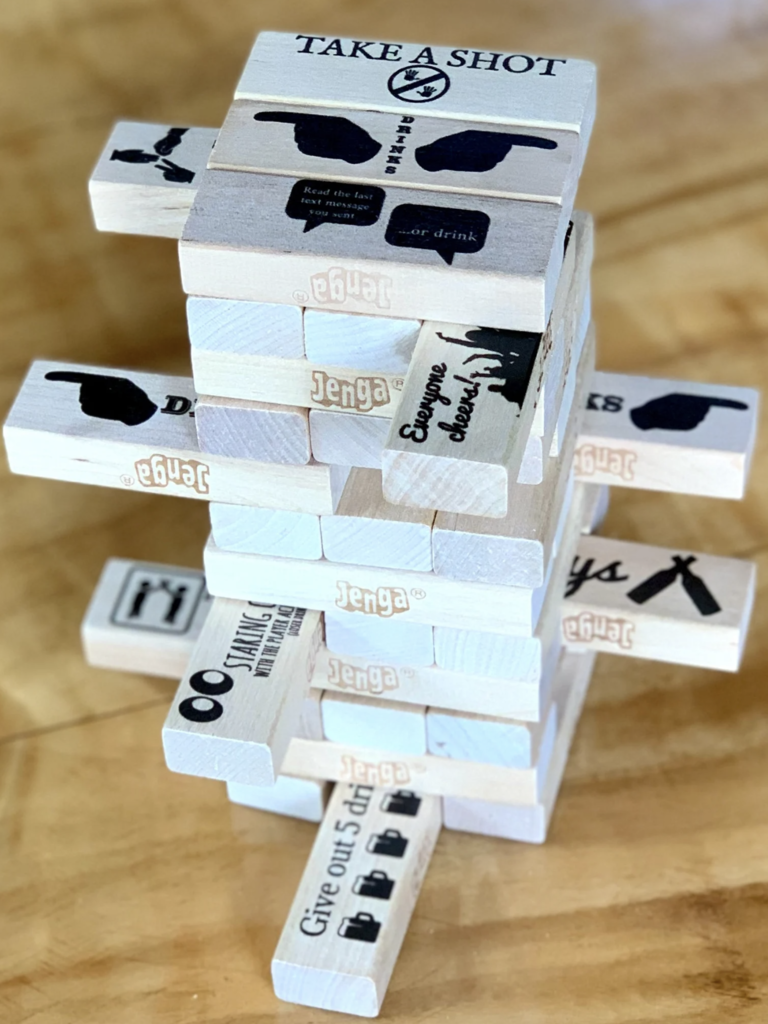 Drink with your besties with prompts that include "next birthday drinks" and "fullest drink chugs." The set includes a canvas bag for easy transport and storage.
Drunken Tower Jenga With Shot Glasses
Drink with the person sitting to your left, drink as a group and more with this drunken tower game. The bachelorette Jenga drinking game also includes four shot glasses.
What You Need to DIY Bachelorette Jenga
Creating your own custom Jenga sets lets you tailor a game for you and your best friends. Paint your tiles in a variety of colors, add quirky phrases and have fun coming up with a design everyone will love. Here are the materials you'll need for your bachelorette Jenga DIY.
Standard Jenga Tiles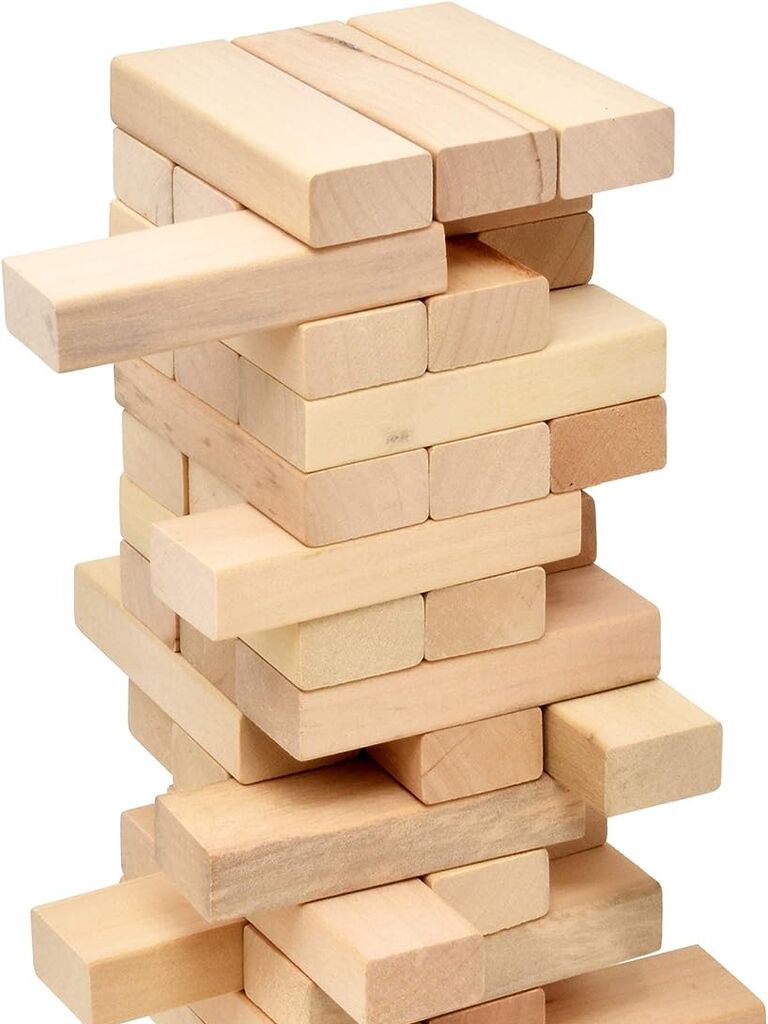 You can't play Jenga without first starting with a set of tiles. Purchase blank tiles that allow you to add your own creative touches, including paint and prompts.
Giant Jenga Tiles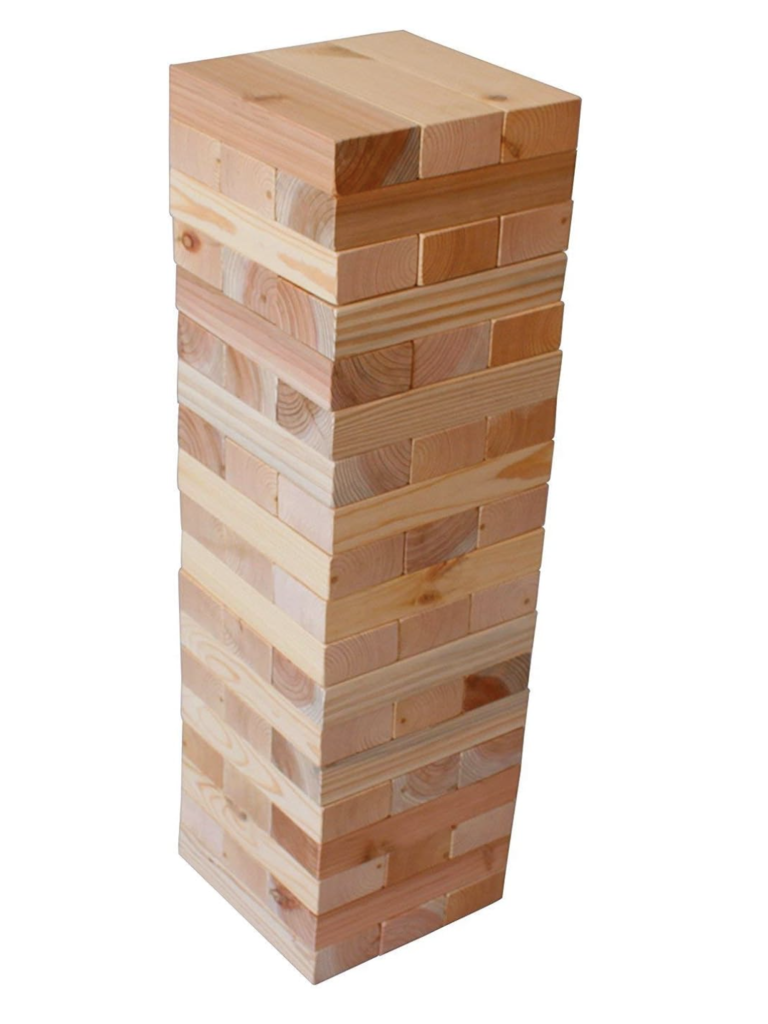 If you have lots of space or are hosting an at-home bachelorette party, consider playing a giant version of Jenga with your pals. Buy your giant Jenga tiles online, or go full DIY by making your own tiles out of 2x4 or 2x3 boards.
Paint in Fun Colors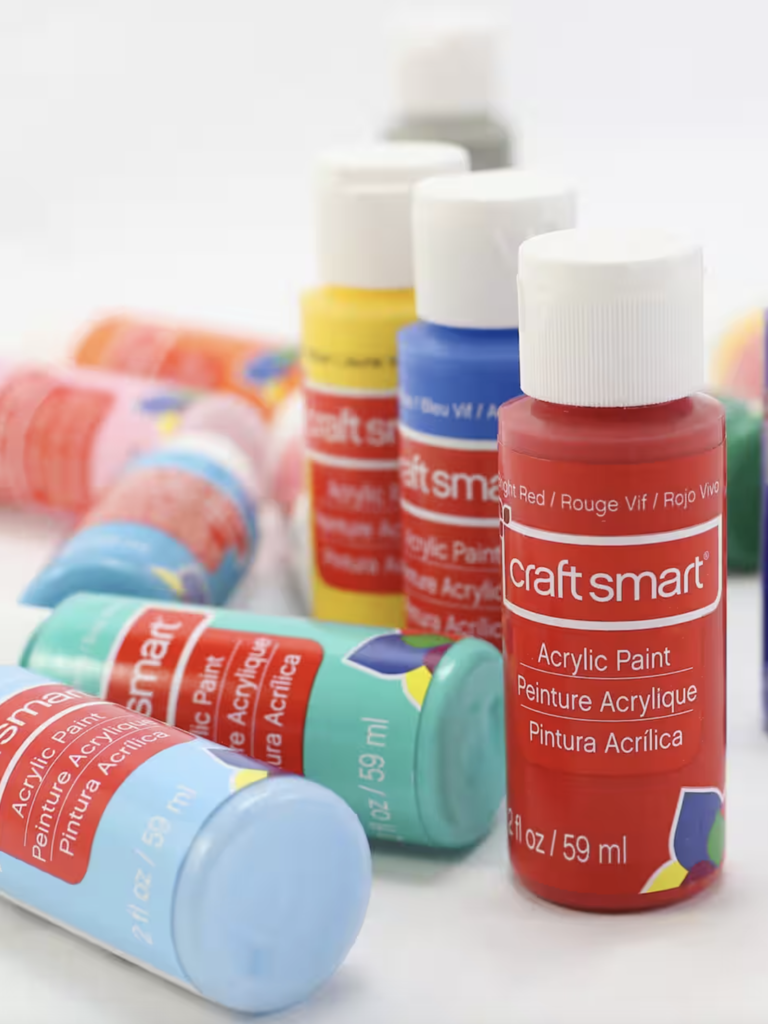 Paint your Jenga tiles in a color scheme that matches your bachelorette party theme. You may need to add two coats of paint to achieve your desired look.
Wood Stain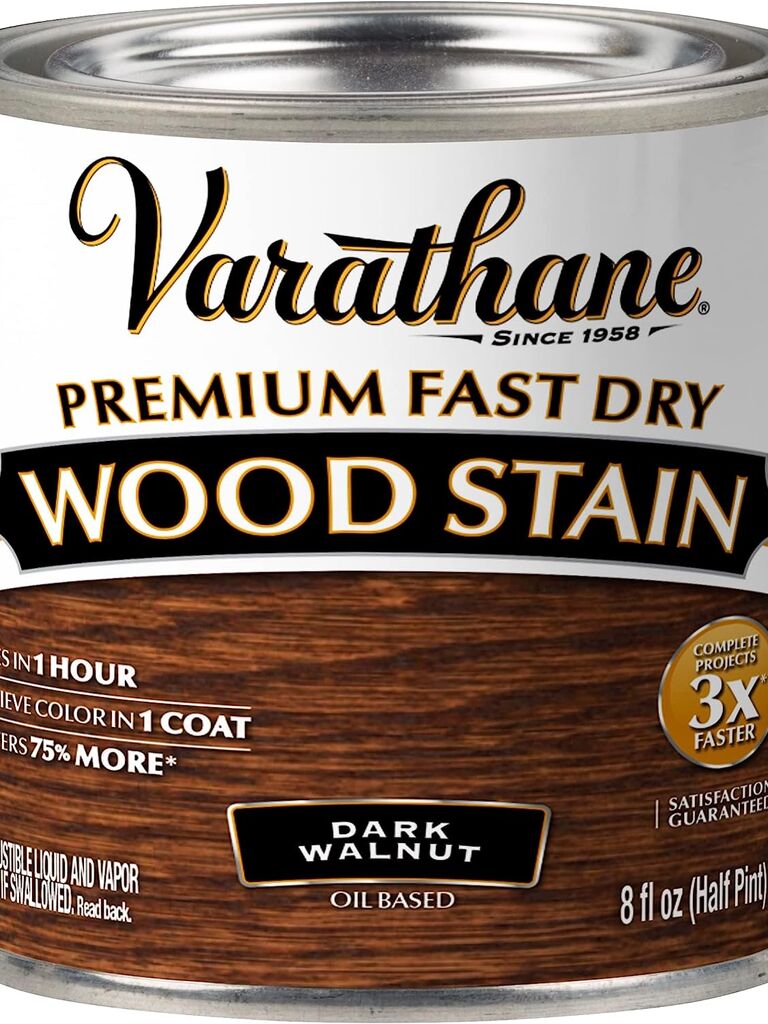 If you'd rather opt for a simple design, paint tiles with wood stain for a chic finish. To differentiate the layers of tiles, use at least two different shades of stain.
Colorful Markers or Pens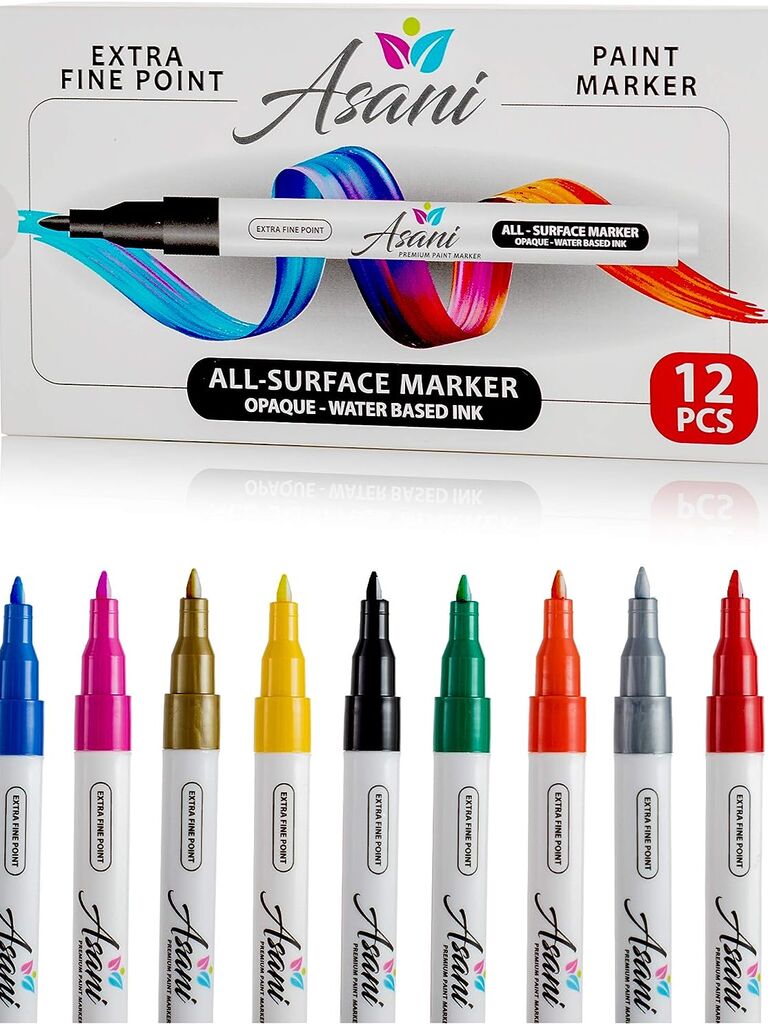 Once your paint or stain has dried it's time to start adding your prompts and phrases to your blocks. Look for good quality markers or pens that write well on wood crafts.
Case for Carrying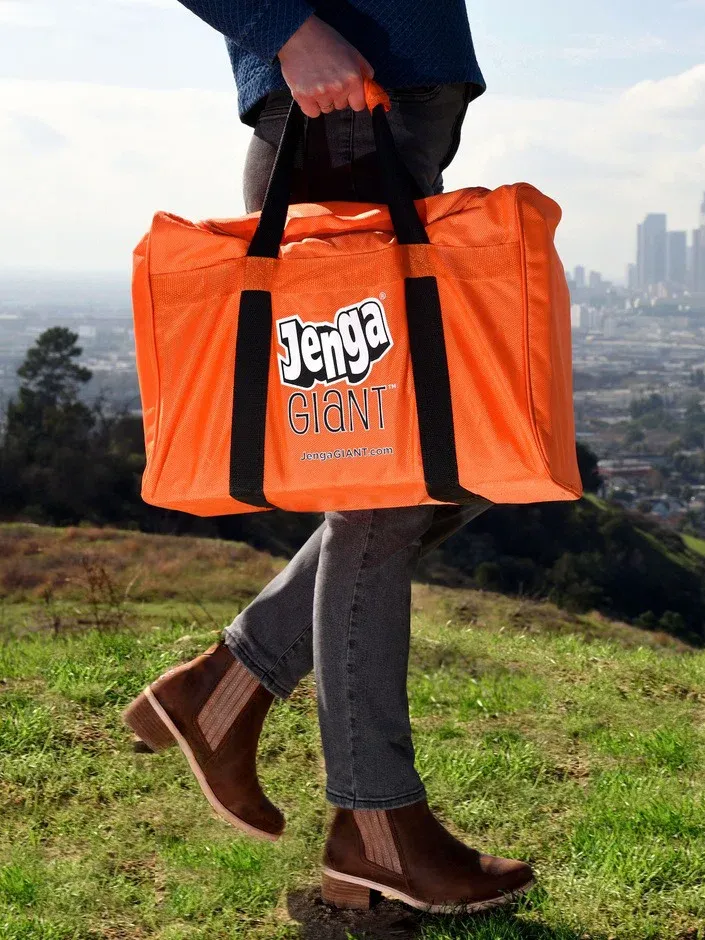 Now that your set is complete, you'll need a carrying case to tote it to the party. Find a bag, pouch or case large enough for your bachelorette Jenga DIY project.
What to Write on Bachelorette Jenga Tiles
Stumped on what to write on your Jenga tiles? With a total of 54 tiles, it can feel overwhelming. Feel free to repeat phrases more than once to make the process easier. For example, include more than one "waterfall" tile, during which everyone has to chug their drink and can't stop until the person on their right is done. Here are a few ideas to include in your set.
Group selfie
Two truths and a lie
10 push ups
Finish your drink
Waterfall
Take a shot
Make a rule
Bride drinks
Crab walk
Skip the next player
Host drinks
Sing the alphabet backwards
Everyone drinks
Confess your last lie
What advice would you give your younger self?
Thumb wrestle the person on your right
Player with the lowest phone battery drinks
Who is your crush: Answer or drink
Chug for five seconds
Reverse order
Nose goes (last person to touch their nose drinks)
Everyone under 30 drinks
What is your favorite coffee order?
Skip next turn
Person with the next birthday drinks
Text your ex or drink
What is your biggest pet peeve?
Immunity from drinking for two rounds
Remove one article of clothing
No laughing until your next turn
Bride says (do what the bride says until your next turn)
Bust a move
Compliment the person to your right
Talk in a British accent for the rest of the game
15 jumping jacks