Get the Party Started With These Printable Bachelorette Party Games
Warning: You may never look at your friends the same way again.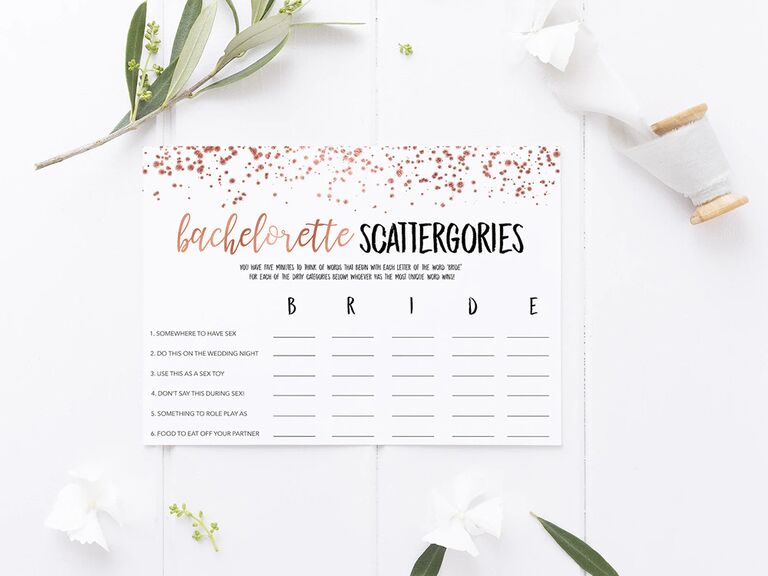 We have included third party products to help you navigate and enjoy life's biggest moments. Purchases made through links on this page may earn us a commission.
When your bestie announces their engagement, one of the first things on your mind is the big bash that's in everyone's future. If planning the best bachelorette party in history is on your agenda, then we implore you to look into printable bachelorette party games. Not only are they silly easy (no running around the day before the party trying to find random game supplies!) but they're also a great way to break the ice and get the party started.
We know as a party planner extraordinaire you probably have a lot on your plate, so we've gone ahead and scoured the web for the best digital downloads to bring some great bachelorette party ideas to your bash. From game night favorites like Scattergories, Bingo and Mad Libs to playful picks you may have never heard of before, all these games will bring a sassy, party-ready spirit to your celebratory weekend. Don't worry—we promise to keep it classy.
Hera Printables Would She Rather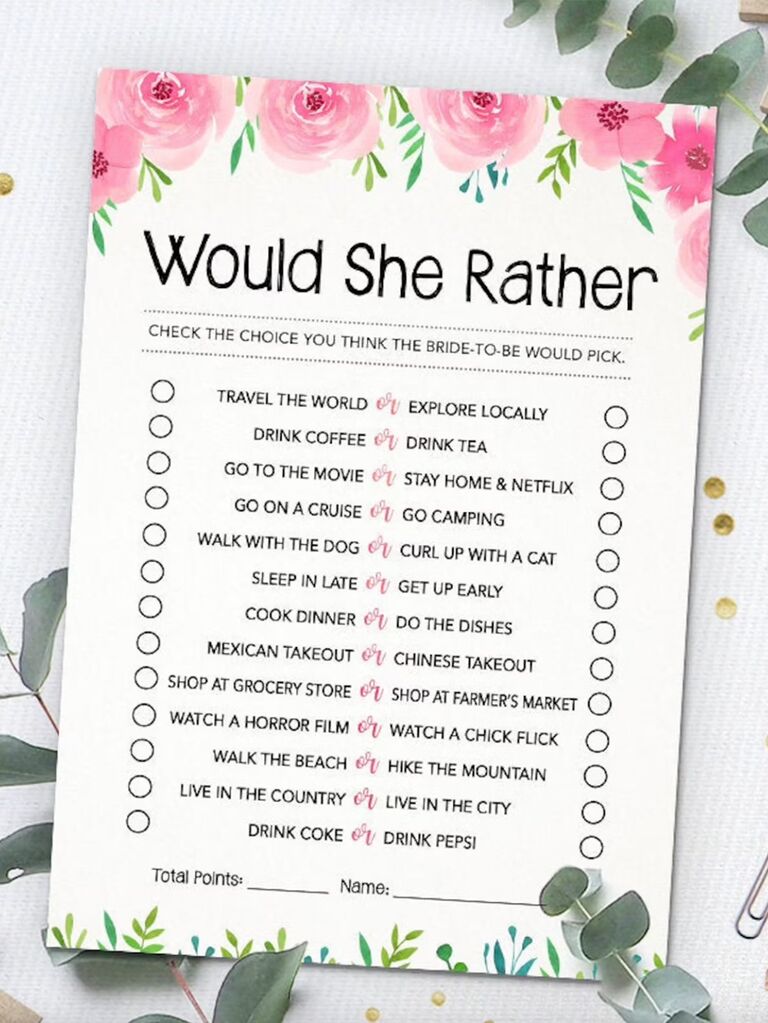 Coke or Pepsi? Dog or Cat? How well do you know the bride-to-be? Here's your chance to find out with this printable game that makes a great bachelorette party ice breaker.
The Swag Elephant Bachelorette Scavenger Hunt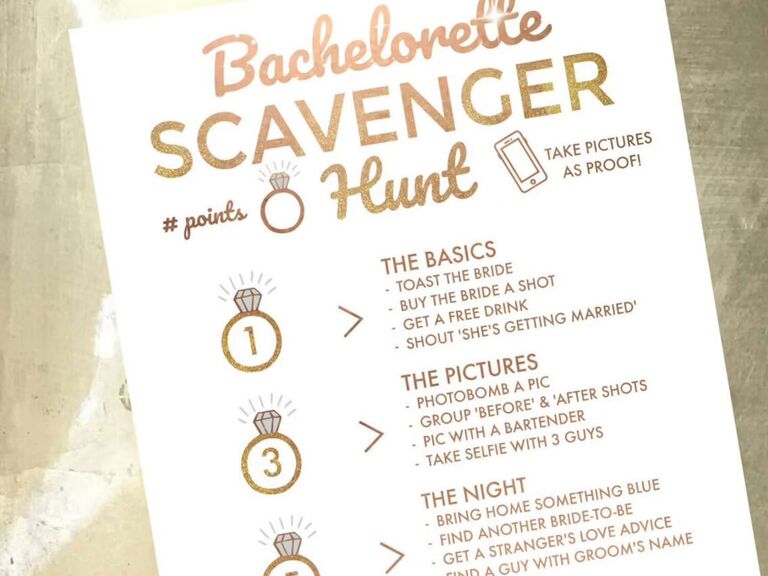 This bachelorette scavenger hunt is unlike any other scavenger hunt you've seen. After all, when you're "hunting" for activities like pinching someone's butt, singing karaoke or dancing on a table, you know things are bound to get interesting.
Print Me Babyx Bachelorette Charades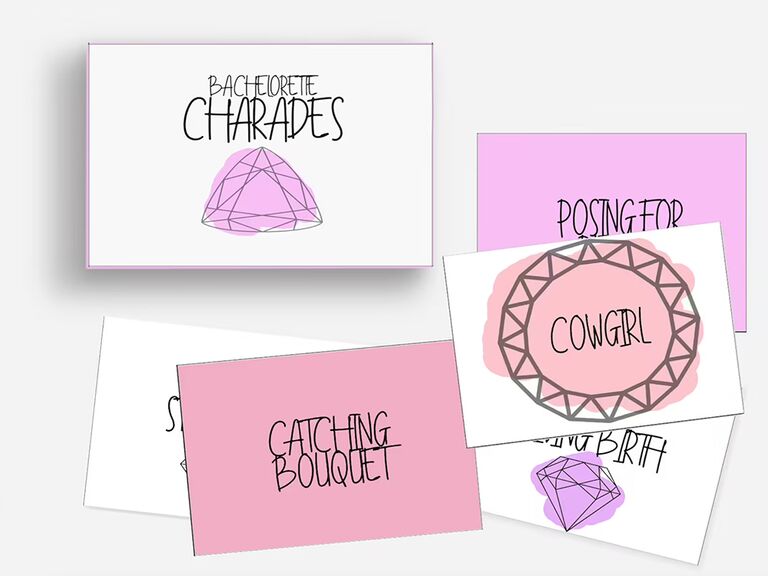 Ah, charades, a time-honored tradition at any gathering — only this time, you'll be acting out and guessing words and phrases that are, shall we say, not-so-PG? This instant download includes two digital files, one for the box and one with 27 game cards.
Creative Union Design Drink If Game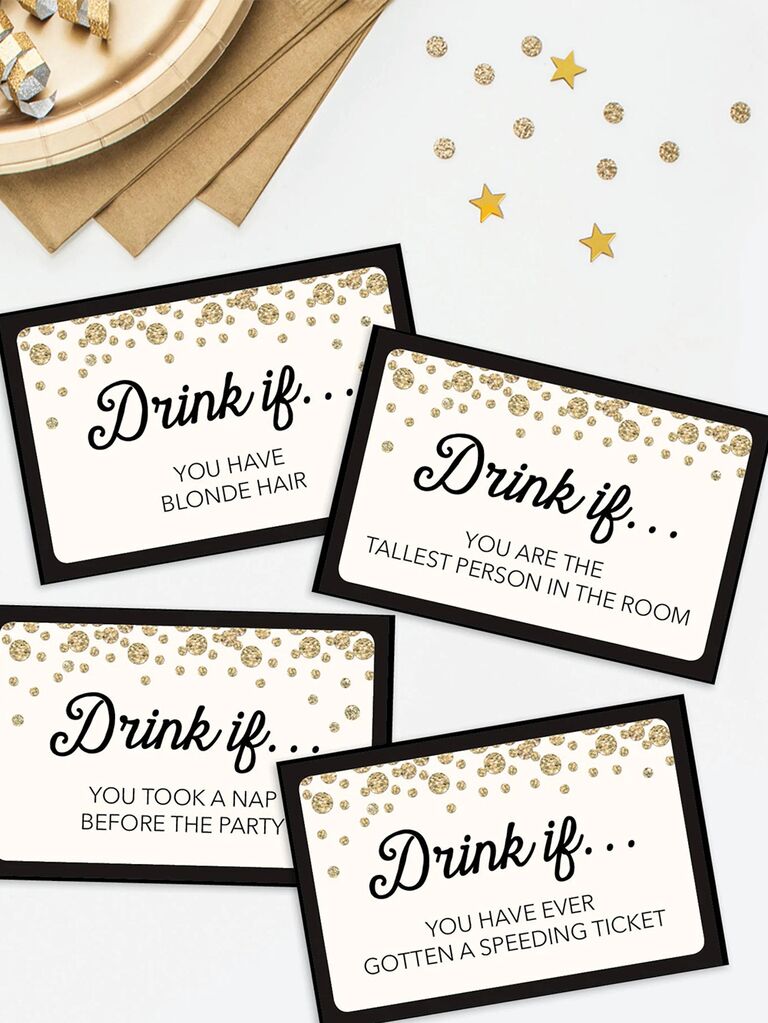 If drinking games are what you're after, you'll love this fun printable, which will find you taking a drink if you have more than three piercings, have gotten a speeding ticket, or even if you're ready to have a good time. Sounds to us like a great way to get the party started.
Belle Hanah Paperie Dirty Minds Game Card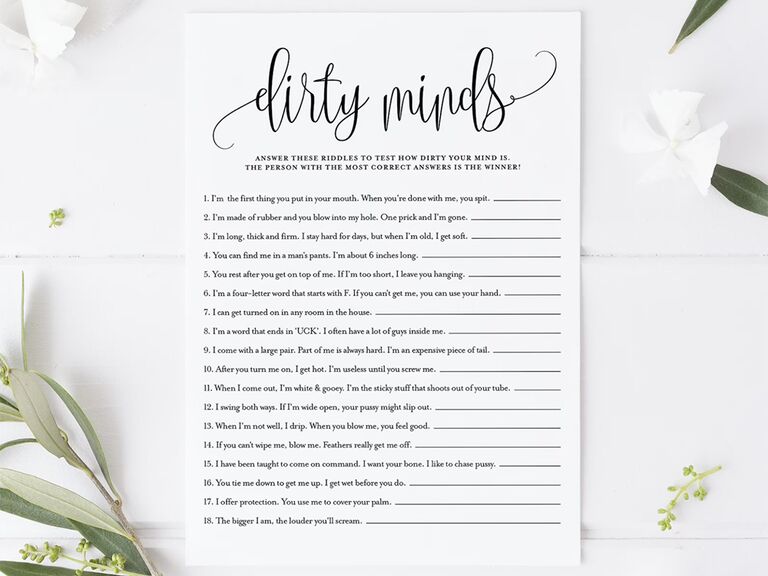 This bachelorette party printable is a scream. Packed with 18 dirty riddles, you'll certainly find out who has a dirty mind and who needs a little more liquid courage. Be careful, though; this one could lead to some serious side-eye.
Oh Happy Printables Bachelorette Scattergories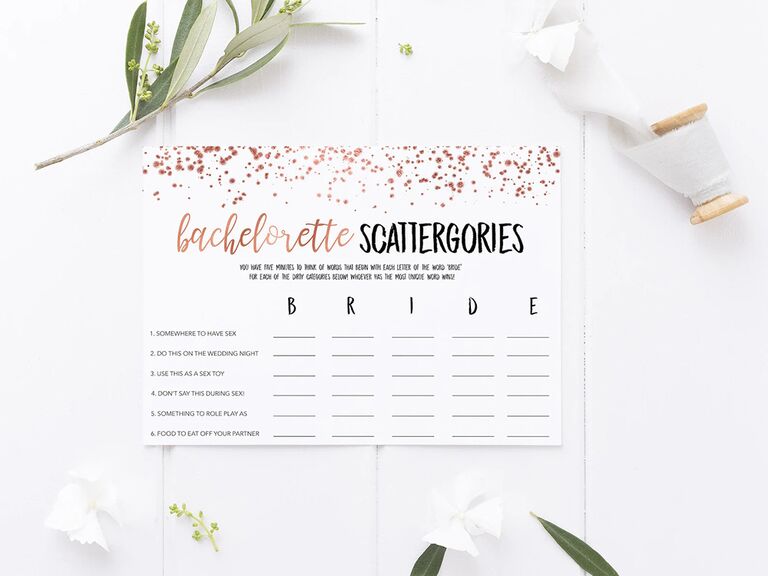 While this hen party game is just like the Scattergories you know and love, this girl's night is guaranteed to be a laugh a minute with saucier lists and key letters that are limited to B-R-I-D-E. This digital download comes to you in one zip file with two JPEGs and two PDFs.
Blue Bunny Paper Over or Under Orange Citrus Bridal Shower Game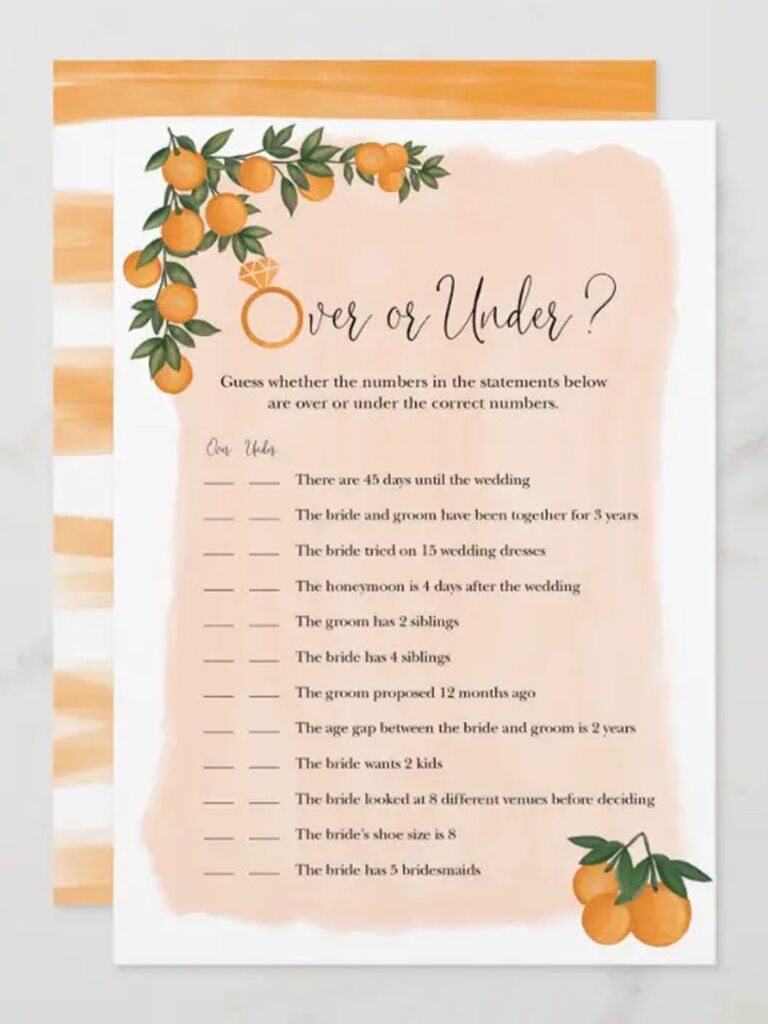 While this game is technically for a wedding shower, it would totally make a fun bachelorette party game, too. Wager your best bet with these number-focused questions, with queries like how many kids the couple wants and the number of sibilings the pair has between them.
Say I Do Printables What Did The Groom Say Game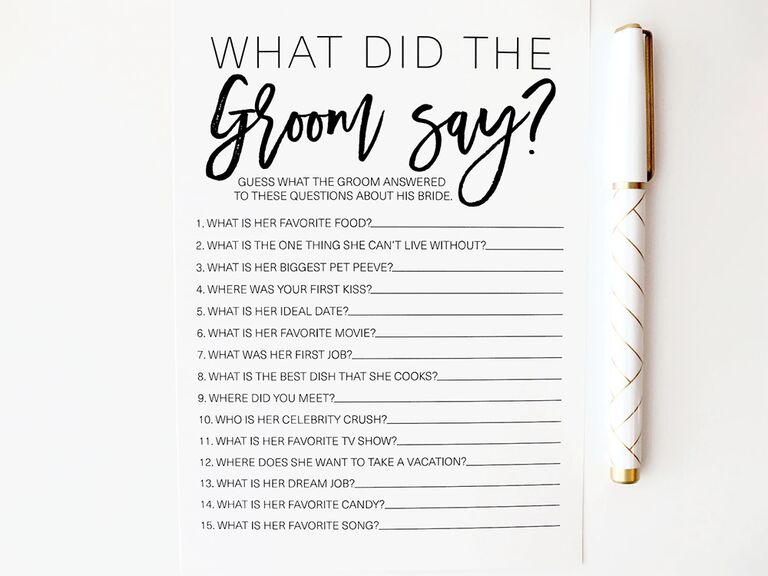 Test the lovebirds with this "What did the groom say" game to see if the future spouses really know everything there is to know about one another.
A Wild Bloom Printables Bachelorette Memory Game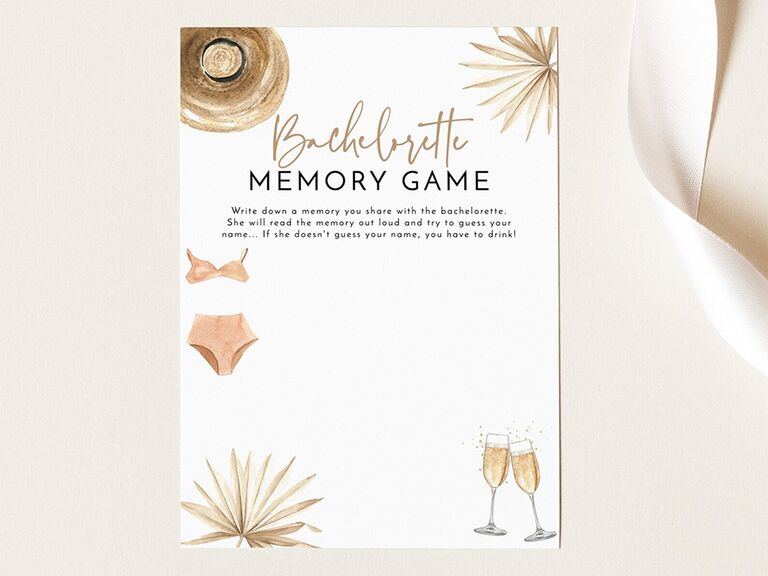 A memory game and a drinking game all rolled into one? Yes, please. This fun printable has the potential to be a roller coaster of emotions. Remember, while it's wise to prepare for plenty of laughs, be sure to keep a few tissues handy for this one; it is a stroll down memory lane, after all.
Cat And Feather Who Am I? Bachelorette Game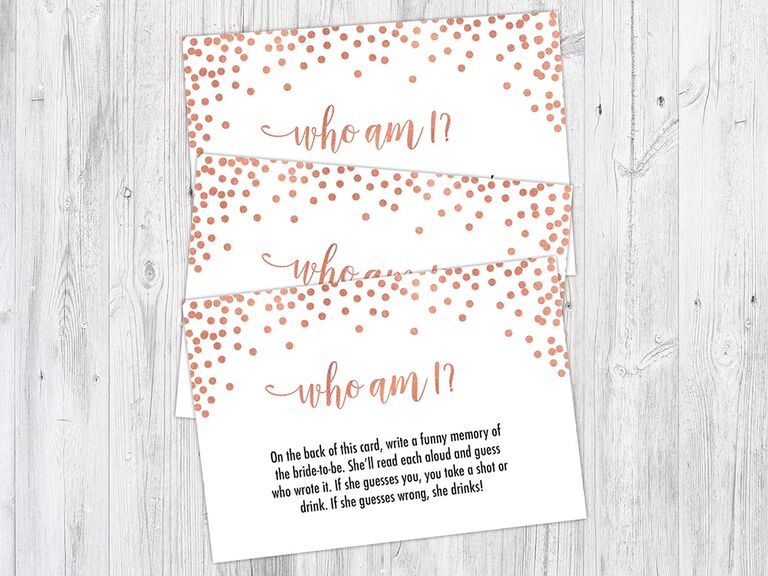 If you're a big group of friends with a lot of shared history, this next game could be the perfect way to test your bride's knowledge. Here's how it works: Everyone writes down a memory on these printable cards, and the bride is in the hot seat to guess who each clue belongs to.
Best Celebrations Bride Or Groom Game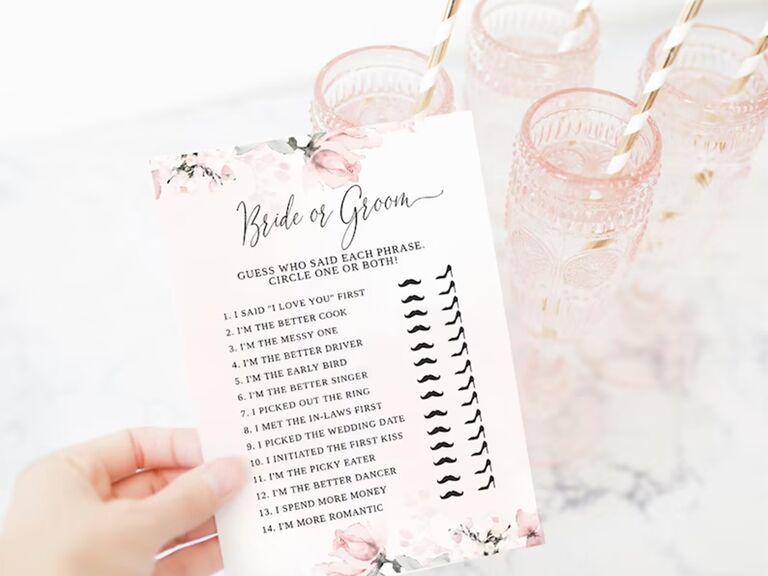 Here's another printable game that tests your knowledge of your favorite couple. Who's the better driver—the bride-to-be or her groom? Sure the groom isn't there to plead his case, but we're pretty sure no one will mind. This one makes a great bridal shower game too, so you may want to keep it handy for future festivities.
Print Me Babyx F Mary Kill Bachelorette Party Game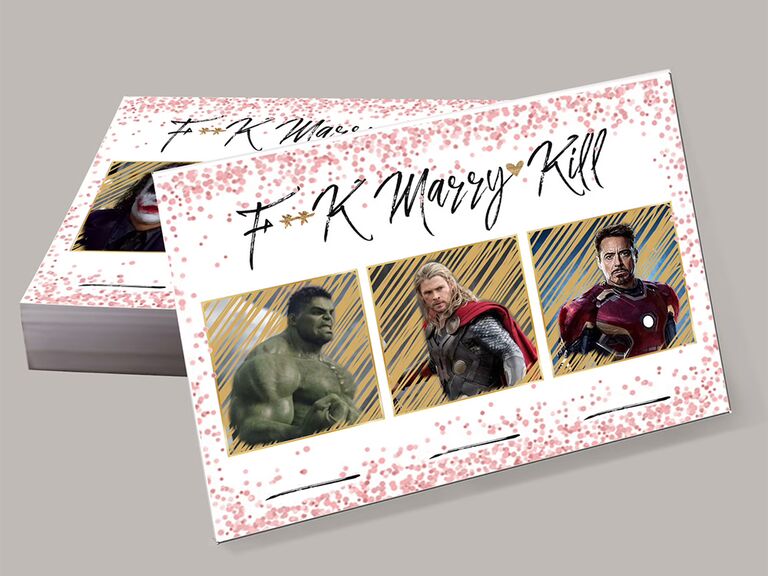 Tempt your taste buds (and gauge everyone's type) with this bachelorette party twist on the classic FMK game. The crew can choose from the likes of Marvel heros, Friends and Game of Thrones characters for a fun, fantasy-filled session.
Best Shower Ever Old-Timey Dirty Sayings Bachelorette Party Game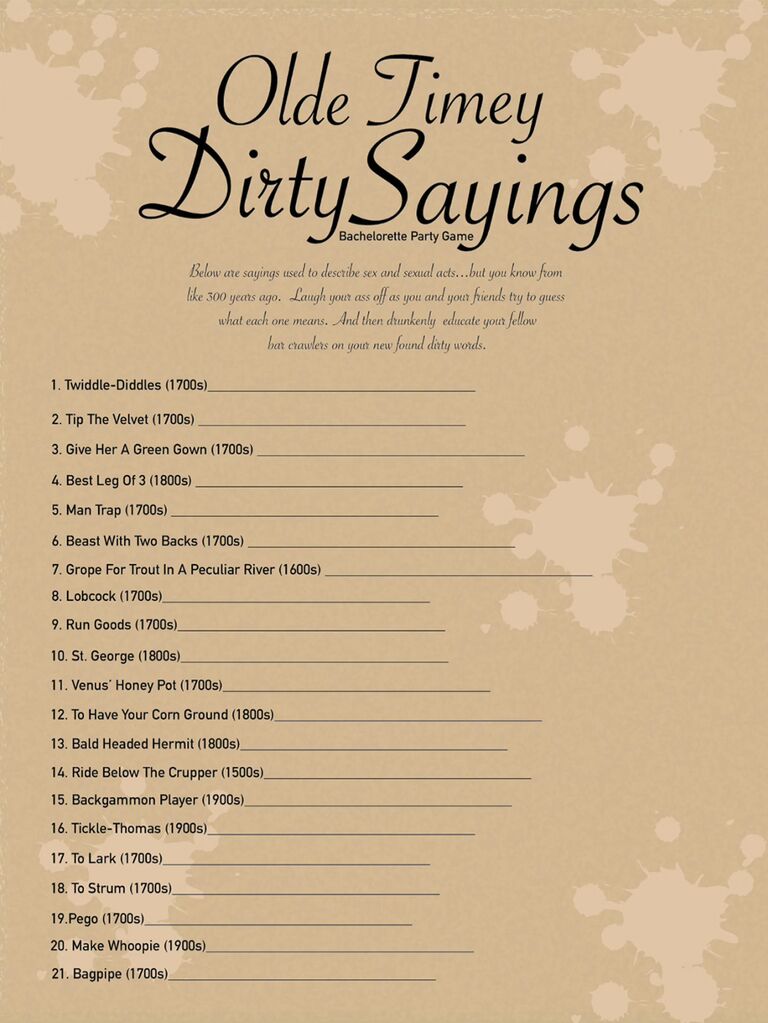 Old-timey sayings are honestly pretty hilarious, but more often than not, you have to decode them to actually understand their meaning. This fun bachelorette party game will undoubtedly be a hoot as party-goers offer up insightful and creative interpretations of old-timey sayings like Venus' Honey Pot and Tip The Velvet.
Paper Passion Designs Bachelorette Party Mad Libs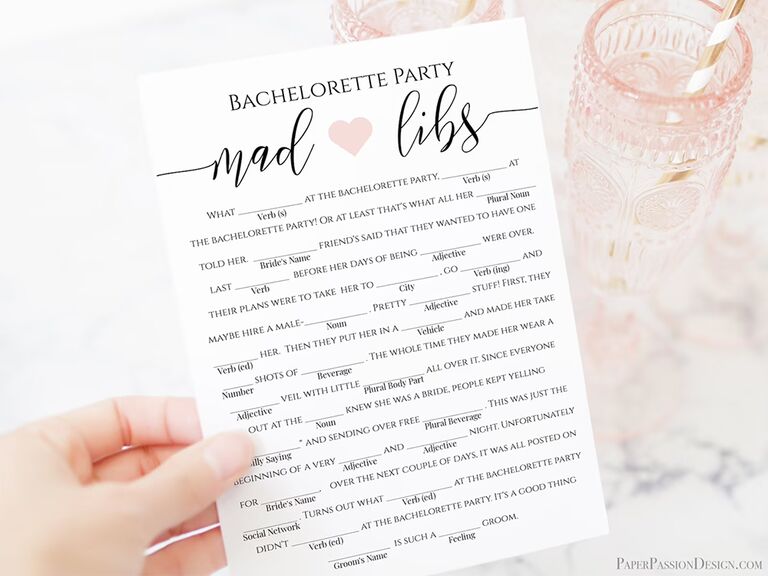 It's hard to resist Mad Libs, and we're guessing that for a bachelorette party, the word choices will likely get more creative as the night wears on. This template is available for instant download, and with the wild crew you have on board for bachelorette weekend, who knows how this story will end.
Oh Happy Printables Dirty Little Secrets Bachelorette Game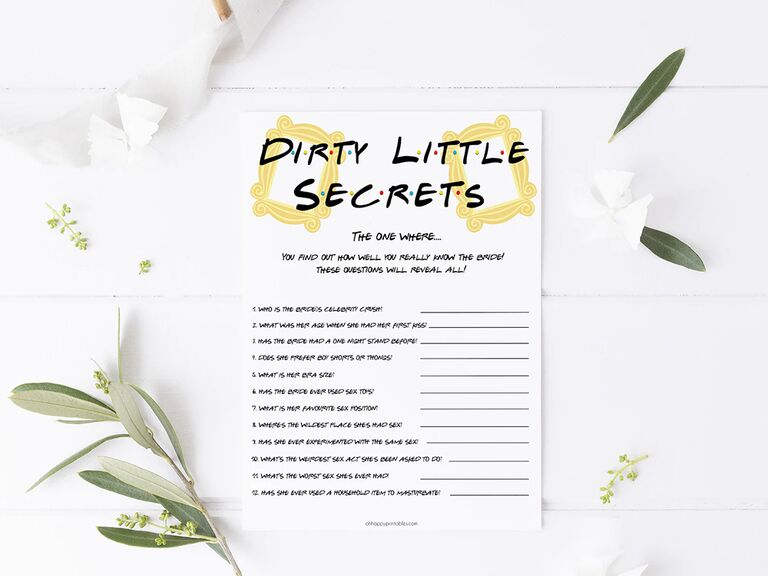 The guest of honor's sibilings may have a leg up on other party guests with this risqué printable that aims to uncover all of the bride's dirty little secrets. You might want to hang on to this Friends-themed printable and work your way up to this one, reserving it for after a few glasses of wine.
Vanilla Mint Prints Ever Or Never Bachelorette Party Game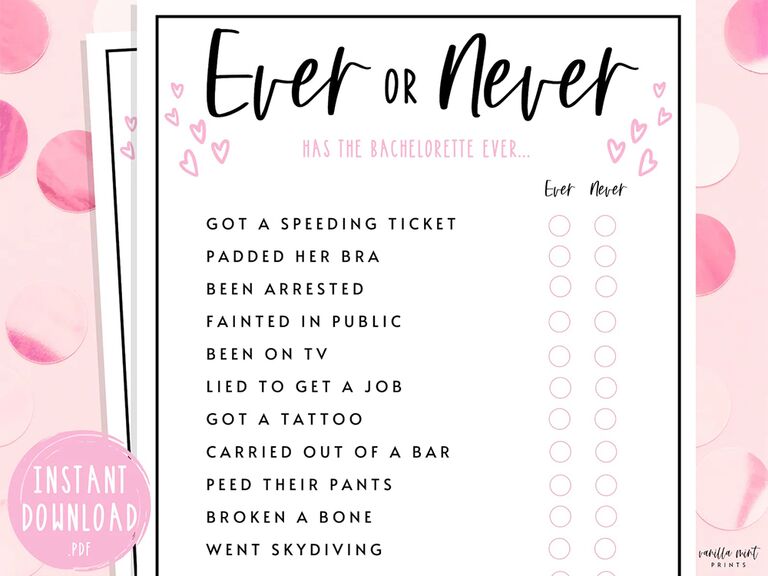 You gotta love this themed version of everyone's favorite game, Never Have I Ever. Was your friend ever carried out of a bar? Have they ever been arrested? What does the maid of honor know that other members of the wedding party don't? Peel back the onion with this fun printable and find out.
Shower That Bride Shop What's In Your Purse?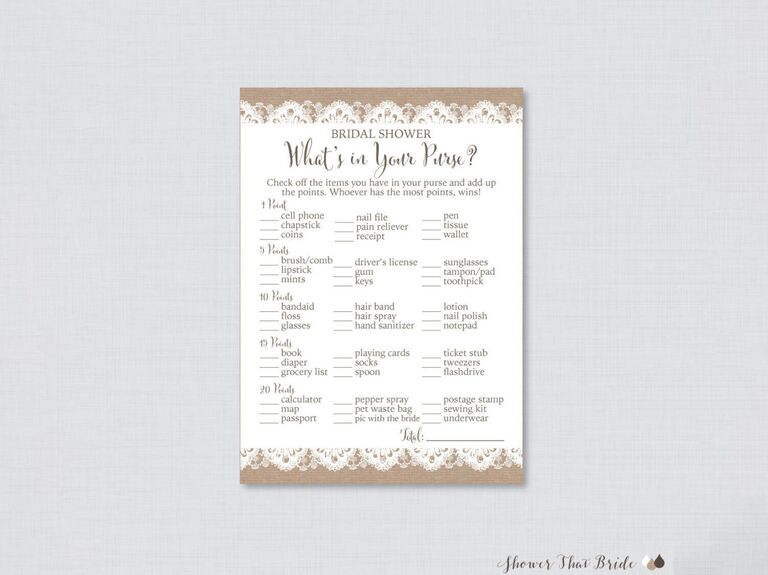 What's in your purse is always a fun game to play at a wedding shower, but it's even more fun to play with friends that have had a few. To those of you that never clean out your bag: This one is for you.
Print Youtiful Advice For The Bride Printable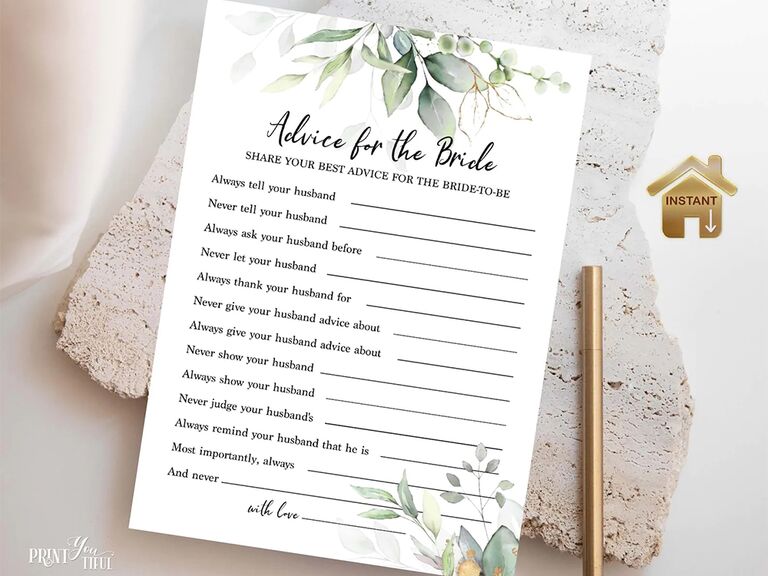 Every bride needs a bit of advice, but the MC of this game might want to be clear about the type of advice the bride should expect. Keep it straight-laced or have party guests get a bit creative with their words of wisdom. Either way, this should be a good time. Bonus: This would be great for a bridal shower game, too.
Hello Rose Paperie Do You Know The Couple Best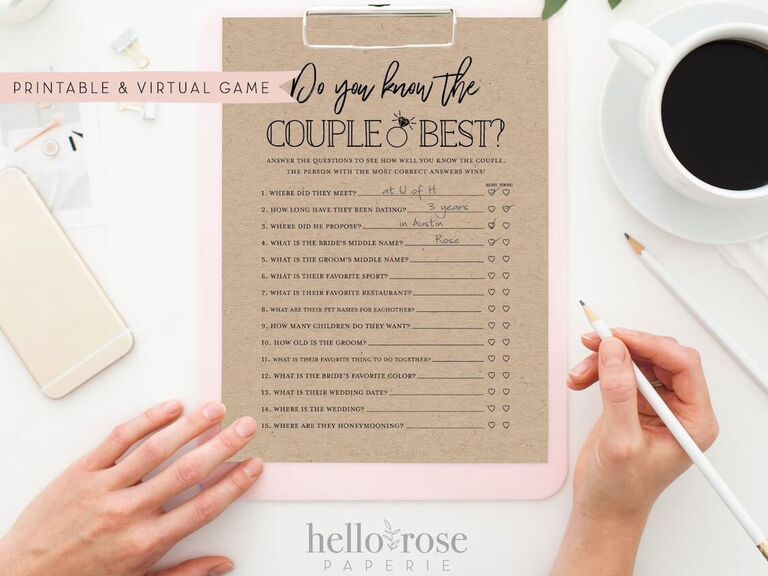 How well do you know the to-be-wed couple? Test your knowledge with this fun bachelorette party game, where you'll answer questions like where they grew up, their favorite restaurant and more.
Print Out Party Games Bachelorettes Against Decency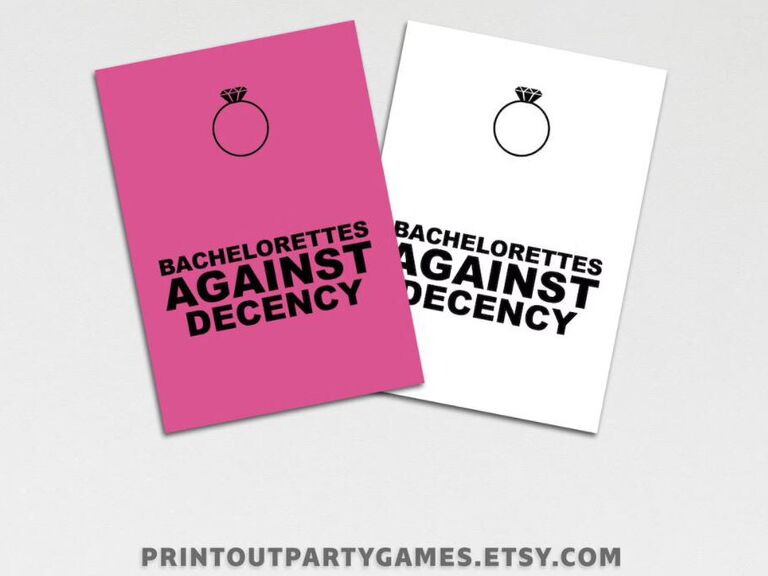 If your party guests think Cards Against Humanity is a fun time, this editable bachelorette party version will really get them excited. Use cardstock to print out the cards as-is or make a few naughty changes to punch up the fun. Each digital download comes with 40 question cards, 240 answer cards and even a few blank pages if you want to try some DIY personalized questions and answers.