At-Home Bachelorette Party Ideas That Still Bring All the Fun
Introverts, unite.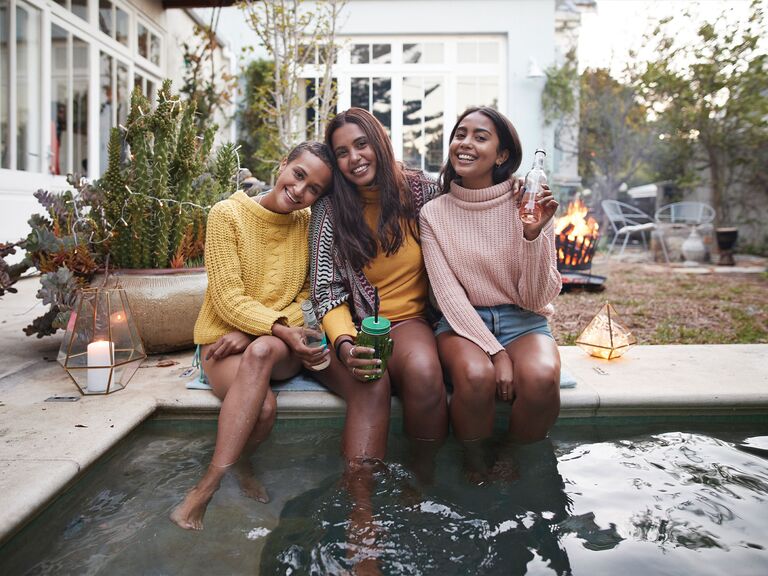 Photo: Getty/ Klaus Vedfelt
Planning your prewedding festivities doesn't have to be a huge undertaking. If you're a chill bride who loves a night in, there are plenty of bachelorette party ideas for an at-home celebration. And with many amazing bach party themes to choose from, you can even get creative and find ways to host these at your house or a nearby home rental. So grab your favorite notebook, jot down your party planning checklist and let us help you get the ball rolling with these introvert-friendly ideas.
In this story:
Low-Key At-Home Bachelorette Party Ideas
If you're a laidback bride who wants simple but fun, then these low-key bachelorette ideas are for you. Think "easy to execute" while being a total blast for you and your wedding party. Plus, these low-key bachelorette party ideas also make it easier to decorate your home on theme.
Bachelorette Brunch
Did someone say brunch? Time to stock up on all your favorite breakfast foods, drinks and brunch games for this theme. This low-key bachelorette party idea is perfect for gathering your favorites for a low-key day of delicious eats and fun games.
"Bridgerton" Tea Party
While we're waiting for the next season of "Bridgerton," you might as well throw a party celebrating your own love story. Sip tea like the ladies of the Ton in your best Regency-era clothing. You can even play the "Bridgerton" and Queen Charlotte soundtracks to fully immerse yourself into the times.
At-Home Wine Tasting
Host your own wine flight at home for your bachelorette party. You can scour the web for some of the best wines and serve them alongside hors d'oeuvres for you and your wedding party. Or ask everyone to bring their favorite for the tasting as a sort of wine potluck.
Dinner From a Personal Chef
Who says you can't go big and go home? Hiring a personal chef for your bachelorette party is one surefire way to give you and your gals an unforgettable night of delectable eats. Plus, when you've got a chef, this saves you the trouble of having to plan the menu.
Self-Care Spa Day
Turn your home into the ultimate spa experience. Play soothing music and set up nail stations, foot soaks and more to let you and your ladies unwind before the big day. Plus, a homemade clay mask or self-care kit is the perfect party favor to send home with your wedding party.
Around-the-World Potluck
Even if you can't go international for your at-home bachelorette, you can still bring the flavors of the world to your party. Ask your wedding party to bring in or make their favorite global recipes. Bonus points for anyone who can guess where each dish is from.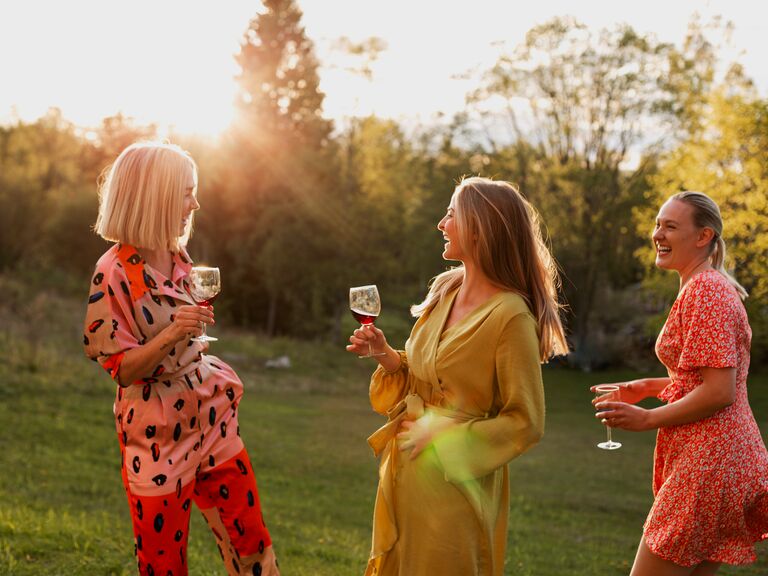 Backyard Bachelorette Party Ideas
If you've got a big backyard space perfect for glamming up, consider one of these bachelorette party activities at home. When Cady Heron said, "The limit does not exist," we'd like to imagine she was talking about all the ways you can throw a backyard bachelorette.
Find your kind of venue
From barns to ballrooms, discover reception venues that feel like you.
Backyard Glamping Weekend
It's camping, but all glammed up. Set up a yurt or fabulous tent for you and your girls to go luxury backyard camping. Just make sure you've got all the amenities of a glamping experience, like string lights and comfy lodging.
Barbecue Bach Party
Fire up the grill for one unforgettable barbecue bash. Serve classic favorites like potato salad, mac and cheese and baked beans while sipping frozen drinks and cocktails. You can even play horseshoe or corn hole for those quintessential barbecue vibes.
Las Vegas-Inspired Game Night
Bring a Vegas bachelorette to your own backyard with a casino night. Place tables around your space for blackjack, craps and other classic card games. Even if the only prizes are trinkets and tokens, we have no doubt that your bridal party will have a blast.
Bonfire Bachelorette Blast
Time to sit around the campfire and share your favorite ghost stories like "Are You Afraid of the Dark?" for a true throwback bach party. You can even make fancy s'mores and roast hot dogs to elevate the bonfire night.
Backyard Bachelorette Party Scavenger Hunt
Scavenger hunts are a popular bachelorette party game for good reason, so why not plan your whole party around this fun pastime? Set up the ultimate bachelorette party scavenger hunt around your backyard with clues that are tailored to your girls or even your love story.
Poolside Retreat
Whether you like to splash in the pool or lounge by the water with a drink, this is perfect for every type of bride. Throw in some fun pool floats and have snacks on hand for when everyone's out of the water. And you can even throw in some waterproof glow sticks to swim at night.
Movie Night Under the Stars
All you need is a projector, your favorite film and a screen for this low-key party idea. Consider adding a cute little popcorn and concession stand so everyone can grab their favorite movie snacks. Serve themed treats as well, like snow cones for "Frozen" or a slice of pie for "When Harry Met Sally."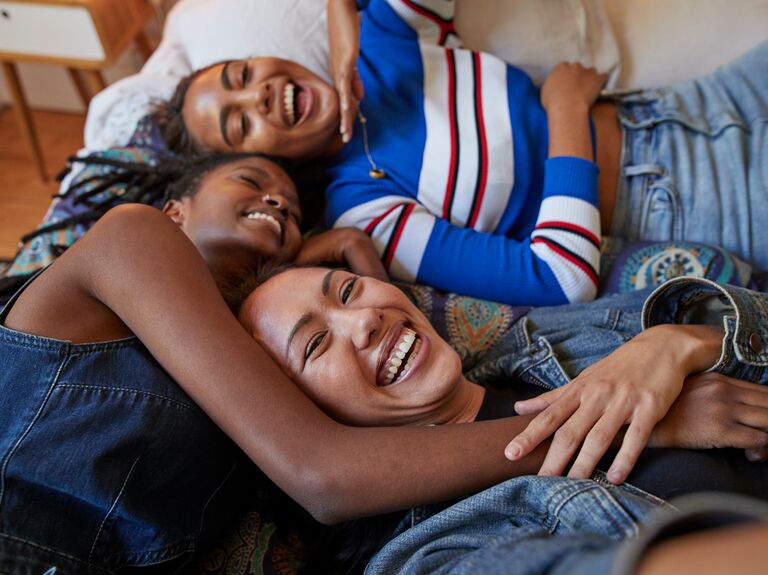 Indoor At-Home Bachelorette Party Ideas
Want to stay indoors for your party? Then we've got the inspo just for you. And here's a pro tip: One great way to ease the stress of party planning is even repurposing your bridal shower decor for your bachelorette party.
Boozy Arts and Crafts
Have your own paint-and-sip party with easy-to-follow tutorials and your favorite drinks. If you really want to get creative, ask your wedding party to paint a portrait of you on your wedding day. There's no doubt that could stir up some funny results.
Flight Night
Do mini portions of drinks and eats speak to your soul? Then a flight night of your favorite foods and beverages may be just the theme for you. You can even do different themed flights, like famous foods from where you got engaged.
Cooking Class
Live like Gordon Ramsay himself with a cooking class in your kitchen. You can separate this into different courses or levels, especially for anyone in the group who may want to try something easier. And afterward, you get to enjoy the fruits of your labor.
Build-Your-Own Bouquet
Learn how to make your own floral arrangements. This is a fun way for your bridal party to bond during your bachelorette, all while learning a cute new hobby that can help make bouquets for their homes.
DIY Day
You can DIY anything these days, from your favorite ice cream flavors to fun little home projects. Let this day be all about trying something new, and consider what you and your bridesmaids all love. Get creative, like making your own batch of cheese or unique nail polish.
Throwback Bachelorette Pajama Party
Take it back to the good old days when slumber parties reigned supreme. To bring your bachelorette slumber party idea to life, plan classic games like a pillow fight, truth or dare or even just your favorite childhood board games. (And this is a perfect opportunity to wear matching tees or pajamas.)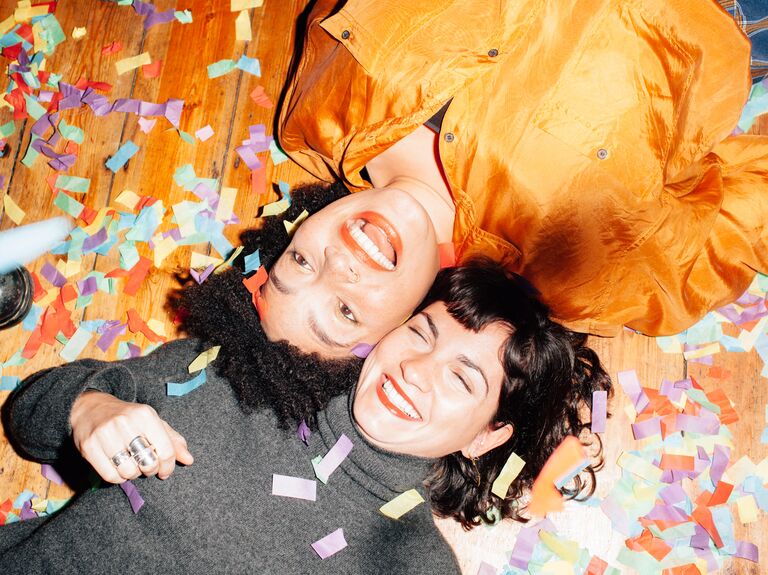 Fun At-Home Bachelorette Party Ideas
Here are the out-of-the-box ideas for a bachelorette party at home for the bride who loves a theme. These are just further proof that any bach bash can be fun, no matter where you throw it. And no matter who you invite to your party, these at-home get-togethers help ease the pressure off your wedding party to take time off work or travel.
Lip Sync Battle
Live like a superstar for the night with a lip sync battle, complete with a trophy for whoever is named the winner. You can even choose from a playlist of the best bachelorette party songs to give your gals inspiration for their own epic performance.
Bachelorette Olympics
Go for the gold with these fun bachelorette party games at home. You don't have to be the best at sprinting or skiing for these. Choose drinking games like flip cup or classic relay games like a sack race.
Costume Party
Many TikToks have been popping up of fun costume parties with a twist. Dress as your favorite Taylor Swift era or Disney-movie character, or perhaps even have your bridesmaids recreate some of your signature looks since you're the guest of honor.
Fairytale Ball
Have you ever dreamed of being the princess of your own kingdom or maybe even a mythical creature? This is your chance to go all out with those storybook vibes for your bachelorette party. Turn your backyard into a woodland paradise and your home into a castle while everyone dresses up to fit the theme.
Video Game Night
Whether you're into Mario or Minecraft, a video game night is a totally fun way to get some healthy competition going. Make foods inspired by your favorite games and have your wedding party battle it out during an all-night gaming session.
Make Your Own Jewelry
You don't have to be a jeweler to enjoy a night of making friendship bracelets and charm necklaces. This at-home bachelorette party idea is great for making mementos from one of your best nights ever with your favorite people.