The Perks of Having an At-Home Bachelorette Party
A bash on your own turf might be just what the doctor ordered.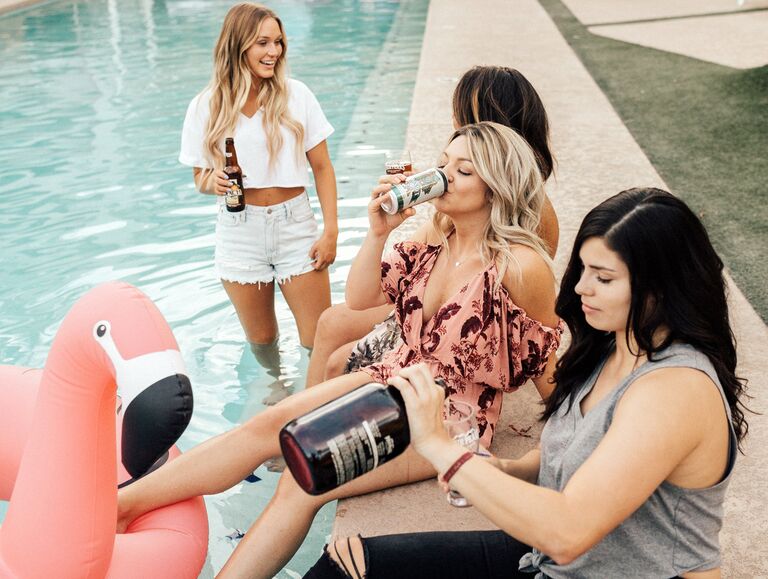 Elevate/Unsplash
Good news for self-avowed homebodies—you don't literally have to go out in order to go all out at your bachelor or bachelorette party. If you're not into crowds or already have access to the perfect spot for a prewedding bash, there's no need to travel far, tip your waiters or pay a steep cover charge to have a good time. Whether it's a night on your rooftop, a pool party in your parents' backyard or an indoor spa day and movie marathon, there's an at-home party idea with your name on it. Still need convincing? Here are a few solid perks to hosting a bachelor/ette party on your own turf.
You don't have to deal with lines and crowds.
If you've never cared about trying to see and be seen, an at-home party is definitely for you. By keeping the group tight-knit and on private property, you'll be able to focus on hanging with your besties—not competing for the bartender's attention, the bouncer's approval or room on the dance floor. Forget standing in line for the restroom, trying to stake your claim on the right number of lounge chairs, or waiting hours for a turn at cornhole, shuffleboard or beer pong.
You won't be competing with any other wedding parties.
In the same vein as above, since you'll be the only wedding party in sight, your festivities won't get eclipsed by 10 other groups wearing "I Do Crew" tanks or holding "cheers to beers" koozies. Whether lively or laid-back, this get-together can be all about the bride- or groom-to-be and their inner circle.
You can truly do whatever you want.
Not using a public venue means you'll have full control over everything—that's right, everything. From the playlist and the cocktails to the timeline and décor, whoever's hosting calls the shots. The only thing you'd have to worry about is local noise ordinances or neighborhood complaints, but there are easy steps you can take to make sure the party doesn't ruffle any feathers. Plus, since you have control, it's easy to turn down the music, move the party inside or simply give neighbors a heads up in advance.
You could save a ton of money.
Depending on the type of celebration you're having, the group will likely spend less than they typically would on a pricey night out or an extended destination party. Sure, you'll have to hook yourselves up with food, drinks, décor and any other goodies that fit the party theme, but you'll still be sidestepping cover charges, bottle service, restaurant bills, transportation and hotels (especially if there's room for everyone to stay overnight). And, if you want, use the extra money you saved by staying in to splurge on something epic, like a professional chef, photographer, traveling beauty pros, photo booth or waterslide.