The Wildest Bachelorette Party Scavenger Hunt Ideas for a Totally Fun Weekend
Send your wedding party on a wild treasure hunt.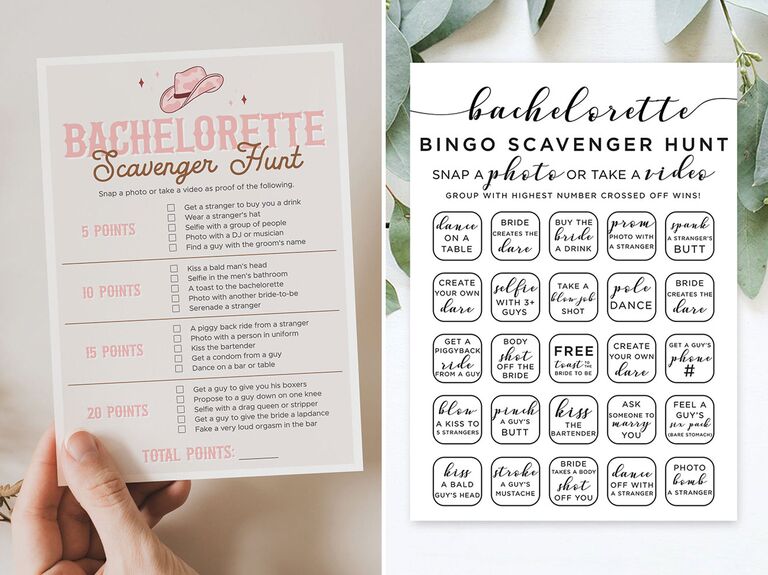 Photos, From Left to Right: AspenWoodsStudio, AWildBloomDesigns
We have included third party products to help you navigate and enjoy life's biggest moments. Purchases made through links on this page may earn us a commission.
Bachelorette parties are a chance to let loose and make some memories. A bachelorette party scavenger hunt is a great way to have your wedding party bond over silly antics. With so many exciting bachelorette party ideas to choose from, it's easy to incorporate a scavenger hunt into any theme or weekend. And these printable bachelorette games are easy to create and set up for a night of rowdy fun. So grab your bach party planning checklist and get ready for an unforgettable treasure hunt.
In this story:
Photo Bachelorette Party Scavenger Hunt
These scavenger hunt games will require a camera or your phone to document the night. So get photo-ready for these bachelorette party games that require some serious sleuthing.
Snap a Selfie Scavenger Hunt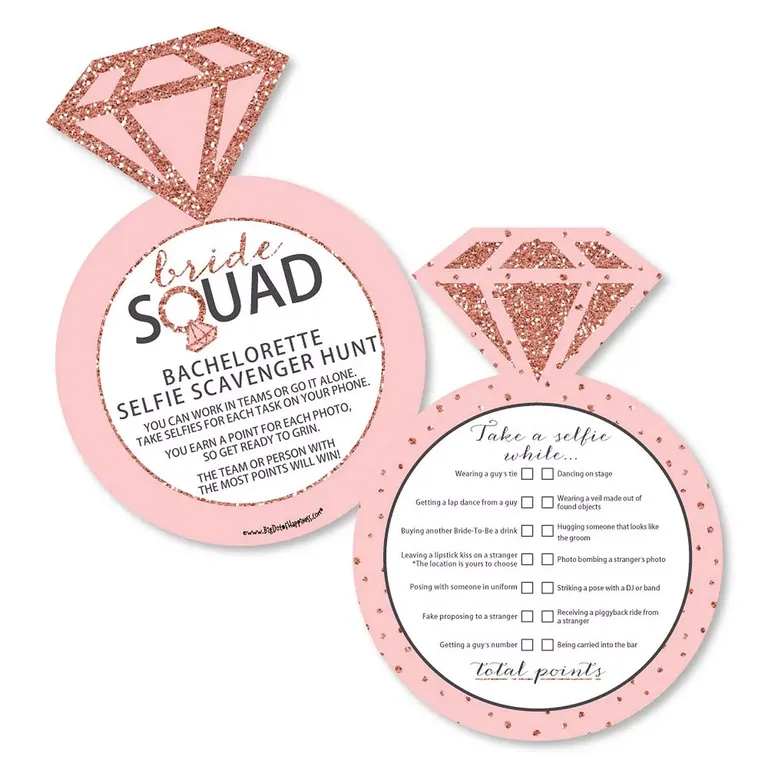 This scavenger hunt lets your bride squad work in teams or on their own for selfies around town. Just pop this scavenger hunt card in your clutch and get ready to snap some photos.
"Let's Go, Girls" Cowgirl-Inspired Scavenger Hunt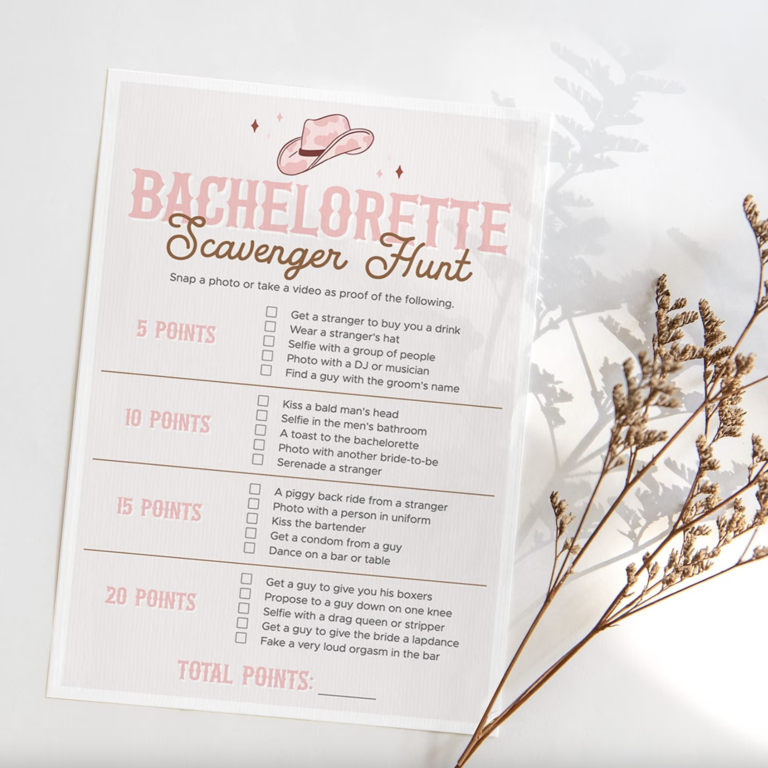 Kick up your heels (or boots) for a night of debauchery with this photo scavenger hunt. Set aside a sparkly prize for whoever scores the most points at the end of the night.
Girls' Night Scavenger Game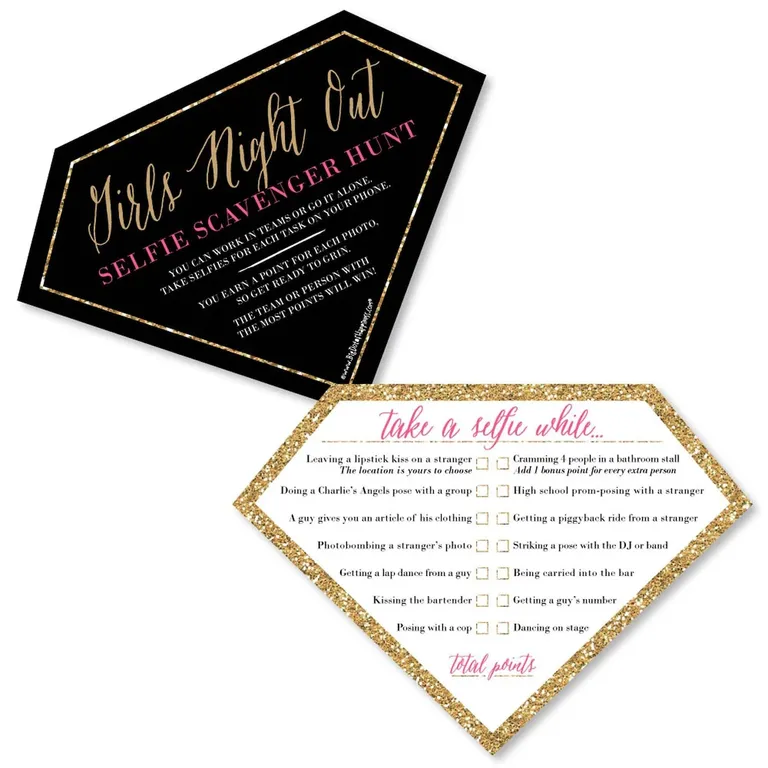 If diamonds are a girl's best friend, then this scavenger hunt is her partner-in-crime. These bling-shaped cards make the night all about the ring, and maybe a little hijinks, too.
Editable Party Photo Scavenger Hunt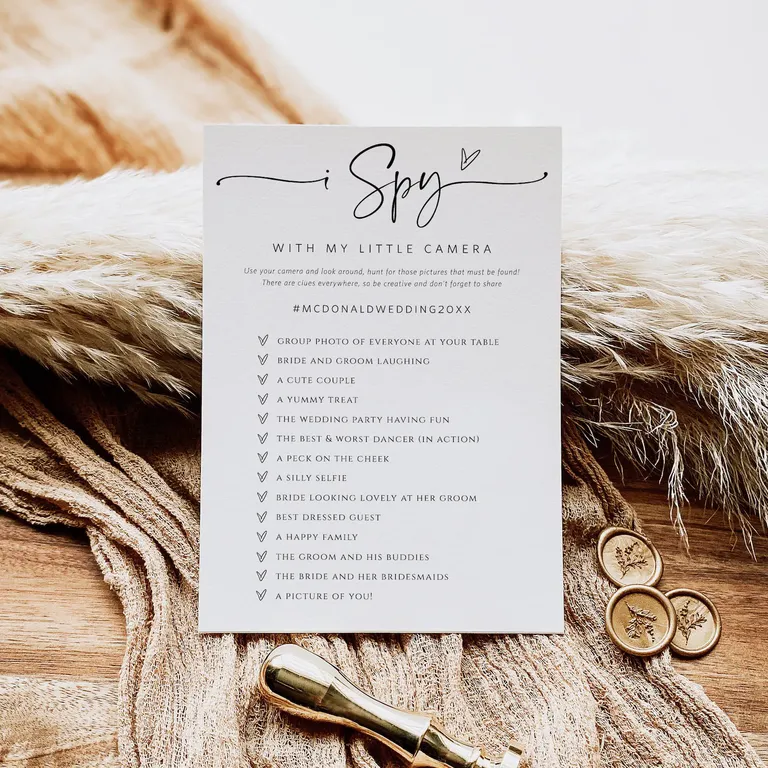 Customize these scavenger hunt cards to your liking with this editable format. You can make it as nice (or as naughty) as you want.
"What Happens in Vegas" Scavenger Game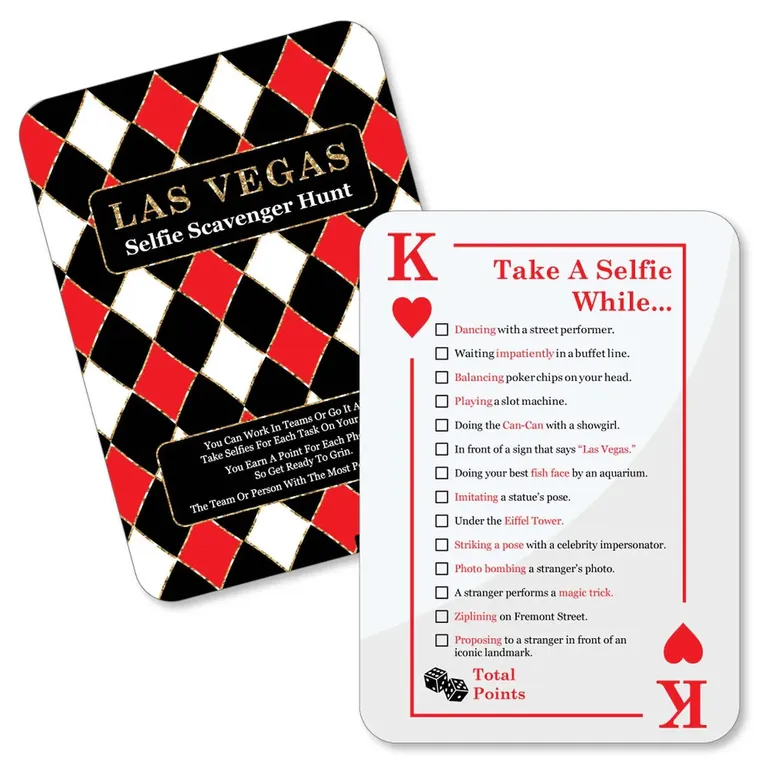 Roll the dice with this Las Vegas-themed scavenger hunt. Scour Sin City for hidden treasures and become Lady Luck when you win this game.
Bar Bachelorette Party Scavenger Hunt
Keep the drinks flowing and the good vibes going with these bar-centric scavenger hunts. Bar hop or crawl during your bach party to be the first to finish (and win).
Bar Crawl Scavenger Bundle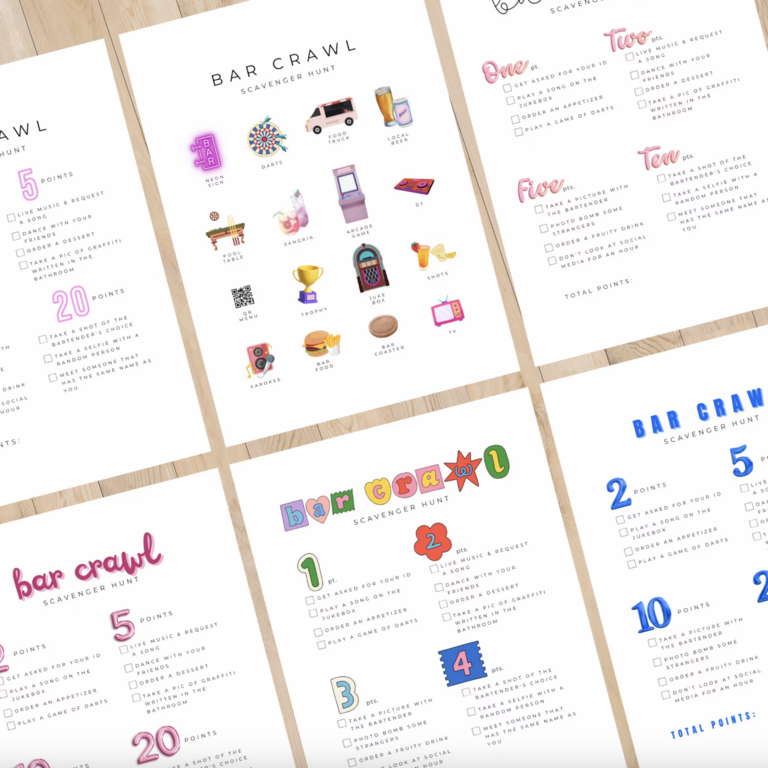 This bundle has it all, including a bar crawl scavenger hunt that'll keep the party going. Take your bach bash to the next level with these fun games.
Pour the Wine Scavenger Hunt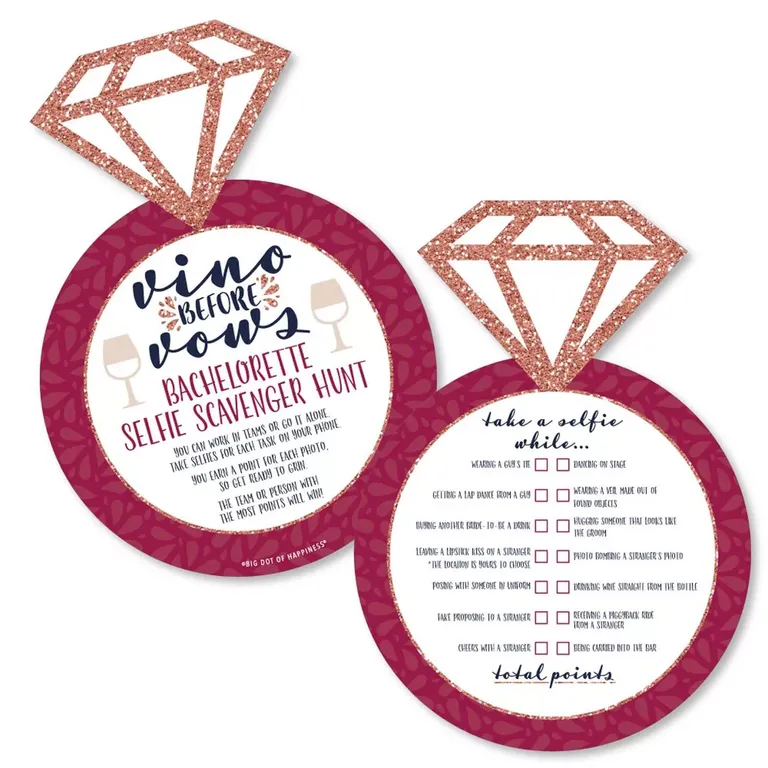 Snap a photo of yourself completing these bar scavenger hunt tasks. Just make sure you've got enough wine to last while you play.
Dares and Drinks Scavenger Game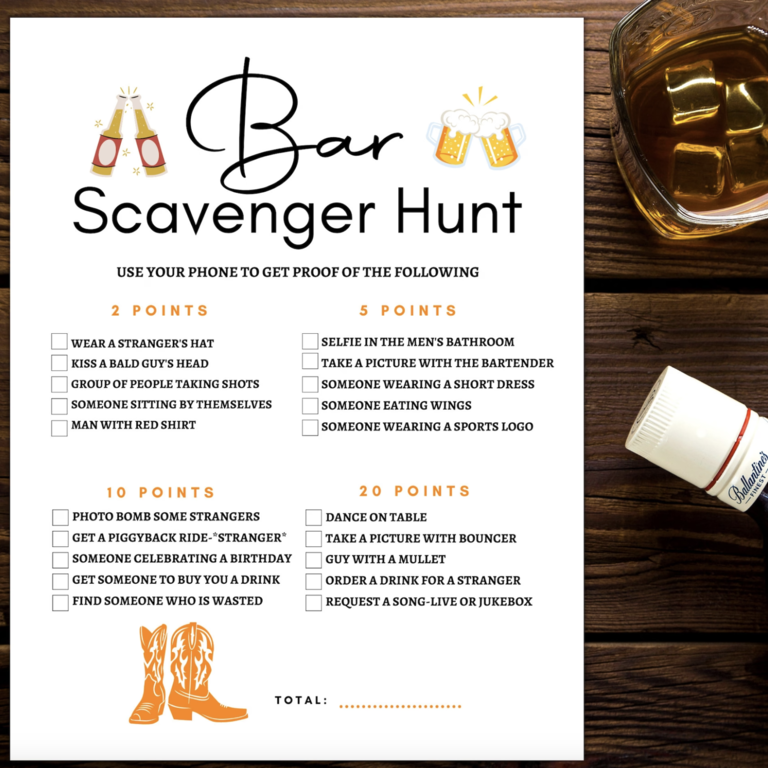 Keep the drinks coming while you try to win this bachelorette scavenger game. Make it even more fun by doing a bar crawl to win even faster.
Set the Bar Scavenger Hunt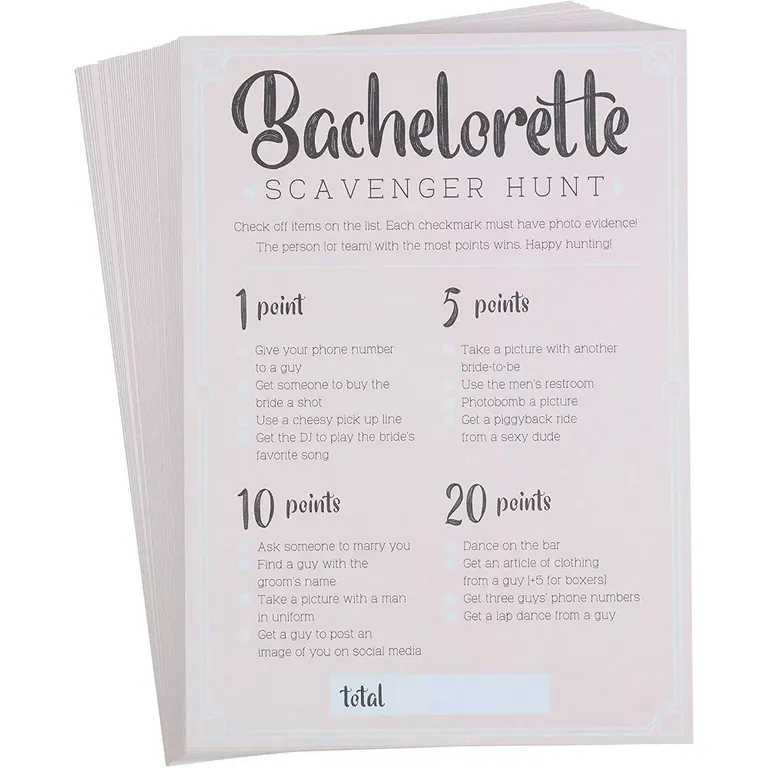 This scavenger hunt can be easily done in your favorite bar. And to up the stakes, have whoever comes in last have to buy the wedding party a round of drinks.
Editor's Picks: Printable Bachelorette Party Scavenger Hunt
These are some of our favorite picks for printable bachelorette scavenger games. And some can even be customized for your wedding party or add on party props to up the ante.
Scavenger Bach Game Bundle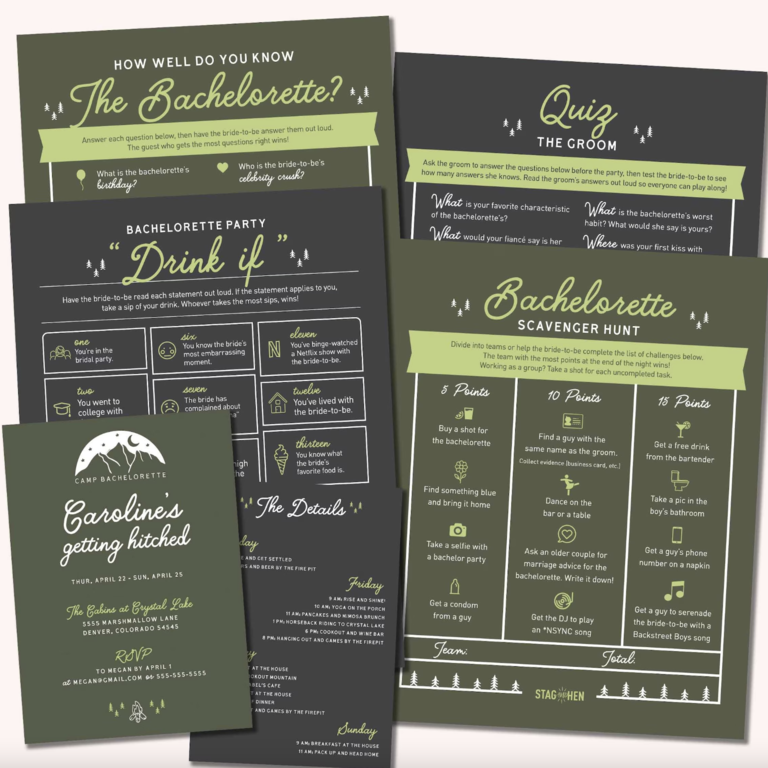 This set has just about every game you could need to have a wild bachelorette, including a spicy scavenger hunt. The rest of the bundle can even keep the party going at home or your hotel.
X Marks the Spot Scavenger Hunt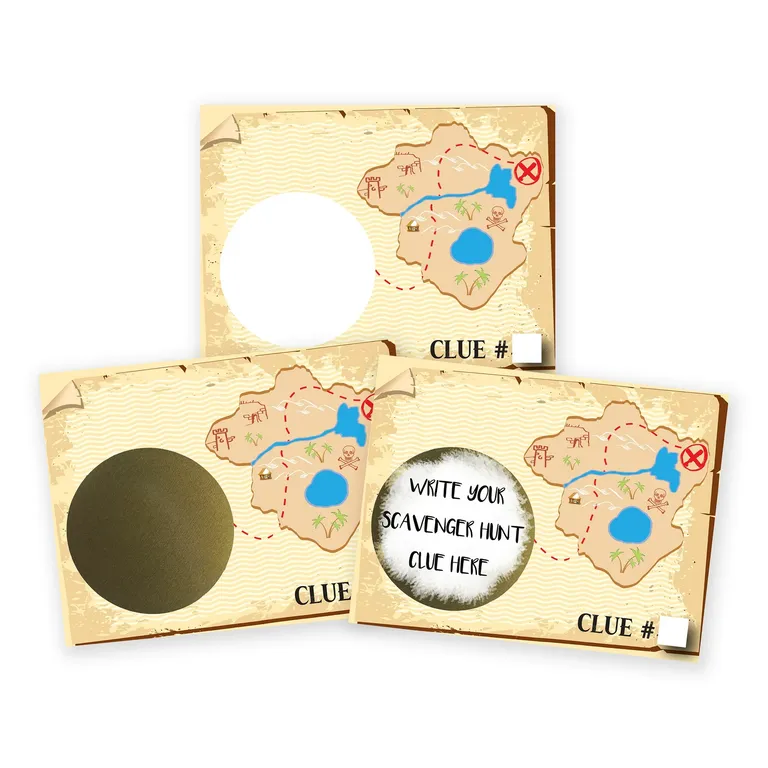 These scratch-off scavenger hunt cards let you choose the adventure. And if you want to be super sneaky, make it so no two cards are alike.
Find the Bling Scavenger Game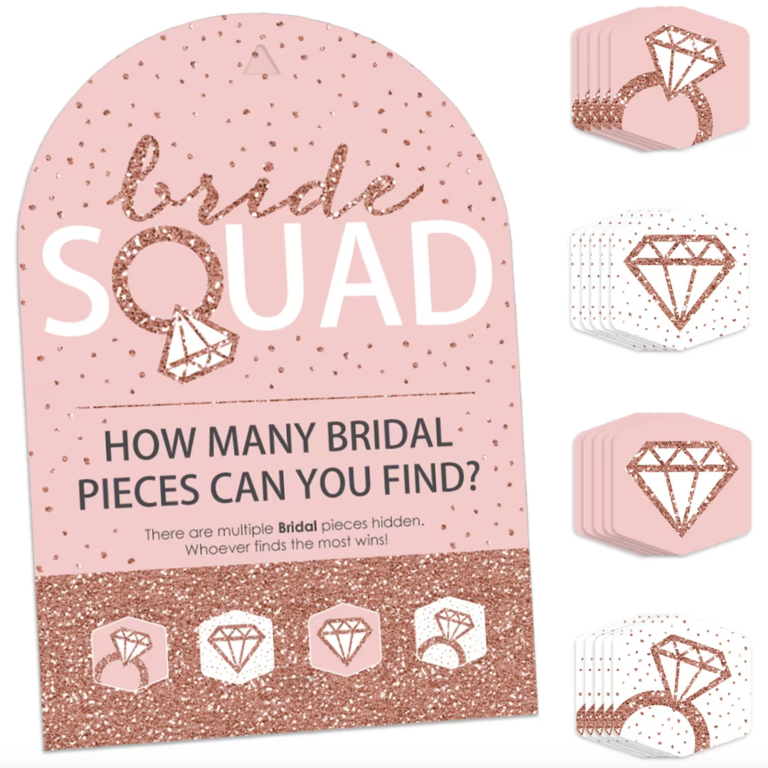 Here's a different kind of scavenger hunt that'll make your bridal party have to find the hidden treasure. Scatter these pieces around your Airbnb or house for some friendly competition.
Customizable Bachelorette Scavenger Hunt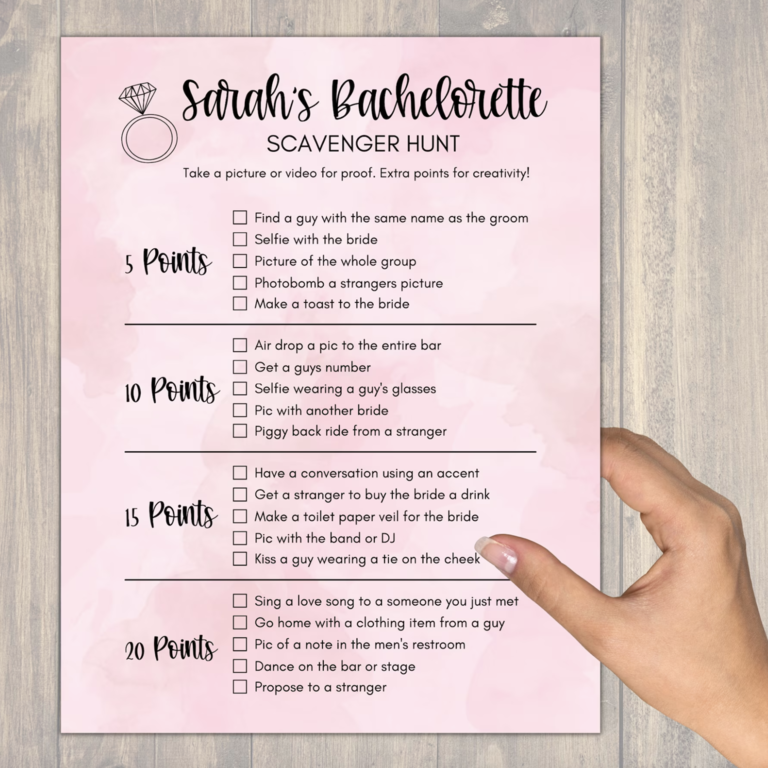 This scavenger hunt had us at "customizable." You can edit this and print it or have your bridesmaids save it on their phones for easier access throughout the night.
Sexy Scavenger Game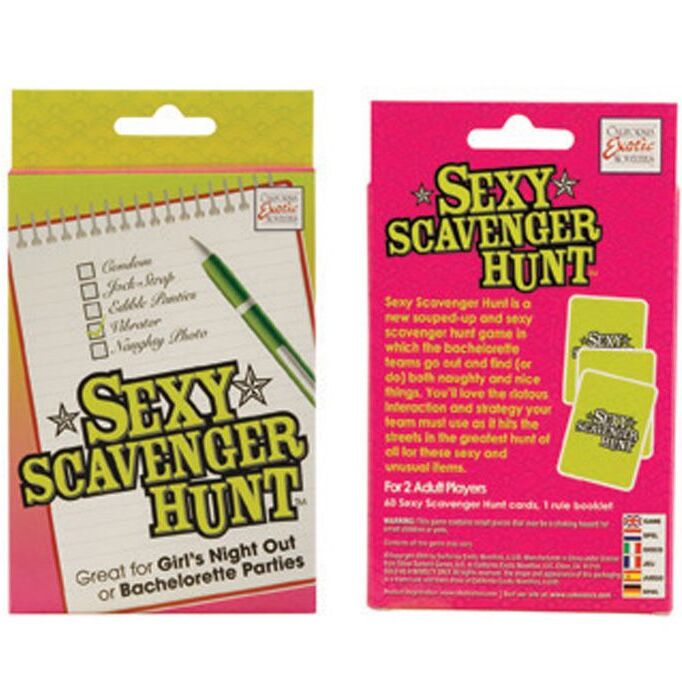 This deck of scavenger hunt cards is perfect for your bachelorette party. Create teams to make this night truly competitive (and a little more chaotic).
"Bingo Was His Name-O" Scavenger Hunt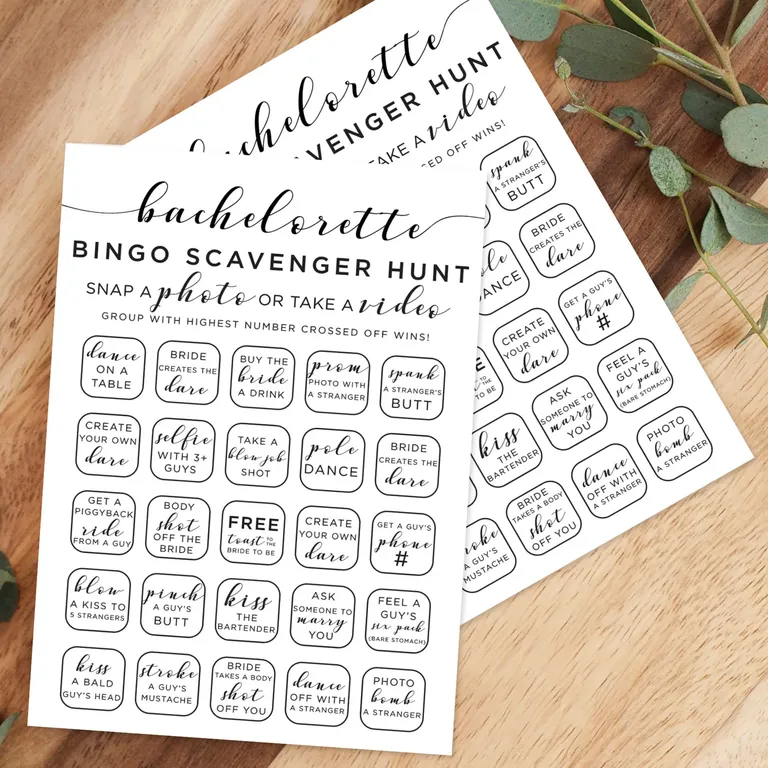 Combine two classic games for a fun twist with this bingo/scavenger hunt. Make it even more difficult to win by asking your girls to blackout each card.
Bachelorette Party Scavenger Hunt: How to Play & Create Your Own
If you're a DIY-er, then making your own scavenger hunt can be the right call, especially if you want to make it extra challenging for your bridesmaids. You can create a template in Photoshop or Canva, but just be sure to include some of these prompts.
Bachelorette Party Scavenger Hunt List
Keep it classic or get creative with some of these scavenger hunt must-haves:
Find someone with the same name as the bride or groom and take a picture with them.
Take a photo in a wedding dress or tux.
Search for the funniest Hallmark wedding-related card.
Ask the bartender to create a drink and name it for the soon-to-be-weds.
Have a stranger propose to you (and bonus points for a video of said proposal).
Make a veil or dress out of toilet paper.
Ask strangers for their best/cheesiest pickup lines.
Sing a love song to a stranger.
Do a "prom pose" photo bomb in someone's photo.