The Ultimate Shopping List for Bachelorette Party Supplies
Add these must-have essentials to your cart, stat.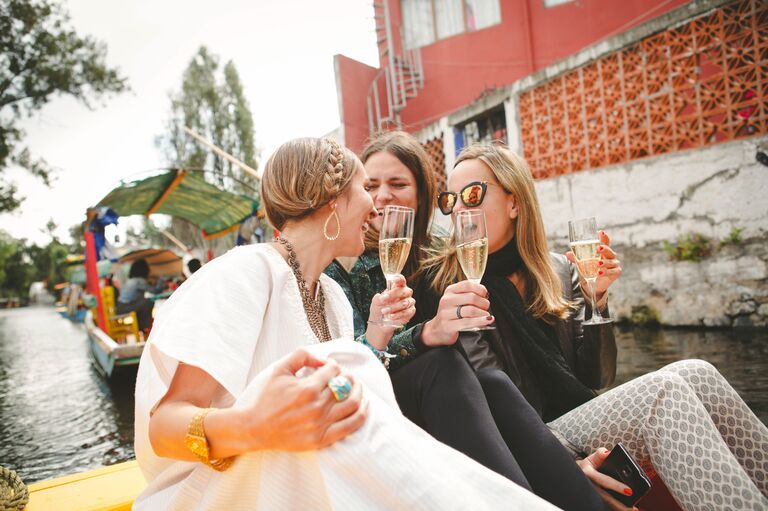 Photo: Detour Weddings
We have included third party products to help you navigate and enjoy life's biggest moments. Purchases made through links on this page may earn us a commission.
A critical part of planning a bachelorette party to remember is purchasing the right bachelorette party supplies for every part of the prewedding celebration. We're diving into the must-have essentials you need to add to your shopping list ASAP.
Bach supplies you need:
Editor's Picks | Games & Prizes | Cake & Cake Decor | Decor | Crafts | Thematic Details | Matching Attire | Food & Drink | Invitations & Stationery | Favors & Guest Amenities | Entertainment & Tech
Where to Buy Bachelorette Party Supplies
Before we look at some of our top picks for bachelorette party must-haves, it's important to know where to buy bachelorette party supplies. If you prefer in-person shopping you can stop asking Google or ChatGPT "where to get bachelorette party supplies near me." Many of the best shops for bachelorette party supplies have brick-and-mortar stores near you if you prefer seeing products in person before paying. But if you want to shop from the comfort of your phone or laptop, you can also purchase bachelorette party necessities online at all these shops.
The Knot Shop: The Knot Shop is an amazing destination for all your wedding supply needs, beyond just bachelorette essentials. Run, don't walk, to snatch up tons of goodies.
Etsy: Prefer to support small businesses when buying bachelorette party essentials? Etsy gives you the power to do that from the comfort of your couch.
Target: If you want an all-in-one stop for your bachelorette necessities, take a trip to Target.
Michaels: As we explain below, craft supplies and decorations should be on your bachelorette shopping list and Michaels is one of the best stores for buying those essentials.
xo, Fetti: This cool girl-approved retailer is a must-visit online destination for bachelorette party supplies.
For Your Party: Love customization? Shop at For Your Party for your (bach) party.
Party City: Whether you're partying in the city or hosting a rural bach, Party City is a great place to buy bachelorette party supplies.
Bonjour Fête: This store isn't just for French-themed bach bash, they have all the things you need for a bachelorette party.
Additional retailers to consider for bachelorette party supplies: Meri Meri, Amazon, Walmart, Spencers, Personalization Mall, Paper Source
Must-Have Bachelorette Party Supplies: Editor's Picks
Can I let you in on a secret? I love bachelorette parties and any excuse to have a girls' trip. More than that, I love planning these trips and will look for any excuse to curate gifts and decorations for my besties. In short: I could be a professional bachelorette party shopper in another life. Without further adieu, some of my top bachelorette essentials.
Custom Photo Book to Capture the Memories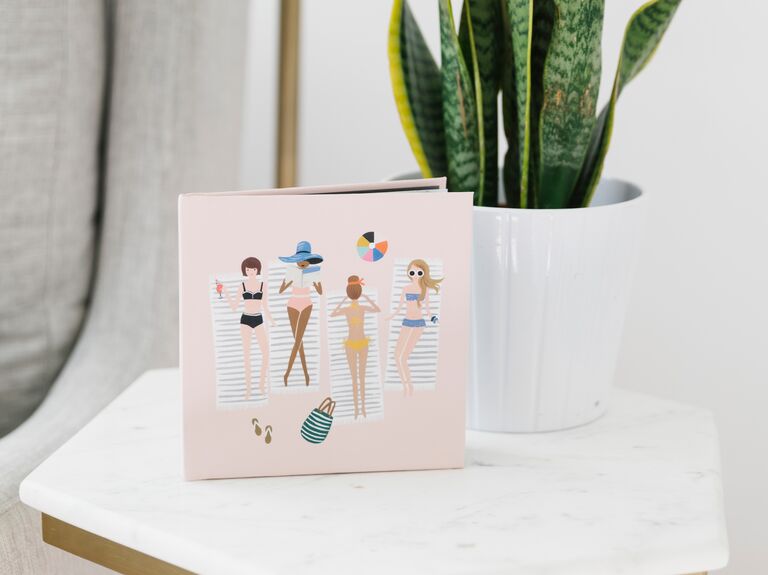 Yes, this is a product for after the bach party, but in the immortal words of Taylor Swift, "Hold onto the memories, they'll hold onto you." I've found that if I don't plan ahead to make a photo book then all my favorite pics will forever live in my camera roll and run the risk of being forgotten. Instead, find a great photo book you love before the celebration so that as soon as it wraps up you can order the memento.
Temporary Tattoos for Throwback Fun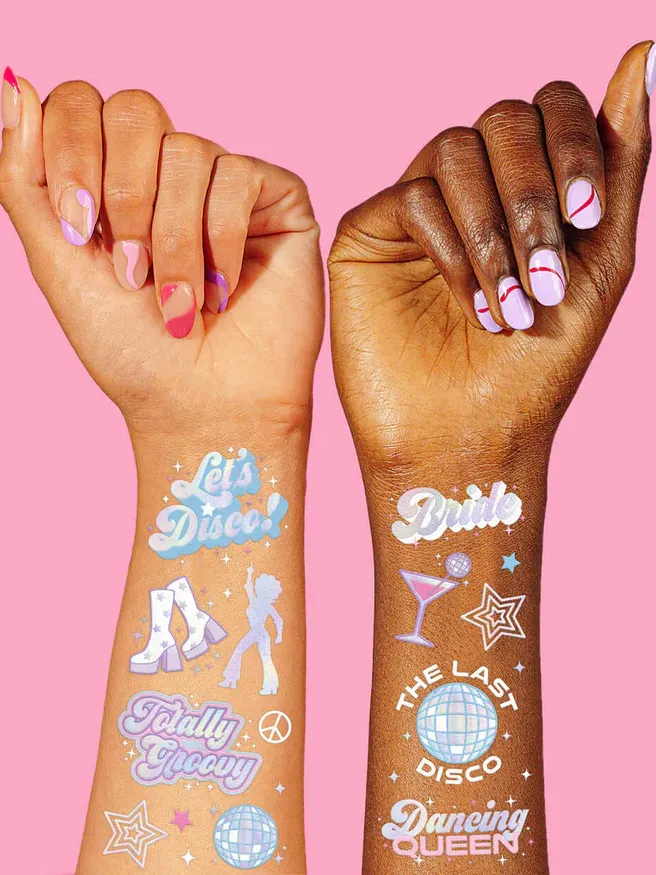 Call me old school, but I love temporary tattoos. They're such a fun way to get everyone on board with a theme, but don't run the risk of smearing the way that glitter and festival-inspired makeup does.
Babysitting Service for a Stress-Free Night Out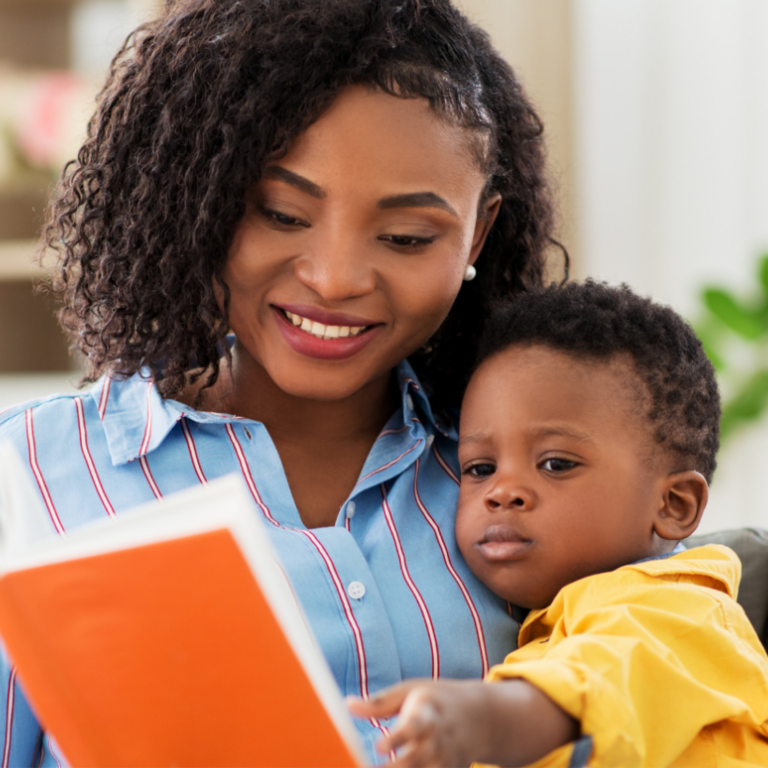 Do some of your wedding party members have little ones? Hire a trusted babysitter so that everyone can cut loose and celebrate without worrying about their parenting duties.
Hydration and Detox Supplements to Keep the Party Going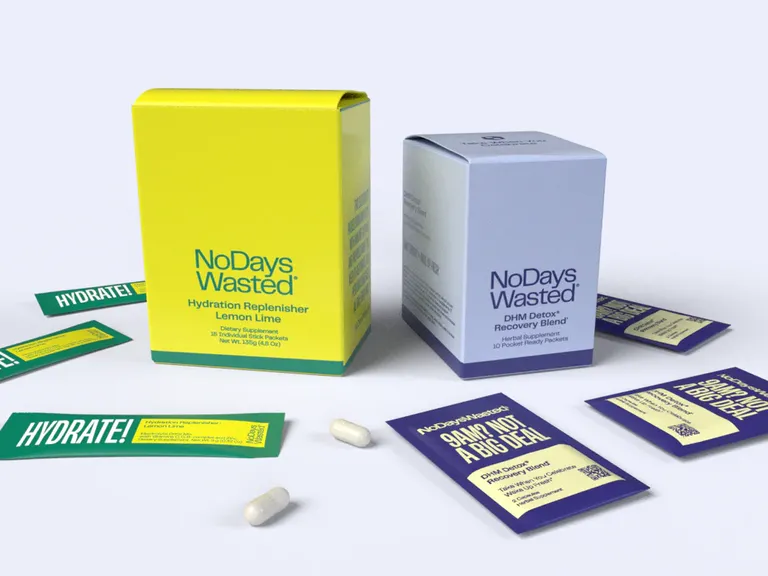 It's in the product's name: No days wasted. Don't let a hangover or dehydration ruin the celebration. These supplements may be the key to feeling good all weekend long.
Portable Charger to Stay Powered Up
This portable charger is clutch, literally. The slim design is barely bigger than a credit card and can lay flat directly against your phone so you no longer have to deal with clunky portable power packs.
Instant Camera to Capture All the Memories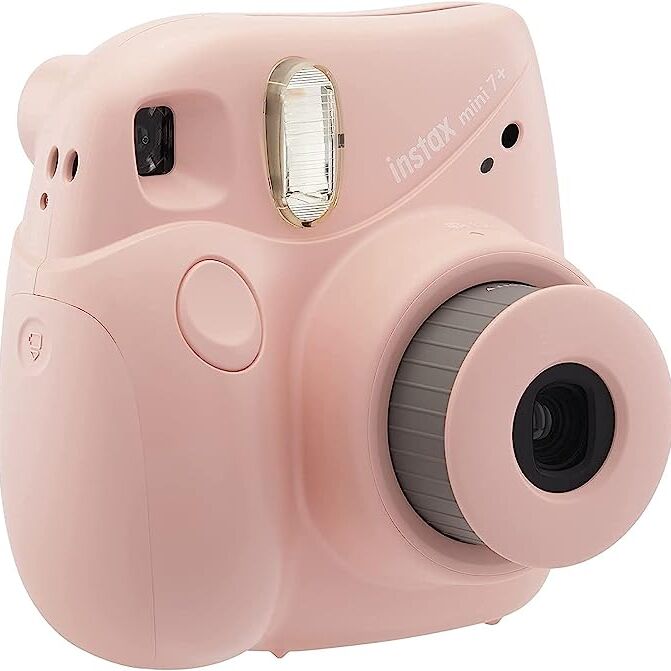 File this one under "things you need for a bachelorette party." While phone photos are great, instant pictures are a fun way to memorialize moments from the bachelorette party while also creating favors attendees can take with them.
Must-Have Bachelorette Party Supplies: Games & Prizes
The bachelorette party should be all fun and games, and these bachelorette games are the first step to making that the case. The games and prizes below are must-haves for a bachelorette party.
Conversation Cards to Encourage Bonding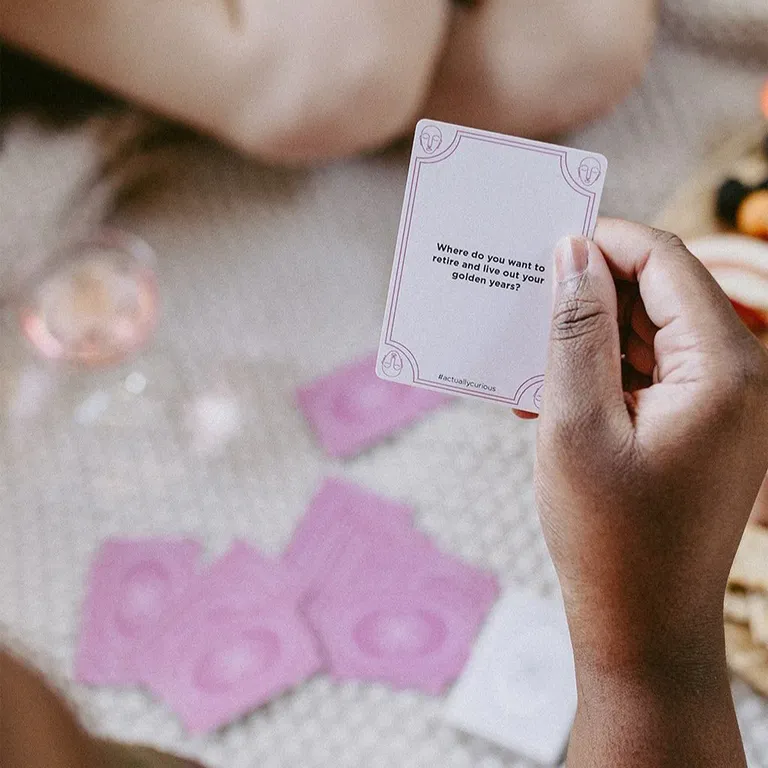 There's a good chance that some of the bachelorette party attendees are meeting for the first time at this prewedding celebration. While they all have their friendship with the bride in common, they might not know each other so it's time to encourage everyone to get to know each other—these cards do just that.
Fragrant Candle Bachelorette Game Prize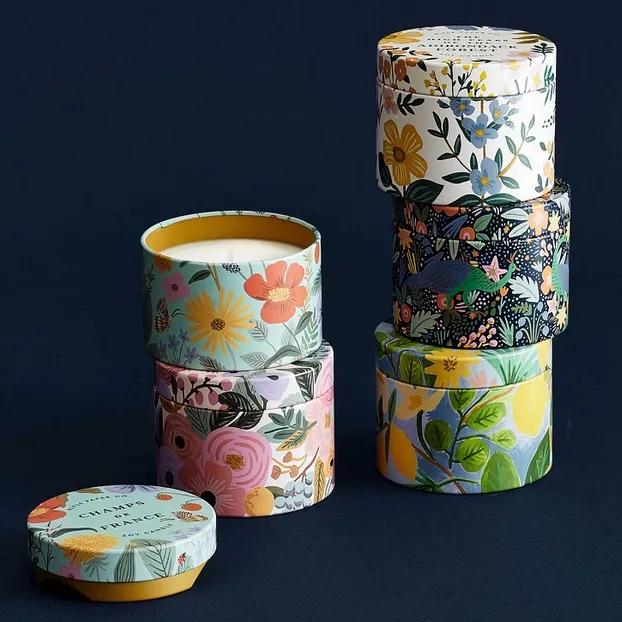 These candles, which come in durable, travel-friendly metal tins, are a fun and simple prize for bachelorette party games. Go ahead and add two or three to your bachelorette shopping list.
Naughty Deck of Cards for a Wild Night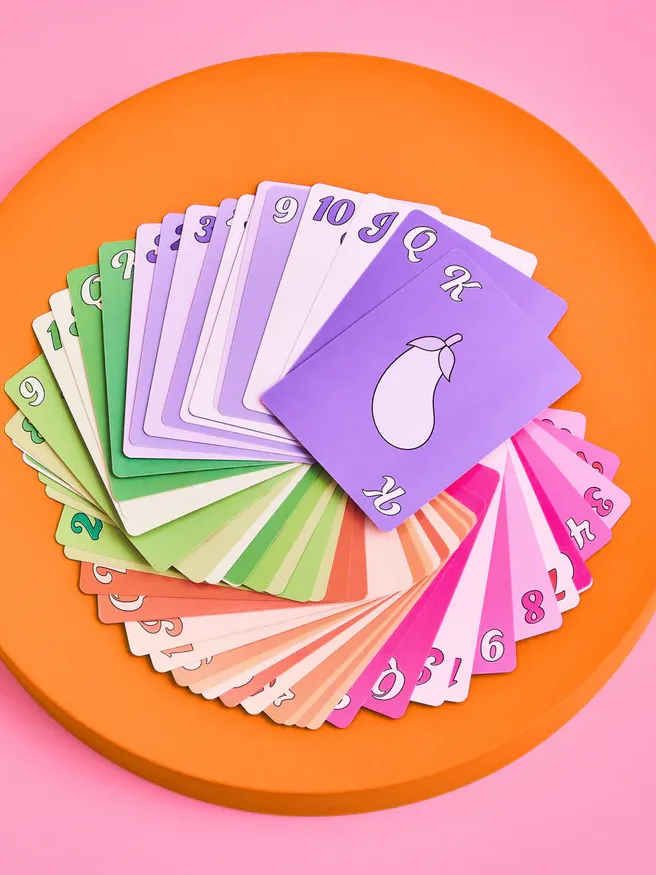 Challenge your buddies to a high-stakes game of poker with a deck of cards. Only, this deck of cards is a little bit saucy…it even has an eggplant King.
Want to see even more bachelorette party games? Check out the top picks below.
Must-Have Bachelorette Party Supplies: Cake & Cake Decor
Make this sweet prewedding celebration even sweeter with a memorable bachelorette party cake. From premade desserts you can order to accessories to enhance your treats, these items are bachelorette party necessities.
Bright and Cheery Cupcake Decorating Kit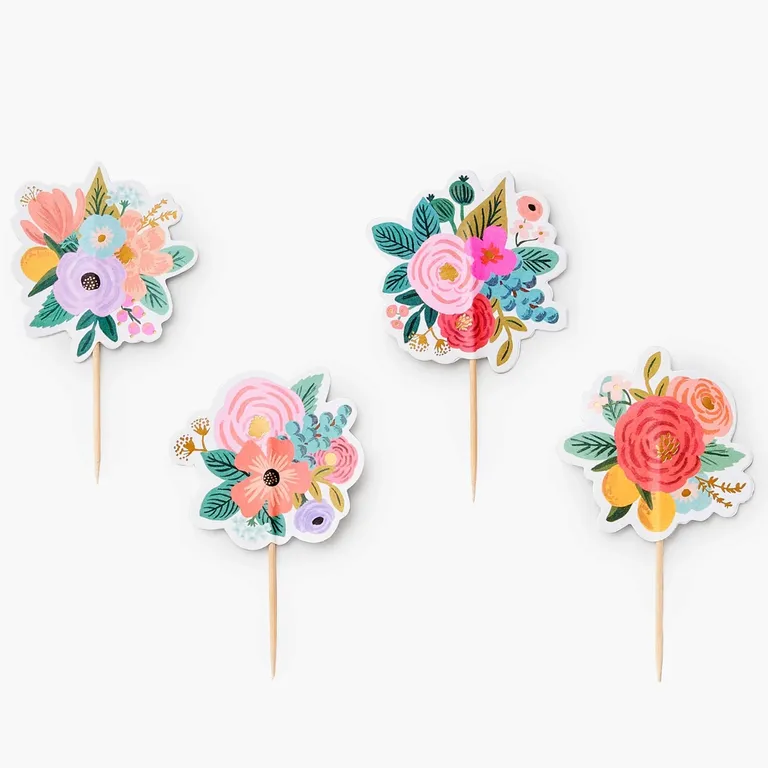 While buying a cake or cupcakes for the bachelorette is a solid option, baking dessert with your besties during the celebration is a fun option if you have a lot of foodies attending. This cute cupcake kit will make the bach activity even more festive.
Delicious Confetti Cake With Buttercream Icing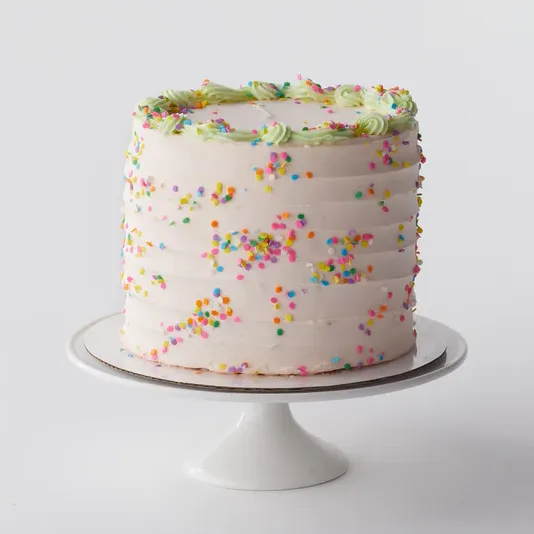 New York City-based Magnolia Bakery is renowned for their desserts. But, guess what? You can order their sweets with nationwide shipping to enjoy anywhere, even if you aren't hosting a New York bachelorette.
Adorable Custom Cake Topper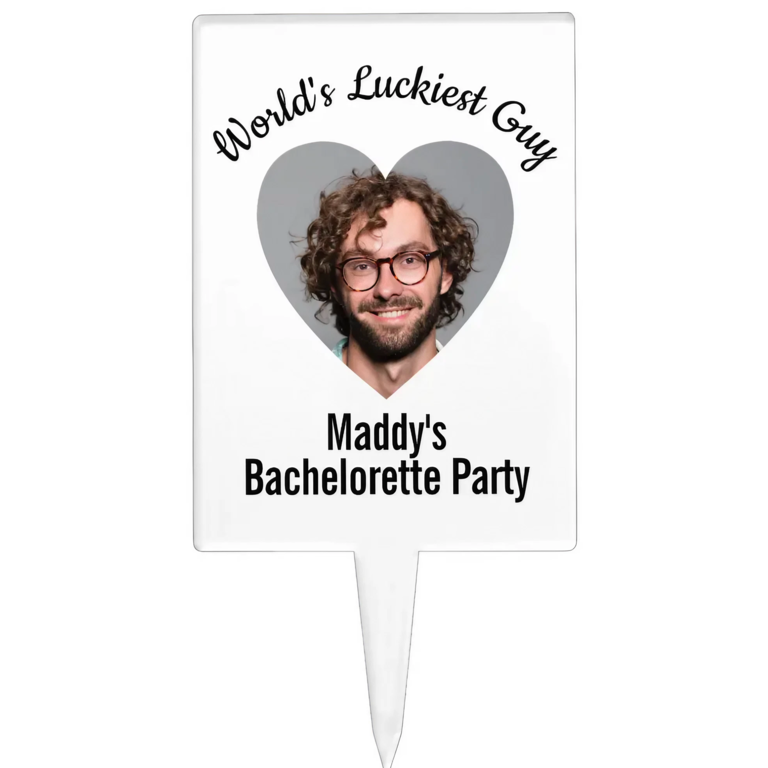 Unless you're hosting a joint bach party, your bestie's partner won't be attending this celebration. But you can include them in spirit with a fun custom cake topper emblazoned with their visage.
Want to get even more bachelorette party cake inspiration? Here's some eye candy for you.
Must-Have Bachelorette Party Supplies: Decor
Decor is one of the best ways to enhance your chosen theme, whether you've settled on a '70s bachelorette or a beach bachelorette party. What are you waiting for? Let' get decorating.
Colorful Dried Flower Bouquet for Enduring Style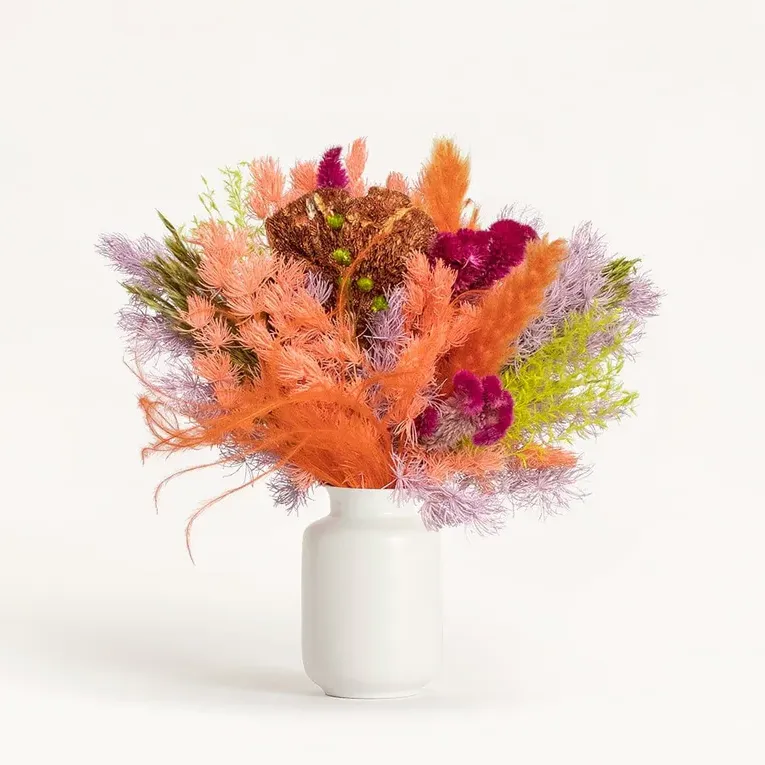 I'm always a fan of bachelorette party necessities that can pull double duty. The great thing about this dried bouquet is that the to-be-wed can take it with them after the bach and use it as home decor that'll always remind them of their special celebration.
Get All the Laughs With This Giant Foam Head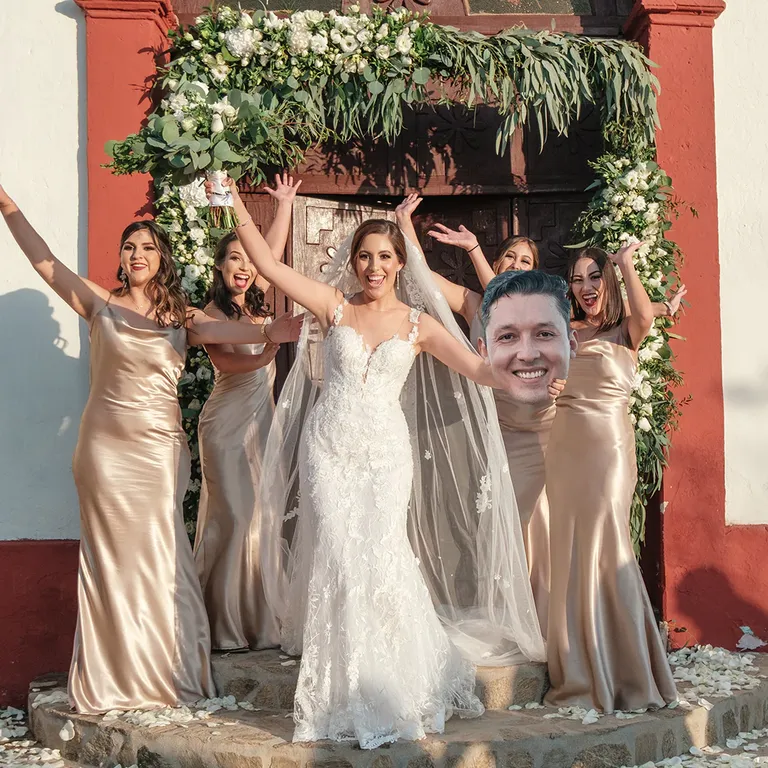 Your bestie's love for their partner is larger-than-life and deserves an equally large cutout. This product lets you bring along the special S.O. in foam form.
Customizable Letterboard Bachelorette Party Sign
Want to pay homage to a funny inside joke you share with the wedding crew? While there are plenty of bachelorette party signs out there with predetermined phrases, this fun letterboard lets you write whatever you want.
Ring Bachelorette Party Balloon to Show Off the Bling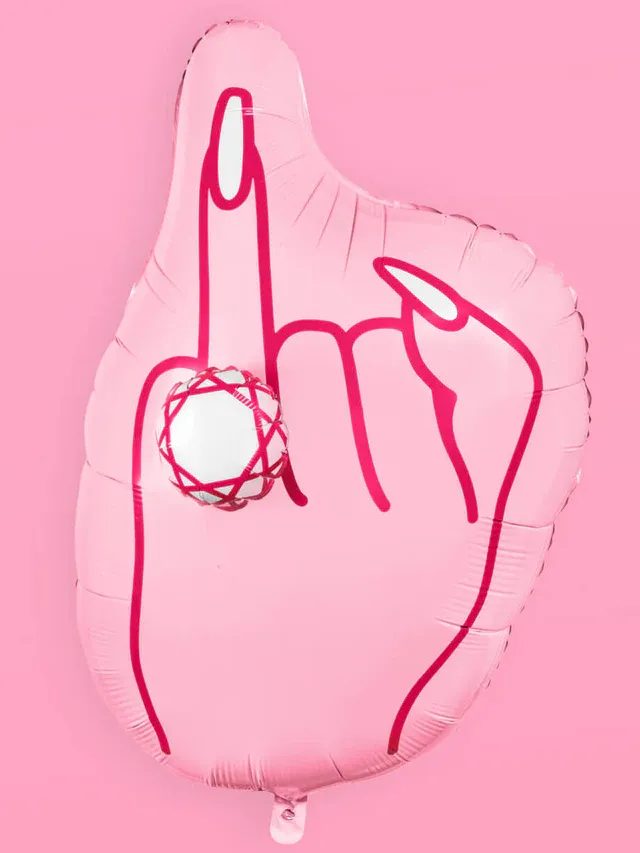 As Beyoncé says, "If you liked it then you shoulda put a ring on it." In this case, they did put a ring on it. This bling-centric helium balloon guarantees one thing: No one will forget about the new rock the to-be-wed is sporting.
You can never have too much bach decor. Check out even more shoppable picks below.
Must-Have Bachelorette Party Supplies: Crafts
Whether you're having a cozy at-home bachelorette party or you've rented a vacation home for the festivities, crafts can be a fun break amid partying. These kits are some of my faves that I consider bachelorette party must-haves.
Adorable DIY Paint-Your-Own-Fruit Magnet Kit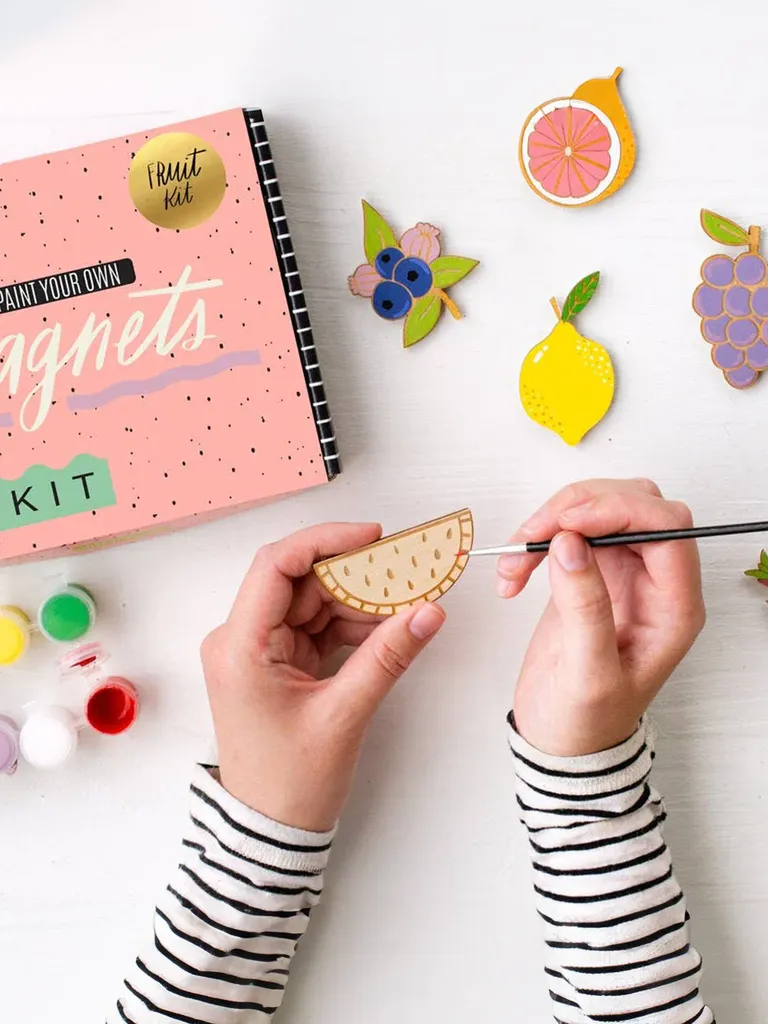 Calling all homebodies who want a wholesome at-home bachelorette party. Slip into cozy clothes, pour a drink and get ready to paint a fun fruit magnet.
Chic, Sustainable Candle-Making Kit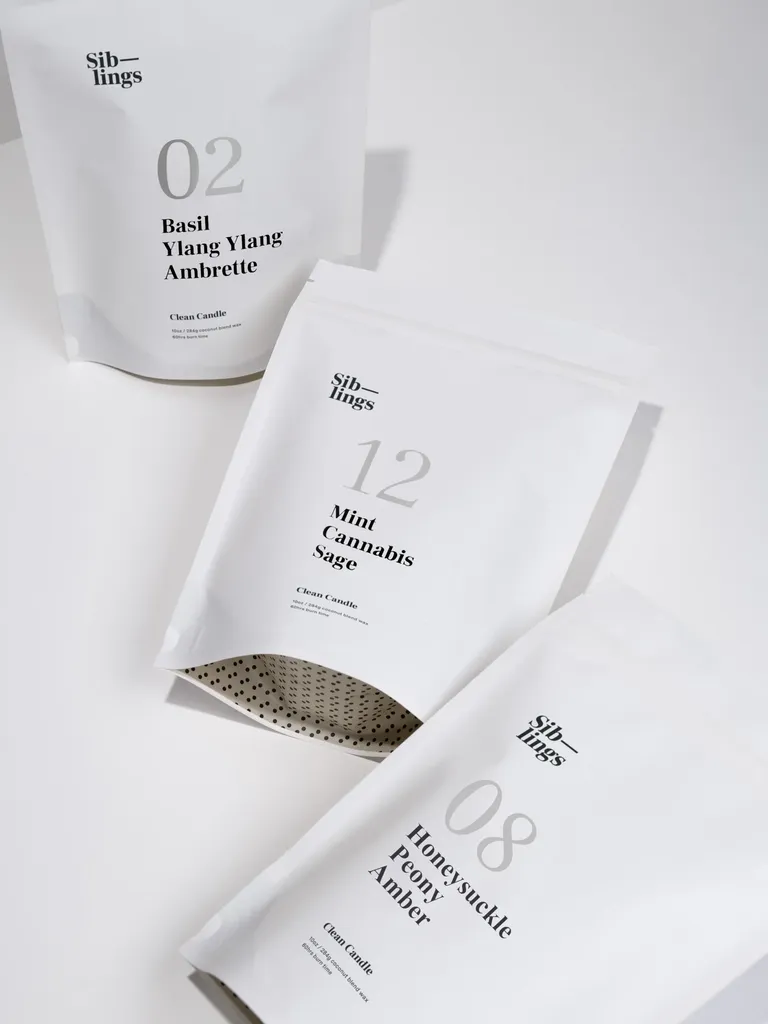 Let's admit—often candle-making kits available at craft stores a little cheugy. Not only is this candle kid totally refined and elegant, it's also customizable and sustainable. You can source your own vessel to cut down on waste and then microwave the kit to prep the wax for pouring into a container of your choice.
Taylor Swift-Worthy Friendship Bracelet Kit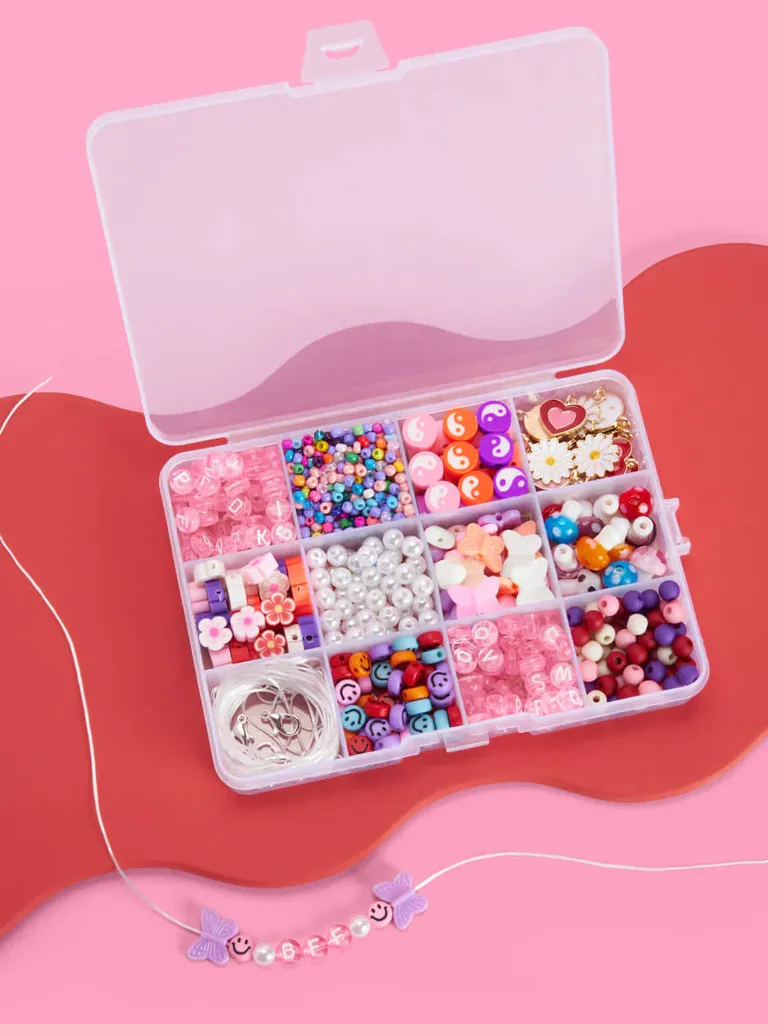 Do as Mother Swift instructs: "So make the friendship bracelets." This kit comes with a dreamy assortment of beads ranging from butterflies to smiley faces.
Feeling crafty? Check out more great bachelorette crafts below.
Must-Have Bachelorette Party Supplies: Thematic Details
Picking a bachelorette theme is only half the battle. Once you've settled on the aesthetic of choice (from Mamma Mia to Friends or even mermaids) it's time to incorporate that into every part of your bachelorette party supplies checklist. Here are a few ideas to inspire you.
Retro '90s Bachelorette Party Sign for Nineties Kids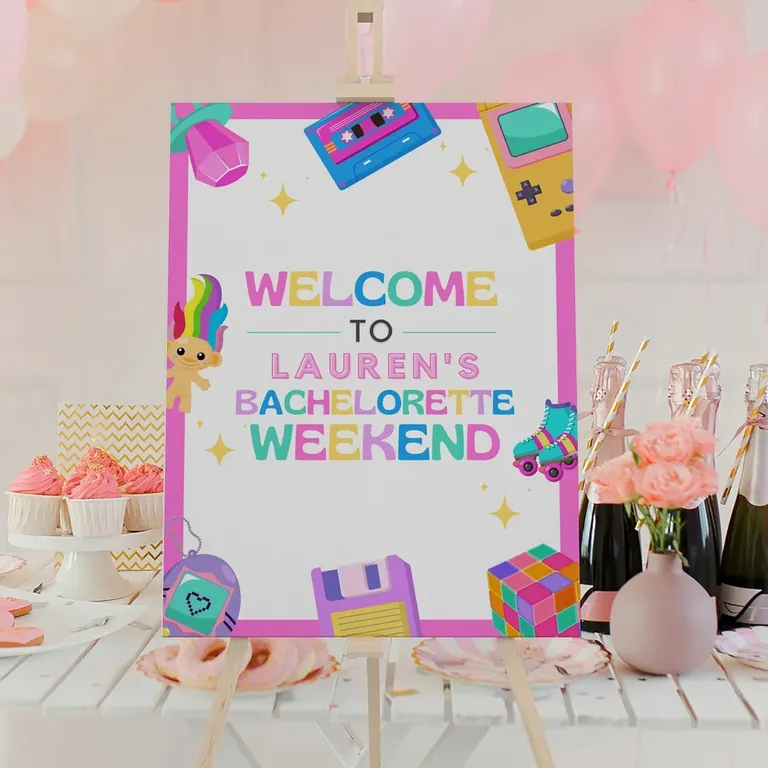 Signs are a great addition to any bachelorette party. If you're planning a retro '90s bachelorette then this cute one is for you.
Barbiecore Pool Float Malibu Barbie Would Love
Calling all Barbie stans, this bachelorette pool float is just what Margot Robbie would want you to buy. Just make sure to slather on the SPF before you hit the water.
Themes don't have to feel cheugy. We've rounded up our very favorite bach themes below.
Must-Have Bachelorette Party Supplies: Matching Attire
The crew that dresses together stays together. From sashes to shirts, matching attire is a fun way to ensure there's no doubt about what rowdy fun you and your besties are up to.
Matching T-Shirts for the Entire Crew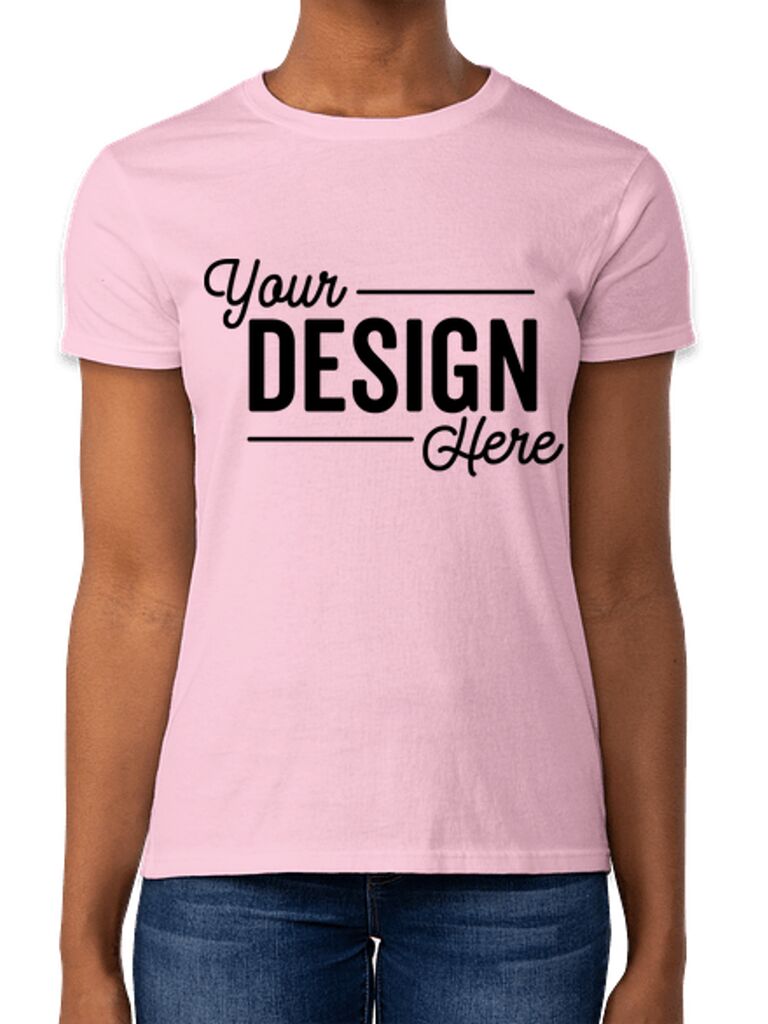 Matching bachelorette shirts are nothing new, but they're a bach party mainstay for a reason. Matching shirts are a fun, simple and memorable way to celebrate the person of honor.
Sashay Away With a Bach Sash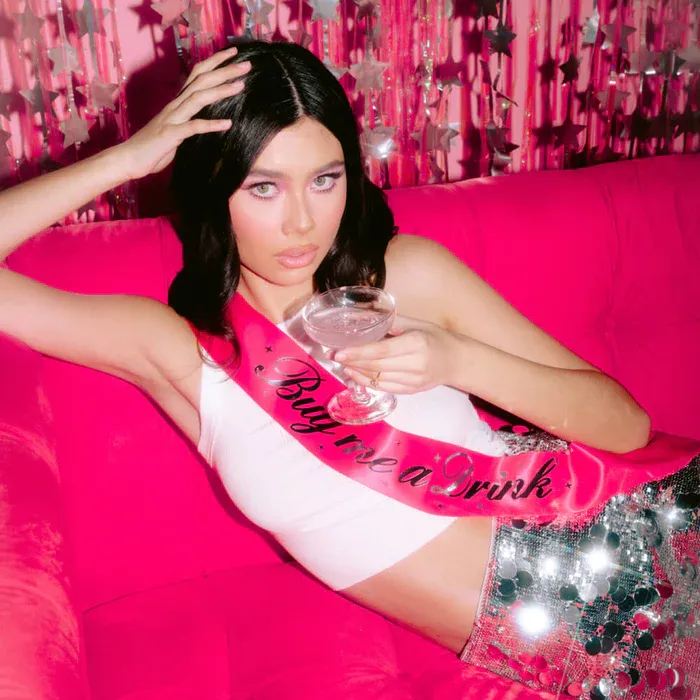 Gone are the days of boring bachelorette party sashes. Sashes are a must-have for a bachelorette party, but there's no rule against them being fun and a little cheeky.
Belt Bags That Are Cool Girl-Coded
Belt bags are having a moment and I am totally here for it. This pack of belt bags comes with eight pieces so your whole crew can rock these bachelorette necessities.
Bachelorette Venmo Code Pins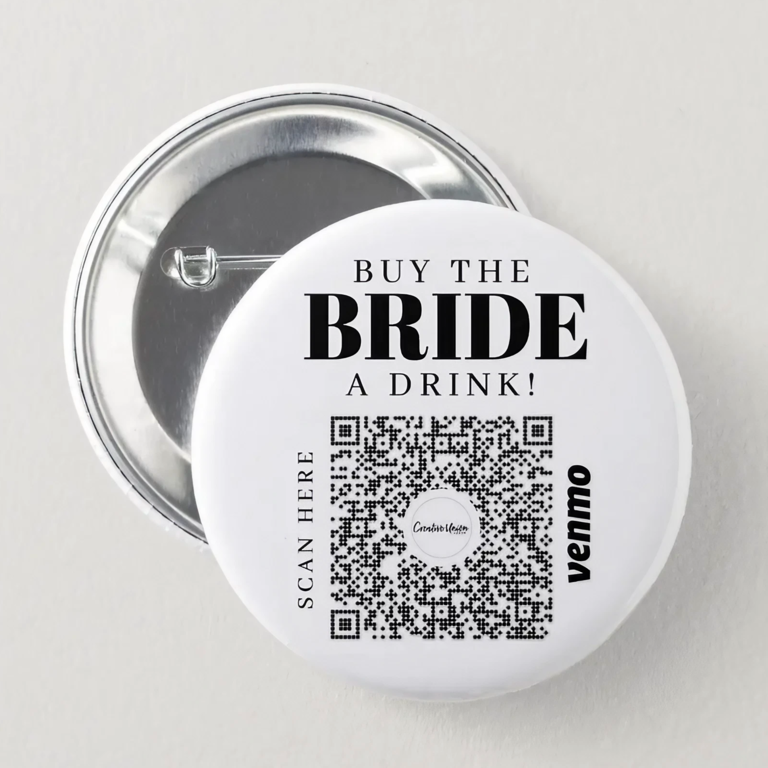 Three cheers for free drinks. Get strangers in on the fun with these QR code pins that allow anyone to scan and buy the bride a drink.
Interested in more bach attire? We've rounded up some great bachelorette t-shirt options.
Must-Have Bachelorette Party Supplies: Food & Drink
No bachelorette party is complete without delicious food and drink. All of these products need to be added to your bachelorette shopping list right away, trust me.
Wedding-Themed Drink Stirrers for the Perfect Sip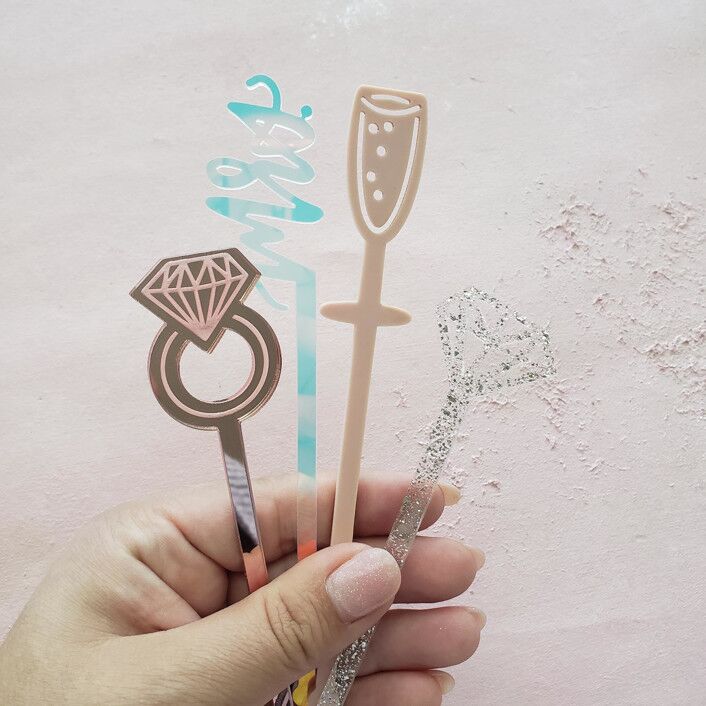 Mix up the perfect bachelorette cocktail with one of these acrylic drink stirrers. TBH, they're all so cute that I can't decide which one is my favorite.
Diamond-Themed Cocktail Napkins That Bring the Sparkle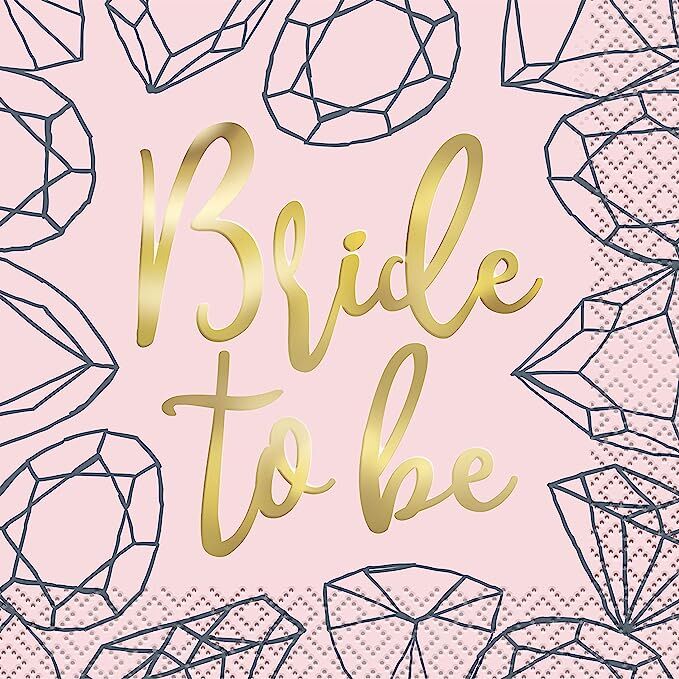 Planning a "She's a Gem"-themed event? Round out your serveware with these adorable napkins.
These Drink Sleeves Are Serving Western-Desert Vibes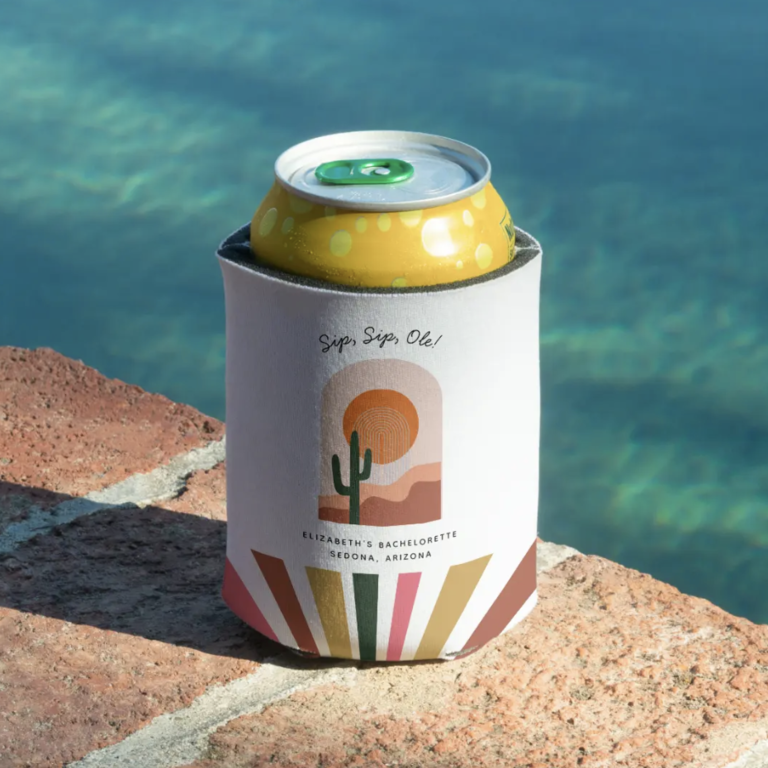 There's nothing worse than a warm beer or soda. That's why a custom drink sleeve is a must-have for bachelorette party drinks. Plus, how adorable are these ones for a Western bachelorette party?
Iridescent "Last Disco" Cups for Under the Mirrorball
These frosted cups are essential for anyone planning a disco bachelorette party. These plastic ones are a great purchase because they're more durable than typical single-use plastic cups and can be used all throughout the bach weekend.
These Mouthwatering Cookies Have a Cult Following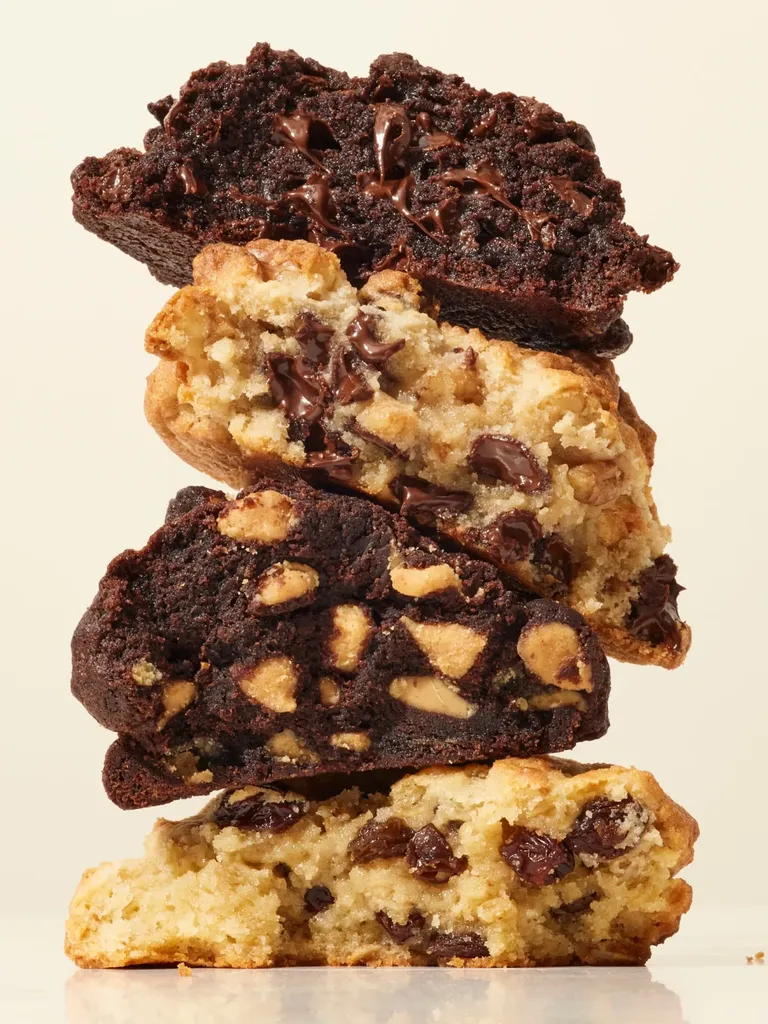 Show the to-be-wed that you want nothing but the best for them. These cookies are regarded by many to be some of the best on the market.
Adaptogenic Drink for Non-Alcoholic Fun
You don't need alcohol in order to have a fun, memorable party. Don't believe me? Just take a sip of these drinks from OG party gal (and beverage company co-founder) Katy Perry. Bonus: You can find more sober bachelorette party ideas here.
Feeling hungry? Take a gander at food and drink ideas for the bach bash.
Must-Have Bachelorette Party Supplies: Invitations & Stationery
Before welcoming the crew to enjoy all the fun things you have planned you have to start by letting them know they're invited. These bachelorette party invitations are a great way to let the wedding party know their presence is requested for the party of the century.
Trendy Barbicore Bachelorette Party Invitation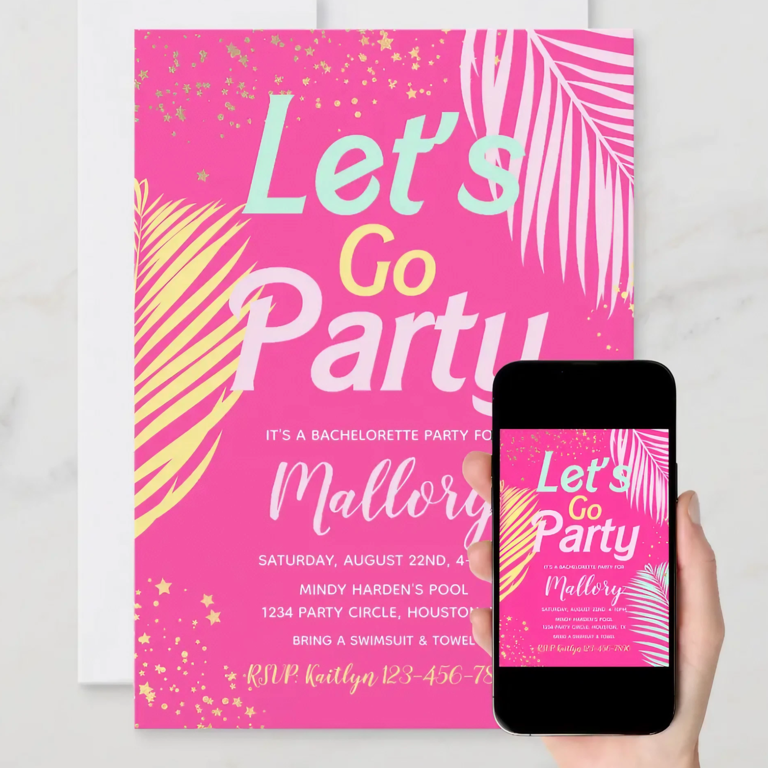 One of my favorite bach themes of the moment is the Barbie bachelorette party. Lots of pink, retro vibes and all-around fun. What's not to love? Invite your besties to the party with this cute invitation that can be printed or downloaded, or both.
Groovy Retro '70s Bachelorette Party Invitation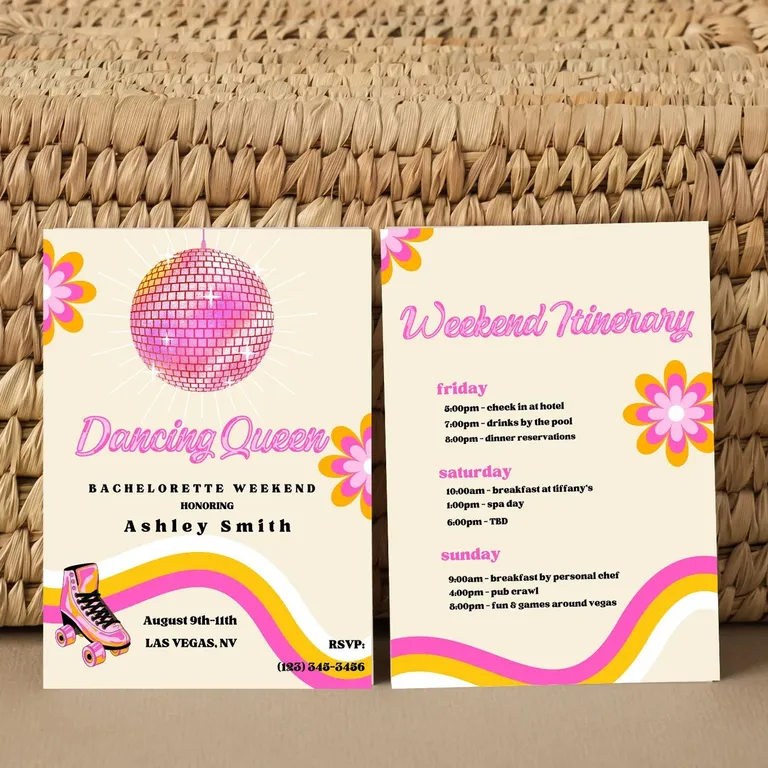 Barbie isn't the only way to lean into the "what's old is new again" vibe. Retro bachelorette parties are also a fun route to go.
Dazzling Colorful Beach Bachelorette Party Invitations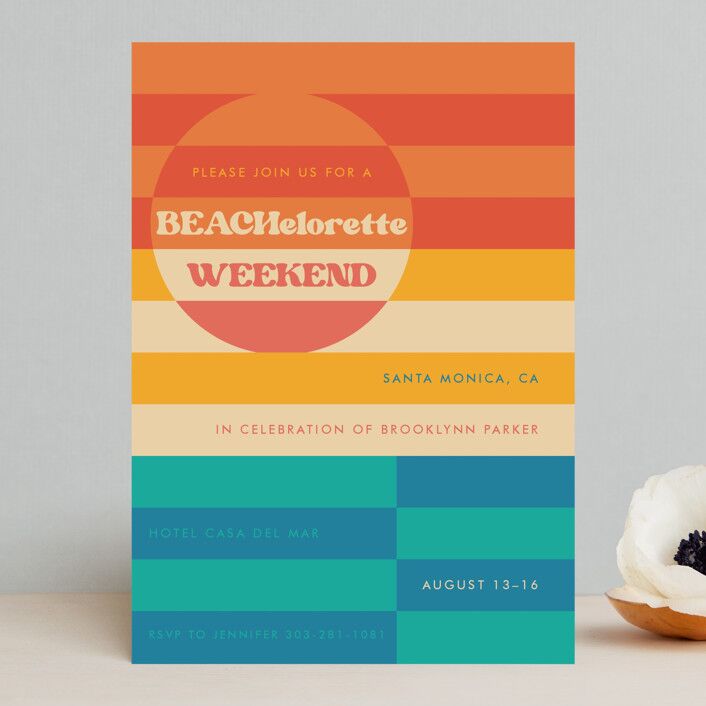 You can file this under "things you need for a bachelorette party at the beach." However, before you hit the beach you need to send these beach bachelorette party invitations to alert the crew.
Giddy-Up to a Hoe-Down Throw-Down With These Invites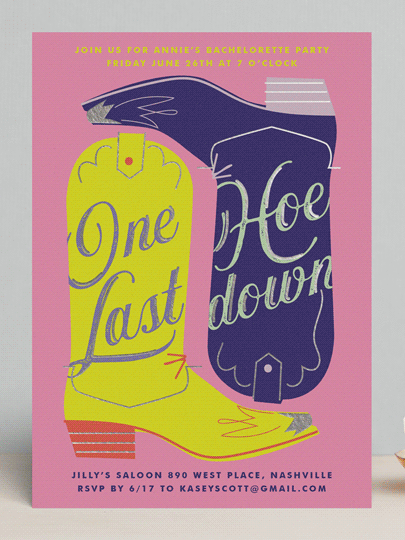 What's better than a cowgirl bach? A disco cowgirl bachelorette party. The key to success is to sprinkle in plenty of sparkle amid the yee-haw.
Kick off your bachelorette shopping with invitations to the celebration.
Must-Have Bachelorette Party Supplies: Favors & Guest Amenities
Each attendee is putting in the time and money to attend this celebration so the least you can do is honor that with a few little goodies for each member of the wedding crew. Start the weekend off with a welcome bag and end with favors—it's never a bad idea to bookend festivities with gifts.
Mini Canvas Tote With Chic Custom Monogram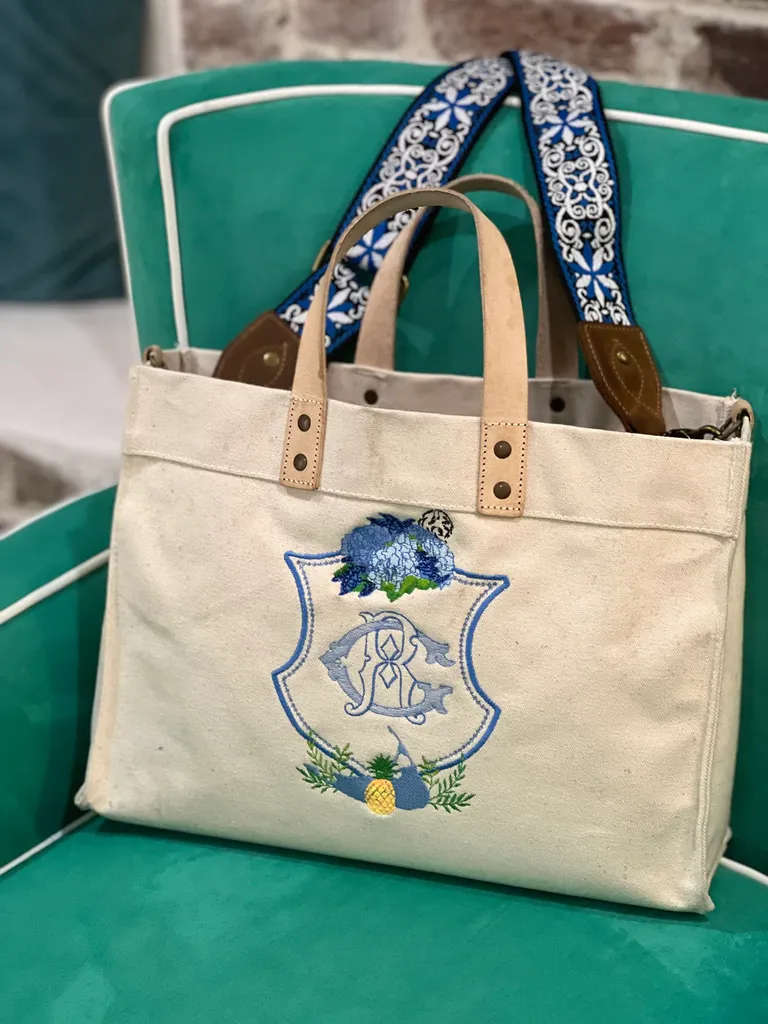 The important thing when considering gifts is to keep in mind that they'll need to fit into a suitcase at the end of the weekend. That's why this custom canvas tote is so great. It's roomy enough to be practical but petite enough that your besties will be able to travel home with it.
Stay Hydrated With Electrolyte Powder
There's no room for dehydration on the bachelorette invite list. If you're putting together a bachelorette party hangover kit for attendees make sure you add in some electrolyte powder, stat.
Assorted Face Masks for Spa Night Bach
In addition to staying hydrated on the inside, keep your skin hydrated with this pack of assorted face masks. Or, if there isn't time in the schedule to put these on during the festivities, send some home with everyone so they can recover after the bachelorette.
No bach party is complete without favors. Here are even more top picks to consider.
Must-Have Bachelorette Party Supplies: Entertainment & Tech
The last important category of bachelorette party supplies is tech. You'll need some gadgets to have an epic celebration and these products are bachelorette party essentials.
Portable Speaker for Sick Beats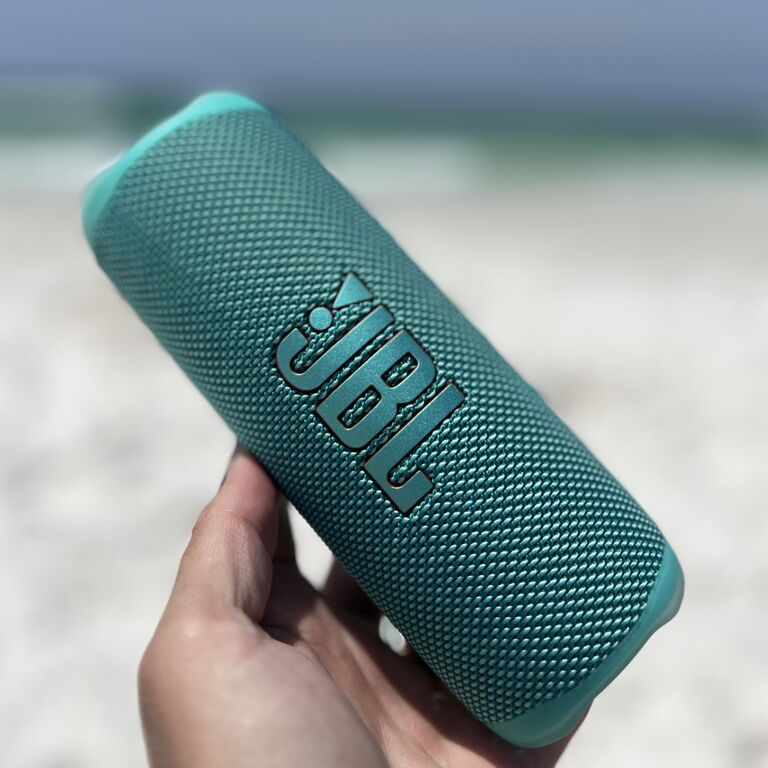 Turn up the music! Once you've curated the perfect bachelorette party playlist you're going to need a sweet speaker to blast your tunes.
Selfie-Ready Cell Phone Tripod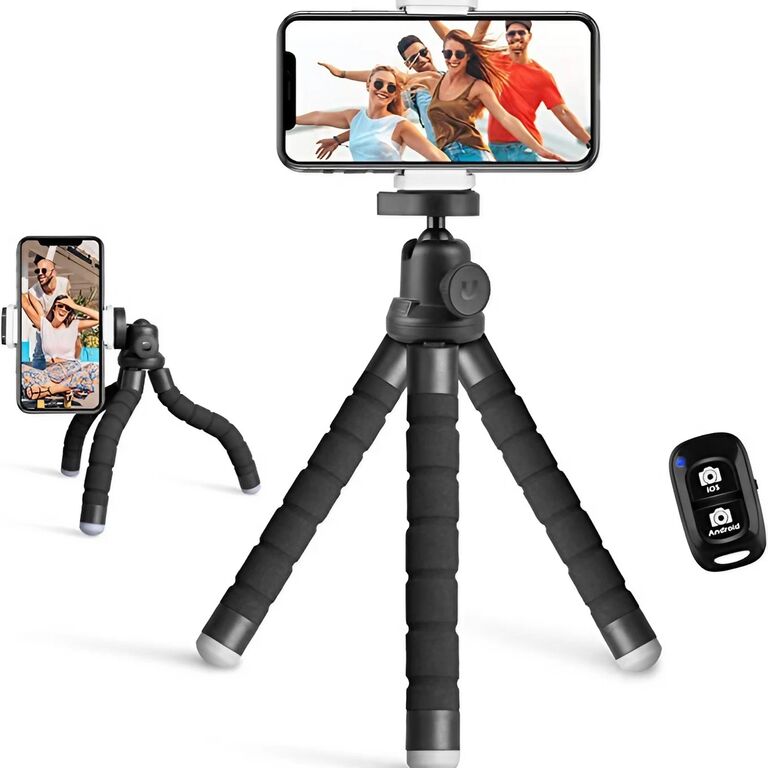 Out: Selfie sticks. In: This compact, portable tripod. Capture all the memories with your besties with a little help from a phone-compatible tripod.
Portable Project for an Epic Movie Night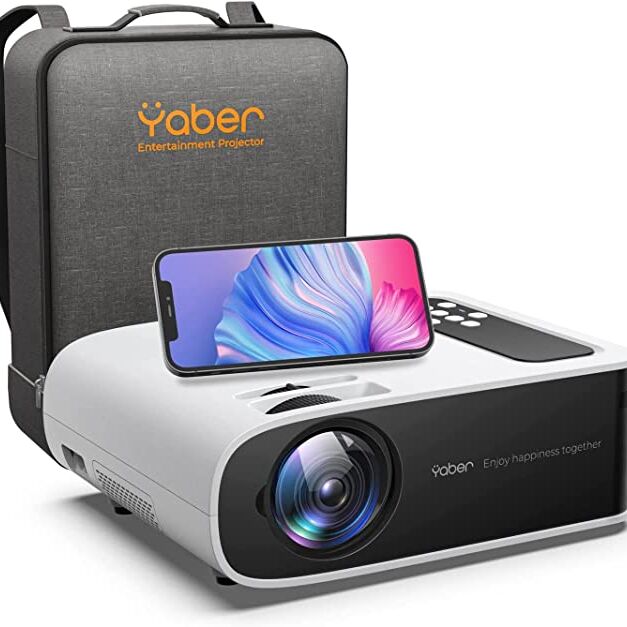 Imagine this: You decorate the backyard with blankets and pillows, plus plenty of popcorn. All you need to complete this recipe for a great movie night is a white sheet and this Wifi- and Bluetooth-compatible projector.
Looking for a movie to stream during the bachelorette? We've rounded up our favorites to consider.
Please note: The Knot and the materials and information it contains are not intended to, and do not constitute, legal, financial, tax or medical advice and should not be used as such. You should always consult with your professional advisors about your specific circumstances. This information contained herein is not necessarily exhaustive, complete, accurate or up to date. In addition, we do not take responsibility for information contained in any external links, over which we have no control.