60 Bachelorette Party Themes That'll Make the Night Epic
From cowgirl hats to "Shrek" ears, we have it all.
Narrowing down bachelorette party themes is a welcome break from wedding planning for any bride-to-be and her besties. With so many evolving trends and fresh bachelorette party themes, you and your squad can make your pre-wedding bashes personalized to your distinct liking. If a classic "last sail before the veil" isn't your vibe, delight the group with these freshly-baked and fun bachelorette party ideas, inspired by pop culture, holidays, nostalgic eras and so much more.
We rounded up the very best ideas, including a "Friends"-inspired event, a Beyoncé-themed weekend and even wellness-focused themes for the chill groups. Read on for the very best bachelorette party themes.
In this article:
Classic Bachelorette Party Themes
Before we get into the bachelorette party themes you might not have heard of, we need to address the classics. Here are the seven bach ideas that to-be-weds and their crews can't get enough of.
Celestial-Themed Bachelorette Party
If the bride knows her sun and moon signs, plus her partner's rising sign, we predict she desires an astrology-themed party. Stock up on celestial-themed invitations and decor, and ask everyone to dress in their favorite star motifs. If you're looking for experiences, hire an astrologer to do everyone's birth chart or drink under the stars with cozy blankets. This idea could be a big hit, not just with the bride. Who doesn't want to know what the future holds?
Boho-Themed Bachelorette Party
You'll want pampas grass, moody photography, layers of chic garb and unconventional decor at this event. Have a backyard brunch with multiple colorful rugs and comfy sitting pillows surrounding wooden pallets as the dining table.
Garden-Themed Bachelorette Party
If the to-be-wed is a flower hoarder, there's nothing more perfect than a floral-themed bachelorette party for the bride. Whether you opt for wisteria hysteria to greet the group inside your bach pad or fill the room with seasonal selects, make the weekend all about flowers––even down to your hair and makeup for the night out. The easiest place to begin is your local grocery store, where you can stock up on all types of flowers or consider a delivery service.
Preppy-Themed Bachelorette Party
Pull out the tartan and seersucker outfits. If the group loves to golf or relax at the country club, consider a fun preppy bachelorette party. Complete your attire with argyle patterns and serve delicious Tom Collins cocktails.
Silly Wig-Themed Bachelorette Party
Fact: Parties are more fun when everyone is wearing wigs. Ask your wedding party crew to purchase a colorful wig before the celebration. This way everyone can rock new hairstyles while celebrating the bride-to-be.
Country-Themed Bachelorette Party
If she's a country girl at heart, take the bride to a good old-fashioned country Western bar (or a country destination like Nashville) for line dancing, mechanical bull rides and pitchers of beer. The most important country bachelorette party idea you can't forget is cowboy boots and hats for true yeehaw flair.
Nautical-Themed Bachelorette Party
You'll need lots of anchor decorations for this fun bachelorette theme. The last sail before the veil concept is ever-popular. Sailor hats, cute navy blue striped outfits and of course, a boat ride of some sort are essential.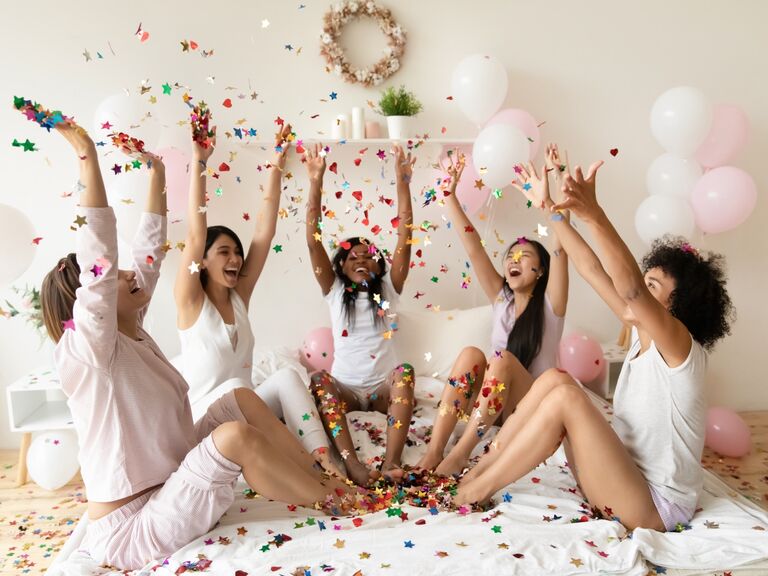 Unique Bachelorette Party Themes
Want to surprise your honored guest with a creative bachelorette theme? Then check out this list of unique ideas for inspiration.
Wellness-Themed Bachelorette Party
It's true: bachelorette party themes have evolved, especially for those who want to be more mindful and healthier about the overall experience. Since the bach party is one of those wedding events where we encourage couples to pursue their favorite interests and hobbies, those who prefer yoga, relaxation, massages and overall balance should consider a wellness-themed bachelorette party, complete with green juice cocktails and farm-to-table meals.
Also in this category are spa-themed bachelorette parties, which include massages, group facials and a manicure party. Maybe the day begins with a high-intensity workout or a hot yoga class and ends with being centered before the wedding.
Final Fiesta-Themed Bachelorette Party
Time for some tasty margaritas with your señoritas. Make it extra picante with spicy cocktails, homemade guacamole, a Mexican food menu and fiesta-themed party decorations. If you want to be extra in the best way, order a piñata so your besties can walk away with sweet bachelorette party favors.
Murder Mystery-Themed Bachelorette Party
If the bride digests a new true-crime podcast daily, perhaps a murder mystery-themed bachelorette party is just the party idea for the crew. Experiential group games are on the upswing (think, escape rooms). Why not have a bachelorette party theme that keeps everyone guessing throughout the night?
Flannel-Themed Bachelorette Party
If you're throwing a slumber party, this concept is the perfect fit for your pajama and button-down adoring friends. Ask each guest to wear their favorite flannel piece, and if the bachelorette party is happening during the fall, have a fun day at a pumpkin patch or apple orchard.
Space Cowgirl-Themed Bachelorette Party
If you spend even five minutes on wedding TikTok, you'll probably come across the space cowgirl aesthetic: a blend of boho-western wear and futuristic celestial flair. Provide your crew with cowgirl hats and fringe accessories, and ask them to don cute space buns hairstyles and metallic outfits. Don't forget a shimmering streamer backdrop for photo opportunities. It's like the Kacey Musgraves song "Space Cowboy" personified.
Famous [Partner's Name]-Themed Bachelorette Party
This bachelorette party theme is straight from TikTok, and it's perfect for groups who aren't into traditional themes. For one night of your bash, invite your friends to come dressed as a television, book or movie character or celebrity who shares the same first name as the bride's partner's name. If the bride's future spouse's name is Chris, the crew can dress as Chris Hemsworth, Pine, Evans and even -tina Aguilera. The more innovative your take on "Chris," the better. The best part is that the bride can dress up as her partner if she chooses. This kind of bachelorette party will create some iconic memories.
Nature-Themed Bachelorette Party
Is the bride a big fan of the great outdoors? Consider a nature-themed bachelorette party that includes a mountain destination. Glamping in luxurious tents or a cozy cabin is an option, or perhaps gather your besties and rent a luxe treehouse. Activities like hiking, kayaking, swimming, fishing and more are a unique way to spend a bachelorette party. Ensure all guests know what clothes and necessities to pack for a nature sleepover. And don't forget the s'mores.
Disney Princess-Themed Bachelorette Party
The next best thing to actually being at Disney World or Disneyland for a bachelorette getaway is having your girls channel their inner Disney princesses all weekend long. Disney has long built an empire of partnerships, meaning everything from face masks to wine glasses and shot glasses is fair game for this bachelorette party idea. So throw on a princess-themed shirt, pour some wine in a Cinderella glass, and turn on your favorite Disney classics.
Barbie-Themed Bachelorette Party
You don't need to rent a Malibu Dream Home for a Barbie theme. It can be fun for your friends who love the color pink and crave a dose of nostalgia. The color palette can be infused with pops of rose gold, while no Barbie-themed playlist is complete without the inclusion of Aqua's "Barbie Girl." Plus, you can send out some pretty and pink Barbiecore party invitations.
Neon Nights-Themed Bachelorette Party
Stand out in the crowd and put on neon attire for a vibrant neon nights bachelorette theme. Each partygoer can choose their own neon color to don and wear glow stick jewelry for even more pizzazz. Buy a neon sign with a funky phrase for your photo backdrop.
Match Made In Heaven-Themed Bachelorette Party
There are two ways to play on the "match made in heaven" expression for your themed bachelorette party. Have a color scheme of bright oranges and reds, ask guests to wear fiery flame-inspired attire and give everyone custom matchboxes with the bride's name on them. Or go the angelic route, where everyone wears different shades of white and angel wings for a fun night out.
Movie and TV Bachelorette Party Themes
For squads that love watching classic movies and popular television shows together, why not dress like your favorite characters? From rom-coms to musicals, we have it all.
"Euphoria" Bachelorette Theme
The "Euphoria"-inspired makeup trend is perfect for bachelorette partiers who love bright colors and bold eyeshadow looks. Invite your crew to dress up in monochrome hues and wear artistic makeup looks à la Maddy and Cassie. Don't forget a playlist of Labrinth songs for your weekend festivities.
"Bridgerton" Bachelorette Theme
Travel back to London's Regency era with a luxe Bridgerton-themed bachelorette party. Lean into the regency-core aesthetic with champagne towers, tea parties, frilly attire and pastel colors.
"Mean Girls" Bachelorette Theme
You're not a regular wedding party, you're a cool wedding party. Grab your burn book and throw a "Mean Girls"-inspired bachelorette party that would make Regina George proud. Bonus points if you have your friends dress up like the movie's beloved characters, from Cady Heron to Aaron Samuels.
"Harry Potter" Bachelorette Theme
For the bride-to-be who uses "Wingardium Leviosa" regularly, a "Harry Potter"-inspired party awaits. Supplement this cute theme with a fresh batch of Butterbeer, spells for decorations and cocktails inspired by potions.
"Clueless" Bachelorette Theme
As if there was a better bachelorette party theme. Alicia Silverstone joined TikTok in 2021, but everyone else is partaking in the throwback aesthetic that Cher Horowitz and her besties started in the 1990s. Whether you want ruched dresses inspired by Cher or Mel, or you're looking for swag that reads, "She's a full-on Monet," seek and you shall find.
"Friends" Bachelorette Theme
Arrange your very own Central Perk inside your bach pad with a "Friends"-themed bachelorette. Order "Friends" mugs to send home with guests as favors, after your Instagram shoot. If the bride tribe prefers a bachelorette party game, play "who said it" to test everyone's "Friends" trivia skills.
"Gossip Girl" Bachelorette Theme
If you're a Blair Waldorf or Serena Van Der Woodsen in real life, you'll want to gather your finest headbands and headscarves for a "Gossip Girl"-themed bachelorette party. If you're in New York, start with a scavenger hunt along NYC's Upper East Side for the most iconic filming locations (including food and cocktail spots). Don't forget a photo opportunity in Manhattan's Central Park, where Blair and Chuck got married.
"Real Housewives" Bachelorette Theme
One thing's certain: a Real Housewives-themed bachelorette will be far from an actual "Scary Island" experience. If you and your girls love curling up to Bravo shows (even beyond the scope of the Housewives franchise), the options are endless depending on the city's proximity. If you're in L.A., a must is setting reservations at PUMP, SUR or TomTom for longtime followers of Vanderpump Rules. A New York City bash should include an outing to The Russian Tea Room and AOA Bar and Grill, where RHONY's Ramona Singer is now a partner. Chase it all with a SkinnyGirl margarita and marathon of the most outstanding episodes, ranked from most dramatic to semi-dramatic.
"The Office" Bachelorette Theme
You're likely not traveling to Scranton, Pennsylvania for your bachelorette party, but you can transform your bach pad into Dunder Mifflin and throw a themed event that will have even the likes of Michael Scott would love.
"Bridesmaids" Bachelorette Theme
There's a touch of irony in this bachelorette party theme. For fans of the flick, leave the drama aside and lean into the hilariousness of the 2011 comedy, "Bridesmaids." Try to find invitations with an illustration of Kristen Wiig's character delivering her all-encompassing "I'm ready to paaaartyy" phrase.
"Sex and the City" Bachelorette Theme
And just like that, your closet full of little black dresses is calling. With the reboot of Sex and the City, an entire bachelorette party theme is waiting to be explored for your group of fabulous besties who can differentiate between Manolos and Choos.
"Breakfast at Tiffany's" Bachelorette Theme
Make Holly Golightly proud with this themed idea. Ask the bride to bring their favorite little black dress or whichever color she chooses, a pair of bug-eyed sunglasses and ask the bachelorette party lead to stock up on croissants, coffee and a mimosa bar. If you're feeling extra adventurous, build a Tiffany & Co.-worthy backdrop for this classic theme party idea. Then, play the film or any other classic Hepburn flick in the background.
"Great Gatsby" Bachelorette Theme
It is the Roaring '20s once again, and a "Gatsby"-themed bachelorette party would be fun for a group that tends to dress to the nines. Ask your guests to source their best flapper-style attire and decorate the party space with jazz-age accents like metallic brushes and swirl detailing. Plus, those bachelorette party invitations should come with a quote by F. Scott Fitzgerald.
"Moulin Rouge" Bachelorette Theme
If you want to set a scene straight out of "Moulin Rouge," consider this idea that marries the bohemian era with the Gilded Age in the Parisian neighborhood of Montmartre. You'll want to start with that iconic windmill, Hollywood-inspired lettering and spotlight motifs.
"Wednesday" Bachelorette Theme
This popular Netflix show is a great way to channel your dark side. Dark purples and black hues are the ideal color scheme for this event. Serve tasty terrifying treats like cake pops shaped like hands and spider web cupcakes before heading out on the town. Everyone can dress like different versions of Wednesday or other Addams family members.
"Mamma Mia!" Bachelorette Theme
This bachelorette party theme is arguably one of the best on the list since this musical movie is about a woman preparing to get married in beautiful Greece (plus, lots of other drama). Playing all of Abba's hits is a must, especially "Dancing Queen." Disco ball decorations, '70s attire and portable karaoke microphones party favors will make for the perfect "Mamma Mia!"-themed celebration.
"Shrek" Bachelorette Theme
If you and your squad believe ogres are like onions, then you should definitely have a "Shrek" bach bash. This funny bachelorette party theme can involve everyone dressing up as their favorite character or wearing all-green attire with Shrek ear headbands. To truly get the mood, let "All Star," by Smash Mouth be the soundtrack for the night.
Rom-Com-Inspired Bachelorette Party
Paging Nancy Meyers. Whether your favorite romantic comedy is "You've Got Mail" or the recent Anne Hathaway hit, "The Intern," romantic comedies provide lots of content opportunities for the bachelorette weekend. Movies to pull ideas from include Will Smith's "Hitch" or Jennifer Lopez's runaway hit "The Wedding Planner." Other funny options for sayings and hotspots (especially in Manhattan) include Hathaway and Kate Hudson's "Bride Wars" to "How to Lose a Guy in 10 Days." Imagine the decor possibilities!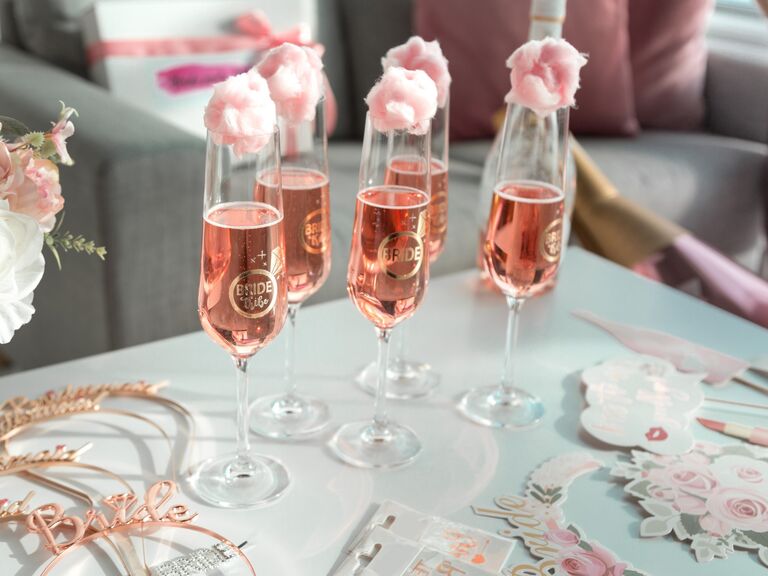 Food and Drink Bachelorette Party Themes
If you're a foodie and cocktail lover, incorporate that into the bachelorette party. Get creative with your food and drink menu with these six ideas.
High Tea Bachelorette Party
Grab your fascinators. If your friend wants an elegant affair, consider a high tea party, complete with lace doilies, finger sandwiches, petit fours, scones, clotted cream and a variety of tea. You can easily host tea in someone's home, or if you want to splurge, make reservations at a fancy tearoom. Some high-end hotel properties even offer etiquette classes to accompany group high tea sessions, so reserve ahead to mind your manners.
Doughnut-Themed Bachelorette Party
Place those orders for bachelorette party shirts and decor with "Doughnut Forget Us" messaging. If your bride-to-be can't get enough of this treat, you may want to lean into stocking up on Krispy Kreme, Dunkin' Donuts or any local favorites for an experiential getaway. The bridal party will enjoy party cups and decorations with doughnut motifs.
Foodie-Themed Bachelorette Party
Talk to the bride about her favorite cuisine and then attend a cooking class based on her preference—Japanese, Mexican and Italian are always big hits. If you have a bigger budget, hire a private chef to cook for the bachelorette and throw a luxe dinner party at someone's home. Wine (sake, beer, cocktails) pairings are a must and let the conversation flow.
Wine Tasting Bachelorette Party
Go to a local winery or restaurant and have a wine tasting—even better if you pair each round with delicious cheese, fruit and charcuterie boards. You can also hire a sommelier to come to someone's home and do a private tasting, so nobody has to worry about driving home.
Lemon-Themed Bachelorette Party
Celebrate your bestie finding her main squeeze with a lemon-themed bachelorette party. Stock up on bright yellow decor and serve citrusy drinks and snacks to nail this zesty theme.
Cotton Candy-Themed Bachelorette Party
Pastel pink, blue and purple and puffy cloud decor will work perfectly for a cotton candy bach theme. Of course, you'll have to serve cotton candy in some way. Try cotton candy-flavored cake and cotton candy champagne cocktails.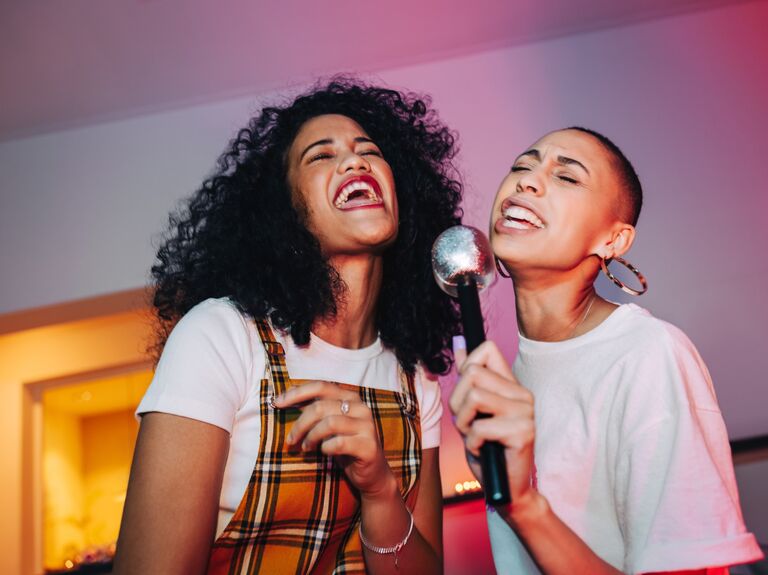 Music Bachelorette Party Themes
For groups that love having karaoke nights together, throw a party that involves your favorite artists or music genre. If you don't find your top musician on our list, use it to inspire your event.
Disco Fever Bachelorette Theme
The '70s are back in a big way, particularly in the form of disco fever parties. Stock up on disco balls big and small to deck out your space or hotel room, and pay homage to the maximal era by wearing bell-bottom jeans, groovy patterns and blown-out hairstyles. You'll have so much fun celebrating the bride's final disco.
Beyoncé Bachelorette Theme
There are so many amazing ways to approach a Beyoncé-themed event. Whether you pick up signs that read, "Drunk In Love" or "CUFF IT," get your ladies into formation with swag they can wear repeatedly. We love the bachelorette party shirts and swimsuits that read, "Feyoncé."
Drake Bachelorette Theme
Ask the bridesmaids to DIY a giant Drake cutout, because this is a trending theme that even has its own category on Etsy. For a Drake-themed party, you'll want to purchase bachelorette party decor and signs that read, "Worst Behavior" and "24-Hour Champagne Diet."
Taylor Swift Bachelorette Theme
You may or may not make it to Cornelia Street, where she once fell in love, but let sparks fly with a Taylor Swift-themed bachelorette party. Pay homage to her top hits and albums by gathering your girls in bachelorette party shirts that read "Champagne Problems" or "Lover." Blast Midnights on repeat as you make drinks before you head out for the night, and in short, gather those swan, unicorn and Olivia Benson pool floats so that you can throw a party worthy of Taylor Swift. (How meta!)
Rock and Roll Bachelorette Theme
For groups that feel like they were born to rock, this is the best bachelorette party theme for them. Leather jackets and KISS-inspired makeup is totally appropriate for this type of bash. Consider handing out inflatable musical instruments so everyone can pretend to be a rock star.
Decade Bachelorette Party Themes
Each decade has a unique vibe that would make for some Instagram-worthy pictures. Read below to get ideas for your decade-themed bach shindig.
'70s-Themed Bachelorette Party
There are two ways you can go about a '70s bachelorette theme. Get ready to boogie and wear disco-era attire like bell bottoms, shirts with billowy sleeves, knee-high boots and vibrant jumpsuits. Of course, you'll need plenty of disco ball decorations. For people who want to go the flower child route, get groovy and adorn your bachelorette party space with daisies, peace signs, and orange, yellow, pink and brown hues.
'80s-Themed Bachelorette Party
For the bride-to-be who basically lives in another era, an '80s-themed bach party should involve scrunchies, bike shorts and crop tops, all of which isn't an issue since the modern aesthetic is a mix of both '80s and '90s styles.
'90s-Themed Bachelorette Party
Fashion shouldn't be too much of an issue when planning a bachelorette party that harkens back to those bygone days of nostalgia and Skip-Its. Bring back your childhood and teenage memories by polling the bride and the group for their favorite '90s trends. It can include anything from your favorite TV shows and movies to board games and books. Then, bring the winners to life with swag that screams, "'90s Dream Team" as you make your way through your chosen destination. Make your own photo booth with a Polaroid station.
Y2K-Themed Bachelorette Party
Relive your glory days with a Y2K bachelorette party theme. Dress your crew in matching tracksuits, accessorize your hair with butterfly clips, and decorate with bright, neon colors to channel the best of the late '90s and early 2000s. (The more Lisa Frank inspired, the better.)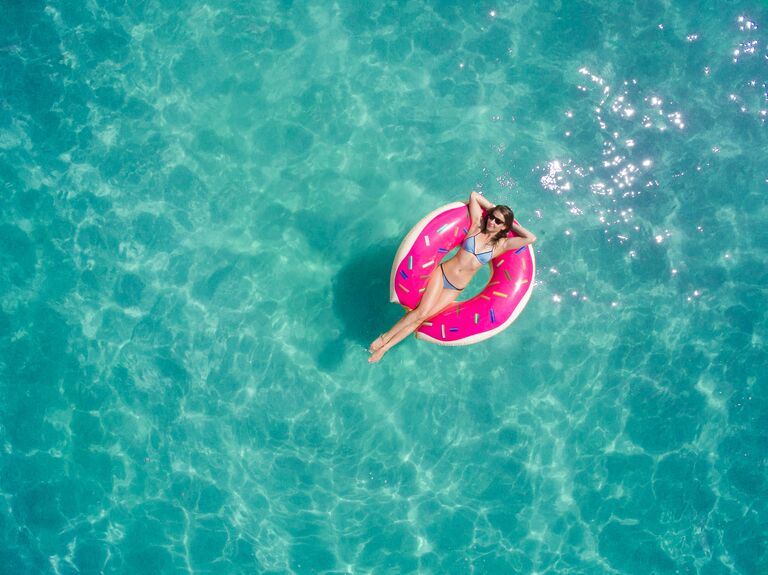 Destination-Centered Party Themes
It doesn't matter if you're preparing to go to one of these locations or want to simply show your love for it. You should try one of these destination-centered bachelorette party themes for your memorable weekend.
Beach-Themed Bachelorette Party
Not to be confused with a mermaid-themed event, but a beach-themed bachelorette party is a classic way to bond before the nuptials. Head seaside with your bride tribe for a mellow (or action-packed) weekend. After all, those rosé cans are extra delicious in a cooler with a side of fresh fruit. If you want to take the added step, dress your entire crew in matching swimsuits or cover-ups with the bride shining in white or her color of choice.
Casino-Themed Bachelorette Party
Regardless of whether you select Las Vegas as your bachelorette destination, you'll want to throw on your glitziest outfit (channel Monte Carlo vibes) and take a seat at the table for a casino-themed bachelorette. This next-level concept involves card games, as well as themed sunglasses to conceal your true expressions as you put on your best poker face.
Club-Themed Bachelorette Party
Whether it's a pool party at a day club, a drag show, bottle service at a swanky nightclub or something else entirely, a fun-loving bride will say "I do" to this theme. Reserve a table for your group and dress up in themed attire or your most dance-worthy outfit.
Desert-Themed Bachelorette Party
An Arizona or Palm Springs bachelorette getaway is within reach, especially when you opt for a desert-themed party. Regardless of where you plan to throw your event, if cactus motifs and palm trees are a favorite of your bride-to-be, consider a desert-themed event stocked with a bar to serve as your oasis.
Tropical Forest-Themed Bachelorette Party
Some groups love cheetah prints and Monstera leaves. If that's the case, a tropical or jungle-themed party, cute printables and rainforest home plants can create a lush environment and Instagram-friendly vignettes. For more fun, ask each partygoer to come dressed as their favorite tropical animal.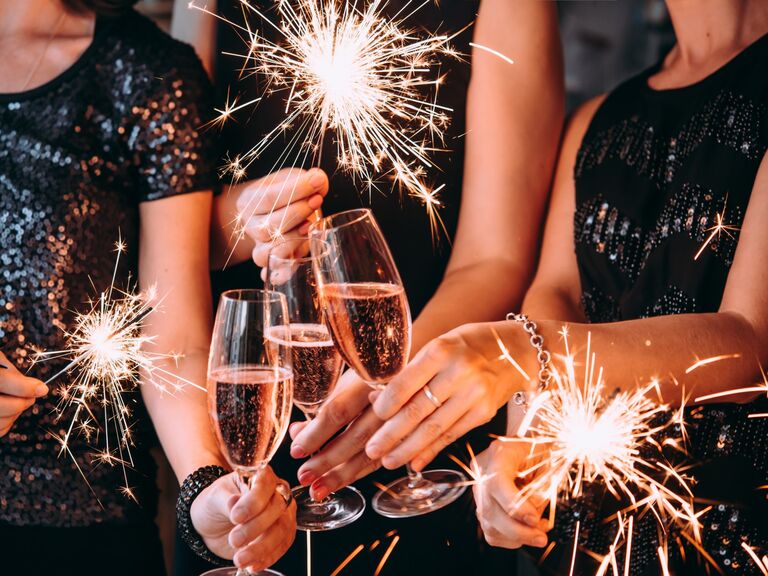 US Holiday Bachelorette Party Themes
If you're planning the bachelorette party in the same month as one of these major holidays, why not base your event around it? A holiday-themed gathering also works for groups who wish one of these festive days was every day of the year.
Christmas-Themed Bachelorette Party
Say hello to gingham prints and spiked hot cocoa. If the bride is a big fan of Christmas, bring her wishlist to life with a holiday-themed bachelorette party. Enjoy a formal "family dinner" complete with festive settings and a holiday-worthy centerpiece. Or have the crew dress in their most comfortable pajama sets and marathon classic Christmas flicks––with a side of kettle corn and mulled wine of course.
Halloween-Themed Bachelorette Party
A bachelorette party, but make it spooky. If your bride-to-be comes alive every year in October and starts planning her costume in January, this is a theme to consider. We love seeing bach groups wearing matching t-shirts that say "Boos Before I Dos."
New Year's Eve-Themed Bachelorette Party
Break out the bubbly and confetti. A New Year's Eve-themed party gives everyone a reason to wear sequins, drink champagne and set new goals for the season ahead.
Galentine's Day-Themed Bachelorette Party
Love is in the air, so why not host the ultimate Galentine's bachelorette bash? Coordinate matching silk pajamas for your group, and go all out with heart-themed decor, balloons and snacks in a pink and red color palette. Oh, and don't forget the heart-shaped sunnies for the ultimate photo opp.
Chapelle Johnson contributed to the reporting of this article.