35 Fun Bachelorette Party Decorations That Won't Break the Bank
We aren't lying—they're actually affordable.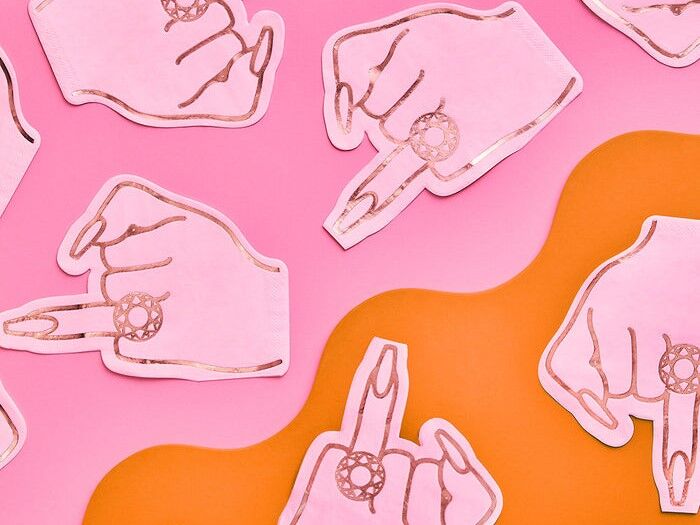 Photo: xo, Fetti
We have included third party products to help you navigate and enjoy life's biggest moments. Purchases made through links on this page may earn us a commission.
Are you putting together an awesome prewedding extravaganza for the bride and their crew? Then you need bachelorette party decorations. Setting up a fun ambiance is one of the easiest ways to make guests feel comfortable (cocktails also help, of course). And since this is the most laid-back of all the wedding bashes letting loose is kind of the point. Plus, bachelorette parties usually have guest lists that are made up of different family and friends meeting for the first time, so creating a welcoming environment is key.
Shop our favorite bachelorette party decor ideas below—full of balloons, banners, signs and accessories you'll love. And because this celebration doubles as a major photo op, we've picked supplies and decor your Instagram followers will love too.
In this article:
Where to Buy Bachelorette Party Decorations
There's a lot of bachelorette party decor online, which can be an overwhelming shopping experience. (Trust us, we know––it took us forever to curate this list.) But luckily, after scrolling through hundreds of phallic-shaped straws, we have gained insight into which stores have the best variety, reviews, prices and unique items, which we can now pass on to you.
Bachelorette Party Balloons
Nothing says party time more than festive balloons. Pick one or all of these to create a fun celebration for the to-be-wed.
Rose Gold Jumbo Confetti Bachelorette Balloon
Make a large space feel more intimate by adding overhead bachelorette decorations. You have to inflate the balloon yourself, but one customer claimed their balloon stayed inflated two months after their event. So maybe you can reuse this festive balloon for another function.
White XO Bachelorette Balloons
For a bachelorette party with a Beyoncé theme, these black-and-white XOXO balloons add a fun, flirty vibe. Just don't forget to play "XO" from her 2013 album while inflating them.
Large Champagne Bottle Bachelorette Balloon Arch
Just think of the cute photo-ops with this oversized champagne bottle bachelorette balloon. There are 59 pieces included in this balloon kit, which can be arranged in any formation you'd like.
Bling Ring Bachelorette Balloon
We love an on-theme bachelorette balloon. Plus, this is the perfect prop for a DIY photo booth.
Bachelorette Party Signs
Want to add a personal touch to your bachelorette party decorations? Consider having some signage to welcome your guests, point out the amenities or as a mini backdrop.
Custom Neon Bachelorette Party Sign
This neon bride-to-be bachelorette decoration is something everyone will want to put on their Instagram story. The sign comes in 10 colors and has sizes between 10 and 59 inches.
Mimosa Bar Bachelorette Party Sign
Going the route of a DIY cocktail station? Then don't forget the signage. The sign is made of clear acrylic, comes in five different sizes and has three color options for the text.
Personalized Final Fiesta Bachelorette Party Sign
If you're going to Mexico (or any place with tequila) for the bachelorette festivities, a Final Fiesta theme is what you need. Pick your board size, corner style (square or round) and personalize the template to include the bride's name and the party's location.
She Said Yes Bachelorette Party Sign
Hang this wooden bachelorette party sign proudly for a rustic theme. Or use this sign as a photo prop.
Custom Cowgirl Bachelorette Party Sign
This watercolor cow print and pink bachelorette board works for a Western or space cowgirl theme. Currently, this sign is a Zazzle Editors' pick for being a "top-quality or top-selling design."
Personalized Last Disco Bachelorette Party Sign
It's all groovy baby, with this disco bachelorette party sign. We love the retro font and silver confetti borders.
Bachelorette Party Banners
Decorate your space with a bachelorette banner above your drink or food table. Or you can use them as a backdrop for your party photos. No matter which way you want to use them, they'll complete your desired look effortlessly.
Team Bride Bachelorette Banner
Party guests will want to say loud and proud they're on team bride—or at least this bachelorette party banner will say it for them. This banner is in a chic rose gold color and is five feet long.
Mermaid-Themed Bachelorette Banner
For the bride who's a mermaid at heart, plan an ocean-themed event. Make it complete with an iridescent "last splash" bachelorette party banner. This is also perfect for fans of the new live-action Little Mermaid movie.
Sassy Bachelorette Banner
Channel Lizzo during the bachelorette bash with this "100% That Bach" decoration. Many reviewers give this product five stars for its easy assembly.
Custom Beach-Themed Bachelorette Banner
For groups having the bachelorette party poolside or at the beach, this is the perfect banner for your event. The watercolor banner comes in two different materials, one for inside and one for outside, and is a navy blue and white color.
Man! I Feel Like a Woman! Bachelorette Banner
Where are my Shania Twain stans?! This banner comes in a silver glitter finish, is five feet long and works for countrified bachelorette parties too.
Bachelorette Party Backdrops
Whether you want to make your own photo booth station or have an area where partygoers can snap selfies, a bachelorette backdrop is a fun purchase everyone will love. Once the function is over, gift the backdrop to the soon-to-be-bride as a keepsake.
Custom Camp Bachelorette Party Background
If you're having a bachelorette retreat to the woods, we suggest having a camp theme to match your environment. Choose between four size options and add the to-be-wed's name and party location.
Personalized Pink and White Bachelorette Party Background
Another Zazzle Editors' pick, this tapestry received numerous five-star reviews. It features watercolor cocktail illustrations in pale pink and two intertwining wedding bands, which is perfect for the occasion.
Rainbow Foil Bachelorette Party Background
This product comes with two three by seven feet foil curtains that span six feet. These work as a cute and vibrant background for photos or a cool item to hang at the threshold of the party.
Custom Pink Minimalist Bachelorette Party Background
If you don't want anything too over the top, this pastel peach-pink backdrop is for you. Choose one of five sizes (the large and extra large are the best for photo ops) and personalize the template of this dual-tone diagonal background.
Purple Foil Bachelorette Party Background
This is exactly like the rainbow curtain above, except it has a matte foil finish. Use this party background for a bride whose favorite hue is purple.
Pink and Silver Fringe Bachelorette Party Background
This handmade bachelorette backdrop is the perfect stylish addition to any party. This backdrop comes in numerous sizes, and the seller offers customers the ability to choose their own colors (up to five) for a unique result.
Black Skeleton Bachelorette Party Background
This punny tapestry is ideal for a bride that doesn't want a room filled with pretty in pink bachelorette party decorations. If the bride is having a Halloween wedding, they could reuse this backdrop for the reception.
Paper Wine Bottle Bachelorette Party Decor
If you and your crew are wine lovers, hang these wine bottle decorations above the drink table. These are also great for groups planning a bachelorette party at a vineyard.
Bachelorette Table Decorations
Below we have cute table adornments and items to put on the table. Keep reading to find out which one is our favorite bachelorette party decoration.
Retro Stemless Wine Glasses
These bride and babe wine glasses come in a set of four with retro script in black for the bride and pink for the guests. We love how these also work as bachelorette party favors.
Put a Ring On It Napkins
This is our favorite review about these napkins: "Too pretty––the guests liked the napkins and hated to use them." And no, these napkins aren't flipping you off, and yes, this is the second Beyoncé song reference we've made.
Champagne Gold Table Skirt
This ruffle champagne table skirt is made of shiny satin and organza in two layers to create dramatic volume. The best part about it is that it's hand washable making it possible to be reused for future events.
Prosecco Pong Bachelorette Party Game
Most likely you've heard of beer pong, so why not switch it up and use prosecco instead? The game comes with 12 plastic prosecco glasses, three pink ping pong balls and, unfortunately, no bubbly but a quick trip to the store can fix that.
Custom Face Confetti
Finally, you've made it to our favorite bachelorette party decoration. Send a high-quality picture of the bride or their partner for this funny decor idea. We suggest setting some confetti to the side so you can reuse it for the bride's birthday or gift it as a keepsake.
Bachelorette Party Car Decorations
If you're getting on the road to get to the bachelorette party destination, don't hesitate to decorate the vehicle you're traveling in. We're sure these items below will get you lots of celebratory honks from other drivers.
Personalized Buy the Bride a Shot QR Code
Try to collect some money while road trippin'. This QR code allows anyone with a Venmo account to scan it and send money to help the bride celebrate.
Pink and Black Bachelorette Party Bumper Sticker
You can't go wrong with a funny bumper sticker. The design says, "BACHELORETTE PARTY IN PROGRESS," but you can customize it to say whatever you want (within the word count limits).
Gold Almost Married Bachelorette Party Banner
Usually, the newlyweds' getaway car has a sign saying "just married," so why not have one of your own before the wedding? Just ensure the banner is securely attached to your vehicle so it doesn't fly away on the highway.
Bachelorette Party Decoration Kits
If searching high and low for individual bachelorette party decorations sounds like too much of a hassle, we understand. Here are four decoration kits that make planning a bachelorette easy.
Pastel Bachelorette Party Decoration Kit
This pastel party pack comes with 24 smiley-face paper plates, 24 smiley-face napkins and 20 reusable crazy straws. xo, Fetti also has two other party kits of this same design for your backdrop and balloon needs.
Silver and Black Bachelorette Party Decoration Kit
Go for one-and-done with this comprehensive bachelorette party decorations kit. It includes 26 balloons of different colors and designs, a satin bride-to-be sash and silver foil curtains. It'll look like you masterfully coordinated everything yourself.
Dramatic Bachelorette Balloon Arch Kit
Nothing makes a statement quite like a balloon arch, and this kit helps you create one. The kit comes in gold, rose gold, pastel, white and silver.
Lemon-Themed Bachelorette Party Decoration Kit
This lemon-focused kit is great for brunch bachelorette parties and includes a "She Found Her Main Squeeze" banner, lemon garland, 30 balloons, a cake topper and cupcake toppers. Talk about bang for your buck.