Here's How to Plan for Bachelorette Party Drinks and Food
After all: nobody likes a hungry bachelorette party.
We have included third party products to help you navigate and enjoy life's biggest moments. Purchases made through links on this page may earn us a commission.
Planning for bachelorette party drinks and food requires some diligence, but you'll be grateful once you're noshing on delicious bites and refreshing cocktails. Standard crowd-pleasers (and bridal party favorites) range from cute finger foods to refreshing and boozy sweets; plus, you'll also want to account for a fully-stocked bar and additional meals at home. Whether you're in search of DIY cocktail recipes (margaritas, anyone?) or tips for how to assemble charcuterie boards, planning for bachelorette party drinks and food is easy as pie with these steps.
In This Article:
Bachelorette Party Food Ideas
Bachelorette Party Drinks
Bachelorette Party Food and Beverage Pairings
How to Plan for Bach Party Drinks and Food
Similar to the group accountant, who keeps track of all finances, you'll want to designate two bridesmaids to be the bachelorette hospitality planners. Involving the group helps every participant feel ownership over the entire bach party weekend, so we highly recommend distributing key tasks. If you'd rather enlist the help of a pro, hire a caterer for a more luxurious experience.
Determine Your Itinerary
Bachelorette party food and drinks won't be set in stone until the week of the getaway. Prior to finalizing your F&B checklist, you'll want to determine your dates and stay, in addition to a party theme and itinerary. The final portion is essential as you'll know which outings will require advance planning as opposed to dining out. While it isn't imperative to stick to the schedule, it helps to loosely outline and plan ahead for snacks, drinks and food at home. (A pro tip: It's better to be over-prepared. After all, nobody likes a hungry bachelorette party.)
Build Your Shopping List
According to our data, the average cost of a bachelorette party ranges anywhere from $350 to $4,000 depending on length of stay and distance. One cost-cutting adjustment groups can make is purchasing bachelorette party food and drinks in advance and enjoying select meals at home. Once you've worked out the itinerary and budgets, highlight the drinks, snacks and meals you'll enjoy at home.
Then, compile a grocery list and preorder everything from booze to appetizers and have it delivered straight to your bachelorette pad. With delivery services now sending goods nationwide (Amazon's Whole Foods delivery, UberEats' partnership with convenience stores), all you need to do is plan ahead, purchase on the spot and savor the rest later.
Don't Forget Décor
Fun shot glasses, printable itineraries and even martini glasses could be great party favors for the entire group. If you want the blogger-esque documentation from start to finish, head to The Knot Shop, Etsy and Birdy Grey for the best bachelorette party games and decor selection, including matching plates, cups and shot glasses.
Bachelorette Party Food Ideas
Depending on the scale of effort you put into prepping food, you'll either want store-bought or homemade dips and finger foods to nosh on between partying antics. "You'll want to have daytime foods that can turn into nighttime foods," suggests food author Jeanette Hurt. "In other words, versatile dishes." Think about what you'd serve to friends if you're hosting a New Year's Eve party: you want these food options to be easy to scarf down and social-proof (no spaghetti this time).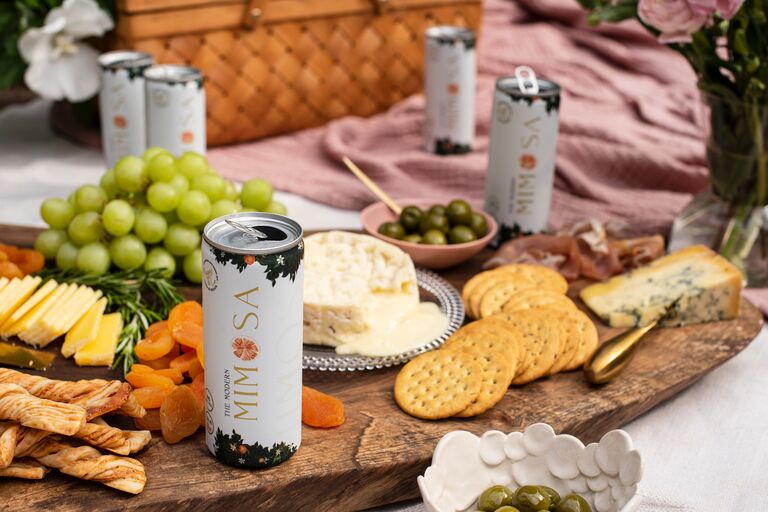 Build Your Own Food Bar
A DIY option that caters nicely to groups, constructing your own "bachelorette buffet" is a convenient approach to meals at home. If you're planning a dinner, for example, build a taco bar or a spring roll station. You can do the same with sandwiches and have everything laid out and ready for each attendee to build on her own, when she wants. Plus, the cleanup process will be way easy too.
Cakes and Confections
Is it really a celebration without sweets? Prepare a special moment for the bride-to-be by ordering her favorite dessert or a specialty cake, a step above the typical birthday party treat. We recommend the Lady M Mille Crêpe cake or Milk Bar's famed birthday cake truffles for true sweets snobs. Alternatives include petite cupcakes from your local bakery or specialty goodies from a candy store that carries rosé or champagne gummy bears.
Keep in mind: many brands now deliver nationwide straight to your Airbnb or VRBO pad, but timing is of the essence for keep. If you're staying in a hotel, ask if there's a pastry chef on-site for a sweet surprise sent straight to your, well, suite.
Charcuterie Boards
A standard crowd pleaser and often 'gram-worthy option, the modern cheese board presentation continues to evolve. Consider an alternative medley of charcuterie styles, such as trendy charcuterie cups or a copious grazing table. The latter option, covering every inch of a kitchen table or island, is a next-level surprise for the true cheese-adoring bride-to-be.
"If you're serving a cheeseboard, turn it into a big and bold grazing board that takes over an entire table. It will definitely add an extra element of décor and land on guests' Instagrams," says Hurt, the author of The Cheeses of Wisconsin. "Don't just add a few dried or fresh fruits, crackers and bread. Add dips, honey and jam. Plus, actual dishes and desserts."
Cheese "Cakes"
Gather those cheese wheels and assemble a cake the bride-to-be will always remember. Lately, more bridal showers and bach parties are introducing fun twists on the traditional cake with something more savory. You'll want to plan ahead by gathering at least three varieties of cheese wheels. Murray's Cheese recommends a firm base, like cheddar or parmesan. The next tier could be Kunik or some type of brie. Top the masterpiece with a petite cake topper like Vermont Creamery's Bijou, Valencay or Chabichou. For a festive touch, embellish the cake with ribbons, burlap accents and dried flowers. Don't forget to take photos.
Dips
What elevates veggies more than a divine dip? "Interesting and elevated dips and finger foods are hot," explains Hurt. "I'm seeing more dip books, recipes and articles offering interesting twists on familiar favorites… like beet spreads, hummus-made options. I'm also seeing all kinds of crazy cheese-based dips made with ranch, bacon and cheese, blue cheese and apricot or other creamy, dreamy combinations." Your cauliflower floret never tasted better.
Ice Cream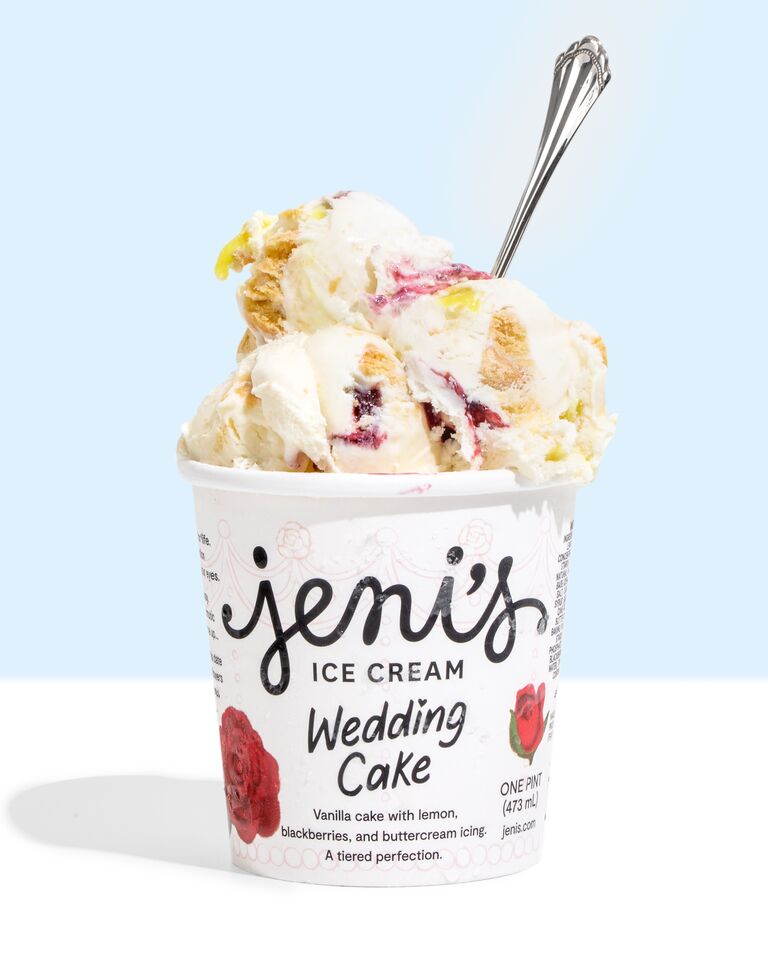 Boozy ice cream, like rosé, peanut butter or cake-flavored gourmet options, is a hit with groups. If you've reserved a hotel suite, check if you have access to a freezer. Bachelorette favorites like Jeni's Splendid Ice Cream (we recommend Wedding Cake or Frosé) are delivered nationwide, and these goodies arrive ice cold to the touch.
Skewers and Stacks
Instead of worrying about dishwashing duties, opt for skewers and bite-size portions. That way, partygoers can easily hold a drink in one hand and a delicious skewer in the other. Options include tortellini salad skewers (made with Roth original Havarti). "Two ideas I came across and love were from Wisconsin Cheese, the caramelized pineapple picks and Havarti-honeydew stacks are perfect party bites and so easy for any hostess to make," says Hurt.
Bachelorette Party Drinks
Did somebody say… party cocktails? If you're a crew that wants to party with booze, you'll want to prep summer drink ideas, unique cocktail recipes, while stocking up on wine recommendations and pregame liquor for a girls' night. From grab-and-go to make-it-yourself, read on for well-recommended prepackaged drinks and easy-to-make libations.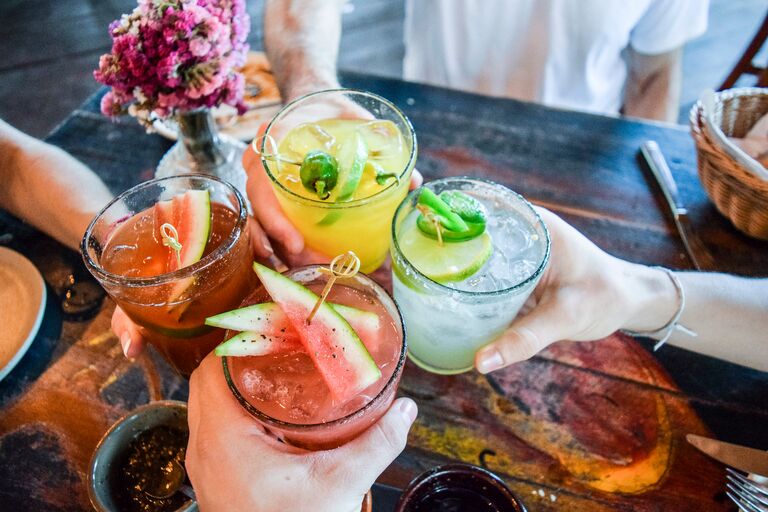 Brunch Cocktails
After a raucous evening of partying, a delicious Bloody Mary or mimosa is just what the bride-to-be ordered. Since Bloody Mary cocktails are often a meal within itself, this brunch staple could double as a DIY activity as everyone recollects tales from the evening before. "With a Bloody Mary, you can go crazy with freshly pickled vegetables, cheeses, candied bacon…" muses Hurt. "For a new spin on the classic, however, try a Bloody Mary 'cheese board' on top."
With mimosas, a fruit puree and fresh juices (cranberry, grapefruit, watermelon, orange juices and lime juices) could help revive you from a night of hurt. A well-made mimosa should be delicious as-is. Try this recipe from NYT Cooking for an elegant touch.
Canned Cocktails
One of the biggest wedding trends of 2021 is the canned cocktail, which doubles as a durable option when planning ahead for bachelorette party food and drinks. Manufacturers and top bars have developed their own versions of fruity or zesty cocktails. "Handcrafted canned cocktails are a great idea unless you're batching cocktails for a bachelorette party," explains Hurt.
We recommend options from Bev (available at Target), Mamitas Tequila & Soda or the Modern Mimosa. Whether you're the simple canned rosé crew or the more selective crew in search of a versatile canned mimosa or margarita, prepackaged drinks are here to stay. (A pro tip: don't forget your garnishes.)
Jello Shots
The college party staple lives on well into adulthood. Elevate the typical jello shot with sparkling and specialty versions for the crew. You can add fresh fruit or infuse a standard shot with sparkling wine. If you'd rather order vegan jello shots directly, turn to Boozy Bites.
Lemonade (Spiked)
Lemon has become the flavor of 2021, and it's even more refreshing when it's boozy. "As far as lemon cocktails go, boozy lemonades are lovely, as are sour cocktails. The whiskey sour can be lovely on a hot summer bachelorette party," explains Hurt. "You can do a boozy, raspberry vodka lemonade with just vodka and raspberries or vodka and raspberry liqueur. Or a watermelon lemonade with vodka and melon liqueur or a blueberry lemonade with blueberry vodka are other options. You could do a whole bar of batched, boozy lemonades, and that might be fun." Select a vodka or clear liquor that's clean, like Kate Hudson's King St. label, since the sugar from those bachelorette party-friendly pink lemonade packets could hurt.
Margarita
Grab the tequila (for shots if that's your thing) or see if your bachelorette pad has a blender. If not, a refreshing, shaken margarita on the rocks is the way to go. Here's a standing ovation-worthy margarita drink recipe from Bon Appetit. Make it spicy or sweet depending on the mood.
Sangria
Before you head to the wine aisle, stock up on delicious and fresh fruit at the grocery store, along with other key ingredients for this beloved mixed drink. We recommend this sangria recipe that has close to a five-star rating with over 1,700 reviews.
Wine
Cover your bases with the fab four: rosé, prosecco, a refreshing white and a versatile red. The best wine for a bachelorette party should be sourced first from the bride-to-be, then turn to fabulous female-owned wine labels for more inspiration. We recommend Le Grand Courtage, Chandon, Brancott Estate or Apothic Red for starters. You'll likely want to order a shipment in bulk or ask each attendee to bring a favorite bottle.
Bachelorette Party Food and Beverage Pairings
If you want to elevate your snacks even further, consider pairing cheeses and fruits to your actual wines, says Michele Molier, Assistant Manager of Education at Murray's. Here are a few easy tips from the expert for how to navigate pairings.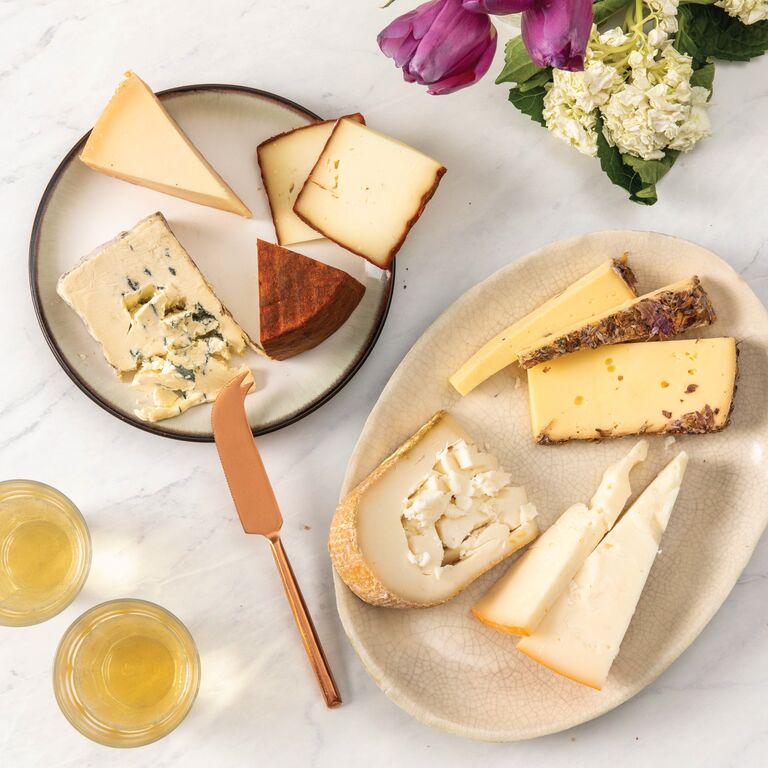 What to Pair With Rosé
"The best cheese and rosé pairings have to do with items that come from the same region," she notes. "A terroir-driven pairing like rosé and cheese draws on the traditional and agricultural similarities between two products. Specifically, my favorite regional pairing combines fresh, French goat cheeses called Chevre [which have a grassy and citrusy profile] and rosé from Côtes de Provence, which is herbal and savory. Fortunately, these flavors play nicely together and it's the French identity of both that links them together. Knowing the grass that feeds the goats comes from the same ground that grows the wine grapes, we are able to enjoy this pairing."
What to Pair With Prosecco
Textural differences are the spotlight here. "Cheese can be a creamy, dense food that leaves a cloying, coating finish on the palette. Although delicious, you might want to literally 'wash it down' with something that can help strip your palette of those lingering particles," explains Molier. "Enter Prosecco or any bubbly wine… This is a classic example of a Contrasting Pairing, where two opposite textures (or flavors) meet in the middle for a delicious result!." In such instances, consider a creamy cheese like an Italian La Tur.
What to Pair With Cocktails
There's a ton of variety here, so let the expert guide your choices. "When you have so many different components at play, you want to find common qualities in both items and bring them out," Molier adds. "This is called a 'resonance pairing,' since we are building on similar qualities that resonate with one another. The best example here would be putting a nutty and sweet cocktail, like a whiskey-based Manhattan, with another nutty and sweet cheese, like a gouda. You could also pair together two savory items, like a Martini and a blue cheese."