Backyard Engagement Party Ideas to Help You Plan the Perfect Outdoor Event
From casual to upscale, celebrate your newly engaged status with a fun backyard fête.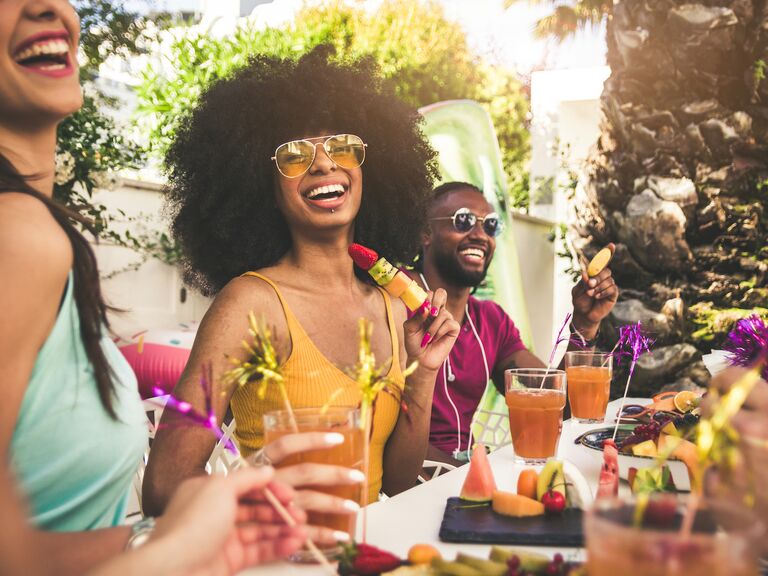 Photo: Davide Angelini / Shutterstock
Hosting a party at home is an intimate and relaxed way to celebrate your recent engagement or the engagement of someone you love. Your lush lawn or back patio serves as the perfect blank slate for an abundance of backyard engagement party ideas. Host a casual BBQ-themed party or treat guests to an elegant dinner at sunset. Whatever you decide, choose an engagement party theme that matches the vibe of your backyard soiree. Before planning your engagement party, take a look at our backyard bash ideas, how to plan your event and what you'll need to host an amazing backyard engagement celebration.
In this story:
Backyard Engagement Party Ideas
Whether casual or upscale, throw a backyard engagement party inspired by these fun ideas.
Flower Garden Engagement Party
If your backyard is already blooming with flowers, complement your surroundings with a flower garden engagement party. Fill your tables with flowers in similar shades to your backdrop, or create your own arrangements using flowers right from your garden. Serve mixed drinks enhanced with flower petals, including a boozy lavender lemonade or a rose cocktail.
Enchanted Evening Party
Hang twinkle lights throughout your backyard to create an enchanted wonderland for your engagement party. Candles or lanterns on your tablescape add to the ambiance and provide an extra source of light. Plan your event to begin right before sunset to bask in the beauty of golden hour.
Colorful Backyard Engagement Party
A summertime backyard engagement party begs for bright colors throughout your décor. Vibrant tablecloths, colorful centerpieces and a fresh menu featuring summer fruits are just a few ideas. Create comfortable places to sit in the shade with large patio umbrellas in bold pink, yellow and blue.
Invite Guests to an Elegant Dinner Party
Dine alfresco with family and friends during an elegant backyard engagement party. Bring out your fine China, cloth napkins and polished silverware for an upscale event. Find a talented caterer to provide the food and cocktails for your dinner party so you won't have to lift a finger in the kitchen.
Picnic Theme Engagement Party
Checkered tablecloths, creative sandwich combinations and centerpieces in woven baskets are just a few backyard engagement party ideas for a picnic theme. Create a comfy place for guests to sit with large throw pillows and a low table to give your gathering that picnic feel. Don't forget to set up a few place settings with regular tables and chairs for guests who aren't able to sit low to the ground.
Host a Relaxing Pool Party
Celebrate your engagement as you take a dip in your pool with family and friends. Relax with a cocktail, serve refreshing menu items and set up plenty of lounge chairs with shade. Include pool games and lawn games so there's something for everyone.
How to Plan a Backyard Engagement Party
Create an engagement party checklist so you don't miss a thing. We broke down the steps to planning your backyard engagement party.
Choose a Theme
A theme ties everything together, from your invitations to your décor. Decide if you'll host an elegant or casual event in your backyard and select a theme that matches that vibe. You can also choose a theme based on a color scheme that you'll incorporate throughout the event.
Create an Engagement Registry
Unless you've stated otherwise, guests sometimes bring gifts to celebrate your engagement. Create a registry of items that you'll definitely need after you say, "I do" and include items at different price points. It's OK if your registry isn't complete by the time your engagement party rolls around. You can add more items leading up to your wedding day.
Make a Guest List and Send Invitations
Sit down with your partner and decide who to invite to your engagement party. You can invite anyone you like, as long as they'll also receive an invitation to your wedding as well. Select invitations that match your theme or color scheme and send them out one to two months before your party.
Select Your Backyard Engagement Party Decorations
Pick out decorations that match the vibe of your backyard engagement party. This could include lots of floral centerpieces and a flower wall for a garden party, or beach balls and drink umbrellas for a celebration by the pool. For an evening event, make sure there is plenty of lighting to illuminate the backyard.
Plan Your Menu
Whether it's casual finger sandwiches or a four-course dinner, plan a menu that fits the theme of your day. A creative signature cocktail is also a fun addition to your engagement party bar. Depending on your guest count and the formality of your event, you may want to consider hiring a caterer and bartender to handle refreshments so you can stay out of the kitchen.
Decide on a Timeline for Your Backyard Engagement Party
Plan out a timeline for the day to keep your backyard engagement party organized. This timeline can include toasts, games and when to serve your meal. Factor in time for socializing so the to-be-weds can get in plenty of face time with their guests.
What You Need for a Backyard Engagement Party
As you think about different backyard engagement party ideas, don't forget the essentials for your celebration. From desserts to tents, here's what you need for your outdoor engagement party.
1. Decorations That Match Your Theme
Visit your local party supply store or hop online to find a plethora of backyard engagement party decorations. Personalized signs, theme-matching table confetti, photo backdrops and festive tablecloths are just a few of the options available for your soiree. Look for backyard engagement party decoration ideas that fit in with your party theme and ambiance.
2. Music to Keep the Party Going
Music plays a large part in setting the mood. Set your engagement party playlist to soft, romantic songs during an evening dinner, or turn up the volume with dance tunes to liven up your pool party. Don't forget to include songs that give the to-be-weds a few slow dance moments.
3. Fun Games to Entertain Guests
Engagement party games keep your event interesting and are perfect for filling any gaps in the day's itinerary. They can also serve as an icebreaker for family members of the to-be-weds who haven't met. Shop for games like cornhole or a custom Jenga set, or search online for a wealth of printable game options.
4. Delectable Menu and Signature Drinks
Whether you select a variety of hors d'oeuvres or a multi-course meal, pair your refreshments with the season and theme of your event. A few backyard engagement party food ideas include fresh summer rolls for a warm-weather gathering or a selection of comforting soup options on a crisp fall day. Pair your meal with a playful signature cocktail that represents the engaged couple.
5. Engagement Party Invitations
Once you finalize your engagement party guest list it's time to send out invitations. Search for engagement party invitations that set the tone of your event before it begins. This could look like an invitation full of colorful watercolor blooms for a garden party, or a formal invite with gold accents for an evening event.
6. Cake and Desserts
End your meal on a sweet note with an engagement party cake or a variety of desserts. A simple one or two-tiered cake, mini cupcakes or sweet save-the-date cookies are all great options. Keep the weather in mind when choosing frosting and dessert options that might sit on a table for an extended period of time. Consider skipping chocolate bars or cake frosting with a low heat tolerance for a daytime summer party.
7. Shelter for Your Guests
A backyard engagement party means you're at the mercy of the weather should a sneaky storm approach. Even if you don't see inclement weather in the forecast, provide options for cover just in case. A tent or patio umbrellas will keep guests dry, and shelter them from the sun if they need to find some shade.