The Ultimate Guide to Planning a Sizzling "I Do" BBQ Engagement Party
Get ready for a finger lickin' good time.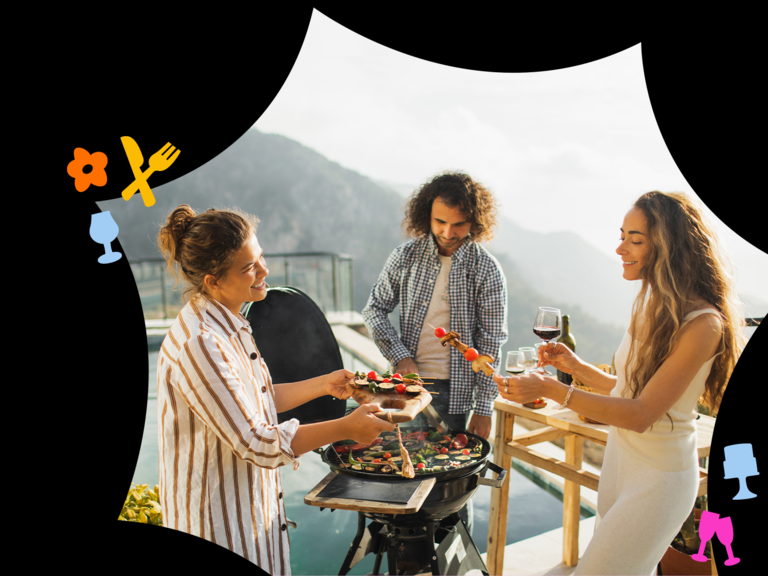 Photo: Getty,Design: Tiana Crispino
We have included third party products to help you navigate and enjoy life's biggest moments. Purchases made through links on this page may earn us a commission.
There's nothing new about backyard gatherings around the grill, but "I Do" BBQs have been popping up all over as a popular engagement party idea. And that's not just because it makes an adorable invitation header and hashtag. An "I Do" BBQ is the perfect way to celebrate an upcoming wedding with crowd-pleasing food in a relaxed setting. You can dress it up or down and still pull it off without a grill or backyard in sight.
If you want to know how to plan your own saucy barbecue bash, read below for advice from an expert food industry leader. Plus, images from real events for inspiration, tips on where to shop for party supplies and top editor decoration picks.
In this article:
How to Plan an "I Do" BBQ
Claudia Sidoti, culinary expert and former principal chef and head of recipe development at HelloFresh, is a huge fan of the "I Do" barbecue engagement party idea. We asked her to share essential tips, ideas and inspiration to help you pull off a celebratory BBQ your guests won't stop talking about.
1. Work with the setting you have.
No backyard? No problem. Use an indoor grill or grill pan to prep and cook, and use the space you have, whether it's in your apartment or on a communal rooftop. Also, check out your local park—there's usually enough space for a crowd, portable grills and endless ways to personalize the setup. Just make sure grills or open flames are allowed.
2. Batch your cocktails.
Instead of having an open bar and splurging on several different kinds of alcohol and mixers (which always adds up to more than expected), go for large-batch cocktails. "Try something simple and classic like watermelon lemonade and vodka," Sidoti suggests. "Take your favorite lemonade, add some balled fresh watermelon and as much vodka as you'd like. Keep it cold in pitchers in the fridge before serving, and use a giant punch bowl with plenty of ice."
3. Plan creative food stations.
"Take the traditions of a barbecue and elevate them for a bridal [or couple's] shower," Sidoti says. Consider having a DIY s'mores bar or build-your-own burger spread. Sidoti suggests going all out with customizable toppings and creative bread choices—garlic bread ciabatta and pretzel buns, anyone?
4. Pair your food and drinks like a pro.
Don't know what eats to pair with which sips for the "I Do" BBQ party? Below are a few of Sidoti's fave barbecue food and drink combos the entire party will love.
Beer and Slow-Cooked Ribs: "Beer and BBQ is a no-brainer, but it's about what type of beer you're pairing with your BBQ to really bring out the best in both," Sidoti says. "For something like ribs with a vinegar-based sauce, beer is great for cutting through the fat of the meat. For ribs with a mustard-based sauce, I love a sweet, malty beer to balance the tanginess of the mustard."
Red Wine and Smoked Beef: "Pair a smooth, red wine with a naturally high acidity with something like smoked beef," Sidoti says. "The fruitiness of the wine complements the smoky notes and helps bring out the spice of the barbecue."
Rosé and Sausage: "Sausages right off the BBQ are amazing with a glass of rosé," Sidoti says. "It's best to pair the sausage with a pink wine with some sweetness, acidity and hints of fruit."
5. Always have veggies.
An easy way to make your barbecue elevated and healthy is not to skimp on the crudité spread. "Veggies complement BBQs really well since they offer a little break from meats and heavy side dishes," Sidoti says. "Use a variety of brightly hued veggies (think: cherry tomatoes, carrots, a rainbow of peppers, squash and zucchini) and serve it with an array [of dips] to please all palates." Bonus: Your veggie display can double as a natural centerpiece. "Get creative with presentation by using baskets, wood crates, platters or even fun bar trays you already have," Sidoti advises.
Lastly, to be a good host, ensure there's at least one vegetarian option––no, the crudité platter doesn't count. Try Asian-marinated grilled tofu, mushroom burgers and vegan sausage chili hot dogs.
6. Don't be afraid to hire a caterer.
Of course, having everything catered makes things easier, especially if you're planning a last-minute "I Do" BBQ engagement party. But you should have a few homemade food items at the barbecue for a down-home and rustic feel. Consider catering for anything you don't think you'll have enough time to prep yourself—whether it's the main, sides, appetizers or desserts.
7. Consider the weather.
If you want the engagement party outdoors, don't forget to have a weather backup plan. Beyond that, keep the weather in mind when prepping food and refreshments too. "Choose dishes that can stay on a buffet for a while and hold up, like grain salads, grilled veggies and fruit," Sidoti says. "Set them up in advance, then add the protein to the table as they're cooked—and make sure your meat and fish don't stay out too long in the heat."
8. Keep "I Do" BBQ decorations fuss-free.
Barbecues are casual by nature (that's what we love about them) so there's no pressure to outdo yourself with over-the-top decor. But for an engagement party don't hesitate to dress it up a bit. "String lights and high-top bar tables are the perfect way to [step it up]. A few high-top tables are essential, so guests can mingle while enjoying their food," Sidoti says. "Add a small centerpiece, like a mason jar or simple vase filled with baby's breath or even tealight candles for a subtle [wedding-worthy touch]."
"I Do" BBQ Ideas
If you want to see images from real events before you start planning, look at these 10 ideas. We guarantee it's the perfect inspo for your future "I Do" BBQ (which you can also call a "We Do" BBQ) party.
"I Do" BBQ Invitations
Set the tone for the engagement party with gingham-clad stationery, wood patterns and playful grill-themed illustrations. Country or cowboy fonts are the best for "I Do" BBQ invitations too.
"I Do" BBQ Semi-Naked Cake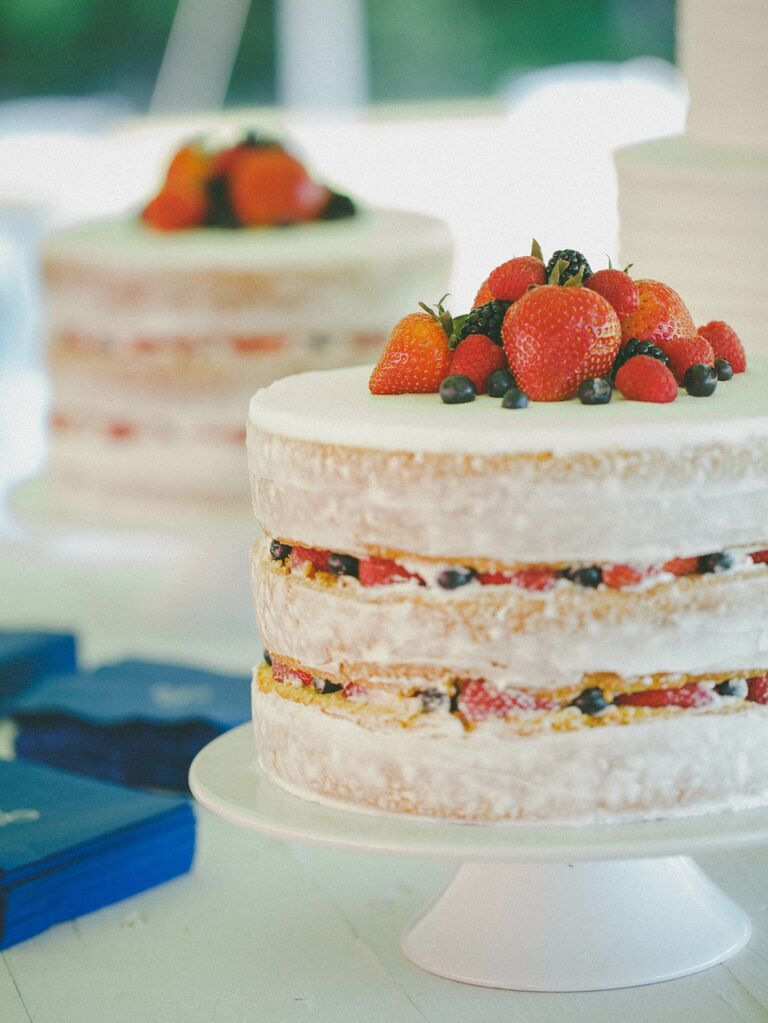 What makes this semi-naked strawberry shortcake a great option for a barbecue engagement party is its use of fruits. Use seasonal fruits for your desserts for a fresh and summery feel for an "I do" BBQ cake.
"I Do" BBQ Koozies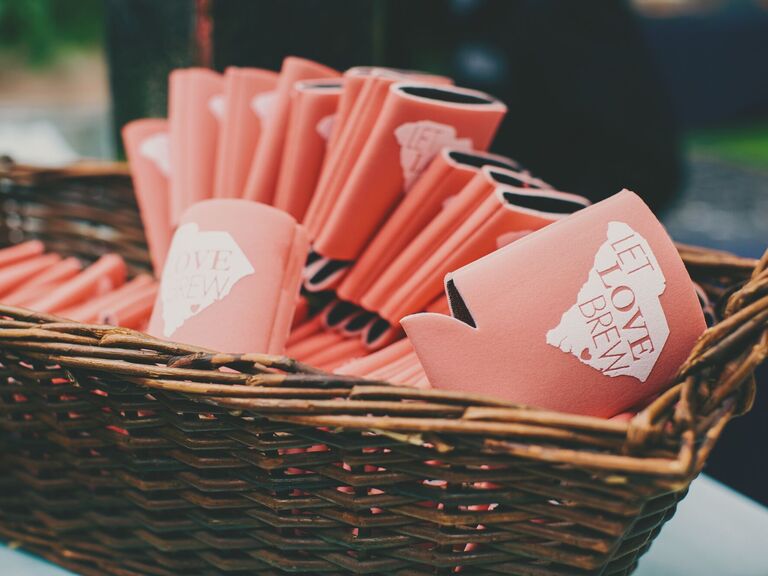 Keep guests' drinks cold and hands dry with custom koozies. Put the to-be-weds' names on them, their favorite sports team, or a love quote to make the koozies more unique.
"I Do" BBQ Beer Wheelbarrow
You don't have to keep drinks in a cooler. Get creative and put your brews and sodas into a wheelbarrow, large metal drink tub or insulated wooden beverage cart for a more rustic feel.
"I Do" Barbecue Signature Pitcher Cocktails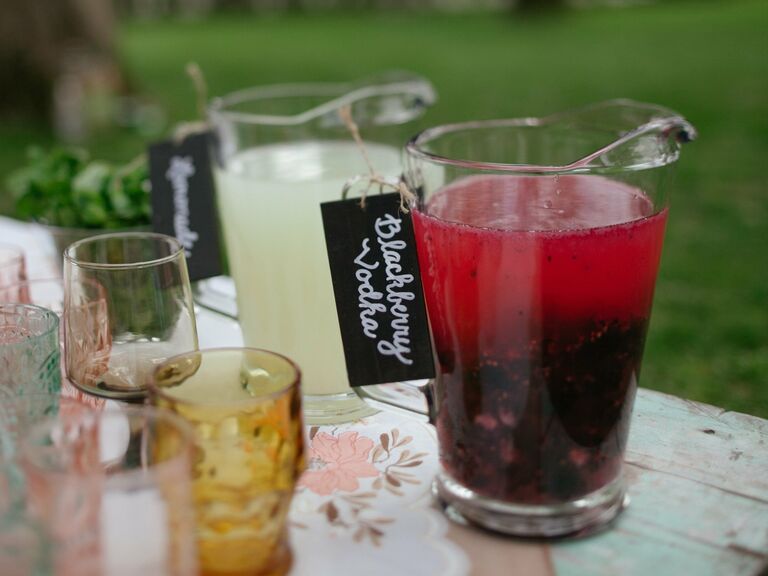 As Sidoti suggested, prebatch your cocktails for less hassle and more savings. Blackberry vodka was a hit at this outdoor event.
"I Do" BBQ Cookies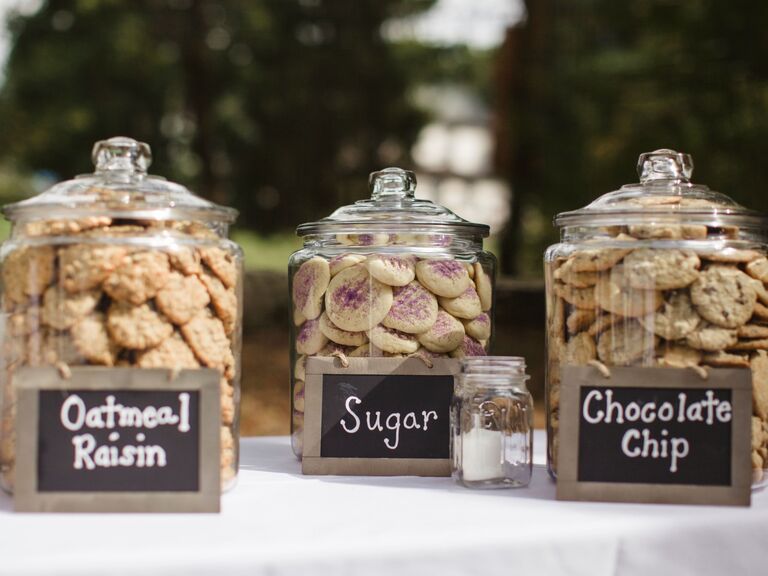 For a homemade vibe, put a variety of cookies in glass jars. You can save the cookies until the end as party favors or predinner treats.
"I Do" BBQ Bibs
Barbecue food can get pretty messy since it's a sauce-heavy cuisine. A nice gesture is to offer bibs to help guests keep their attire clean. We love these personalized bibs this happy couple wore.
"I Do" Barbecue Chalkboard Sign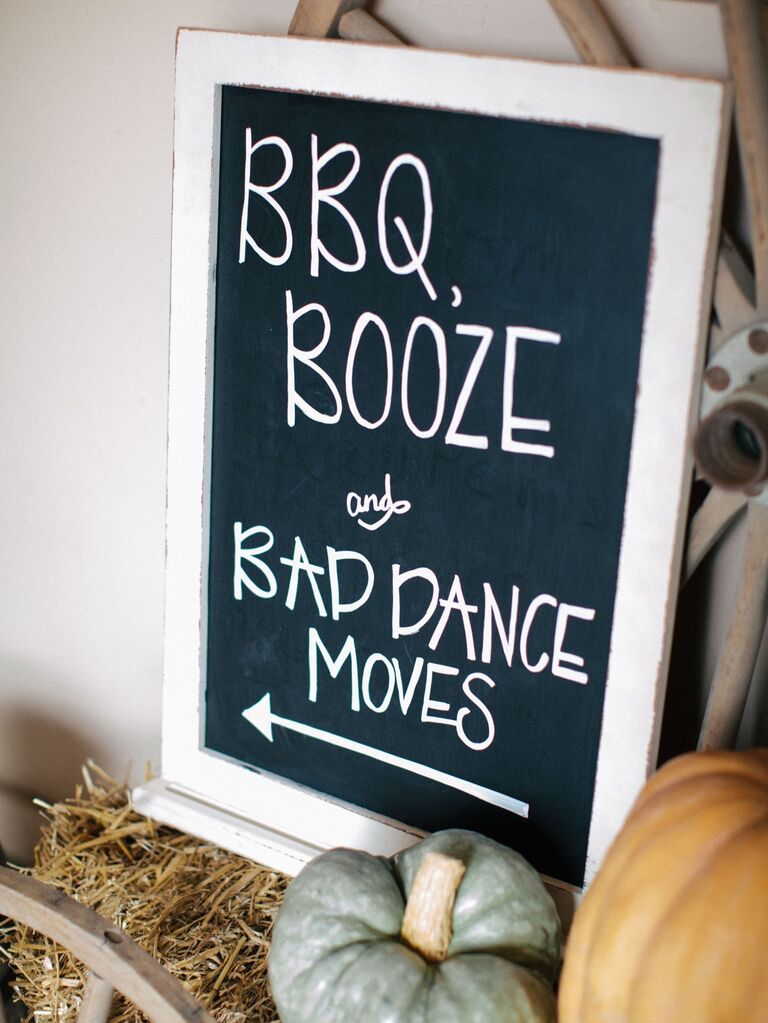 We aren't sure why chalkboard signs became a staple of rustic events, but it doesn't make us love them any less. Use a chalkboard as a directional sign or to describe what sweets are on the dessert table.
"I Do" BBQ Lawn Game
If you're planning an outdoor party, have some engagement party games to keep guests entertained while the grillmaster is cooking. We love this oversized Connect Four game at this backyard event.
"I Do" Barbecue S'mores Station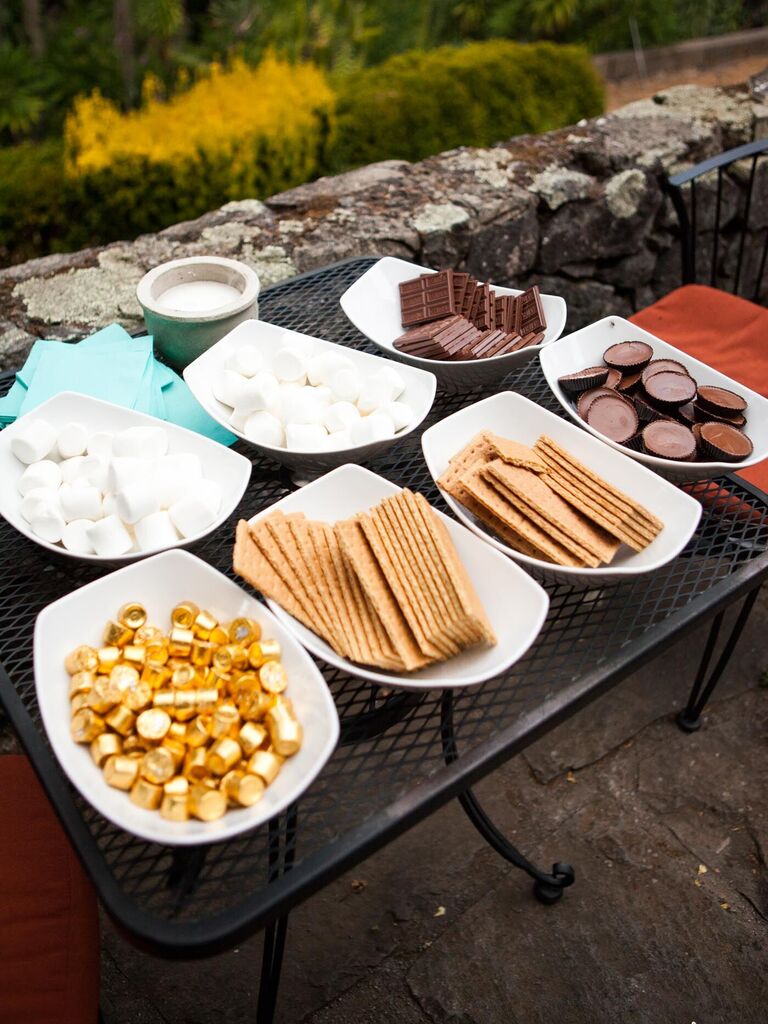 If a firepit is a part of your backyard decor, you should definitely at DIY s'mores to your dessert menu. Have a station of the classic ingredients while adding creative foods like bacon, peanut butter, caramel and Oreos.
"I Do" BBQ Engagement Party Favors
Does the couple have a favorite barbecue sauce they can't live without? Send the honored guests and other partygoers off with mini bottles of barbecue sauce as party favors.
Where to Find "I Do" BBQ Decorations
As Sidoti said previously, the "I Do" BBQ decorations don't need to be over the top like some other engagement party themes, but they shouldn't be nonexistent. Check out these four stores while doing your party shopping.
"I Do" BBQ Decor: Editor's Picks
Want to see real-world easy and affordable "I Do" BBQ engagement party decoration ideas? Then look no further than the list below.
"I Do" BBQ Welcome Sign
Even though the barbecue is a casual affair, doesn't mean you can't greet your guests in style. This sweet engagement party sign is easily downloadable, so you can print it on anything you want.
Red Gingam "I Do" BBQ Koozies
Your "I Do" BBQ wouldn't be complete without at least one gingham-clad item. Use these customizable koozies as keepsakes and drink insulators.
Burlap "I Do" BBQ Banner
A little burlap never hurt anyone. This durable banner has everything you need for a backyard barbecue––illustrations of grills, a ring and a red gingham heart.
"I Do" Barbecue Wood Centerpiece
For something understated and sure to impress, get one (or a few) wood centerpieces. Place a vase of fresh flowers on top or your barbecue sauce selection.
"I Do" Barbecue Wet Wipes
This item is an absolute must at any barbecue because sometimes napkins aren't enough. Get a minimum of 25 wipes and select what color you want the package text to be. Put them in a bowl next to the cutlery so guests can wipe themselves down before socializing again––it's a simple addition they'll love.