An "I Do" BBQ Is the Chill Engagement Party Idea You've Been Looking For
Here's all the advice and inspo you'll need to plan a relaxed prewedding barbecue.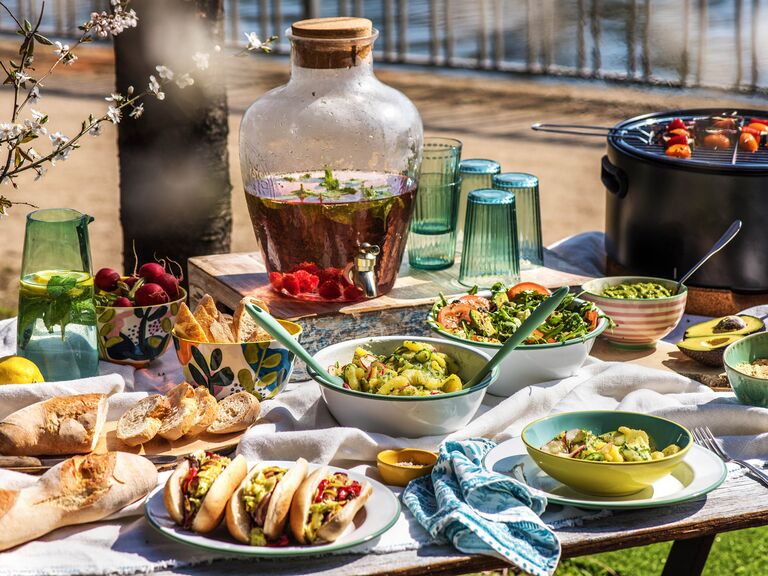 HelloFresh
We have included third party products to help you navigate and enjoy life's biggest moments. Purchases made through links on this page may earn us a commission.
Barbecues aren't exactly new—we know that—but "I do" BBQs have been popping up all over the place as a popular engagement party and wedding shower idea (and not just because it makes an adorable invitation header and hashtag). An engagement party or couple's shower barbecue is the perfect way to celebrate an upcoming wedding with crowd-pleasing food in a relaxed setting. You can dress it up or down, and still pull it off without a grill or backyard in sight (looking at you, city slickers).
Claudia Sidoti, head chef and head of recipe development at HelloFresh, is a huge fan of this party idea. We asked her to share essential tips, ideas and inspiration to help you pull off a celebratory BBQ your guests won't stop talking about.
Work With the Setting You've Got
No backyard? No problem. Use an indoor grill or grill pan to prep and cook, and make use of the space you have, whether it's in your apartment or on a communal rooftop. Also, check out your local park—there's usually enough space for a crowd, room for portable grills and endless ways to personalize the setup. "It's like having your own backyard," Sidoti says. Just make sure grills or open flames are allowed.
Save on Alcohol With Batch Cocktails
Instead of having an open bar and splurging on several different kinds of alcohol and mixers (which always adds up to more than expected), go for large-batch cocktails. "Try something simple and classic like watermelon lemonade and vodka," Sidoti says. "Take your favorite lemonade, add some balled fresh watermelon and as much vodka as you'd like. Keep it cold in pitchers in the fridge before serving and use a giant punch bowl with plenty of ice."
Get Creative With Food Bars
"You can take the traditions of a barbecue and elevate them for something like a bridal [or couple's] shower," Sidoti says. Now we're talking—how about a DIY s'mores bar or build-your-own burger spread? Sidoti suggests going all out with customizable toppings and creative bread choices too—garlic bread ciabatta and pretzel buns, anyone?
Pair Food and Drinks Like a Pro
How are you supposed to know which eats pair with which sips? Here are a few of Sidoti's fave BBQ food and drink combos the entire party will love.
Beer and Slow-Cooked Ribs: "Beer and BBQ is a no brainer, but it's about what type of beer you're pairing with your BBQ to really bring out the best in both," she says. "For something like ribs with a vinegar-based sauce, beer is great for cutting through the fat of the meat. For ribs with a mustard-based sauce, I love a sweet, malty beer to balance the tanginess of the mustard."
Wine and Smoked Beef: "Pair a smooth, red wine with a naturally high acidity with something like smoked beef," she says. "The fruitiness of the wine complements the smoky notes and helps bring out the spice of the barbecue.
Rosé and Sausage: "Sausages right off the BBQ are amazing with a glass of rosé," she says. "It's best to pair the sausage with a wine with some sweetness, acidity and hints of fruit."
Don't Forget the Veggies
An easy way to keep your barbecue classy (and healthy) is not to skimp on the crudité spread. "Veggies complement BBQs really well since they offer a little break from meats and heavy side dishes," Sidoti says. "Use a variety of brightly hued veggies (think: cherry tomatoes, carrots, a rainbow of peppers, squash and zucchini) and serve it with an array [of dips] to please all palates." Bonus: Your veggie display can double as a natural centerpiece. "Get creative with presentation by using baskets, wood crates, platters or even fun bar trays you already have," she says. Lastly, to be a good host, make sure there's at least one vegetarian option (no, the crudité platter doesn't count!).
Make It One, Long Cocktail Hour
For a party that feels fresh and low-maintenance, try a prolonged cocktail-hour vibe. "It tends to be more social where guests can constantly mingle and don't get stuck next to one person or at one particular table," Sidoti says. This is especially great for the couple who'll want to mingle easily with everyone at some point throughout the event.
Time It Right
Stick to a timeframe that keeps your guests from getting hungry. Sidoti breaks it down (but feel free to adapt to your party's schedule): appetizers for 45 minutes to an hour, main dishes for an hour and a half or so, a small break to digest and then bring out the sweets.
Don't Be Afraid of Catering
Of course, having everything catered makes things easier (especially if you're planning a last-minute party), but it's also expensive—and nothing beats at least a few homemade elements at a barbecue, right? But consider catering for anything you don't think you'll have enough time to prep yourself—whether it's a the sides, appetizers or dessert.
Mind the Weather
Planning an alfresco party? First and foremost, don't forget to have a weather backup plan. Beyond that, keep the weather in mind when prepping food and refreshments too. "Choose dishes that can stay on a buffet for a while and hold up, like grain salads, grilled veggies and fruit," Sidoti says. "Set them up in advance, then add the protein to the table as they're cooked—and make sure your meat and fish don't stay out too long in the heat."
Keep Décor Fuss-Free
Barbecues are casual by nature (that's what we love about them) so there's no pressure to outdo yourself with over-the-top décor. But for an engagement party or shower, why not dress it up a bit? "String lights and high-top bar tables are the perfect way to [step it up]—a few high-top tables are essential, so guests can mingle while enjoying their food," Sidoti says. "Add a small centerpiece, like a mason jar or simple vase filled with baby's breath or even tealight candles for a subtle [wedding-worthy touch]."