The Very Best Backyard Proposal Ideas for an Intimate Engagement
Home is where the heart is.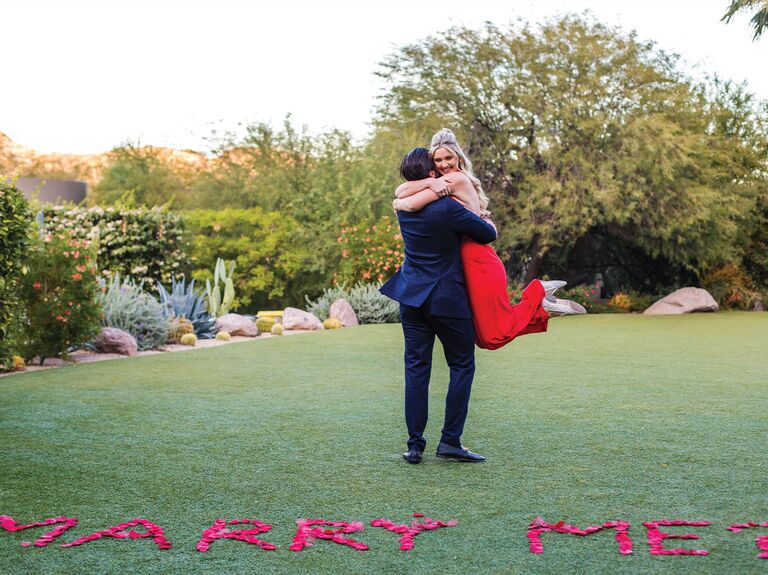 Photo: Janelle Etzel
Ready to pop the question? Plan a romantic and intimate backyard wedding proposal with one of these backyard proposal ideas. Plus, five steps to take to plan the perfect moment.
It's true what they say, "there is no place like home." When seeking romantic marriage proposal ideas, sometimes, the answer awaits in your backyard. Proposing marriage at home can absolutely be romantic, especially if you take advantage of planning a romantic backyard engagement.
Are you in need of backyard proposal ideas? Luckily, we have rounded up 10 backyard proposal ideas for a romantic engagement and included five steps to planning the beautiful moment. There is no proposal more romantic than a backyard proposal.
In this story:
10 Dreamy Backyard Proposal Ideas
Here are our favorite backyard proposal ideas. One of these is sure to pique your interest.
Green Thumb Garden Proposal
One beautiful proposal in the backyard idea would be to ask for your partner's hand in marriage by doing so in the garden. Maybe you are a couple who loves to harvest seasonal fruits or vegetables. If so, planting a knee where you grow your home produce can only show the utmost affection for your soon-to-be spouse.
Seeking a backyard garden proposal? You'll want to do it right, start by asking the big question when the light is right. Aim to plan your backyard proposal during dawn or dusk. This way, it won't be too hot and the lighting will be soft and romantic.
Be sure to have an elaborate excuse as to why you want to meet in the garden at this timeframe. Have champagne on ice to pop afterward. You can even customize your traditional vegetable garden signs to read, "Will you peas marry me?" or something cute like that.
Evening Flower Garden Proposal
If you're lucky enough to have a beautiful flower garden filled with budding blooms and returning perennials, plan a night backyard proposal. To plan an evening backyard proposal among the flowerbeds, twinkle lights or lanterns can set the mood. You can line a pathway with individual solar lights to your makeshift proposal altar. Of course, handpicked flowers from the garden should be used as additional decoration along with soft music humming from the equipped outdoor speakers.
Backyard Barbeque Proposal
Planning a seasonal backyard BBQ with your closest friends and family can be a sneaky way to plan a backyard wedding proposal. Here, you can outfit your backyard into a summertime oasis filled with yummy grill eats, cornhole, fun music, and good company.
As the evening inches nearer, it is time to get on one knee. Pre-plan your secret backyard proposal idea with your guests, so they know what to expect and the rundown of the time frame you plan to propose. This way, when you finally pop the question, all will be ready to raise a glass!
Backyard Proposal Photoshoot
If home is your comfort zone, the idea of capturing special moments in your backyard by a professional photographer can be a low-stress way to ask for a hand in marriage.
When pitching the idea of having a photographer come to the house is a great way to surprisingly ask your partner to marry you.
Naturally, working with a professional photographer, you'll have a timeframe of when everything will happen, including the big ask. The perks of having a pro there to capture the moment is a priceless bonus.
Backyard Game Night Proposal Idea
Some couples love having friends over for game nights. This time, when thinking of backyard proposal ideas, consider taking game night outdoors. Before getting engaged in the backyard, you and your friends will enjoy an evening of backyard appetizers, refreshing drinks, and games such as ring toss, corn hole, and badminton.
The secret to pulling off a backyard game night proposal is to clue your friends in prior. This way, the only surprised person is your person.
Backyard Movie Proposal
If you want to plan a night backyard proposal, consider doing it with a movie projector, comfy places to sit, and plenty of popcorn. A backyard movie proposal could work either during the summer or early fall months. Here, everything from your partner's favorite snacks and favorite movies can be taken into consideration when asking for their hand.
You can pre-plan the particular part of the movie you want to make your move. Or opt for an organic moment, going with the flow of the feature film, and asking what feels like the right moment to you.
Backyard Ice Cream Social Proposal Idea
Hosting a backyard ice cream social for either close friends and family, or an intimate date night between you and your partner is a creative proposal idea. You can either seek out a local ice cream vendor that caters to home gatherings or completely DIY the ice cream social yourself.
In addition to the ice cream, remembering to decorate your outdoor space with glowing lanterns and string lights as well as soft music can make all of the difference with this backyard marriage proposal idea.
Al-Fresco Backyard Dinner Proposal Idea
Dining outdoors on the patio, when the evening calls for it, is always a pleasant experience. One way to plan a romantic backyard proposal is to create an al-fresco dinner, for two, on the patio.
Here, you'll want to cook something light, simple, but yummy. Remember that little touches such as a fresh bouquet on the table and twinkling outdoor lights will take care of the extra romantic touches for your evening proposal.
As you work your way through dinner and onto dessert, go ahead with your marriage ask. Having something bubbly or a refreshing beverage on hand to toast afterward will make this al fresco backyard proposal a hit.
Pool Party Backyard Proposal
There are so many beautiful (and fun) backyard pools. If you are lucky enough to have a pool out back, use its beauty in your proposal. Any time of day would work. However, a night backyard pool proposal with the pool lit up as the backdrop would be extra romantic. Setting up your evening pool proposal you can invest in glowing pool orbs, romantic music, a new pool float, and something as fun as ring-shaped popsicles, for afterward!
Backyard Glamping Proposal
Popping a tent outback is a creative way to pop the question. Plan an evening of glamping in the backyard with your partner. Go all out with your camping plans such as popping a tent, inflating an air mattress, and toasting s'mores all great details to include. No need to worry about time, you'll have plenty of time during your glamping evening to ask the question. After asking, you can relax under the stars and thank your lucky stars the answer was "yes!"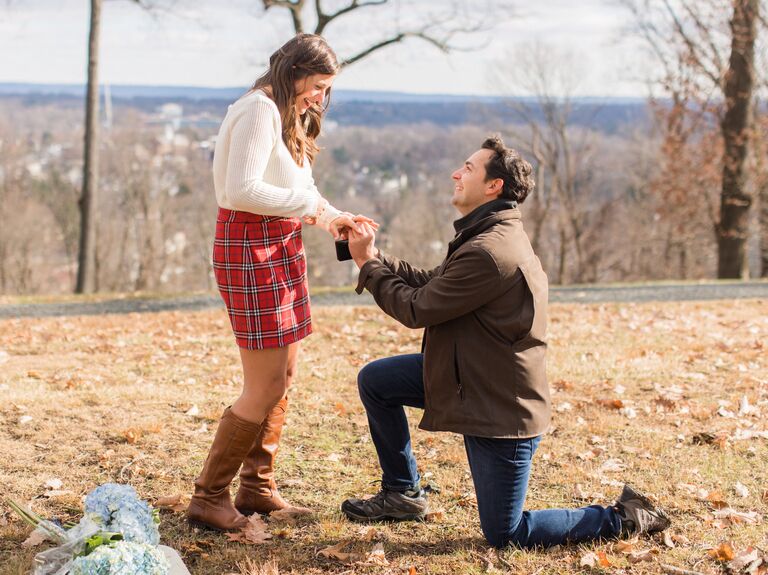 Five Tips For Planning The Perfect Backyard Proposal
Now that you have decided on your backyard proposal idea, it is time to execute that vision. Before getting down on one knee, you'll have to plan everything accordingly. Below, we have curated five tips for planning your perfect backyard proposal.
Hire a Photographer
If you are planning on getting married, looking into photographers prior is a smart decision. Hiring a photographer or videographer is the ideal way to professionally capture all of the special moments, including your proposal.
Luckily, we have an assortment of talented photographers and videographers to cull through on The Knot Vendor Marketplace. When planning your backyard proposal, working with a photographer will also help you establish a timeline for the evening's events. Hopefully, if everything goes well, you will have already established a relationship with your hired photographer/videographer to use for other wedding events.
Hire a Proposal Planner
It's common for jitters, nerves, and feelings of angst to creep in during the wedding planning stages. The same feeling can be applied to planning a proposal. Thankfully, there are professionals and wedding proposal planners to turn to. On The Knot, to find proposal/engagement planners within the marketplace, look under Wedding Planners. You can then filter expertise by "Getting Engaged."
As you narrow in on your backyard proposal theme, your proposal planner can help establish a timeline, handle details, decor, and all the little things you may not even have thought of.
Propose in the Right Season
Every season, we are in a different season of our lives. If you are dreaming of a garden backyard proposal, plan to do so come spring or summer. Take the season before to plan everything accordingly. Note little details of your backyard in the season you intend to propose. These details can be anything from a timeframe of when flowers and plants flourish, how the evening light hits your patio, and what times of day your neighbors mow their lawns.
Consider the rainier times of the year where you live and note when temperatures seem to cool down or warm up. These little details will build into important components when executing your backyard proposal.
Have a Rain Date
Planning your backyard proposal also means having a rain date set too. With Mother Nature being so unpredictable, it is better to air on the side of caution. If it gets down to the last minute and the weather isn't cooperating, try to be creative by seeking places of shelter like a porch, garden shed, or awing to propose. Hey, they say, rain is good luck, after all.
Practice Your Backyard Proposal
Practice makes perfect. Before asking the question, you'll want to practice in the exact backyard spot where you intend to ask the real question while your partner is not home. When practicing your backyard proposal, do so during the time frame you intend on asking. This way, you can survey where the light hits, wind elements, background fixtures, and other tiny details that will make your backyard marriage proposal pop.