37 Bachelorette Party Pool Floats That Are Insta-Worthy
Rosé, fruit and jet skis, anyone?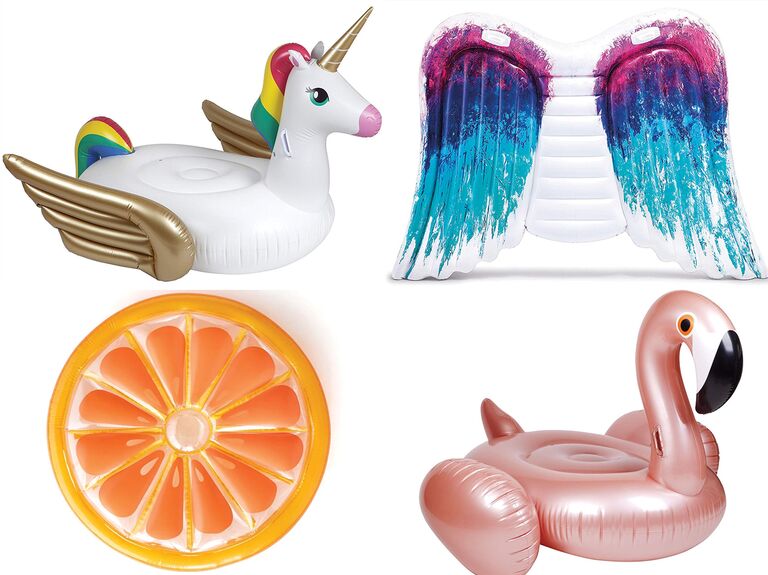 We have included third party products to help you navigate and enjoy life's biggest moments. Purchases made through links on this page may earn us a commission.
If you're planning a poolside bachelorette bash, you've no doubt started gathering the essentials: swimsuits, sunglasses and sunscreen. But no warm weather bachelorette party would be complete without floats. For those hoping to make their sqaud's party Insta-worthy, look no further. We've rounded up all of our favorite bachelorette party pool floats that'll add color to your grid and bring all the likes to the yard. Whether you're looking for flamingo floats, swan floats, food-inspired floats (care for a donut?), giant pool floats or funny pool floats, we've got you covered. Read on to see 37 bachelorette pool floats that will make your bach bash Insta-ready.
In this post:
Unicorn Pool Floats & Other Animal Pool Floats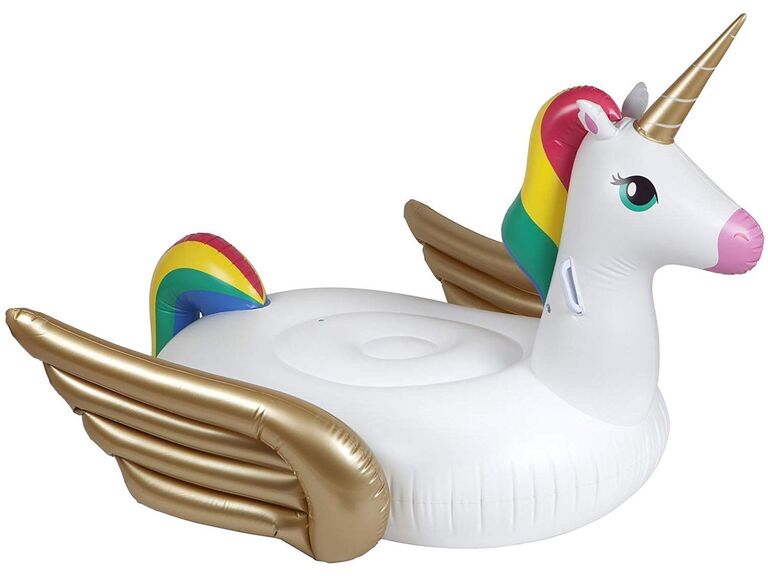 Nothing beats a classic, which is why we love this unicorn pool float. Have your bride-to-be lounge on this colorful, metallic beauty for the perfect 'gram.
SunnyLife women's luxe ride-on unicorn float, $50, Amazon.com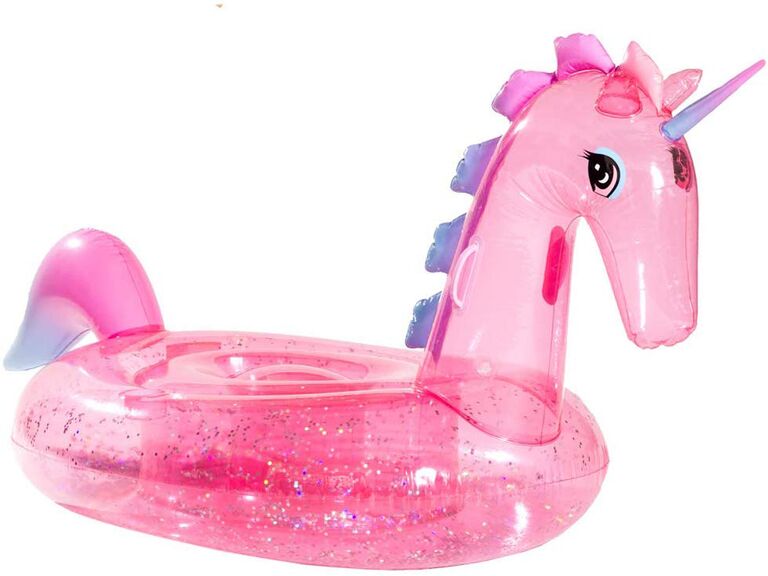 If a plain old unicorn pool float just doesn't do it for you and your squad, consider this glittery one. The clear pink base allows you to show off your cute bathing suit too.
FUNBOY clear pink glitter unicorn, $69, Amazon.com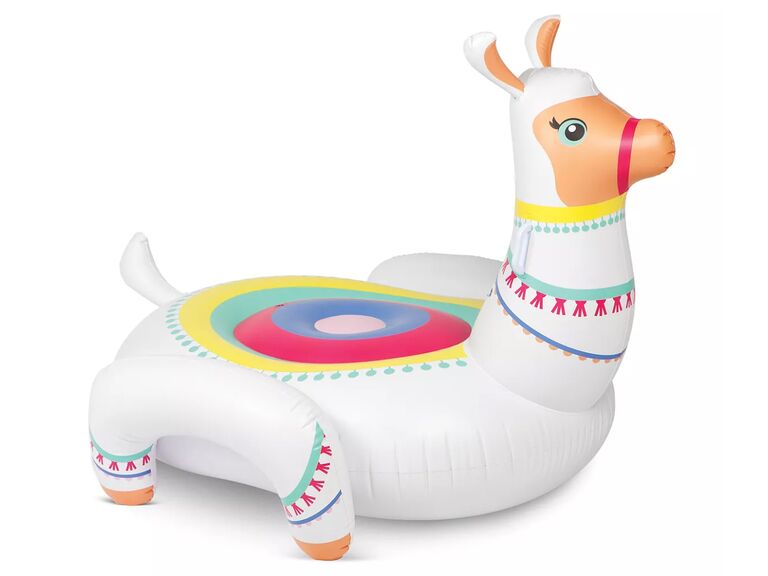 Not into unicorns? Try this llama pool float instead.
SunnyLife llama pool float, $70, Bloomingdales.com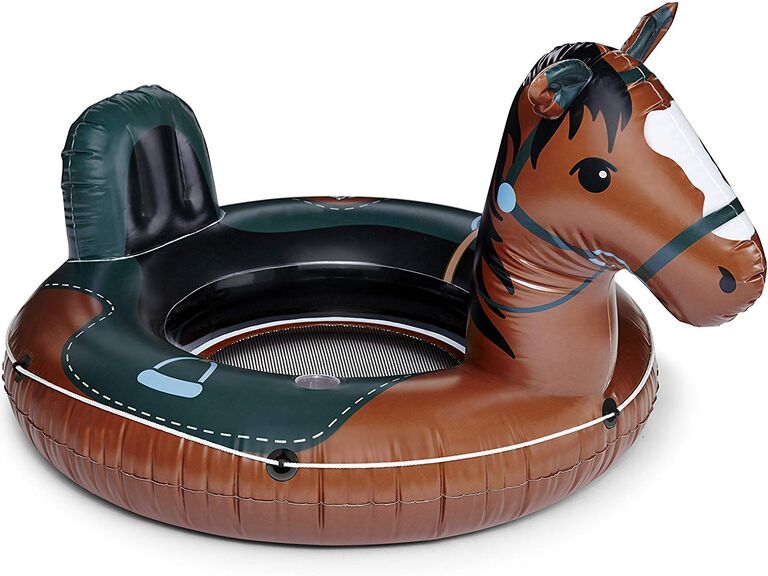 Yee-haw! If you're having a bachelorette party in Nashville or Texas, this horse float is a must. The beverage compartment will keep your drink easily accessible throughout the bash.
BigMouth Inc Buckin' Bronco horse river tube, $40, Amazon.com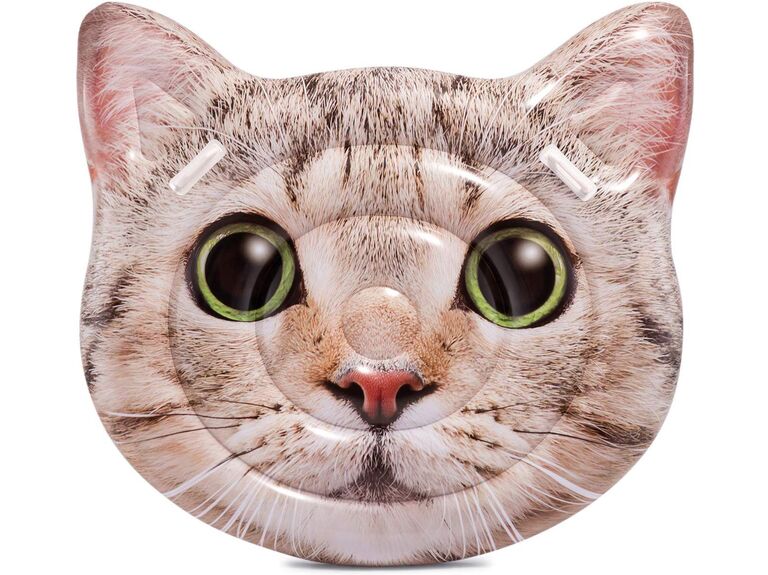 If the bride-to-be is a major cat lover, we're paws-itive she'll adore this float.
Intex cat face inflatable island, $19, Amazon.com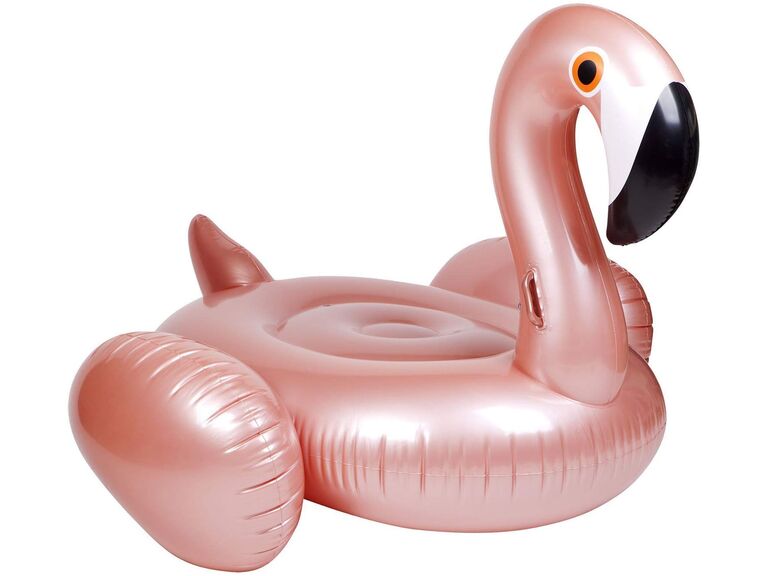 Take the standard flamingo float to the next level. This rose gold bird will look stunning in all of your pictures.
SunnyLife rose gold flamingo, $70, Amazon.com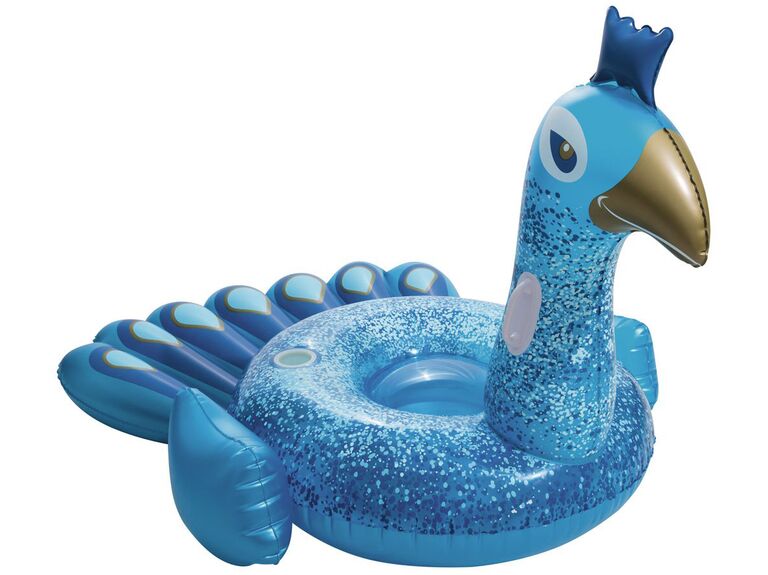 For a more unique spin on the beloved flamingo pool float, check out this peacock option. The tail acts as a footrest, so you can fully chill out (and look fabulous while doing so, without involving feathers).
Wet Products jumbo pretty peacock float, $42, SwimOutlet.com
Funny Pool Floats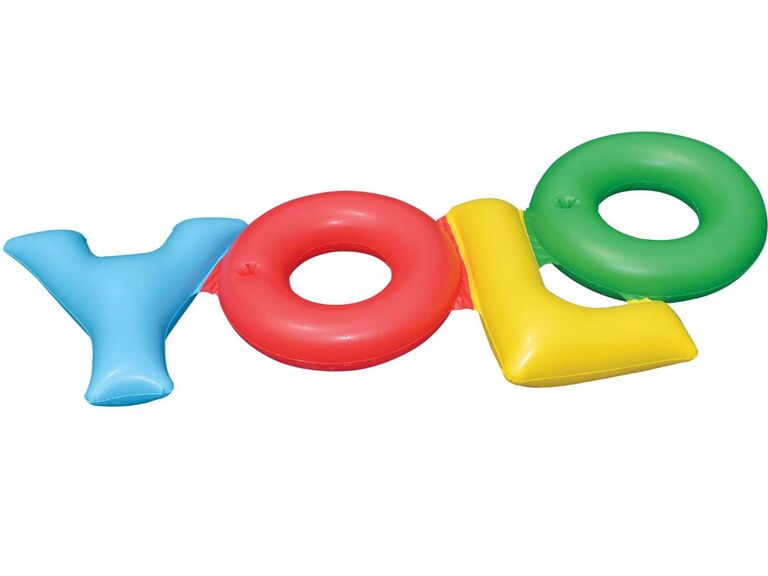 You only live once, so you might as well get some fun pool floats for your bach party. This cute raft is guaranteed to make everyone smile.
Swimline inflatable YOLO swimming pool fun raft lounger, $24, Target.com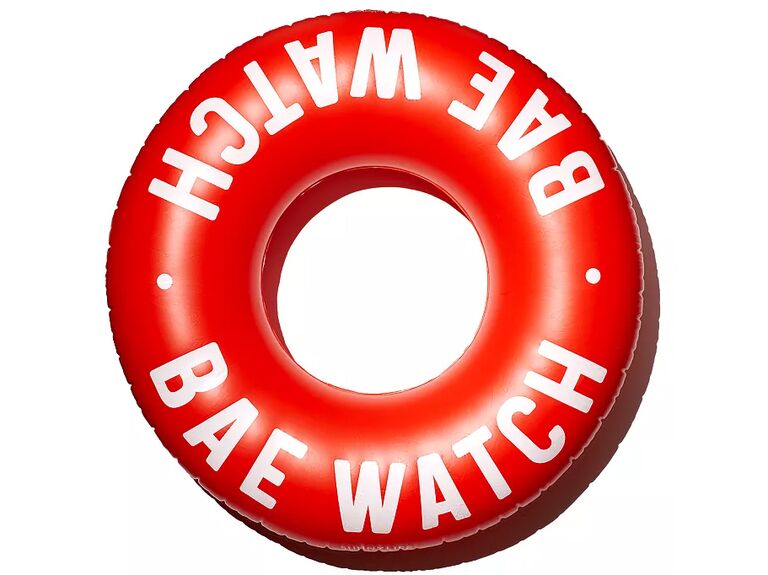 Your friend is bae, which is why this adorable ring float is perfect for their party. Get a matching swimsuit for the ultimate Insta.
SunnyLife bae watch pool ring, $20, Bloomingdales.com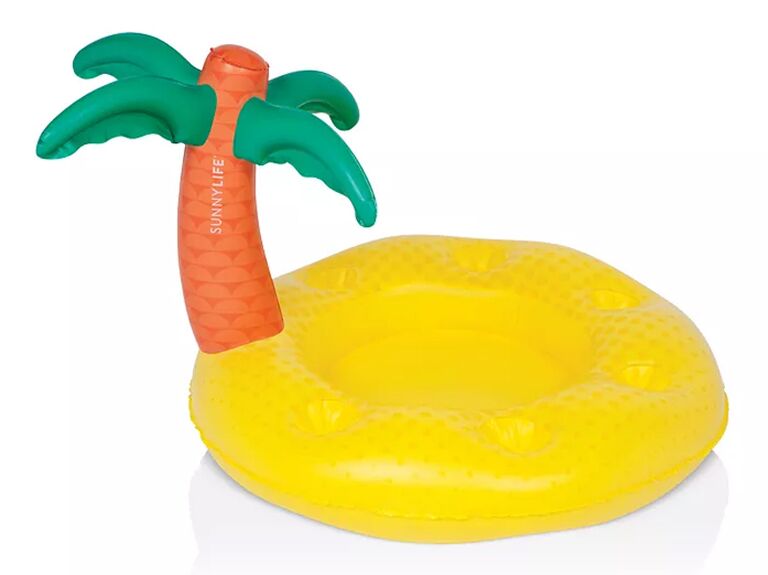 Your drinks and snacks need a float too. Pick up this floating tropical island bar to keep refreshments easily accessible for your party guests.
SunnyLife inflatable tropical island pool bar, $25, Bloomingdales.com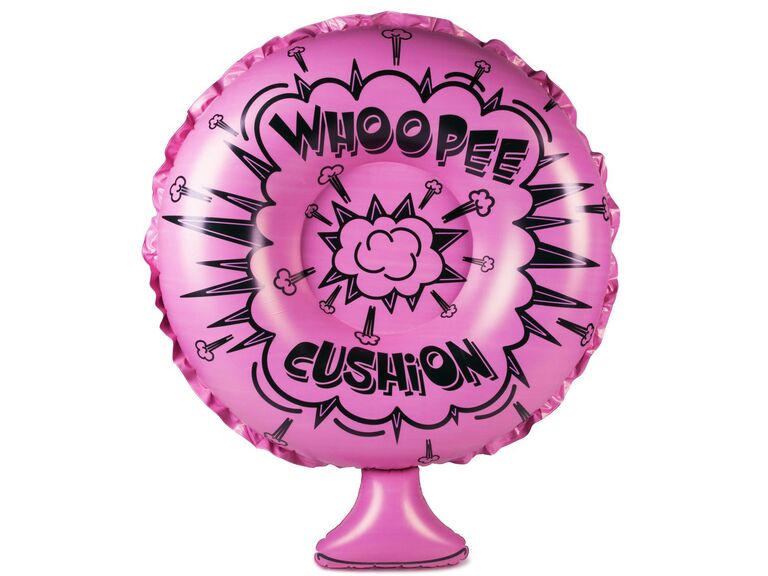 If the crew loves a good prank, this whoopee cushion float is absolutely perfect. Don't worry, it won't make any noise when you lay on it!
BigMouth Inc whoopee cushion pool float, $20, SwimOutlet.com
Donut Pool Floats & Food-Inspired Pool Floats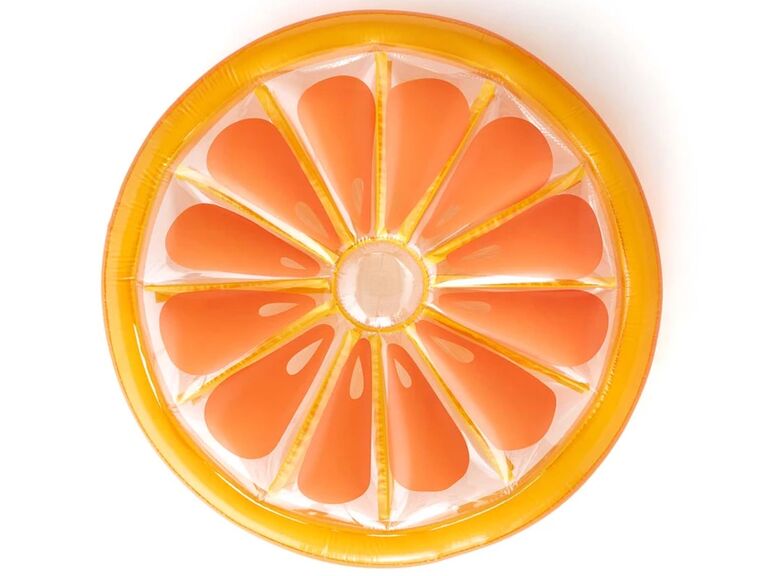 There's no better combo than citrus and the sun. This cute orange pool float will perfectly complement your tropical drinks.
Ban.do float on giant inflatable orange, $58, Bando.com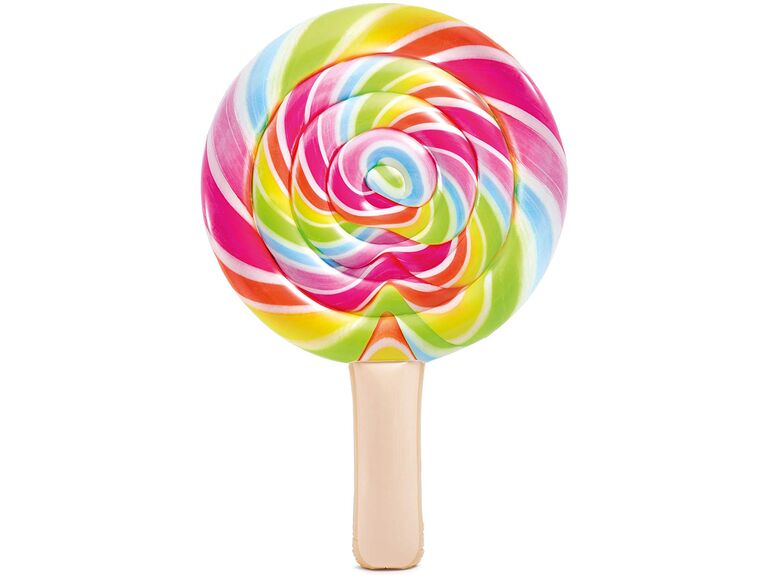 Get a raft as sweet as your bestie. Make your pool party a real-life candy shop with this colorful lollipop pool float.
Intel lollipop float pool, $27, Amazon.com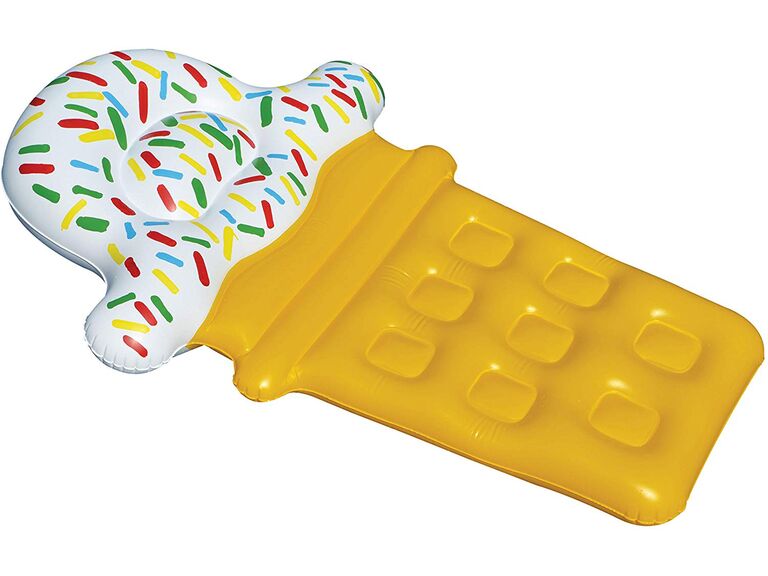 I scream, you scream, we all scream for this ice cream cone pool float.
Swimline cream dream pool float, $15, Amazon.com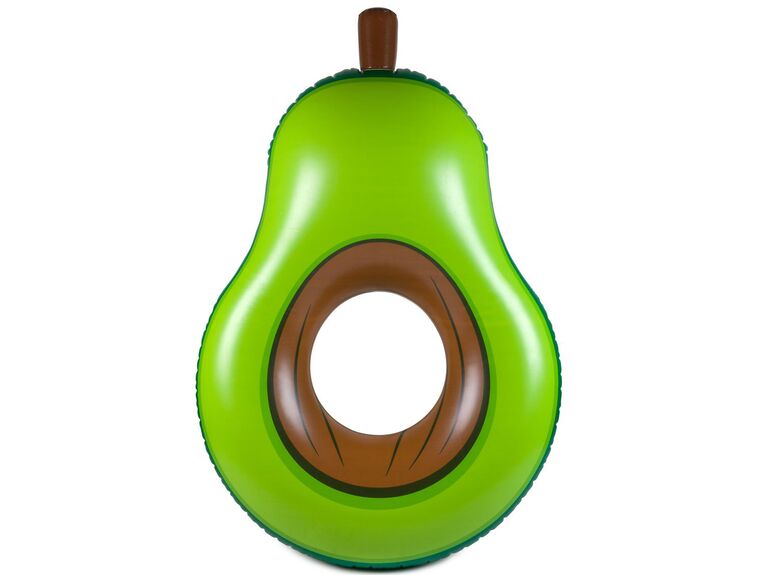 Be as extra as guac and sun yourself on this avocado pool float.
BigMouth Inc avocado pool float, $25, SwimOutlet.com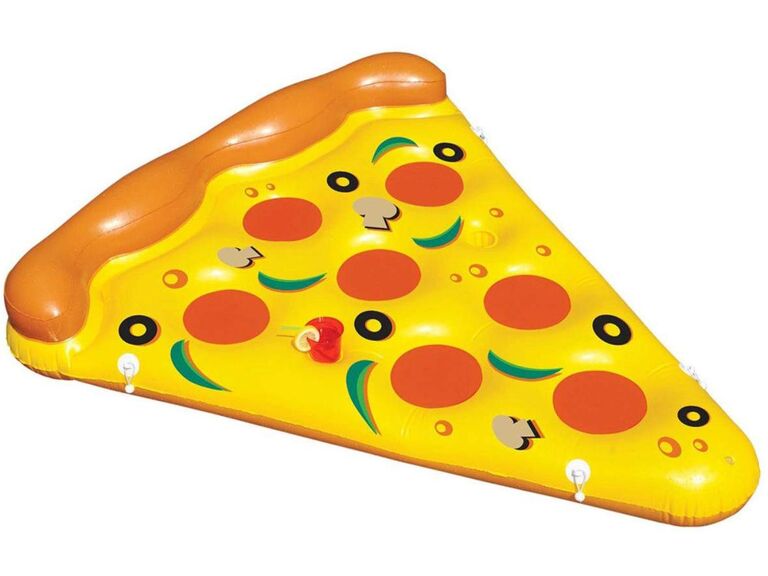 Ain't no party like a pizza party. Pay homage to your squad's favorite food with this pizza slice pool float.
Swimline inflatable pizza slice float, $26, Amazon.com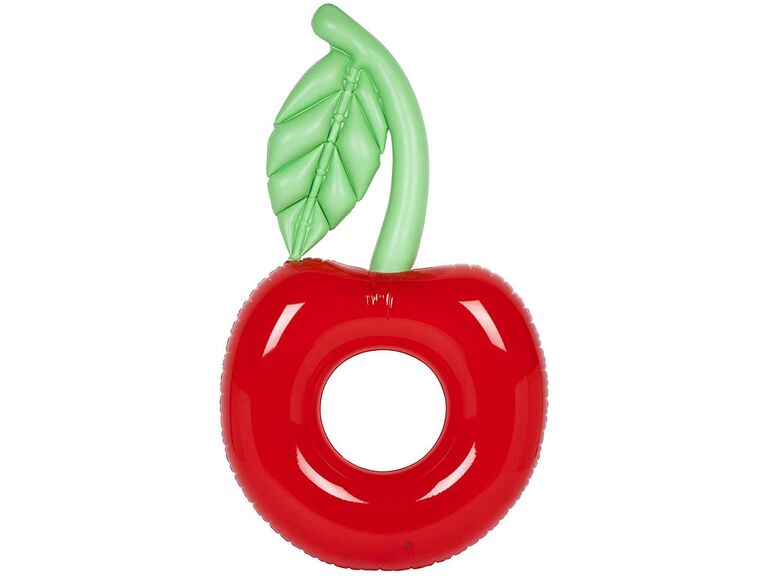 Put the cherry on top of your bachelorette party with this adorable pool float.
SunnyLife luxe pool ring cherry, $35, Amazon.com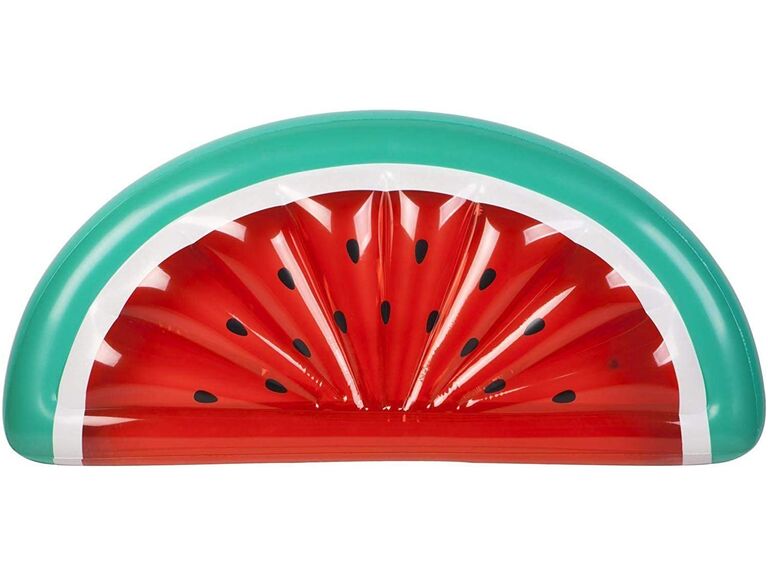 Nothing completes a pool party like some watermelon. This float will give you all the summer vibes in your party pictures.
SunnyLife watermelon inflatable luxe lie-on pool float, $40, Amazon.com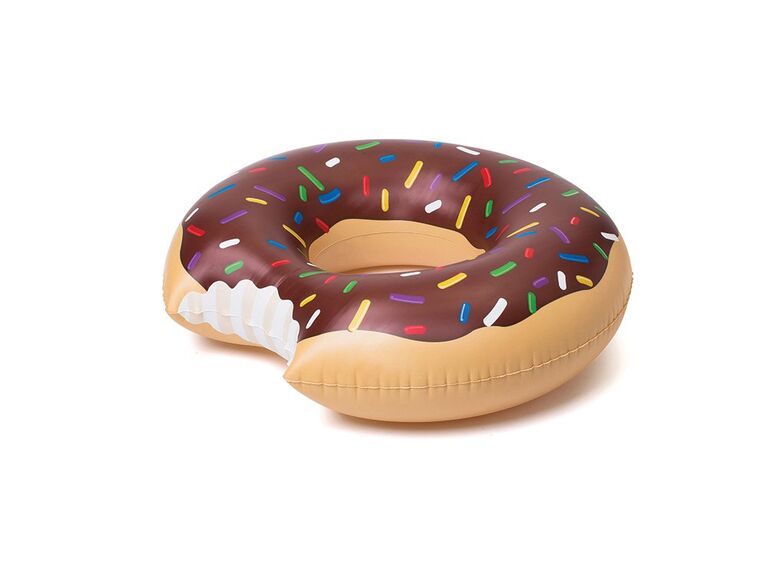 We'd be remiss not to include a donut pool float. It's an easy way to make your bachelorette bash a little bit sweeter.
The Knot Shop chocolate donut pool float, $30, TheKnotShop.com
Cute Pool Floats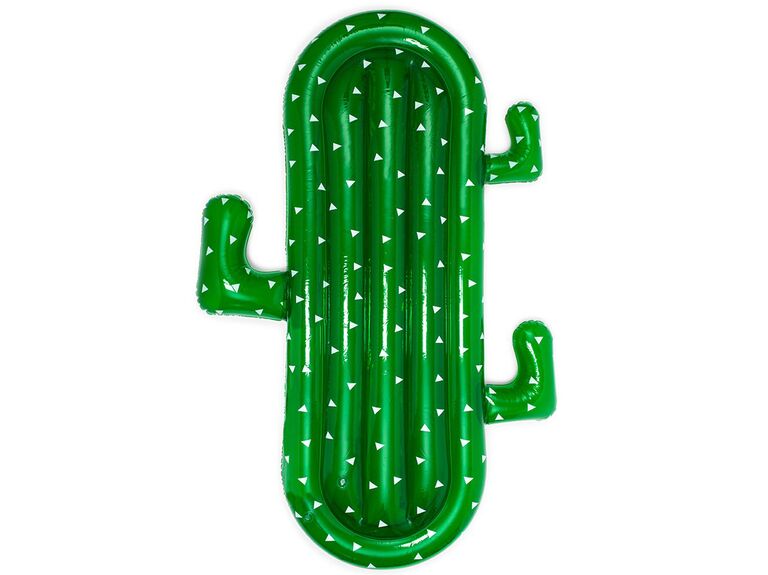 Spending your bachelorette party in the desert? Decorate appropriately with this cactus pool float.
The Knot Shop giant inflatable pool float toy cactus, $25, TheKnotShop.com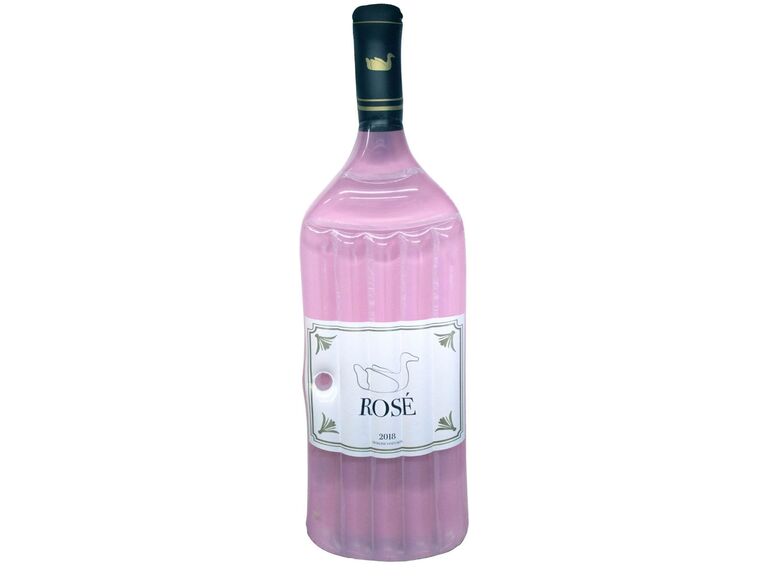 Enjoy rosé all day with this pretty raft. A bachelorette pool party wouldn't be complete without a rosé pool float, after all.
Swimline inflatable rose wine bottle float 2-pack, $43, Target.com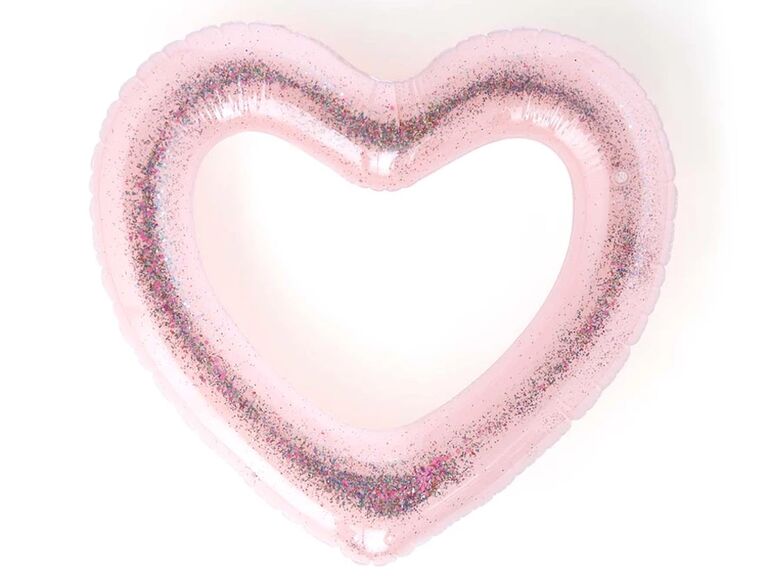 Celebrate love with this glittery pink heart. It's also a cute way to celebrate your love for each other.
Ban.do beach please! Jumbo heart innertube in Glitterbomb Pink, $30, Bando.com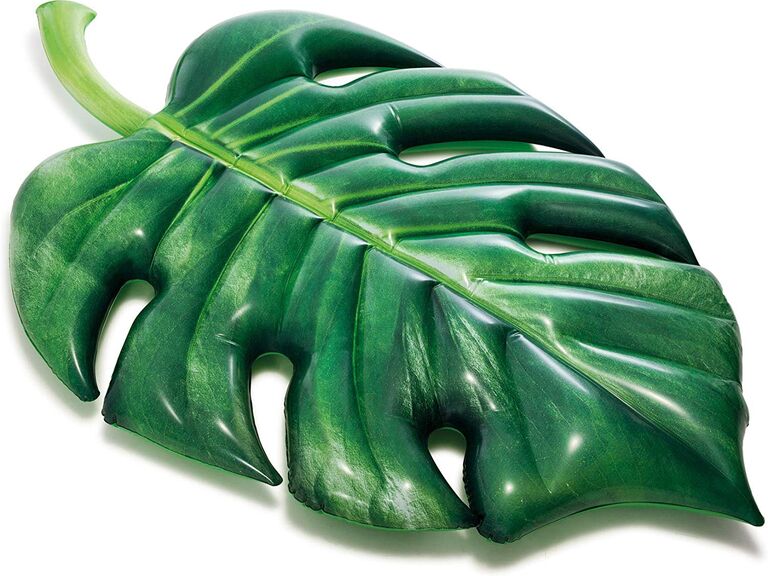 Bring some tropical vibes to your poolside bash with this palm leaf raft. Pair it with your favorite swimsuit and a yummy cocktail for the ideal photo.
Intex palm leaf inflatable mat, $23, Amazon.com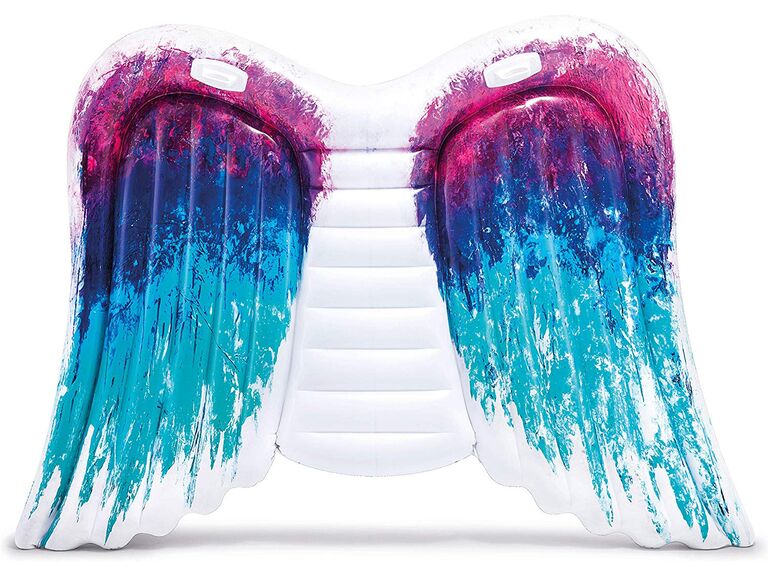 These inflatable angel wings will make the entire crew ethereal (in photos at least).
Intex angel wings mat, $35, Amazon.com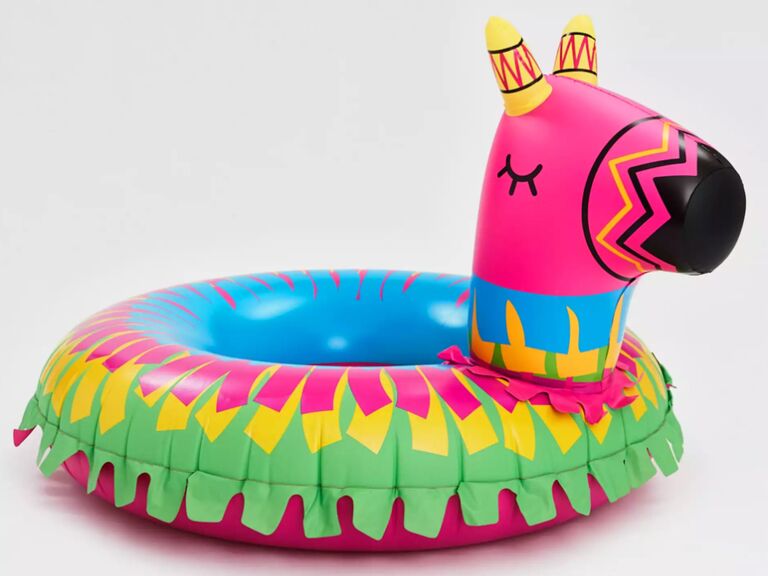 Nothing says 'party' like a piñata! This playful float will make your whole wedding crew smile.
BigMouth Inc pinata float, $25, AmericanEagle.com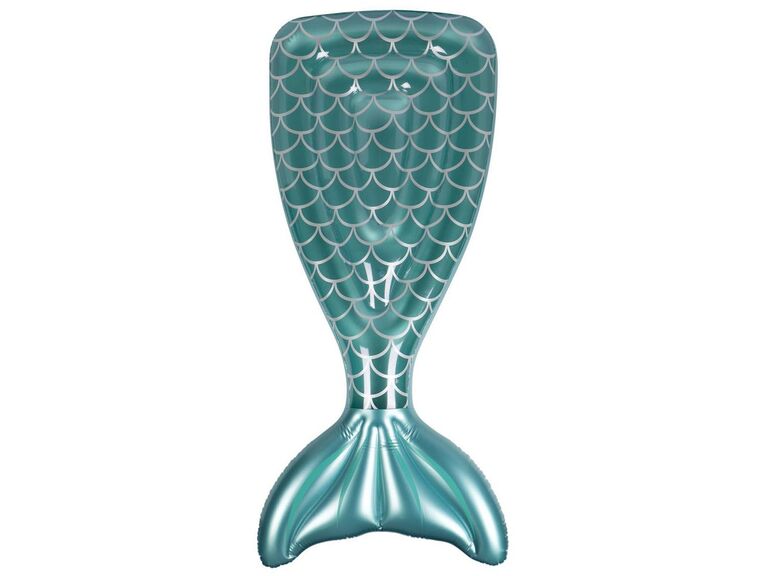 Embrace your inner mermaid by lounging on this gorgeous scaly tail.
SunnyLife luxe lie-on float mermaid, $50, SwimOutlet.com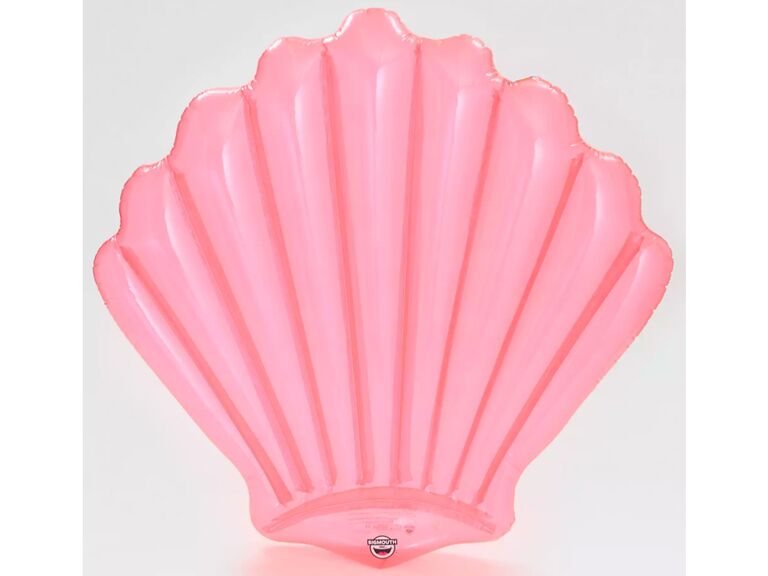 Bring even more mermaid vibes to your bash with this giant pink clam-shaped raft.
BigMouth Inc clam full size raft, $30, AmericanEagle.com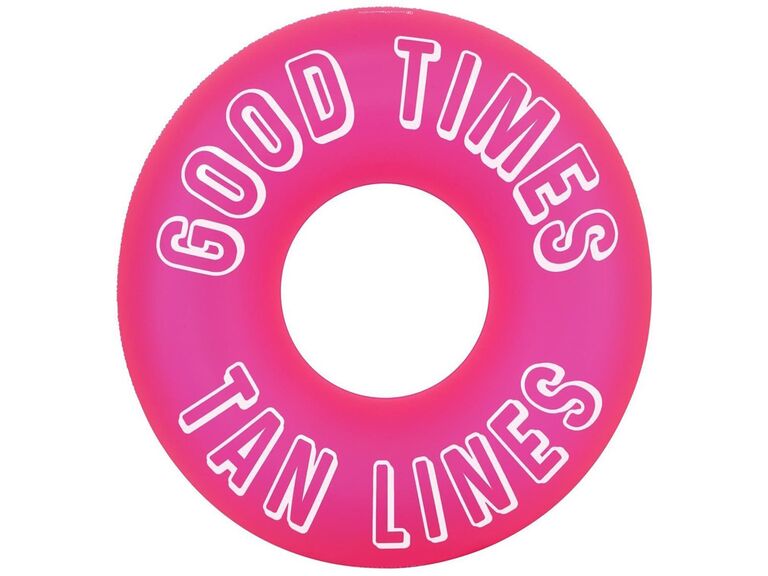 This float is picture-perfect and it comes with a built-in caption. How great is that?
SunnyLife inflatable pool ring, $20, SwimOutlet.com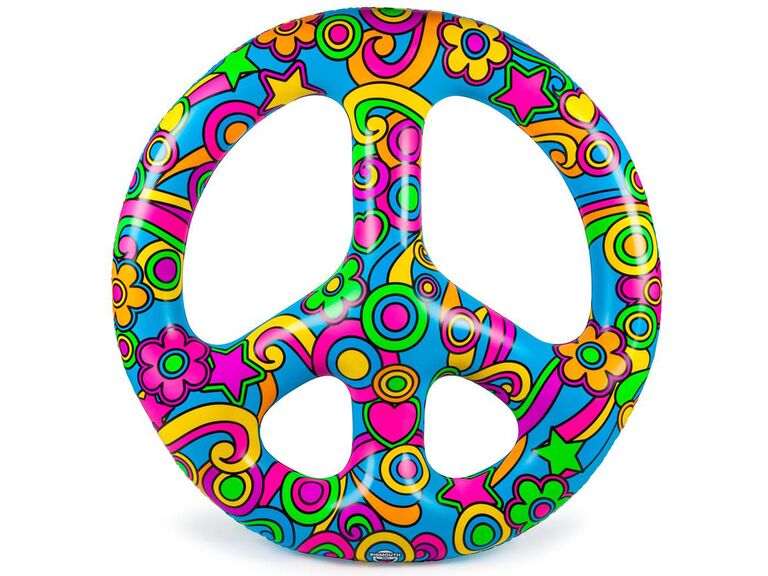 If you've got a boho bride on your hands, this floral peace sign is perfect for her bach party. Pair it with some heart-shaped sunnies for a major hippie moment.
BigMouth Toys peace sign float, $25, SwimOutlet.com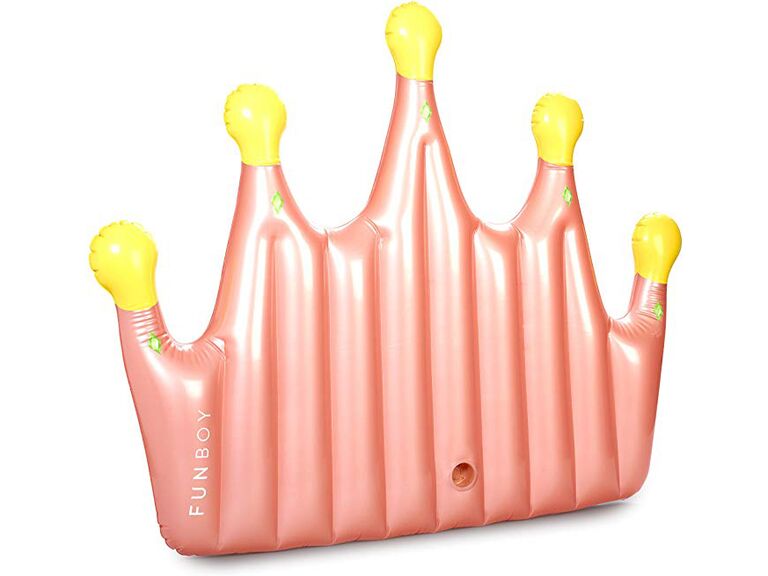 Make your nearlywed feel like the queen of the party with this crown-shaped pool raft.
FUNBOY crown lounger, $59, Amazon.com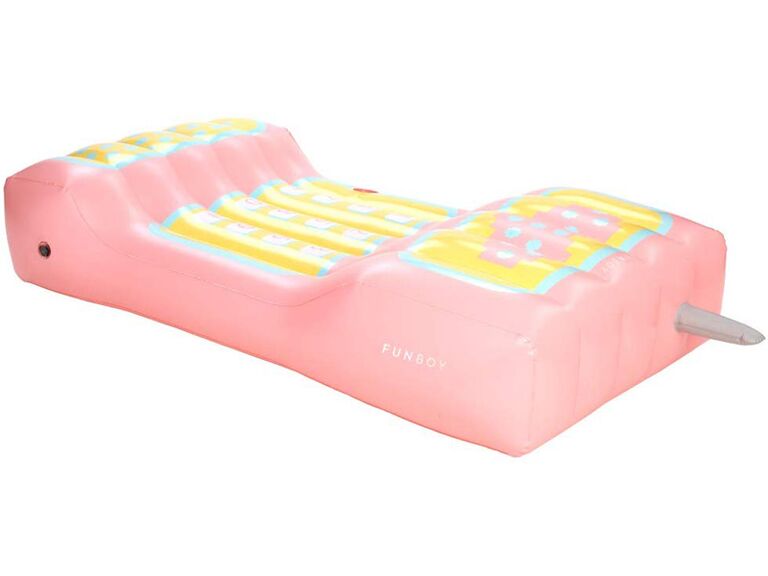 If your crew loves nostalgia, this retro pink phone float is an absolute must. Show off your '90s kid pride while you celebrate your nearlywed.
FUNBOY pink retro phone float, $49, Amazon.com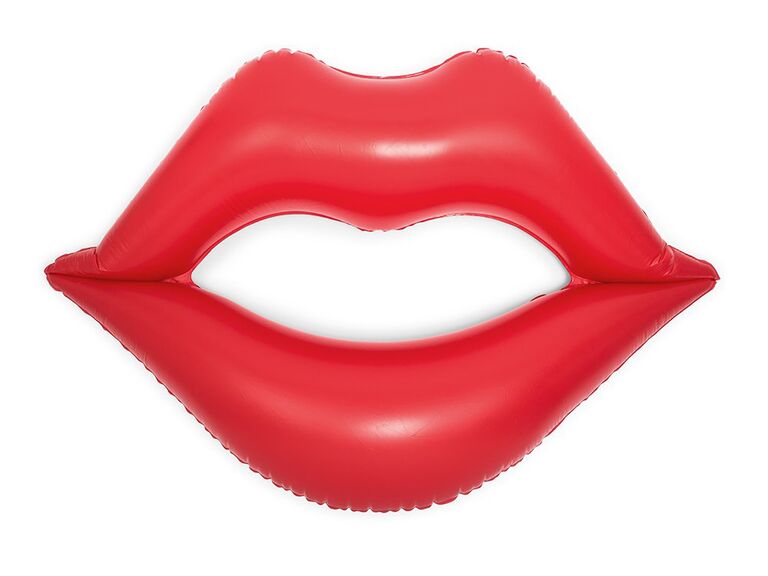 Before your friend gets their true love's kiss, celebrate with this lip float. Rock some red lipstick for an ultra-glamorous photo shoot.
The Knot Shop giant inflatable pool float toy red lips, $20, TheKnotShop.com
Will you do whatever it takes for the 'gram? Check out this jet ski pool float that is sure to stand out on your grid.
FUNBOY fun ski, $90, Funboy.com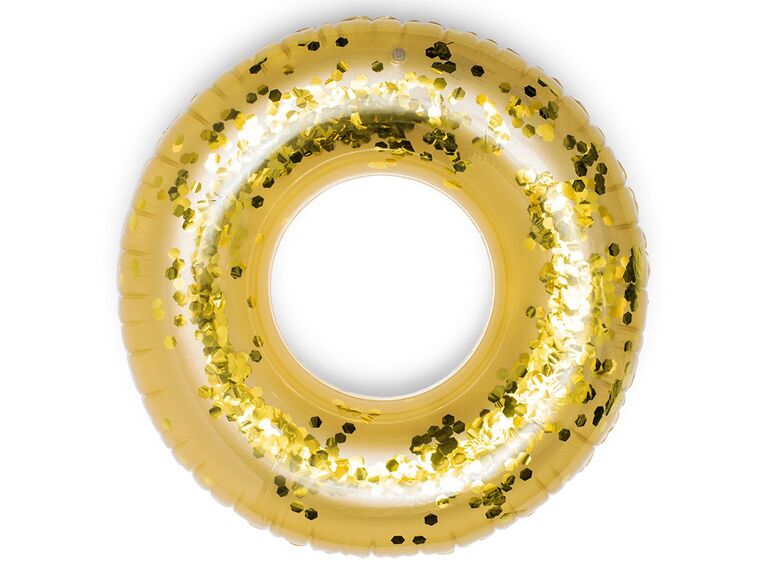 Add a little sparkle to your bachelorette bash with this gold innertube.
The Knot Shop giant inflatable pool float toy gold glitter tube, $18, TheKnotShop.com
Ring Pool Floats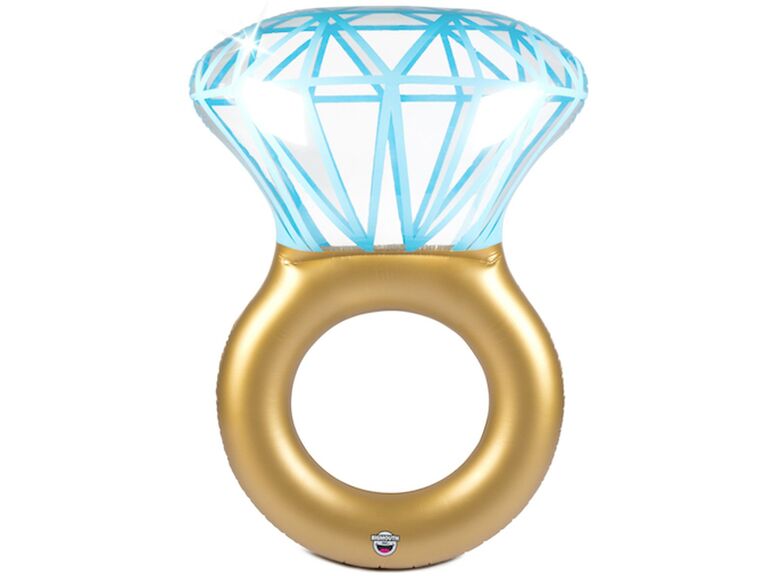 Who doesn't love a little bling? Frost your to-be-wed with this giant diamond ring pool float.
BigMouth Toys bling ring pool float, $19, SwimOutlet.com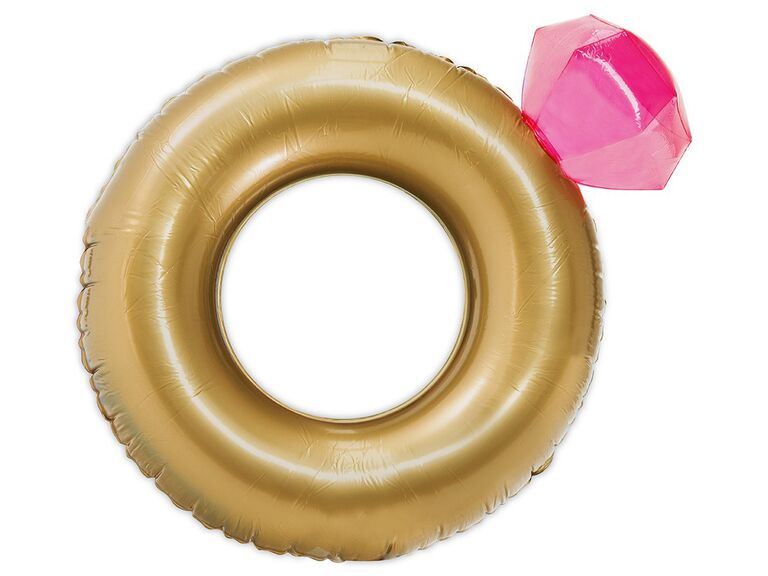 If your friend loves colorful gem stones, this pool ring is perfectly suited to her taste. (Psst: it matches perfectly with the gold glitter tube above.)
The Knot Shop giant inflatable pool toy diamond ring, $18, TheKnotShop.com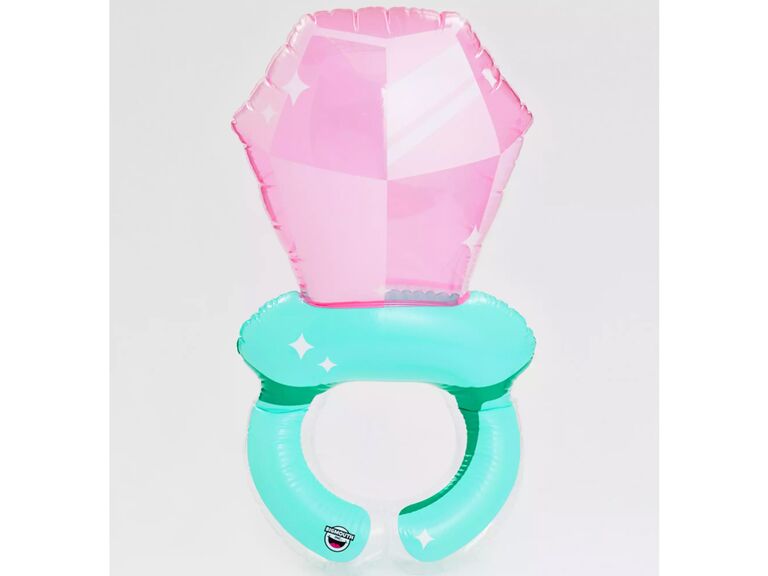 This adorable ring-shaped innertube will let your friend be the star of the show (and the star in any pics you take).
BigMouth Inc ring pop pool float, $20, AmericanEagle.com