36 Pink Diamond Engagement Rings to Inspire Your Sparkler
These stunning blush baubles give new meaning to "rosé all day."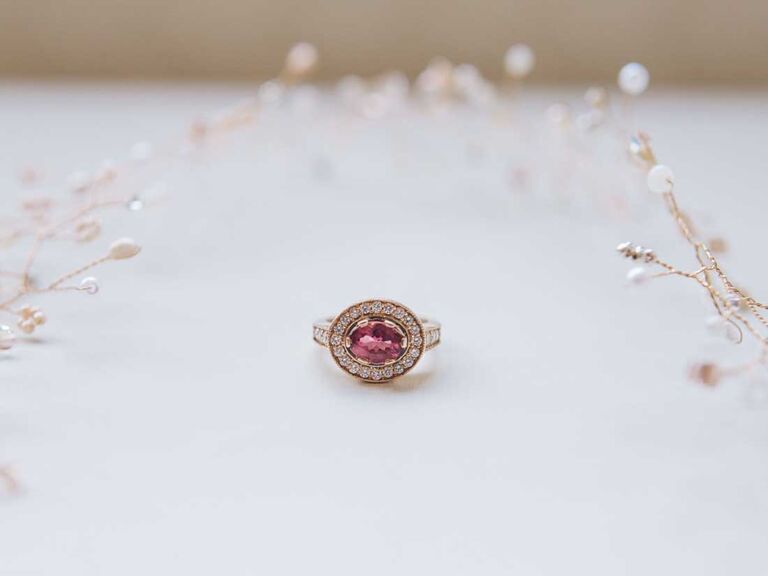 Markit Photography
We have included third party products to help you navigate and enjoy life's biggest moments. Purchases made through links on this page may earn us a commission.
Colorless diamonds may be the most traditional center stone for to-be-weds but if you have your eye on a pink diamond engagement ring, we say go for it! A pink diamond is romantic, and its rosy hue is flattering. Before you make the investment, you probably want to know everything there is about pink diamonds and gemstones. Here, we explain the basics, as well as our favorite pink engagement rings.
What does a pink diamond symbolize?
The color pink itself conjures up images of love and tenderness, so it goes without saying that these work well for engagements. Throughout history, the pink diamond has been said to symbolize passion, strength and power.
Are pink diamonds more expensive?
Sometimes! Pink diamonds are said to be rare—they make up only about 1% of the diamond production worldwide, according to the GIA (Gemological Institute of America), and so in many cases they are pricier than other diamonds. But it depends. Diamonds are graded on their color, clarity, cut and carat weight—a combination of all those factors go into each diamond's price. Typical white diamonds are usually pricier the more they lack color, but with pink diamonds, the more vivid the color, the more expensive the stone usually is—when compared to others of the same clarity, cut and carat weight, of course. In other words, the intensity of the pink hue in your diamond will help determine its cost, but it isn't the only factor.
What celebrities have pink diamond engagement rings?
Plenty of celebs have worn pink diamond engagement rings. Blake Lively's engagement ring, designed by Lorraine Schwartz and bestowed to her by hubby Ryan Reynolds, has a large, light-pink oval diamond center stone. Anna Kournikova received an 11-carat pear-shaped pink diamond engagement ring from Enrique Iglesias. Victoria Beckham has been said to have worn several different engagement rings over the years (14 to be exact!), given to her by her husband, David, and at least two of them had a pink diamond center stone.
And some celebs's relationships didn't last, but their epic blush-hued rings are worth a mention! Jennifer Lopez wore a radiant-cut fancy pink diamond flanked by clear baguettes set in platinum when she was engaged to Ben Affleck back in 2002. And Mariah Carey sported a whopping 17-carat emerald-cut light pink diamond while engaged to Nick Cannon in 2008.
Pink Diamonds vs. Morganite and Other Stones
Love the pink look? Pink diamonds can be hard to find and often come with a high price tag. But thankfully, there are other pink gemstones to consider for your engagement ring as well.
Morganite: Best known for its peach hue, morganite can also come in pink, rose and salmon shades. Like an emerald, it's a variety of beryl and can make for a lovely ring center stone.
Pink sapphire: When you hear sapphire, you probably think blue, but this timeless stone comes in a variety of pink tones. (Another fun fact? If the stone is dark enough to be considered red, it's classified a ruby.) Plus, it's a 9.0 on the Mohs hardness scale, so it'll stand up to everyday wear.
Pink topaz: Pink is just one of the many colors of topaz. It's an 8.0 for hardness, but it doesn't stand up to chipping and cracking as well as some other popular pink gemstones do.
Pink tourmaline: Pretty tourmaline comes in a wide range of pink shades (as well as almost every other color of the rainbow!). Just be careful with a tourmaline ring, since heat can damage the stone.
Kunzite: This gemstone is usually found in pale hues ranging from light pink to lavender and is available in very large sizes.
The Best Pink Diamond Engagement Ring Styles to Buy Right Now
Ready for some eye candy? These engagement rings, made of pink diamonds and other pink gemstones, are currently making us blush!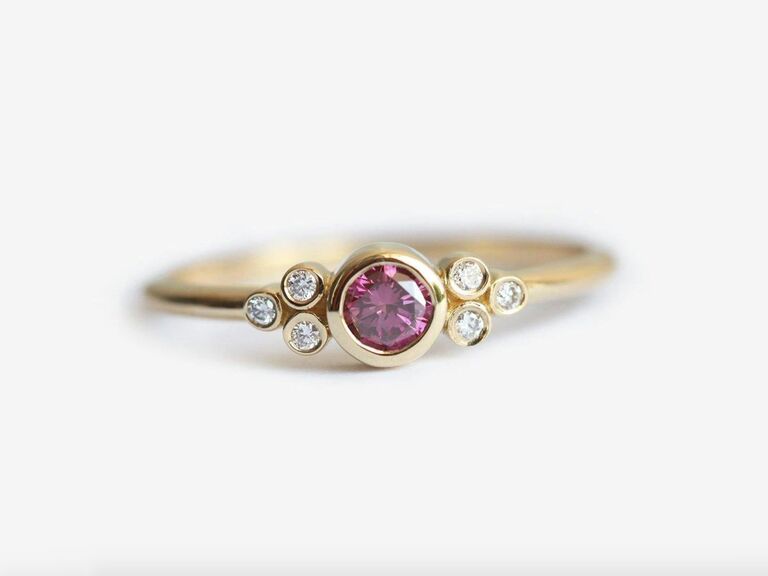 What a gorgeous way to kick things off! In this delicate ring, a fancy intense pink, round diamond is accented by six white diamonds.
Capucinne pink diamond engagement ring, $1,650, Capucinne.com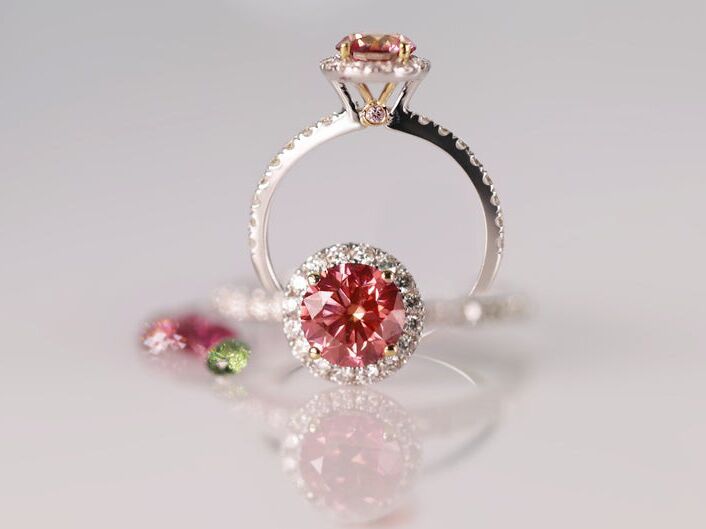 We're thinking pink thanks to this natural pink diamond with a halo of white diamonds.
ILANIS diamonds pink diamond engagement ring in 14K white gold, $6,950, Etsy.com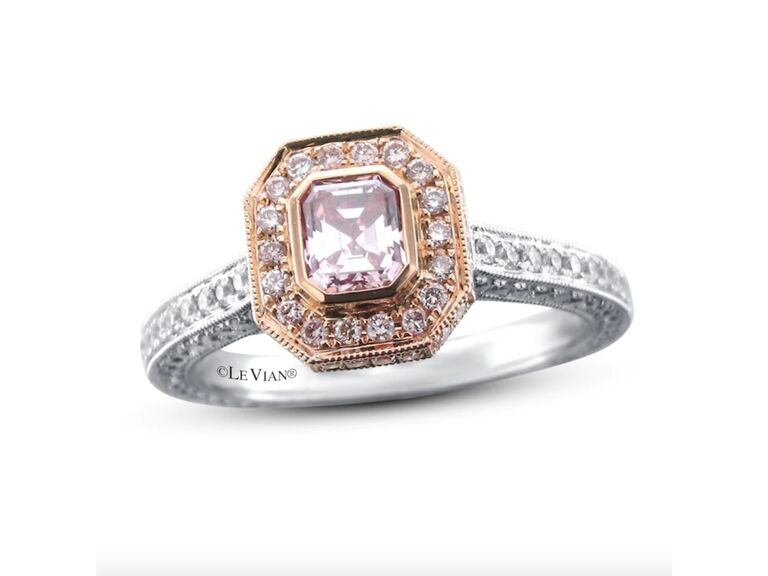 This one's a total showstopper! An octagon-shaped pink diamond surrounded by tiny pink diamonds and two tones of gold: rose gold and platinum.
Le Vian pink diamond ring in platinum and 18K white strawberry gold, $160,000, Kay.com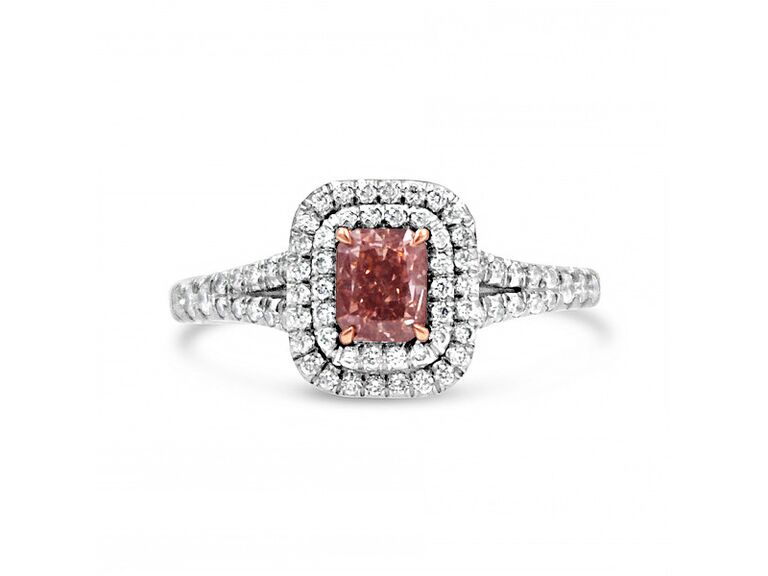 Here, a radiant-cut pink diamond is accented by white diamonds and set in a platinum band. We think we're in love.
J.R. Dunn pink diamond ring in platinum, $42,500, JRDunn.com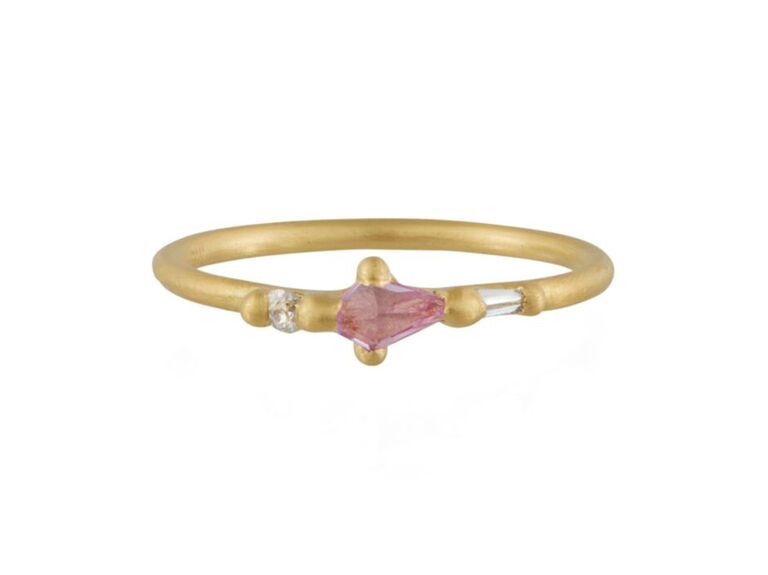 An eclectic mix of pink sapphire and white diamond baguettes, this ring is swoon-worthy.
Polly Wales Anna Kite ring, $3,080, CatbirdNYC.com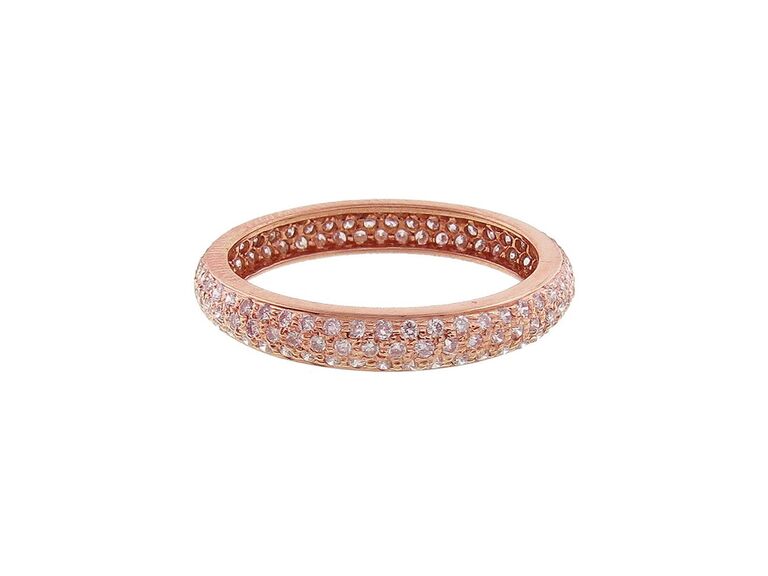 An eternity band is a beautiful way to represent your everlasting love, and this one is covered in sparkling pink diamonds.
Sethi Couture wide pavé pink diamond ring in rose gold, $2,300, Ylang23.com
Oval stones (this one, a pink sapphire) are a slightly modern twist on the classic round-cut.
Blue Nile pink sapphire and micropavé diamond halo ring in 14K white gold, $2,800, BlueNile.com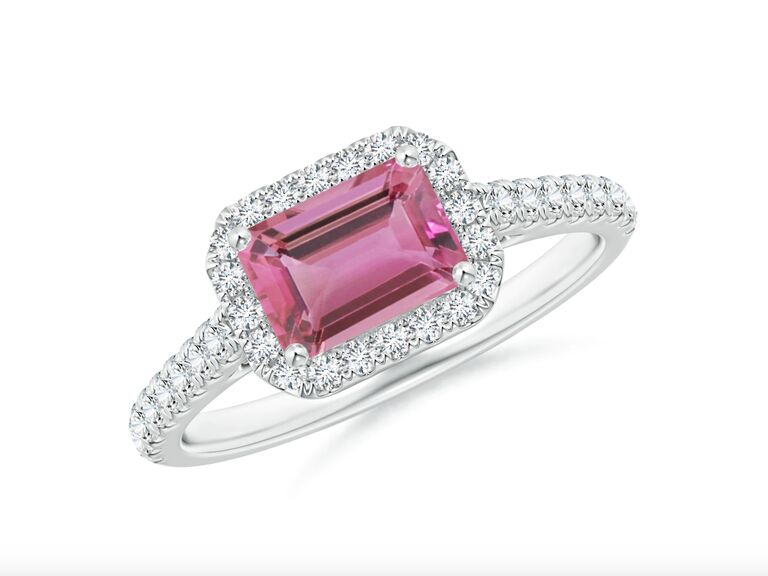 In this bauble, an emerald-cut pink tourmaline gets set East-West-style (horizontally) for extra interest.
Angara East West emerald-cut pink tourmaline halo ring, $1,709, Angara.com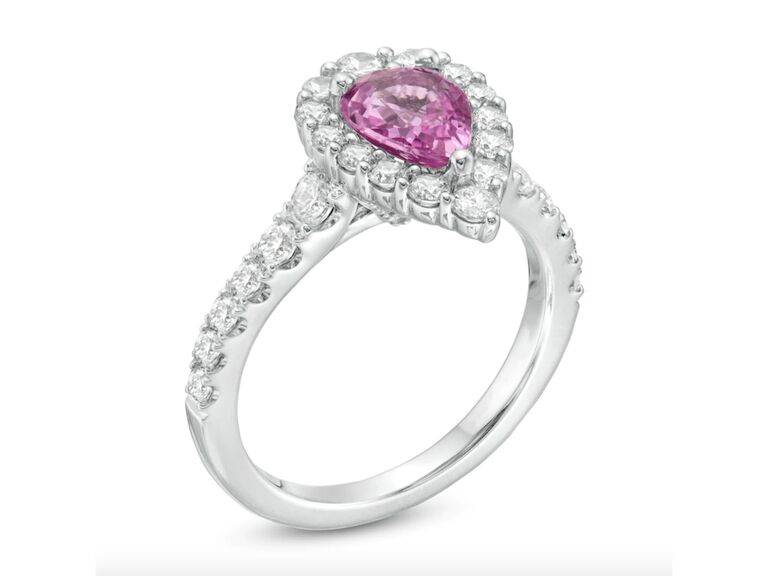 A pear-shaped sapphire? Say yes!
Vera Wang Love Collection pear-shaped pink sapphire with diamonds in 14K white gold, $4,272, Zales.com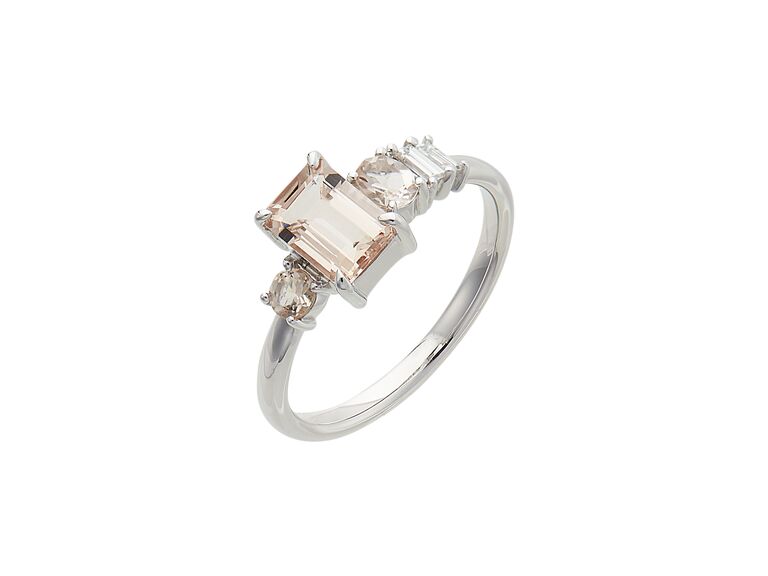 Here, pretty-as-a-peach morganite is complemented by diamonds and 14K white gold.
Mejuri linear cluster ring, $750, Mejuri.com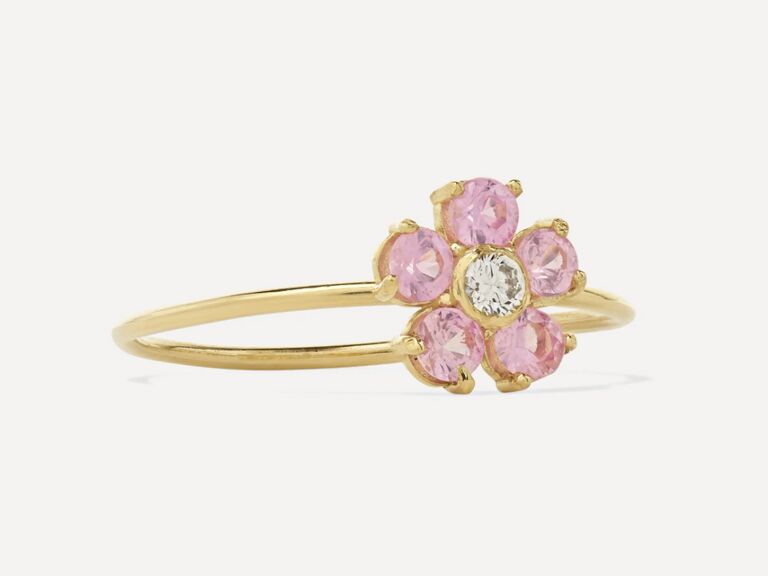 For the bride-to-be who dares to be different: A flower-shaped pink sapphire engagement ring.
Jennifer Meyer 18K gold, sapphire and diamond flower ring, $1,500, Net-a-Porter.com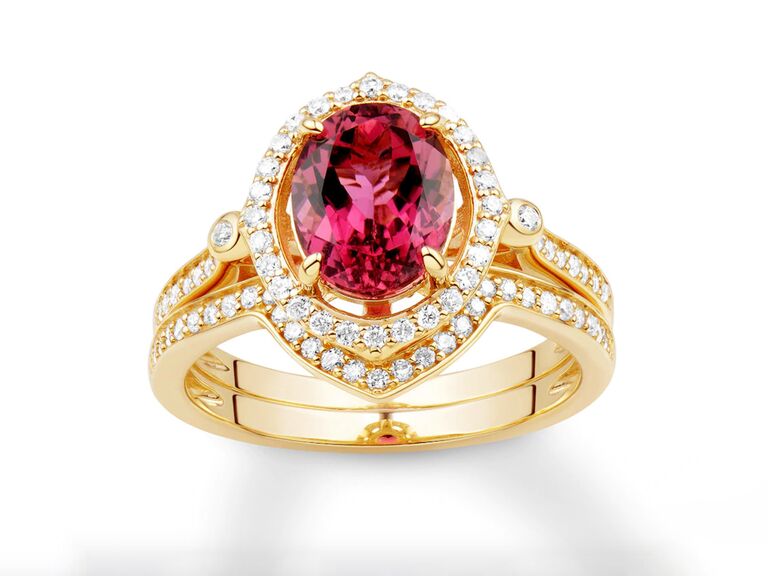 In this regal ring, an oval pink tourmaline is surrounded by a bevvy of round diamonds.
Jared pink tourmaline and diamond bridal set in 14K yellow gold, $3,100, Jared.com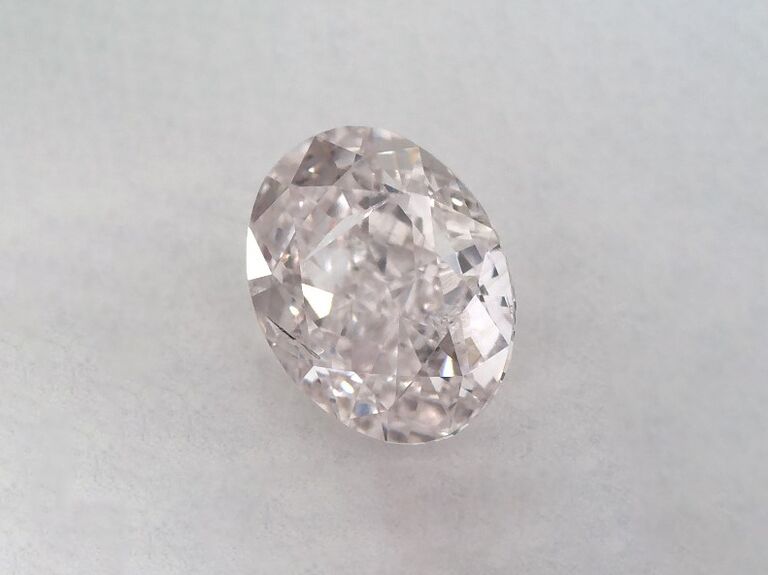 Choose a pink diamond that fits your style and budget, and your favorite setting to create your own dream solitaire engagement ring.
James Allen 0.43-carat fancy light pink oval-cut diamond, $3,520, JamesAllen.com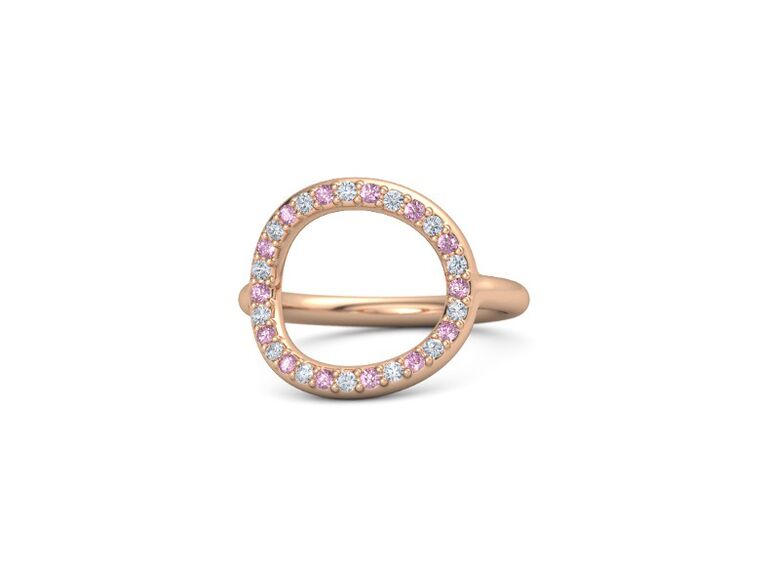 Oh how glittery! A circle of pink sapphires and diamonds makes for an unconventional, and lovely, engagement ring.
Silpada Luxe Brilliant Karma Ring in pink sapphire and diamond with 10K rose gold, $990, Silpada.com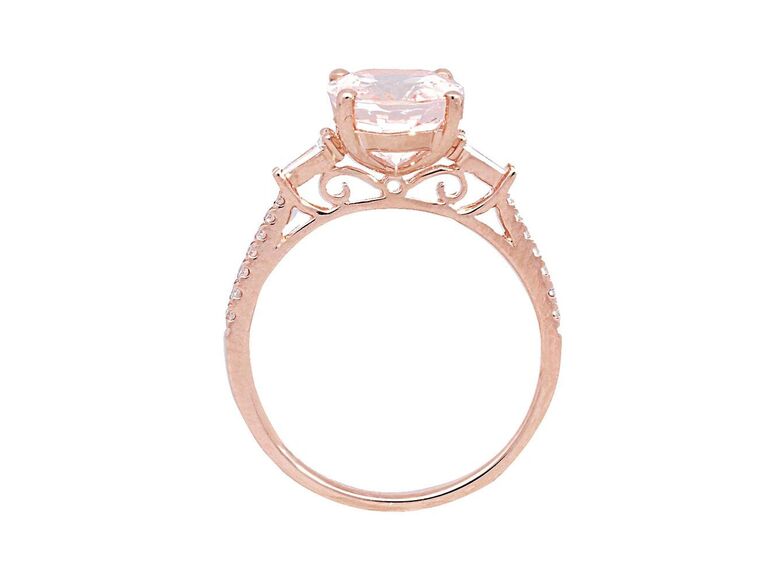 What's not to love about this morganite-and-diamond ring?
Helzberg Diamonds 14K rose gold ring with oval morganite and diamond baguettes, $1,399, Helzberg.com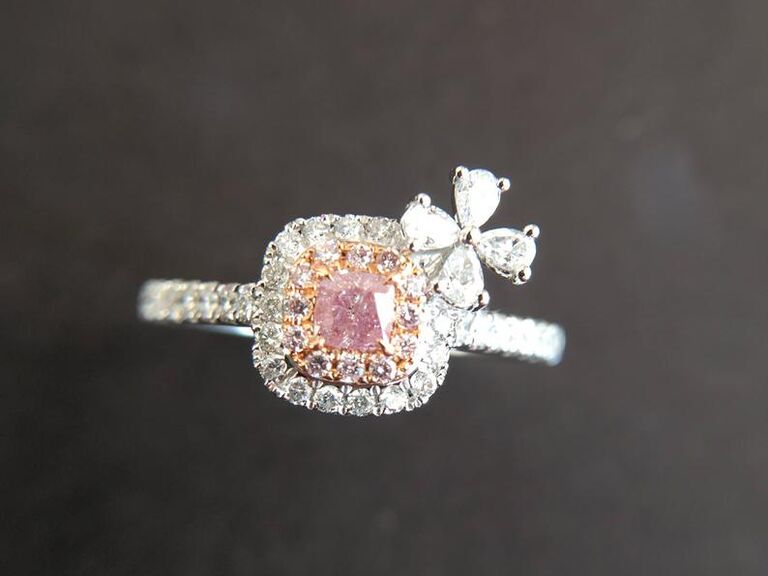 A cushion-cut pink diamond, surrounded by tiny diamonds and accented with four pear-shaped diamonds? Looks like a good luck charm to us!
Luster Gems pink diamond engagement ring with white diamonds in white gold, $3,985, Etsy.com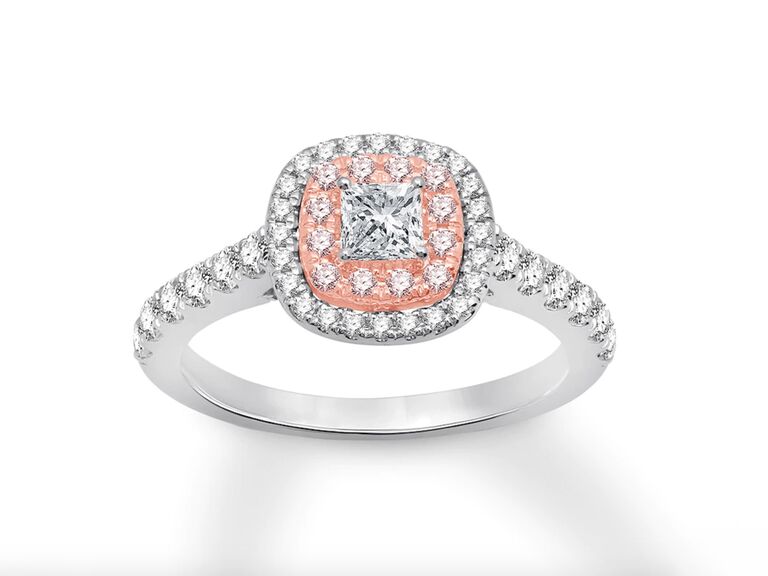 If a pink center diamond isn't in your price range, consider using small, pink diamonds as an accent to a larger white diamond to create your rosy look.
Kay Jewelers pink and white certified diamond engagement ring with 1-carat total weight in 14K gold, $2,800, Kay.com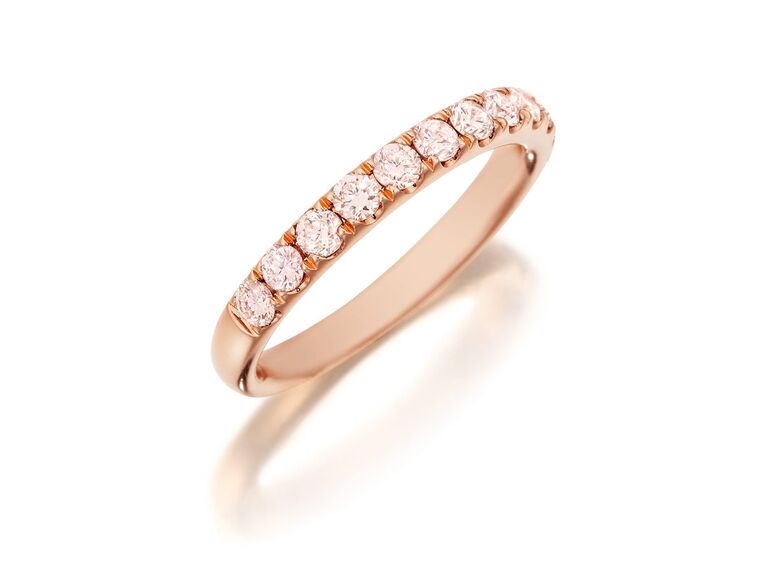 We're totally picturing you saying I do and slipping on a wedding band adorned with glittering pink diamonds.
Henri Daussi rose gold pink diamond halfway wedding band, $3,740, JRDunn.com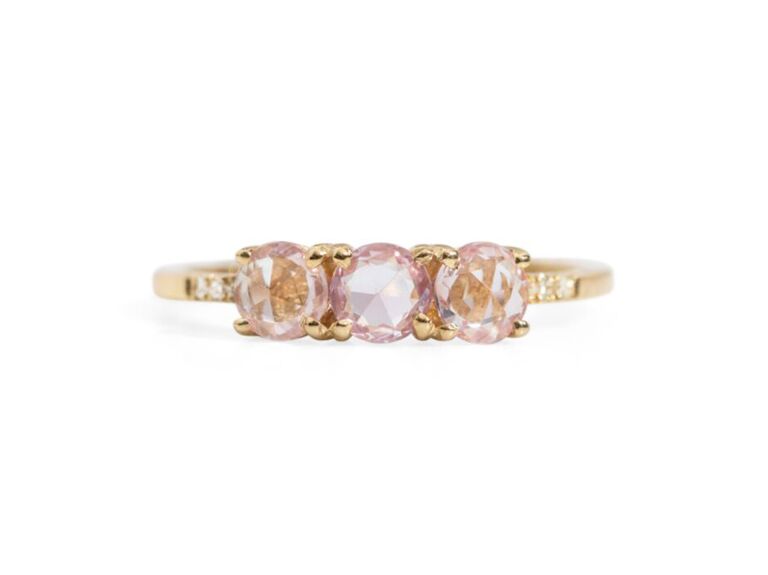 A rose-cut gives a gemstone a timeless, antique look. And when those gemstones are in a rose hue, like these sapphire, it's extra apropos.
Jennie Kwon La Vie en Rose ring, $675, CatbirdNYC.com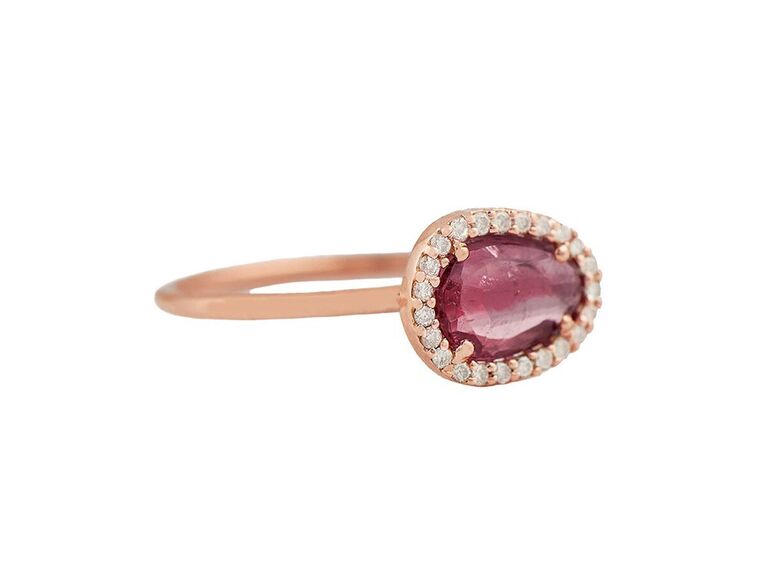 Pink watermelon is such an apt description of the ripe hue of this uniquely shaped tourmaline.
Celine Daoust one-of-a-kind pink watermelon tourmaline and diamond ring, $1,330, Ylang23.com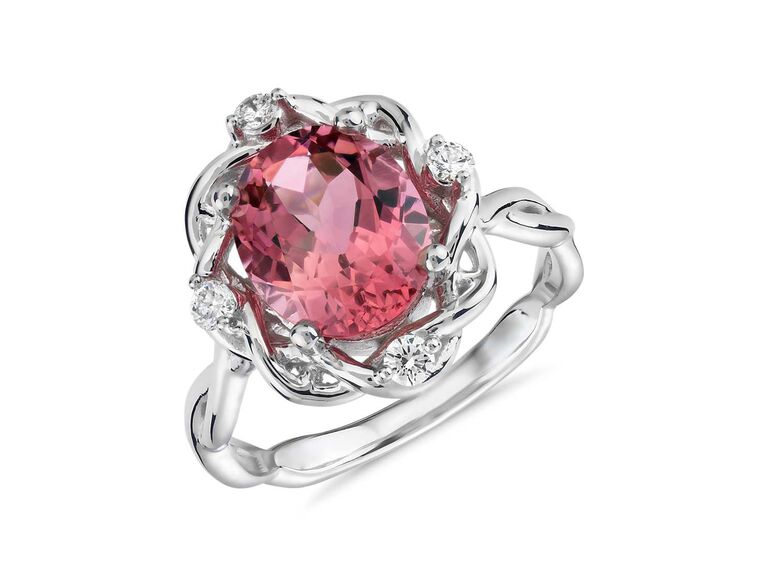 A twist design gives a classic engagement ring a contemporary update.
Blue Nile oval pink tourmaline and diamond weave ring in 18K white gold, $3,400, BlueNile.com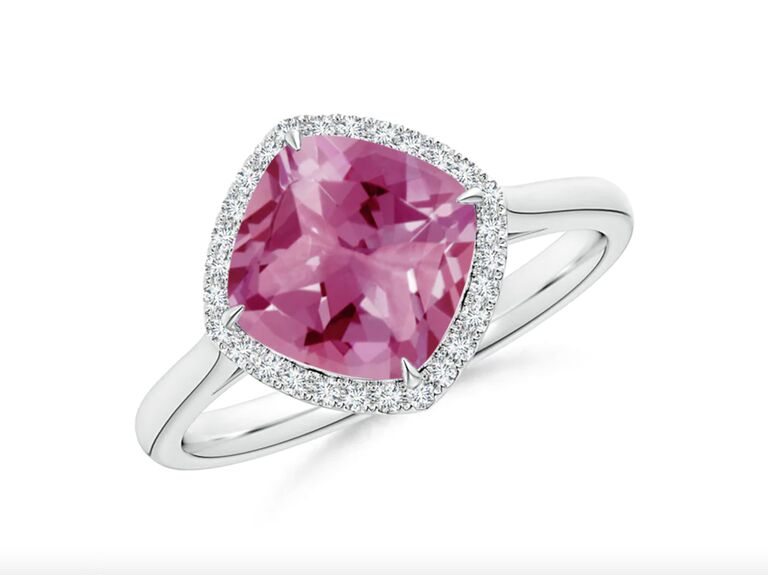 This cushion-cut pink tourmaline is set on a 45-degree angle to make a stylish statement.
Angara claw-set cushion-cut pink tourmaline halo ring in platinum, $2,179, Angara.com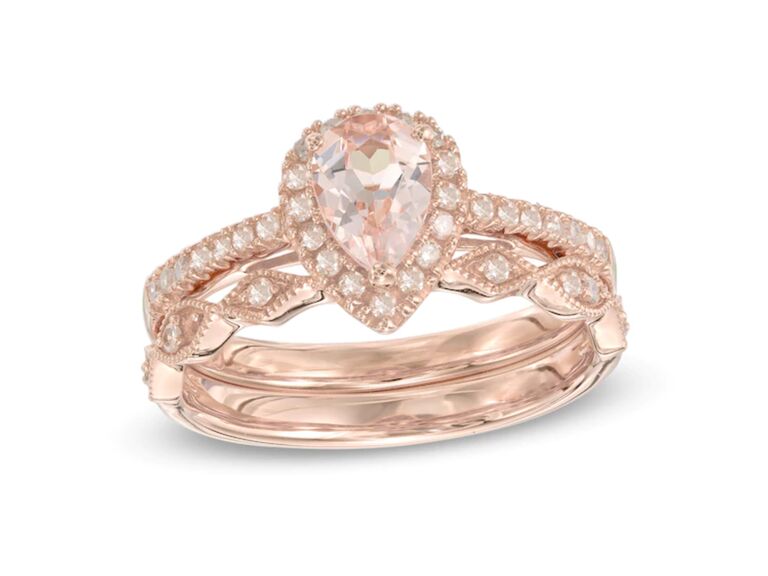 We're really into the vintage vibe of this rose-gold morganite and diamond ring set.
Zales pear-shaped morganite and diamond bridal set in 14K rose gold, $1,299, Zales.com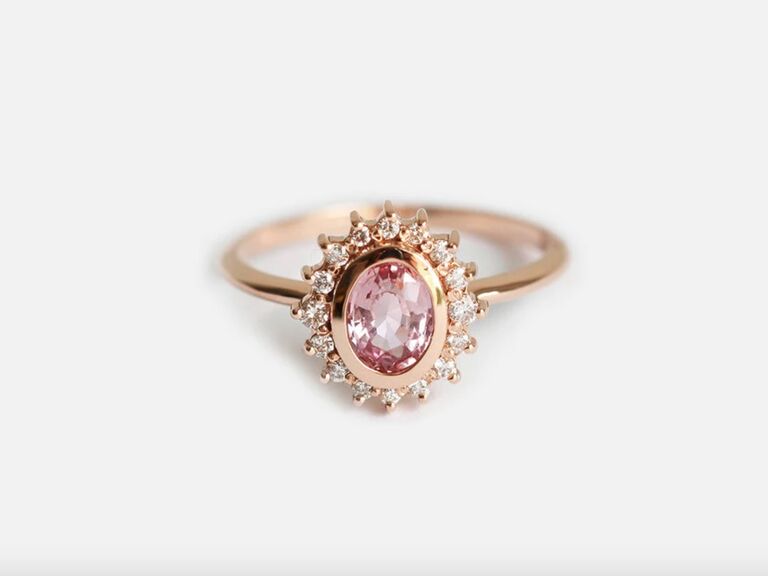 An oval pink sapphire is simply heavenly when surrounded by diamonds.
Capucinne Angie sapphire ring with diamonds in 14K yellow gold, $1,780, Capucinne.com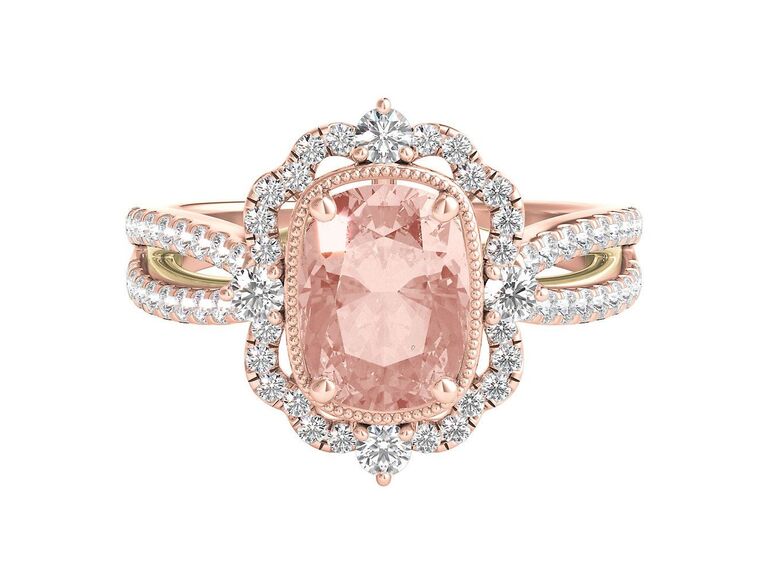 You'll feel ready to walk the red carpet when you wear this morganite stunner.
Truly Zac Posen morganite and diamond engagement ring in 14K rose gold, $2,299, Helzberg.com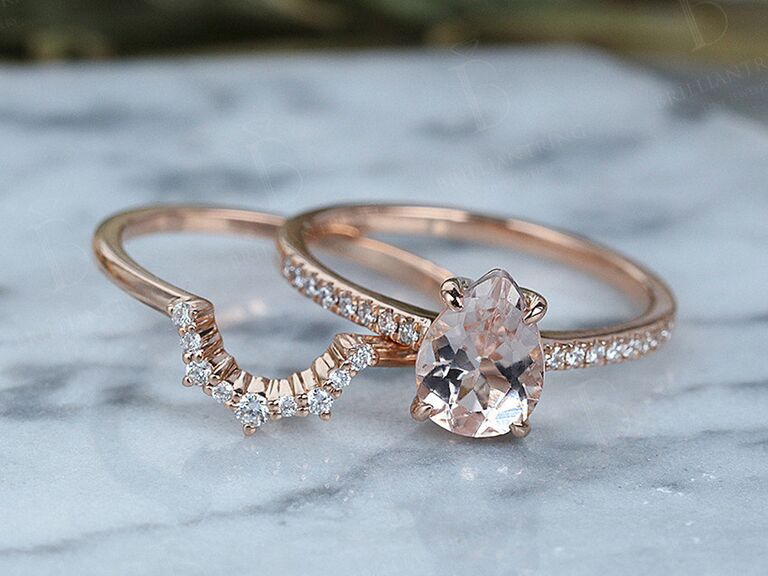 What's better than a gorgeous pear-shaped morganite ring? One that comes with its own, matching wedding band, of course!
Brilliant Ring morganite and moissanite engagement ring and wedding and set in rose gold, $778, Etsy.com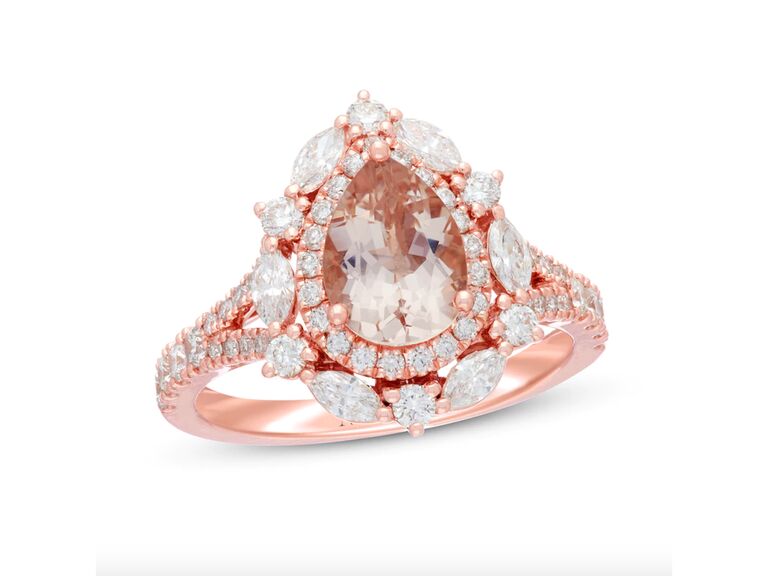 Now, here's a pink ring you won't want to stop admiring. Morganite is accented with round and marquise diamonds for maximum sparkle.
Neil Lane morganite engagement ring with one carat total weight diamonds in rose gold, $3,800, Kay.com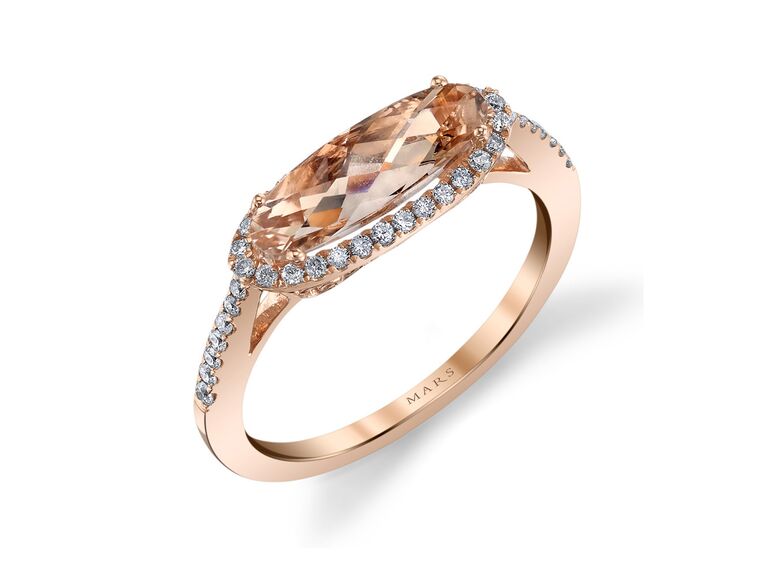 Morganite in a wide oval is just non-traditional enough to make this morganite-and-diamond ring feel fresh.
MARS oval east-west pink morganite and diamond ring in rose gold, $1,360, JRDunn.com
It's the details that make this pink sapphire ring so special.
Eliza Solomon Pavlova pink sapphire ring with white diamond melee in 18K rose gold, $2,398, CatbirdNYC.com
If you're a "go big or go home" kind of bride, an emerald-cut pink sapphire is the luxe look you're craving.
Blue Nile emerald-cut pink sapphire ring with diamond trapezoid side stones in 18K white gold, $16,000, BlueNile.com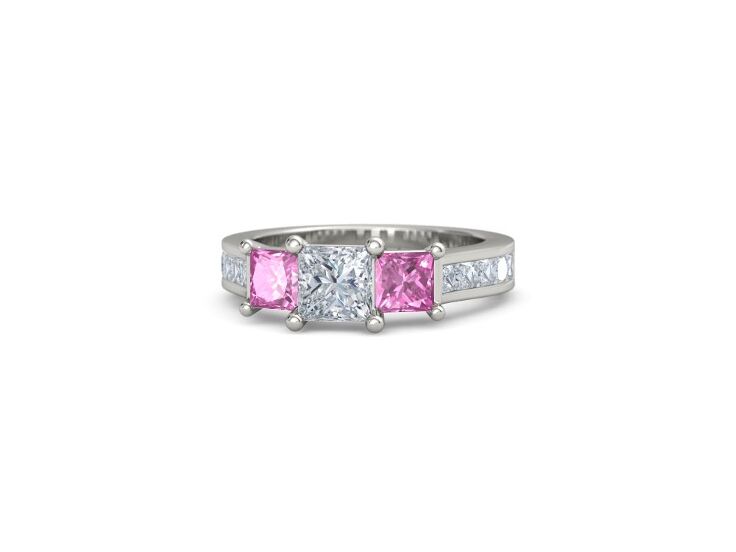 In this pretty piece, a princess-cut diamond center stone is flanked by two princess cut pink sapphires. Diamonds adorn the band for additional bling.
Gemvara princess-cut diamond ring with pink sapphires in palladium, $3,605, Gemvara.com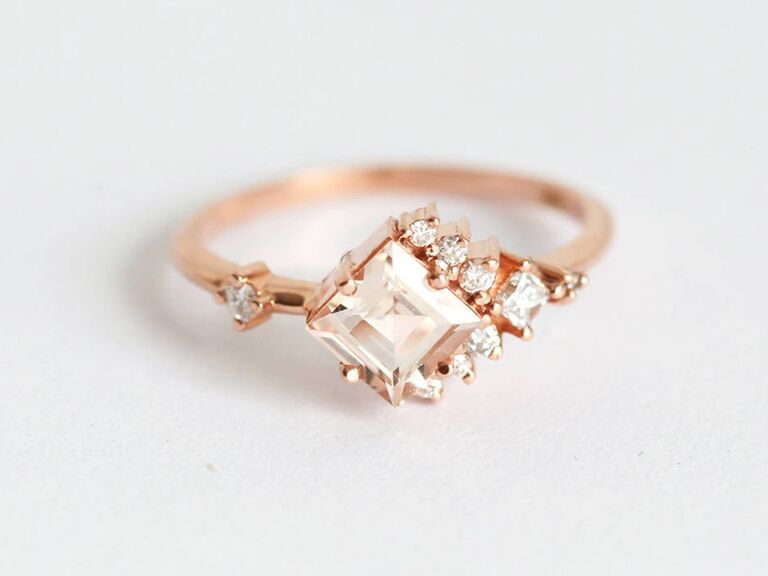 There's something so captivating about an asymmetrical ring—this one's like a work of art.
Capucinne princess-cut pink tourmaline ring with diamond cluster in rose gold, $1,390, Capucinne.com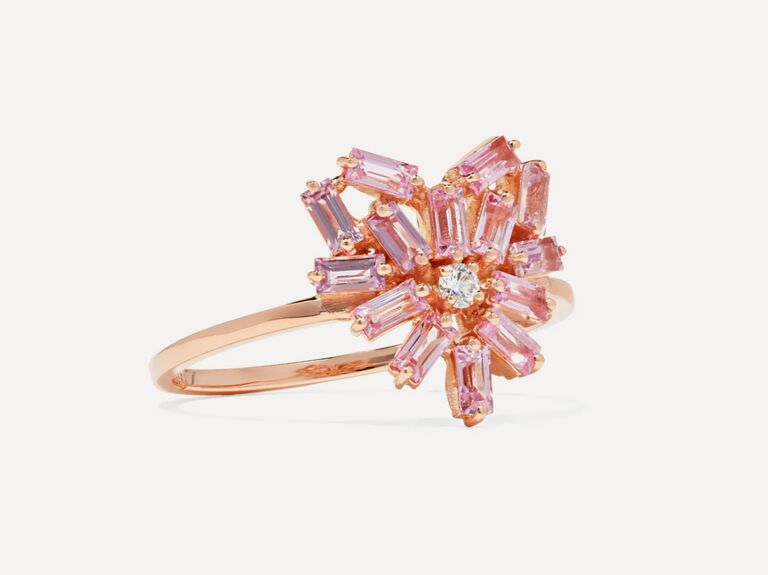 Our list of pink engagement ring ideas wouldn't be complete without a heart-shaped piece. This one's carefully crafted from pink sapphire baguettes and one round-cut diamond.
Suzanne Kalan 18-karat rose gold, sapphire and diamond ring, $1,400, Net-a-Porter.com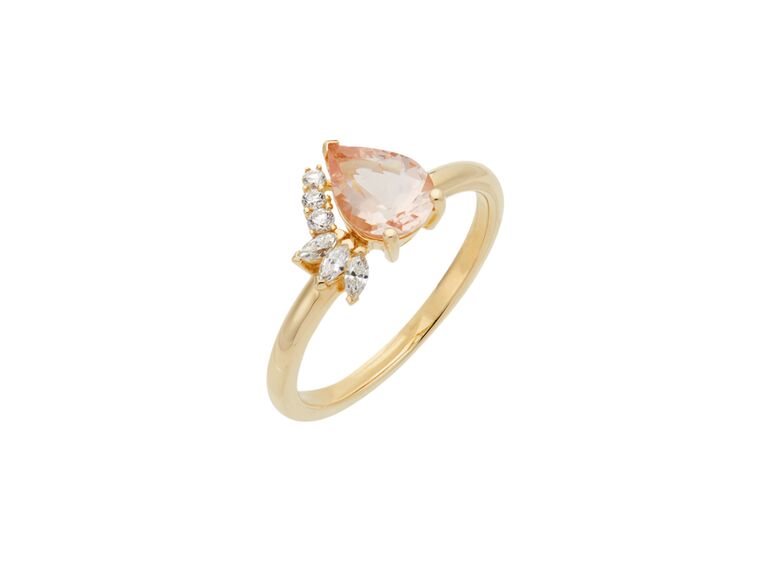 For a soft, peach-pink look, we can't get enough of morganite rings! This one's gracefully complemented by a curve of diamonds.
Mejuri pear-cut peach morganite and diamond ring in 14K yellow gold, $650, Mejuri.com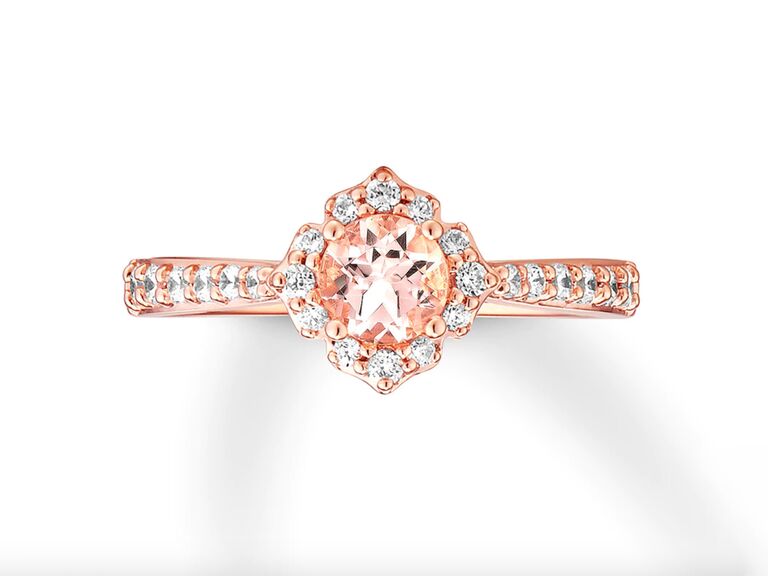 A classic ring gets the all-over blush treatment in this morganite and rose gold design.
Kay Jewelers morganite engagement ring with diamonds in 14K rose gold, $1,200, Kay.com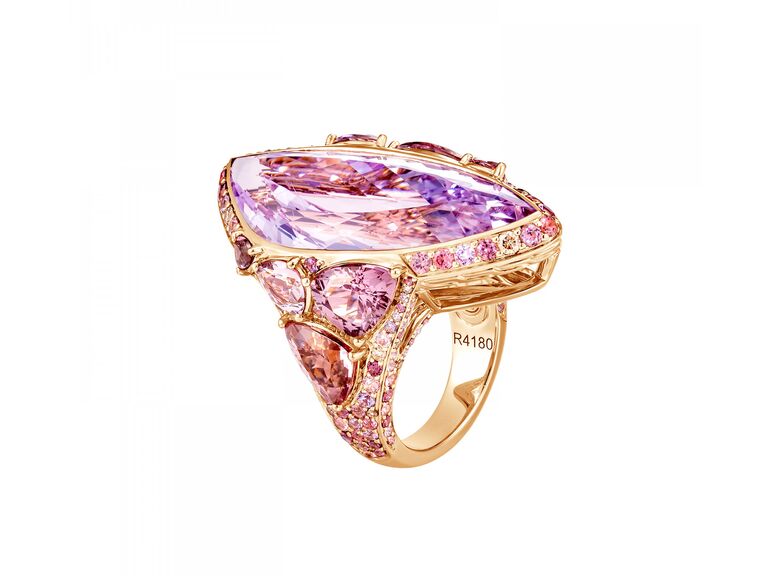 We had to end with a bang! This high-end stunner has a pear-faceted kunzite center stone, but that's not all! Violet sapphires, rhodolite garnets and champagne diamonds complete the dazzling look.
John Hardy Cinta Danau Damai Classic Chain kunzite ring, $22,000, JRDunn.com