Here's What Nobody Tells You About Working With a Wedding Planner
Here are 12 surprising perks of working with a pro.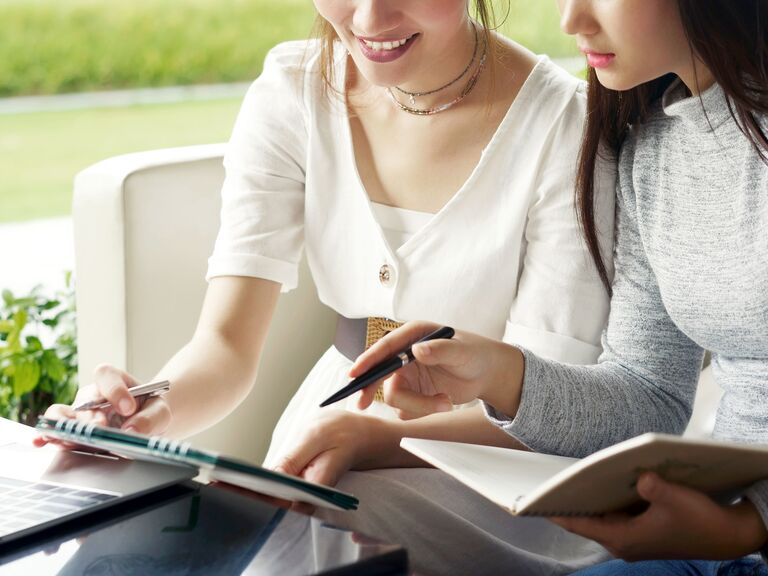 As a to-be-wed, you might already know some of the perks of working with a professional wedding planner. They'll help you stay on budget, while keeping you organized and ensuring your wedding day runs smoothly. But there are a bunch of other benefits of hiring a wedding planner that many nearlyweds don't know about. If you're on the fence about hiring a planning pro, The Knot lists out a dozen reasons why you should consider hiring a professional to tackle the checklist for you. Read through for 12 surprising benefits of hiring a wedding planner.
You'll Get Financial Leverage
One of the best hidden benefits of hiring a wedding planner? According to Amy Shey Jacobs, founder of Chandelier Events in New York, you'll get more bang for your buck when it comes to other vendors involved in your wedding day. Planners spend time developing relationships with their network, which gives you a certain amount of leverage when you decide to work with a planner.
"Often these vendor partners have more vested in the relationship because they're not just trying to please the client, they're trying to please the planner," Jacobs says. There's more of an incentive for vendors to either go above and beyond or give the planner the best deal possible since they have a working relationship. Of course, it's not guaranteed that you'll get a discount, but the planner will ensure that you're getting the best bang for your buck.
It Won't Send You Over Budget
Jacobs says this is one of the most common misconceptions about working with a wedding planner. Many people think that hiring a planning pro will up the overall ante and cost of the wedding day. Turns out, it's the other way around: Often a planner is going to help keep your wedding in check and get you the most value for your money. Wedding planners have no problem managing you budget, negotiating costs, and helping you with big money decisions—that's their job. A wedding planner can help keep you and your partner accountable when it comes to your budget.
It's Like Having a Non-Judgemental Friend
Your wedding planner wants to make you happy, and they want to hear you out. Whether you're over the moon about the venue and your friends don't want to talk about it anymore or you're upset about something, your planner is there for you no matter what. Keep in mind: Your wedding planner is not your therapist and shouldn't be treated as such. But Jacobs says that when there's a wedding planning-related conflict between you and your partner or you and your family, a planner can act as a mediator in those conversations. They can also just be a listening ear if you feel you're not being heard in the planning process. "It's a benefit of the planner relationship," she notes. "Having that third party voice who has been these things before and help you navigate tricky situations or conversations."
They Won't Always Agree With You—But That's a Good Thing
A wedding planner may not always agree with you, but that's only because they want to ensure you're making the best decisions for your day. Of course, a good planner will work to make your dreams come true. But if you're making an impulsive decision or a choice that will cause logistical issues down the line, it's the planner's responsibility to step in. Essentially, a planner should be your voice of reason. "If you want to serve mac and cheese as your first course because you don't eat salad, we'll make that happen for you," she says. "But foregoing an indoor plan because you only want an outdoor wedding and you just want to chance it? A planner who says yes to that isn't looking out for your best interests." It's important that your planner is honest with you and makes sure that you're making the best decisions for your wedding day.
They'll Transform the Space for You
Choosing a venue can be one of the most daunting tasks of planning a wedding, but a pro can help you completely reimagine the space. Whether your dream is to bring the magic of Italy to New York or seat 400 guests at one table, a wedding pro can make it a reality.
Jung Lee, founder and event architect of Fête, tells The Knot that as a professional event designer, she's able to transform a space to reflect the couple's style and personality. "I worked with a bride whose real dream was to have her wedding in Venice, but because of family circumstances they had to stay in New York. To evoke the old-world feeling when guests arrived, the orchestra played great Italian opera classics like Puccini, La Traviata and La Boheme. In addition, pieces of the couple's personal vintage china collection were used throughout the tablescape, which added a personal touch."
They'll Find Cool Ways to Blend Cultures and Religions
If your love story involves different cultures, religions, or traditions, a professional wedding planner can help you blend it together perfectly. Whether it's planning an outfit change for the reception or performing a special ceremony during your reception or serving a particular food at your dinner, a wedding planner can help you come up with creative ways to honor your beliefs at your wedding. Jove Meyer, owner and creative director of Jove Meyer Events, tells The Knot that weddings are about celebrating you and your partner's love, so it's important to include the things that are important to you. Meyer once worked with a couple who struggled with what to do about their ceremony. She was Jewish and wanted a Chuppah; he was an Atheist and didn't want one. To compromise, Meyer proposed they install a Chuppah-like arch. "I think it was a really great way for them to start their marriage because he was expressing himself and she was expressing herself."
They'll Bring Your Dreams to Life
Despite what movies might portray, most wedding planners are not going to completely take over your wedding. But they can be heavily involved in the planning process, so you will have to trust them. That's why it's so important to thoroughly vet your planning pro in the beginning stages. Research some planners before meeting with them, come prepared with questions to ask, and then make sure that their personality is a good fit for you and your partner. It's important to remember that your wedding planner's number one priority is making sure you have the best wedding possible. Once you give them your trust, they will make the wedding of your dreams a reality"Most wedding planners are there to be your magic wand and make things happen, help you get exactly what you want, and make your wedding the most beautiful it can be," Couick says.
They'll Always Hear You Out
Yes, wedding planners are professionals, and they know what they're doing. But they absolutely want to hear your thoughts throughout the process. "Your wedding planner did not go to crystal ball school," Jacobs laughs. "If there's something that you want or something that you're not happy about, you have to articulate that so that they can do their best job to help you." It may be uncomfortable to tell them that you're not a huge fan of something, but it helps them give you exactly what you want.
They Come With a Team
Usually, it won't just be one person with you on your wedding day. If you've got your first look happening while other vendors are coming to set up, your planner can't be in two places at once to take care of things. To troubleshoot this problem, they often bring backup. These extra pros will make sure everything is taken of (read: someone will make sure your groomsmen make it to the ceremony on time and make sure your caterer sets up in the right area). Since these extra team members will also be a part of your day, it's important to ask about them early in the planning process.
You don't have to tip your wedding planning team, but it's definitely appreciated it. If you've maxed out your budget, consider writing a thank you note and writing a review on The Knot Marketplace. Pro tip: Don't forget to feed your pros! They'll be working hard to make sure everything goes off without a hitch. This means they're on their feet and moving around for hours (read: they'll be hungry). Either work out a vendor meal from the venue or give them an allowance to a food delivery service.
There Are Multiple Kinds of Planners (You Can Pick!)
If you're feeling hesitant about hiring a wedding planner because you don't feel like you need full-time help (or you don't have the space in your budget for it), not to worry. There is more than one type of wedding planner available for hire. If full-time doesn't sound like the right fit for you, there are also part-time planners and month-of coordinators. Part-time planners will be able to help you out with specific elements of your wedding instead of all of them. If you've got all of the planning on lock, a month-of coordinator can help tie up loose ends and ensure that your wedding day runs seamlessly. Not sure which one is right for you? Check out our quiz here.
They Come Up With Creative Alternatives
It's easy to revert to what you know when you're planning a wedding (think: white dress, aisle with two sides, wine for guests). But a professional wedding planner can help you think outside the box to have a truly personalized event. Meyer says that it's important for couples to constantly question why they're making certain decisions throughout the wedding planning process.
Since they've been to so many weddings, wedding pros have a huge knowledge base to tap from, which can help you have your wedding your way. For example, he says a lot of to-be-weds think they have to wear white on their wedding day, but he encourages couples to look deeper at their motives. "Are you wearing white because it makes you happy or because you think you have to do it?" Another example is the venue. Rather than a traditional aisle with two sides, consider a circular shape if it feels right to you, Meyer says. By working with a professional wedding planner you can make sure that your wedding day feels like you.
It Will Take a Lot of Stress Out of Planning
Let's face it—planning a wedding can be extremely stressful. A major benefit of hiring a wedding planner is that they're pros, so they've pretty much seen it all. Of course, it doesn't guarantee that your wedding is going to be completely stress-free. People don't RSVP on time, things fall through last minute, weather changes—all of these things happen. But your wedding planner is there to help you navigate and quickly troubleshoot all of these problems. "Use your wedding planner as a trusted partner to help you navigate the bumps in the road because those bumps in the road are there. It's just inevitable. It's the underbelly of planning a wedding," Jacobs says. So, no, hiring a wedding planner doesn't guarantee a 100% stress-free wedding, but it will definitely help when any issues come about.