The 20 Best Travel Cameras for Capturing Your Honeymoon
Never miss a moment.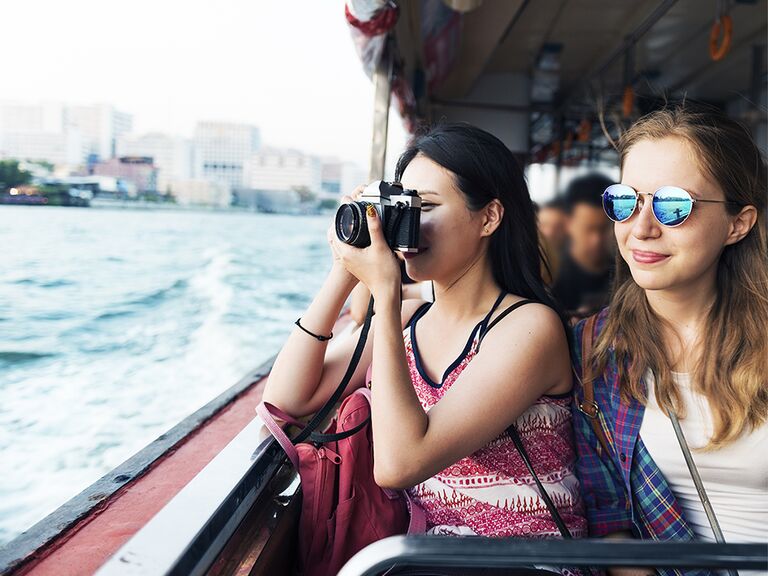 Rawpixel.com / Shutterstock
We have included third party products to help you navigate and enjoy life's biggest moments. Purchases made through links on this page may earn us a commission.
Just like your wedding, your honeymoon will be full of memories you'll want to savor for a lifetime, and documenting it is essential. While snapping photos with your iPhone is okay in your daily life, you may want something better for such a momentous trip. But choosing the best travel camera to pack for your honeymoon can be overwhelming. First of all, lugging around a bulky DSLR camera is probably not your idea of traveling light, so size is critical. Also, think about where you're going—is it a sundrenched tropical island or are you going to be chasing the Aurora Borealis in the Arctic? If it's the latter, your travel camera of choice should deliver superior low-light performance.
Nowadays, a good camera should also shoot high-quality video footage and allow you to quickly share your images and clips via Bluetooth and WiFi. And, of course, battery life is important since you won't want your camera to die while you're in the middle of swimming with sharks in the Pacific or on your way to your first African safari.
Here, we rounded up the best compact travel cameras for every type of honeymoon.
Sony Alpha a6400 Mirrorless 4K Video Camera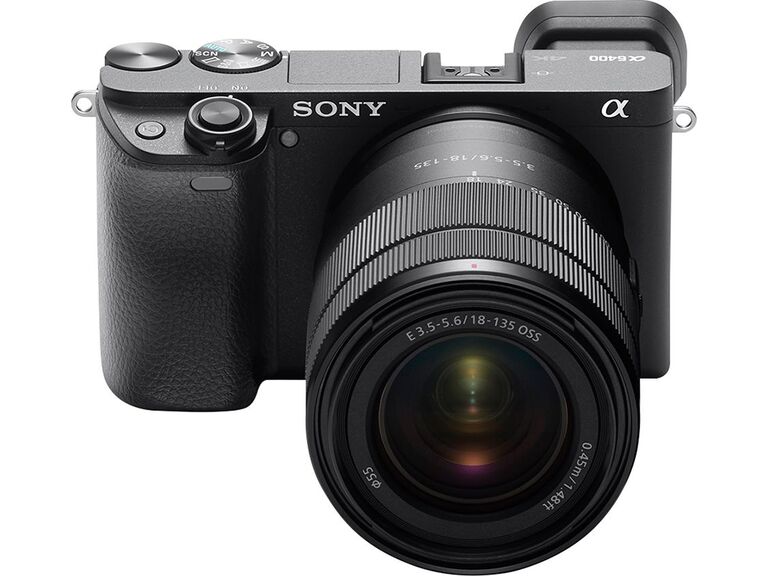 Beginner and seasoned travel photographers will appreciate all the fantastic features of this mirrorless camera. The 24.2-megapixel APS-C sensor ensures stunning image quality and sharp colors whether you leave your photos in digital format or decide to print them on paper. And, with an impressive ISO range that can photograph lowlight situations with ease, you'll be able to capture beautiful and vivid snaps of your romantic dinners. This camera body comes with an E 18-135mm lens, great for wide-angle images such as panoramic landscapes.
Fujifilm X-T200 Mirrorless Camera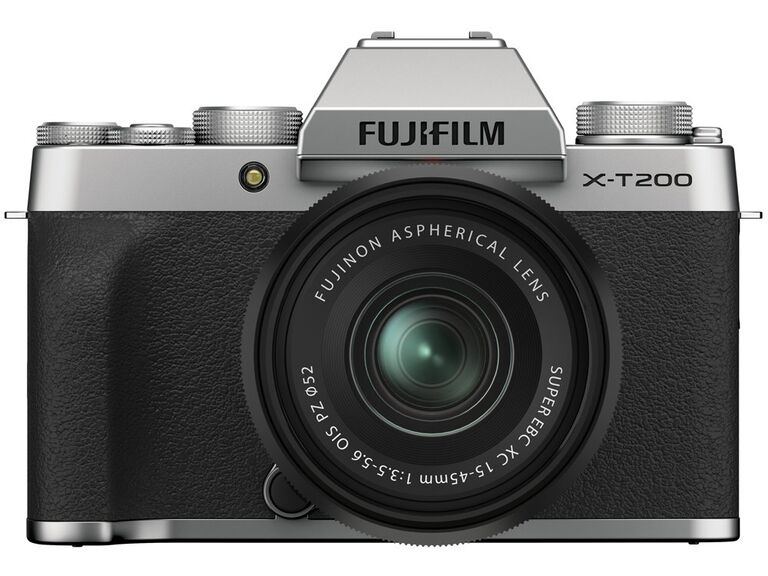 This Fujifilm X series camera is the ultimate beginner-friendly option that delivers professional-looking photos and videos. Shoot crisp, vivid images and stunning 4K videos thanks to the 24.2-megapixel APS-C CMOS sensor. No action is too fast when your camera can capture up to 8 frames per second. And, when you're done, it only takes one click to share your photos with any smart device.
Leica D-Lux 7 Silver Camera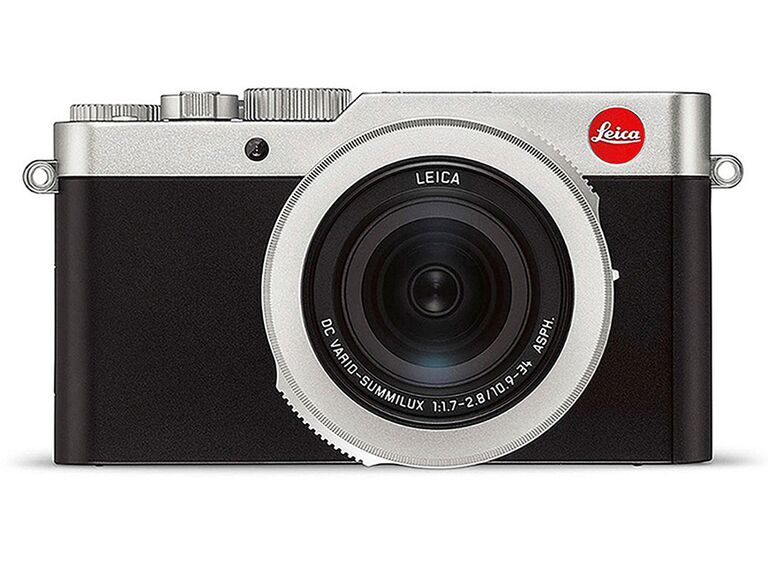 Dubbed the "Swiss Army knife of Leica compact cameras," the D-Lux 7 is a favorite of professional travel photographers. With an array of functions such as a large, high-resolution image sensor, a high-speed autofocus system, 4K video recording and a versatile zoom range, this is the perfect on-the-go camera to take on the beach, camping or exploring new cities.
GoPro Hero10 Black Camera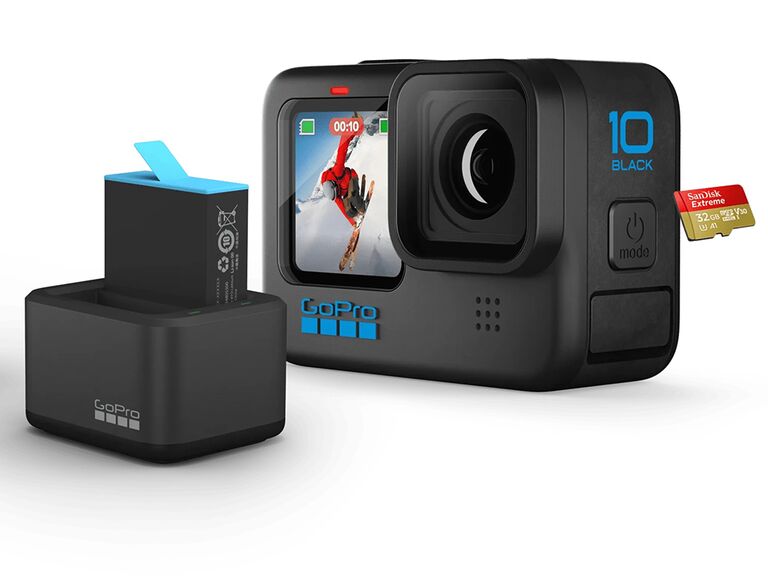 The newest GoPro is the best action camera on the market right now. Whether you're surfing, diving or parachute jumping, the Hero10 will capture every second. Forget 4K, this compact camera shoots 5.3K video with double the frame rate and enhanced video and image stabilization in all modes. Take it underwater up to 33 feet deep without even having to worry about water damage.
Canon PowerShot G1 X Mark III Camera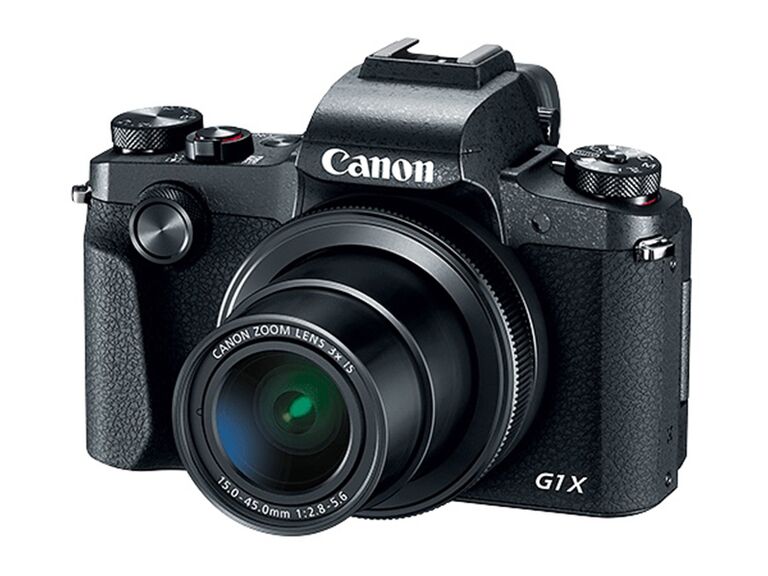 A large sensor packed in a small and lightweight camera body, this has everything you can want from a great travel camera. The closest you'll get to an SLR camera in a pocket-size format, Canon's Mark III weighs only 14 ounces, so you can easily carry it in your beach bag or purse. And speaking of the beach, this camera is dust- and water-resistant. Take detailed, professional-quality photos in any situation thanks to features such as the built-in electronic viewfinder, quick autofocus system and the 24.2-megapixel APS-C sensor.
Leica CL Silver Camera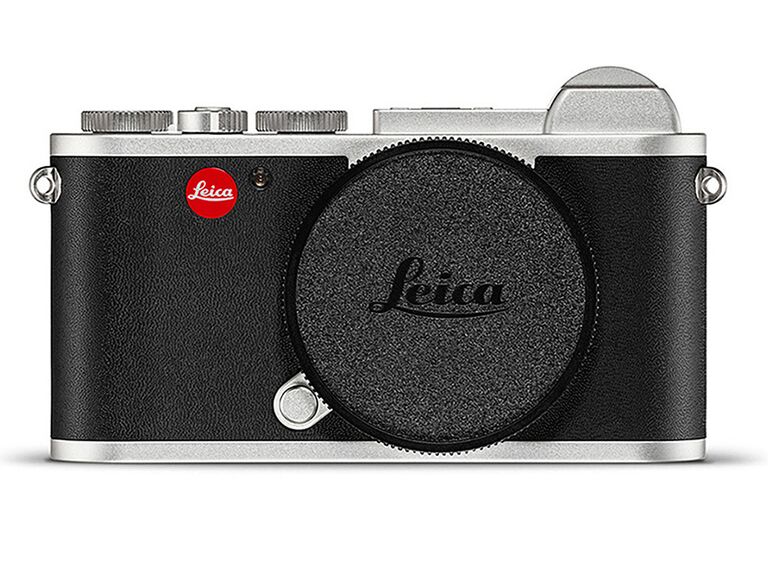 If you are serious about your honeymoon photos and travel photography in general, invest in one of the best mirrorless cameras on the market. First of all, this camera was built to last. The lightweight body is packed with great features such as a 24-megapixel APS-C sized sensor, an electronic viewfinder, 4K video recording, continuous shooting for up to 33 shots per second and built-in WiFi for easy sharing. And, last but not least, this Leica model is compatible with the company's M and R lenses, giving you a lot of freedom and flexibility.
GoPro Max Camera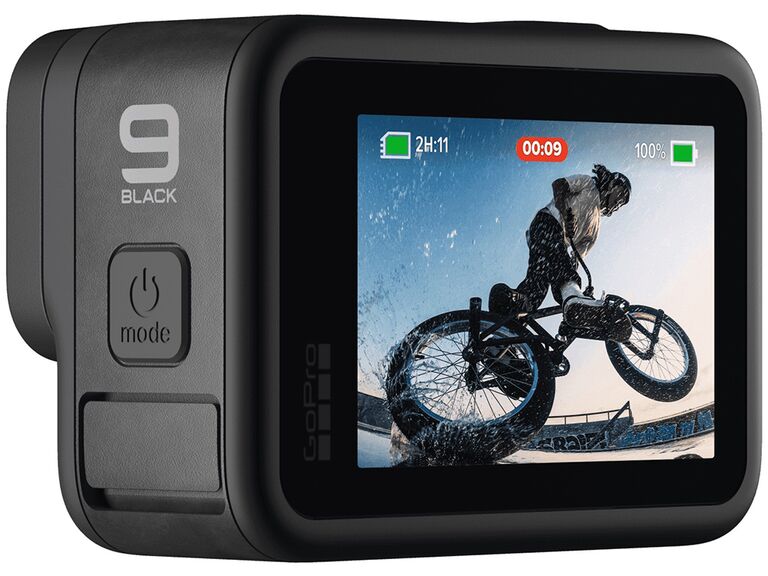 This camera is a vlogging powerhouse. Capture stunning 360-degree panoramic photos, immersive 6K video footage and crisp audio (it has six built-in microphones). The Max is weatherproof and water-resistant for up to 16 feet, so you can also take it with you snorkeling or diving.
Polaroid Go Camera
Fancy digital cameras are great, but if you prefer instant paper photos, this Polaroid camera is the right choice. It is the smallest analog instant camera in the world, making it perfectly packable. It has an automatic flash, 34 mm focal length and aperture of f/12 and f/52. You can capture memories on your honeymoon and have fully developed photos in about 15 minutes. And with a battery life that lasts up to 15 packs per charge, it is a small but mighty addition to any newlywed's travel bag.
Nikon Z-5 Camera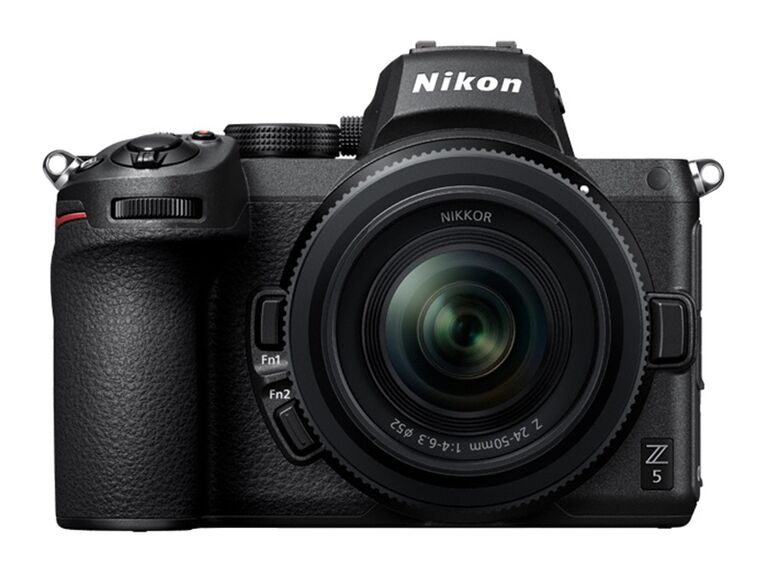 This is an excellent entry-level mirrorless camera that is easy to use and, most importantly, will get you excited about taking and sharing photos. With 20 creative picture controls that allow you to instantly edit your honeymoon snaps, the Z-5 compact travel camera was definitely made with avid social media users in mind. The 24.3 MP full-frame CMOS sensor captures 50% more image area to deliver incredibly detailed images even in low-light or less-than-ideal conditions.
DJI Pocket 2 Creator Combo 3-Axis Stabilized Handheld Camera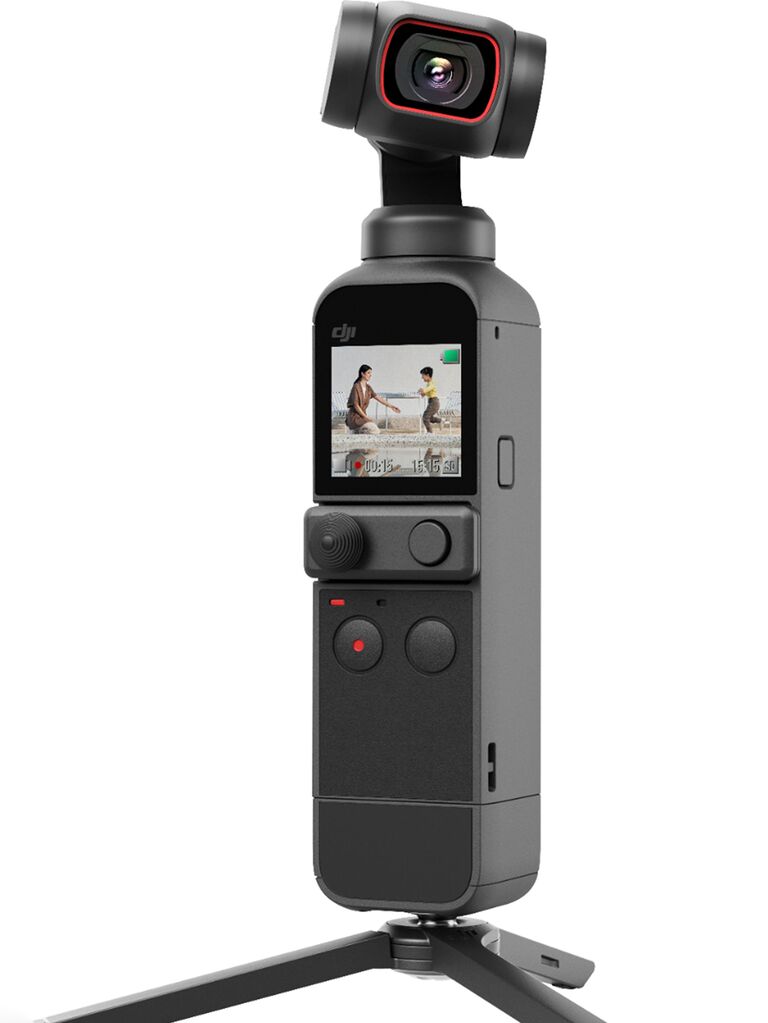 Don't be fooled by the size of this pocket camera—it is actually very powerful. You'll love snapping high-resolution images and videos with it. It features an impressive 3-axis image stabilization system for smooth video and takes detailed zoom shots and even has audio zoom. The built-in AI editor will combine your clips into short movies with music transitions so you can instantly share your honeymoon adventures and start racking up likes.
Sony Cyber-Shot RX100 VII 20.1-Megapixel Digital Camera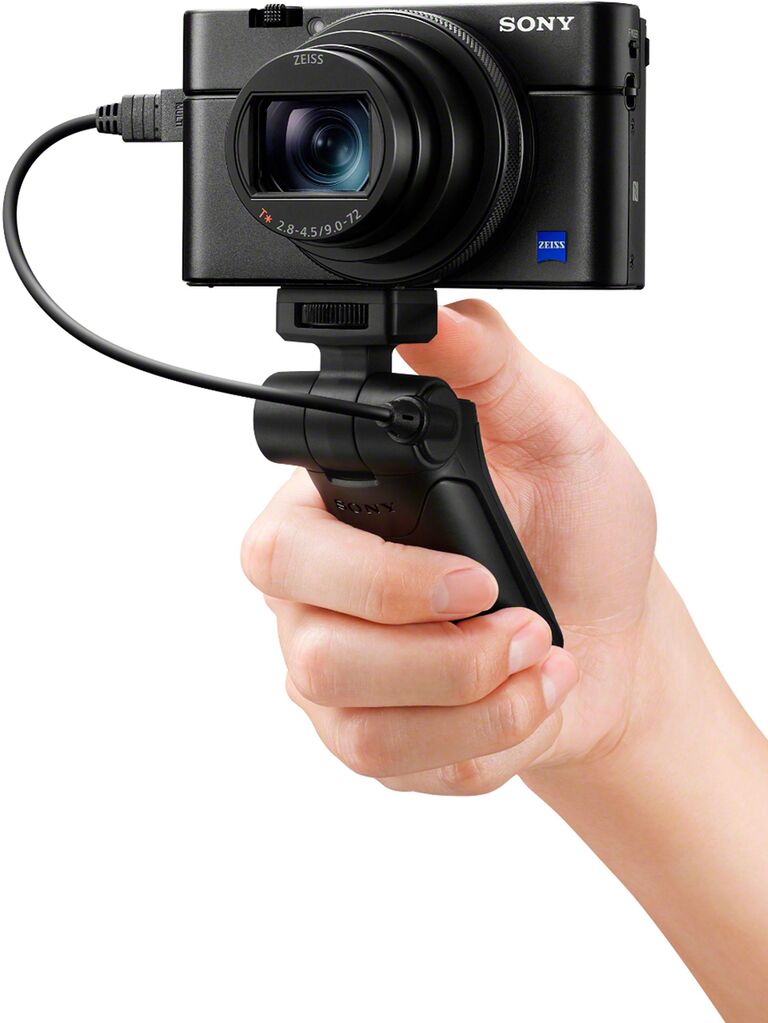 If you're planning a honeymoon packed with action and adventures, this Sony pocket camera will help you document it all. It has a powerful 20.1 megapixel stacked CMOS image sensor with full autofocus and auto exposure. It can take up to 20 frames per second in continuous shooting mode and 90 frames per second in "single burst" mode, making photo FOMO a thing of the past. And, with a 24-200mm f/2.8-4.5 zoom fixed lens delivering telephoto-quality images and performance, no object is too far to capture.
Olympus OM-D E-M10 Mark IV Camera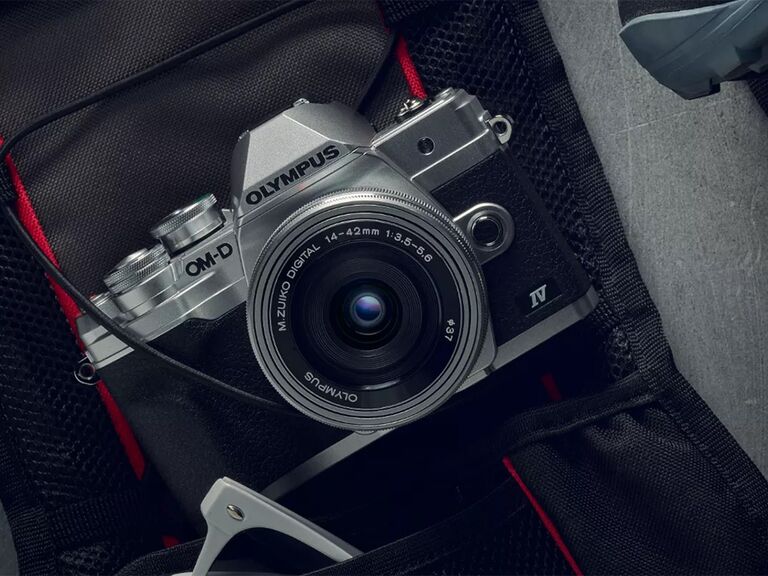 Light, compact and sturdy, this Olympus mirrorless camera packs all the fancy features of DSLR cameras without the bulky body. In fact, it is one of the best compact cameras on the market right now. It has a 20.3-megapixel micro four-thirds sensor for bright and detailed stills. Another bonus of the sensor is that it also doubles the focal length of any lens you mount on the camera. In other words, you don't have to carry additional lenses with you. Other standout features are the EVF viewfinder, 4K video and quick and accurate autofocus.
Insta360 ONE R Camera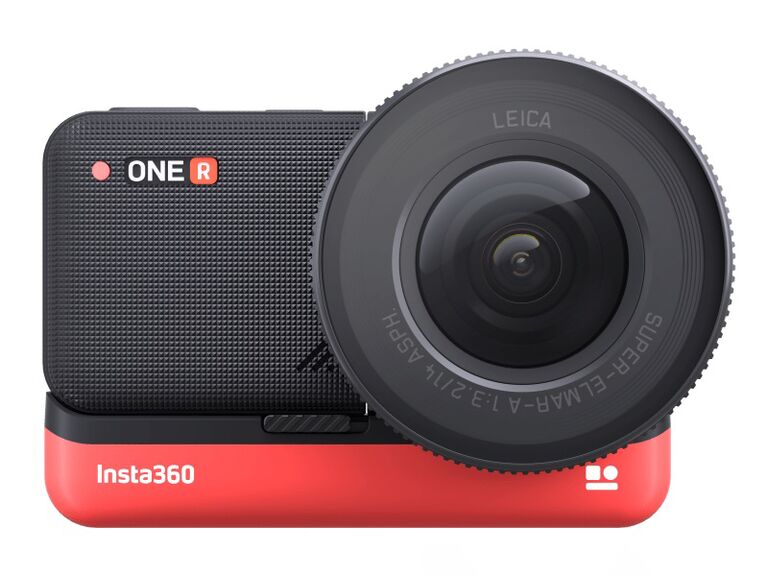 Instagram influencers and sports enthusiasts love this camera—and for a very good reason. It is super compact and delivers beautiful stills (in both JPEG and raw format) and impeccable video quality. The reason? The 1-inch sensor collects four times more light than most cameras with 1/2.3-inch sensors (yes, GoPro included). If you are planning on doing some evening exploration or going into caves or dark places, this is the camera to take with you.
Sony Alpha ZV E-10 Mirrorless Vlog Camera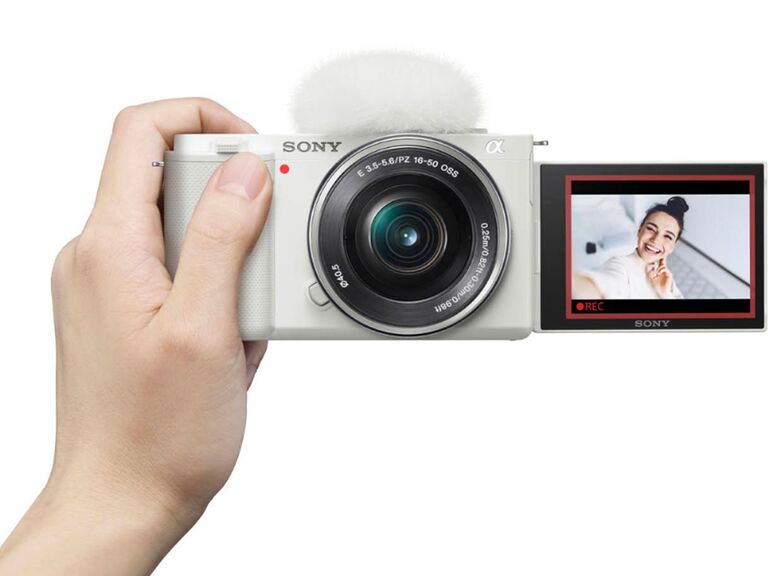 Is there anything this camera can't do? The answer is no. Its large sensor, E-mount interchangeable lenses, wide ISO range (100-32,000), burst speed of eleven frames per second, stunning 4K video and variety of social media-friendly options such as background blur control make the Sony ZV E-10 a honeymooner's dream.
Olympus Tough TG-6 Camera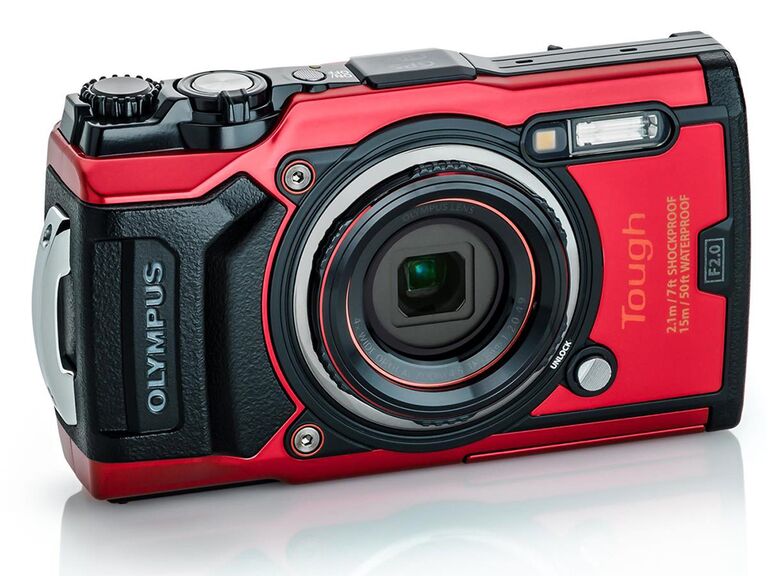 Ever since Olympus introduced its Tough TG-6 camera, it has repeatedly been rated among the best for water and winter sports, clearly living up to its name. Whether you jet off to the Maldives or Iceland, this camera has you covered. It is freezeproof to -14 Fahrenheit, crush-proof to 220 pounds, shockproof and, of course, waterproof for up to 50 feet. The lens's aperture range allows it to act as a telephoto and wide-angle lens, giving you infinite creative freedom.
Sony Cyber-Shot RX100 VII Digital Camera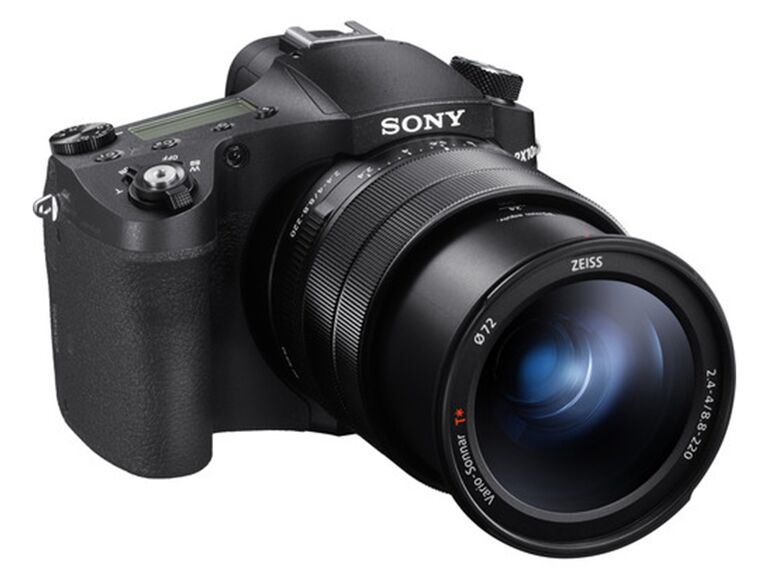 You're going to really have to try to take a bad photo with this camera. It is an especially great option for sunny destinations and offers a large variety of features. From the whopping 90-frames-per-second burst mode to the impressive 24-200mm lens and high-speed autofocus system, this camera is the definition of a multitasker.
Canon PowerShot SX740 HS Digital Camera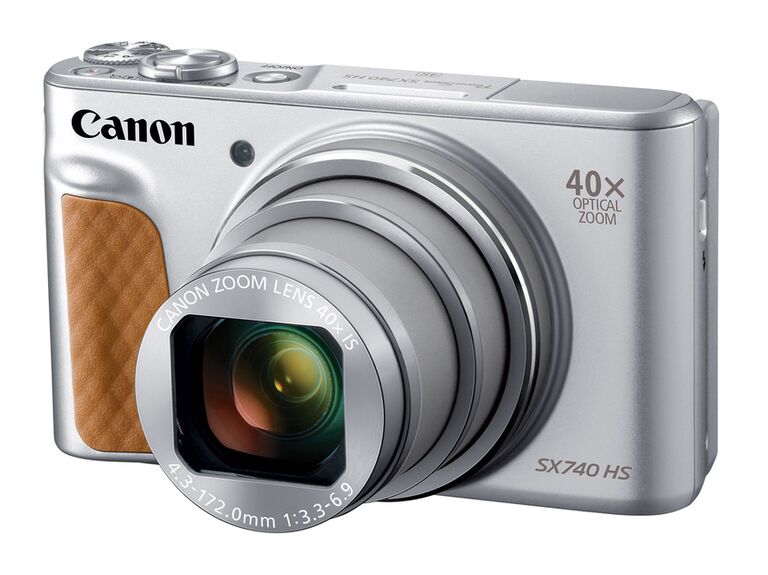 We promise there's a lot more to love about this Canon camera than its chic looks. If a long-zoom range is at the top of your list, then your search for the best travel camera is over. With an impressive 40x optical zoom (with the capabilities to extend it to 80x), you'll feel like all the action is happening right in front of you. Video enthusiasts will be happy to find out that this small camera also shoots superb 4K videos and time-lapse movies.
Pentax K-1 Mark II Digital Camera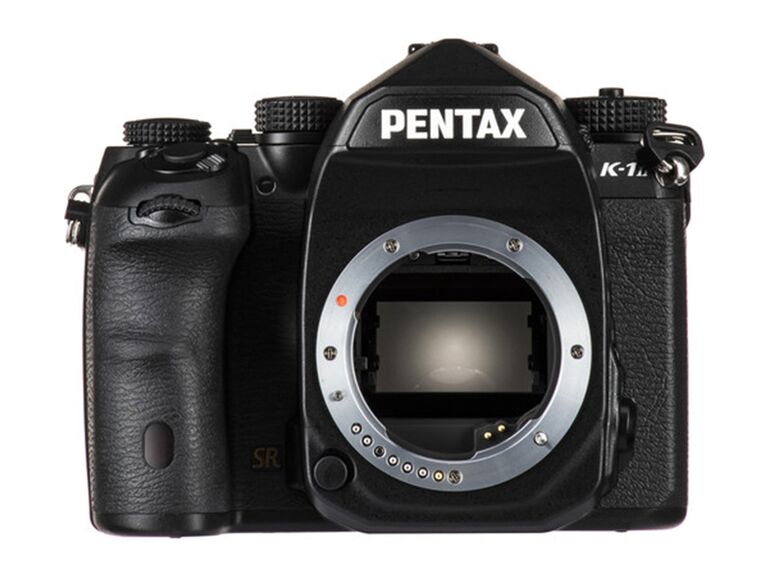 Planning a romantic honeymoon up north to chase the aurora borealis? Make sure you pack this full-frame sensor camera, one of the best DSLRs for capturing the elusive northern lights. Its secret is in the 36.4 megapixel CMOS sensor, the 5-axis shake reduction and an incredible ISO range of 100 to 819,200 that together allow you to take clear photos in extremely low-light conditions.
Nikon Z fc Camera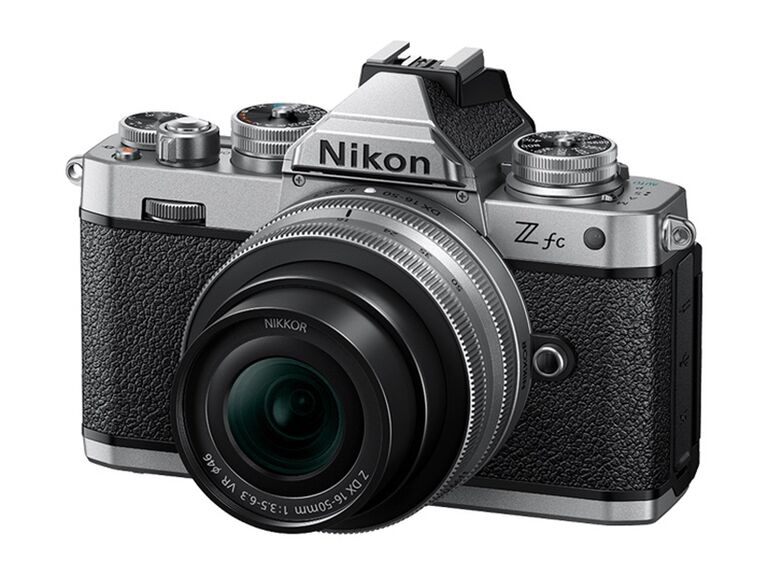 Capture all your honeymoon moments, from soaking up some Vitamin D poolside to trying out new foods and taking your first married selfie with Nikon's latest offering. This travel-friendly option packs plenty of great features in its chic, vintage-inspired (and lightweight) body. With 20.9 megapixels, 11 frames per second in burst shooting mode, 4K UHD video and a tilting screen, the camera enables you to document every moment of your dream vacation regardless of what time of the day or night it is. And speaking of night shooting, the Z fc model offers an ISO range of 100-51,200 that can be expanded to the equivalent of 204,800 for crisp evening shots.
Canon EOS M50 Mark II EF-M 15-45mm f/3.5-6.3 IS STM Kit Lens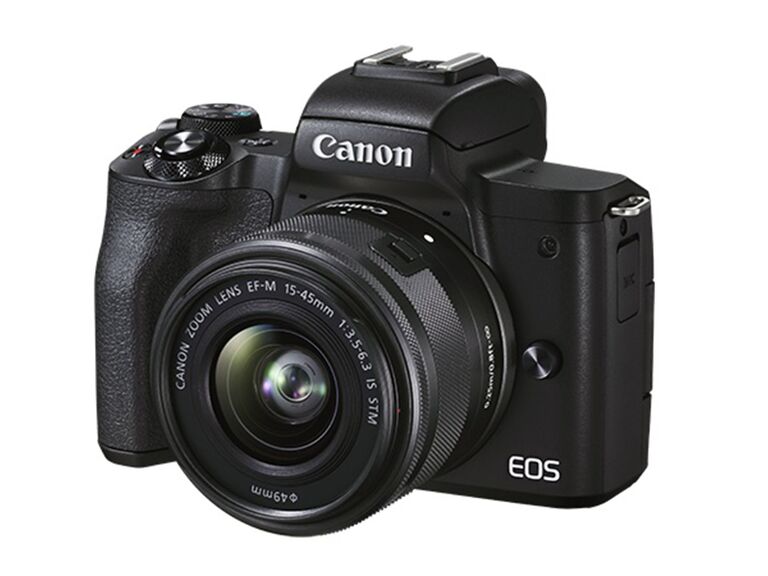 Want to livestream moments of your honeymoon? This way, please. Vloggers will love this Canon camera. It has a movie self-timer and allows you to shoot vertically and horizontally, a feature not that many cameras have. But, even if you're not into shooting video, this camera is worth your attention. With a 24.1 megapixel CMOS sensor, your honeymoon travel photos will look like they belong in a magazine.