Add These 20 Songs to Your Honeymoon Playlist, Stat
The perfect honeymoon playlist starts and ends with these 20 tunes.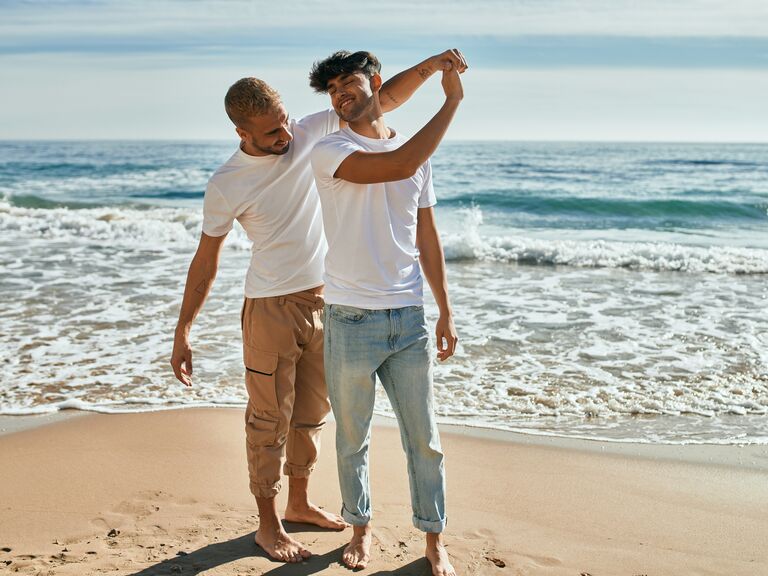 Krakenimages.com / Shutterstock
Congrats! You've officially made it through the whole wedding planning thing: Phew! Your big day (hopefully) went off without a hitch and now, you and your spouse are enjoying being newlyweds. Your next task? Embarking on a relaxing honeymoon.
No matter where you end up traveling to on your honeymoon, a killer playlist is a requisite. Ideally, the perfect honeymoon playlist is one that contains the perfect mix of romantic, upbeat and sensual hits to make your first vacay as a newly married couple all the more special.
However, acting as your own DJ can be tricky—which is why we're here to help. From old-school love songs to more modern, sexier hits, we've rounded up the top tracks to add to your honeymoon playlist.
"Love Me Like You Do," Ellie Goulding
Lyrics you'll love: "Every inch of your skin is a holy grail I've got to find/Only you can set my heart on fire"
"Love Me Like You Do" by Ellie Goulding stems from the 50 Shades of Gray soundtrack, so you can expect sexiness right off the bat. The 2015 hit ended up topping the charts with its sweet melody and incredibly catchy chorus. Meanwhile, the steamy lyrics are sure to spark desire.
"I'm Yours," Jason Mraz
Lyrics you'll love: "There's no need to complicate/Our time is short/This is our fate, I'm yours"
"I'm Yours" was released in 2008 by singer-songwriter Jason Mraz. Its cheery, reggae-inspired rhythm—combined with its romantic lyrics—makes it especially apropos for your honeymoon playlist. Mraz told Billboard that the song took him all of "15 or 20 minutes" to write.
"My Love," Justin Timberlake
Lyrics you'll love: "This ring here represents my heart/But there's just one thing I need from you/(Say I do)"
Justin Timberlake's "My Love" debuted back in 2006. Rapper T.I makes an appearance on the rock-techno ballad track, which is certified platinum by the Recording Industry Association of America (RIAA). The slow, steamy single shows off Timberlake's varied vocal range, and its swoon-worthy lyrics are just the icing on the cake.
"Sexual Healing," Marvin Gaye
Lyrics you'll love: "Ooh baby, I'm hot just like an oven (heal me my darling, heal me my darling)/I need some lovin'/And baby, I can't hold it much longer (heal me my darling, heal me my darling)/It's getting stronger and stronger/When I get that feeling/I want sexual healing"
This Marvin Gaye classic is a staple for your honeymoon playlist, especially given its sexually explicit lyrics. The 1982 ballad has been deemed one of Rolling Stone's "500 Greatest Songs of All Time." The timeless hit seamlessly fuses elements of rock, soul, blues and funk.
"Beyond," Leon Bridges
Lyrics you'll love: "Brings me to my knees, ooh/She shines me up like gold on my arm/I wanna take it slow but it's so hard/I love to see her face in daylight/It's more than just our bodies at night"
"Beyond" is from Leon Bridges' 2018 album, Good Thing. This soulful love song has been streamed over 220 million (yes, million!) times on Spotify, and it's a perfect choice for those romantic honeymoon moments.
"Crazy In Love," Beyonce feat. Jay-Z
Lyrics you'll love: "It's the way that you know what I thought I knew/It's the beat that my heart skips when I'm with you/But I still don't understand/Just how your love can do what no one else can"
"Crazy In Love" launched Beyonce into solo stardom. The steamy hit—which fuses pop, hip-hop and R&B elements—went on to win several awards following its 2003 release.
"Sugar," Maroon 5
Lyrics you'll love: "You sugar, yes please/Would you come and put it down on me?/I'm right here, 'cause I need/Little love, a little sympathy/Yeah you show me good loving, make it alright/Need a little sweetness in my life/Sugar, yes please"
Make your honeymoon even sweeter (see what we did there?) by adding this upbeat Maroon 5 track to your playlist. The cheery beat and sexy lyrics are sure to put you and your spouse in an ultra-romantic mood.
"Paper Rings," Taylor Swift
Lyrics you'll love: "I like shiny things, but I'd marry you with paper rings/Uh huh, that's right/Darling, you're the one I want"
In our opinion, "Paper Rings" is one of Taylor Swift's most romantic tracks of all time since it's all about unconditional, everlasting love. "This song talks about true love, and if you really find true love, you probably don't really care what the symbolism of that love is. Material things wouldn't matter to you anymore if you found someone that you just wanted to live your life with," Swift revealed in a Spotify Storyline.
"Shape of You," Ed Sheeran
Lyrics you'll love: "I'm in love with the shape of you/We push and pull like a magnet do/Although my heart is falling too/I'm in love with your body/And last night you were in my room/And now my bedsheets smell like you/Every day discovering something brand new/I'm in love with your body"
Prepare to melt away as you listen to Ed Sheeran's chart-topping single, "Shape Of You," on your honeymoon. The sweet and sexy love song debuted in 2017. It combines acoustic instrumentals, tropical house and classic pop flavors. And, here's a fun, unexpected fact about the now-iconic hit: Sheeran originally wrote the track for Rihanna.
"Versace On The Floor," Bruno Mars
Lyrics you'll love: "I unzip the back to watch it fall/While I kiss your neck and shoulders/No don't be afraid to show it off/I'll be right here ready to hold you"
Bruno Mars is most famous for his uber-catchy love songs. Among the most notable—and explicit—of them is "Versace On The Floor," which is full of sexy lyrics. The slow, rhythmic ballad is a must-play while on your honeymoon.
"Something About The Way You Look Tonight," Elton John
Lyrics you'll love: "And I can't explain/But it's something about the way you look tonight/Takes my breath away/It's that feeling I get about you, deep inside/And I can't describe"
Elton John's 1997 hit, "Something About The Way You Look Tonight," has received rave reviews from fans and critics alike. That's because the ballad boasts a slow, soft beat combined with intricate string instrumentals.
"Earned It," The Weeknd
Lyrics you'll love: "You make it look like it's magic/'Cause I see nobody, nobody but you, you, you"
When it's time to let loose in your hotel room after a day well spent, stream "Earned It" by The Weeknd. The melody—along with its sultry lyrics—makes it a super-seductive pick for your playlist.
"Truly Madly Deeply," Savage Garden
Lyrics you'll love: "I'll be your dream, I'll be your wish, I'll be your fantasy/I'll be your hope, I'll be your love, be everything that you need/I love you more with every breath truly, madly, deeply"
Throw it back to the '90s with Savage Garden's "Truly Madly Deeply." This nostalgia-inducing track combines romantic lyrics with slow instrumentals that only add to the romantic vibe. The Australian pop duo's tune, which was memorably covered by Cascada in 2006, is the epitome of a love ballad.
"Come Fly With Me," Frank Sinatra
Lyrics you'll love: "Once I get you up there/Where the air is rarefied/We'll just glide/Starry-eyed/Once I get you up there/I'll be holding you so near/You may hear/Angels cheer, 'cause we're together"
Stream "Come Fly With Me" by Frank Sinatra as you prepare to jet off to your honeymoon locale. This old-school love song is a favorite amongst newlywed couples of all ages—and for good reason: Besides, how could you not swoon as you listen to Sinatra croon softly and passionately about love and traveling?
"Turn Me On," David Guetta
Lyrics you'll love: "My body needs a hero, come and save me/Something tells me you know how to save me"
If you love house music, then you'll especially "Turn Me On" by David Guetta. The infectious beat makes the tune especially ideal for dancing away in your hotel room as you get ready for an epic night out with your new spouse.
"The Honeymoon Song," The Beatles
Lyrics you'll love: "Skies are as bright/As your eyes,/The horizon is open/Love is the ceiling/Feelings are reelings/Free as the air"
Given its aptly named title, "The Honeymoon Song" is—you guessed it—especially apropos for your honeymoon. It served as the theme for the 1959 movie Luna De Meil (Honeymoon).
"Feel So Close," Calvin Harris
Lyrics you'll love: "I feel so close to you right now, it's a force field/I wear my heart upon my sleeve, like a big deal/Your love pours down on me surround me like a waterfall"
This house hit from Calvin Harris was released back in 2011. However, its breezy chorus and romantic, metaphor-laden lyrics—combined with the piano chords and electronic instrumentals—have all withstood the test of time.
"Only Girl (In the World)," Rihanna
Lyrics you'll love: "I want you to love me/Like I'm a hot ride (uh, yeah)/Be thinkin' of me (uh)/Doin' what you like"
Rihanna's "Only Girl (In The World)" will make you want to get up and groove, no matter where you are in the world. Its fast-paced beat is especially great for in-room dance sessions (it is vacation, after all).
"Island In The Sun," Wheezer
Lyrics you'll love: "When you're on a holiday/You can't find the words to say/All the things that come to you/And I wanna feel it too/On an island in the sun/We'll be playin' and havin' fun/And it makes me feel so fine/I can't control my brain"
Get into prime vacation mode with Wheezer's "Island In The Sun." The 2001 hit, which features folk-rock and pop flavors combined with incredible acoustics, shows off lead singer's Rivers Cuomo's wide vocal range. Its melody is incredibly catchy, too.
"Rhythm of Love," Plain White T's
Lyrics you'll love: "Warm sun and wind in my ear/We'll watch the world from above/As it turns to the rhythm of love"
Plain White T's may be best known for "Hey There Delilah," but don't sleep on the band's other hit, "Rhythm of Love." Its soothing melody, romantic lyrics soft acoustic guitar instrumentals and beautiful harmonizing make it a stand-out hit for your honeymoon playlist.