The Ultimate Adventure Guide to an Iceland Honeymoon
Expect to go chasing waterfalls.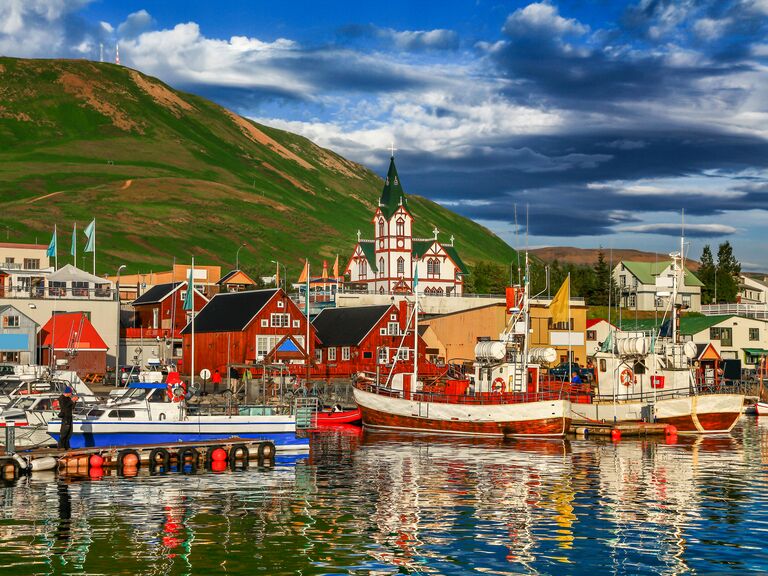 Canadastock/Shutterstock
We have included third party products to help you navigate and enjoy life's biggest moments. Purchases made through links on this page may earn us a commission.
Iceland, known as the Land of Ice and Fire, is the perfect eco-tourism destination for those looking to spend their time hiking glaciers and exploring natural wonders. Iceland offers an array of daytime and evening activities, whether it's marveling at the northern lights or taking a misty morning dip in The Blue Lagoon.
As one of the closer international destinations, couples can book a direct flight to Reykjavík from New York in less than six hours. A flight from Boston takes about five hours and 20 minutes and one from Chicago is a bit over six hours.
If you're heading over to Iceland, make sure you check up on their health and safety requirements before booking flights. Citizens from the US don't need to get a visa, so that's one less thing to worry about.
Is Iceland Good for a Honeymoon?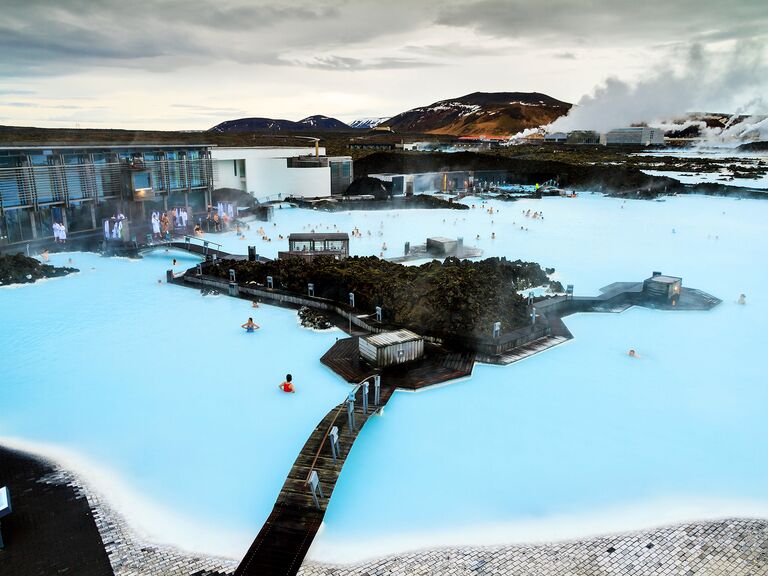 Pros of an Iceland Honeymoon
Iceland is fairly close to the mainland US so you won't have to worry about spending days on an airplane before you arrive. It is also one of the most beautiful countries in the world, rich with natural beauty and culture, and perfect for anyone who wants to see breathtaking sights.
Cons of an Iceland Honeymoon
It's cold in Iceland, meaning couples should be prepared for chill even in the summer. The island is also known for its quickly changing weather, so beware of sudden storms or wild winds. If you need the firm range between day and night, Iceland in the summer means endless sun and in the winter, daylight can be as short as four hours long.
How to Plan an Iceland Honeymoon for Good Weather
Iceland is a beautiful place to visit all year round. While many travelers may choose to stay away during the winters because they are chilly and fairly sunless, winter is the best time to traverse through the ice caves or spot the aurora borealis, better known as the northern lights, and check that off your bucket list. Summer is the country's high season due to its mild weather, long sunny days and midnight sun, so it is usually the best season to go for first-time visitors.
Things to Do During an Iceland Honeymoon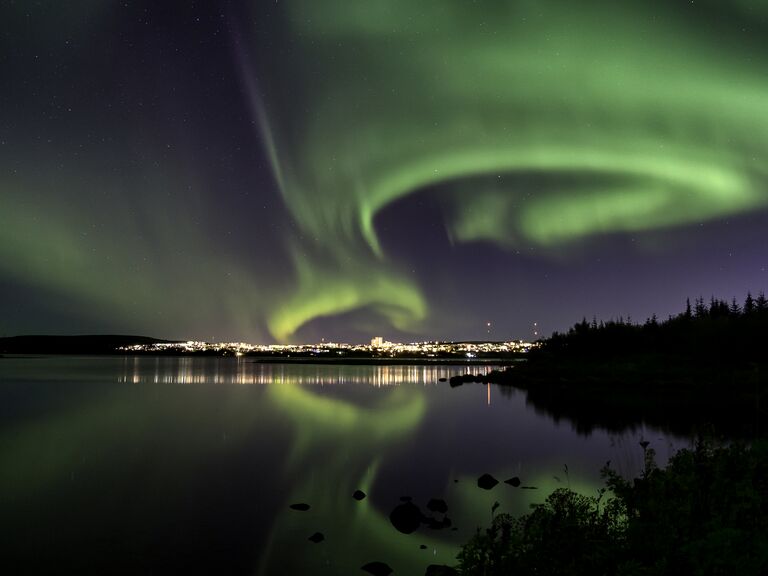 Iceland is known for its rugged and natural landscape. Those who are truly interested in getting a feel for the beautiful country may want to visit multiple different cities. Rent a car and turn your vacation into a road trip so you can be sure to see it all. Head along the popular Golden Circle sightseeing route to capture the beauty of Thingvellir National Park, Geyser Geothermal Area and Gullfoss Waterfall. Take a trip to the west of the island to see the breathtaking Snaefellsnes Peninsula. Or, take a self-guided tour to spot some of the 109 fjords along the island and the puffins during the summer months along rocky cliff-sides.
See the Northern Lights in Reykjavik
Stationed in south Iceland, the capital city of Reykjavik is a must-see for any first time visitors. Couples can spend days enjoying whale watching, walking the streets of the town, and experiencing the exciting nightlife. You can also take a Northern Lights tour and spot the natural wonder from downtown Reykjavik. Plus, the famous Blue Lagoon geothermal spa is just a 50-minute drive away and perfect for a day trip or overnight stay.
Discover Waterfalls in Akureyri
The northern city of Akureyri is home to the Dettifoss waterfall, Godafoss waterfall and the nearby Laufás turf homes, which are an example of some traditional Icelandic housing. Here, you can also go on a horse riding tour, see the Arctic botanical gardens or visit the Christmas house if you've decided to come during the winter. Spend the day at the Mývatn nature baths, but don't forget to take pictures of all the gorgeous waterfalls you see along the way.
Go Horseback Riding in Grindavik
Just a 45-minute drive from Reykjavik and 10 minutes from The Blue Lagoon, Grindavik is the perfect home base to stay in while you take exciting day trips across the south coast. Spend some time at the Gunnuhver Hot Springs or see the Fagradalsfjall active volcano. Grindavik is also a great place to spot some Icelandic horses and potentially go for a ride. Drive a few hours east along the south coast and you'll come across the small fishing village of Vík í Mýrdal which is home to the nearby black sand beaches of Reynisfjara. Head a bit farther east, and you'll find yourself taking in the views of the lava fields in Eldhraun.
Best Hotels and Resorts in Iceland for a Honeymoon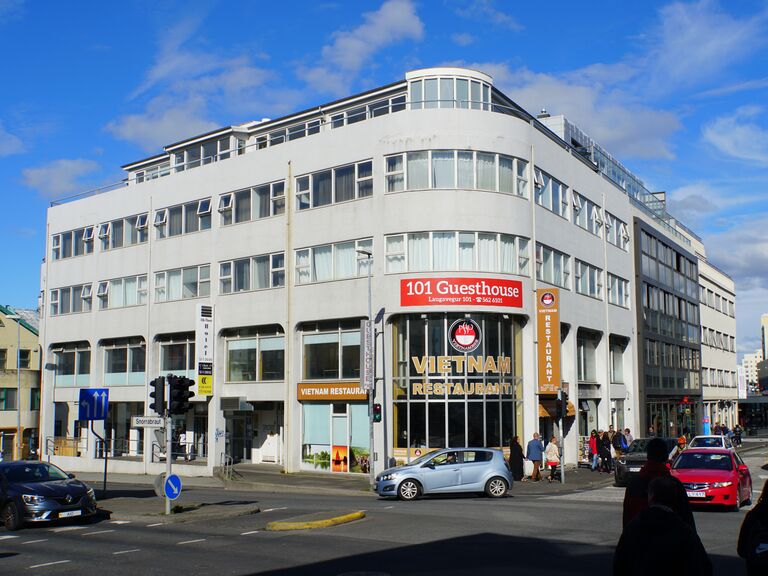 Located right on the Blue Lagoon, the Silica Hotel has it all: stunning views, a calming atmosphere and romantic ambiance perfect for newlyweds. Grab the Retreat Spa package and spend a luxurious five hours at the rejuvenating spa, or enjoy award-winning cuisine when you sign up for their Culinary Adventure.
The nearby Retreat Hotel, also stationed at the Blue Lagoon, is ideal for couples who want to experience a romantic getaway in a minimalist setting. Its suites are furnished with modern designs and local textures.
Situated in downtown Reykjavik, the modern and unique Icelandair Hotel is characterized by its creative atmosphere and fun design. It's the perfect place to stay while exploring the streets of the capital city. The completely renovated building is a certified green hotel featuring 154 suites and family rooms right in the middle of the city's lively culture.
Also set in bustling downtown Reykjavik, the boutique-style 101 Hotel has a minimalist sleek design that attracts all visitors. Spend time exploring the hotel's art gallery containing pieces curated from local artists, relax in the spa or dine at the trendy bar and lounge.
A four-star resort located in southern Iceland that maximizes adventure, the Hotel Rangá is reputable for its untainted view the northern lights, outdoor hot tubs, Scandinavian design and remote luxury.
What to Pack for an Iceland Honeymoon
Before you hop on the plane, have all your gear packed and ready to go. Due to Iceland's rainy and windy weather, it's best to pack waterproof shoes and outerwear. For those interested in heavy-duty hiking and sightseeing, don't forget comfortable boots and light layers you can easily remove if the temperature warms up. Pack something warm and cozy in case you start to feel the cold settle into your bones.