Plan Your European Honeymoon to One of These 12 Dreamy Destinations
The search for the perfect honeymoon ends here.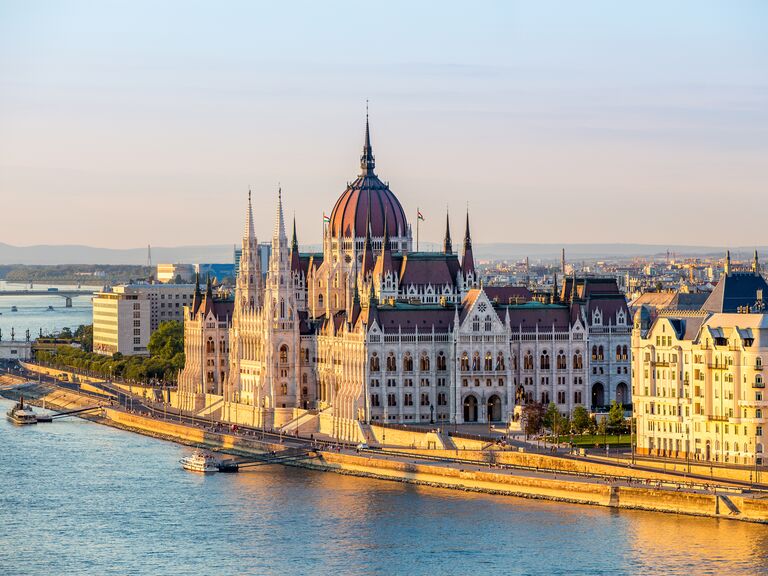 maziarz / Shutterstock,Location: Budapest, Hungary
Europe comes to mind quickly when daydreaming about destinations that evoke romance. The continent's incredible food, striking architecture and rich culture consistently lure lovers to its romantic cities year after year. Aside from its romantic appeal, a European honeymoon can satisfy nearly all types of couples in any season. Avid skiers will thrive in snowy St. Moritz, sun-worshippers will revel in sailing the Mediterranean, and foodies will delight in the bistros of Paris in the springtime.
Whatever your vacation style may be, the region's distinctive cultures across several countries create an opportunity to craft the perfect romantic experience. To help you narrow down your options, we've rounded up some of the best honeymoon destinations in Europe.
1. Positano, Italy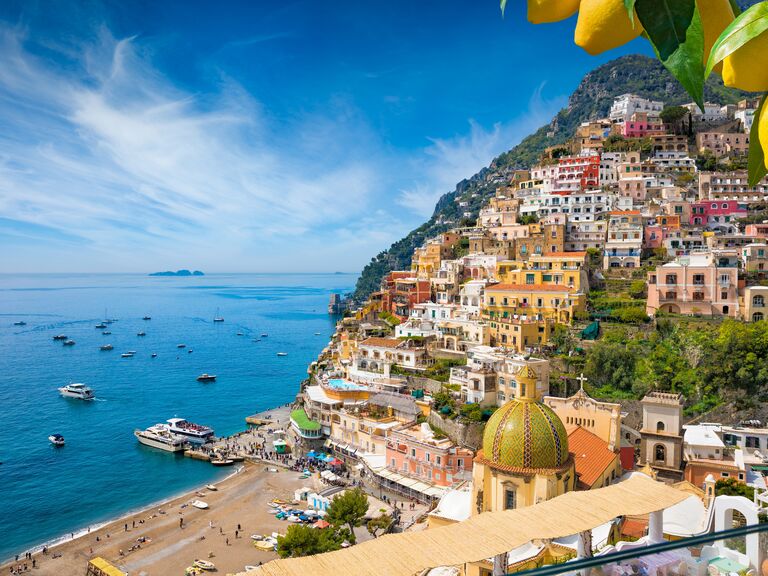 In this colorful coastal town, there's a postcard vista at every turn. Positano is a cliffside city on Italy's Amalfi Coast that can be reached on a short drive from Naples or a quick flight from Rome. Its steep landscape is punctuated with chic boutique hotels and locally owned cafés that offer the perfect blend of sophistication and charm. Be prepared to get your steps in as you navigate the vertiginous stairways of this village, but rest assured that the breathtaking views will be worth it—not to mention there will be plenty of fresh seafood for sustenance along the way.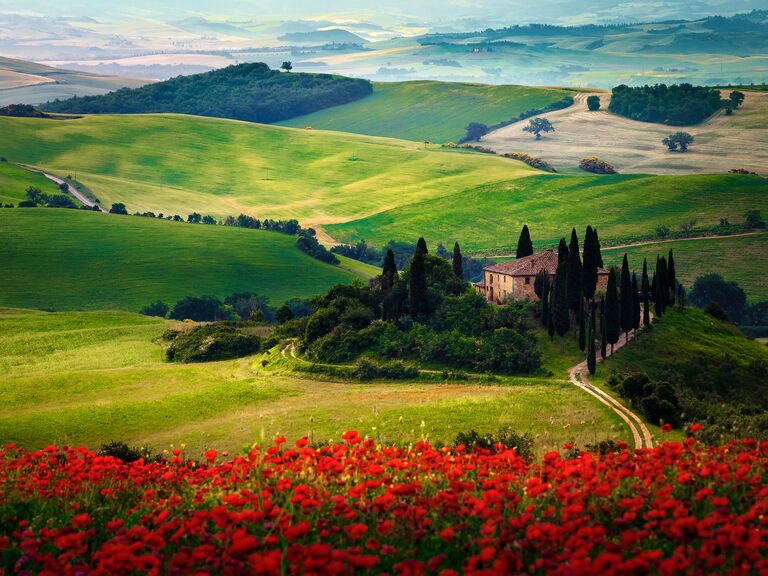 As one of Italy's largest regions, the many facets of Tuscany are what travelers find most appealing about this destination. Couples may find themselves awestruck by the idyllic countryside, inspired by the birthplace of the Renaissance, or giddy from the effects of endless wine tastings while vineyard hopping. Whether you choose to spend your days exploring the area's rolling hills or you prefer to stroll Florence's galleries full of masterpieces, a honeymoon here will not disappoint. As an added bonus, a romantic road trip may lead you to Cinque Terre, a string of picturesque fishing villages perched on the Italian Riviera.
3. Paris, France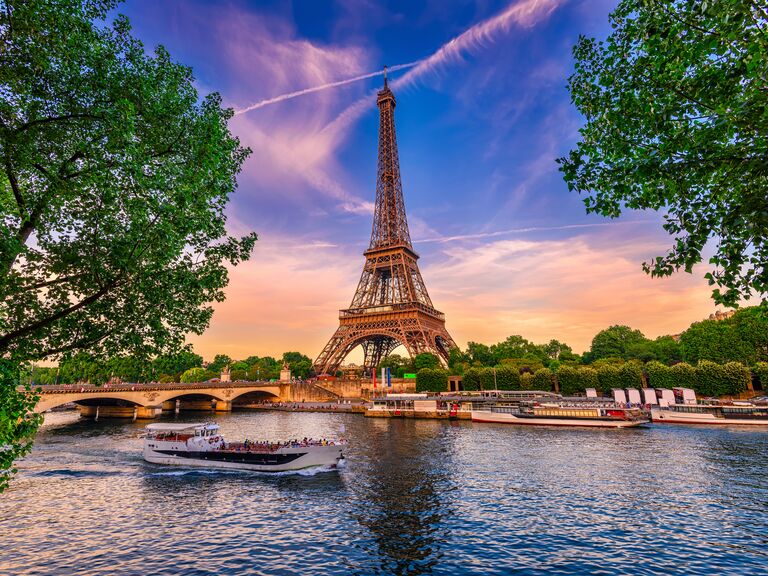 You can't beat Paris when it comes to romance—the City of Lights is effortlessly endearing and undeniably beautiful. Newlyweds will find it hard not to fall deeper in love while walking hand in hand along the Seine or staring up together at the twinkling lights of the Eiffel Tower. With the world's second-highest concentration of Michelin-starred restaurants, this romantic city appeals to the most discerning gourmands and might just spoil your idea of date night for the rest of your lives.
4. Madrid, Spain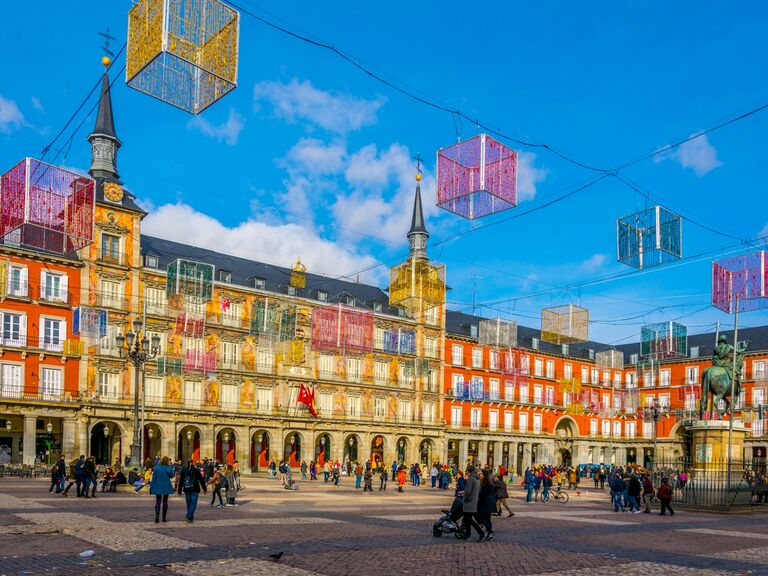 Fly into the country's centrally located capital and choose your honeymoon adventure after spending a few days exploring world-class museums and filling up on tapas. From there, endless options for day trips await you, from historic UNESCO World Heritage Sites like Toledo to Tempranillo tastings in Spanish wine country. Outside of the bustling metropolis of Madrid, you can slow things down for a few days in a city like Seville, a historic town that will woo you with old-world romance.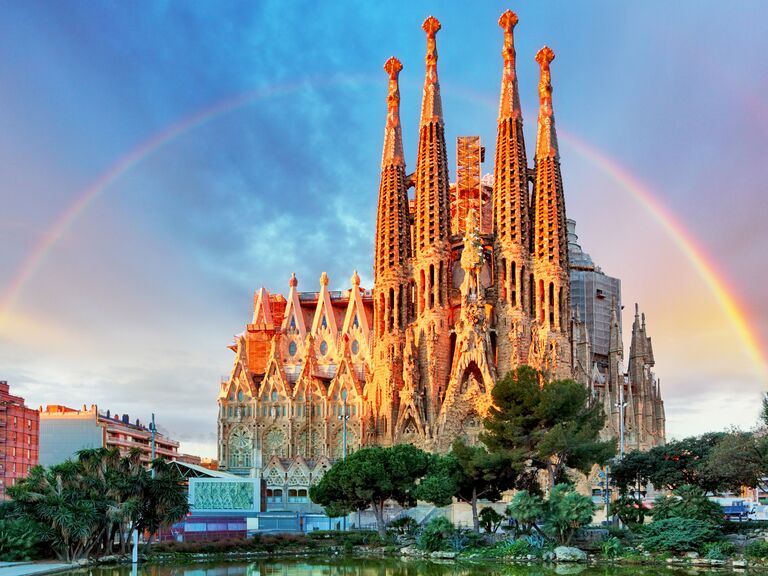 Head to Barcelona for a vibrant cultural scene and lively nightlife. This destination is a dream for modern art lovers and Gothic architecture enthusiasts, but it's also famous for a buzzy beach scene where its miles of coastline are studded with contemporary bars, cafés and boutiques. Pair this destination with a laid-back trip to Mallorca—a tiny island that can be reached in 45 minutes by plane—for the ultimate combination of Catalonian recreation and relaxation.
6. Cyclades Islands, Greece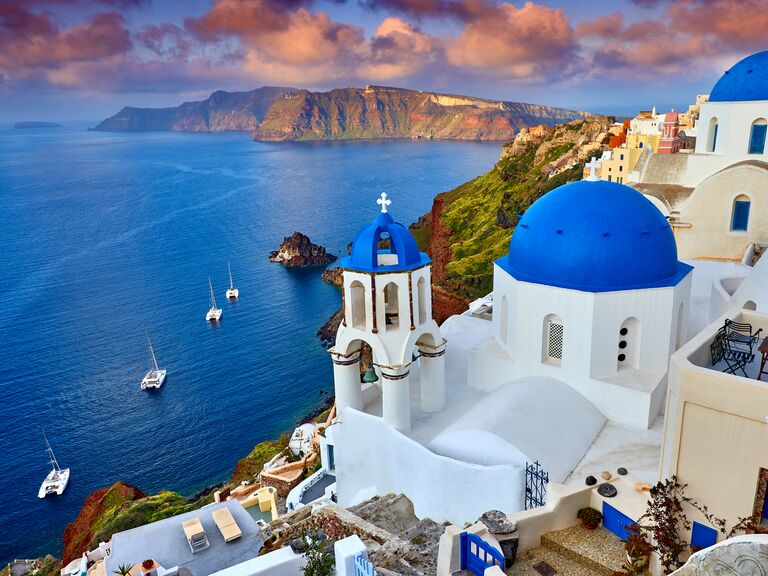 Honeymoon or not, Greece is hands down one of the most romantic destinations in the world. Mythical love stories, jaw-dropping sunsets and a spirited social scene are what honeymoon dreams are made of. Fly into Athens and spend a day or two visiting the historic sites before heading to the sea for an unforgettable island-hopping adventure. Santorini is a must for hotel coves overlooking the otherworldly atmosphere of the caldera. In Mykonos, you can't miss the iconic windmills and famed nightlife. Or, opt for a Paros getaway and enjoy the Greek island's beautiful beaches and Cycladic villages.
7. Bruges, Belgium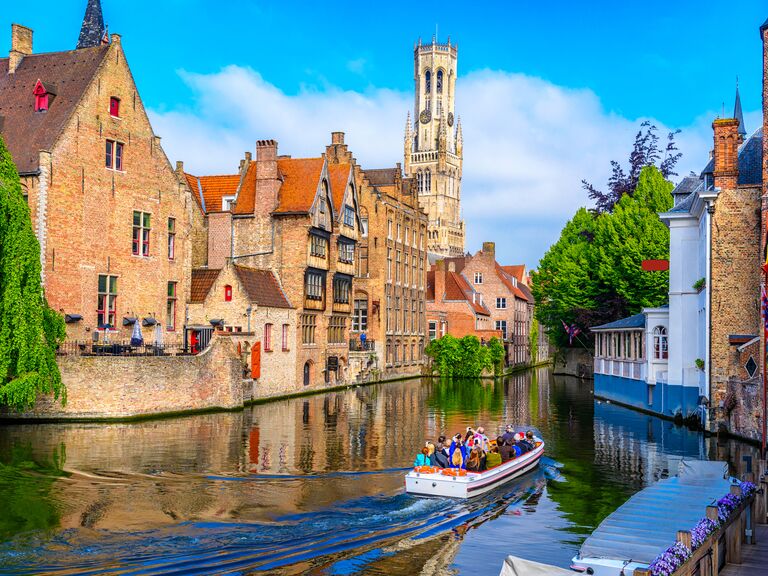 Famous for its chocolate, you wouldn't think Belgium would be as underrated for romance as it is. The truth is, this storybook setting is alluring far beyond its sweets. If you're looking for a fairy-tale moment, there's nothing more romantic than winding canals, charming cobblestone streets and strolling together around the Bruges Lake of Love surrounded by graceful swans. In winter, nothing beats the allure of a European Christmas market, and Bruges has it perfected—fill up on hot chocolate, gaze at the twinkling holiday lights and intoxicate yourselves with the buttery-sweet scent of warm waffles.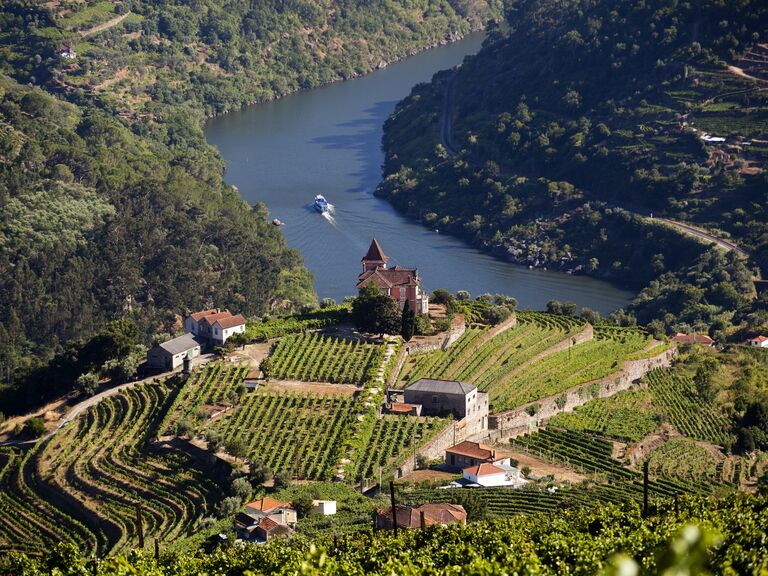 In this relaxed city—just a three-hour train ride from the capital of Lisbon—you'll be charmed by colorful streets, a winding river and an abundance of sweet red wine. A distinct treasure of Porto is, of course, its fortified wine, and a visit to one of the area's many port houses or a day trip to the Douro Valley will leave any couple drunk in love. Even non-drinkers will be intoxicated by this destination, whether you hop on one of the city's historic trams and wind through hilly streets or tackle a stretch of the Costa Verde by foot on one of Porto's golden beaches.
9. County Clare, Ireland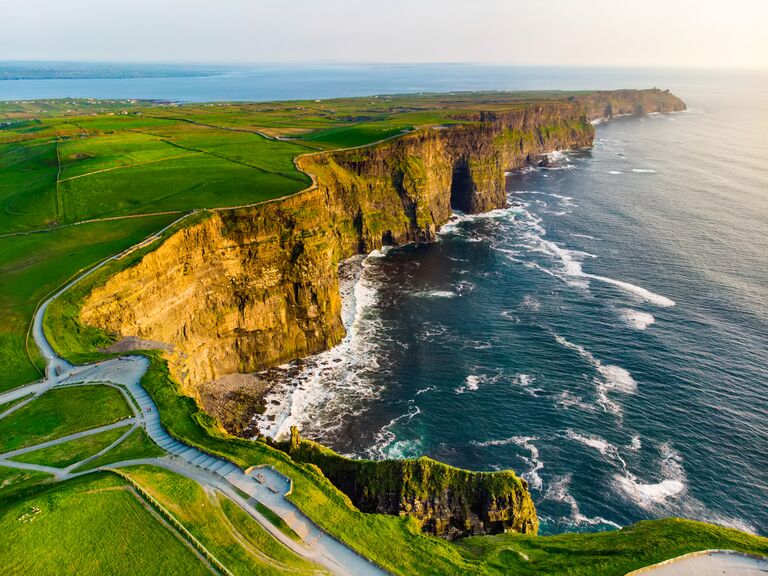 From a craggy Atlantic coastline to the windswept hills of the countryside, there's an inherent sense of romanticism in the air throughout Ireland's western region. Here, you'll find the iconic Cliffs of Moher, historic medieval castles, epic emerald landscapes and a crashing coastline that will leave you breathless. After a day filled with impossibly scenic views of romantic places, visit the area's ubiquitous pubs filled with Irish music, dancing and plenty of pints.
10. St. Moritz, Switzerland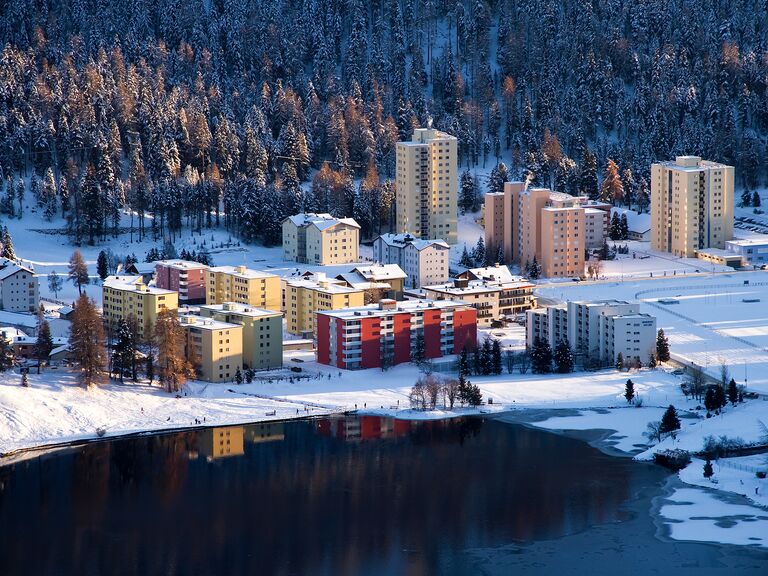 Aside from being one of the world's most famed ski destinations frequented by the rich and famous, St. Moritz is the ultimate wonderland setting for a romantic honeymoon. Whether you're an avid skier or simply want to be pampered in one of the many luxury hotels, St. Moritz offers a storybook atmosphere for both. You can spend the day on the slopes or meandering through ski villages, but to fully experience the magic of this alpine paradise, board the Glacier Express for a scenic journey across the mountains.
11. Budapest, Hungary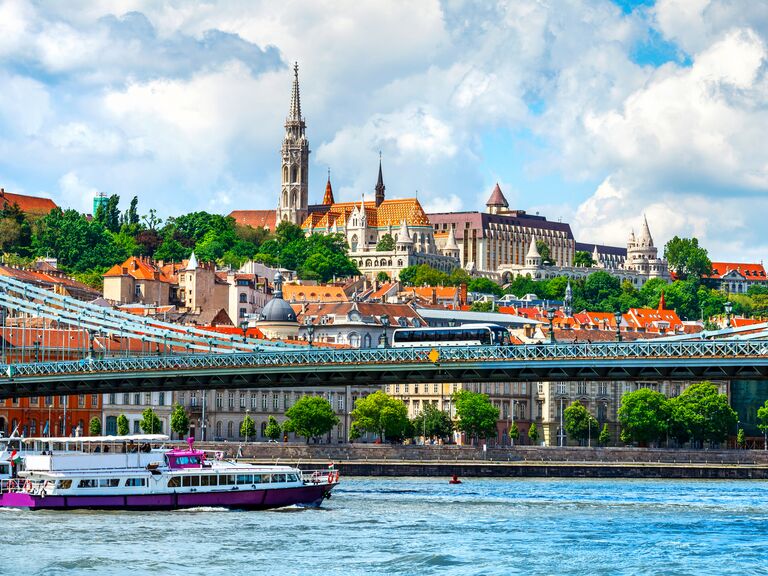 Saturated with rich history, stunning architecture and exciting culture, this city makes for a sophisticated backdrop for just about anything you choose to do. The charming Danube River bends through the majestic cityscape and beneath iconic stone bridges separating the relaxed Buda district on the west from the bustling Pest district on the east. Under a dramatic skyline, the soul of Budapest lies within its famed thermal springs, where indulging in spa days has remained a favorite pastime for locals and visitors alike.
12. Prague, Czech Republic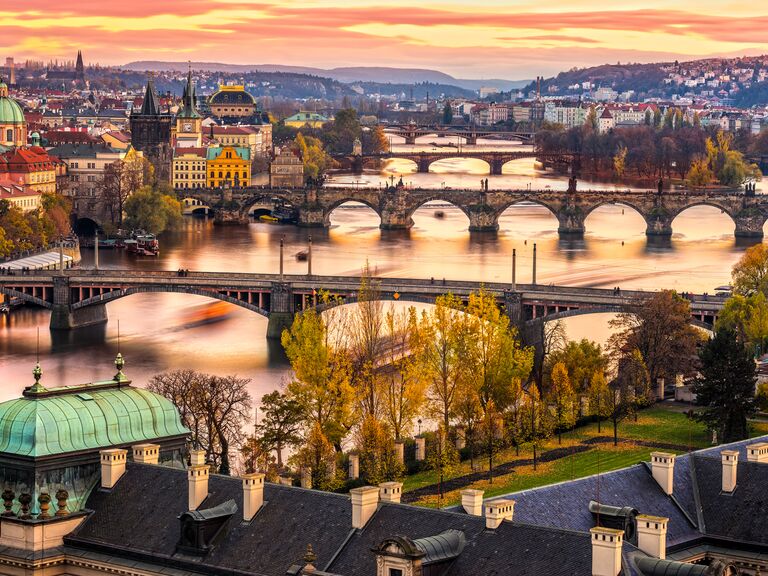 Referred to lovingly as the "City of a Hundred Spires," the sky above this historic city is pierced with the towering steeples of numerous churches. A sightseeing stroll through Old Town will lead you to one of the most picturesque squares in Europe, where the medieval essence of the city can be felt in its cobblestone streets and imposing architecture. On a cruise down the Vltava River, you'll be whisked away by Prague's beauty as you dip under stone bridges flanked by stunning Gothic, Baroque and Roman buildings.