Honeymoon in India: Weather and Travel Guide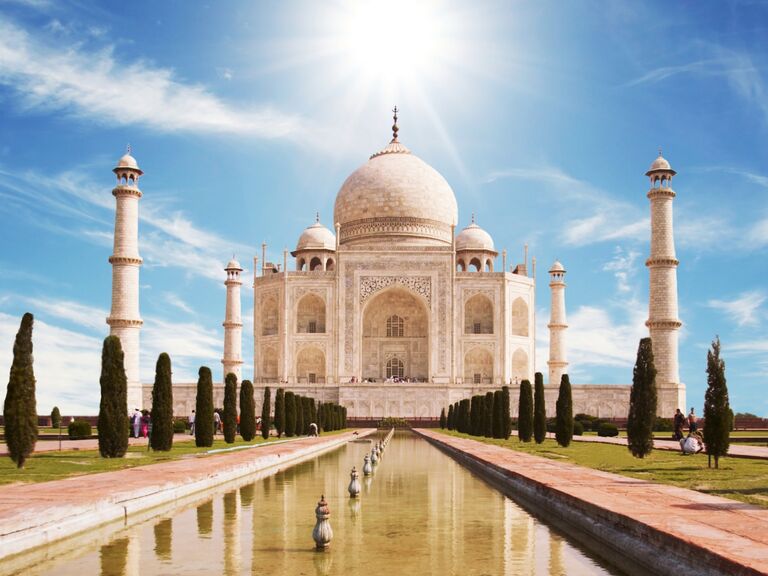 Shutterstock

Traveling to India is truly an exercise in sensory seduction. The exotic, spice-filled aromas, brilliantly colored saris, and shifting landscape of snow-capped peaks, sand dunes and tropical canals will leave you awestruck.
India's diverse scenery is matched only by its diversity of cultures. Approximately one-third the size of the US and home to thousands of different languages, attempting to cover the entire country in a single trip is a daunting task. The key to a successful honeymoon in India is to focus on a region (we recommend either the north or the south) and explore it fully. Here are two itineraries that will let you appreciate India's vast beauty without feeling overwhelmed.

Before You Go: Need-to-know info
Entry requirements: Passport that's valid for at least six months from the date of entry and a tourist visa
Health: Check the CDC website (CDC.gov) to see if you need any vaccinations or anti-malaria medication
Languages: Hindi, English and 14 other official languages
Currency: Indian Rupee (Rs)
Flight time: Approximately 14 hours from NYC to New Delhi; 20 hours from LA to New Delhi (with one stop)

When to Go: India at its best
Best weather: October to March, and April to June in the Himalayas (trekking season peaks from August to September).
Best prices: February to March in the north, and March to September in the south.
Festivals: Every November, the desert springs to life at the Pushkar Camel Fair in Rajasthan, as camels are paraded, traded and raced while Hindu pilgrims pay homage to this sacred town.

Itinerary 1: The North
Base your trip to northern India around the desert state of Rajasthan, particularly the majestic fort palaces of Jaipur, Jodhpur, Jaisalmer and Udaipur. Built by the Rajput kings of centuries past, the intricate craftsmanship of these architectural feats stands in stark contrast to the arid landscape that surrounds them. Also worth a visit is Ranthambore National Park, one of the country's original and well-known tiger reserves.
Getting there and getting around: Fly into New Delhi, and then either fly from city to city (check Jet Airways for flights) or hire a car and driver for the duration of your stay.
Honeymoon must-do: Visit the Taj Mahal at sunrise and not only will you miss the crowds, you'll also get to see the unique way in which the colors of dawn illuminate one of the world's most famous monuments. Book a room at The Oberoi Amarvilas hotel, where you can see the Taj Mahal from every room and you'll be able to enjoy the very different but equally stunning daytime, sunset and nighttime views.
Off the beaten track: Make a stop at Ranakpur, the awe-inspiring Jain temple complex, on the drive from Jodhpur to Udaipur. The complex contains 1,444 intricately carved pillars, each one unique.

Itinerary 2: The South
As you travel south, the mountains and deserts of northern India give way to romantic backwater lagoons and colonial port cities such as Kochi and Pondicherry, where east and west meet in a truly unique amalgamation. But southern India is best known for its ornate Hindu temples. Among the most impressive are the Madurai Meenakshi Amman temple in Madurai (famed for the Musical Pillars, where each pillar produces a different musical note when tapped), and the Mahabalipuram caves and seashore temple, which date back to the seventh century.

Getting there and getting around: Fly into Chennai and then fly from city to city (again, Jet Airways is the way to go).
Honeymoon must-do: Spend a night traveling through Kerala's lagoons on a houseboat. These former rice barges come outfitted with a full crew (including a cook), beds and even plumbing, so you can sit back, relax and watch as temples, coconut groves and village life pass you by.
Off the beaten track: Suffering from postwedding fatigue? Or perhaps still recovering from jet lag? Kerala is the home of Ayurveda, an ancient form of medicine that uses plants, yoga and massage to treat injuries and illnesses. Many spas offer Ayurvedic therapies that range from massages to herbal treatments.