How to Plan a Birthday Proposal to Celebrate Your Love
Because an engagement ring is the best present, no cap.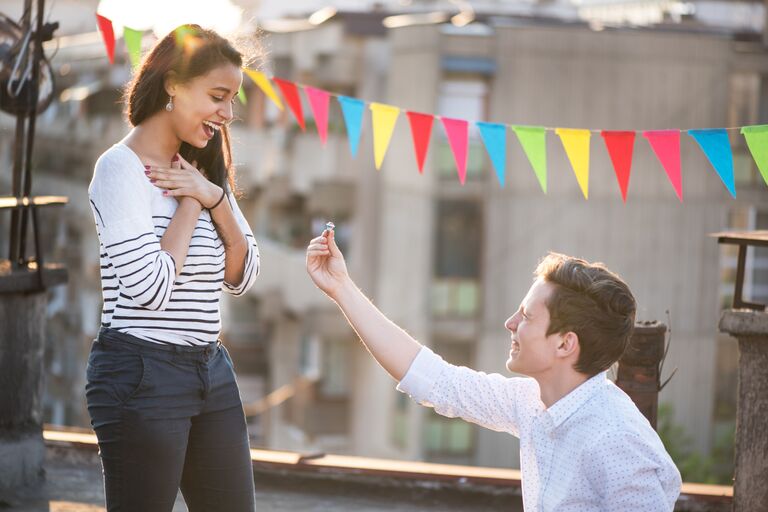 Photo: Emilija Manevska | Getty Images
As you brainstorm the perfect time to propose to the love of your life, you might start considering dates that hold a significant importance, such as your partner's birthday. Birthday proposals are gaining some serious momentum, as they double down on an already celebratory occasion and make for a memorable experience for you both. And, with a birthday as cover, it can also help to hide the surprise proposal better than just any other day, notes Jamie Chang, owner and destination wedding planner at Mango Muse Events in Los Altos, California.
In this article:
5 Steps To Plan A Birthday Proposal
Since birthdays only come around once a year, the timing has to be on point and some planning is most certainly required in order to pull off this romantic proposal idea without a hitch. Here, experts share the steps you should follow to plan a birthday proposal perfectly.
1. Think about what matters most to your partner.
Step one of any proposal is to consider what is significant to your future spouse, according to Anna Kimbro of Twickenham House and Hall in North Carolina. She recommends asking yourself whether or not your partner likes to be the center of attention or if they'll want to celebrate with friends and family immediately after. "Your answers to these questions will guide your planning process and help create a proposal that shows thoughtfulness and care for your partner's desires," she says.
2. Choose a setting.
"Whether it's a huge birthday party celebration with all your friends or a quiet moment in a secluded location, you'll need to plan around any expectations your partner has for their birthday," says Kimbro. "If they have a timeline in mind for the day, incorporate that into your plans so they are not suspicious and are still able to do things they were hoping for." Some examples she provides include hosting a birthday dinner at their favorite restaurant, taking them for a walk in a local park with nice scenery or throwing a big party at your house or an external venue.
3. Consider involving friends and family.
Depending on how close your partner is to their family members and friends, they might really appreciate having them present on the big day. Even in the event that your friends and family won't be physically there, you can still involve them in the planning process. "They may also know about things your partner has mentioned wanting in a proposal that you can incorporate into the day," says Kimbro. She does, however, warn that it's important to be choosy when it comes to which friends and family you choose to let in on the secret. "If you feel like their excitement will give away your plans, it may be better to plan something you can pull off on your own," she adds.
4. Hire a photographer or videographer.
It might be worth it to hire a photographer or videographer to capture this very special moment, so you don't have to worry about doing so while you're proposing. "Due to photographer and videographer schedules being booked well in advance for weddings and other events, it is essential to discuss the plan for the proposal and secure them as early as possible to get them locked in the calendar," says Sarah Chianese, owner, planner and executive chef at Mangia and Enjoy! "Should their schedules already be booked for weekends, and your loved one happens to have a birthday fall on a weeknight, all the better!" Check out The Knot Vendor Marketplace to find a proposal photographer near you.
5. Rehearse how you want it to go down.
Since a birthday proposal is a live event, it can be helpful to test some scenarios, notes Vijay Goel, C.O.O of Bite Catering Couture in Los Angeles. He recommends factoring in the window of time in which you need to pull off the proposal, including when you need your partner there. Consider running the script by a friend or family member and even rehearsing the speech so that you're not stumbling over words while you're proposing.
Creative Birthday Proposal Ideas
Now that you know how to plan a birthday proposal to celebrate your love, here are some creative birthday proposal ideas, according to experts.
Run down memory lane.
Birthdays are naturally sentimental and can create the perfect opportunity to lean into nostalgia without tipping off your partner, notes Kimbro. She recommends taking your partner to different locations that were meaningful in your relationship, such as your first date, first kiss, where you said "I love you" for the first time, and more. "At each spot, you can say something about the significance of the place or give her a letter expressing your feelings about that time in your relationship," she says. "Of course, you'll need to end with a new location—the chosen spot of your proposal—that will now be added to the list of meaningful places!"
Whisk them off on a surprise vacation.
If you or your partner haven't already planned something for their birthday, consider surprising them with a fun vacation. "This idea will take some significant forethought, and you may want to enlist the expertise of a travel agent to pull it off," says Kimbro. "Tell your partner to pack for a type of location and weather (hot, sunny beach or cold, snowy mountains, for example), and only reveal your trip itinerary and destination once you've arrived." There should be plenty of swoon-worthy spots at your vacation destination to propose, but if you need inspiration, ask your travel agent, a hotel concierge or a local in the area.
Create a DIY photo booth.
If you're throwing a birthday party for your partner, you can rent a photo booth or create a makeshift DIY one and pop the question in front of it. "During the party, pull your spouse-to-be aside for photos together to record the day," says Kimbro. "They'll be smiling or cheesing it up for the camera, giving you the perfect distraction to drop to one knee and pull out a ring." As an added bonus, you won't have to worry about capturing a proposal if you go this route!
Pop the question with balloons.
Balloons are always fun! With balloon companies trending and popping up (pun intended) with more extravagant displays than ever, there is an interactive balloon activity that can involve the guests. A large display wall with a balloon popping activity where all of the guests line up to throw darts, in unison, much like a carnival display but more decorative to fit your theme, aiming to win a prize (party favors are suitable here) only to reveal the words, "Will You Marry Me?" beneath the balloon wall will create a joyous moment. Be sure to use biodegradable balloons to be kind to the planet.
Hire a musician or entertainer.
Chianese recommends hiring a musician or DJ who can collaborate with you to create an incredible plan. "Once everyone is enjoying the music, have the artist play happy birthday, and mid-way through the song, have them cleverly bust into an ultra-personalized proposal song that not only ties the birthday to the proposal with all present for the moment," she suggests. "It will become a highly climactic event to be cherished forever."