22 Bridal Shower Game Prizes Your Winners Will Want to Take Home
Sugar, spice and everything nice—that's what these fun rewards are made of.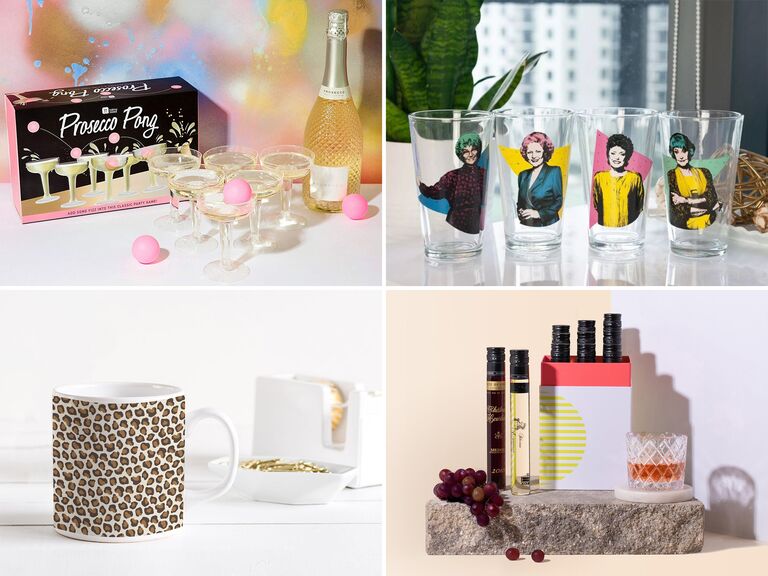 We have included third party products to help you navigate and enjoy life's biggest moments. Purchases made through links on this page may earn us a commission.
Oftentimes, the bridal shower is just one of many wedding-related events. For lots of guests, there's already been an engagement party, the bachelorette is coming up and the nuptials themselves are just around the corner! So many loved ones put an immense amount of time and effort into showing they care about the "I do"s—and we love them for that. But we also love the idea of returning the favor. Offering up some great bridal shower game prizes is one small but appreciated way to do so.
Many bridal showers include guests from different realms of the bride's life and merging these groups can prove to be quite the task. This is where bridal shower games—complete with amazing prizes—come in handy, enticing party-goers to actively participate and engage with one another. Bridal shower game prizes can be lighthearted and humorous or perhaps inspire a self-care Saturday. Regardless of the tone you take, we recommend memorable (and actually useful) rewards that don't pull too hard at the purse strings. This list of prizes is sure to have everyone from the college friend to Great Aunt Catherine scrambling for a win.
1. Skincare Gift Set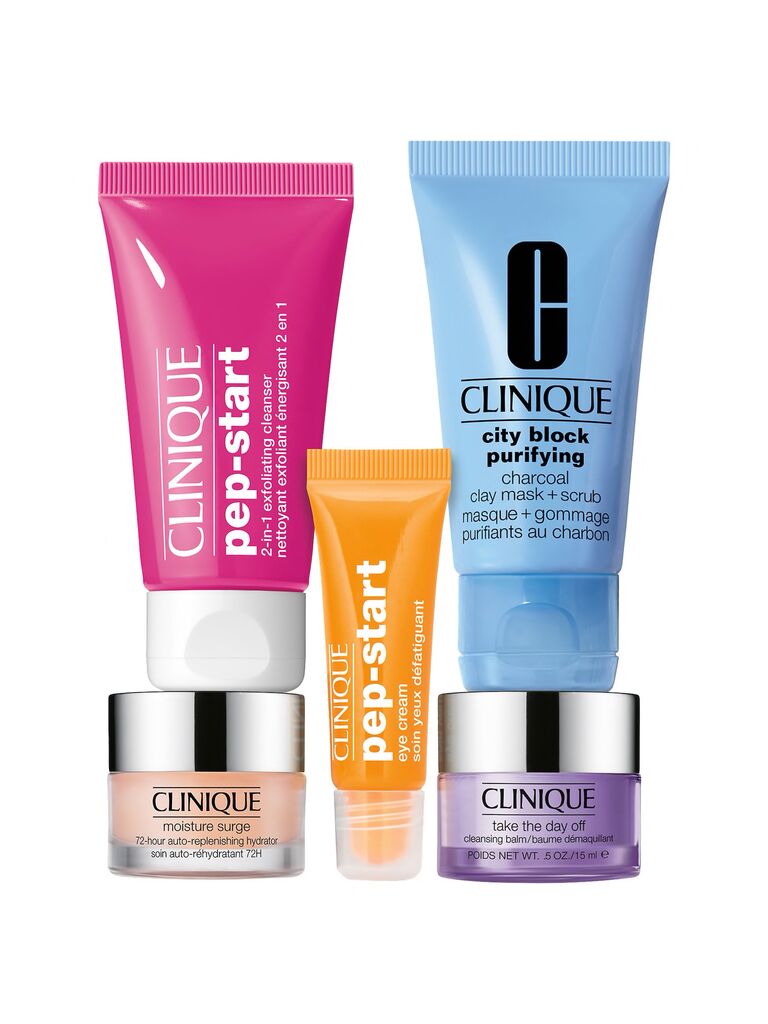 This appealing array of high-quality skincare products will leave the winner feeling positively rejuvenated. The set is recommended for a variety of skin types; plus, the items are fragrance-free and allergy-tested. All that's to say that almost any guest can enjoy the beauty gift pack.
Clinique Clinique's Best-Selling Minis, $25, Sephora.com
2. Cute Coffee Mug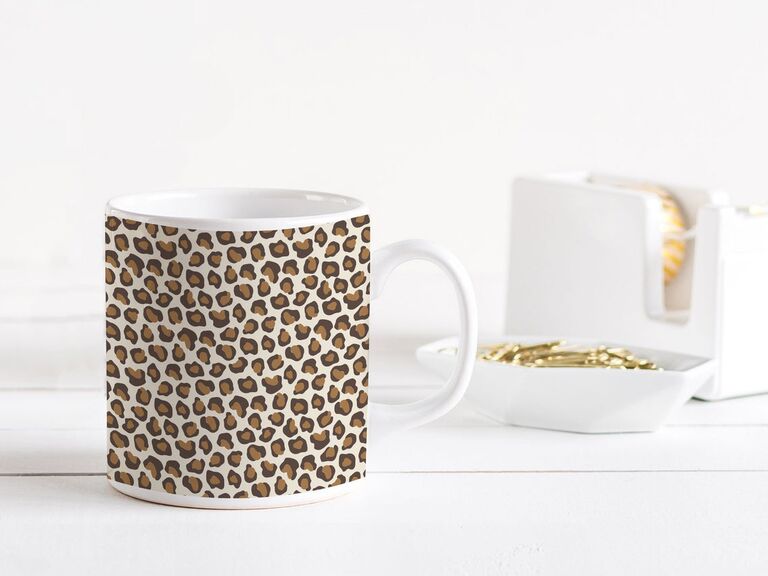 If you want to reward your winners with something wild, this leopard-print coffee mug will do the trick. If you're feeling extra-generous, throw in a bag of locally roasted coffee beans for a special gift your guests will surely appreciate.
Two Pooch Paperie leopard print coffee mug, $15, Etsy.com
3. Personalized Prize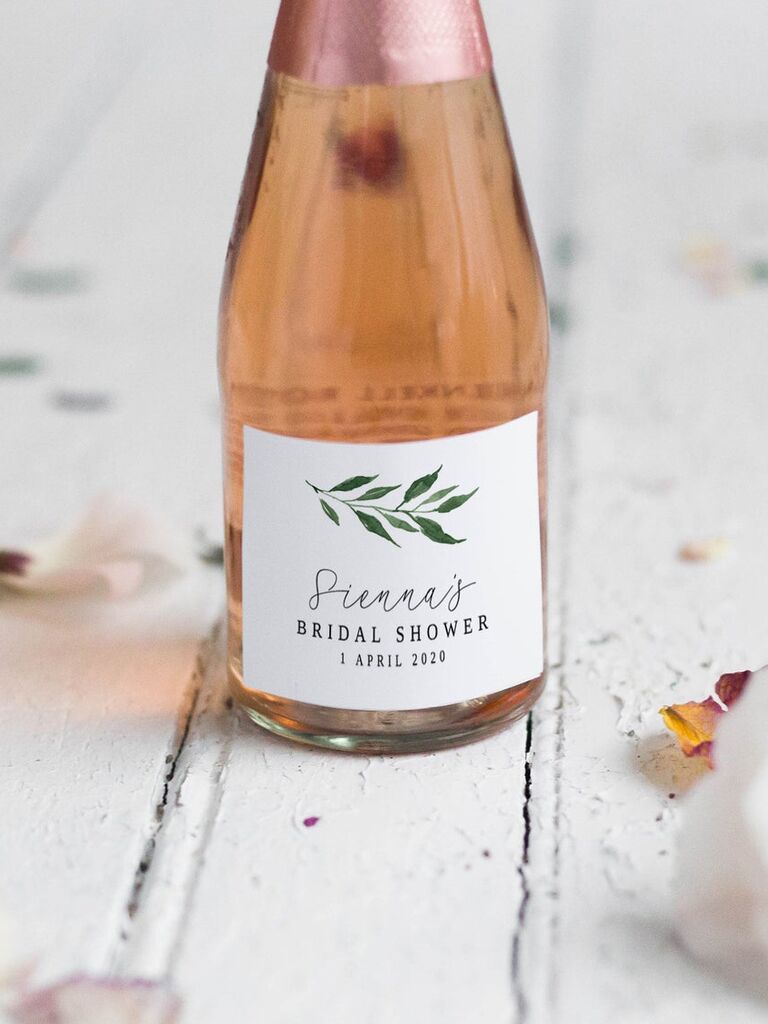 Taking home a personalized memento from a special occasion is always fun. Use this printable label to elevate a bottle of wine, champagne or even sparkling juice.
The Printable Shop DIY rustic bridal shower wine label template, $5, Etsy.com
4. Novelty Socks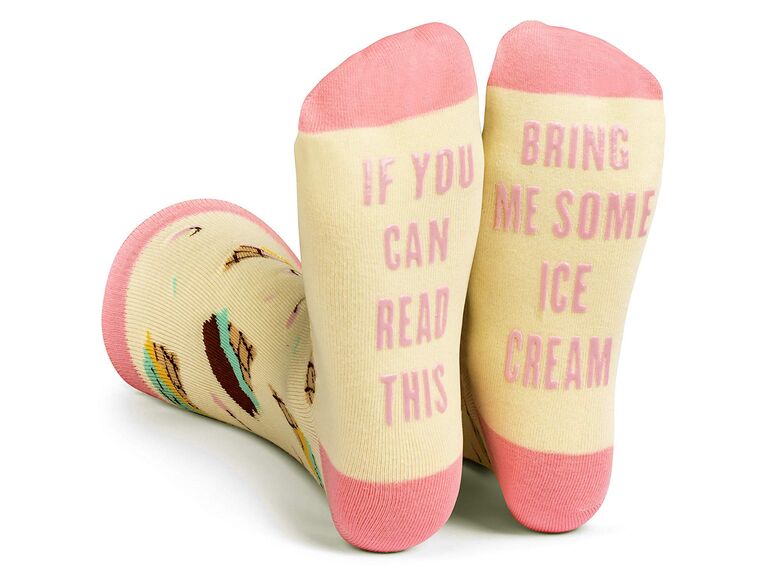 Novelty socks like these will get everyone laughing—and hopefully prompt further pampering of the recipient! The soles say, "If you can read this, bring me [insert food or drink item of your choice]."
Lavley funny novelty socks, $11, Amazon.com
5. Mini Coffee Press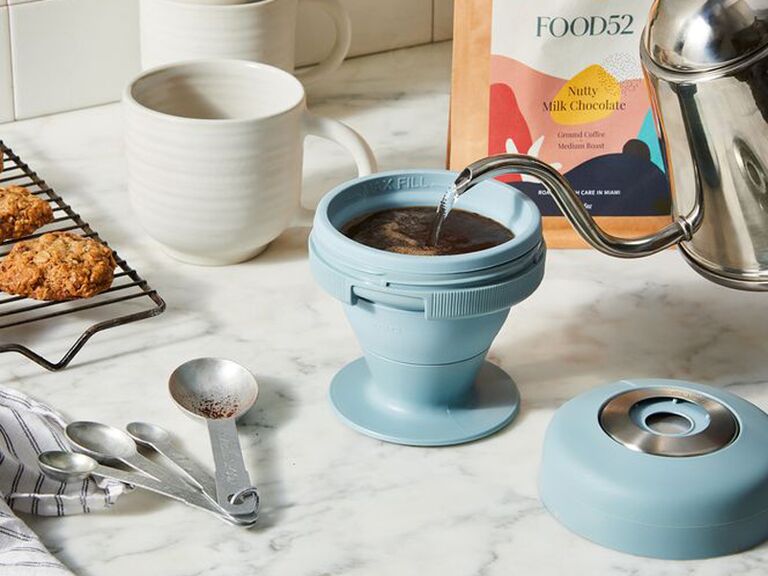 Create an even bigger buzz for your event by offering this too-cool coffee press as one of your party's winnings. They can use the genius collapsible device to make coffee whenever, wherever. The gift set even includes fresh grounds.
Palmpress collapsible coffee press, $42 alone or $50 as a gift set, Food52.com
6. Trendy Water Bottle
Artfully designed, convenient and sustainable ... this prize hits every mark. Plus, its out-of-the-ordinary shape means that it won't get lost among everyone else's water bottles at the gym.
Lund London contemporary stainless steel bottle, from $25, TheGrommet.com
7. Self-Care Gift Set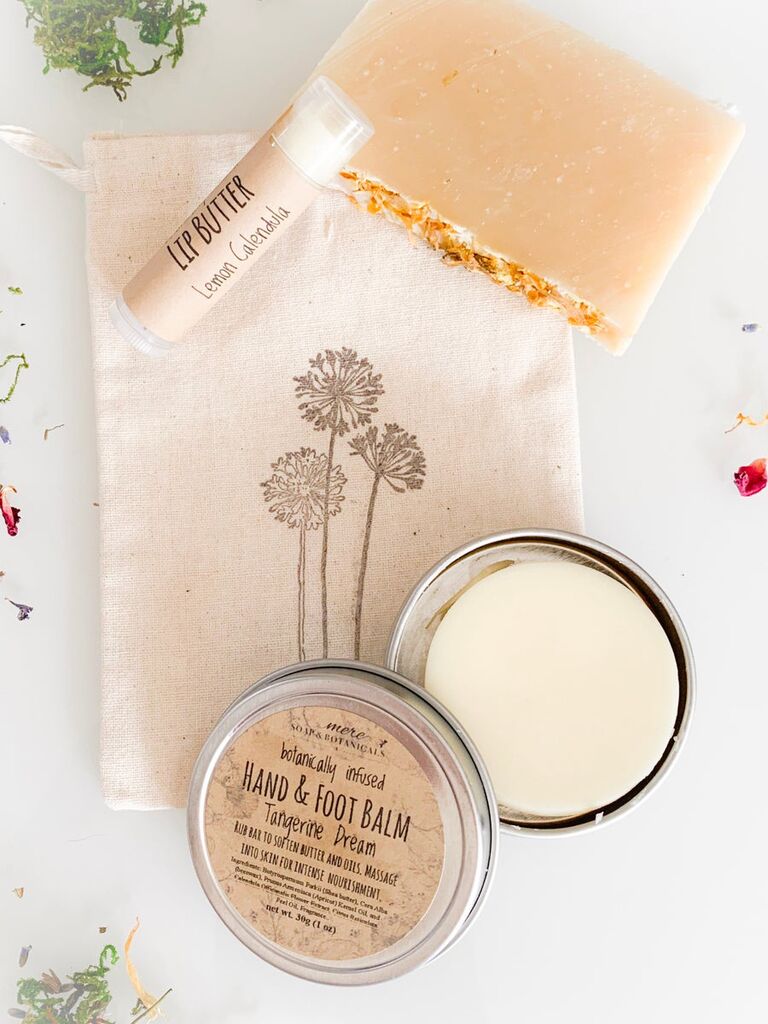 These perfectly packaged gift sets contain three self-care essentials: soap, body balm and lip butter. Their essential oils and other natural ingredients pack a punch and come in a variety of scents to suit any taste. How's that for a sweet bridal shower game prize idea?
Mere Soap mini self care gift set, from $12 for a single set, Etsy.com
8. Homemade Treats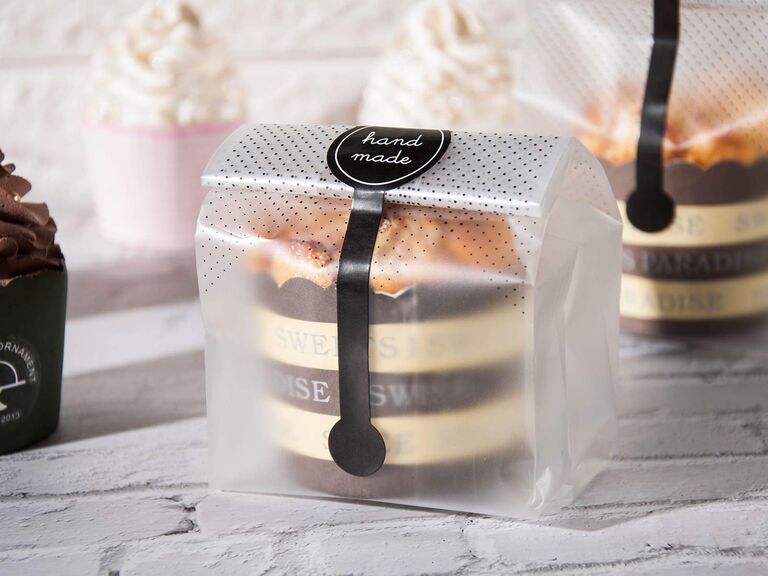 We can all agree that homemade goodies are the ultimate way to show your appreciation. Package yours like a pro in these chic gift bags which let everyone know that the contents have been handmade with love.
Yunko translucent plastic bags with stickers, $10 for a set of 100, Amazon.com
9. Unique Tea Set (and Grow Kit!)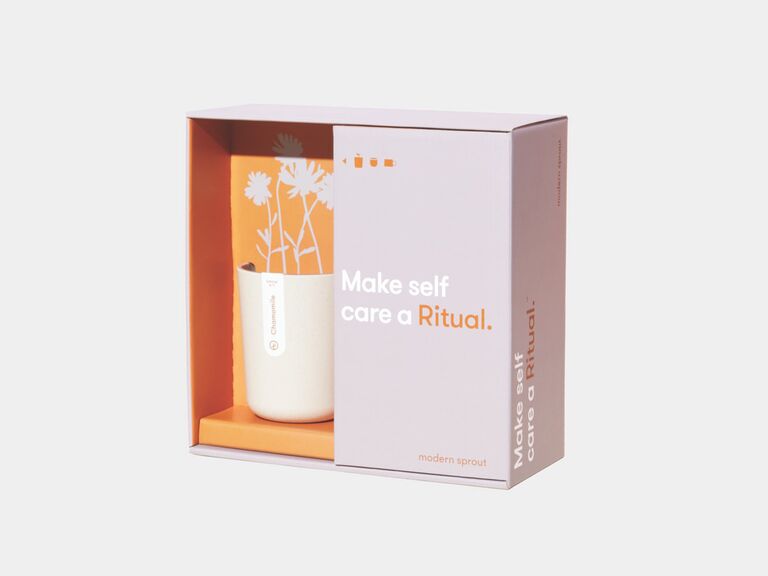 This bridal shower game prize will cover your bases from A to Zen. The grow-your-own chamomile kit pairs perfectly with the tea steeper and mug for a luxurious experience that calms the senses. This creative reward will have everyone talking (and non-winners very jealous … whoops.)
Modern Sprout Ritual Live Well gift set, $50, Verishop.com
10. Curated Snacks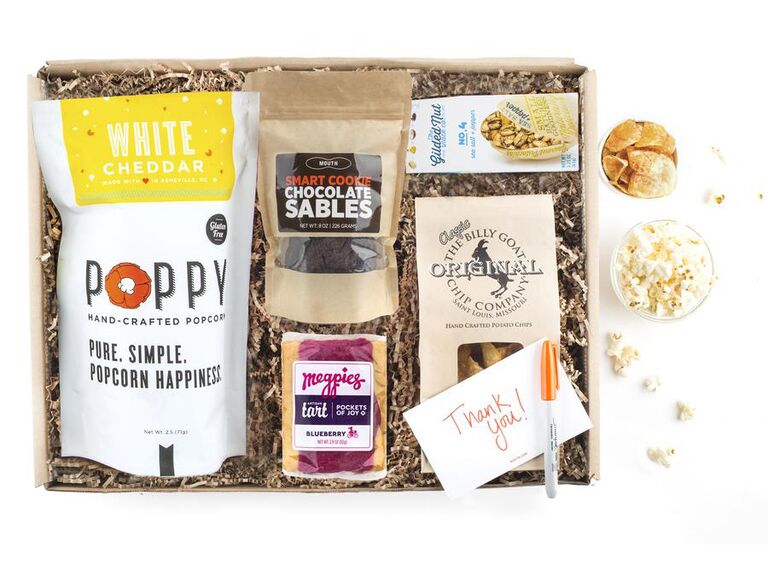 Nothing says "thank you" quite like an assortment of delicious treats. Your party guests will be in-it-to-win-it with this curated box of yumminess on offer. Bonus: These boxes come in ready-to-gift packaging which saves you precious preparation time—PHEW!
Mouth Tasty Thank You gift box, $46, Mouth.com
11. Chic Coasters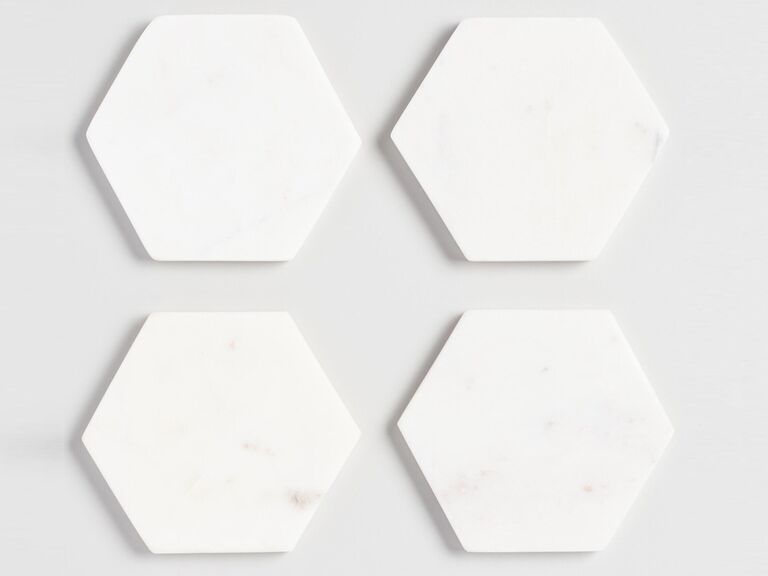 Modern design made from natural materials? You can't go wrong. This gift looks and feels high-end but it's available at an affordable price point—because we all know it's more fun to splurge on the bridal shower bar.
World Market white marble hexagon coasters, $13 for a set of 4, WorldMarket.com
12. Prosecco Pong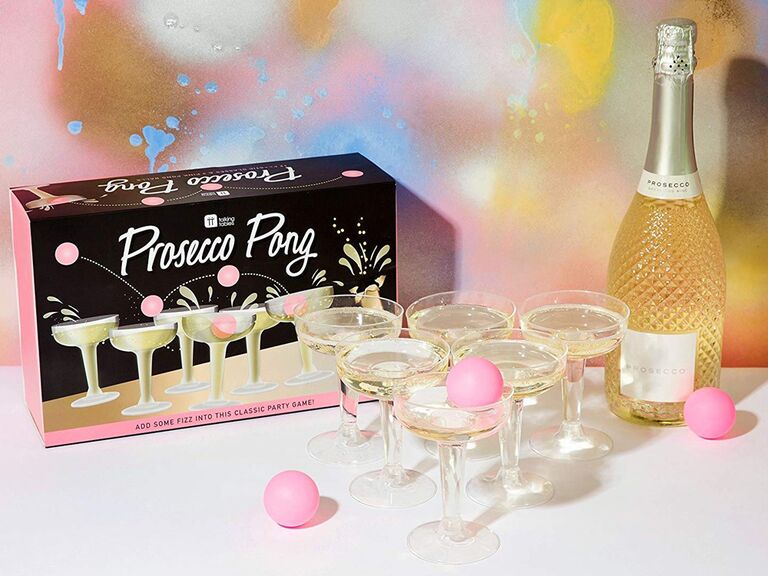 Just add bubbles. The fun will never fizzle out when you gift this popular party game with a twist. Who knows, maybe you can even convince the winner into a round or two at the shower or bachelorette?
Talking Tables prosecco pong, $15, Amazon.com
13. Bluetooth Speaker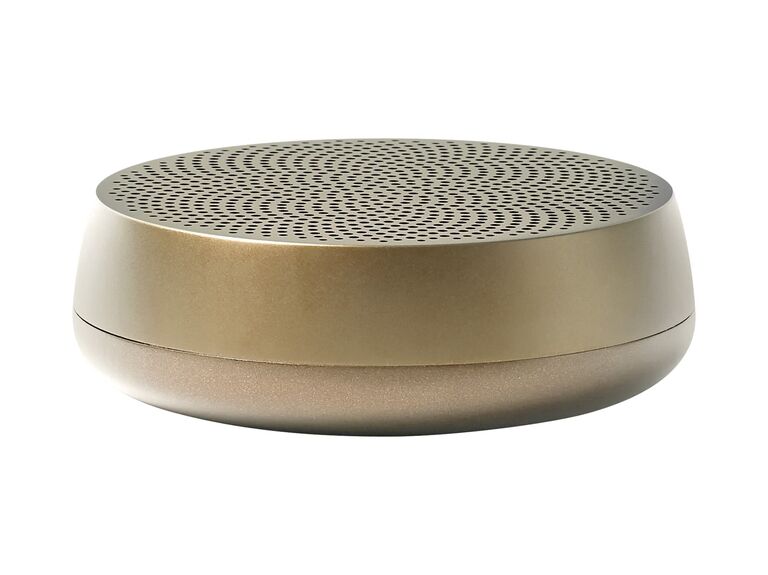 A Bluetooth speakers is always a handy bridal shower game prize. This one is ultra-low-profile and comes in an attractive metallic gold—along with a host of other tasteful colors—to harmonize with a range of decor styles.
LEXON MINO L Bluetooth speaker, $50, Nordstrom.com
14. Collectible Drinking Glasses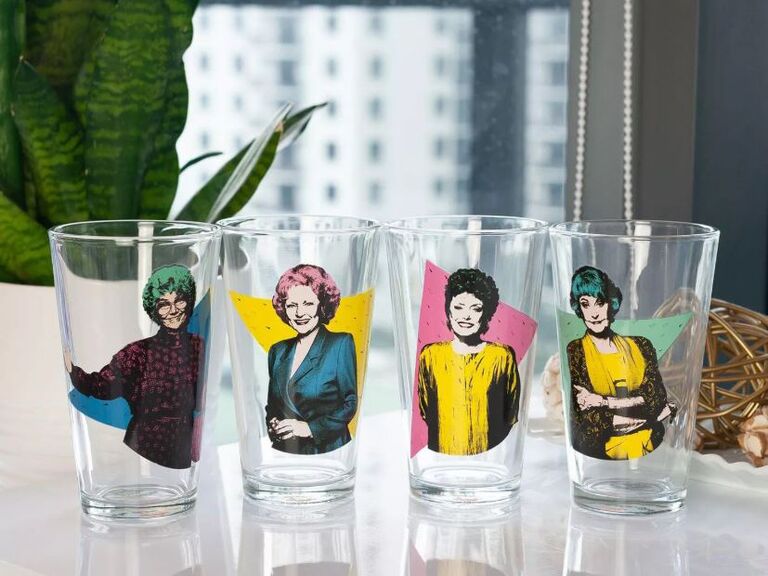 What says "thank you for being a friend" better than these drinking glasses? We'll wait. Sophia, Rose, Blanche and Dorothy would be proud to win these early '80s-inspired collectibles. You can even split the set among the winners of different games, if you'd like.
Just Funky Golden Girls pint glasses, $40 for a set of 4, Target.com
15. Sheet Mask Set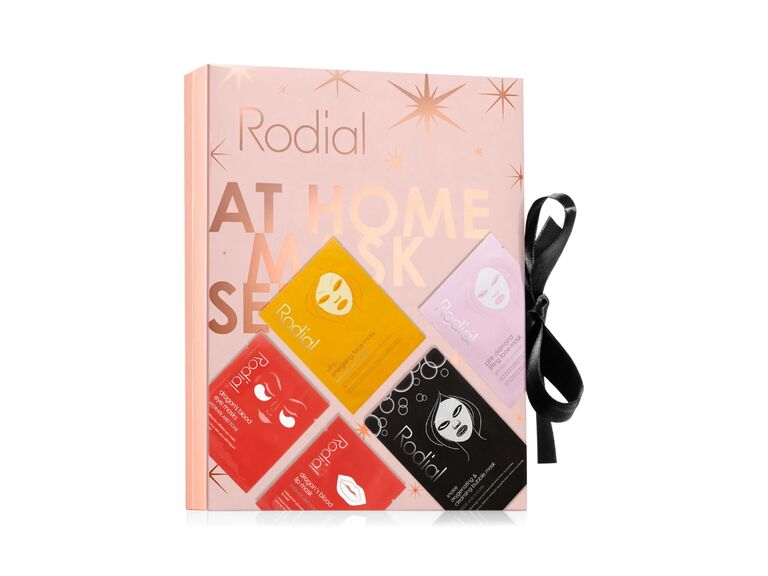 A sheet mask for nearly every day of the week? Yes, please. You may just want to order an extra one of these for yourself as a reward for being the ultimate bridal shower host.
Rodial at home facial 5-piece sheet mask set, $35, SaksFifthAvenue.com
16. Wine by the Glass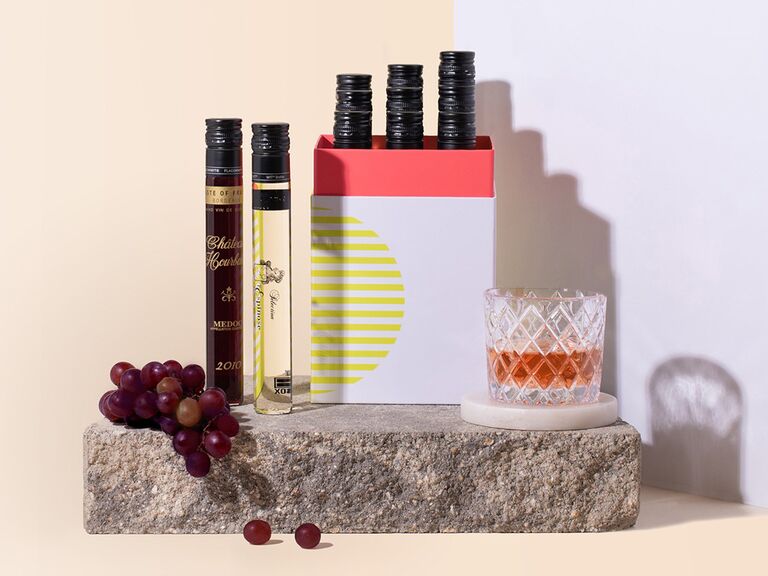 The wine lover in the group will surely go for these nine single-serve, handpicked Italian vintages. They come in chic, modern packaging and feature a perfectly curated assortment to redefine the phrase "box of wine." Alternatively, this is another great bridal shower game prize you can divide up between multiple winners—each gal gets their pick from the vials!
VINEBOX Taste of Italy single-serve wines, $85 for a set of 9, GetVINEBOX.com
17. Faux (Scented!) Succulent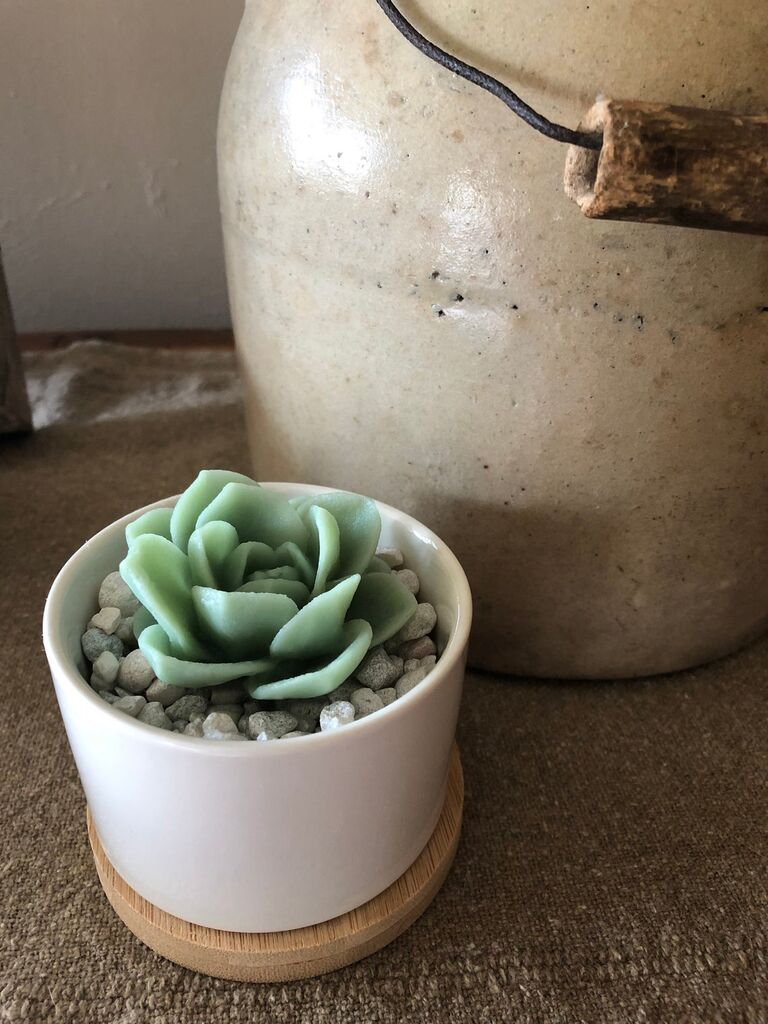 Real succulents make adorable prizes, but if you're worried about your guests' green thumbs, you can opt for this faux plant instead. The beeswax cutie is cinnamon-scented for stylish decor and a little aromatherapy all in one.
Farm Field Primitives beeswax small succulent, $10, Etsy.com
18. Freezable Whiskey Glasses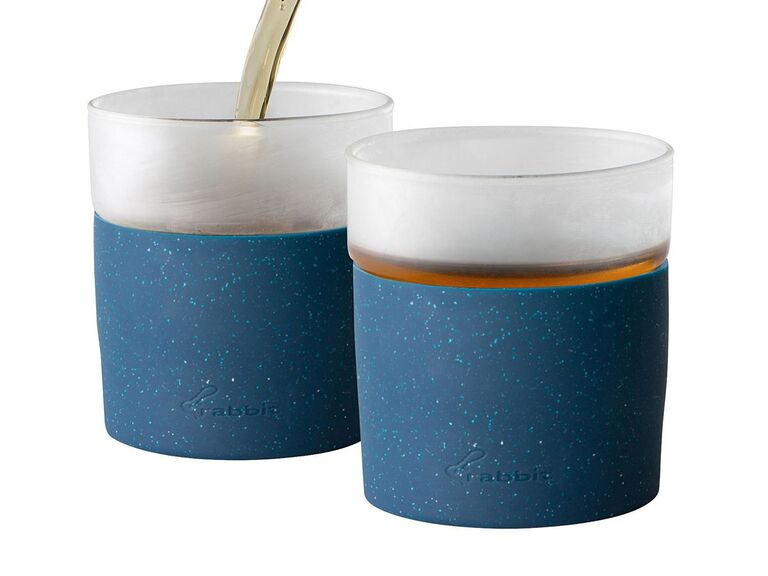 Forget whiskey on the rocks. They can elevate their sipping game by serving whiskey in the rocks with this set of two freezable whiskey glasses. This bridal shower game prize idea is perfect for anyone who loves to wind down with a stiff drink—or host guests!
Rabbit freezable whisky glasses, $30 for a set of 2, Bloomingdales.com
19. Adult Card Game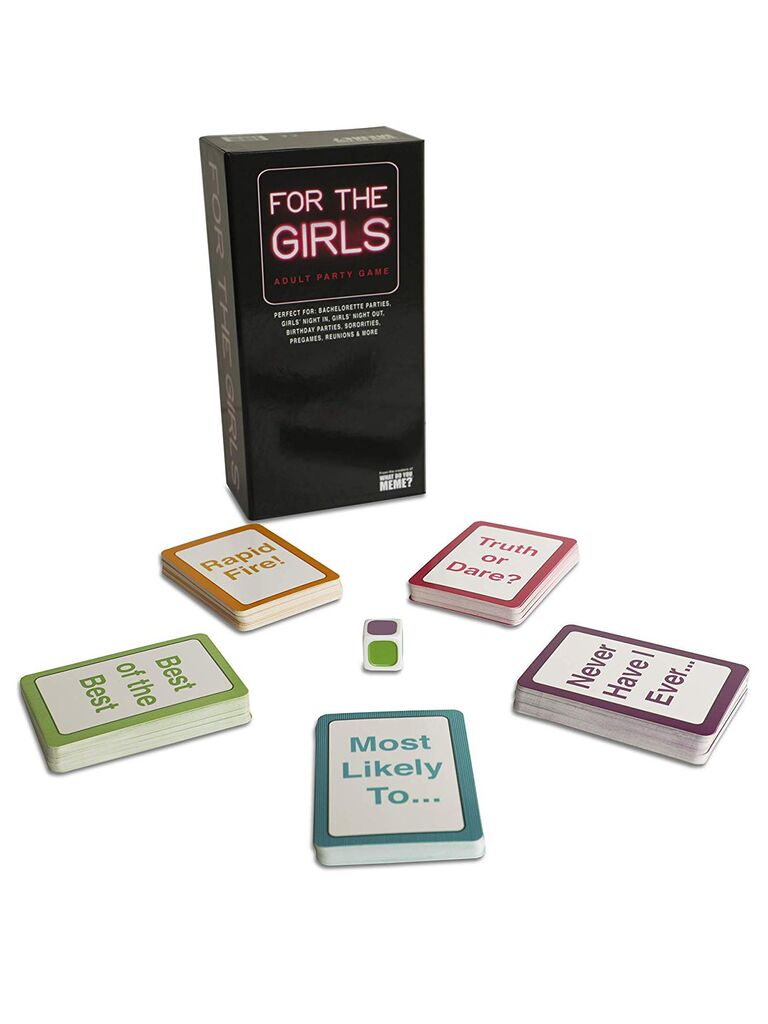 This list contains a whole lot of nice, so we thought we'd throw in just a little naughty. While this "adult party game" might cross the line into bachelorette territory, for some showers it be would totally acceptable. Use your discretion—only you know your audience! (Now's probably not the time to upset Grandma.)
WHAT DO YOU MEME? For the Girls adult party game, $25, Amazon.com
20. Fancy Candle Set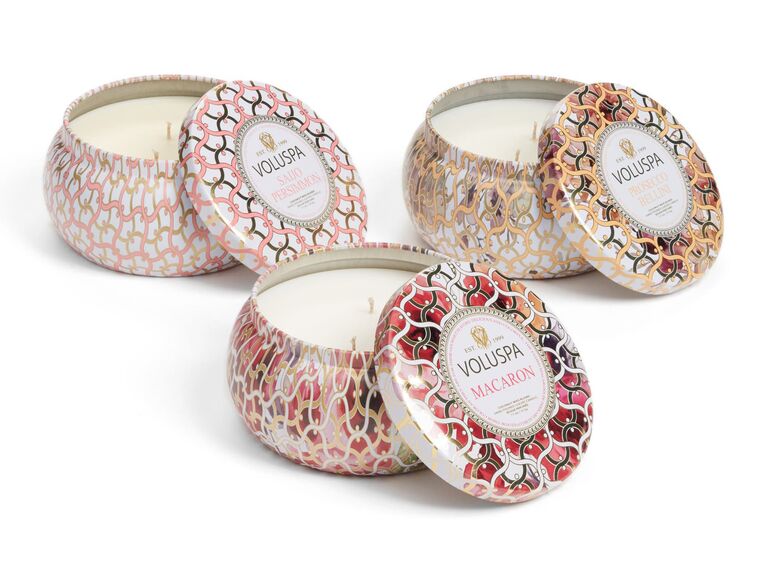 Certain gifts have become classics for a reason. Show your gratitude to your guests with this set of candles in three sweet smelling scents: Saijo Persimmon, Prosecco Bellini (so celebratory!) and Macaron.
Voluspa Maison Blanc two-wick tin candle set, $33, Nordstrom.com
21. Stemless Wine Glass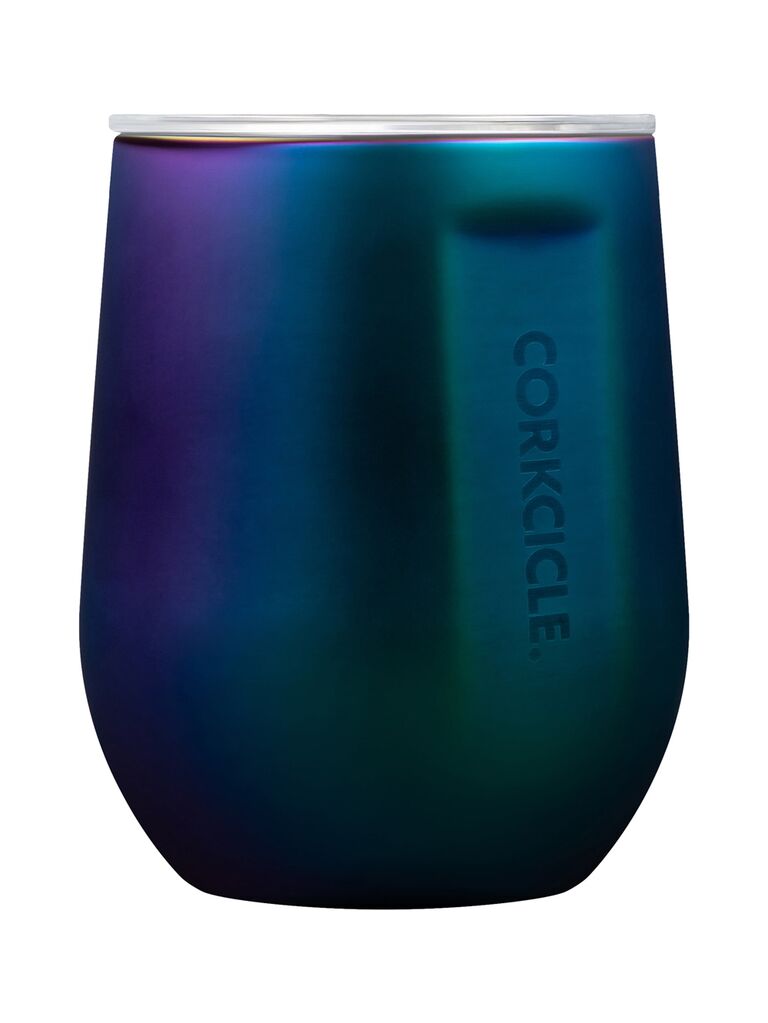 Give the prize winner an excuse for "just one more glass" with this insulated wine cup that features a funky iridescent hue.
Corkicle stemless insulated wine glass in Dragonfly, $28, Nordstrom.com
22. Practical Gift Card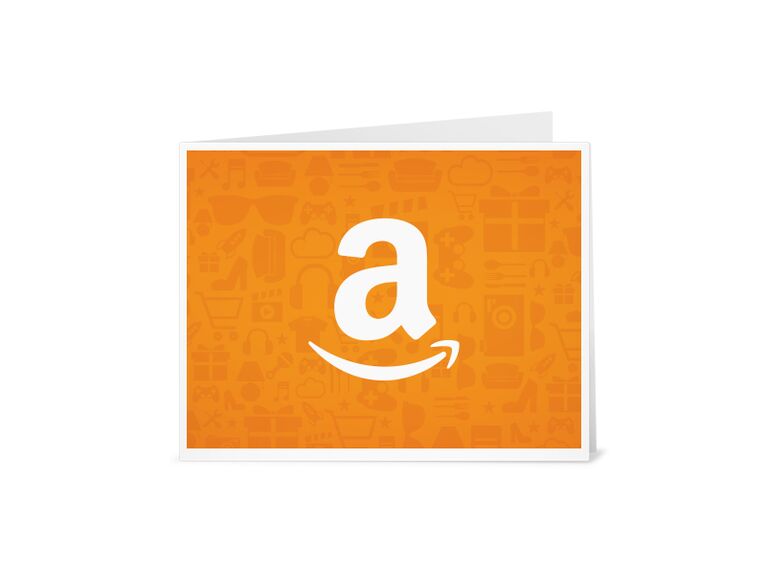 Cash is nice, but we think an Amazon gift card is even better. With thousands of products available at their fingertips, this prize will be money well spent, regardless of who receives it. The best part? If you're short on time, it's available to be printed directly after your purchase.
Amazon gift card, from $1, Amazon.com