16 Dos and Don'ts of Planning a Bridal Shower
From the invitations to the food, we've got your back.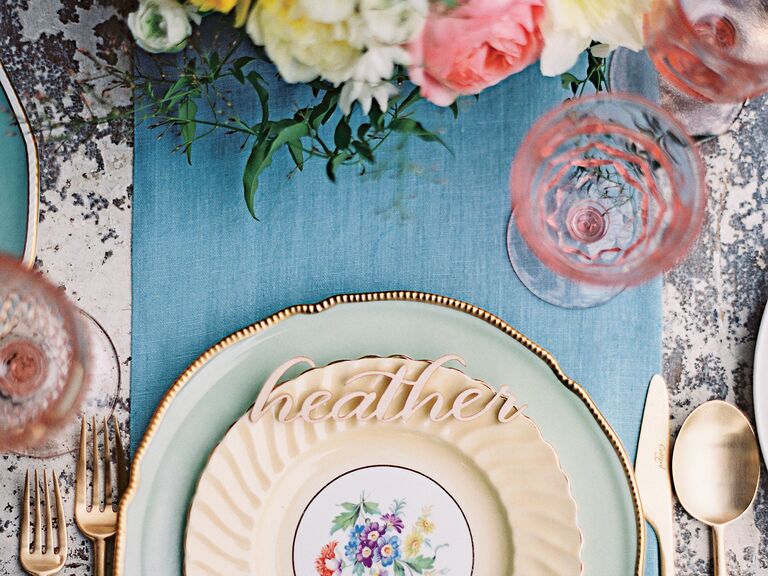 Braedon Photography
If you're taking on the task of honoring the bride with a shower, start here for exactly what to do (and what not to do) to plan the perfect party.
Do take the initiative to plan it—but don't plan the entire thing yourself.
Whether you're the honor attendant or a family member, it's never a bad idea to get the bridal shower conversation going (and the earlier the better!). But just because you're game to coordinate and lead the charge doesn't mean you have to take it all on yourself. Enlist the other members of the bridal party and even the families of the bride and her fiancé to give input and help out too. The best way to go about it is to get everyone together and ask what each person wants to help with instead of assigning duties. Anyone who's hosting should be included on the invitation as well.
Do organize a theme or group activity, but don't make the bride uncomfortable.
Having a bridal shower theme or planning out a group activity will make the planning easier, and it's a talking point to bring college friends and grandparents together. But before you start making plans to have a sex toy demonstration or take everyone bungee jumping, ask the bride if there's anything they'd be uncomfortable with. If it turns out they're anti-tradition and want to have a get-together that doesn't include the classic games or gifts, then you should respect that and come up with something they'll enjoy—even if it isn't your thing.
Do pick a date early on, but don't forget to ask the VIPs for their availability.
Even if you're planning to wait to host the bridal shower until shortly before the wedding, you're going to want to make sure you pick a time when most, if not everyone, can come. Figuring out multiple schedules can be a lot of back and forth, so it's best to start early and pick a date way in advance. Depending on where guests live, they may need to make travel plans, but if most people are local, you have more options. It's possible not everyone will be able to come, but there are at least a few people in the immediate family and the honor attendant who should definitely be there, so their schedules might be the deal breaker.
Do ask the bride for the guest list, but don't invite anyone who isn't invited to the wedding.
Instead of starting from scratch, you should ask the bride to help out or make suggestions for the guest list. But before you send out invites, just do a quick double-check that everyone who's being invited to the bridal shower will also be invited to the wedding to avoid any hurt feelings.
Do give some guidelines for gifts, but don't make the gift giving too raunchy.
Come up with a theme for the gift giving that ties in with the party. Share the couple's registry info, but prepare for some guests to bring off-registry items. Our only advice here: Remind guests that the shower is an all-ages affair, and while something tongue-in-cheek, like an artful kama sutra coffee table book, will probably go over okay, you may want to avoid anything outright naughty, like sex toys and triple X-rated lingerie (save those fun goodies for the bachelorette party!).
Do send shower invitations, but don't go overboard on the paper.
Once you have all the logistics together, you should definitely send out invitations, even if most of the guests have helped out with planning the bridal shower. If a lot of guests are coming from out of town, the earlier you send them, the better—at least two months before if not earlier; if most people are local, four to six weeks should be just fine. That doesn't mean you have to go nuts with the invites—those cute ready-made cards available at any card store are great. And you can even go paperless for this one with the help of a graphic designer or an evite service.
Do serve something to nibble on, but don't cater an entire meal (unless you want to!).
Having some type of food is a must, whether it's inspired by breakfast for dinner or a sweets table. Consider catering if you're throwing a large party, but you could even make some of the main dishes and then supplement with catering additions, or have other guests contribute as a potluck. As long as the party doesn't cover all of dinnertime, for example, you don't have to serve a full meal. Light snacks, heavy hors d'oeuvres or a continental breakfast of pastries, fruit and coffee are plenty. Just let guests know on the invite so they're prepared.
Do have a loose schedule, but don't make it too detailed or strict.
Keep the momentum rolling by having a general idea of what you'll do at the beginning, middle and end of the shower. You may need to enlist the help of some other hosts for the gift-giving portion (you'll need at least two people—one to bring each gift to the bride and another to write down who gave what). Just because you have a plan doesn't mean you have to control every single second. If The Newlywed Game inspires everyone to share their own hilarious stories, let it roll. But having a plan is helpful in case there's an unexpected lull in the party.
Choosing your engagement party style is one thing, but finding your wedding style is a whole different story. Take our Style Quiz to learn your dream wedding aesthetic and how to communicate it to your vendors. After that, create a free, personalized wedding website to keep your guests informed (and excited!) about your plans, and a time-saving Guest List Manager to organize your attendees. Even better? You can sync your Guest List Manager and wedding website to update everything at once.