These 33 Bridal Shower Party Favors Make the Perfect Thank-You Gifts
And they're all under $10 each.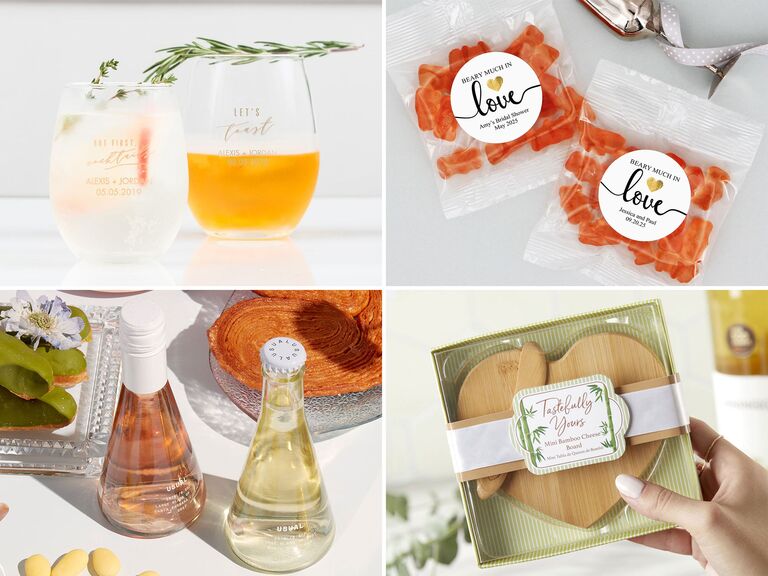 We have included third party products to help you navigate and enjoy life's biggest moments. Purchases made through links on this page may earn us a commission.
If you ask us, the bridal shower is one of the best prewedding festivities: It's a low-pressure party where everybody mingles and gets to know each other before the wedding. There's usually a game or two (preferably with fun prizes), a few cute decorations and some yummy food. And when the party's over, bridal shower favors are a popular way to thank everyone for coming.
Below, we dive into everything you need to know about favors at your wedding shower, including whether they're necessary and who pays for them. Then, we've rounded up our favorite bridal shower favors that you can buy in bulk without breaking the bank.
In this article:
Bridal Shower Party Favor Q&A
Whether you're hosting a bridal shower brunch or a coed backyard BBQ, there are plenty of unique and affordable party favors that'll seriously wow your guests. But before we share our favorite mementos, here are some answers to the most-asked questions about wedding shower favors. Let's get started!
Are bridal shower favors necessary?
Giving out wedding shower favors isn't necessary, but it's a nice gesture. Favors are a cute way to show your gratitude and double as party keepsakes. The best favors are the ones that guests can use and enjoy after the party ends. Bonus points if your favors tie into the wedding shower's theme.
How much should you spend on bridal shower favors?
What to spend on favors depends on a few factors, including your budget and the number of guests. If you're planning a small and intimate party, you might choose to spend more than someone who's hosting a larger gathering. But it's entirely up to you! There are plenty of excellent options between $1 and $5, and there's definitely no need to spend more than $10 per favor. Pro tip: Buying in bulk might help you score a discount.
Who pays for bridal shower favors?
Typically, whoever hosts the wedding shower is responsible for buying the party favors. In many cases, it's a collaborative effort between friends and family who are sharing planning duties. Sometimes, someone volunteers to pay the total cost of favors. In other cases, a few different people agree to split the bill. An honor attendant or parent—for example, the maid of honor or mother of the bride—usually starts that conversation. As always, it's important to be mindful of everybody's budget.
The Best Bridal Shower Favor Ideas
From personalized glassware and great-smelling candles to delicious takeaway desserts, we've gathered the best bridal shower gifts for your friends and family—all at affordable prices you just can't beat.
1. Stemless Wine Glasses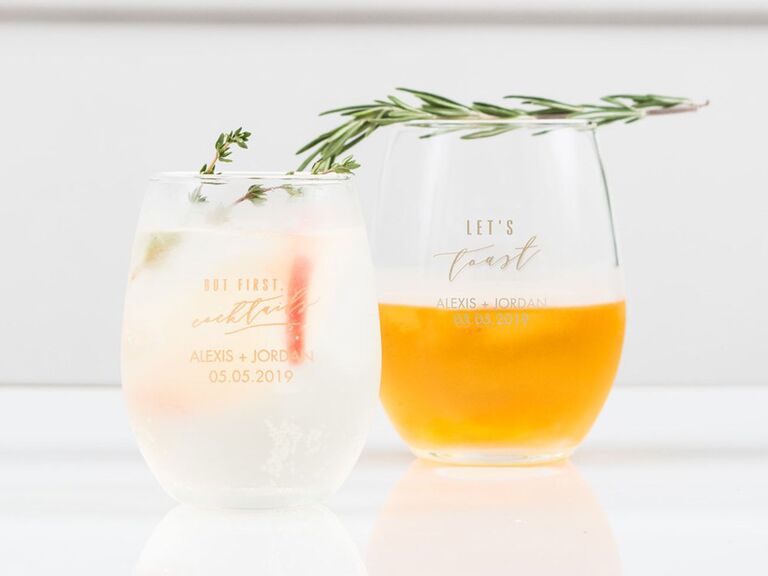 Say "thank you" with some elegant wine glasses. Your guests will appreciate these reusable wedding shower favors, which you can personalize or leave blank. And for just $3 each, they're a very good deal.
2. Sugar Body Scrubs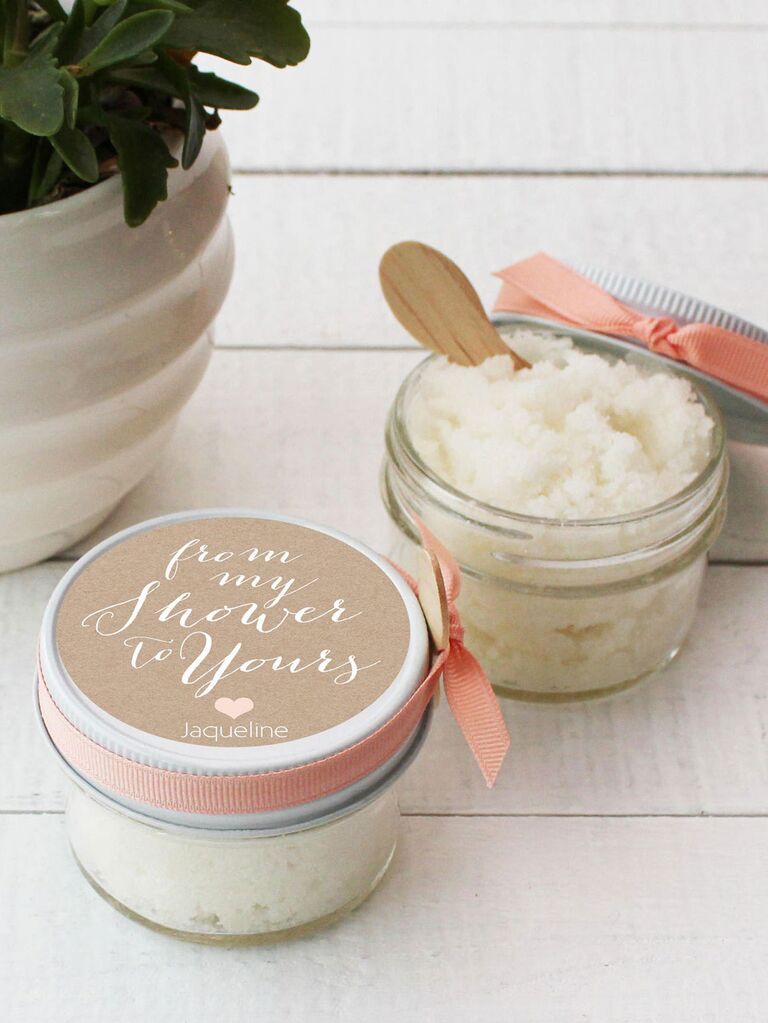 Treat your guests to a sugar scrub they can incorporate into their self-care routine. Each favor is handmade using natural ingredients (including pure cane sugar, coconut oil and cold-pressed olive oil) packaged in a sweet jar. Choose your lid and ribbon color, then add a personalized label for an extra-special bridal shower favor.
3. Custom Honey Jars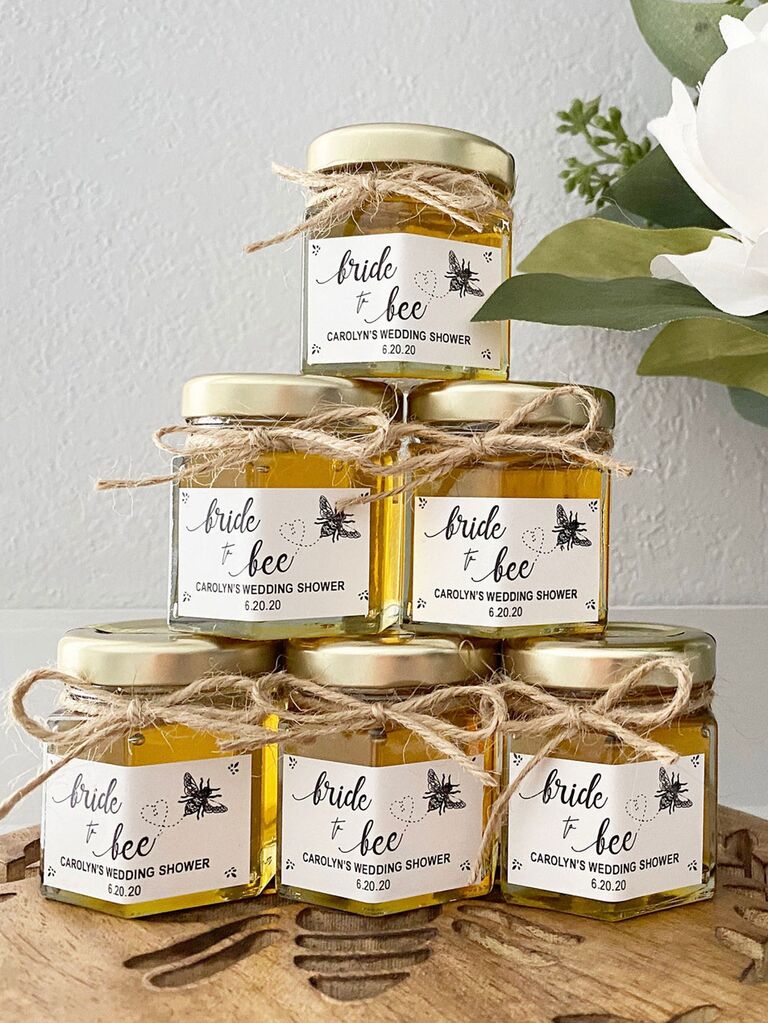 Show family and friends that the couple was "meant to bee" with these charming bridal shower honey pots. The wildflower honey comes in small glass jars, which you can customize with labels and ribbon or twine. And, for an additional cost, you can add wooden dippers. Choose from a long list of cute label phrases, including "bride to bee," "found my honey" and "love is sweet."
4. Personalized Candles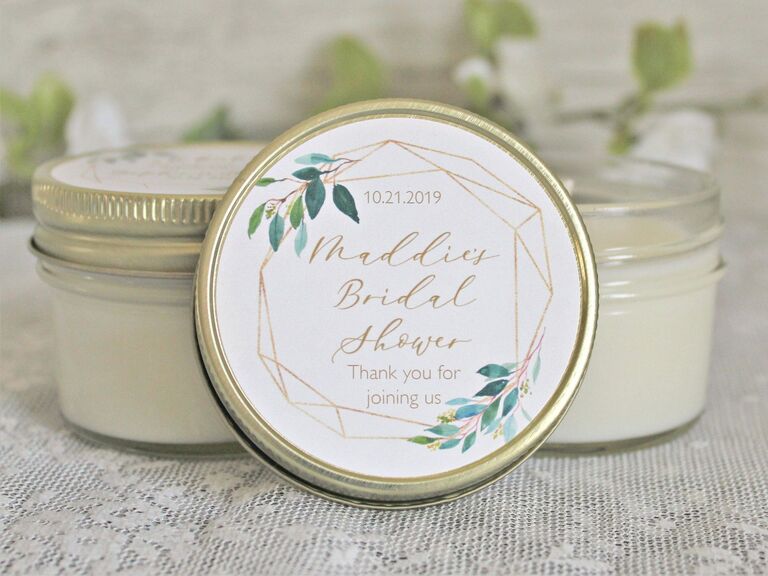 A candle is an easy crowd-pleasing gift, and these sweet bridal shower candle favors nod to the upcoming nuptials. We love the variety of delightful scents—from Fresh Cut Roses to Vanilla Champagne and Wedding Cake. Bonus: There's a discount for bulk orders of 24 or more.
5. Jonas Brothers Popcorn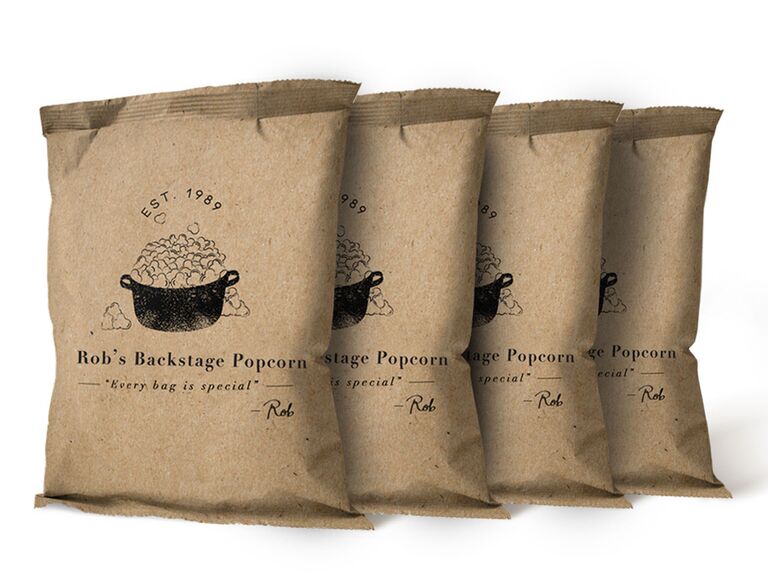 Your guests will rave over Rob's Backstage Popcorn (aka the Jonas Brothers' favorite backstage snack). It's the perfect wedding shower favor for a throwback-themed party. Give each guest their own bag as a delicious takeaway treat—it's $24 for a case of four.
6. Heart-Shaped Measuring Spoons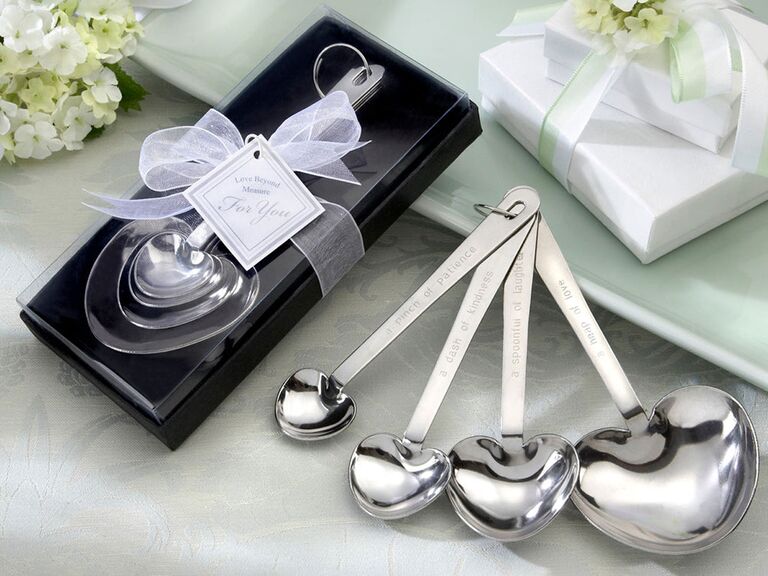 Spread the love with this unique bridal shower favor: heart-shaped measuring spoons. The stainless steel utensils have "measures of love" on one side and traditional measurements on the other. If you buy a minimum of six sets, you can personalize the gift boxes with optional favor tags.
7. Mini Nutella Jars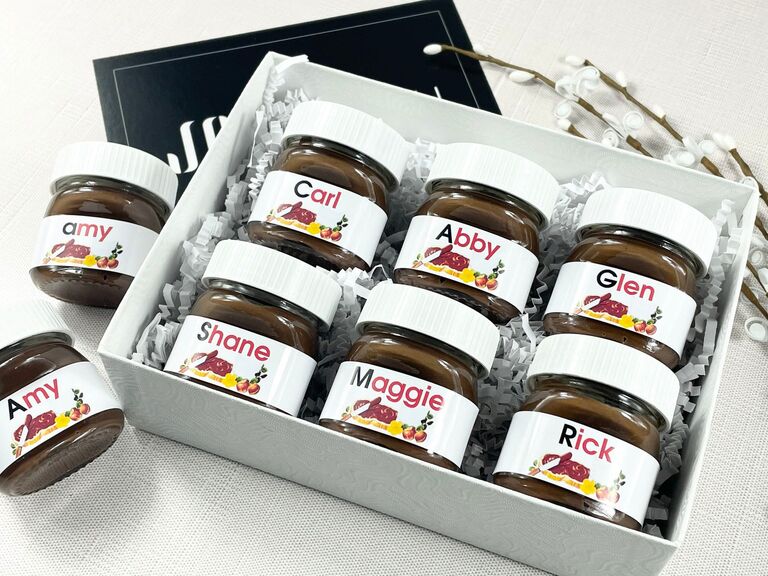 Nutella is undoubtedly delicious, and we guarantee that your guests will devour these mini personalized Nutella jars. Each glass container is adorable on its own, but you can add a decorative ribbon for just a few cents extra. Your friends and family will be late-night snacking on this sweet bridal shower favor!
8. Assorted Sheet Masks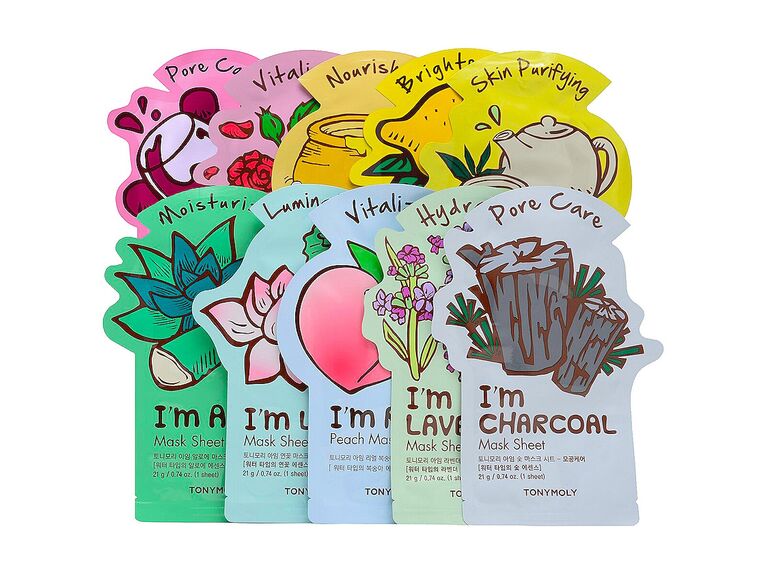 Sheet masks are one of our favorite cheap bridal shower favors. For just $24, you'll receive 10 different best-selling masks—from moisturizing aloe to exfoliating charcoal. Display them on a favor table so guests can pick out the mask of their choice before heading out.
9. Cute Coffee Glasses
The best wedding party favors are the ones that can be used over and over again, and these whimsical flower cups definitely fit the bill. The floral design comes in 20 pretty colors—including purple, baby pink and mint green—for any party color scheme.
10. Jars of Tea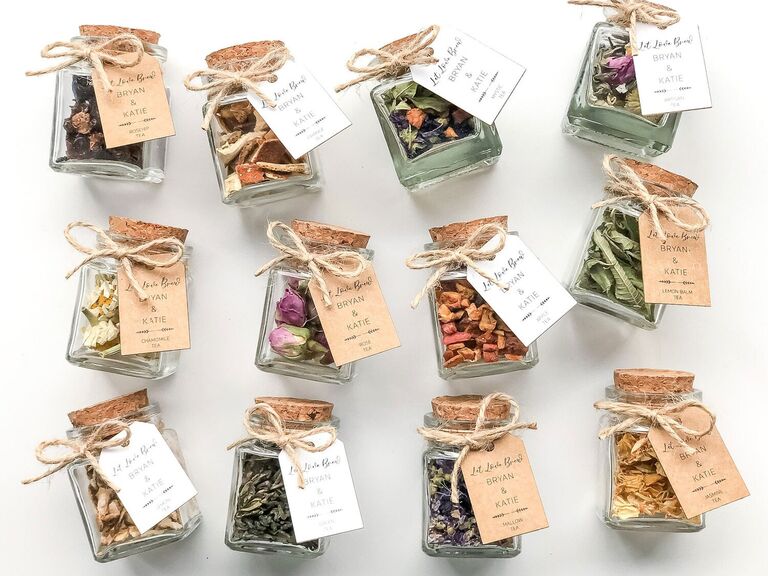 Wrap up your tea-party bridal shower with these sweet tea favors for your guests. Each jar can be filled with your chosen tea flavor, whether that's Chamomile or Lemon Balm. Personalize your tags with the couple's name and event date—they're available in kraft or white paper.
11. Personal Wine Bottles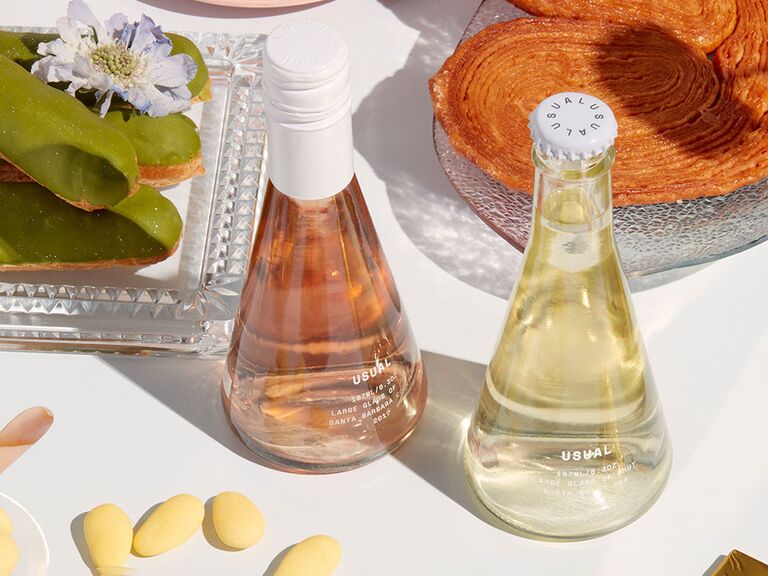 Is anything more adorable than these glass-sized wine bottles? Choose a 12- or 24-pack of red wine, rosé or sparkling wine. Can't decide? You can also buy a mixed assortment of all three sustainably sourced wines. You'll get major brownie points for this seriously creative wedding shower favor!
12. Luxe Hand Lotion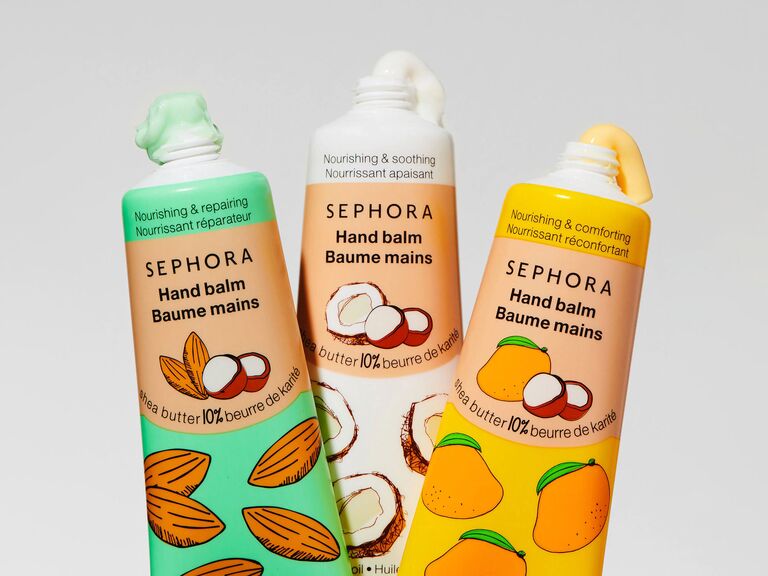 Give your guests a gift they can use on the regular, like this pampering mini hand balm. Made with shea butter and plant-based ingredients, it'll leave their skin feeling silky smooth and ultra-hydrated. Choose from three lovely-smelling scents: Coconut, Mango Butter and Almond Milk.
13. Handmade Soap Bars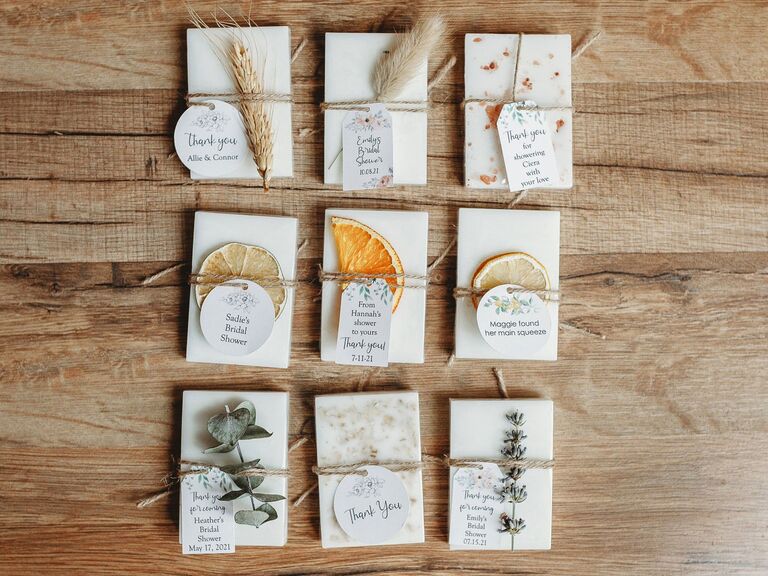 Paired with creative tags like "showering you with love," these goat milk soap bars are excellent bridal shower favors. Choose from eight different scents, which range from White Sage Lavender to Coconut Lime Verbena, and then select a decorative add-on, like a dried orange slice or a lavender sprig. Each pretty soap comes wrapped in cellophane and tied with rustic twine.
14. Milk Bar Cookies
Searching for cookie bridal shower favors? You have to consider this assortment of Milk Bar's best-selling, cult-favorite flavors. Each tin comes with 12 individually wrapped cookies in three mouthwatering varieties: Compost, Chocolate Chip Marshmallow, Chocolate Confetti and Confetti. Your guests will become instant fans (if they aren't already!).
15. On-Theme Matchboxes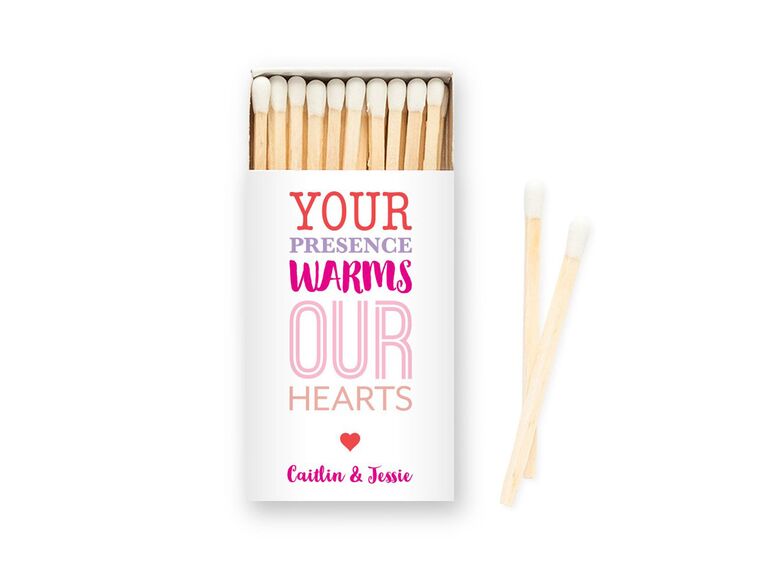 Pick up a pack of small candles at your local craft store and pair them with customized boxes of matches. This matchbox comes printed with a cute phrase that's perfect for a wedding shower: "Your Presence Warms Our Hearts." Choose from four stylish ink colors and add a personalized line of text, like the bride's name or the couple's name.
16. Patterned Playing Cards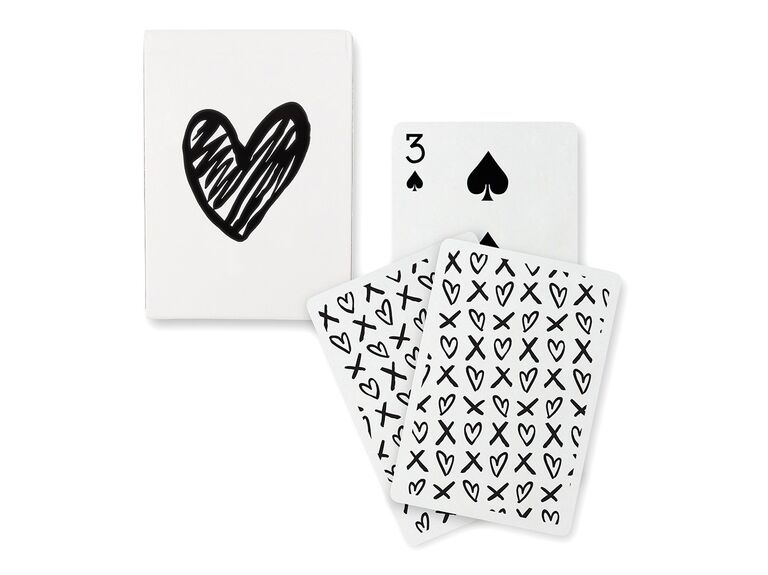 Every home deserves a set of playing cards. They're a fun wedding shower favor idea your guests will look forward to using. These cards come printed with an X and O pattern that's apropos for the occasion.
17. Gua Sha Tools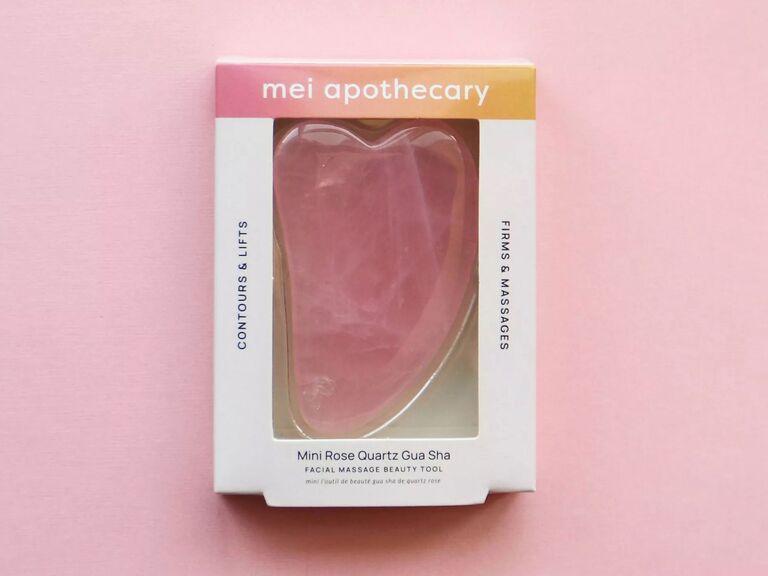 If you're unfamiliar with a gua sha, the massaging stone is a miracle worker when it comes to depuffing the face and relieving tension. This rose quartz beauty tool is a creative wedding shower favor that'll elevate your guests' skincare routines.
18. Wildflower Seed Packets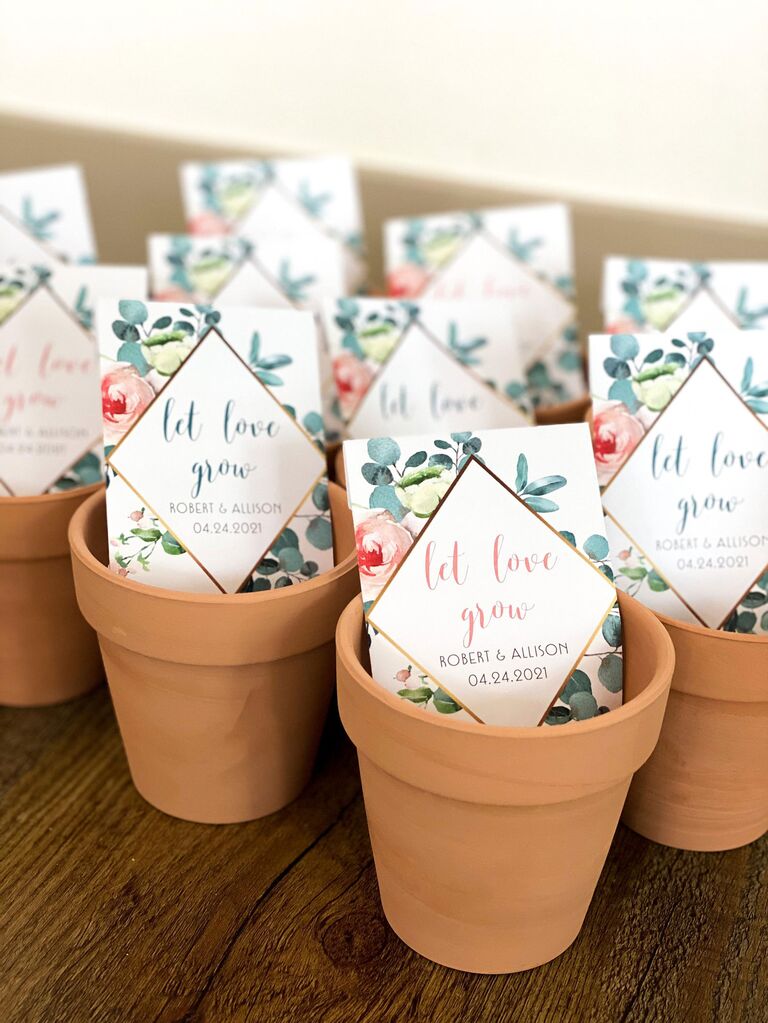 Your guests will look forward to watching these wildflowers grow after your wedding shower. Select from a few different pretty floral labels, then customize the packets with your party's details. Present them in mini terracotta pots to really impress guests.
19. Zodiac Jewelry Dishes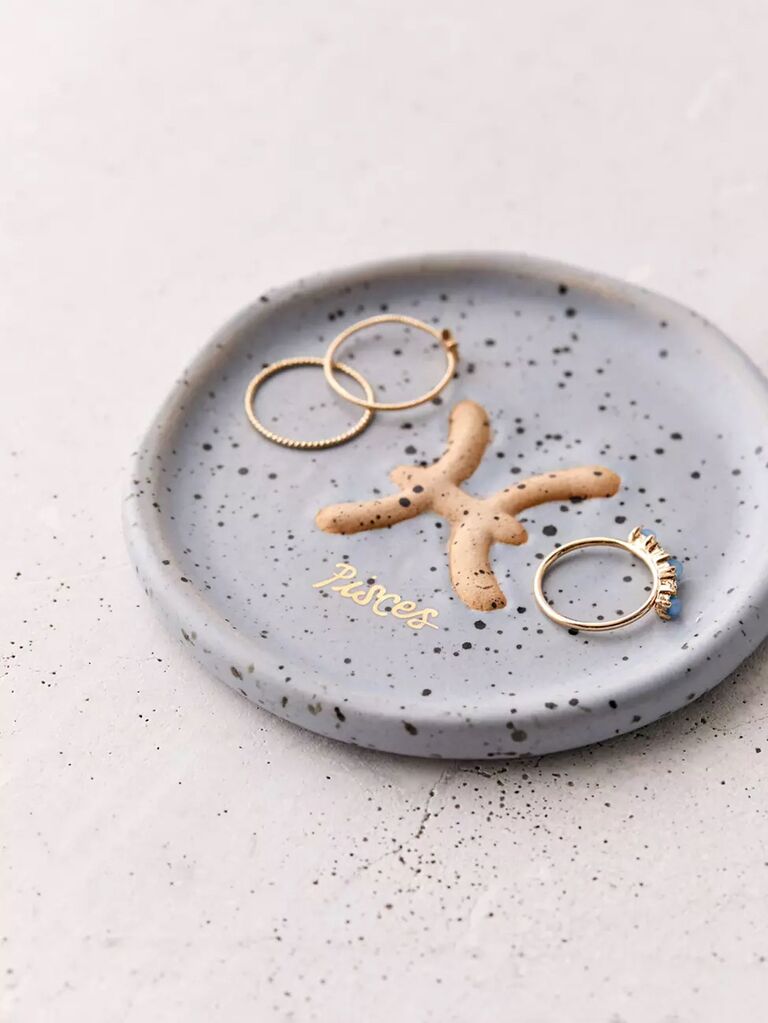 If you're hosting an intimate gathering, consider a personalized gift for each guest. This jewelry holder comes in 12 different designs—one for each zodiac sign. Your astrology-obsessed guests will be ecstatic to receive a catchall dish etched with their star sign.
20. Insulated Wine Glasses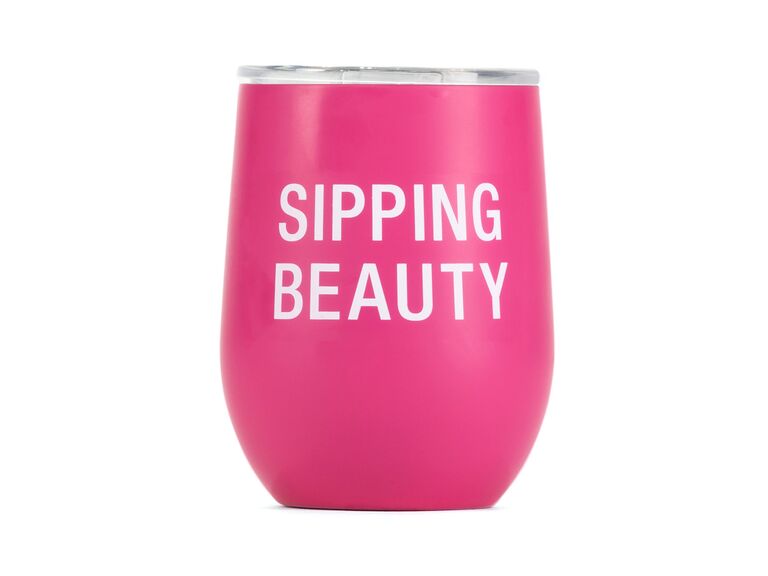 We're adding another stemless wine glass to our list, but this time, it's insulated! This hot pink "Sipping Beauty" wine glass is a superb favor idea for your Disney-themed bridal shower. The stainless steel cup will keep guests' rosé cold for hours. We're here for it.
21. Heart-Shaped Sunglasses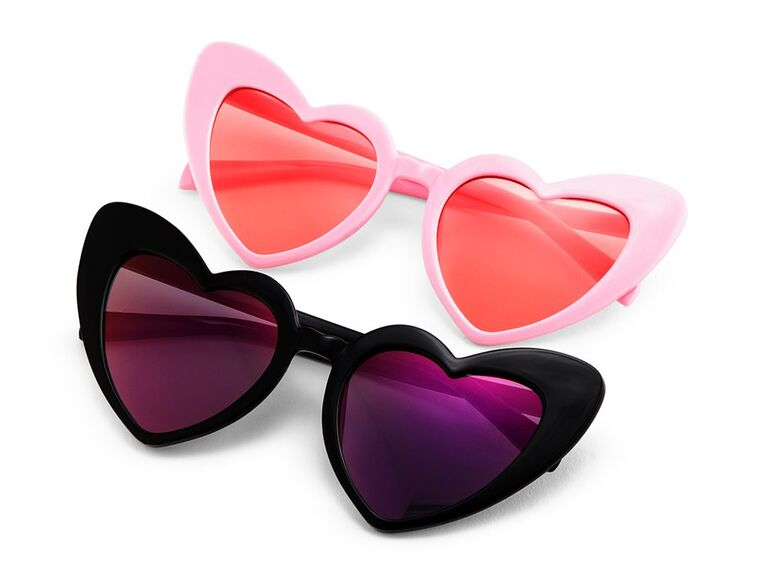 Glasses shaped like hearts make for cute party favors and cute bridal shower photos. We love the chic cat-eye design and iridescent lenses on these sunnies, which come in both pink and black. They're such a great addition to a beach-themed wedding shower. And take a look at that price tag!
22. Champagne Gummy Bears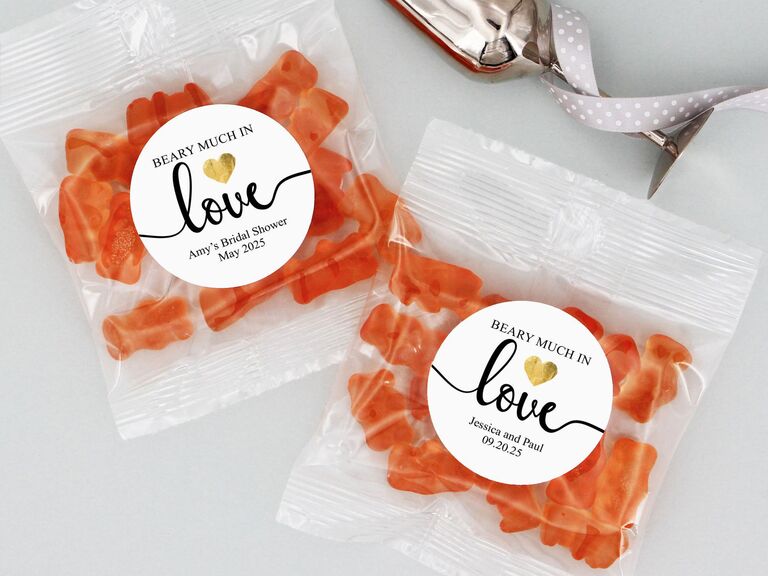 Raise a toast to the upcoming wedding with these festive champagne-flavored gummy bears. For $33, you'll get 20 favor bags with two lines of customization. It's a bridal shower candy gift that won't last for long!
23. Fragranced Lip Balm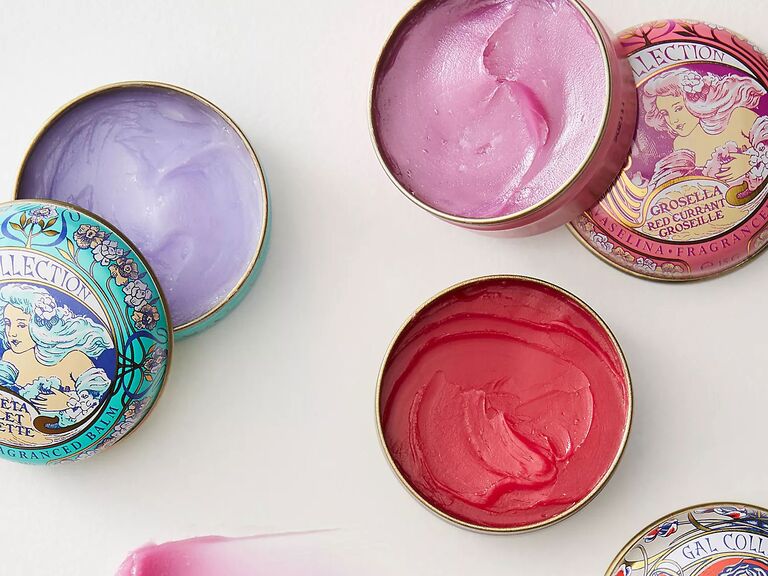 Treat your guests to these unique lip balms and they'll definitely feel special. Each one is encased in a vintage-inspired tin that's pretty enough to become a part of your party's table decor. Order an assortment of balms so your guests can choose their favorite fragrance.
24. Hashtag Bottle Openers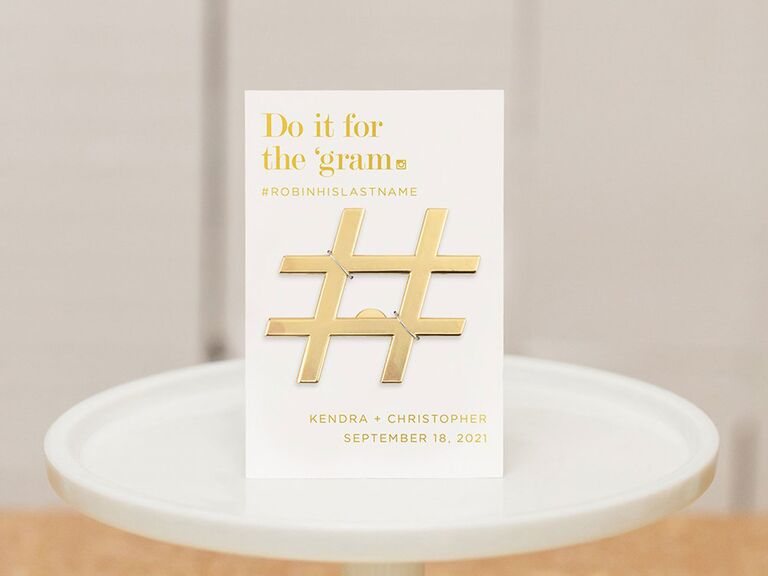 You can never have too many bottle openers, and this trendy hashtag-shaped favor won't get lost in the junk drawer. It comes on a "Do it for the 'gram" card that you can personalize with additional text. Your loved ones will be entertained by this funny bridal shower favor.
25. Monogram Compacts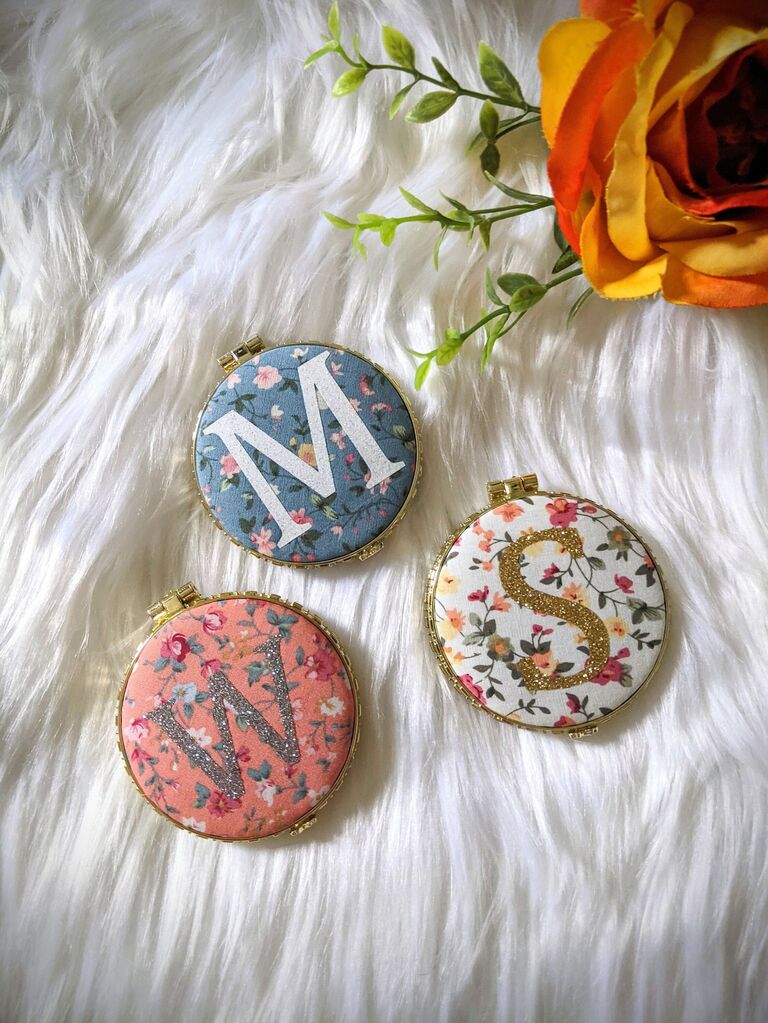 If you're looking for more personalized thank-you gifts, these elegant compact favors are a practical choice. Each one features a beautiful floral design in blue, pink or white. Customize the favors with each guest's first initial for a meaningful keepsake.
26. Velvet Scrunchies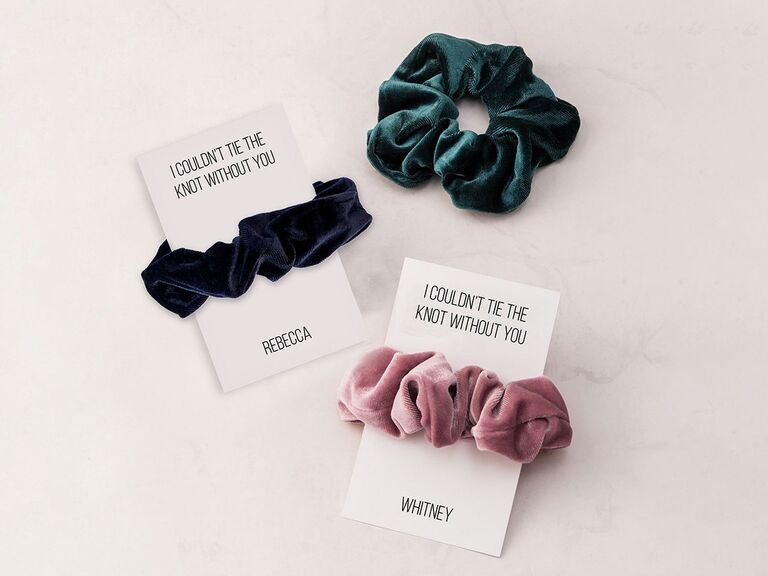 You get a scrunchie, you get a scrunchie, everybody gets a scrunchie! We're obsessed with these custom velvet hair ties, which are available in a bunch of lovely shades—from Hunter Green to Blush Pink Velvet. Plus, each one comes on an "I Couldn't Tie The Knot Without You" card that you can further personalize with each guest's name. How thoughtful is that?
27. Blooming Lollipops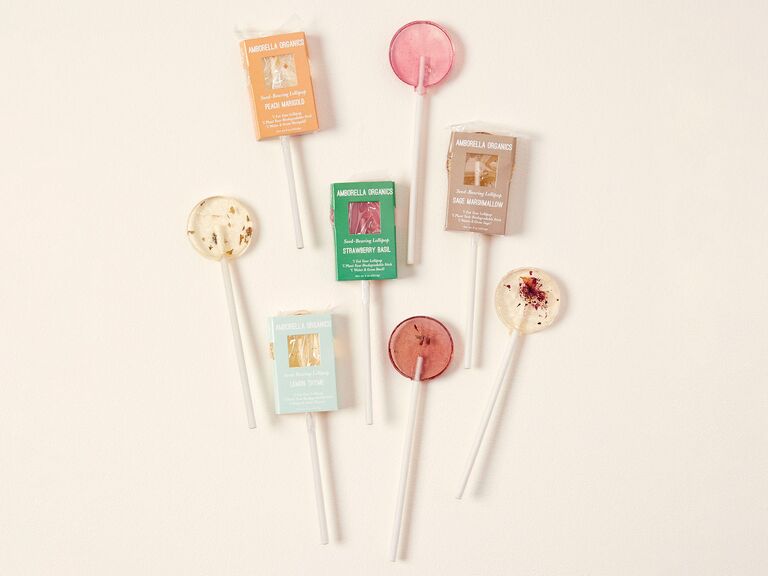 Gift your group take-home treats with these garden-inspired lollipops. They come in eight yummy flavors, including Champagne & Roses and Lavender & Lemongrass—but that's not even the best part. After the party, your guests can plant the seed-embedded sticks to grow a herb or flower. All they need to do is place the leftover stick horizontally in organic soil and cover the stick completely. Then, in about three months, they'll have their own edible plant that they can show off!
28. Bamboo Cheese Boards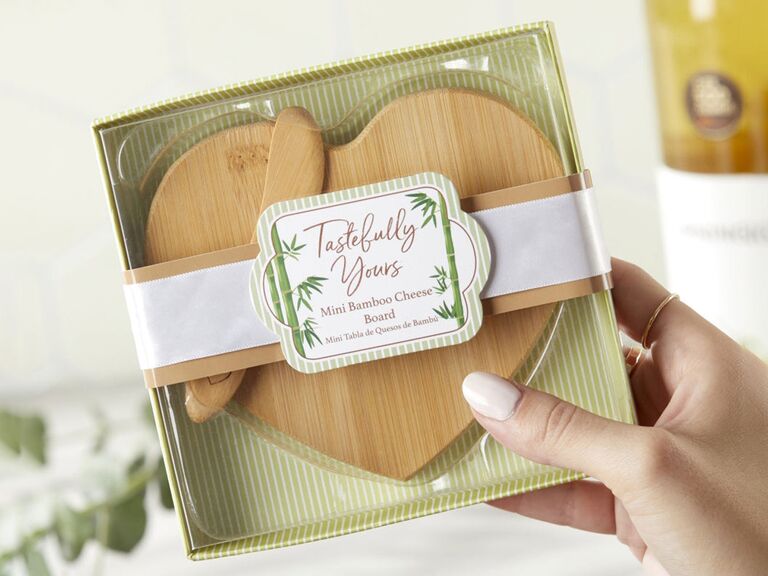 These practical and unique heart-shaped cheese boards are a real winner. Each gift is housed in a stylish striped box and comes with a matching carved bamboo spreader. Your guests will be serving their favorite appetizers on these mini cheese boards in no time.
29. Tiny Succulents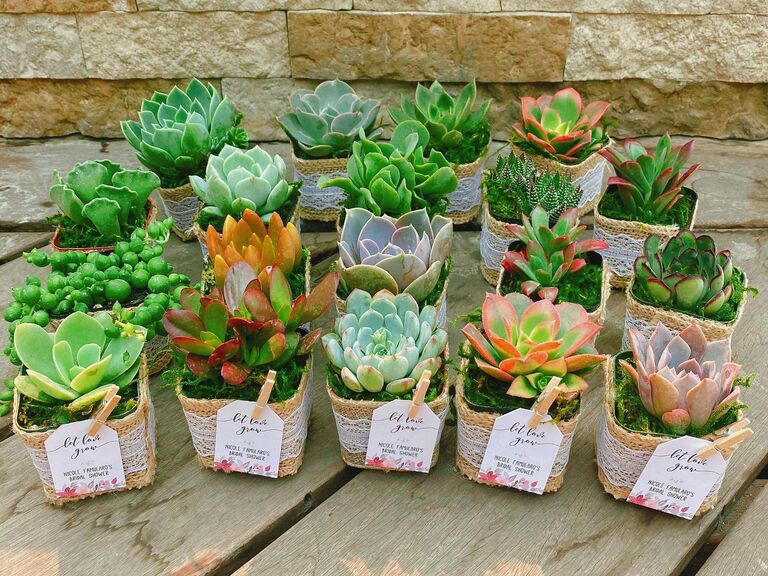 Succulents make any space more delightful. They can be used as bridal shower centerpieces, then taken home as plant babies. These bulk bridal shower favors come in a set of 25. Even if you add boxes and personalized tags, they're still under $7 each!
30. Decadent Dessert Bars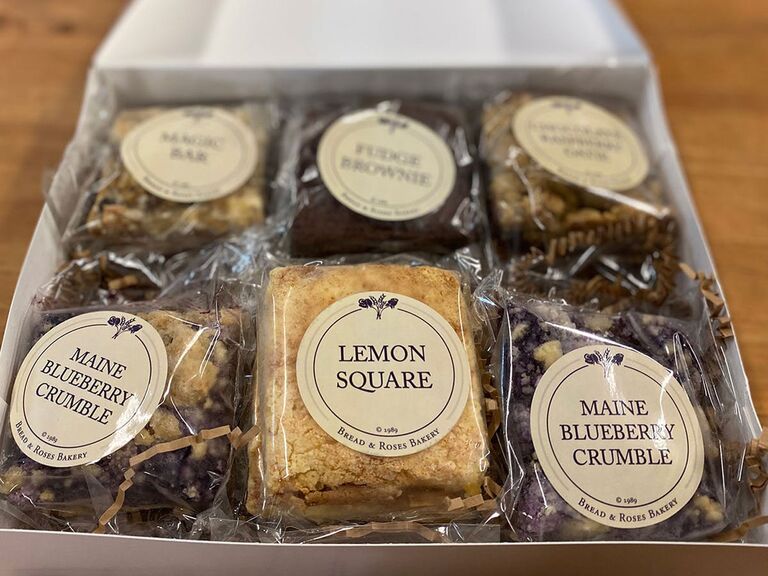 Handmade pastries are always a good idea, and your guests will love the variety of these assorted dessert bars. They come in a multi-pack that includes lemon squares, fudge brownies, blueberry crumble bars, chocolate oatmeal bars and "Magic" bars—yum!
31. Travel-Themed Luggage Tags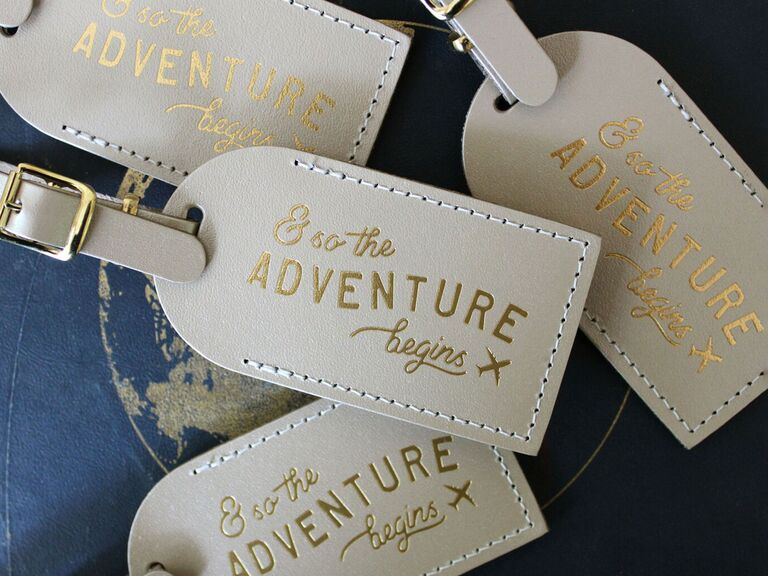 If the couple's planning a destination wedding, these cute luggage tags will make practical gifts for all your attendees. Made of bonded leather, each tag is foil-stamped with the fun phrase "and so the adventure begins." Choose your favorite color combination and then buy them in bulk—15 tags are $5 each.
32. Fancy Pens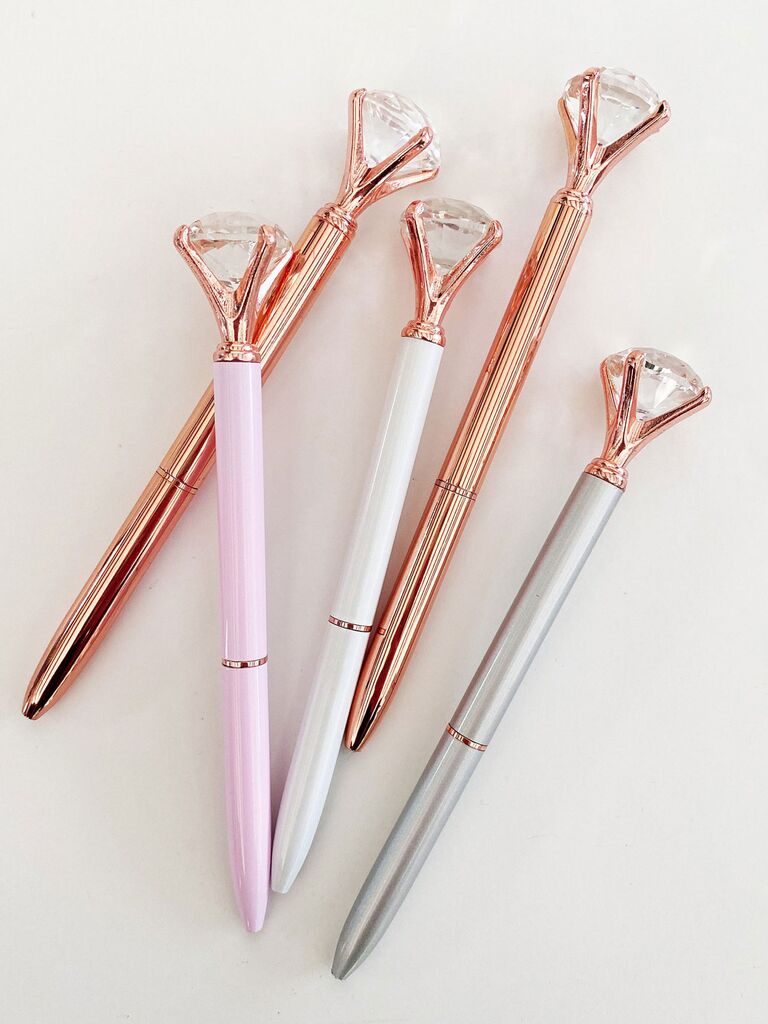 Okay, how festive are these diamond bridal shower pens? They come in a range of pretty colors, including rose gold, silver, white and pink, and you can have them packaged in clear boxes for an additional cost. All you have to do is set them out on tables and ta-da, a sweet take-home gift for your loved ones.
33. Mini Jam Jars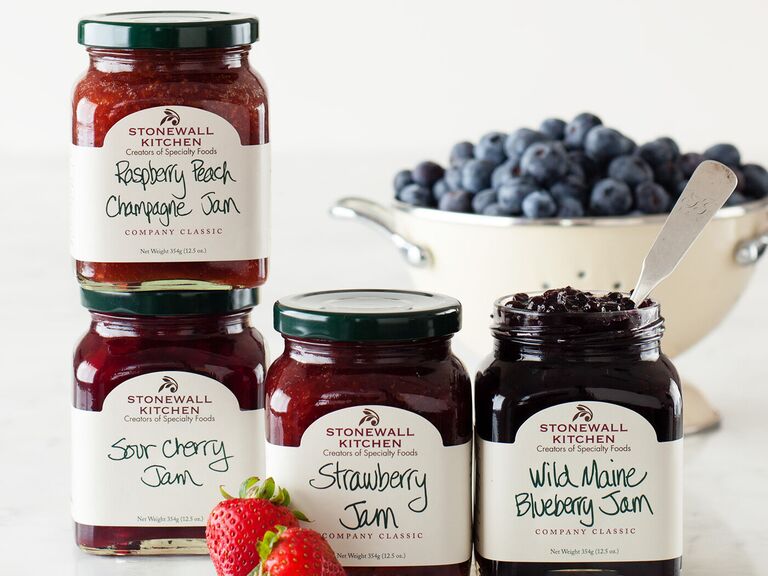 Your guests will be thrilled to pick up their mini jams at the end of your wedding shower. Each box includes four classic jam flavors— Raspberry Peach Champagne, Strawberry, Wild Maine Blueberry and Sour Cherry Jam—which you can split up amongst your attendees. Whether they spread it on their morning toast or use it on a charcuterie board, it's a thoughtful food gift that won't get stashed in the back of their cupboards.