14 Printable Bridal Shower Games Your Guests Will Love
They make it easy to break the ice.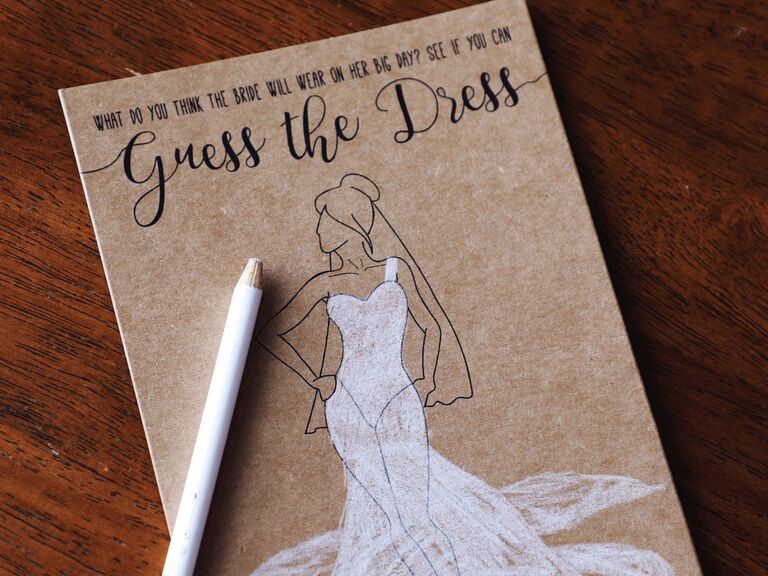 We have included third party products to help you navigate and enjoy life's biggest moments. Purchases made through links on this page may earn us a commission.
The bridal shower might be the first time family and friends meet before the wedding—and yes, a couple lulls in conversation are par for the course while people are getting to know each other. The key to fast-tracking a good time is to lighten the mood and get everyone talking. One tried-and-true way to do that? With a few group games! Planned activities like the ones below can offer comic relief, give guests some common ground and inspire conversation. Plus, they're easy to orchestrate—just download, print and play.
To choose a printable bridal shower game, consider themes and activities that the group might enjoy. Perhaps the bride is a huge Disney fan or follows a certain sports team. Does she have a good sense of humor? Your pick can be hilarious and (depending on your audience) maybe even a bit naughty. Before you know it, your college crew will be giggling with your favorite cousins like they're old friends.
Here are some of our favorite downloadable (and in some cases, totally free!) games for your party. Use them to add a personal touch to the celebration and break the ice without busting your budget.
1. Fill-in-the-Blank Advice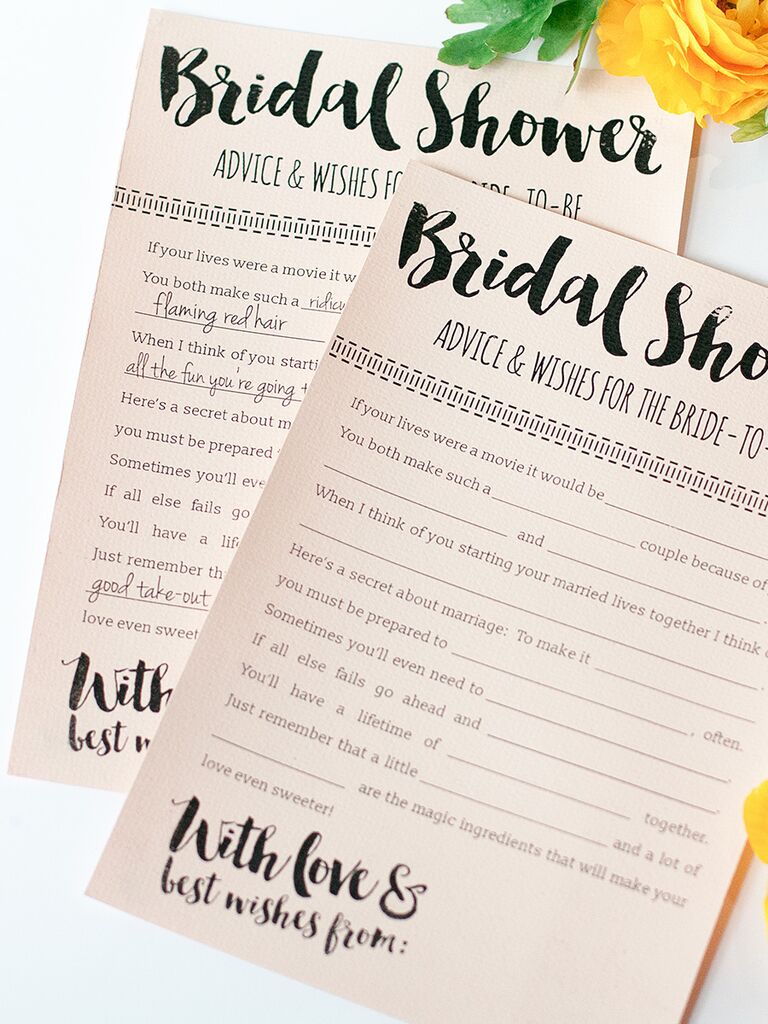 With all the expenses you'll likely incur before the wedding day, it's nice to come across an item that's FREE—yes, you heard that right! Not only that, but this activity allows the couple to receive some priceless advice. It has our vote as the top "best value" bridal shower game.
Confetti Daydreams fun printable bridal shower advice cards, free, ConfettiDaydreams.com
2. Mad Libs-Inspired Word Game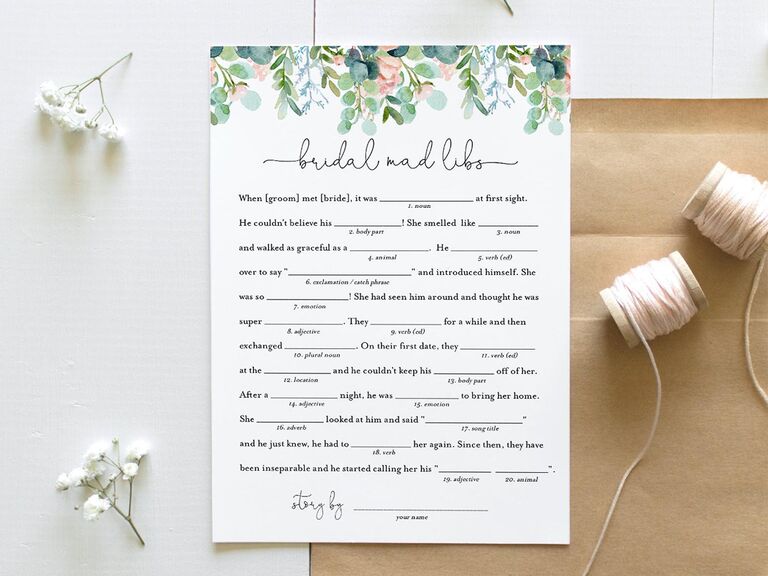 When you choose this bridal shower classic, it's sure to end with hilarious results. It's a simple ice breaker that'll leave everyone in stitches as your guests read their unintentional stories. Bonus: This template happens to have a beautiful design with customizable features like fonts, colors and even the story itself. We love printable bridal shower games that are fully editable!
Minty Paperie Mad Libs bridal shower game template, $5, Etsy.com
3. "What's in Your Purse?" Game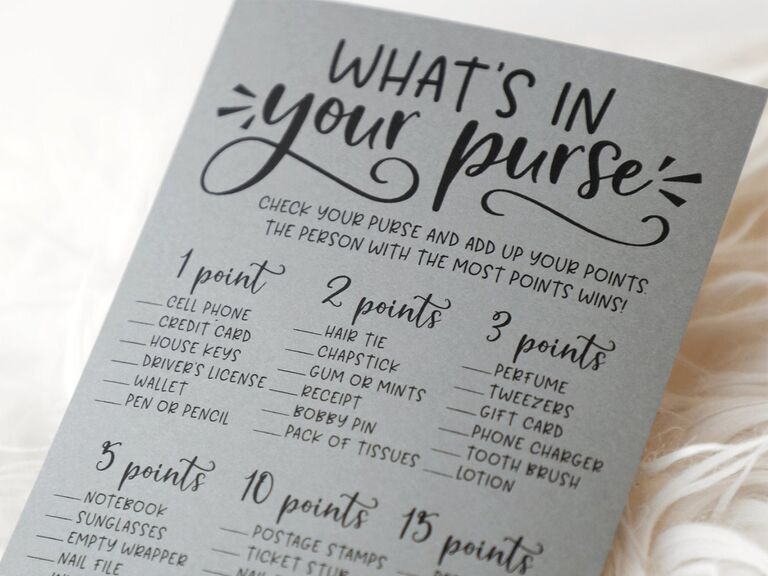 This is the moment that everyone in the room who has recently thought about cleaning out their handbag but decided to do it later—isn't that most of us?—will prevail. "What's in Your Purse?" is a bridal-shower classic that rewards those who have an everything-but-the-kitchen-sink method to organizing their stuff. Need a tie breaker? Give a bonus point to the guest who has the most random item with them.
Say I Do Printables What's in Your Purse virtual bridal shower game, $5, Etsy.com
4. Bridal Shower Bingo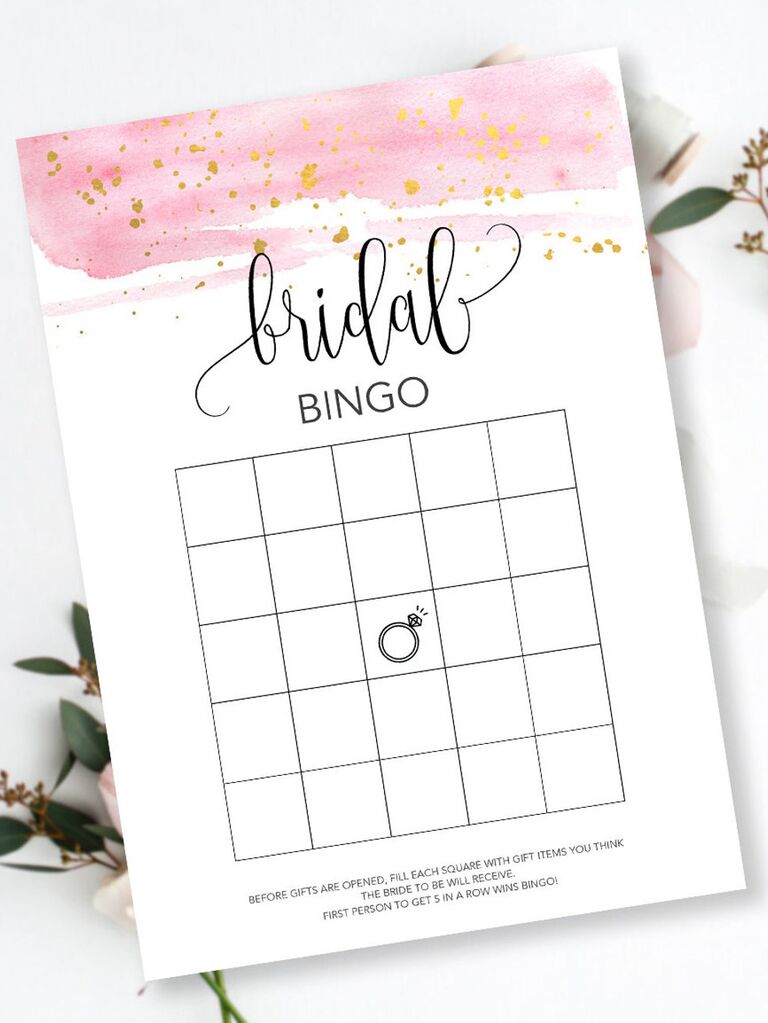 Opening gifts at the bridal shower is customary and with this bridal shower bingo game, it's another opportunity to add a bit of fun for your guests. The best part? This company offers a line of coordinating downloadable games, stationery and other party supplies to really take the stress out of planning.
BBPrintableWedding gifts bridal shower bingo PDF, $5, Etsy.com
5. "He Said, She Said" Game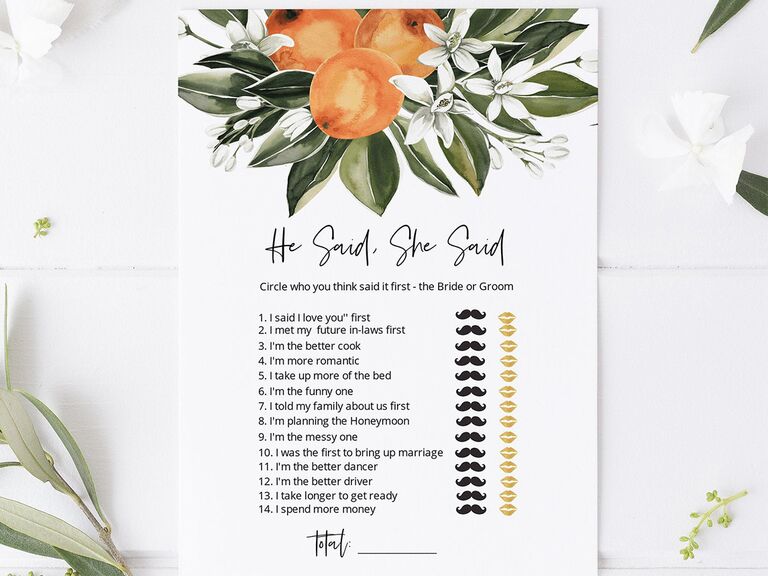 Whether you're closer with the bride, her partner or you're besties with both, we love this printable bridal shower game because it helps you to get to know the couple a little bit better. While it can be played with the bride herself, this game is made even more fun when both the soonylweds are there to participate. Orange you glad we gave you this idea? (Sorry, we had to.)
Willow Lane Paperie citrus He Said, She Said editable game, $5, Etsy.com
6. Disney Love Song Quiz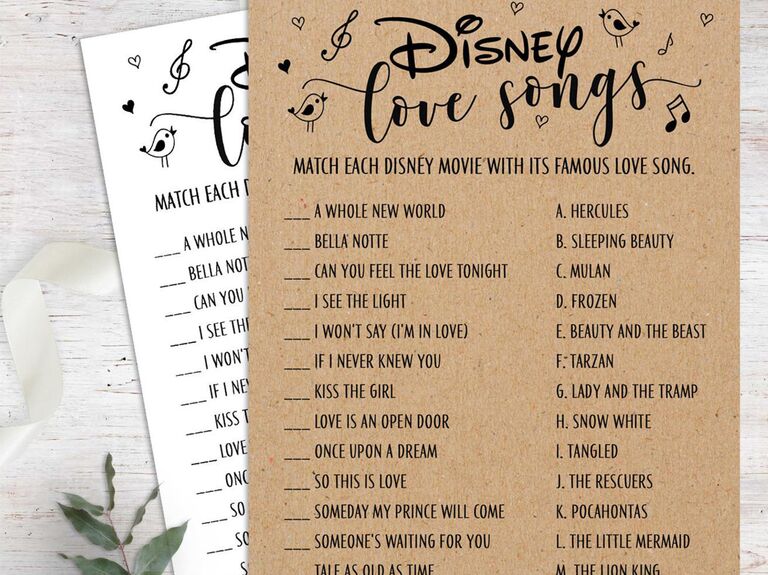 Can you feel the love tonight? We sure can with this printable Disney-themed bridal shower game. Of course this activity is ideal for the Disney-loving bride, but because it features songs that so many of us know, it can be perfect for any wedding shower. Pro tip: Add some of these tunes to the party playlist and you might just incite an impromptu sing-a-long.
Art Canyon Disney love songs instant download printable bridal shower game, $6, Etsy.com
7. Wedding Emoji Game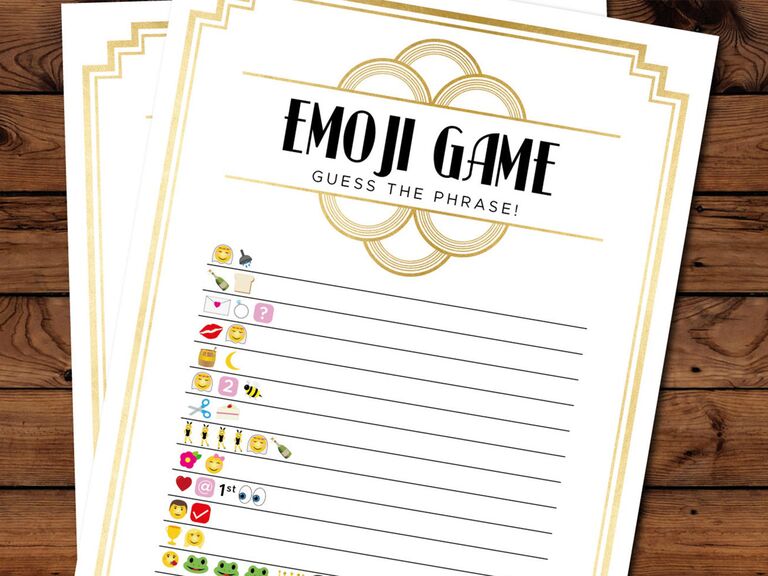 Keep your guests entertained with a puzzle game featuring your favorite emojis. This downloadable one has an art deco-inspired design to coordinate with a Gatsby-themed soiree.
Wow Wow Meow art deco printable bridal shower emoji game, $3, Etsy.com
8. Bridal Shower Word Scramble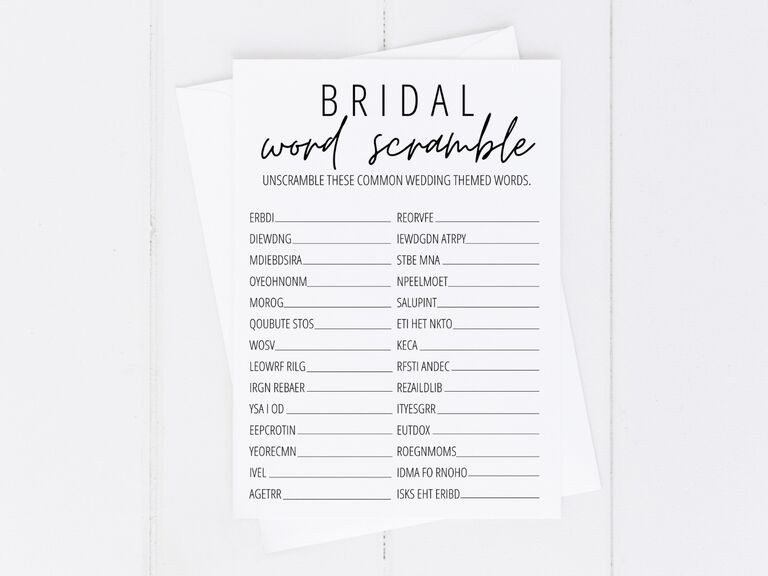 Get everyone talking with this free (yes, ZERO dollars) printable wedding word scramble game. This activity will not only encourage conversation, but it may spark some laughter or even a new friendship. Simply download, print and let the chit-chat begin.
Modern MOH bridal shower word scramble free printable, free, ModernMOH.com
9. "Don't Say Bride" Game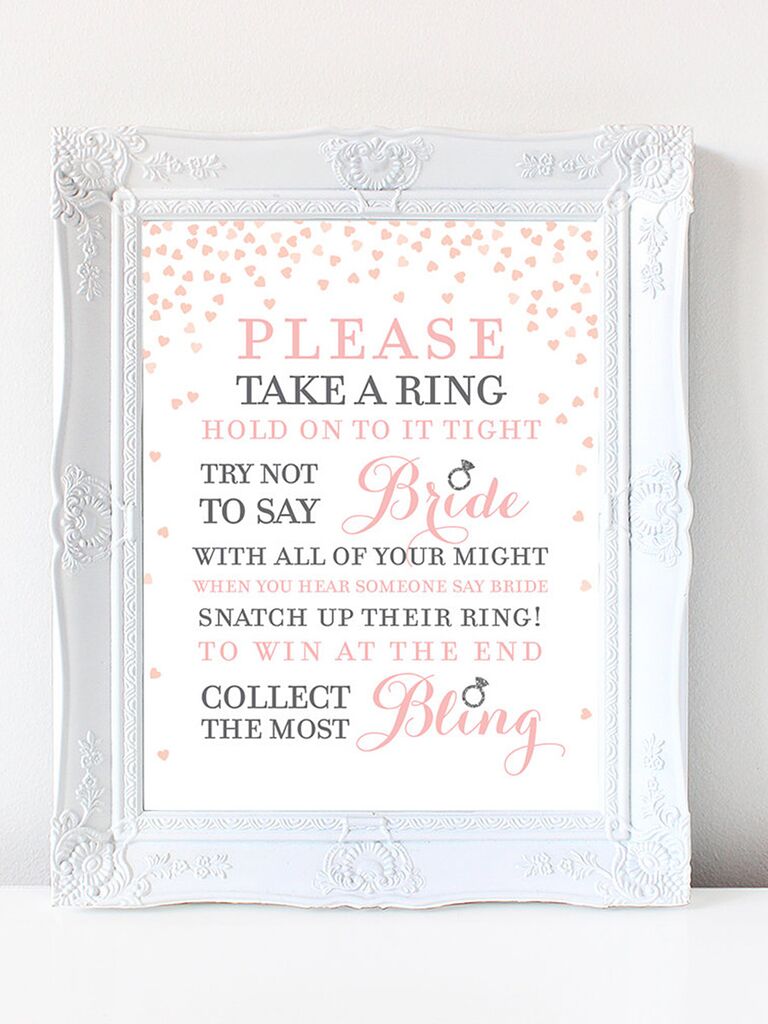 Can you imagine attending a wedding shower and not using the word "bride"? Yeah, neither can we. That's what makes this downloadable bridal shower game so darn hilarious. Bonus: This sweet design can be printed and placed into a frame that matches your decor.
Hello Rose Paperie Don't Say Bride game printable instant download, $4, Etsy.com
10. Bridal Shower Word Search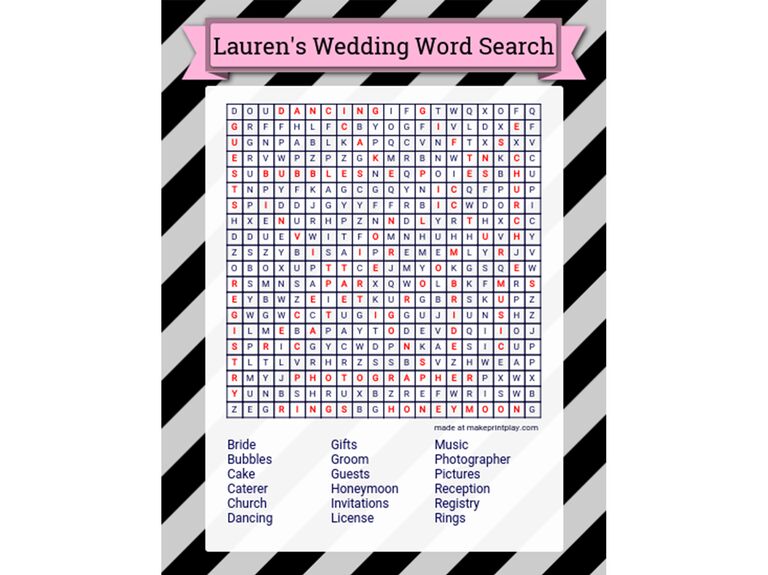 This website allows you to create a completely unique, totally free bridal shower game that's ready to print in minutes. Change the colors, fonts and title, and add your own words for your guests to seek. Any bride would appreciate this next-level personalization.
Make Print Play wedding word search, free, MakePrintPlay.com
11. "Guess the Dress" Game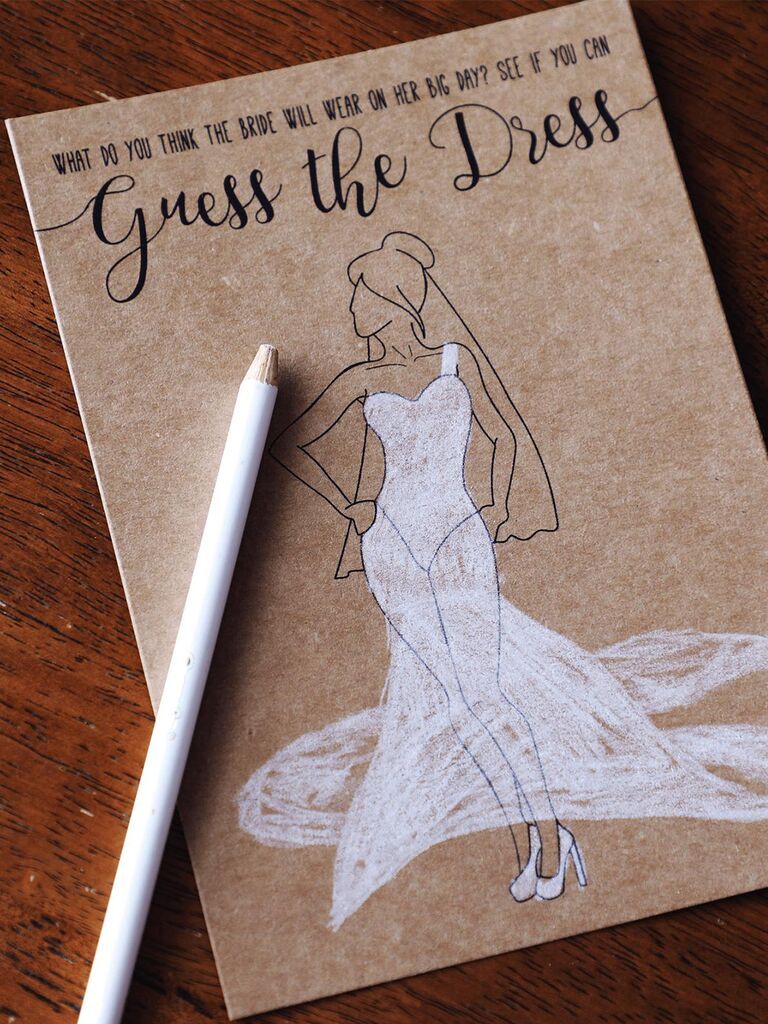 Will it be a princess ball gown, a classic strapless sheath or a sleek, modern jumpsuit? It's up to your guests to guess (and draw) the style of the bride's chosen wedding outfit. The bride may or may not want to reveal the details of her final look, so you can have her privately choose the winner and hand out a prize at a later time.
Say I Do Printables Guess the Dress printable wedding bridal shower game, $5, Etsy.com
12. Literary Love Quotes Game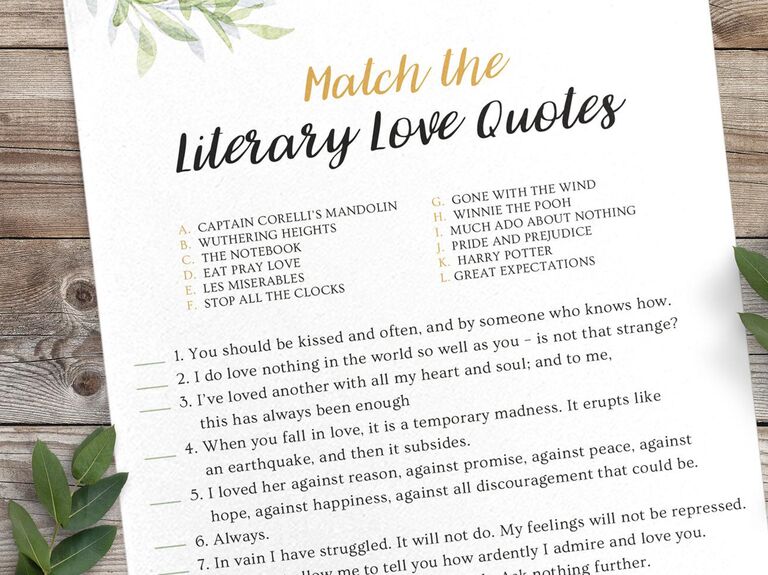 This bridal shower game will appeal to the literature-loving bride, but anyone with a soft spot for some of the greatest love quotes of all time (*puts hand up*) will adore this as well.
PrintGoGo literary love quotes printable party game, $5, Etsy.com
13. "What's on Your Phone?" Game
For the ultimate excuse to take your phone out during the party, download and print a "What's on Your Phone?" game. It's a modern take on a timeless bridal shower activity that just may get everyone sharing their favorite apps or an adorable snap of their "best boy." This one happens to feature a bright and cheerful design, just in time for those summer weddings.
Belle Hanah Paperie floral What's on Your Phone game, $4, Etsy.com
14. "How Well Do You Know the Bride?" Game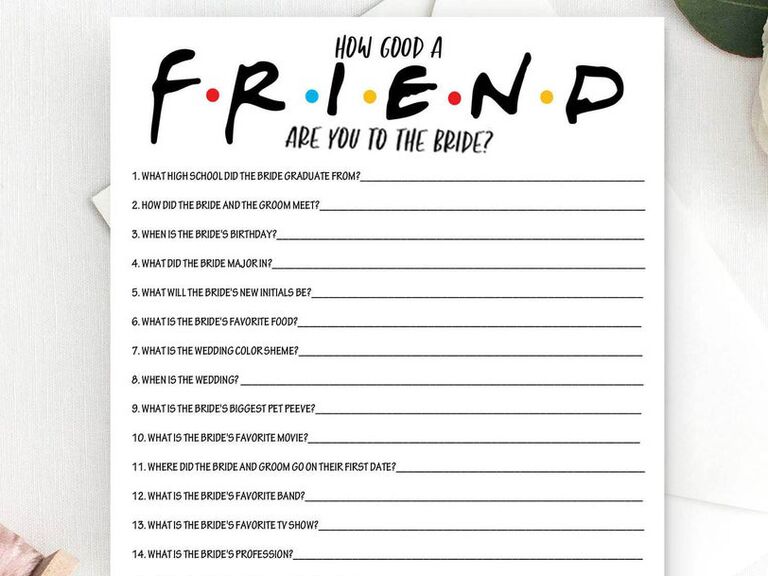 Is it a family member? A long-time BFF? A coworker? Find out who really knows the bride the best with this easy-to-coordinate activity. Sometimes the answer will surprise you. Oh, and this editable template has a fun Friends-inspired theme.
DIY Paperie Shop How Good of a Friend game editable PDF, $5, Etsy.com
Bonus: Hashtag Sign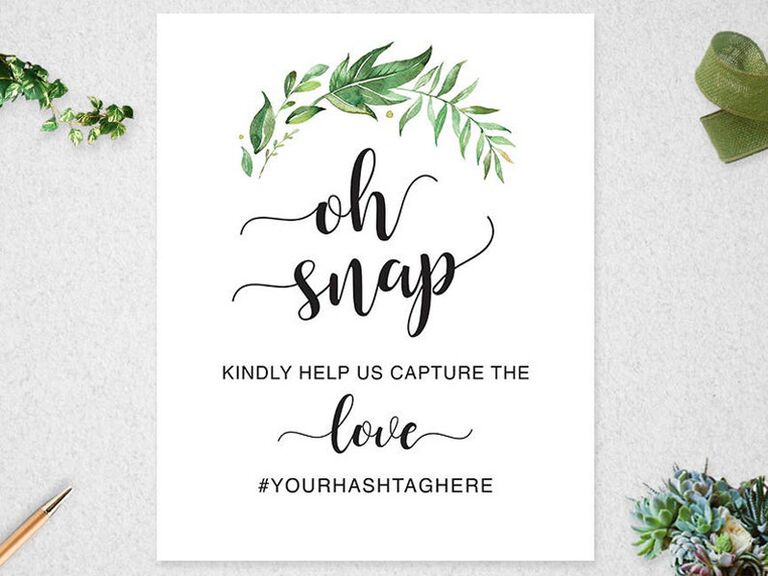 If it doesn't appear on Instagram, did it even happen? With the help of this printable bridal shower sign, the bride will be able to relive the fun of her get-together by finding all her photos in one place. Plus, you might help her get a few extra "likes" in the process.
Paper Bear Printable Oh Snap instant download hashtag sign, $4, Etsy.com