The Best Printable Bridal Shower Games Your Guests Will Thoroughly Enjoy
They make it easy to break the ice.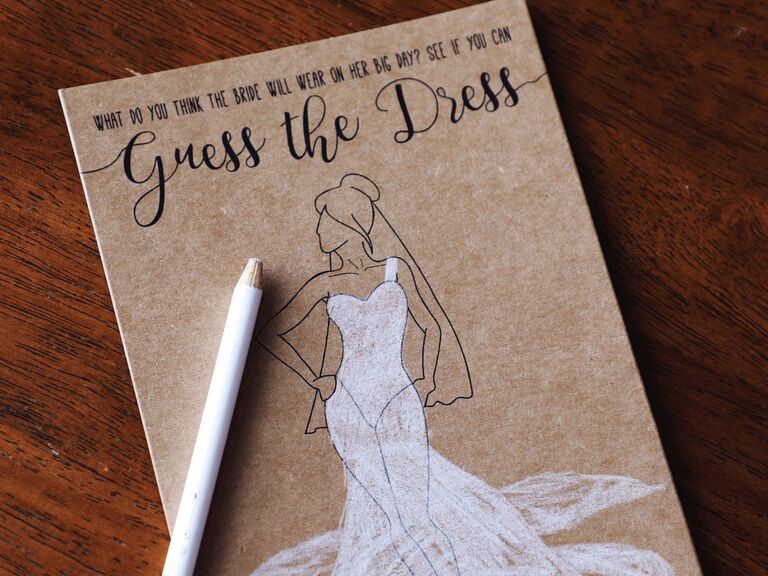 We have included third party products to help you navigate and enjoy life's biggest moments. Purchases made through links on this page may earn us a commission.
The wedding shower might be the first time family and friends meet before the nuptials—and yes, a couple lulls in conversation are par for the course while people are getting to know each other. The key to fast-tracking a good time is to lighten the mood and get everyone talking. One tried-and-true way to do that? With a few group wedding shower games! Planned activities like printable bridal shower games can offer comic relief, give guests some common ground and inspire connections. Plus, they're easy to orchestrate—just download, print and play.
To choose a printable wedding shower game, consider the theme of the shower and activities that the group might enjoy. Perhaps the bride is a huge Disney fan or the soonlyweds loves rom-coms—look for games that celebrate the guest of honor or happy couple. Do they have a good sense of humor? Feel free to choose something hilarious and (depending on your audience) maybe even a bit naughty. Before you know it, everyone will be giggling and letting loose.
Here are some of our favorite downloadable (and in some cases, totally free!) games for your party. Use them to add a personal touch to the celebration and break the ice without busting your budget.
In this article:
Cheap Printable Bridal Shower Games
One of our favorite places to look for high-quality bridal shower printables is Etsy. The site is filled with gorgeous designs and unique game ideas. Plus, it's a great opportunity to support creative entrepreneurs. Many sellers offer easy-to-edit templates (which can be harder to find when you're browsing free games) as well as matching shower decorations for a cohesive party. Here, find inexpensive wedding shower games your guests will love to play.
Wedding Shower Fill-in-the-Blanks Game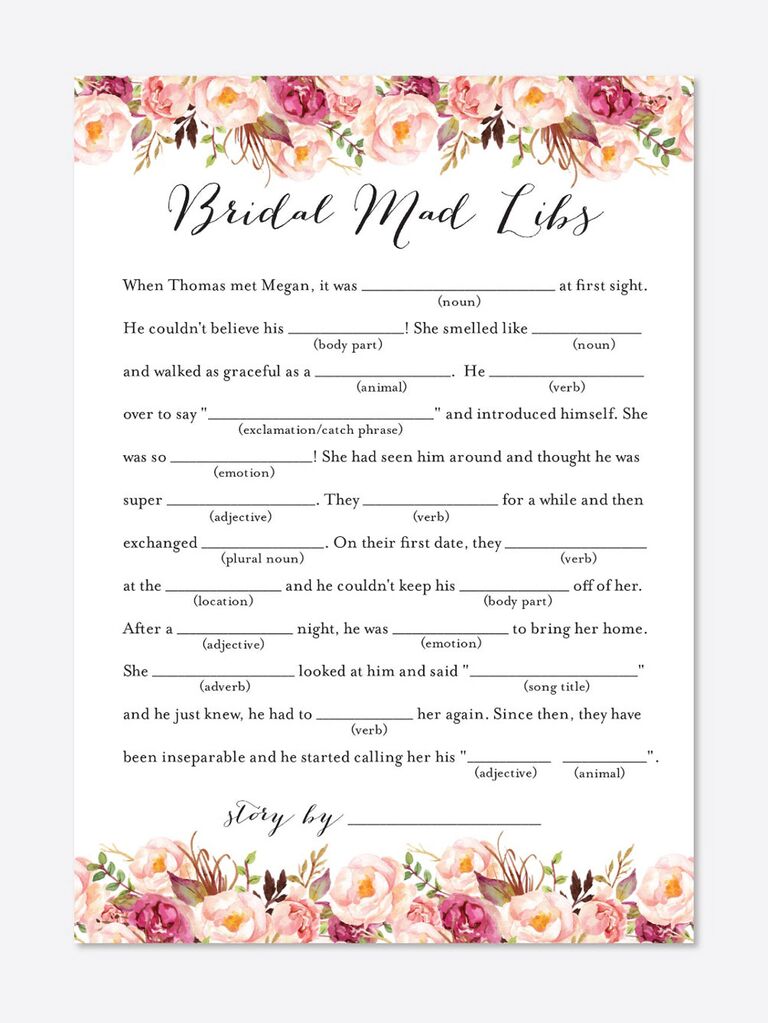 When you choose this Mad Libs-inspired game, it's sure to end with hilarious results. Guests are asked to improvise a story about the couple—the funniest tale wins. The template has a beautiful floral design with customizable features like fonts, colors and the text itself. We love templates that are fully editable for all events and couples.
What's in Your Purse Bridal Shower Game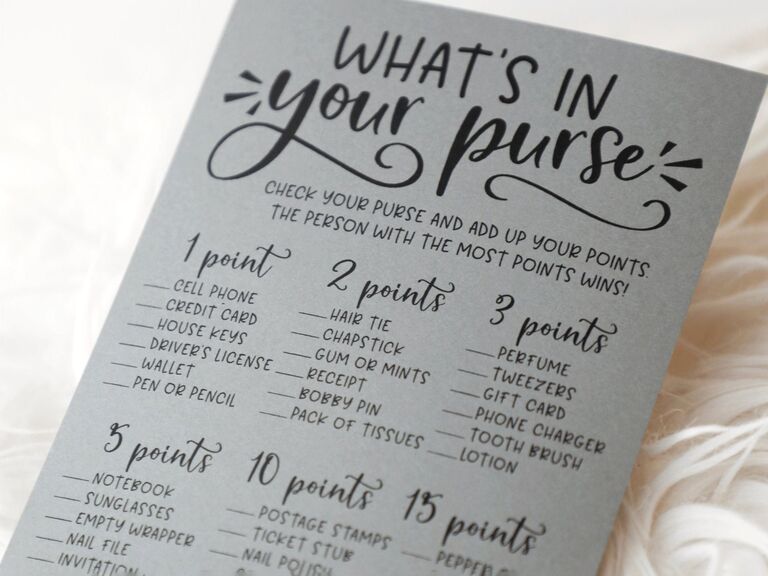 This is the moment that everyone in the room who has recently thought about cleaning out their handbag—but decided to do it later (isn't that most of us?)—will prevail. "What's in Your Purse?" is a bridal shower classic that rewards those who have an everything-but-the-kitchen-sink method to organizing their stuff. Guests rack up points for carrying specific items in their purses. Need a tie breaker? Give a bonus point to the guest who has the most random item with them.
Printable Emoji Wedding Shower Game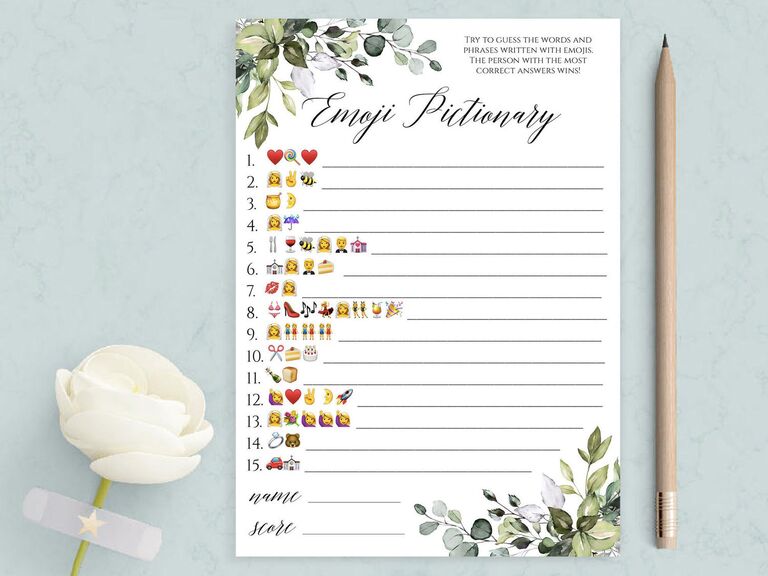 Keep your guests entertained with a puzzle game featuring your favorite emojis. This downloadable printable will be a fun one to decipher: Each line has a different wedding-related phrase that's written out in emojis. Also, how lovely is that eucalyptus border design? It would pair perfectly with a garden wedding shower theme.
Bridal Shower Gift Bingo Game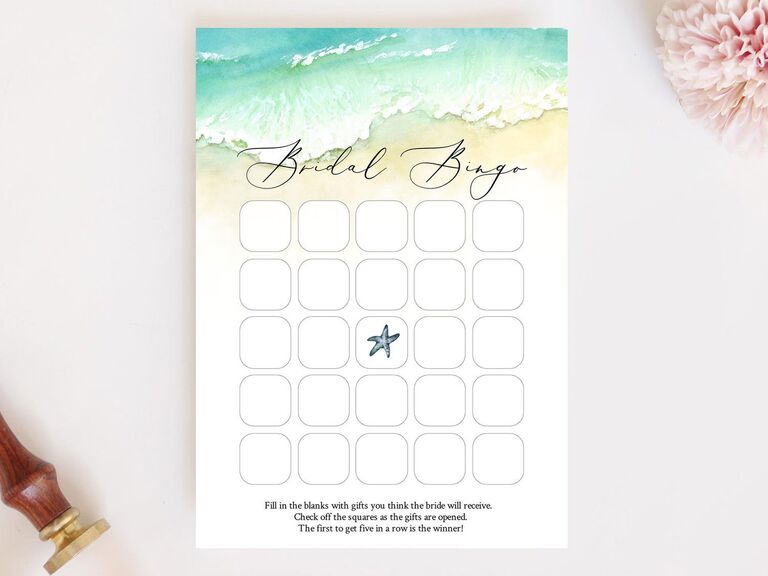 Opening bridal shower gifts will be a blast with this printable group game, which asks guests to cross off the presents received for a chance at bingo. It's an excellent opportunity to engage guests with some lighthearted fun. The editable template has a beachy design, perfect for a sea-inspired bridal shower.
Guess the Dress Bridal Shower Game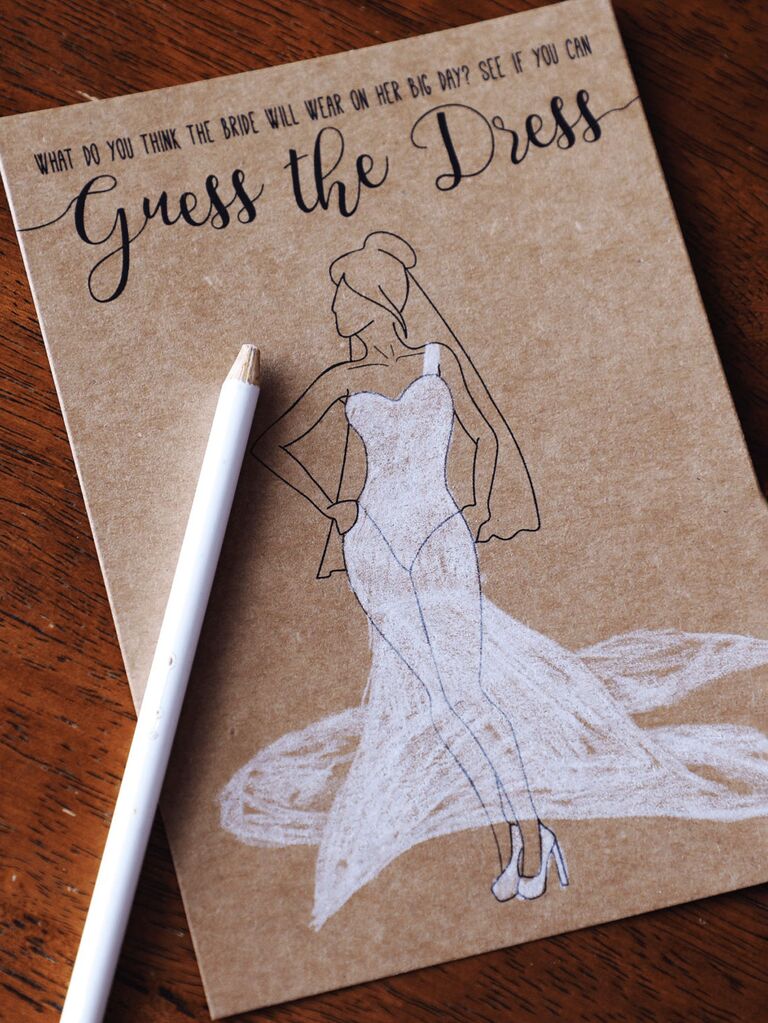 Will it be a princess ball gown, a classic strapless sheath or a sleek, modern wedding pantsuit? It's up to your guests to guess (and draw) the style of the bride's chosen wedding outfit. The bride may or may not want to reveal the details of her final look, so you can have her privately choose the winner and hand out the bridal shower game prize at a later time.
Over or Under Wedding Shower Game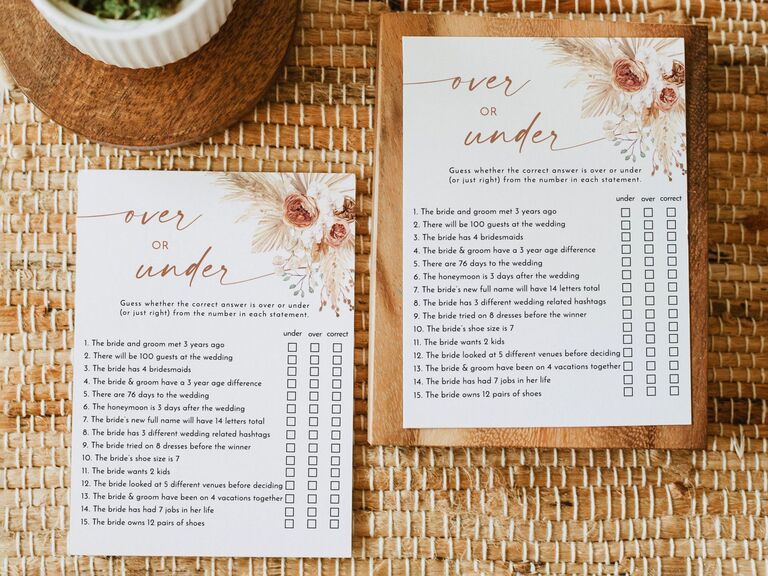 We love this printable bridal shower game because it helps you get to know the couple better. The concept is simple: Guests will guess if the numbers in the couple "facts" are over, under or correct. For example, did the couple really meet five years ago? The template is fully customizable, so you get to choose all the statements. We're also loving the gorgeous typography and boho floral design.
Don't Say "Bride" Bridal Shower Game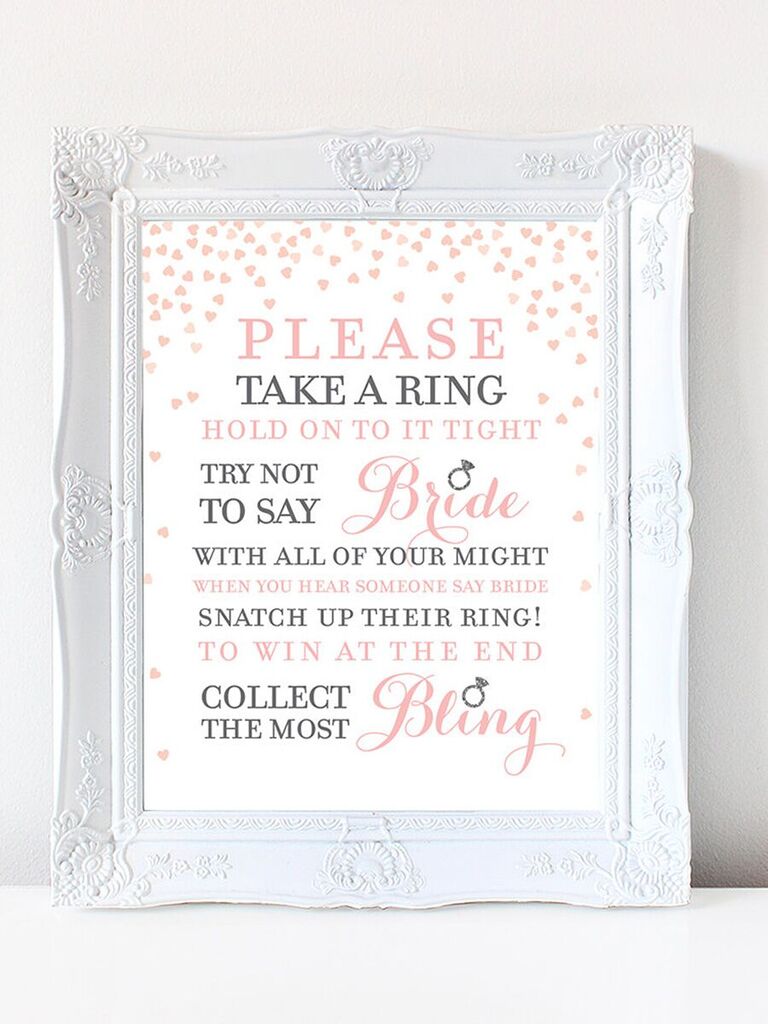 Can you imagine attending a bridal shower and not using the word "bride"? Yeah, neither can we. That's what makes this printable Etsy bridal shower game so darn hilarious. To play, each guest grabs a toy ring—but if they say the banned word, someone can snatch their bling. Whoever has the most rings at the end of the game wins. The sweet instruction sign can be printed and placed into a frame that matches your decor. Don't forget to buy the toy rings!
Disney Love Songs Wedding Shower Game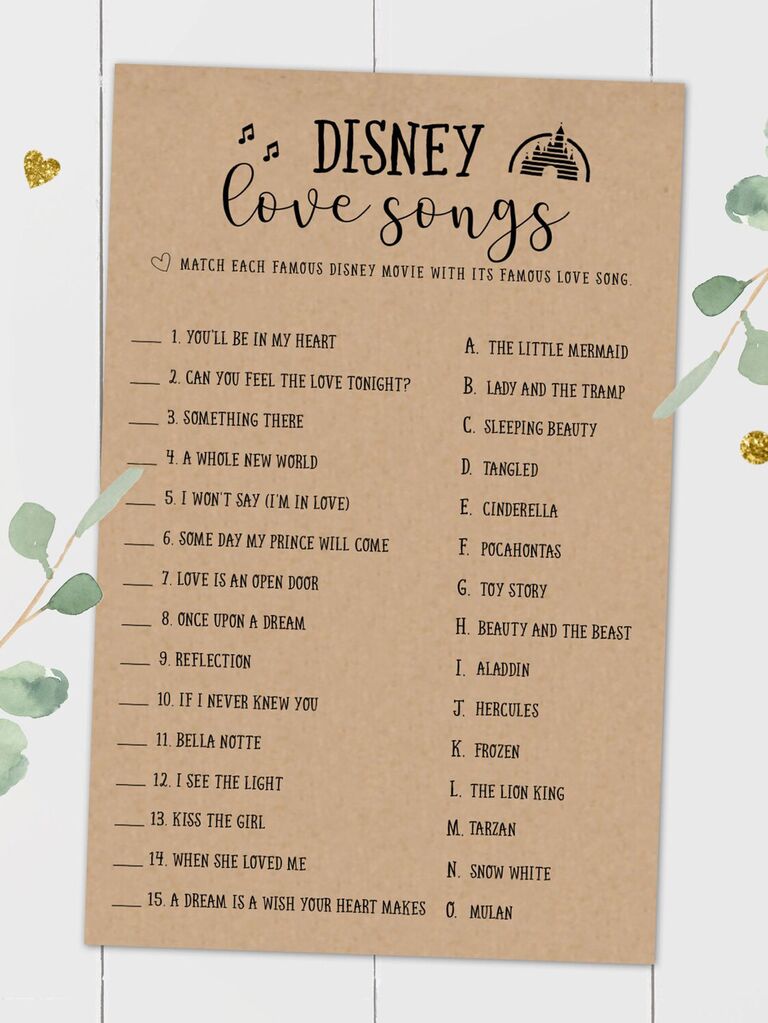 Guests of all ages will enjoy this printable bridal shower game where they'll need to match the Disney movie with its famous love song. Of course this activity is ideal for the Disney-loving bride, but because it features movies that so many of us know, it can be perfect for any wedding shower.
Who Am I Bridal Shower Game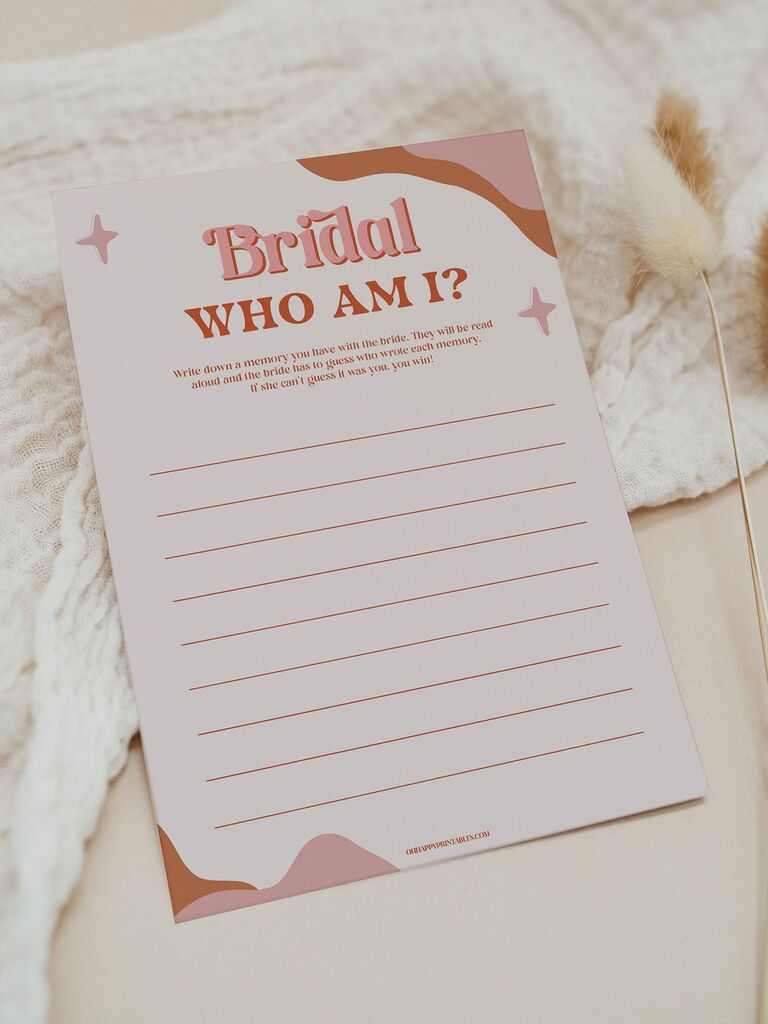 We love a good bridal shower prompt to get your guests thinking. This one involves sharing your favorite memory of the bride, which the bride will later read out loud and guess which guest wrote it. (It wouldn't hurt to triple emphasize to the group that their responses will be shared with everyone!) We expect that there will be lots of sentimental and funny memories to talk about. (And how cute is that retro design?)
What's on Your Phone Wedding Shower Game
For the ultimate excuse to take your phone out during the party, download and print a "What's on Your Phone?" game. It's a modern take on the purse game that just may get everyone sharing their favorite apps and who they've texted today. This printable has a clean and minimalist design with a lovely calligraphy font.
Movie Love Quotes Wedding Shower Game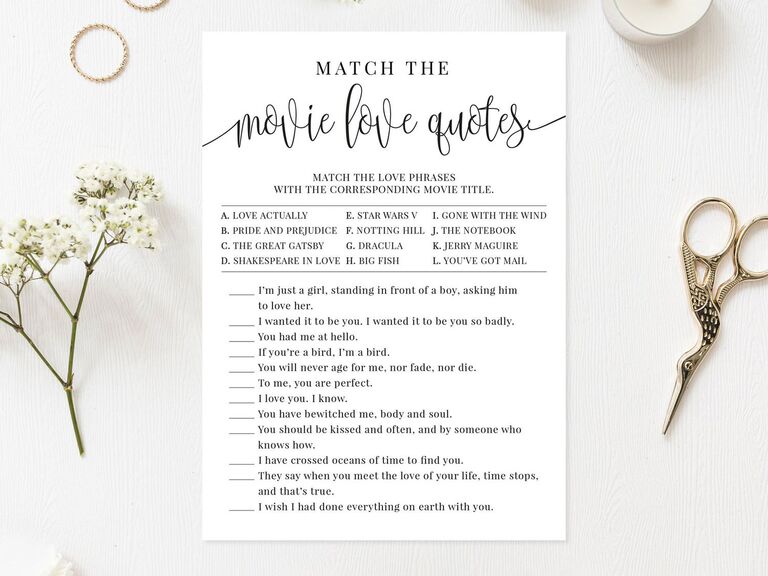 This wedding shower game will appeal to the rom-com-loving couple, but anyone with a soft spot for some of the greatest love quotes of all time (*puts hand up*) will adore this as well. Guests will need to match the list of love phrases with the corresponding movie titles. Want to customize the design of the printable to match your decor? Contact the Etsy seller directly!
Free Printable Bridal Shower Games
With all the expenses you'll likely incur before the wedding day, it's nice to come across an item that's free. If you don't care as much about personalization, you might be interested in no-cost printables. The internet is flooded with free shower games, but narrowing down your options is the tricky part. If you're looking for activities that don't cost anything (aside from a little ink and printer paper), here are a few sites offering free wedding shower games.
Modern MOH: This maid-of-honor-focused wedding blog delivers 12 free printable bridal shower games in the form of downloadable PDFs. The printouts, which include Wedding Word Search and Bridal Shower Scattegories, will surely capture your guests' attention. To access the games, simply enter your email.
MagnetStreet: This women-owned business has 11 free bridal shower printables in seven pretty layouts. The interactive games, which range from "Who Knows the Couple Best" to "He Said, She Said," will surely be a hit amongst your guests. Select the design of your choice, then scroll through the downloadable PDF to find your favorite game that you can later print with ease.
Personalized Brides: This site offers five free wedding shower printables and instructions in three fun designs: Floral, Stripes and Polka Dots. The list includes guest favorites like bridal bingo and "How Well Do You Know the Bride?" To personalize the games, prices range from $2 to $3.