Who's Bruno Mars' Girlfriend, Jessica Caban? Inside Their Private Years-Long Romance
"You're amazing just the way you are," Bruno to Jessica, probably.
Photo: Lester Cohen | Getty,Design: Tiana Crispino
Bruno Mars and weddings go hand-in-hand. Whether you realize it or not, there's a good chance you've heard one of the R&B singer's hits at the last wedding you went to…and the one before that, and the one before that. While songs like "Marry Me" and "24K Magic" are dance floor staples, we can't help but wonder what his own wedding playlist would be like. But, if you're curious to know whether or not Bruno Mars is married, the answer is no.
Despite not having a wife, Bruno Mars does have a long-term girlfriend. The 11-time Grammy Award winner has been dating model Jessica Caban since 2011. Their romance developed nearly a year after Mars released his debut studio album, Doo-Wops & Hooligans, and the "Just the Way You Are" hitmaker's girlfriend has remained by his side through multiple album releases, plenty of Grammy Award wins, and many world tours. Despite their lives in the public eye, Mars and Caban have remained low-key throughout the years. Here, we've rounded up everything to know about Bruno Mars, girlfriend Jessica Caban and their relationship.
Does Bruno Mars have a wife? The answer is no. He's currently dating model and actress Jessica Caban.
Bruno Mars and Jessica Caban have been together since they met at a New York City restaurant in 2011.
Although Bruno Mars and his girlfriend don't have kids, they live together in Hollywood Hills with their Rottweiler named Geronimo.
Is Bruno Married Married?
Although his music has become a staple of weddings, Bruno Mars is not yet married. Despite not heading down the aisle, he has been in a long-term relationship with girlfriend Jessica Caban since 2011.
Who is Bruno Mars' Girlfriend, Jessica Caban?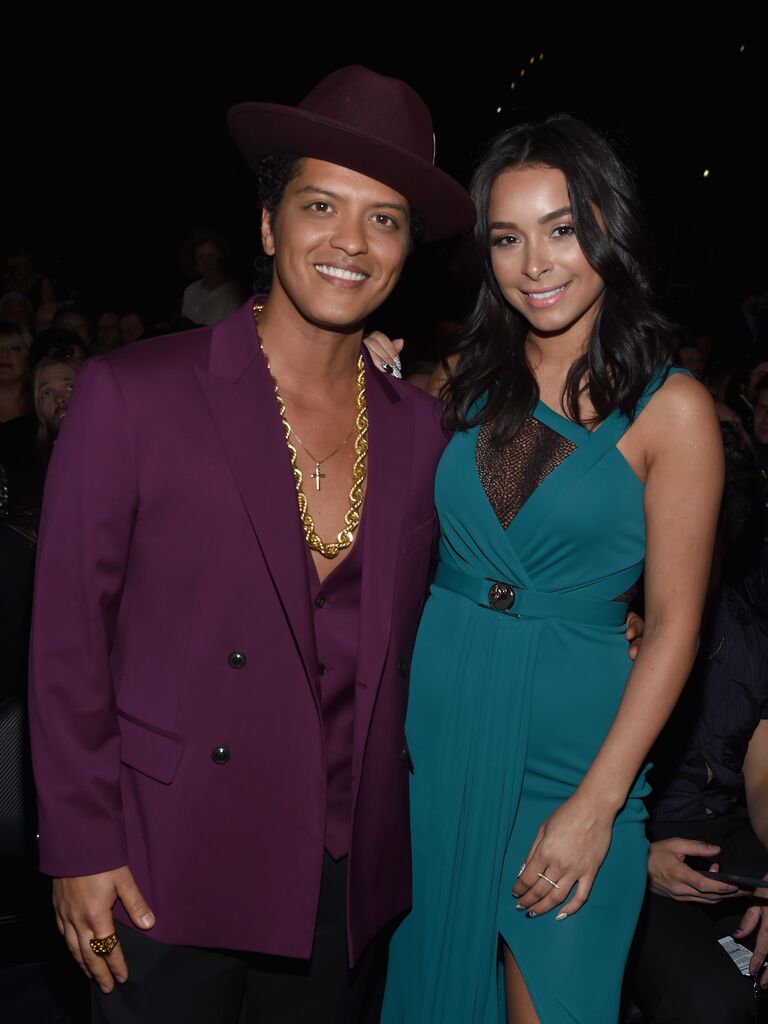 Who's the lucky lady that has inspired so many of Bruno Mars' most romantic songs? That title belongs to Jessica Caban. Here's what to know about the native New Yorker who stole Mars' heart.
Her Modeling Career Began in 2002
Jessica Caban's modeling career began in 2002 when she won a nationwide model search and became the face of Jennifer Lopez's clothing line, Sweetface. In 2012, Caban Tweeted a photo of a newspaper clipping that showed her wearing the collection, writing, "My 1st job modeling was for @JLO***couldn't think of a better way to start my career. Thanks Jennifer! #throwback."
She Won a Modeling Competition
Six years after the start of her modeling career, Caban's success rose to new heights. In 2008, she competed in—and won!—the first season of NuvoTV's reality competition series Model Latina, a show that followed hopefuls participating in fashion challenges. The grand prize was a modeling contract with Q Management, $10,000 cash, and a photo spread in Latina magazine. To this day, Caban is still represented by Q Management.
She's An Award-Winning Actress
Bruno Mars' girlfriend Jessica Caban starred in the romance movie Are You For Great Sex? and won the award for Best Actress at the 2010 Hoboken International Film Festival.
She Appeared on Jane The Virgin
Jessica Caban made her television debut on the hit comedy Jane The Virgin. She starred as Sonia, an employee at The Marbella Hotel who became friends with Jane (Gina Rodriguez), from 2016 to 2018. In the season two finale, Jessica Caban's boyfriend Bruno Mars was a musical guest at Jane's wedding, and Caban can be seen in the crowd.
She Created a Swimwear Line
Jessica Caban has also pursued entrepreneurship throughout her career. She released a swimsuit brand titled "J. Marie Swimwear" that launched in 2016.
Bruno Mars and Jessica Caban's Relationship Timeline
We can trace Bruno Mars and girlfriend Jessica Caban's relationship back to 2011, when the two had a movie-worthy meet-cute in New York City. Look back on their decade-long romance here.
2011: Bruno Mars and Jessica Caban Meet in New York
It was love at first sight for Bruno Mars and Jessica Caban. The "Uptown Funk" singer and Caban met at a restaurant in the Lower East City in New York City: "While eating at the Co-op restaurant in New York's Hotel on Rivington, Bruno spotted a beautiful, vivacious woman chatting animatedly at a nearby table," wrote author Emily Herbert.
2011: Bruno Mars and His Girlfriend Begin Dating Long Distance
Bruno Mars and Jessica Caban began dating after they met in 2011 and endured a long-distance relationship for the first year of their romance. Caban, who grew up in Harlem, New York, moved into Mars' Hollywood home in 2012.
2013: Bruno Says His Girlfriend Inspired The Hit "When I Was Your Man"
Mars's music has occasionally reflected his relationship with his girlfriend. In fact, their love has been showcased through numerous Grammy-winning songs. In 2013, Mars revealed to Rolling Stone that his radio hit "When I Was Your Man" was inspired by his relationship with Caban, when he was worried he was losing her.
2014: Bruno Mars and Jessica Caban Attend the Grammys Together
Given their private nature, it's rare that Bruno Mars and his girlfriend appear side-by-side on red carpets. In fact, they've only ever attended the Grammys together three times—and the first was in 2014 when Mars was nominated for four awards. The next time they attended the esteemed ceremony together was in 2016.
2016: Bruno Mars Opens Up About Marriage
Although the couple mostly keeps to themselves, Caban has occasionally posted pictures with Mars on social media. Bruno Mars, like his girlfriend, has also quietly mentioned relationship insight in interviews over time. When asked by Rolling Stone about their likelihood of heading down the aisle in 2016, Mars said, "She's my best friend. My rock. What's wrong with that? We're just happy."
2018: Bruno and Jessica Attend the Grammys Together Again
The 2018 Grammy Awards were a huge success for Bruno Mars, as he took home six awards that night. His girlfriend was in attendance, and he gave her a sweet shoutout during his acceptance speech for Record of the Year for the hit "24K Magic," saying, "My lady, Jessica. I love you, baby. Thank you for being my rock and being by my side throughout this whole process."
2022: Bruno Mars' Girlfriend Shares a Throwback Photo From Their First Vacation
Bruno Mars and Jessica Caban occasionally appear on each other's social media pages in birthday shoutouts and family photos. But in October 2022, Caban gave a rare look inside the early days of their relationship when she shared a throwback photo from their first vacation. "Polaroid of our first trip together🥹🥰👩🏽‍❤️‍💋‍👨🏾," she captioned the Instagram post. "10+yrs ago."
Does Bruno Mars Have Kids?
Curious to know if Bruno Mars has kids? The answer is no. He and girlfriend Jessica Caban haven't expanded their family, but they do happily share Rottweiler Geronimo in their Hollywood home.
Bruno Mars and Jessica Caban's Wedding Predictions
While Bruno Mars and Jessica Caban don't have a wedding planned anytime soon, nor do they share children, their years-long commitment to each other speaks for itself. If the couple did get married any time soon, we likely wouldn't know about it until years after the fact given their private nature. All we could hope for, of course, is that Bruno Mars would sing his wife a few songs of his own throughout the big day.