A Charlottesville Bachelorette Party City Guide to Plan Your Weekend
Escape to Virginia's Wine Country for the weekend.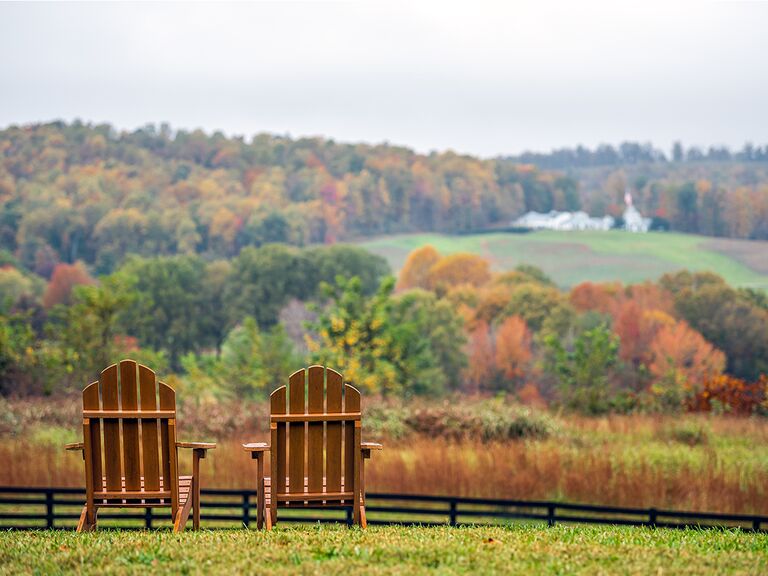 Kristi Blokhin/Shutterstock
We have included third party products to help you navigate and enjoy life's biggest moments. Purchases made through links on this page may earn us a commission.
Charlottesville is home to a lot of wonderful sites including the University of Virginia and Monticello, but most significantly it is home-base for fantastic wine tasting in this part of the country. Escape on a Charlottesville bachelorette party weekend to enjoy beautiful scenery, a lively downtown area, and plenty of vino with the girls. 
What Are Some Charlottesville Bachelorette Party Ideas?
The focus of your bachelorette weekend in Charlottesville will certainly be getting to see and taste from as many spectacular vineyards and wineries as possible, but there's plenty more to do on a girl's weekend in this quaint city, including hiking, spa treatments, and top-notch dining. Whatever you do: Don't forget to outfit your bride tribe in swag from The Knot Shop (personalized wine glasses, anyone?).
For the Nature Lover
One of the perks of Charlottesville is all of the open spaces meant to explore around the city. If you like hiking, you're just a 25-minute drive from the southern end of Shenandoah National Park for wooded scenery, or for more of a climb consider the Humpback ROcks Trail which leads to epic views (head there for sunset for a really spectacular show.
For the History Buff
If your bride loves a taste of history, this is the place for her. Charlottesville is home to University of Virginia, whose campus is worth visiting for the historical buildings alone, some dating back as far as 1895. You'll also find Thomas Jefferson's Monticello in town, as well as James Monroe's Highland. Want to amp up the excitement: Book a history-themed game night at Unlocked History Escape Rooms. 
For the Foodies
The Historic Downtown Mall in Charlottesville is a great spot for good drinks and great eats. You'll find plenty of fine dining options, including seafood options and French bistros, as well as quick bites around the city. 
For the Spa Fiends
You won't miss out on relaxation in Charlottesville. There are plenty of day spas in and around downtown Charlottesville. But for a full day of treatments, consider the short drive to Wintergreen Resort to take advantage of massages, facials, manis and pedis with mountain views. 
What Do You Do at a Bachelorette Party in Charlottesville?
For the ultimate bachelorette weekend in Charlottesville, follow our three day itinerary that gets you to the best wine tastings around, plus plenty of fun in between. 
Day 1
Morning: Start your day at Bodos Bagels, a no-frills Charlottesville institution with some of the best bagels you'll ever eat. The menu includes traditional bagels and spreads, as well as tasty sandwich options. Choose the location on University Avenue so that you can spend the rest of your morning wandering the Grounds at University of Virginia, where you'll find picturesque views and historic buildings and monuments throughout campus. 
 
Afternoon: Once you've had your fill of campus life, head to the first winery of the weekend: Eastwood Farm and Winery. Park yourselves on the veranda for a wine tasting that includes Cabernet Franc, Apple Pear Cider, and Raspberry Rose. Then head to a late lunch at Blenheim Vineyards, owned by Virginia-native and mega-musician Dave Matthews. In the tasting room (designed by Matthews) or on its large deck, you can enjoy a wine tasting with gorgeous views, as well as lunch from one of the rotating options of food trucks.  
 
Evening: For your first dinner out, head to CandO on the downtown mall. The French-inspired restaurant offers a three-course prix fixe with menu options like roasted scallops, duck confit, and halibut with mushroom fricassee. Don't miss the sticky toffee pudding for dessert. From there it's a short walk down Main Street to Lost Saint Bar, a speakeasy-style cocktail bar where you'll find great drinks and a cozy atmosphere. 
Day 2
Morning: Grab an early bite at MarieBette cafe and bakery, where you'll find tasty homemade pastries like almond croissants, quiche lorraine, and financiers, along with a robust coffee menu. With your coffee and bites to-go, make the drive out to Wintergreen Resort (you'll love the scenery along the way) for a few hours of spa treatments. If you have time, you can take a short mountain hike while you're there, or finish with the R&R and head to your next stop. 
Afternoon: Heading back towards Charlottesville you'll find the perfect opportunity to stop at a few wineries along the way. To double down on two vineyards, take the route that stops at Delfosse Vineyards and Winery (home to award-winning wines and gorgeous, sweeping grounds nestled in the mountains), then to Pippin Hill Farm and Vineyard, where the outdoor veranda serves as the perfect tasting spot, along with late night snacks to hold you over to dinner. If you go the other route back, you can stop in at Veritas Vineyard, where you can book a private tasting experience for your group. 
Evening: Dinner tonight is all about the East Coast's top notch seafood. Head to Public where you'll find a robust raw bar featuring oysters from up and down the East Coast, as well as small plates to be shared around the table such as peel and eat shrimp, crispy fried oysters, chilled beet salad, and crispy calamari. Mains include jumbo crab cakes and a steam pot with snow crab legs, mussels, shrimp, chorizo, and corn on the cob. After dinner, make your way to Oakhart Social for craft cocktails (try the turtledove with gine, grapefruit, serrano pepper, lime, and smoked salt) and a great atmosphere to end the night. 
Day 3
Morning: Start today with brunch at Bizou downtown. The menu includes sandwiches (try the egg and avocado on homemade English muffin), biscuits and gravy, the brunch burger, and a fried chicken sandwich along with plenty of tasty pastries and southern fare. 
Afternoon: Finish the trip by hitting up the last few must-see vineyards in the area. Take your pick from King Family Vineyards, a great spot with a large tasting room and lots of land to explore, polo games, food trucks, and lawn games; nearby if Veritas Vineyards if you didn't make it the day before. On the other side of town, find White Hall Vineyards, the perfect spot for a picnic lunch and mountain views and Knights Gambit Vineyard, a family-run winery with a homey, farm feel. 
 
Evening: For your last dinner, make your way to Hamilton's First & Main in the heart of downtown. You'll find a great mix of southern and upscale food here, including shrimp and grits, a grilled lamb burger, and jumbo lump crab cakes, plus a robust cocktail and wine menu. End the weekend at Firefly Restaurant and Game Room, a lively bar with great drinks and classic arcade games, plus board games at every table. 
Where Should I Stay in Charlottesville for a Bachelorette Party?
Because there's so much to do both in and out of the city, you'll be pretty car-dependent for the weekend to make your way around to the wineries this gorgeous location has to offer (car services are widely available so everyone can partake). Hotels downtown offer easy walking distance to restaurants and bars, while houses around the area give you plenty of space in a nature retreat. 
Best Charlottesville Bachelorette Hotels
For a higher-end stay, book a weekend at Omni Hotels & Resorts, where  you'll be near the historic downtown area and have a heated pool to enjoy during your downtime. 
Smaller groups will love a stay at the Arcady Vineyard B&B. Nestled on 14 acres of a working vineyard, the Bed and Breakfast offers a short hop to downtown and a number of wineries, as well as a peaceful home retreat. 
For an affordable stay that still includes luxury rooms and modern amenities, book your weekend at the Courtyard Charlottesville, which is conveniently close to downtown. 
Best Charlottesville Bachelorette Home Rentals
The Valentine House is for large groups who have a good budget to spend and want to be in the heart of downtown. With room for up to 14, this adorable Victorian home is just a 10 minute-or-less walk from the Downtown Mall. 
Closer to the wineries than downtown, this Restored Farmhouse offers room for 8 and space for a private bonfire nestled in the Blue Ridge Mountains. 
A Farm Stay at Wildwood is a great option for mid-sized groups (up to 10) at a great price point. Close to everything from wineries and breweries to great hiking trails, this is a cozy stay that will satisfy all.