13 Colorado Ranches Perfect for a Rustic Wedding
Check out these stunning ranch-style venues with breathtaking surroundings—everything from aspen groves to mountain views and glimmering lakes—for your wedding day.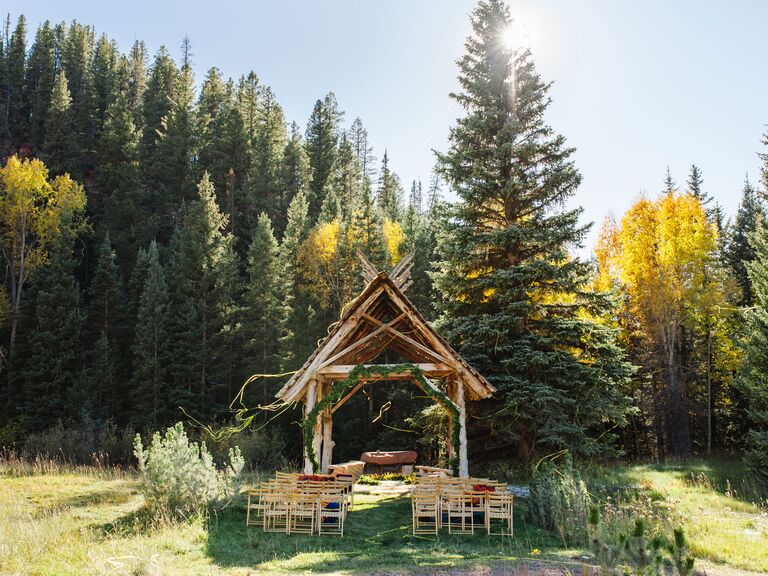 Chowen Photography
Dunton Hot Springs (pictured above)
52068 West Fork Road 38, Dolores; (970) 882-4800; DuntonHotSprings.com
Talk about rustic refinement! This exclusive resort, nestled in a romantic ghost town in the San Juan Mountains, not only allows you to rent it out for your reception, but you also have the option to rent the entire town! The latter gives you and your guests exclusive access to the original dance hall and saloon, bathhouse, yoga studio, boxing gym, spa cabins and 12 hand-hewn luxury cabins. Also included are accommodations and all meals for up to 42 guests. Another bonus: The Dunton Hot Springs's kitchen sources its ingredients from local organic farms for their creative cuisines and will work with you to create the perfect meal for your wedding. Whether you choose the open-air chapel, tumbling waterfall or lush meadows for your ceremony, you'll have a pristine backdrop of the 14,000-foot mountain peaks and the alpine springs that will make your day even more memorable.
Brush Canyon Ranch
8760 Old San Isabel Road, Rye; (719) 489-3292; BrushCanyonRanch.com
At an elevation of 7,500 feet, Brush Canyon Ranch is located in the foothills of the Greenhorn Mountain and boasts breathtaking surroundings—green meadows, aspen and pine trees, and the Wet Mountain Range—that set the tone for a quintessential mountain experience. Take in the scenery in an outdoor ceremony with a gazebo as your arbor before heading to the nearby pavilion (made from trees on the ranch) for a reception for up to 350 guests. You can also turn your soiree into an entire getaway by having guests stay in the on-site cabin, or for the truly adventurous spirits, camp in tents on the property (don't worry—there are bathhouse facilities available). One of our favorite parts is the complimentary horse-drawn carriage for the processional—psst, it's okay to feel like a princess!
C Lazy U Ranch
3640 Colorado Highway 125, Granby; (970) 887-3344; CLazyU.com
There's a reason this ranch is called C Lazy U—the complimentary wedding coordinator is sure to take care of executing every detail of your day, so you can sit back and enjoy yourself. We promise all the ranch's activities—horseback riding, fly-fishing and mountain biking, to name a few—will keep everyone thoroughly entertained. And since the ranch only books one wedding a weekend, you and up to 200 guests won't have to fight crowds of unfamiliar faces. There are plenty of areas to choose from for the most important part of the day (read: ceremony), including locations overlooking Willow Creek Reservoir and the Continental Divide, plus a renovated Hay Barn with antler chandeliers and a lofted lounge area for the reception. As if that isn't enough, the ranch will also take care of the bar, which comes stocked with local brews, so you can check that off your list too.
Deer Creek Valley Ranch
64407 US Highway 285,Bailey;
(303) 929-9133; DeerCreekValleyRanch.com
Originally built in 1865,the historic barn venue is one of many details we love about Deer Creek ValleyRanch. The venue, which holds up to 180 people, has been restored withhand-hewn floor boards, a saloon-style bar with barstools made from repurposedhorse saddles, a bridal suite and even a man-cave-inspired groom's area. If youneed additional space, use the unexpectedly beautiful hay loft that features aspen-leafaccents, wrought-iron detailing and impressive chandeliers, plus oversizewindows that allow tons of natural light (read: photo op!). As for theceremony, choose from the hummingbird abounding lakeside gazebo or the lushgreen meadow at the covered bridge, with stunning views of Mount Evans, beforeheading to one of the open spaces for horseshoes, roping steers, ladder golfand other cocktail hour activities.
Devil's Thumb Ranch Resort & Spa
3530 County Road 83, Tabernash; (970) 726-5632; DevilsThumbRanch.com
Just 65 miles from Denver, this year-round resort and spa offers some of the best vistas we've seen. Say "I do" beneath the timber ceremony arch with 6,000 unobstructed acres of Rocky Mountain majesty behind you. Then, choose from the Timber House (up to 30), Broad Axe Barn (seats 160) and High Lonesome Barn (up to 350) for a rustic indoor reception. Don't worry, all three locations offer sweeping views of the Continental Divide through panoramic windows—and don't even get us started on the 30-foot stone fireplace, stunning chandeliers and hand-hewn beams!
Granby Ranch
1000 Village Road, Granby; (888) 850-4615; GranbyRanch.com
Nestled in a secluded mountain valley, Granby Ranch has sweeping scenery from Winter Park to Grand Lake. In the summer, the aspen grove is filled with wildflowers for a romantic and colorful touch that accents the already stunning sights. Take the best seat in the house—the chairlift!—up to Vista Ridge for the 180-degree views of the Rocky Mountains (a perfect ceremony site!), then head back down to the Mountain Lodge for a reception for up to 200 guests. Since the ranch hosts only one wedding a day, you're guaranteed to have the staff's undivided attention from start to finish. Choose from a slopeside condo, cabin or luxury home if you want to stay overnight and enjoy the benefits of the golf course, biking trails and three miles of fishing for the truly outdoorsy types.
Keystone Resort
100 Dercum Square, Keystone; (970) 496-4142; KeystoneResort.com
How's this for peace of mind: Keystone Resort experiences about 300 sunny days a year. Take advantage of the pleasant weather with one of its nine on-site locations for your ceremony and reception, ranging from an elegant mountainside restaurant to an intimate rustic ranch. Rest assured no matter which space you choose, you're guaranteed gorgeous scenery. We're partial to the original 1930s Keystone Ranch homestead with spectacular views of Swan Mountain and the Tenmile Range. Once you nail down your spaces, you'll work with award-winning chefs to customize your dinner (which will feature local Rocky Mountain ingredients), as well as your cake with a choice of flavors like espresso chunk or wild mountain berry Chantilly. Yum!
Midnight Ranch
67810 Routt County Road 129, Clark; (970) 870-3456; MidnightRanch.com
For the adventurous couple who wants to get away from it all, Midnight Ranch is the perfect venue. Travel about 30 miles north of Steamboat Springs, down an aspen-lined dirt road, and you'll find the oldest ski resort in Colorado. The summer has endless opportunities for outdoor lovers including unlimited access to the Routt National Forest, hiking and hunting. For the more water savvy couple, the lake is fully stocked and perfect for fly-fishing, or take out one of its canoes. Another selling point? Midnight Ranch has plenty of room (105 acres!) for however many guests you want to invite, and around 30 guests can stay in the two log and timber cabins for a complete getaway. Plus, the amazing peaks in the background provide exemplary mountain ambience.
Piney River Ranch
700 Red Sandstone Road, Vail; (303) 905-4439; PineyRiverRanch.com
Piney River Ranch is one of Colorado's best-kept secrets—since your GPS won't even be able to take you to the site! The pristine lake serves as the backdrop for this 40-acre retreat at the foot of Gore Range. Nestled in the White River National Forest, it's full of stunning Rocky Mountain vistas, aspen grove sites and even three tepees! Share all this rustic beauty with up to 200 people in spaces including the ceremony deck with mountain and lake views, two log pavilions, four guest cabins, a lakeside yurt and an on-site restaurant that makes the best smoked barbecue around. Paddle out into the lake in a canoe after the ceremony for a little alone time, as well as some great photo ops.
Sleeping Beauty Ranch
27846 Highway 550, Durango; (970) 403-5877; SleepingBeautyRanch.com
With gorgeous views of Animas Valley red cliffs and its waterfront location just off the Animas River, Sleeping Beauty Ranch is sure to wow you and your guests. If its surroundings alone don't impress, the alternative Durango & Silverton Narrow Gauge Railroad transportation sure will. The historical tracks (from the 1880s!) were built to haul silver and gold ore in Colorado, but now they run a vintage steam locomotive to drop off guests at the venue for an unexpected—and photo-worthy!—experience. Choose a scenic waterfront spot complete with a mountainous backdrop for your ceremony and enjoy the wooden clubhouse for your reception.
Spruce Mountain Guest Ranch
14771 Spruce Mountain Road, Larkspur; (719) 484-0800; SpruceMountainGuestRanch.com
In case one's not enough, Spruce Mountain Guest Ranch has eight stunning venues to choose from—five are outside on the 400-acre property overlooking the wildflower gardens, picturesque streams and, of course, Spruce Mountain. Start your day at Grace's Chapel, an immaculate garden resting beneath the lush limbs of an old cottonwood tree, before heading to its largest space, The Ponderosa Room, which accommodates up to 1,200 for a reception. If you can't decide which site is best for your soiree, try out the furniture arranger on the venue's website to create diagrams of room layouts that include tables, chairs and even the dance floor!
Witcher Ranch
2492 County Road 48, Campo; (719) 324-9258; Witcher-Ranch.com
Turn your wedding into an outdoor adventure with fishing in the Cimarron River and some of the best hunting in Colorado, including elk, turkey and deer. If hunting isn't quite your thing, find Native American artifacts along the river for a taste of history. No matter which you choose, the outdoors and rich heritage are sure to inspire your rustic reception in the wooden resort, complete with antler chandeliers and a rock fireplace in the middle of the room. For a little extra help perfecting your details, the on-site staff will work with you to customize everything from lodging to transportation and catering to ensure each fits your needs.
Yellow Pine Ranch
15880 US Highway 12, Cuchara; (719) 742-3528; YellowPine.us
This quaint family-owned ranch has been serving the Cuchara Valley since 1927—and there's a reason it's been a staple for so long. At 8,500-feet elevation, the mountain vistas and peaceful waterfront locations are totally unspoiled. Have your ceremony outside at one of the several options by Bonnett Creek or Cucharas River with the Rocky Mountains as the backdrop. In case of rain, you can always hop inside the barn and then flip the room for your reception. To turn your wedding into an entire weekend getaway, consider renting the 10 cabins that can house up to 60 guests and enjoy all the activities the ranch has to offer, from horseback riding and fishing to river walks and barbecue dinners.