Combining Names After Marriage
Want a creative twist on last name changes after marriage? Learn about combining names to form a unique last name for you and your partner.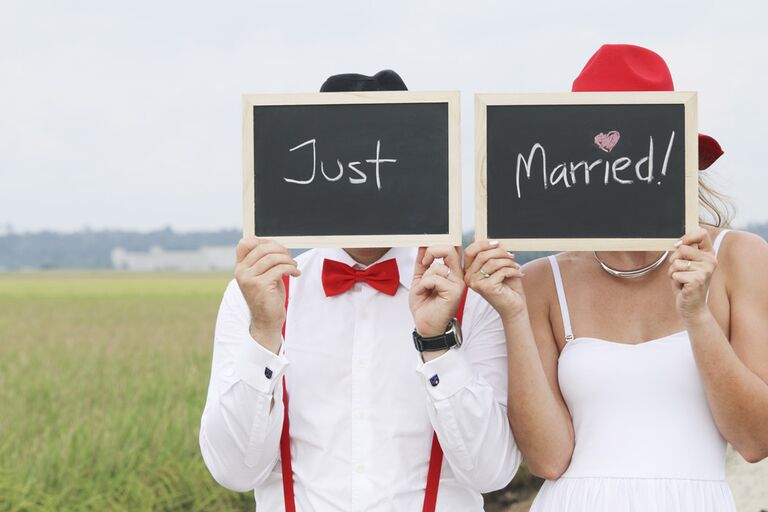 Shutterstock
We have included third party products to help you navigate and enjoy life's biggest moments. Purchases made through links on this page may earn us a commission.
A rather new and unorthodox naming trend is to create a new surname after marriage by combining the last names of both partners. Although still relatively uncommon, combining names is becoming an increasingly popular option among women who feel strongly about equality between genders, as well as same-sex couples who don't have naming traditions to fall back on.
Benefits of Combining Names
There are a few really cool benefits to combining last names with your partner, some of which you may not have thought about before.
A great way to show unity. Combining names can be a fun way to show unity and cohesion as a couple, and in the future when your family begins to grow, you can give your unique name to your children as well.

Work together for the best last name. Combining your last names into a unique surname that you both will share can be a fun experience that draws you closer as a couple, and may serve as one of your earliest chances to use those marital teamwork skills!

Appeals to a wider variety of couples. As we mentioned, combining names is a great option for same-sex couples, who are forging a unique path and may not be able to decide whose name to take.
Drawbacks of Combining Names
Although there are some great things about combining last names, beware; not everyone may feel the same way, and you may face some push-back.
Angry in-laws. Members on both sides of the family who adhere more closely to traditional naming practices may be offended by your choice to combine your last names. It can be difficult for them to understand why you would combine two names instead of carrying on the family name, or at the very least hyphenating your names.

Can be confusing. A unique surname can be confusing to people, including your kids, who will have a different last name than anyone in their extended family.

Professional identity still changes. There are professional drawbacks to combining last names, since you may already be known by your maiden name. If you are combining last names, you may both find yourselves in the same position as women who decide to take their partner's name after marriage.

What to do in a divorce. In the unfortunate event of a divorce, how do you determine who undergoes a name change?
Examples of Combining Names
There are so many options when it comes to combining names that it may take you quite a while to come up with the best last name for you.

One common option is to simply put both of your last names together without a hyphen. For example, Green and Rosen would become Greenrosen. This doesn't work as well with two longer last names like Anderson and Tillman, so in that case you could take parts of each name and merge them into one name, like Anderman or Tillerson. Other, less common options would be to take only the first two letters of each last name, such as when common names like Davis and Shaw become the much cooler Dash, or skip combining names altogether and instead come up with a totally different name.
How to Combine Names After Marriage
Once you've decided on your new surname, it's time to begin the name change process, only in this case, both of you will have to go through the process! Luckily, there are name-changing services out there like Hitchswitch, which can make the process super simple. With Hitchswitch, you pay a nominal fee upfront and using the information you provide, the company will facilitate your name change process, providing help at three different service levels. If you don't know how to change your last name but want to do it on your own, check out The Knot's step-by-step guide to help you.