25 Anniversary Songs for the Perfect Soundtrack to Your Special Day
Whether you're dancing in the kitchen or planning a party playlist.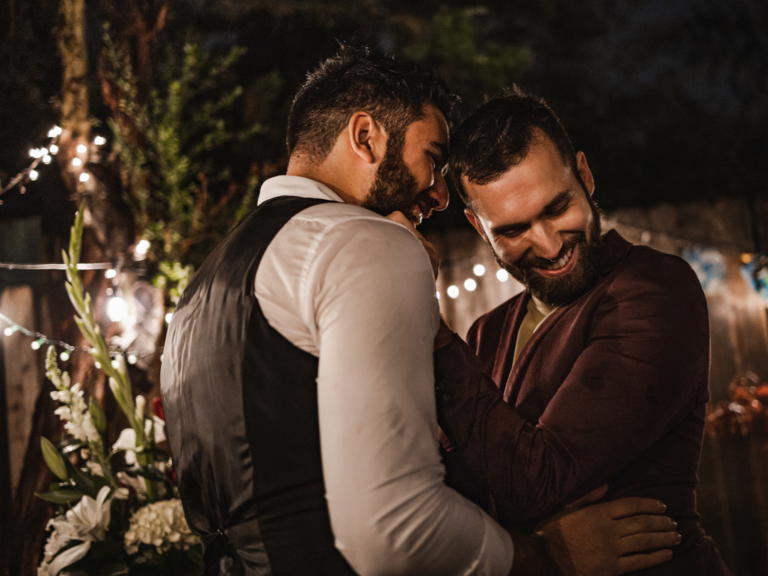 Photo: Riska / Getty
Year after year, you can look forward to celebrating the magic that is your relationship on your anniversary. But don't let the extra-special dinners get eaten and gifts exchanged without the perfect soundtrack backing: Anniversary songs should play an important part in the celebrations!
Whether you're selecting a song for the anniversary dance at your wedding reception, throwing a party for a long-married couple or planning a playlist for a low-key celebration with your partner, this lineup of anniversary songs below will provide plenty of inspiration. (Plus, they're fit for couples who've been together for one year or decades!)
So crank up these multi-genre tunes and get ready to set your anniversary to music with this list of the 25 best anniversary songs.
"You're Still The One," Shania Twain
Lyrics you'll love: "You're still the one I run to, the one that I belong to.You're still the one I want for life."
Why we love it: This song is a classic for any relationship that continues to stand the test of time. We love that it acknowledges the complicated journey of relationships, but always has the couple coming back to one another.
"Stay With You," John Legend
Lyrics you'll love: "We've been together for a while now. We're growing stronger everyday now. It feels so good and there's no doubt. I will stay with you."
Why we love it: While John Legend can make any song romantic, this one in particular hits couples right in the feels. It's about sticking with your partner through whatever may come, knowing you will always have one another to face the days ahead. It's just *chef's kiss* beautiful.
"Future Days," Pearl Jam
Lyrics you'll love: "I believe, and I believe 'cause I can see. Our future days, days of you and me."
Why we love it: Pearl Jam is known for some serious rock hits, but lead singer Eddie Vedder can also absolutely nail a love song, too. (Disclaimer: Personally speaking, this was my wedding song so it was a no brainer to include!)
"Can't Help Falling in Love," Elvis Presley
Lyrics you'll love: "Take my hand. Take my whole life, too. For I can't help falling in love with you."
Why we love it: What's more romantic than listening to the king himself smoothly sing about the enchanting experience that is falling in love?
"When I Said I Do," Clint Black
Lyrics you'll love: "When I said I do, I meant that I will 'til the end of all time. Be faithful and true, devoted to you. That's what I had in mind when I said I do."
Why we love it: A song that's written specifically to look back upon your wedding day? We couldn't find a better contender if we tried. (And we did.)
"I Was Made For Loving You" Tori Kelly ft. Ed Sheeran
Lyrics you'll love: "Cause I was made for loving you. Even though we may be hopeless hearts just passing through. Every bone screaming I don't know what we should do. All I know is, darling, I was made for loving you."
Why we love it: This 2016 hit features a beautiful blend of the incredible voices of Tori Kelly and Ed Sheeran. Its strong messaging gives reaffirming words of love, support and connection.
"You've Got The Love," Florence & The Machine
Lyrics you'll love: "Sometimes it seems that the going is just too rough, and things go wrong no matter what I do. Now and then it seems that life is just too much, but you've got the love I need to see me through."
Why we love it: An upbeat song with lyrics that pack a punch, this hit by Florence & The Machine is an honest look at how when times get tough, love is all you need.
"Grow Old With You," Adam Sandler
Lyrics you'll love: "… I met you 20 years ago. And we talked all night.You drank me under the table. Yeah, it was love at first sight."
Why we love it: While it's not exactly the first tune to come to mind at the mention of love songs or wedding anniversary songs, this Adam Sandler hit from The Wedding Singer is a comical (yet heartwarming) spin on the genre.
"Crazy For You," Madonna
Lyrics you'll love: "I'm crazy for you. And you know it's true. Yeah, I'm crazy for you. Crazy for you, baby."
Why we love it: Add a little spice to your anniversary night with Madonna's "Crazy For You." It's a great tempo to slow dance to in the kitchen, and is equal parts sexy and steamy—great for a prelude to the bedroom.
"Marry You," Bruno Mars
Lyrics you'll love: "I'll go get a ring, let the choir bells sing like, ooh. So what ya wanna do? Let's just run, girl."
Why we love it: Whether you're already married and reminiscing or dream of walking down the aisle with your partner someday, this upbeat song will bring an immediate smile to anyone who's listening.
"I Love You Always Forever," Betty Who
Lyrics you'll love: "I love you always, forever. Near and far, closer together. Everywhere I will be with you."
Why we love it: This modern remake of the Dona Lewis hit from 1996 is über-catchy and calls for a spin or two.
"We've Only Just Begun," The Carpenters
Lyrics you'll love: "Sharing horizons that are new to us. Watchin' the signs along the way. Talkin' it over, just the two of us. Workin' together day to day."
Why we love it: Grab your loved one for a slow dance and transport yourselves back to the 1970s with this emotional, romantic track.
"Crash Into Me," Dave Matthews Band
Lyrics you'll love: "Sweet like candy to my soul, sweet you rock and sweet you roll."
Why we love it: These lyrics will likely tug at your heartstrings in a special way, especially for any Dave Matthews Band fans out there.
"Kiss Me," Sixpence None The Richer
Lyrics you'll love: "Oh, kiss me, beneath the milky twilight. Lead me out on the moonlit floor. Lift your open hand. Strike up the band and make the fireflies dance. Silver moon's sparkling. So kiss me."
Why we love it: This tune provides the perfect opportunity for reigniting the spark and sharing a little makeout sesh—set to the perfect lyrics, OFC.
"I Wanna Hold Your Hand," The Beatles
Lyrics you'll love: "And when I touch youI feel happy inside. It's such a feelin' that my love, I can't hide."
Why we love it: Sweet and cheerful, this song serves as a reminder of one of life's most beautiful and simple intimacies—hand holding. It's also worth checking out the slower, heartfelt cover by T.V. Carpio featured in the film Across The Universe.
"Let's Stay Together," Al Green
Lyrics you'll love: "Oh baby. Let's, let's stay together ('gether). Lovin' you whether, whether times are good or bad, happy or sad."
Why we love it: This 1972 release is as romantic as they come. With his smooth voice and even smoother lyrics, the way Al Green sings this track makes it one of the best wedding anniversary songs.
"Adore You," Harry Styles
Lyrics you'll love: "Oh, honey (ah). I'd walk through fire for you. Just let me adore you. Like it's the only thing I'll ever do."
Why we love it: Harry Styles released this flirty hit a couple of years ago and it's still a fan-favorite.
"The First Time Ever I Saw Your Face," Celine Dion
Lyrics you'll love: "And the first time ever I lay with you, I felt your heart so close to mine."
Why we love it: Celine Dion covered this slow-moving 1960s song in the '90s, lending her iconic voice to its deeply moving lyrics. Pro tip: It's best listened to while cuddled up close.
"You & Me," Lifehouse
Lyrics you'll love: "And it's you and me. And all of the people. And I don't know why. I can't keep my eyes off of you."
Why we love it: This mid-2000s hit by Lifehouse is instantly recognizable to most millennial couples. (Plus, it's just a really, really good song!)
"Love is Here to Stay," Frank Sinatra
Lyrics you'll love: "It's very clear, our love is here to stay. Not for a year. But, ever and a day. The radio and the telephone and the movies that we know. May just be passin' fancies, and in time may go...But, Ooooh my dear, our love is here to stay."
Why we love it: This timeless classic sung by iconic crooner Frank Sinatra will transport you back in time with all the nostalgic vibes and perfect-for-the-occasion lyrics.
"I'll Make Love To You," Boys II Men
Lyrics you'll love: "Close your eyes, make a wish. And blow out the candlelight. For tonight is just your night. We're gonna celebrate. All through the night."
Why we love it: This song leaves little to the imagination, but is perfectly suited to an extra- steamy anniversary celebration.
"The Rest Of Our Life," Tim McGraw and Faith Hill
Lyrics you'll love: "I got something to run past you. I just hope I say it right. So I take your hand and ask you. Have you made plans for the rest of your life?"
Why we love it: For the country-loving couple, this duet by IRL married couple Faith HIll and Tim McGraw beautifully encompasses the journey of growing old, in love, together.
"Crazy In Love," Beyoncé
Lyrics you'll love: "It's the way that you know what I thought I knew. It's the beat that my heart skips when I'm with you. But I still don't understand. Just how your love can do what no one else can."
Why we love it: A romantic song doesn't have to necessarily be suited to waltzing. "Crazy In Love" is one of Beyoncé's biggest hits and serves as a great anniversary song for setting the tone for a fun and flirty night out.
"All of Me," John Legend
Lyrics you'll love: "'Cause all of me, loves all of you. Love your curves and all your edges. All your perfect imperfections. Give your all to me. I'll give my all to you. You're my end and my beginning. Even when I lose, I'm winning."
Why we love it: Yes, John Legend is appearing twice on this list, and for good reason: He just does romance so, so good.
"Can't Take My Eyes Off Of You," Lauryn Hill
Lyrics you'll love: "Pardon the way that I stare. There's nothing else to compare. The sight of you leaves me weak. There are no words left to speak."
Why we love it: Lauryn Hill's cool, moody version of this 1967 hit is perfect for adding some light and loose (but still romantic) vibes to your anniversary date.