Where to Shop for Custom Wedding Shoes
Step into married life in a style that's all your own.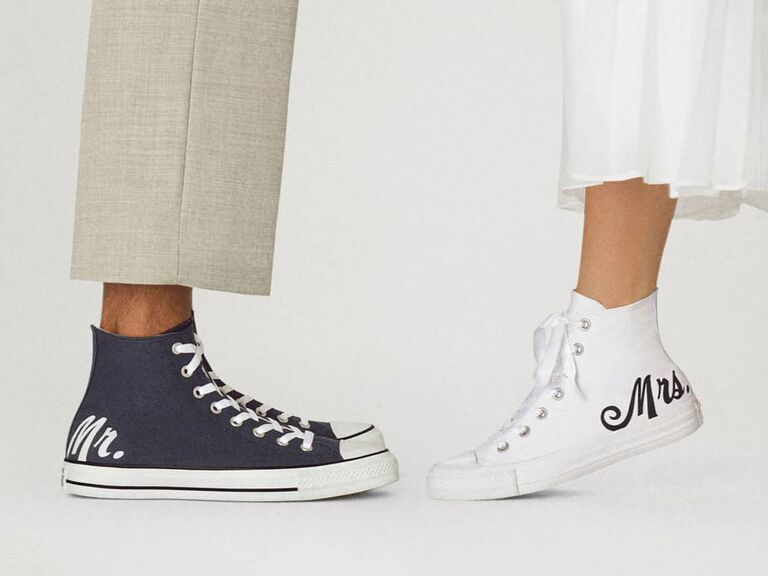 We have included third party products to help you navigate and enjoy life's biggest moments. Purchases made through links on this page may earn us a commission.
Personalizing your wedding day look—whether it's through custom wedding shoes, adding embellishments to your wedding dress or incorporating your something borrowed through vintage jewelry—is just one of many opportunities to to make saying "I do" an even more memorable experience. Much like with wedding dresses, there is no shortage of ready-made options to choose from when shopping for your wedding shoes. But if personalized wedding shoes are something you're interested in, here's what to keep in mind—from how long the design process will take, to where to shop for a pair of custom bridal heels, flats or even special occasion high-tops.
What to Know About Custom Wedding Shoes
Nearlyweds who want to wear custom wedding shoes at the ceremony will need to plan ahead, because delivery times for made-to-order pieces can understandably be much longer than with ready-made items. If custom wedding shoes are the top of your wishlist, we recommend shopping at least six months out from your wedding date.

When it comes to bringing your unique vision to life, most retailers will provide you with a series of options to choose from online in order to customize your wedding shoes—shoe style, heel height, fabric, color, adornments and more. Before you place an order, you may also have the option to receive swatches in the mail so you can see fabrics, colors and embellishments in person, depending on the merchant. Looking for something super specific? Some vendors are also willing to work with you over email to accommodate more specialized custom wedding shoe designs.
The Pros
The major pro of custom wedding shoes is, of course, that you have the ability to personalize almost every aspect of the shoes you'll wear on your most special day. While it's definitely possible to fall in love with a pair of shoes you find in a store or online, customizing can be helpful for brides or grooms who feel those options are limiting. Maybe you can't find a pair of flats that have enough bling for your wedding day, or you want high heels that are specially fitted to be as comfortable as possible for the entirety of your big day. Or perhaps you want one-of-a-kind shoes to go with a unique wedding theme, in which case a custom pair is almost a no-brainer.
The Cons
Custom wedding shoes are, well, custom; meaning you can't expect them to ship overnight. You'll need to factor in extended wait times, because your shoes have to be made first, and some specialty materials and fabrics may make the process even longer. The extra craftsmanship going into the final product also means custom shoes are going to cost more. So if you're committed to going the personalized route, compare pricing ahead of time and make sure to account for the extra cost in your overall wedding budget. We suggest leaving some extra breathing room in your budget in case you do end up needing expedited shipping or want additional changes made to the finished product (if offered).
When designing online, there's always a chance that the color or material won't look exactly like it does on your screen when it arrives in person. If that's a concern, consider contacting the company before ordering to ask whether they carry samples in store or have the ability to send swatches in the mail. Finally, because these are bespoke items, be sure to read the fine print regarding order changes, cancellations, returns or exchanges.
Where to Buy Custom Wedding Shoes
Both high-end dress up brands like Jimmy Choo and well-known comfort classics like Converse offer made-to-order shoes. Not to mention, smaller Etsy shops dedicated to creating bespoke wedding shoes for brides, grooms, bridesmaids and other members of your wedding party. Point being, there are more places than you might think to shop for custom wedding shoes. Below, find seven editor-approved stores to help start your search on the right foot (pun intended).

Nike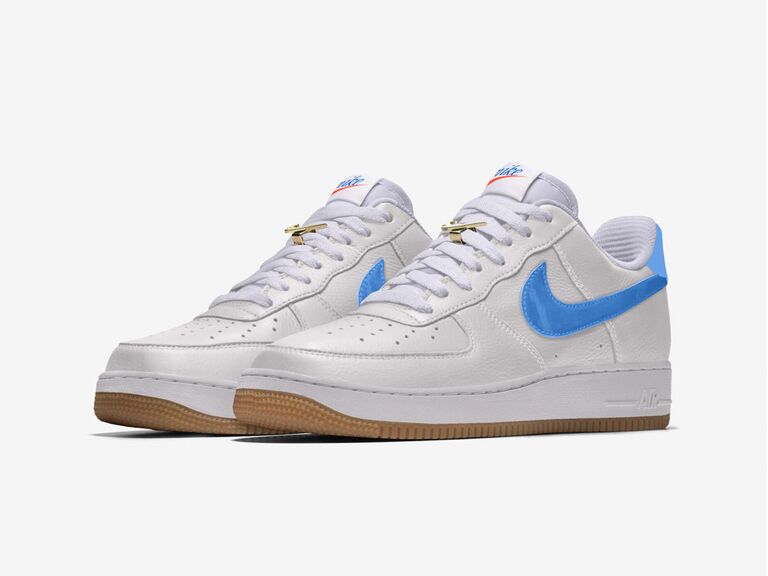 Want to rock a pair of custom Nikes as you walk down the aisle? With Nike By You, you can. Customize men's, women's and unisex shoes in a variety of styles to create your own wedding shoes. Not only will they be totally one-of-a-kind, but your feet will thank you after hours of standing and dancing.

Cost: From $75
Shipping: Approximately two to five weeks—standard and expedited shipping times do not apply
Jimmy Choo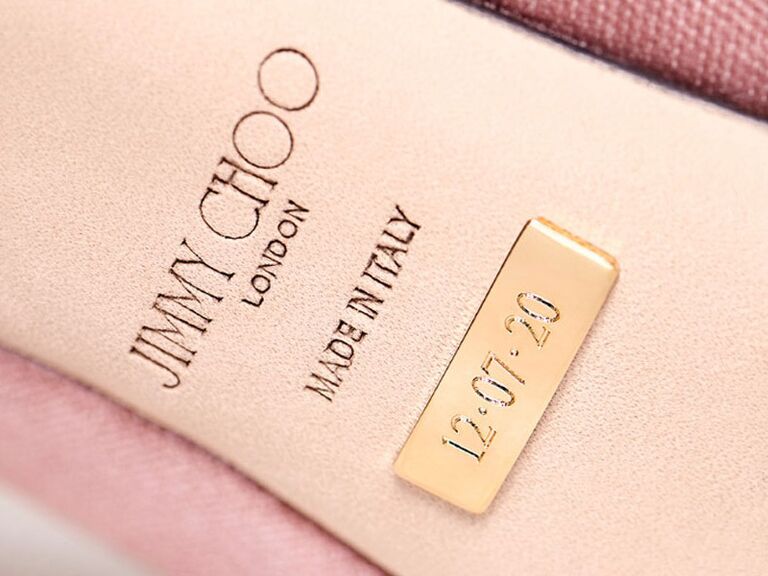 Even if you want the brand recognition that comes with wearing
Jimmy Choos
, you don't have to wear the same heels as every other person on your social media feed. The online made-to-order service has you choose from 11 open- and closed-toe wedding shoe styles to start, in multiple heel heights (including flats). Then, select from a range of fabrics—Swarovski crystals,
glitter
, leather,
lace
,
velvet
and more—and color options. Last but not least, you can add extra personalization with a monogram (choose up to four characters or icons) or a date plaque (six numbers for your wedding date or another significant date). Both can be made in either a gold or blue plaque color on the underside of the shoe to mark the special occasion.
Cost: From $795
Shipping: The estimated delivery time is 10 weeks, but expect orders using exotic materials to take an additional four to six weeks, due to transit and customs clearance
Margaux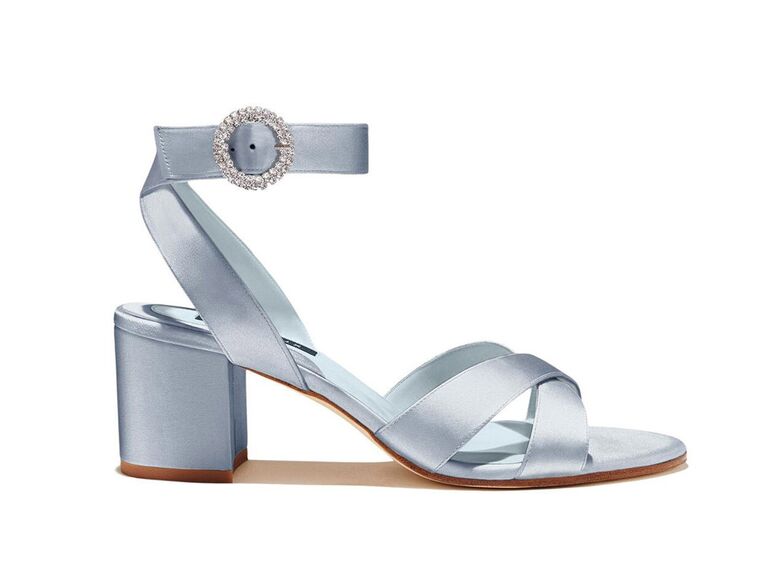 Each pair of these bespoke beauties is handmade to order at Margaux's factory in Spain. Select from five silhouettes and a wide variety of colors for the exterior of the shoe. For the interior lining, you have a choice between the signature tan color, beige or blue (a super subtle way to incorporate your
something blue
, if you like). You can also personalize with a date (up to six numbers) or a monogram (up to four letters) for an extra $20.
If you prefer to see and feel the material options before you order, the brand does offer a bridal swatch kit. For $18, they'll send you swatches of Margaux's bridal-exclusive fabrications and linings, as well as a lookbook featuring selected bridal styles.
Cost: From $228
Shipping: Ships in eight to 12 weeks
Ellie Wren Custom Wedding Shoes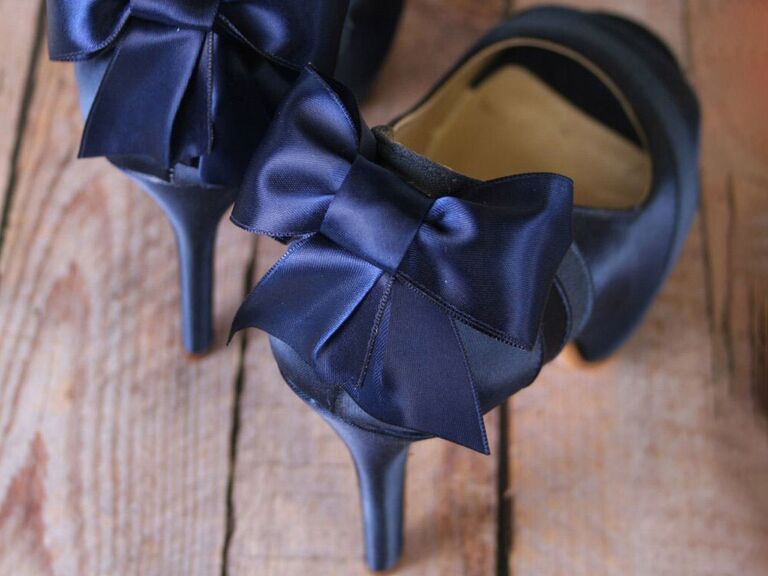 Ellie Wren boasts more than 60 base shoe style options, all of which can be modified to fit your dream design. The design element choices include the base shoe styles, color palettes and adornments. These are showcased both on the Ellie Wren website and on the
Ellie Wren Etsy page
. From rhinestones, pearls, sequins and buttons, to bows, feathers, flowers and lace wedding shoes, there are a world of possibilities in store for you.
Cost: From $285 plus shipping
Shipping: Custom-designed items generally ship within six to eight weeks of purchase
Solely Original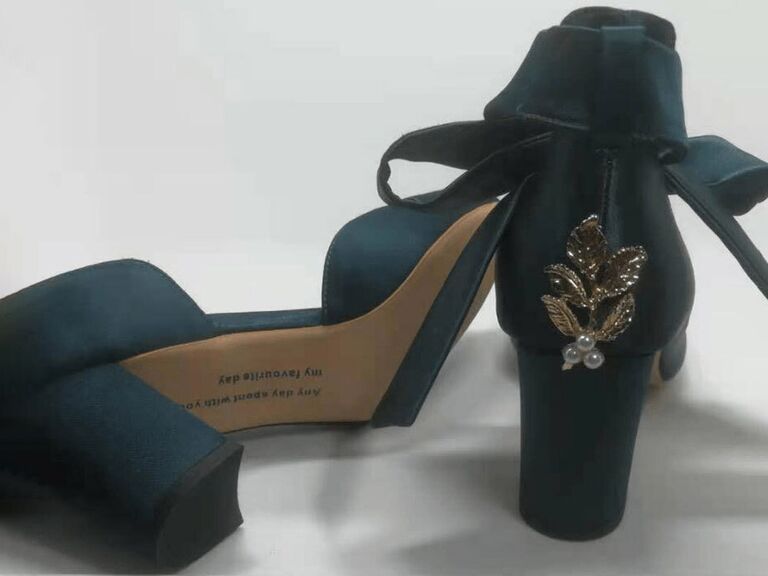 Solely Original allows you to customize your wedding shoes using an online 3D shoe designer. You'll choose from 12 fully customizable shoe styles and more than 150 materials and colors. You can also add arch support for an extra $8 to ensure you're comfortable from the ceremony to the reception. There is an option to include a personalized monogram for $54 as well.
Cost: From $152
Shipping: Allow four to six weeks for standard delivery and two to three weeks for express delivery
Malone Souliers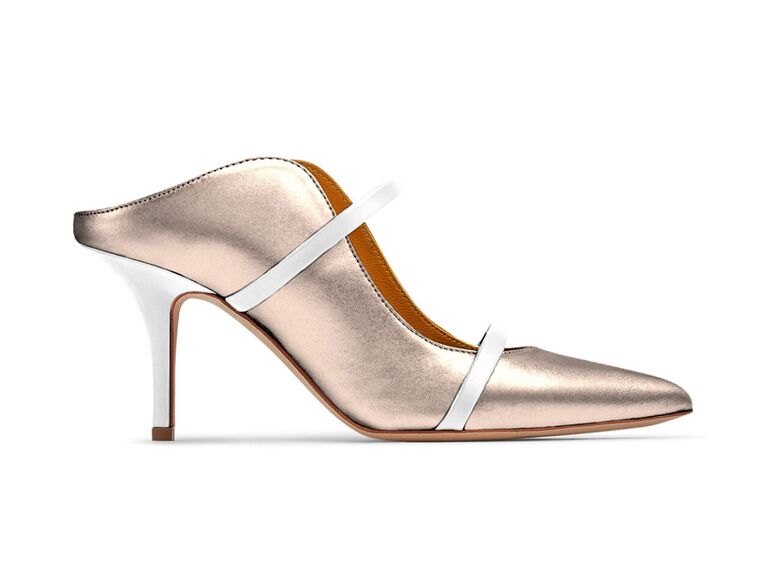 Malone Souliers offers made-to-order options based on their recognizable designs. Begin by choosing from 17 silhouette choices, then select your material and colors for the upper, straps and heels. To finish, you have the option to add a personalized monogram of up to six characters. Once the design is finalized, your shoes are made to order in Italy and shipped out to you.
Cost: Price upon request
Shipping: Made-to-order shoes are typically delivered in eight to 10 weeks, but during busy periods or with more complex selections, the lead time may be slightly longer
Converse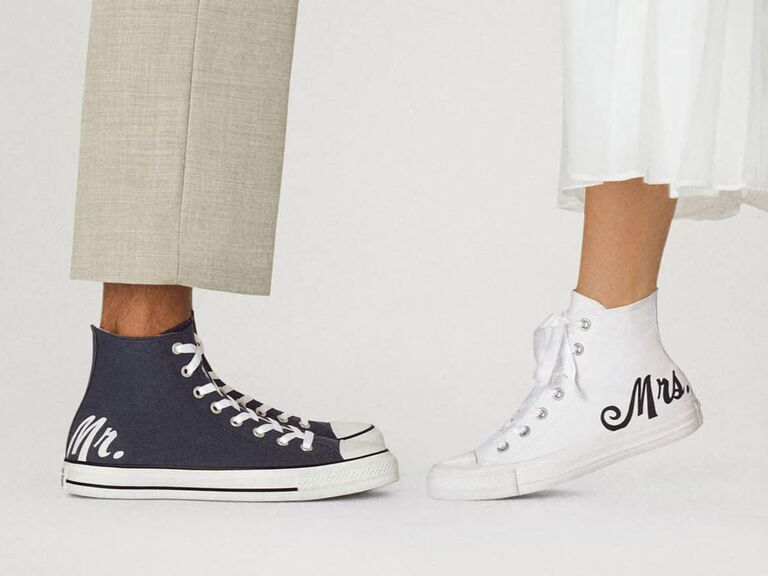 Yes, you can wear custom Chucks on your wedding day, thanks to Converse's custom wedding shoe shop. You can personalize their unisex high-top or low-top shoes, and it's easy to bring your idea to life with the online customization tool. Pick from wedding-themed graphics, colors and satin laces to fully customize your wedding Converse, from the tongue to the sole.
Cost: $75 for low-top shoes and $80 for high-top shoes
Shipping: Order 3 weeks in advance of your wedding date