25 Amazing Wedding Themes That Stand the Test of Time
Gen Z couples high key love these timeless themes.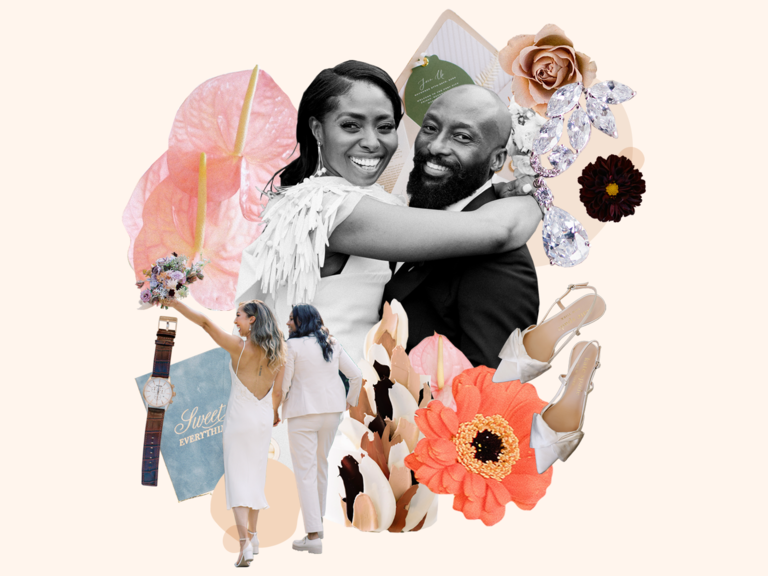 Photos: Ashley Goodwin Photography, Darinimages, La Vie En Rose, Josh & Dana Fernandez, Kate Supa Photography, Lynn Dunston Photography, Mary Claire Photography, Merari Teruel Photography,Stetten Wilson, Stanlo Photography,Design Tiana Crispino
Curious about wedding themes and why they matter? Choosing a wedding theme or wedding style is one of the best ways to personalize your big day. A defined wedding aesthetic will help you make important wedding planning decisions, like what color palette to follow, how you decorate your ceremony and reception, and what the overall vibe of your day feels like. But, with so many different wedding theme ideas, narrowing down your favorite might feel nearly impossible. Whether you've been curating your wedding inspiration board for years or you're not quite sure where to start, we've got you covered. We tapped industry experts to share everything you need to know about picking a wedding theme or style, along with attainable ways to make themed wedding ideas feel unique to you and your partner.
Here, we define the most popular wedding types of wedding themes, from rustic to whimsical and everything in between, that are absolutely timeless. You'll also find thematic keywords that'll help you communicate your wedding style and vision with your team of expert vendors, along with budget tips and wedding venue ideas. Bookmark this page to keep as your all-encompassing guide to the most popular themes for weddings of all time. Then, once you've brushed up on wedding aesthetic, style and theme vocab, take The Knot's Style & Vision Quiz to get personalized inspiration and practical ideas based on different wedding themes that'll help make your dream wedding a reality.
An Editor's Top Wedding Themes:
Rustic | Boho | Romantic | Modern | Glam
More Popular Wedding Themes We Love:
Country | Alternative | Forest | Fairytale | Dark | Garden | Minimalist | Vintage | Celestial | Art Deco | Beach | Gothic | Whimsical | Natural | Travel | Classic | Nautical | Retro | Maximalist | Moody
Wedding Theme Tips & Advice:
What Is a Wedding Theme? | Theme vs Style vs Aesthetic | How to Pick a Wedding Theme
What Is a Wedding Theme?
A wedding theme is a visual concept that anchors your wedding design. A wedding theme guides the overall design direction of the big day, from colors and motifs to flowers and food, and everything in between.
But here's the golden question: Do you actually need a wedding theme or style? If you're not feeling drawn to a particular wedding aesthetic, you might wonder if you have to categorize your big day with a style or theme name. Ultimately, the choice is up to you—but choosing a theme or style may make your wedding planning process easier.
According to California-based TV host and celebrity wedding planner David Tutera: "If you want a great wedding that engages guests, it's all about telling a story from the moment they receive the invitation to the last thing they see, which could be the favor. Having a style or a theme helps you choose the story you're going to tell."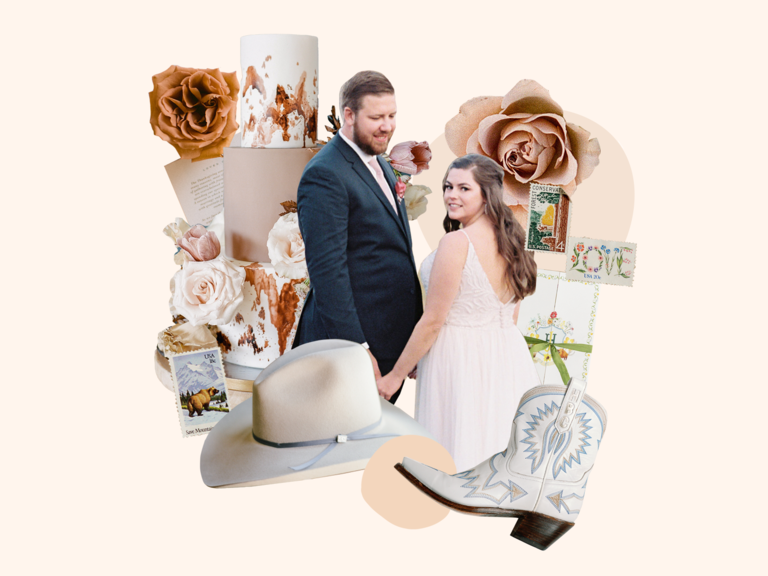 Rustic Wedding Theme
A rustic wedding theme is all about connecting your celebration to nature. This concept can take many forms, from a farm-to-table garden dinner to a ceremony in a wildflower field or even an intimate vow exchange in a rugged mountain chalet. A focus on warmth and hospitality guides this casual aesthetic. "When I think rustic, I see a color palette of neutral and soft tones with natural elements like organic fabrics, wooden elements, lace, foliage and burlap," says Stephens. And although rustic weddings are closely associated with barns and farms, it's not the only place you can host your nuptials. "The juxtaposition of being in a modern space with a rustic environment inside is a cool way to plan the theme as well," Tutera suggests.
Rustic Wedding Theme Buzzwords: Warm, down-home, relaxed, bucolic
Rustic Wedding Ideal Venues: Beyond barns, you could wed at a mountain lodge, cattle ranch, apple orchard or at home.
Rustic Wedding Budget Priorities: A rustic wedding is all about hospitality—invest in great food, entertainment and welcome bags for guests.
Rustic Wedding Must-Have Materials: Wood, leather, grass, linen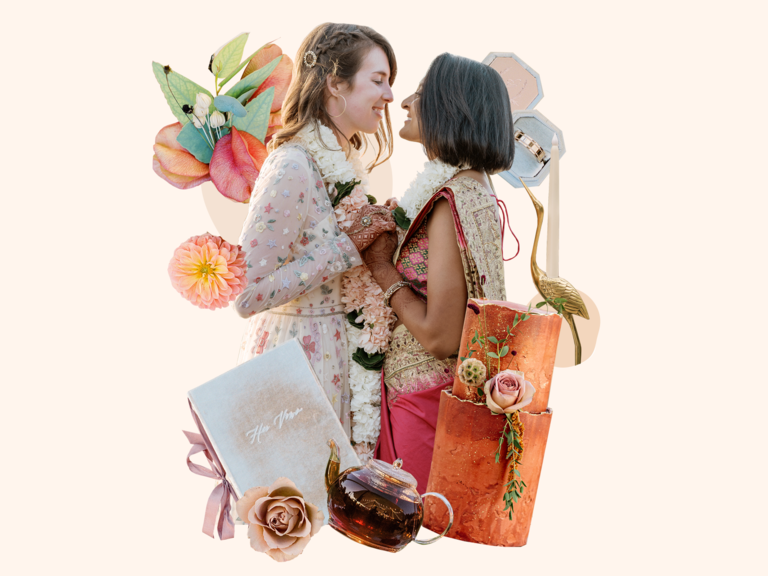 Boho Wedding Theme
Bohemian wedding decor is trendy and bold, with an emphasis on achieving an inviting, cool vibe—in other words, don't get caught up in trying too hard. To create that down-to-earth feel, there's just one place to look: Mother Earth. Tap into natural details for a cool and comfortable experience.
Boho Wedding Theme Buzzwords: Relaxed, effortless, free-spirited, laid-back
Boho Wedding Ideal Venues: Think about the places you find most calming and move them to the top of your list. You could book an all-inclusive resort or botanical garden, or build a space from the ground up in a forest or desert.
Boho Wedding Budget Priorities: It's all about curating a mindful guest experience. Focus on food and decor. Don't forget to carve out some of your budget for cozy lounge furniture.
Boho Wedding Must-Have Materials: Rattan, grass cloth, macramé, pottery, leather, dried grass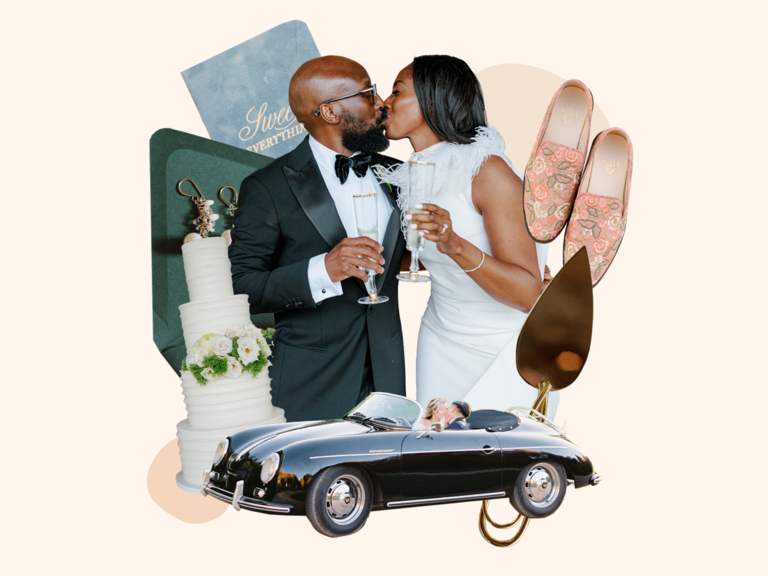 Romantic Wedding Theme
Romantic weddings are all about creating a dreamlike setting. Think in layers as you approach planning. A warm color palette, lush flowers and soft fabrics work in harmony, all enveloped in the glow of candlelight. We're going for warm fuzzies—bring the feelings you have for your S.O. to life.
Romantic Wedding Theme Buzzwords: Ethereal, elegant, delicate, cozy, inviting
Romantic Wedding Ideal Venues: To embrace a refined ambiance, lean into an outdoor event if possible. You could pitch a sailcloth tent along the coast or invite loved ones to a garden or vineyard.
Romantic Wedding Budget Priorities: Invest in flowers and table design to bring your dream to life.
Romantic Wedding Must-Have Materials: Mirrors, gold, velvet, satin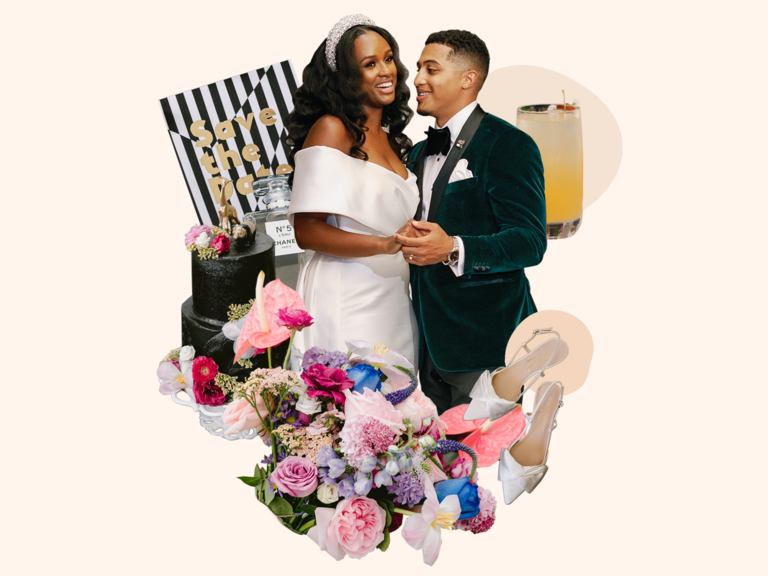 Modern Wedding Theme
A modern wedding is all about exquisite simplicity—embracing a minimalist mindset to make maximum impact. Meticulous attention to detail is the cornerstone of this less-is-more approach. City dwellers, urbanites and design lovers often gravitate toward this wedding style, which embraces a minimalist mindset with a few carefully curated details to make maximum impact. "Lean into interesting surfaces and textures, like marble and rich, matted metallics," Tutera says.
Modern Wedding Theme Buzzwords: Clean, sleek, avant-garde, streamlined
Modern Wedding Ideal Venues: Look for a blank canvas. Art museums, wine bars, lofts and industrial warehouses are all solid picks.
Modern Wedding Budget Priorities: Prioritize sophisticated yet trendy ideas for your decor and fashion, anchored by a meticulous color palette.
Modern Wedding Must-Have Materials: Acrylic, concrete, slate, marble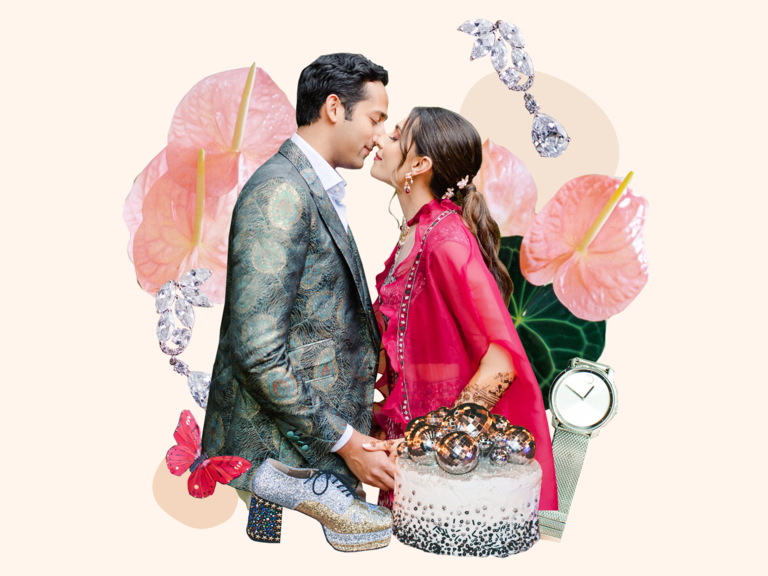 Glam Wedding Theme
Do you have an affinity for the finer things in life? For the lavish and the luxe? A glam wedding is the way to go. It's all about creating a once-in-a-lifetime experience for your loved ones through top-notch service and attention to detail. "A glam wedding is a shiny wedding," says Tutera. "It can be in any color scheme, with white as a predominant base color. It should be rich with sparkled details, candles and luxurious textures."
Glam Wedding Theme Buzzwords: Regal, luxe, dazzling
Glam Wedding Ideal Venues: A destination that exudes opulence is the key. That could be a castle ballroom, swanky rooftop or historic estate.
Glam Wedding Budget Priorities: Communicate your eye for style from the onset with chic stationery. From there, wow your crowd with epic entertainment and over-the-top decor.
Glam Wedding Must-Have Materials: Silver, mirrors, glitter, silk, candles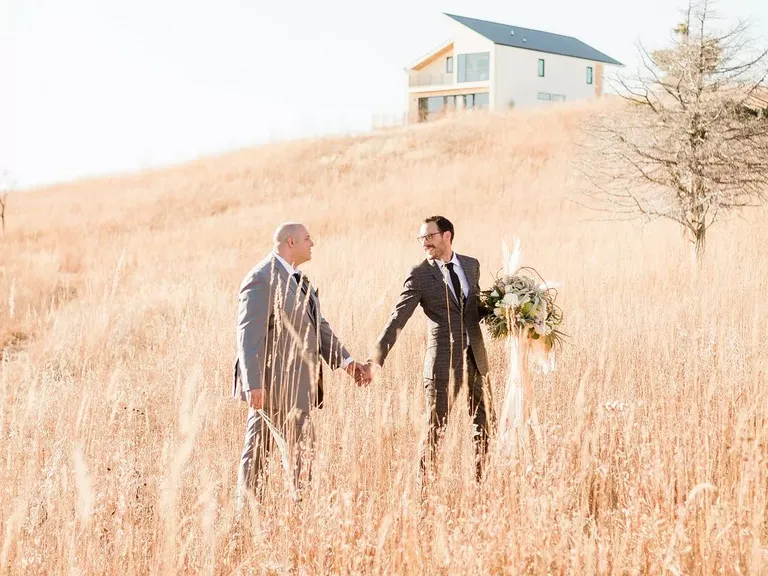 Country Wedding Theme
A mix of rustic, vintage and Southern styles, a country wedding theme is full of charm and overflowing with thoughtful, personal details. The main goal of this wedding theme is to design an event that's chic but not stuffy—imagine your guests are coming over for a summer backyard party (albeit one that takes a little more planning in this instance). Elements like wooden cross-back chairs, wildflower-style arrangements, gingham prints and homemade pies are the vibe to emulate. Don't feel too confined to the kitschy elements of traditional rustic style (like burlap or tree stump accents). Instead, you can achieve a refined country wedding theme by looking for details that are inviting and welcoming If you're feeling stuck, consider an Americana-themed wedding or draw inspiration from the cottagecore wedding trend, which is reminiscent of English country style.
Country Wedding Theme Buzzwords: Down-to-earth, pastoral, quaint, bucolic
Country Wedding Ideal Venues: Backyard, ranch, countryside meadow, vineyard
Country Wedding Budget Priorities: Spend money on the little details, like tabletop decor and favors.
Country Wedding Must-Have Materials: Leather, wood, cotton, tin
Alternative Wedding Theme
Calling all eclectic couples, an alternative wedding theme is for you. If you're into going against the grain and thinking outside the box, then this is what you need to do with this creative wedding theme: think about your favorite hobbies and theme-ify them, even if you don't think they could be a theme. Anything from music to Star Wars to The Grateful Dead to soccer can inform this wedding theme. With an alternative-themed wedding, the further outside the box you think, the better.
Alternative Wedding Theme Buzzwords: Eclectic, funky, far out
Alternative Wedding Ideal Venues: Industrial warehouse, loft, rooftop, urban winery
Alternative Wedding Budget Priorities: Invest in fun and funky decor.
Alternative Wedding Must-Have Materials: Steel, concrete, dried flowers, records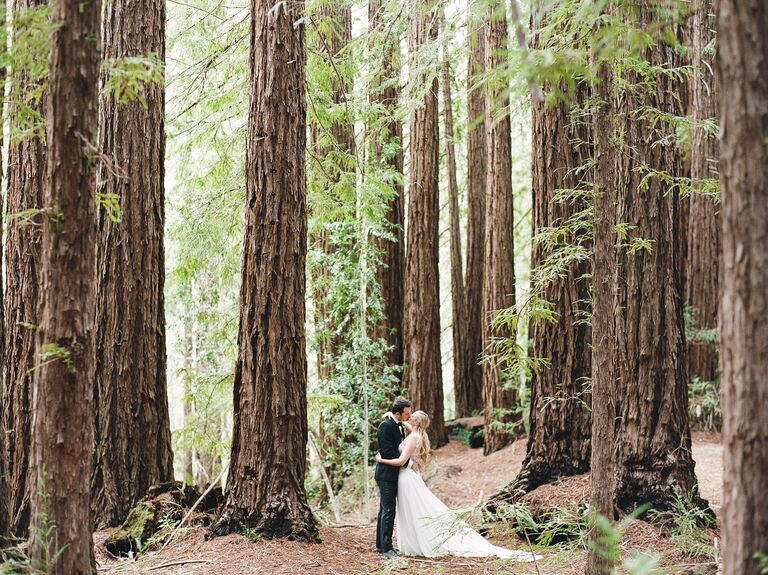 Forest Wedding Theme
Do you feel like you could've been a woodland creature in another lifetime? A forest wedding theme is just what you need. An earthy color palette of emerald green and chocolate brown can set the tone for this whimsical, woodsy fete.
Forest Wedding Theme Buzzwords: Woodland, enchanted, gnome, evergreen, cozy, welcoming
Forest Wedding Ideal Venues: In a perfect world you'd tie the knot either in Hobbiton in New Zealand or among towering redwoods in Northern California. But you can also consider a cabin, ranch or National Forest.
Forest Wedding Budget Priorities: A forest wedding theme is about creating an otherworldly experience for guests. To do just that, invest in great welcome baskets and delicious food.
Forest Wedding Must-Have Materials: Moss, canvas, wood, ribbon
Fairytale Wedding Theme
And they lived happily ever after. Whether you're a Disney fan, a Bridgerton fan or just love classic love stories, a fairytale wedding theme is an absolute classic. It's a bit more whimsical and giddy than a romantic wedding—like the blend between a romantic, garden and glam wedding theme.
Fairytale Wedding Theme Buzzwords: Regal, stately, charming, fanciful
Fairytale Wedding Ideal Venues: Castle, Disney World, ballroom, vineyard
Fairytale Wedding Budget Priorities: Decor, especially specialty rentals and linens, is an area of focus for fairytale wedding themes.
Fairytale Wedding Must-Have Materials: String lights, flower petals, tulle, silk, lace
Dark Wedding Theme
A dark wedding theme, also sometimes referred to as Dark Academia, brings in goth, moody elements, but doesn't stop there. It also leans into the quirky and eclectic in a way that feels creative, rather than sinister. A dark wedding theme is a great option for bibliophiles who want to plan a literary wedding.
Dark Wedding Theme Buzzwords: Moody, dramatic, gothic, spooky, eclectic
Dark Wedding Ideal Venues: Castle, library, historic estate, museum
Dark Wedding Budget Priorities: The venue is a key part of a dark-themed wedding. Splurge on the location as well as fashion that will drive home your chosen aesthetic.
Dark Wedding Must-Have Materials: Candles, parchment, leather, moss
Garden Wedding Theme
Flowers are a big part of almost every type of wedding, but with a garden wedding theme, flowers are the moment. A garden wedding works especially during for spring nuptials, especially if you've chosen a pastel color palette.
Garden Wedding Theme Buzzwords: Lush, verdant, charming, dreamy
Garden Wedding Ideal Venues: Private estate, botanical garden, vineyard, ballroom
Garden Wedding Budget Priorities: Floral decor is the key here, full stop. Invest in over-the-top bouquets, a blossoming ceremony arch and robust reception centerpieces.
Garden Wedding Must-Have Materials: Flower petals, organza, tulle, rattan, ceramic
Minimalist Wedding Theme
Less is more. A minimalist wedding theme leans into a pared-down aesthetic to ensure each and every element shines in a sleek and refined manner.
Minimalist Wedding Theme Buzzwords: Sleek, elegant, understated, refined, subtle
Minimalist Wedding Ideal Venues: Loft, art museum, city hall
Minimalist Wedding Budget Priorities: Understated doesn't mean forgotten, instead it's a chance to lean into quiet luxury and invest in high-quality items. Focus on top-of-the-line food and drinks.
Minimalist Wedding Must-Have Materials: Glass, acrylic, concrete
Vintage Wedding Theme
If you love spending hours meandering through antique markets, you have a whole collection of trinkets from eras past or you constantly turn to previous decades for style inspo, a vintage-themed wedding might be for you. This popular wedding theme is sometimes thought of as being interchangeable with romantic and retro wedding themes, but there are a few key differences. For a vintage wedding, you'll want to focus heavily on the Gilded Age and Victorian design—for starters, think candelabras, cloche jars, filigree photo frames and upholstered velvet furniture.
Vintage Wedding Theme Buzzwords: Eclectic, storybook, ornate
Vintage Wedding Ideal Venues: Historic courthouse, garden, chapel
Vintage Wedding Budget Priorities: Invest heavily in curated vintage decor. Instead of plain tablecloths or runners, tablescapes might be draped with delicate layers of lace. Repurposed antique furniture is always a conversation piece, so consider designing a lounge area with old armchairs or love seats for your cocktail hour.
Vintage Wedding Must-Have Materials: Velvet, copper, ceramic, gold leafing
Celestial Wedding Theme
Obsessed with your Zodiac sign? We stan a well-designed celestial wedding theme. Your perfect day will be a sparkle-filled collection of midnight blue and black, just like a star-speckled night sky.
Celestial Wedding Theme Buzzwords: Starry, sparkling, ethereal, moody
Celestial Wedding Ideal Venues: Planetarium, museum, loft
Celestial Wedding Budget Priorities: Invest in great stationery and decor—you could even consider finding ways to incorporate star maps into the day.
Celestial Wedding Must-Have Materials: String lights, acrylic, enamel, taper candles, gold
Art Deco Wedding Theme
Reminiscent of the Roaring '20s, an Art Deco wedding theme is all about glitz, glamour and partying. Energetic jazz music should be a main focus, so we highly recommend finding a live band to get your guests on their feet (bonus points if anyone can dance the Fox Trot or the Charleston). Geometric details are another major component of Art Deco wedding style, mimicking the architectural designs of the Chrysler and Empire State buildings constructed in the late 1920s. If this avant-garde aesthetic speaks to you, you might consider hosting a Great Gatsby-themed wedding or getting married on New Year's Eve.
Art Deco Wedding Theme Buzzwords: Flashy, opulent, majestic
Art Deco Wedding Ideal Venues: Castle, mansion, hotel ballroom, rooftop
Art Deco Wedding Budget Priorities: Invest in great decor and an epic bar offering. An Art Deco wedding calls for dramatically tall centerpieces, sequined tablecloths and an impeccably styled wedding party. But, arguably the most important detail of an Art Deco theme is a jaw-dropping wedding champagne tower that would make even Jay Gatsby jealous.
Art Deco Wedding Must-Have Materials: Silver, gold, sequins, tinsel, foil-printed stationery, mirrors
Beach Wedding Theme
Dreaming of a seaside celebration? A beach wedding theme is the way to go. If you want a laid-back, chill day that is reminiscent of a beach vacay, hit the sand for your nuptials.
Beach Wedding Theme Buzzwords: Relaxed, effortless, breezy
Beach Wedding Ideal Venues: Beyond the actual beach, you can host a beach-themed wedding at a waterfront resort or coastal gold course.
Beach Wedding Budget Priorities: You want to curate a seemingly effortless experience for guests. This can be done by investing in great food, accommodations and entertainment for loved ones.
Beach Wedding Must-Have Materials: Rattan, bamboo, linen
Gothic Wedding Theme
Thinking about getting married on Halloween? Keep things spooky with a gothic wedding theme. A mostly black color palette, with hints of dark purple and antique gold is the ticket here. We're all for a fall wedding in a library with black taper candles and purple signature cocktails—you could ever RSVP with regrets to such an event?
Gothic Wedding Theme Buzzwords: Spooky, eerie, mysterious, dark
Gothic Wedding Ideal Venues: Castle, historic estate, library
Gothic Wedding Budget Priorities: Imagine dining on matte black plates under a crystal chandelier as a candelabra of long taper candles slowly burns as part of the centerpiece. In case you couldn't guess, decor, specifically reception tabletop details, should be a focus here.
Gothic Wedding Must-Have Materials: Slate, wrought iron, candles
Whimsical Wedding Theme
Tap into your youthful side with a whimsical wedding day. Perfect for hopeless romantics and kids at heart, this wedding aesthetic is all about having fun and creating an uplifting atmosphere. "A whimsical wedding is playful and colorful," Tutera explains. "Think of it as though you're elevating a child's Alice in Wonderland-themed party and translating it into an adult wedding." Think of the whimsical theme as a garden wedding mixed with your favorite fairytale. Your wedding invitations are the best place to introduce any wedding theme, but especially a whimsical one—a quirky motif or wordplay can allude to the fun without giving the whole idea away. Day-of details like mismatched bridal party dresses, thrifted china, creative wedding table numbers and interactive entertainment (like a photo booth or live painter) will make everything feel unique.
Whimsical Wedding Theme Buzzwords: Enchanting, quirky, fantasy
Whimsical Wedding Ideal Venues: Greenhouse, backyard, mansion
Whimsical Wedding Budget Priorities: Flowers and decor should be top priority, along with bespoke fashion.
Whimsical Wedding Must-Have Materials: Silk, candles, fine china
Natural Wedding Theme
This wedding theme is focused on—you guessed it—nature-inspired elements like fresh flowers, animals, trees and other botanical components. The color palette is also inspired by nature, with a base of white or ivory contrasting with deep green, brown or blue tones. We like to compare the concept of this theme to the forests of the Pacific Northwest: equal parts moody and magical.
Natural Wedding Theme Buzzwords: Ethereal, organic, woodland
Natural Wedding Ideal Venues: Forest, botanical garden, treehouse cabin
Natural Wedding Budget Priorities: Invest in sourcing locally for your wedding. From a farm-to-table menu to ethically sourced flowers, think of Mother Nature first when spending your budget.
Natural Wedding Must-Have Materials: Wood, moss, muslin fabric, terracotta
Travel Wedding Theme
Listen up: A travel wedding theme isn't the same as a destination wedding. A destination wedding doesn't have to have a travel theme just like a travel-themed wedding can be local. It's all about embracing the idea of travel as a concept to inspire the decor and wedding aesthetic, whether or not travel actually takes place.
Travel Wedding Theme Buzzwords: Global-trotting, jet-setting, voyage, wayfaring, trek
Travel Wedding Ideal Venues: Airplane hangar, park
Travel Wedding Budget Priorities: Even if you aren't hosting a destination wedding, transportation will still be part of your day. From buses for attendees to a vintage getaway car, focus your attention on booking great transportation vendors.
Travel Wedding Must-Have Materials: Parchment, globes, canvas, tin
Classic Wedding Theme
A classic wedding is one of the most popular aesthetics, and it's not hard to understand why. "A classic wedding is one that is timeless," Stephens explains. "It's usually defined as a more formal wedding with clean lines, white florals and a traditional overall look and feel." In addition to focusing on the ambiance, it's just as important to think about the emotion you want your classic wedding to evoke. "Classic romance weddings have the ability to create an emotional setting, not just for the couple but also for guests," Tutera explains.
Classic Wedding Theme Buzzwords: Traditional, timeless, elegant, sophisticated, refined
Classic Wedding Ideal Venues: Mansion, vineyard, ballroom
Classic Wedding Budget Priorities: Lean into refined sophistication with great food and entertainment. Kick off the wedding reception with a champagne cocktail hour accompanied by a jazz quartet.
Classic Wedding Must-Have Materials: Silver, linen hemstitch napkins, cut crystal, fine china
Nautical Wedding Theme
A celebration by the sea (or a destination wedding on the coast of New England) calls for some serious Cape Cod and Nantucket inspiration. Anchors and sailboats aren't the only seafaring details for this wedding theme. Breezy linen fabrics, lighthouse motifs, Breton stripes, oyster shell escort cards and blue watercolor stationery help to form this coastal, relaxed style. Treat guests to a seafood bar featuring local catches, like lobster rolls or fresh shrimp cocktails, to give them a true nautical experience. While you don't need to plan a beach wedding to utilize this style, a waterfront view will really bring together this maritime-inspired theme.
Nautical Wedding Theme Buzzwords: Beachy, "Coastal Grandmother" vibes, naval, preppy
Nautical Wedding Ideal Venues: Waterfront yacht club, beach resort, maritime museum
Nautical Wedding Budget Priorities: Think about a holiday weekend spent by the water with loved ones. What would you want that experience to be like? Now invest in your wedding accordingly—amazing welcome baskets, top-notch food, and fun entertainment.
Nautical Wedding Must-Have Materials: Rope, sailcloth, shells, sea glass, driftwood
Retro Wedding Theme
Mad Men meets Grease in this drive-in, sock hop, American Bandstand–era celebration. Even if your retro-themed wedding guests can't jive like the Bandstand dancers could back in the day, that's what the vibe should feel like at a retro wedding. Pull retro wedding theme ideas from the '50s and '60s, a time when bold colors like teal, cherry red, neon pink and canary yellow brought new energy to home decor and fashion. A few throwback details, like Coke served in its signature glass bottles, are just right to round out the experience—just be sure to use any themed details in moderation to avoid becoming too garish.
Retro Wedding Theme Buzzwords: Nostalgic, campy, moxie, mod
Retro Wedding Ideal Venues: Art gallery, vintage theater, restored historic building, diner
Retro Wedding Budget Priorities: Pay extra attention to decor and small accents, like escort cards and wedding favors.
Retro Wedding Must-Have Materials: Enamel, tie dye, balloons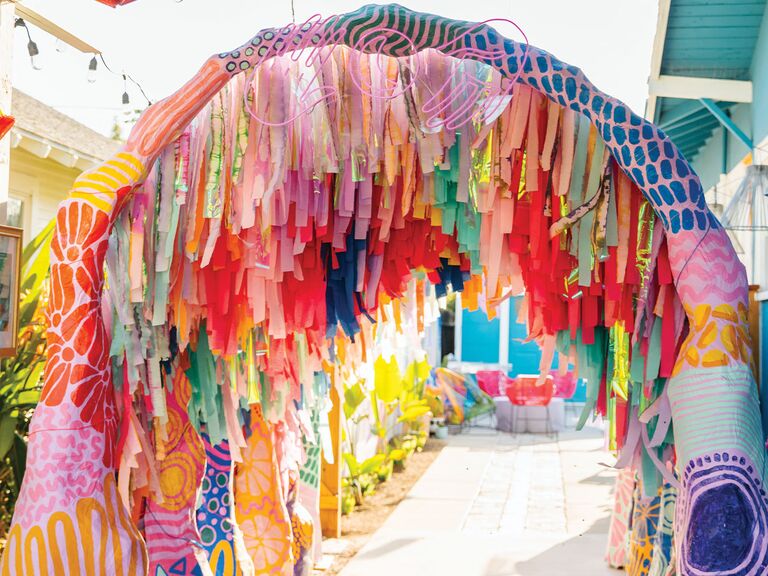 Maximalist Wedding Theme
Calling all the couples who believe more is more and think there's no such thing as over-the-top. Maximalist weddings lean into abundance and a celebration of everything, everywhere, all at once.
Maximalist Wedding Theme Buzzwords: Over-the-top, abundant, bountiful, exuberant, overflowing, bold, bright
Maximalist Wedding Ideal Venues: Go big or go home, right? Well, in this case a fun way to take things over the top might be booking a celebrity home as a wedding venue.
Maximalist Wedding Budget Priorities: Lean into investing in extra entertainment, beyond just music. Alternative entertainment ideas like a live painter, tarot card reader or acrobat will add to the abundant vibes.
Maximalist Wedding Must-Have Materials: Everything, and more of it. You can't go wrong with neon signs, bright acrylic, painted flowers and textured linens.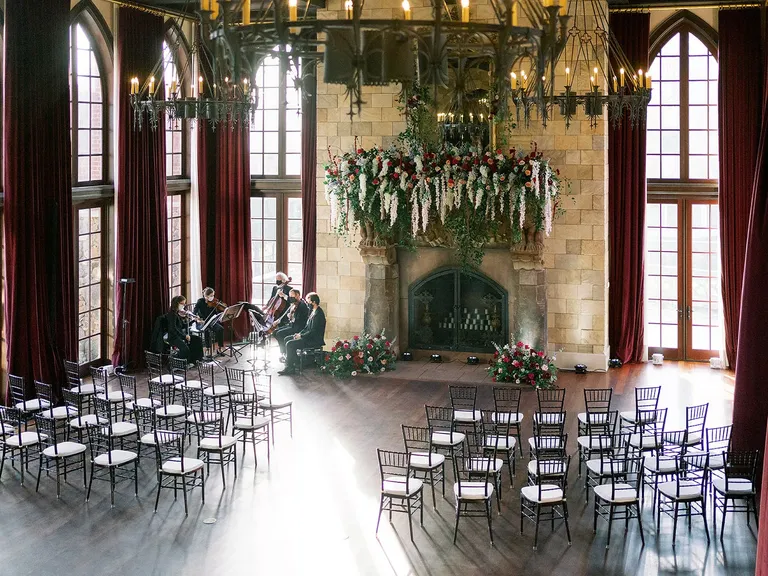 Moody Wedding Theme
Maybe you always loved Twilight or just have a penchant for the dark, dramatic and edgy. Whatever the case may be, moody weddings are having a moment.
Moody Wedding Theme Buzzwords: Dramatic, sultry, spooky
Moody Wedding Ideal Venues: Gilded Age mansions and historic cathedrals will help set the stage for your slightly spooky day.
Moody Wedding Budget Priorities: Decor and fashion are a priority here. Invest in unexpected attire (maybe even a black wedding dress) and dramatic floral arrangements.
Moody Wedding Must-Have Materials: Velvet, satin, dark flowers, candles
Wedding Theme vs Wedding Style vs Wedding Aesthetic
A wedding theme is a more prescriptive design direction while a wedding style is an overarching feel or formality level and a wedding aesthetic is a vibe that mixes the two in many ways. Notably, wedding aesthetics were made popular online, especially on Tiktok, and many follow the something-core naming convention.
"It is beneficial for couples to choose either a theme or a style, if not both," says wedding planner Ayanna Stephens, owner of New Jersey-based Designs by Ayanna, which she founded after planning her own wedding in 2006. "The theme and/or style helps with a few things: It creates the opportunity for a cohesive design for your wedding, it sets the tone for the type of experience your guests will have, and it also helps to inform your budget."
Theme, style, aesthetic, vibe, oh my! While the words are sometimes used interchangeably, it's important to make the distinction to avoid confusion among your vendors. "The words theme and style represent two distinct aspects of your wedding," Stephens explains. "Style is more related to the overall look and feel of the wedding; it's directly connected to your aesthetic. On the other hand, a theme is related to a specific subject that contributes to the details of the wedding design."
Consider this: Perhaps you want to host a lavish Great Gatsby-themed wedding. This is a clear aesthetic with strong ties to both a book and a movie, which will include elements of art deco, vintage and glam styles. Because Great Gatsby is the overarching idea guiding your style choices, it's a distinct wedding theme. On the other hand, you could plan a vintage wedding that includes relevant stylistic elements without committing to a theme as obvious as Great Gatsby. Being intentional about whether you're following a theme or a style will aid decision-making and keep your vision and expectations on track.
How to Pick a Wedding Theme
So how do you pick a wedding theme to then inform your subsequent planning decisions about colors, decorations, entertainment, food and more?
Close your eyes and picture your perfect wedding day. Where are you? What is the guest experience like? How does the day feel? "Selecting the right style can also be related to the type of experience you want for your guests," Stephens explains. "For example, a classic wedding tends to be more formal while a boho wedding is usually less traditional. It's important to narrow down your overall style and the experience you want to create."
If you're not sure what wedding style is right for you, details like the date or location can serve as a guiding force. "Finding a venue that is realistic to your vision can seem challenging, but it's the most important part of wedding planning," says New York-based wedding expert Alyssa Pettinato, owner of Alinato Events who opened her own company after successfully planning large-scale corporate events. "Then, every decision that comes after locking in the venue will contribute to the theme or style of your day."
Another great place to find wedding theme inspiration? The Knot Magazine is packed with all the creative ideas you need to find a wedding theme that is perfect for you.
Ultimately, the best wedding theme or style inspiration comes from your relationship. "Themes are great because they help to personalize the wedding," says Stephens. Adds Tutera: "A wedding theme is great if it makes sense to the couple's perspective on how they want their wedding to look. So, if you're obsessed with a certain theme and it makes sense to who you are, it's great to have—but it's not a necessity, especially if a general style resonates more with you. It's important to pick what best represents you as a couple."
Sarah Hanlon contributed to the reporting of this story.