All the Hottest Wedding Themes (and How To Make Them Your Own!)
Not sure how to define the look of your wedding day? Consider this your Merriam-Webster of wedding style.
by Lauren Kay and Andrea Fowler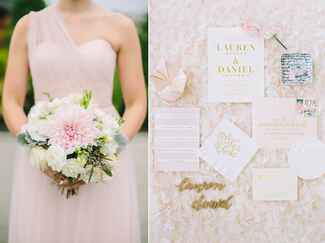 photo by
From left: Rebecca Arthurs Photography; Abby Jiu Photography
Maybe one of the hardest things about wedding planning is getting on the same page with your vendors. You might be explaining your vision of the most perfect rustic soiree, but your planner might be hearing the makings of a bohemian bash. This could happen with any of your pros, like florists, bakers or caterers. Visuals help, of course, but it's also important to know you're speaking the same language—enter, our wedding theme dictionary.
We broke down every theme from alternative to whimsical with basic descriptions and buzzwords for each—arming you with the basics, so to speak. Remember: Style is totally up for interpretation, so these aren't rules. Think of them as a jumping-off point or guidelines. Once you know what you want and how to ask for it, we encourage you to break those guidelines and create a wedding that's totally your own.
Alternative

photo by

Willow Noavi Photography

Art Deco

photo by

Couple: Kay English Photography; escort cards: Mel Barlow & Co.; bouquet: Agnes Lopez Photography; cake: Alicia Pyne Photography; tablescape: Kina Wicks Photography

Bohemian

photo by

Cake: You Look Lovely Photography; wedding party: Emily Steffen; Tepee: Ash Imagery

Classic

photo by

From left: Delbarr Moradi Photography; Corbin Gurkin Photography

Country

photo by

Truck and cupcakes: Onelove Photography; invitations: Braedon Photography; Lounge: Clewell Photography

DIY

photo by

Bridesmaids: Robyn Van Dyke Photography; invitation: Libelle Photography; donuts: Matoli Keely Photography; table number: Meg Matyia Photographer

Glamorous

photo by

Roselle Photography

Modern

photo by

Amber Gress Photography

Natural

photo by

Tablescape: The Grovers; invitations: Luminaire Foto; flower crown: Harwell Photography

Nautical

photo by

Invitations: Emily Wren Photography; socks: Summer Street Photography; escort cards: Wendy Laurel; table number: Organic Photography

Preppy

photo by

Bride and groom: Amy Arrington Photography; escort cards: Jess Barfield Photography; tablescape: Shea Christine Photography

Retro

Romantic

photo by

From left: Rebecca Arthurs Photography; Abby Jiu Photography

Rustic

photo by

Jade + Matthew Take Pictures

Southern

photo by

Bowtie: Flavio D Photography; cocktails: Aristrie Co.; dog: TKTK; cornhole: The Grovers; bridal party: Dear Wesleyann

Vintage

photo by

Bride and Groom:Chris Glenn Photography; Typewriter: Rebecca Arthurs Photography; lounge: Mirelle Carmichael Photography

Whimsical

photo by

Jaime Davis Photography