5 Tips for Picking Wedding Jewelry You'll Love
Accessorize your bridal look flawlessly with these helpful hints.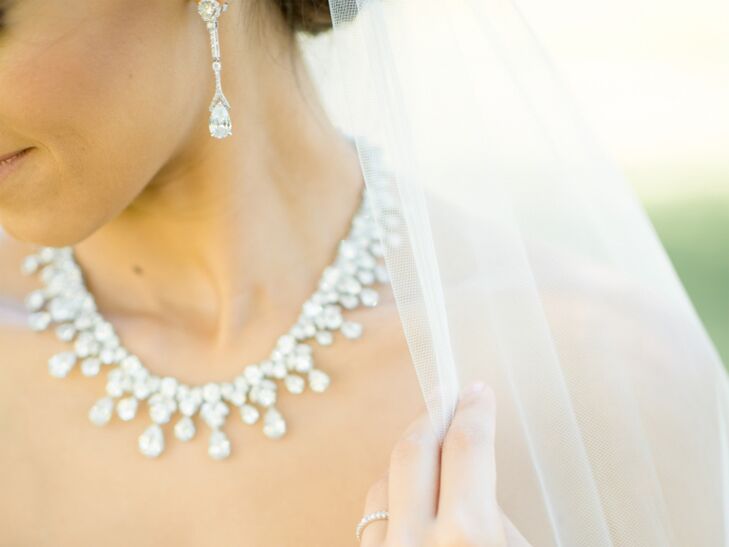 Tamara Gruner
When it comes to style, we're all for breaking the so-called "rules." But that doesn't mean there aren't still tried-and-true tips to help you look your best, including for your wedding day jewelry. So if you need a little guidance when it comes to accessorizing your gown, read on below.
1. Don't overdo it.
The first commandment for picking out your wedding jewelry: Don't go overboard. No matter how tempting it is to load up on baubles and bling, you don't want to risk letting your accessories outshine you. Keep "less is more" as your mantra and stick with a few key pieces rather than accessorizing every part of your body.
2. Match your metals to your dress.
Can't decide between silver and gold jewelry? Let the color of your gown guide your choice.
If your gown is white: This bright hue looks prettiest with platinum or silver pieces.
If your gown is ivory: Gold jewelry will best enhance this creamy shade.
If your gown is champagne: Gold jewelry will complement the warm tones in this very light beige color. If you're putting together an antique-inspired look, burnished silver with rhinestones also works well.
If your gown is blush: Try rose gold. The pink cast in the metal will coordinate with the soft pink of the dress.
3. Consider your dress's neckline.
Your gown's décolletage will play a role in framing your face. Help it do its job by selecting jewelry that pairs perfectly with it.
If your dress has a sweetheart or strapless neckline: To create height and direct all eyes to your smile, consider wearing a choker or shorter necklace. This style is making a comeback and looks timeless with this neckline. Another option: Skip the necklace and wear statement chandelier earrings instead. Pull your hair off your face and add a few fresh flowers, '20s-inspired feather barrettes or another simple embellishment that works with your look. As your décolletage is the focal point, you'll want your standout pieces there, but don't hesitate to add a smaller bracelet, bangle or cocktail ring to balance everything out.
If your dress has a V-neck: This style is made for décolletage decoration. Opt for a choker or pendant, or try layering both if they're delicate pieces. Pair the necklace with earrings, which could be small or dangling—whichever looks best with your hairstyle.
If your dress has a halter or reverse halter: Focus your accessorizing on your hair by decorating it with pins, combs or vines. These can be sleek, bejeweled or floral, depending on the effect you want. Going for a retro vibe? Try a gorgeous embellished birdcage veil. If you need a little extra something, wear a bracelet or cocktail ring.
4. Don't get overwhelmed.
If deciding on your jewelry seems more difficult than finding the gown, focus your search. Find one piece you absolutely adore and want to invest in, and wear that. Still in doubt? Simple pearl or diamond studs (costume or otherwise) are always classic. Just be sure you don't buy them as part of a set. While jewelry suites used to be a go-to, modern brides avoid accessories that look too matchy-matchy.
5. Be yourself.
The most important thing about picking the perfect pieces for your wedding gown is they should be a reflection of you. If you're not comfortable wearing big, chandelier earrings, stick to studs. Love the way you look in a lariat necklace? Go for it! If you're happy in all your accessories, you'll feel confident—and that's the best accessory of all.
Still looking for the perfect dress? Find it here.