The Best Ways to Personalize Your Wedding
Here's how to have a wedding that's authentically yours.
Planning a wedding can be overwhelming—especially since it's easy to default to what you've seen in movies, magazines or other people's weddings. Here at The Knot, we believe your wedding should reflect your unique love story. If you're struggling with how to personalize your wedding, we've tapped wedding planning pros for all the best ideas so that you can have a wedding that feels like it's yours—truly. From creative ceremony backdrops to unexpected cocktail hours, we have you covered.
We'll always recommend hiring a professional wedding planner because they're experts at managing the planning process. But beyond that, a wedding planner can help you put a truly personal stamp on the wedding day, Jove Meyer, owner and creative director of Jove Meyer Events, tells The Knot. "I'm here to make sure they get a wedding that looks like them, feels like them, smells like them—is them," he says.
A planning pro can also help you and your partner break away from limiting expectations so that you can have a wedding that's uniquely yours. "When couples think outside the box of what they have to do and start to think about what they like to do and what makes them happy, then I think the personalization just comes naturally."
So what's the secret to personalizing your wedding? Start with what's most important to you, says Jung Lee, event architect at Fête. "Start with the key essentials. I feel like oftentimes people get engaged and they're like, 'Oh my God, I've got to book a venue.' Plan it out properly, focusing on what you want to do rather than just doing." The other important step is to question every decision, Meyer says. Always come back to the why: Are you choosing something because it's important to you or because you think it's what you should do? Below, see Meyer and Lee's best advice on how to personalize your wedding.
The Stationery
Rather than viewing stationery as just another item on your to-do list, think of it as an opportunity to put your own spin on things. Meyer encourages couples to think about how they want to represent their love story from the very beginning. He cautions to-be-weds against picking basic stationery simply because they think they should. "What about that sparks joy for you? All you're supposed to do is make sure the date, time and location is communicated. How we do that is flexible." Meyer recalls a couple who decided to draw their venue on their invites—and include themselves in the drawing. " For me, it's been really fun to push a new direction of weddings where couples can incorporate themselves and their styles and their personalities."
It doesn't just stop at what design you choose for your stationery—who designs it matters too. Being thoughtful about who you purchase your save-the-dates and invitations from is yet another way to personalize your wedding. Seek out small, minority-owned businesses or head over to The Knot Invitations and scroll through the Black Artist Collective. We teamed up with select artists to design one-of-a-kind stationery suites so you can get stationery that reflects your style and your values.
The Registry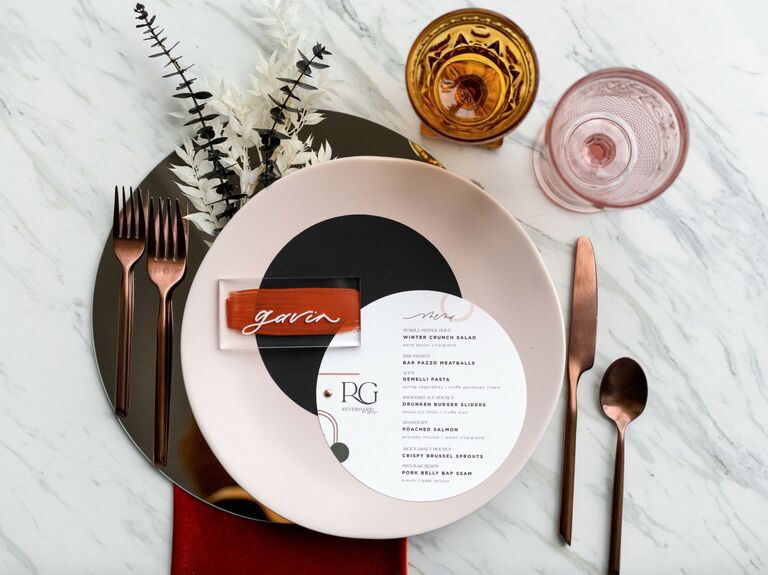 Your wedding wishlist is another wonderful opportunity to showcase your values. Don't feel limited to the standard lineup of products (throw pillows, casserole dishes and so on). Feel free to get creative with your registry and include a few thoughtful picks. If you have enough home goods, consider setting up a charity in support of a cause close to your heart. With the help of The Knot Cash Fund, guests can easily contribute to whatever charity you've selected.
Another option is to particpate in The Knot Gifts back: a program in which The Knot donates up to 3% of all qualified purchases from your registry to a charity of your choice (for free!). Looking for ideas? Consider selecting VOW, a charity fighting to end child marriage. 12 million girls are married before they turn 18 every year, cutting off their education and putting them at risk for violence and poverty. VOW funds local organizations all over the globe advocating for girls' rights and standing up against child marriage at the community level.
If you want to take it one step further, register for products that have a charitable component. For example, for every item you add to your registry from our Most-Wanted collection, we'll donate $1 to VOW's efforts against child marriage. However, you can seek out other items that give back and and add them to your registry easily thanks to The Knot universal registry tool. Locate the product you want to register for and add it to your wishlist with the click of a button.
The Venue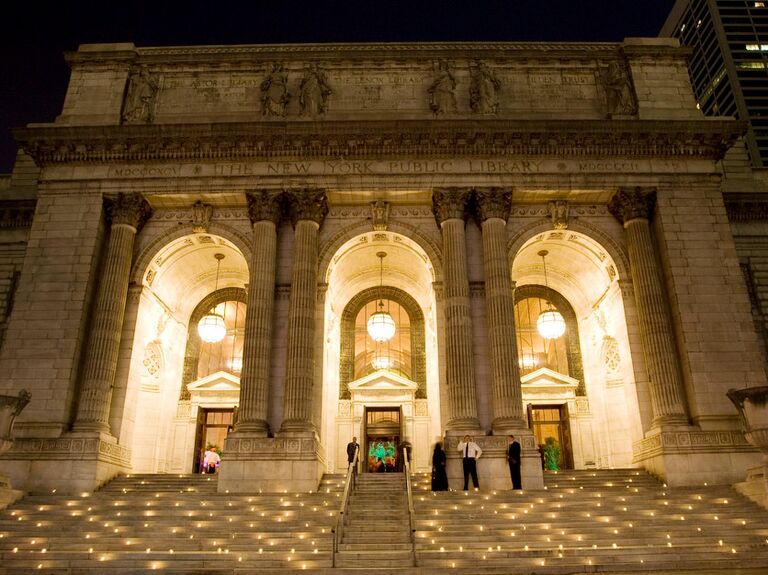 Picking a venue can often feel like one of the biggest decisions during the wedding planning process. After all, it's the setting of your celebration and the backdrop of all your pictures. Lee says the best way to personalize your wedding venue is to go based on what's meaningful to you—whether that's a beach in Capri, the New York Public Library, or your family's farm. "I think people put so much pressure on it and they think they have this magical place then everything will fall into place," she says. "I would always rather go with the exceptionally talented chef with mediocre ingredients than an average cook with the best ingredients. What I mean by that is that it's what you do with your venue, not what your venue is."
The Vendors
One major way to reflect your authentic selves is to be thoughtful about the wedding vendors you hire. "You can look at planning your wedding as spending your money to throw a party, or you can look at your wedding as investing money in business you believe in and supporting people you believe in." Whether it's small businesses, female entrepreneurs or people of diverse backgrounds and beliefs, Meyer says hiring your wedding vendors is an opportunity to empower people. "You can look at that as a way to live your values out loud and support small business and support artists and support creatives and support minorities." If you're not sure how to connect with specific vendors, take a look at the different categories on The Knot Marketplace or consult a professional wedding planner.
The Welcome Bags
Personalizing your wedding doesn't have to involve huge, expensive gestures or decor. You can also make a wedding special by focusing on the smaller, simpler details. "It doesn't always have to be a huge expense. We don't have to spend a ton of money to personalize a wedding," Meyer says. If you have a limited budget or if you're looking for smaller ways to infuse your love story into the wedding, consider gifting your guests a thoughtful welcome bag. Rather than opting for an impersonal favor, include some of your favorite snack foods or foods that are local to the area where you're getting married. After all, your wedding is about sharing your love story with the people you love, so every detail should reflect your unique relationship.
The Decor
Meyer says that almost all couples he works with say they want their wedding to be fun—but they're hesitant to think outside the box. The first thing couples should do is consider how they like to have fun and bring that into the celebration.
One of the major examples Meyer references is the color palette. He says that couples often default to neutral colors like white and gold, but they often have no reason for that decision. "Is there any rule that you need to have a gold and white neutral palette wedding to have a successful marriage? No. What makes everyone happy? Color. Brightness. Fun." If you want to have a personalized wedding, picking colors that make you happy is a great way to put your stamp on your nuptials.
The Flowers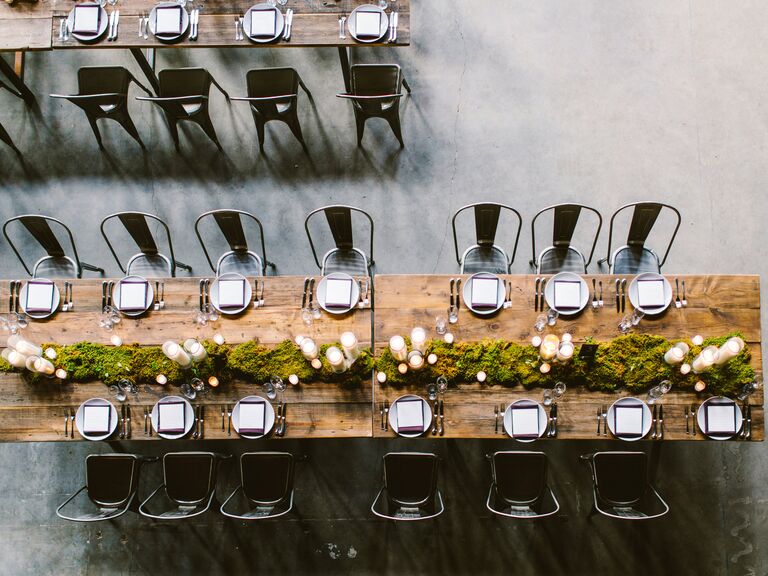 You may think that flowers are self-explanatory: Find a few to go on the sides of the aisle and as centerpieces for the tables. But Meyer says nothing about your wedding—not even flowers—should be formulaic. "Why are we limiting to one centerpiece and two candles per table? Again, it's this notion that this is a recipe for a wedding, you have to follow it. But in reality, people have been following that recipe for years and the divorce rate is still 55 percent," he notes. "So there's no correlation between following a 'traditional' wedding formula, that you'll be guaranteed to be happy. So I say, let's throw away all the rules and do what makes you happy."
If you don't like flowers, work with your planner to come up with other alternatives (like greenery or plants, for example). If you absolutely love flowers, tell your planner so they can help you find the perfect blooms for your wedding day.
The Ceremony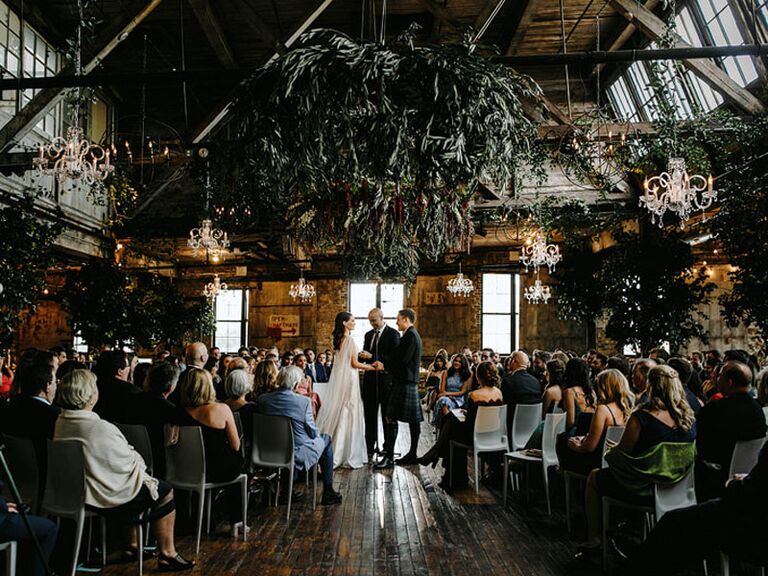 Meyer says every detail of your ceremony should be thoughtfully executed—starting with the floorplan. "Why are we stuck to an aisle with two sides? What about a ceremony in the round?" There are endless possibilities when it comes to saying "I Do," which is why Meyer encourages couples to think outside the box.
Don't be afraid to get creative with the processional either. If you and your partner would rather walk together, follow that gut feeling. If you want both of your parents or your grandparents or your godparents to walk you down the aisle, make that happen. Meyer says one of his most memorable weddings involved a couple standing at the end of the aisle and their guests walking in because they wanted to honor everyone who supported their relationship. "If you're not bound by religion or tradition, let's do something that feels right to you," he says.
The Outfits
Fashion is one of the best ways to express your style and your personality—so it shouldn't take a backseat on your wedding day. Meyer says many people often pick white outfits without a second thought. "Why are we wearing white? Wearing white does not guarantee the longevity of your marriage. What you wear down the aisle has no correlation to the success of your relationship. Are you wearing white because it makes you happy or because you think you have to do it?"
Take it from Lee, who fell into that trap with her wedding dress. "Somehow along the way, I decided I needed to be the belle of the ball and have the biggest dress. I literally became someone else. Three weeks before my wedding, I said, 'What am I doing?' And got a normal dress." Moral of the story? Remember it's your day, so you should call the shots.
It doesn't have to stop at your clothes either. Bring you personality to your shoes, hair, makeup, nails and bags. Bottom line: You should wear whatever you feel like wearing—not what you think you should be wearing.
The Wedding Party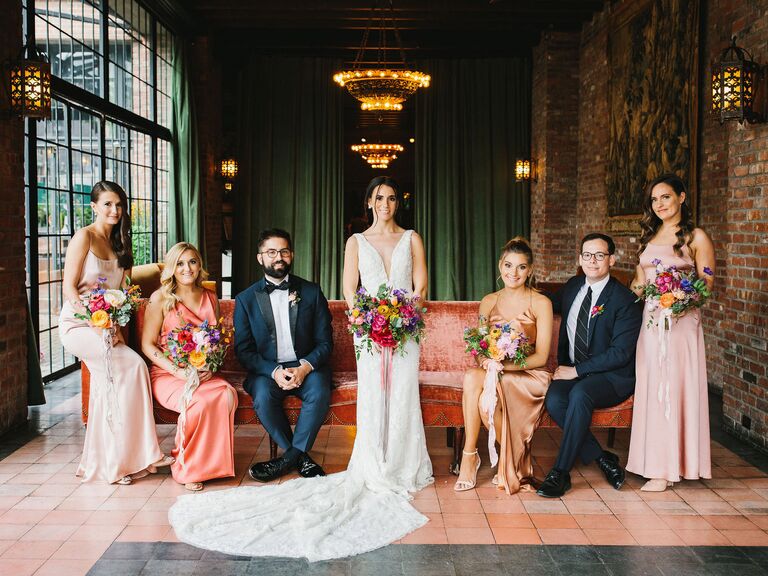 Your wedding party should include your closest friends—regardless of age, familial ties or gender. "I don't understand why there's this notion that women can only have women and men can only have men in a world where people typically have friends of both genders or friends who are gender nonconforming," Meyer says. "If your friend is of a different gender than you and they're your friend, they should be standing up there proudly by your side." You should also feel free to take this approach for your prewedding parties (enter the bachelorx party).
Meyer also says that couples should think hard about why they're even having a wedding party. "Traditionally, you have to have all of these people. But ultimately, do you really need or want to manage 20 people on your wedding day?" The decisions you make about your wedding day should excite you. Whether that means having a huge wedding party or a small one or no bridal party is completely your choice.
The Reception
If you want to have a raging party, a two-hour long seated plated dinner might not be the right choice for you. "As long as guests have food and alcohol, everything else is flexible." Consider an alternative dinner instead, like a food truck dinner or a family-style party or a even a cocktail-style reception.
Meyer says that cocktail-style dinners in particular are popular. They involve food being brought out to your guests (no seating chart needed) while the music plays, so they have the option to dance instead of sitting at a table.
The Menu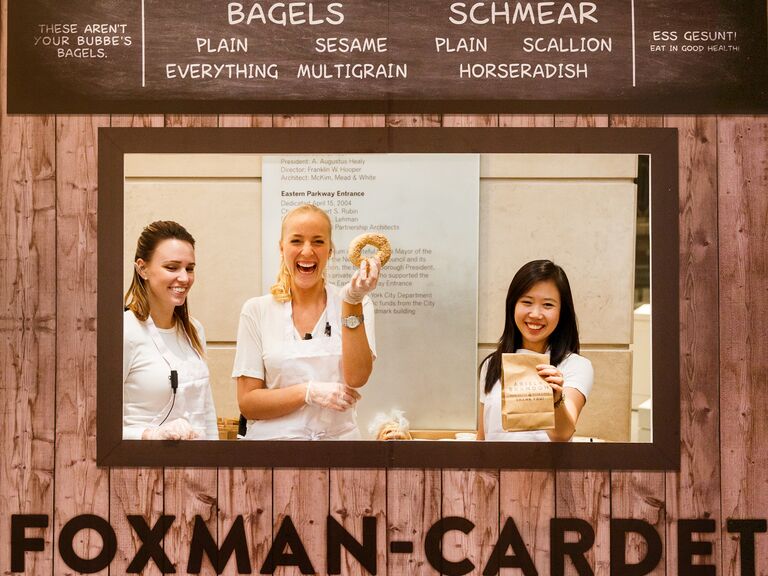 A traditional wedding menu might bring to mind chicken and fish, but customizing your menu is one of the best ways to personalize your wedding. If you and your partner are total foodies, consider a food truck-style dinner. Think about celebrating your different backgrounds with a fusion menu. Pay homage to your first dinner date by serving similar food. Pick out your favorite foods (you're going to be eating them, after all) and enjoy sharing that with your guests.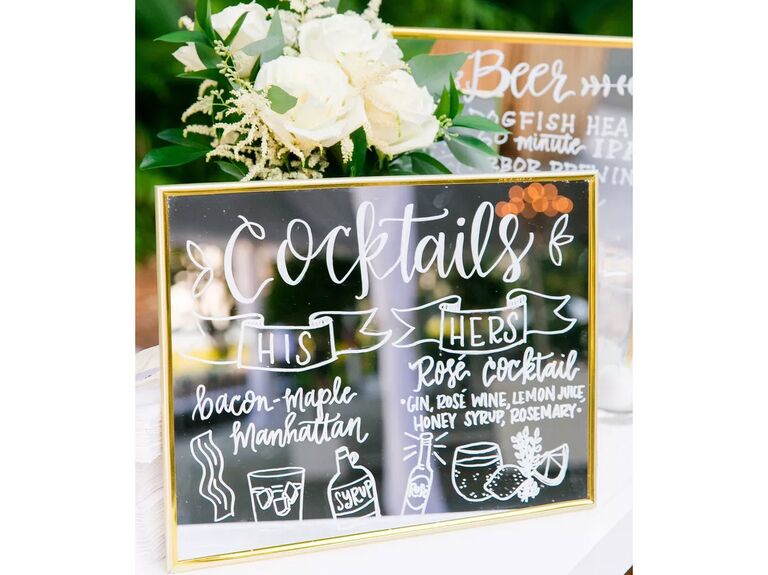 For drinks, get creative with a signature cocktail (or mocktail if you want a non-alcoholic choice). Meyer says one of his favorite wedding involved a couple naming their speciality cocktail after their dog. It was a spicy margarita, so they included a picture of their dog in a sombrero, and it was absolutely unforgettable. Including small personal details like that will make your wedding feel specifically yours.
The Wedding Favors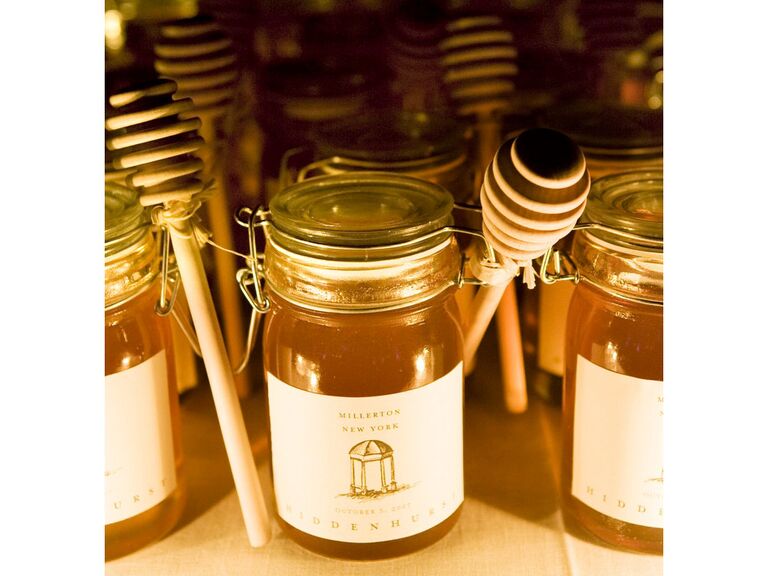 Lee says that wedding favors are a great opportunity to put your personal stamp on your wedding. Rather than opting for a random gift, she suggests looking for something that's meaningful to you. "I love things that reflect the couple, especially with things that they love and want to share with their guests."
Family recipes, Lee says, are always a hit. Include grandma's favorite cookie recipe or spice mix or your new mother-in-law's bread recipe to share with your guests to end on a personal and memorable note.