Dos and Don'ts of Wedding Video Packages
There are as many options and extras for your wedding video as there are for your photos. To help pick out the right package for you, here's what to include in your wedding video—and what to cut.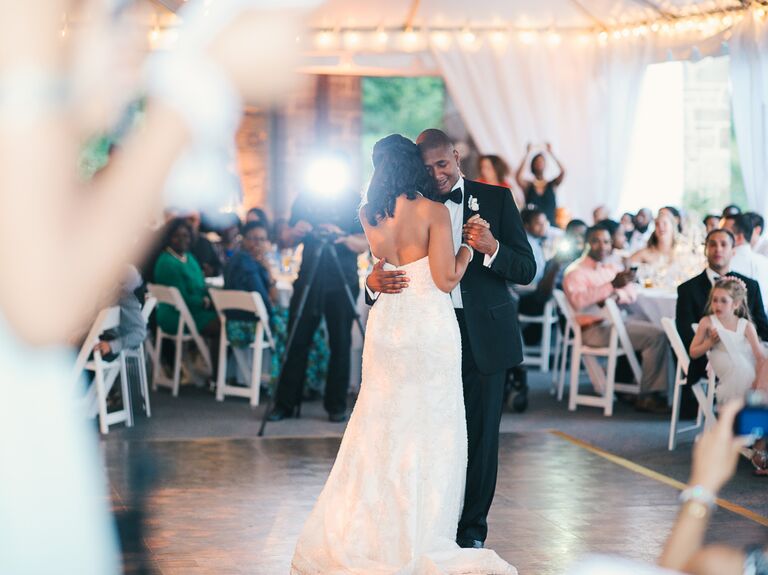 Eli Turner Studios
Still toying with the idea of hiring a videographer? We say go for it—it's one choice you definitely won't regret. Sure, your photos will be amazing, but you won't be able to hear your vows or see your parents tear up during your first dance. And it's something you can show your own children one day. Below, some helpful hints to get the most out of your wedding video.
Don't Include: A Photomontage
Don't get us wrong, it's always fun to look at baby pictures and honeymoon snapshots. But you don't need a reel of both to start off and end your wedding video. Save the childhood photomontage for your rehearsal dinner. If you want to share it, burn copies of the DVD, or download the file onto your computer and send around the link. Your friends will lose attention after 20 minutes—tops—and you don't want to waste five of those watching still photos of you two morphing from infants to awkward adolescents to newlyweds. Get straight to the action. If you're investing in a videographer to cover your entire wedding, you'll have plenty of footage to condense into a 20- to 30-minute film, so devote your videographer's time (and your money) toward a skillfully edited video your friends and family won't mind watching (and you'll have time to watch again and again).
Do Include: A Digital File
While DVDs are still a popular method for delivering wedding videos, most videographers are now offering digital movie files in HD on thumb drives as well. (In this age of Netflix and On Demand, some couples may not own a DVD player.) A thumb drive not only allows you to stream your wedding video to your TV via Apple TV or a similar device (several TVs now come with built-in USB ports), you can also easily share the file digitally with friends and family, both near and far.
Do Include: The Ceremony
You'll definitely want footage of the entire ceremony, from the start of the processional to your final exit, and especially the important words (and tears and laughs) you share in between. If you're getting married in a house of worship, make sure they allow filming inside (most do). So don't skimp on ceremony coverage in order to get more reception coverage out of your four-hour video package. In fact, the ceremony is a good reason to splurge on a second shooter. Also, build in time for your videographer to capture the guests arriving before the ceremony—it's one of those moments you'll miss on your wedding day that will be fun to watch afterward.
Don't Include: Guest Interviews
Guests tend to say the same exact things in video messages. How often do you go much beyond, "Congratulations—you look beautiful and good luck," when you get the mic at a party? Plus, it can be annoying for the guest who's interrupted in the middle of eating her salad and encouraged to say a few words about the happy couple as the rest of the table looks on. Sure, watching Aunt Gina caught off guard when it's her turn to talk can be funny, but down the road, it's the personal messages that will resonate the most—and you're probably not going to get many of those if your videographer has to put guests on the spot. If you still want to record guests' personal messages and incorporate voice-overs in your video (taped interviews or statements that can be recorded separately and used to enhance certain scenes) consider a video guest book. A video guest book is just like a photo booth, but instead of taking pictures, your guests will record short videos. To mix it up so they're not just saying the same "Congrats!" message, set out a jar of questions for guests to pick from and answer.
Do Include: The Reception
All of the people you love gathered together at one party will make for some great memories, but you can't physically be a part of all of them (sorry!). A great videographer will capture moments you won't see in person. For instance, if you're taking photos during the cocktail hour, you might not catch your friends playing with the photo booth props or your guests gawking at the flamenco dancers you hired to entertain them. And when you're being pulled in a million different directions, the day will go by in a blur, and you'll miss the little moments that will help make the day so special, like the groomsmen horsing around while you're taking your couple portraits or your niece and nephew imitating you two during your first dance.
Do Include: A Highlight Reel
This is what you'll show to the friends and family who you know won't want to sit through all of your ceremony readings and your second cousin's solo performance (they already sat through it once!). If you're going to devote part of your photo budget to videography, you don't want the wedding video to just sit on a shelf and collect dust. That's why highlight reels—5- to 10-minute movies that include the highlights of the day—have become the standard in wedding videos. They're far more viewer friendly, because let's face it: As much as you want to relive your wedding day, even the two of you won't want to watch the entire hours-long play-by-play more than a few times (if that). It's also an easily digestible way to share the day's top moments with guests who couldn't be there. Even if you still want the longer version with all five hours of action, we strongly recommend getting a shorter, more shareable one too.
Don't Include: Raw Footage
Once the filming is finished, some videographers will send you the raw footage (untouched, unedited) to preview before editing begins so you can note scenes you definitely want to keep or cut, like when your groom's voice cracked while reading his vows. If you want to hold on to the raw footage for posterity, your videographer may offer it as part of your package. If it's not included in your package, it's not worth paying the extra fee for it, since it's likely you never even watch it. And if you can't get through the five hours of unedited video, your friends and family certainly won't be able to. Instead, opt for two videos: a highlight reel and a longer, traditional hour-long video of the day.
Do Include: A Second Shooter
There's no doubt about it: Two cameras are better than one. The ability to cut back and forth makes for a more engaging film overall. You get more extensive coverage too, because each shooter and camera films something different, or at least from a different angle. This is crucial at the ceremony—they can capture your partner's face as you walk down the aisle. At the reception, they can film your uncle belly-laughing as your dad gives his toast. If you don't have room in your budget for a second cameraman, consider making room for two cameras: one manned and moving around and the other stationary. This will enable your videographer to get a wide shot of the ceremony and close-ups of the action, and incorporate both into the video.
Looking for a videographer? Find one here.
Don't hire your videographer before asking these questions.